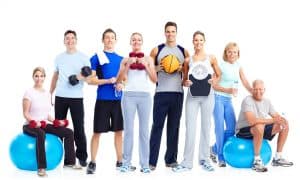 Mid-life
Noun: the central period of a person's life.
Onset begins one morning in your 40's when you decide to take a long look at yourself in the mirror. Hi! My name is Middle Age! I love long naps, comfortable shoes, reading glasses, nights in with the couch, hair in weird places, and I'm pretty sure I need a neck cream. Who is this person?
Get a grip, this person is you – twenty years older than your brain wants you to be and at the nexus of past reflection and future prospect. Take a deep breath. Experts now say save your all black Over-the-Hill party for much later in life. Middle age is losing its relevance in today's fitness & health conscious society.  Living a fit lifestyle helps your mind and body stay young.
Let's ponder life for the next 30…40…even 50+ years! You certainly can be facing more years ahead than behind.
There's mounting evidence that being fit and healthy in midlife is important for a long, productive lifespan. And quite frankly, this is the age at which things start to change. You know it, you've likely noticed the effects already.
Continue to: Health changes related to aging…