Over the past few years, weightlifting belts have become increasingly popular among many strength trainees, in CrossFit and otherwise.
However, you might wonder what these are and whether they can be beneficial for your workout.
There are a few things that you might want to know about them before you decide to buy one.
We're going to provide an overview of the pros and cons of wearing a weight belt while you workout.
We're also going to highlight these weight belt products, so you can understand the different styles and features.
What Is A Weightlifting Belt?
A weightlifting belt is an aid for weight lifters when they're lifting weights, as the name would suggest.
There are a few notable reasons why you might want to consider buying one.
Some of the more prominent of these is the fact that it offers additional support when lifting large amounts of weight.
There are various theories as to how the belt provides support – but it is believed that it provides a physical support benefit, and meanwhile allows your core and lower back to "brace" against the belt.
This should mean that you'll be able to prevent or minimize a variety of common injuries when you're weightlifting. The majority of this is seen in making sure that your posture is correct when lifting and preventing any injuries from occurring.
You'll probably be able to lift more weight when wearing a belt.
The downside of wearing a belt for training – it can make it more difficult to breathe – especially on a high repetition set.
Should you wear a weightlifting belt for all your workout sets?
There are various theories. We recommend saving the belt for your heaviest sets – or those done when you are the most fatigued.
Can you lift more weight with a lifting belt?
In my experience, yes. It helps quite a bit – especially when you are fatigued.
What Materials Are They Made From?
Weightlifting belts can be made from a variety of materials, although there are a few of them that are much more common than others. Since they can each offer a variety of pros and cons, knowing the differences between them could be vital when choosing a weightlifting belt.
The two more notable materials are:
Leather Belts: Leather belts are better suggested options for many people. This is mainly because they can offer much more support than others, as leather weightlifting belts are typically sturdier and thicker than their competitors. The thickness and materials could also mean that they'll last longer than others. The downsides are that they require "break-in" time and are typically more expensive.
Nylon Belts: These are another one of the more common options to choose from. While they don't offer as much sturdiness as leather belts, they do offer much more flexibility and are often more affordable. Nylon belts don't have a "break-in" period.
This could play quite a significant role in which weightlifting belts you might want to buy. As such, you should pay a considerable amount of attention to this when purchasing one. However, it can be easy to become overwhelmed at the number of options that are available. There are several weightlifting belts that stand out from the rest.
Weightlifting Belt Review
Rogue Ohio Lifting Belt
There are quite a few notable differences between the Rogue Ohio Lifting Belt and many alternatives, with many of these being because it's handcrafted in the USA – with Rogue's legendary quality.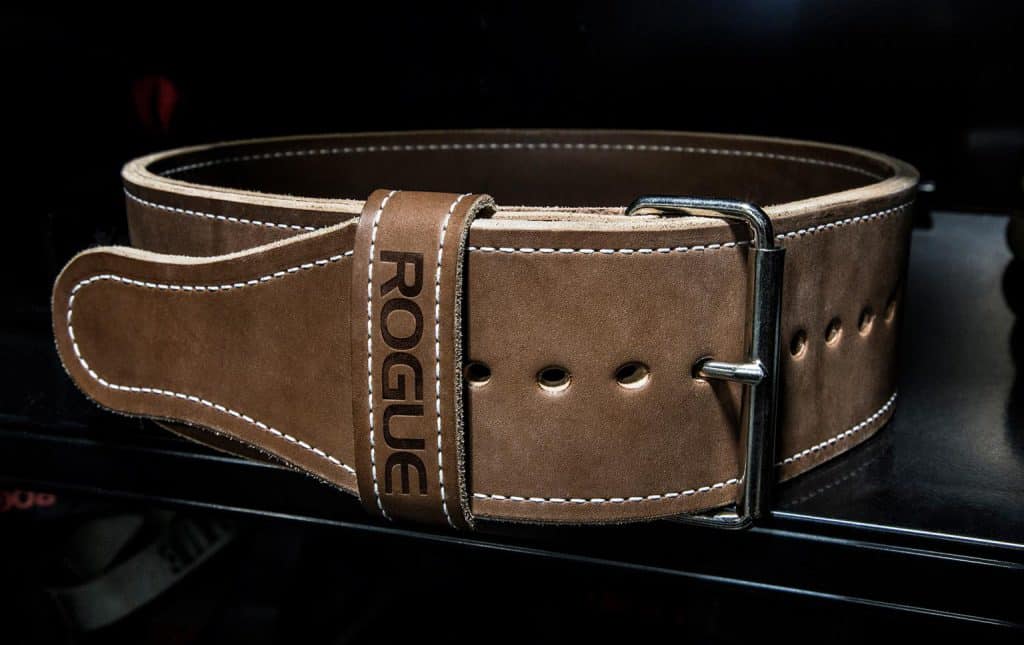 The Ohio belt is 4″ wide and should provide plenty of support for people of average stature.
This belt is the same width all around – which is just how strength training experts like Mark Rippetoe of Starting Strength recommend.
This is because a belt isn't just for your lower back – your abs (core) can brace against the belt in the front.
The leather is 10mm thick – and it will require some break-in for optimal contour and fit (like all leather belts do.)
The single prong buckle design is easier to put on or remove when cranking it down tight (as compared to a dual prong design.)
Alongside this, the leather belt should last much longer than other options, which could be quite beneficial for most buyers. One of the only negatives seen here is that it will need a 'break-in' period, although this is usually the case with most leather goods.
Rogue 4" Nylon Weightlifting Belt
The 4" Nylon Weightlifting Belt is our top pick for "bang for your buck".
First of all, it's made from nylon – which is thick and supportive, but requires no break-in period.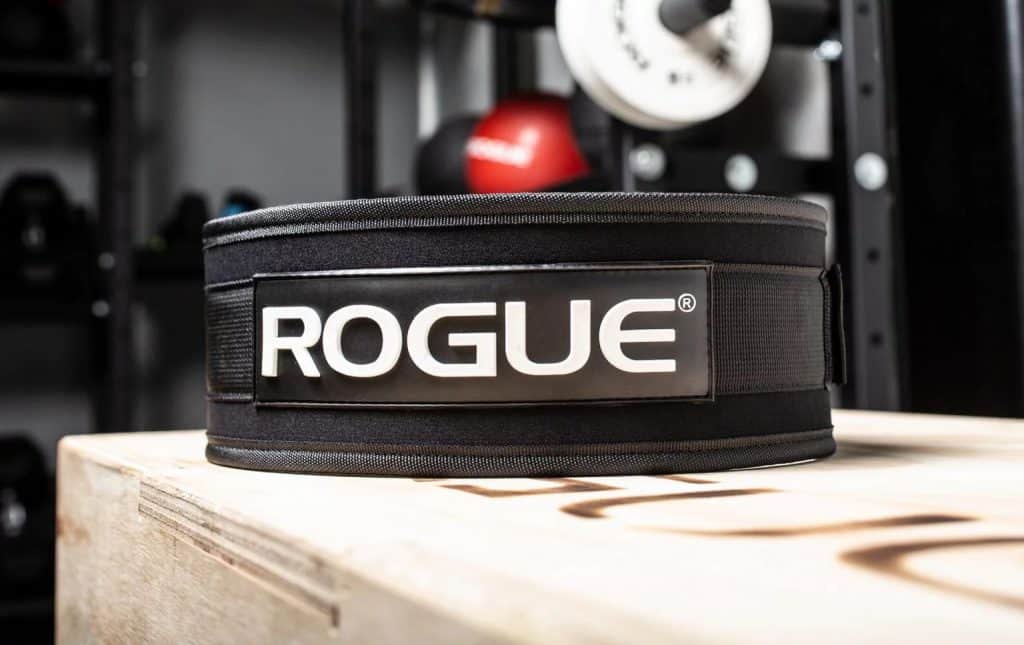 This belt uses a hook and loop closure to ensure a perfect fit (as opposed to a prong/buckle design where you are limited to the holes that already exist in the belt.)
This belt is made overseas, which is one of the reasons it is cost effective.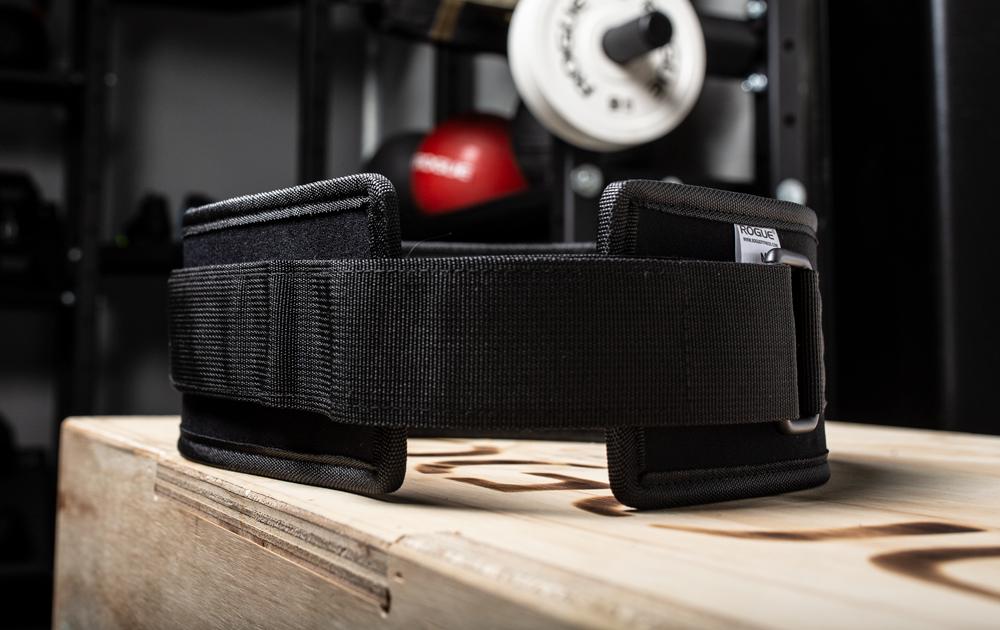 It may not look as nice as the leather belts, but it will get the job done when it counts.
There's also a version that has 5" support tapering to 3" in the front
Why would you want this? The tapered front makes it much easier to breath on those high-rep sets (or in a competition).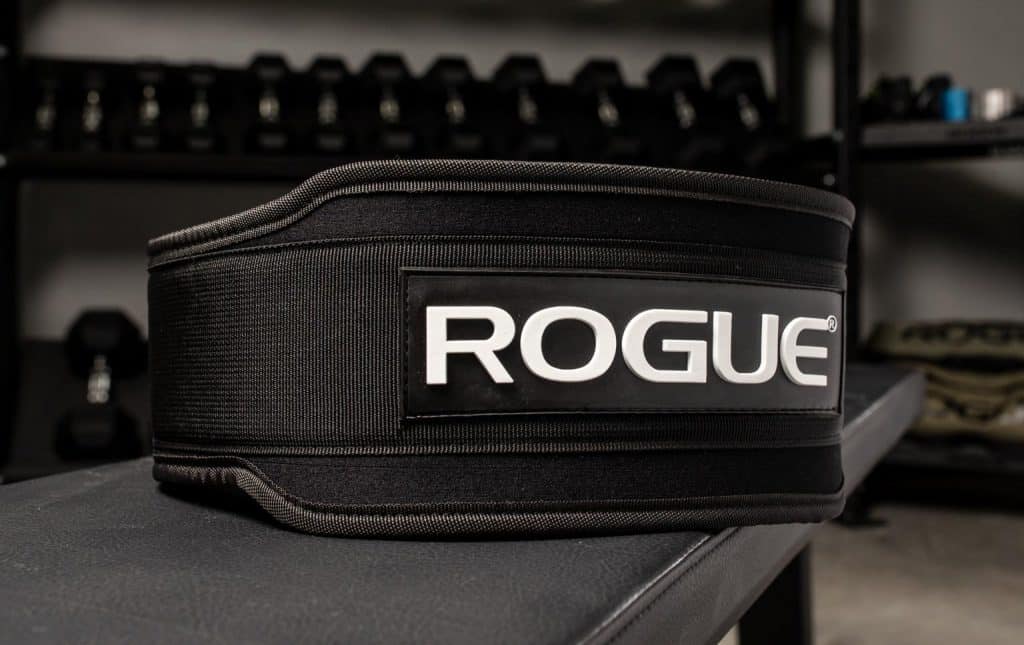 This helps a lot, especially in the bottom position.
Rogue USA Nylon Lifting Belt (5"back/4"front)
Step up to the Rogue USA Nylon Belt and you get a better looking belt with made in the USA quality.
This belt was designed by Mat Fraser, and used in several of his CrossFit championships.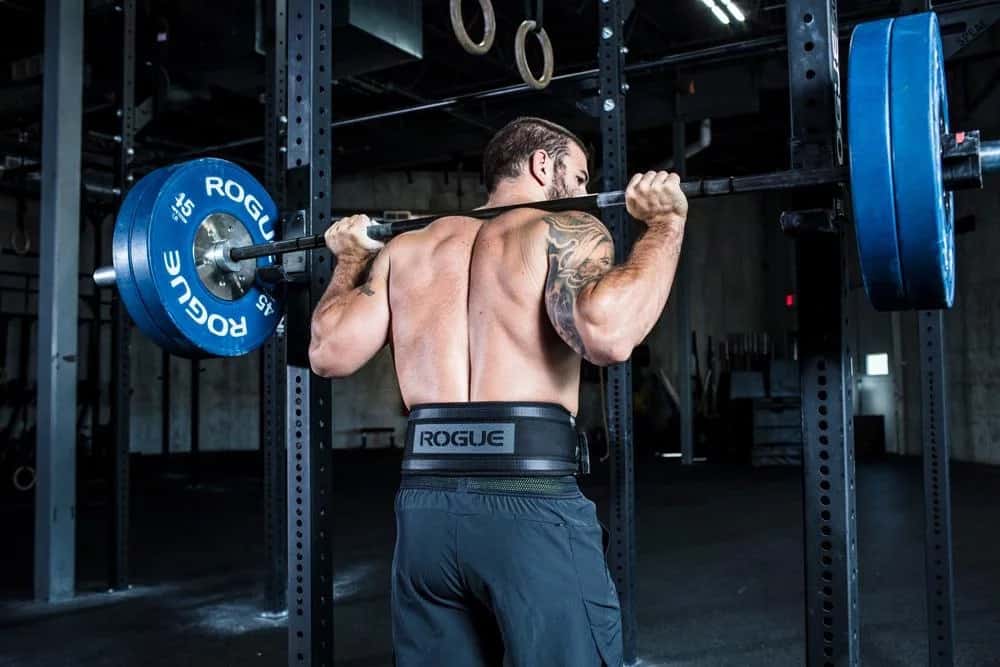 The Rogue USA Nylon Lifting Belt is 5" wide in the back and 4 " up front. Why? Because Mat Fraser wants it that way.
But, in all seriousness, the wider back gives you more support for your lumbar, and you can still breath while in the bottom position of a clean, squat, or deadlift.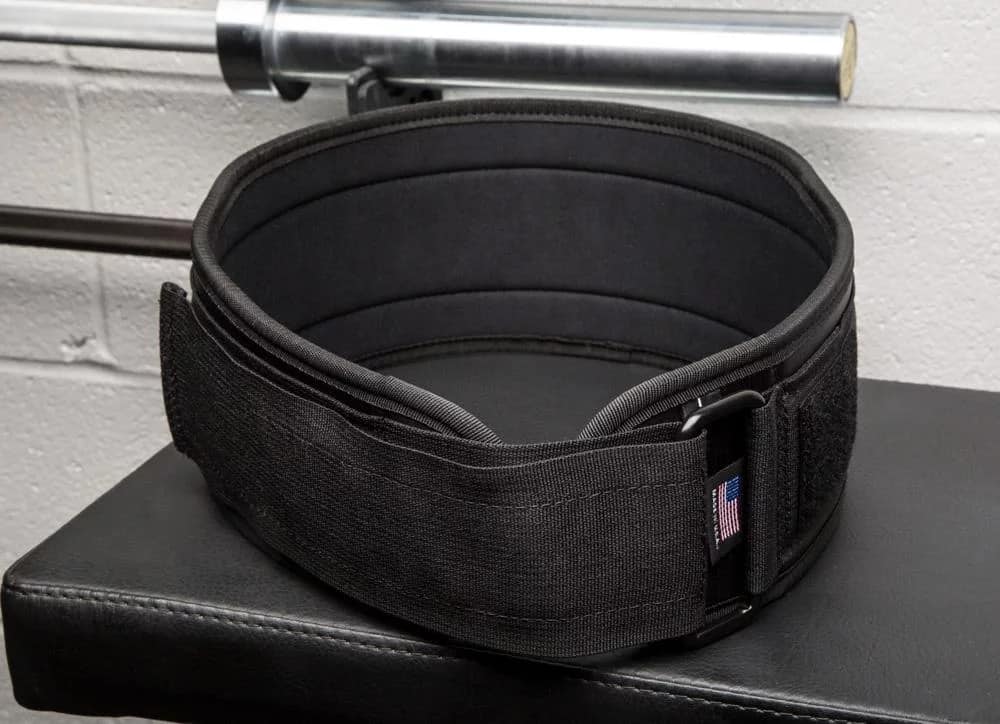 Being made from Nylon, it requires no break-in. A hook and loop (velcro) closure system gives you a lot of adjustability.
Alongside this is the fact that it's been designed to be as easy to use as possible. This is mainly seen with the fold-over portion, which is much more user-friendly than you might see with other options. This should make it much easier to loosen or tighten.
But the other thing we like about this belt – you actually get some stylish options.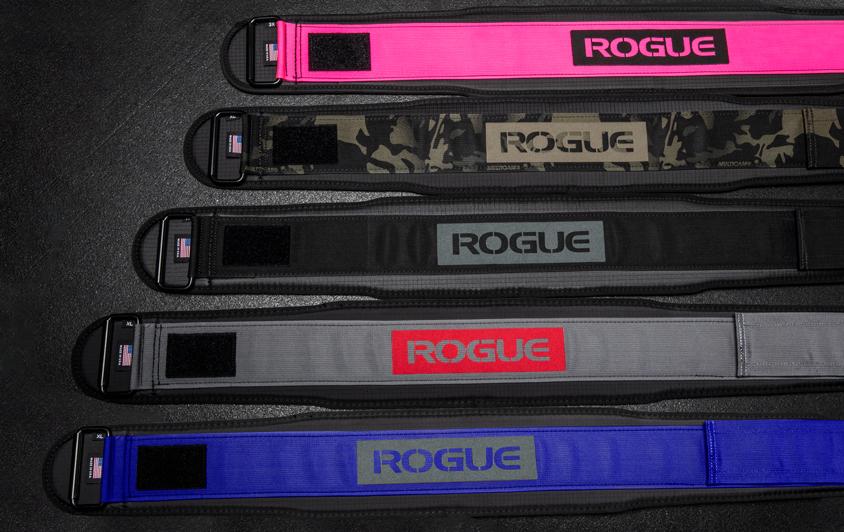 Rogue 13mm Powerlifting Belt (4")
The Rogue 13mm Powerlifting Belt is meant for serious powerlifters.
First of all, it's made from 13mm thick leather – that's over 1/2".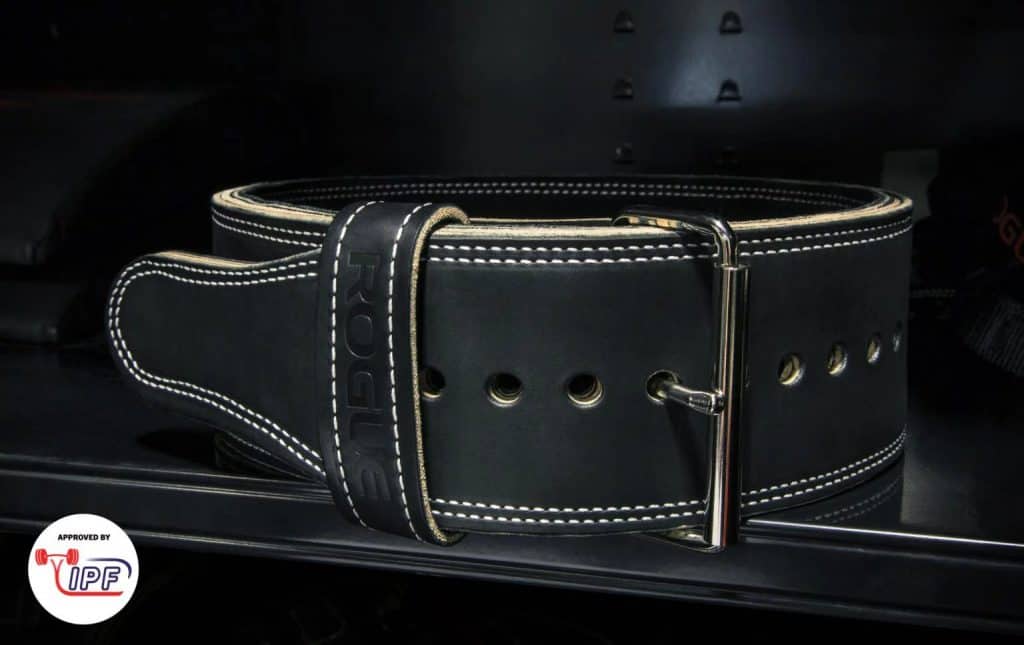 It is a very stiff belt, and the extra stiffness and bulk will interfere with a lot of movements.
It is 4" wide all around – including in the front.
That makes it harder to breath – but you don't really do super-high repetition workouts in powerlifting.
As the name indicates, it is meant for serious powerlifters – not for Oly lifting, or CrossFit style workouts.
Having said that, if heavy duty support is what you need in the squat, deadlift, and bench – this is your belt.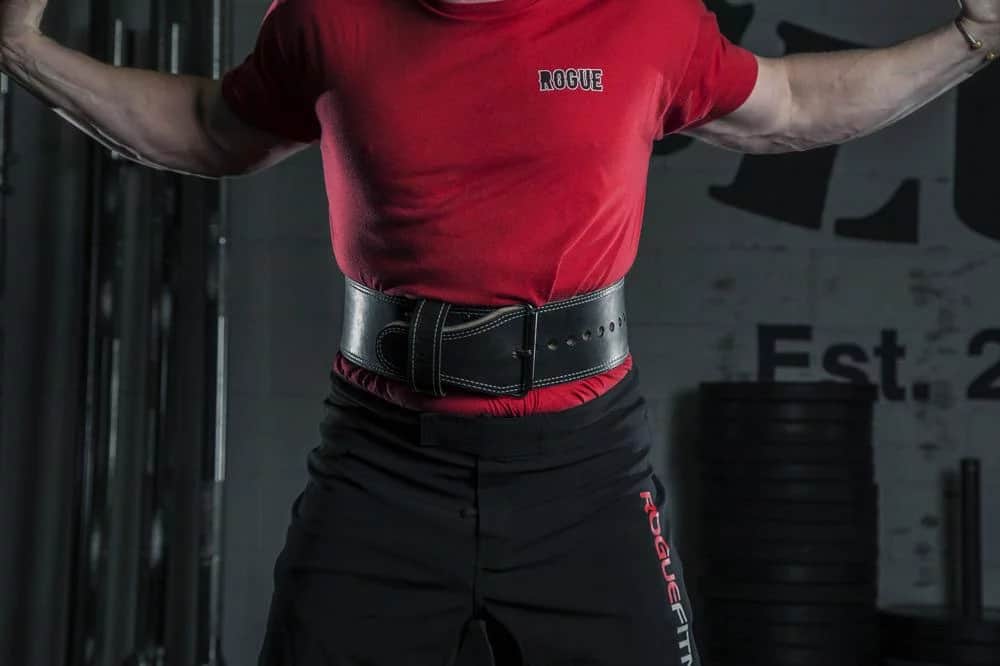 This belt offers many of the same features as some other leather belts, although it takes these a step further in a few important ways. Prominent among these is a single-prong design, which should mean that you wouldn't have to spend much time tightening it – or getting it back off.
The leather weightlifting belt also includes suede lining in the interior, which ensures the belt won't slip when you use it.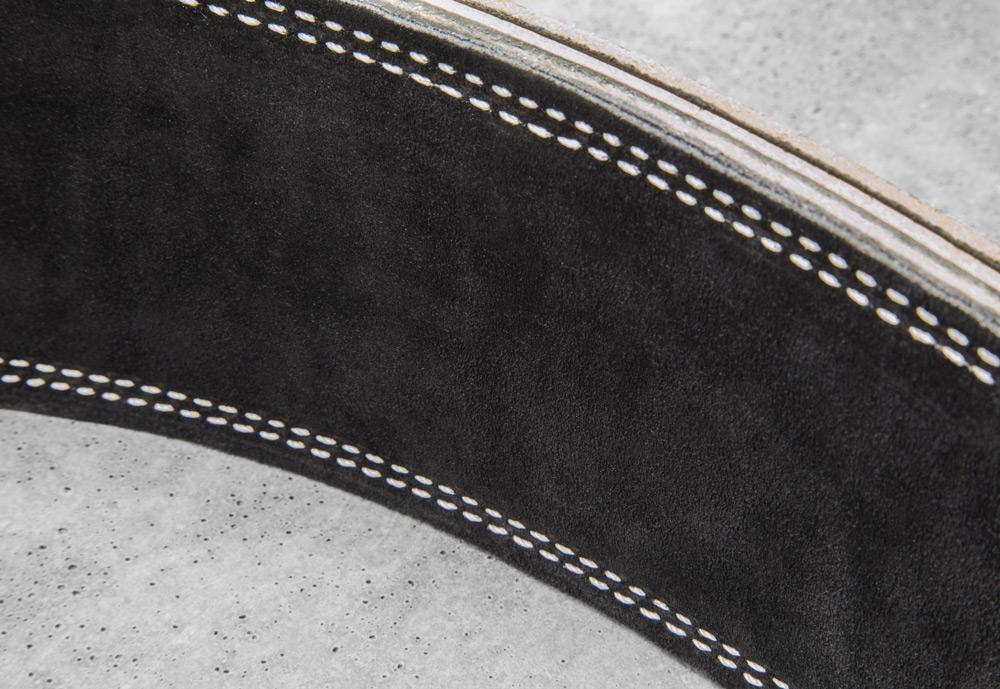 Let's look at another serious powerlifting belt.
Rogue Black Leather 13mm – 4″ Lever Belt
The Rogue Black Leather Lever Belthas a unique buckle – with a patented design.
It uses a lock-in lever that's made with nickel-plated steel, which replaces the buckle typically seen with such a belt.
This makes it easy to really tighten the belt down – and to take it back off.
(Powerlifters like to really crank the belt down tight on a 1RM lift.)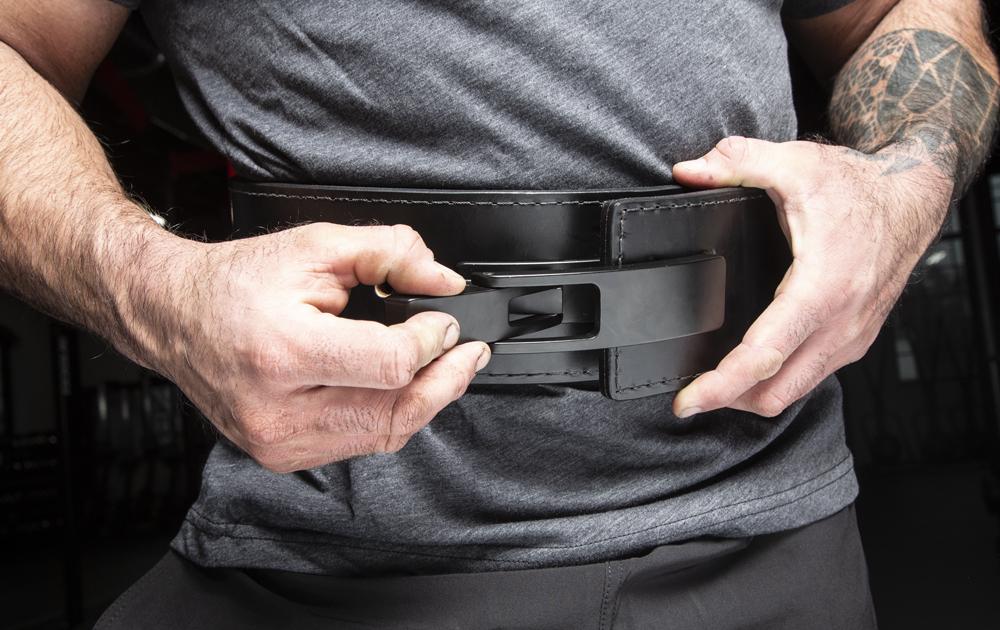 This makes it much easier to use than many competitors while still offering all of the standout features that you'd expect from a leather belt. Alongside this is a wide range of sizes, which should mean that you wouldn't have a problem finding the right fit for you.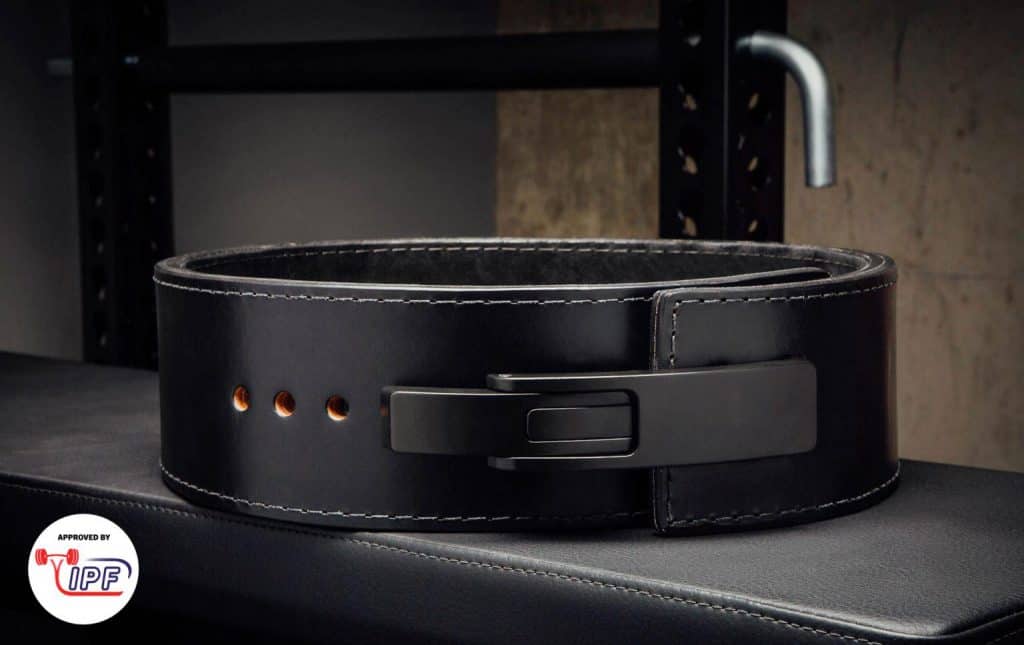 The above belt is approved by the International Powerlifting Federation for use in competition.
Rogue Oly Ohio Lifting Belt
We looked at specialist powerlifting belts, now let's look at a specialist Olympic lifting belt.
There are several standout features with the Rogue Oly Ohio Lifting Belt.
This belt is 4" in the back, but tapers down to a skinny 2" in the front.
This means much less chance of contact with the barbell during a snatch, or clean and jerk.
(As a nice side benefit, it's easy to breathe.)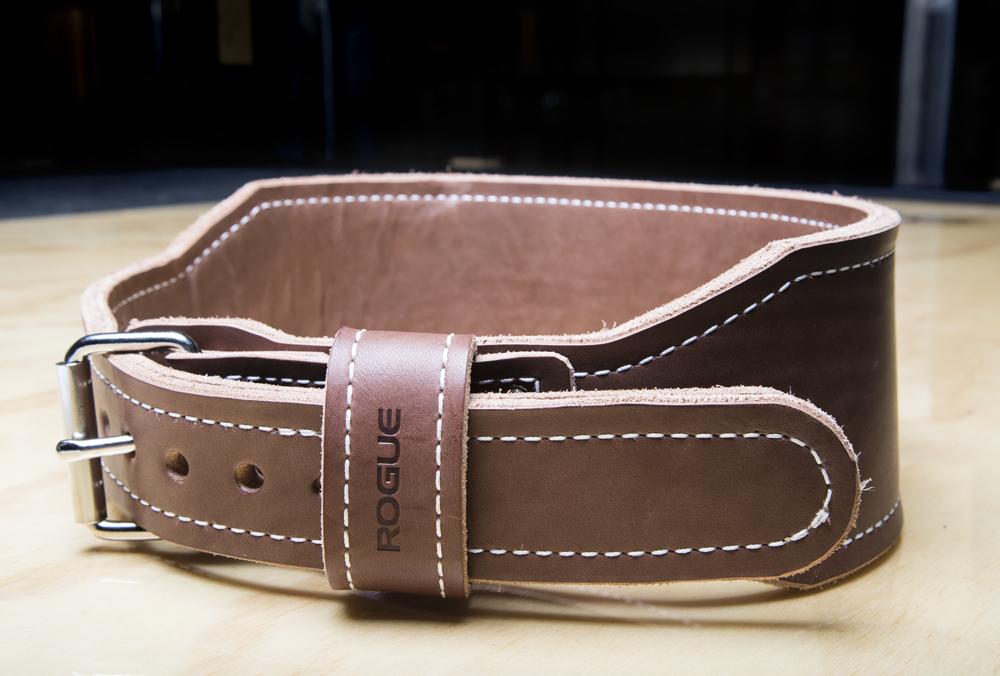 As a result, it's not as bulky as many other options, though it still offers the support and stability that weightlifters would expect. The roller is also much more seamless than you might find elsewhere, which should make it easier to use.
Did we mention it's made in the USA?
Rogue 3″ Ohio Belt
If you are of smaller stature, a 4" belt might be too big.
Does a regular belt dig into your ribs? Or your hips?
You probably need the Rogue 3" Ohio Lifting Belt.
You might want to use a slimmer weightlifting belt than some other options without compromising too much on performance. This is where the Rogue 3" Ohio Belt stands out, as the slimline design is calibrated to be as high-quality as possible.
With this, you should see a certain amount of extra flexibility without losing much of the support that's seen with thicker belts. Coupled with this is a reduction in friction, as well as a few other notable advantages when compared to thicker alternatives.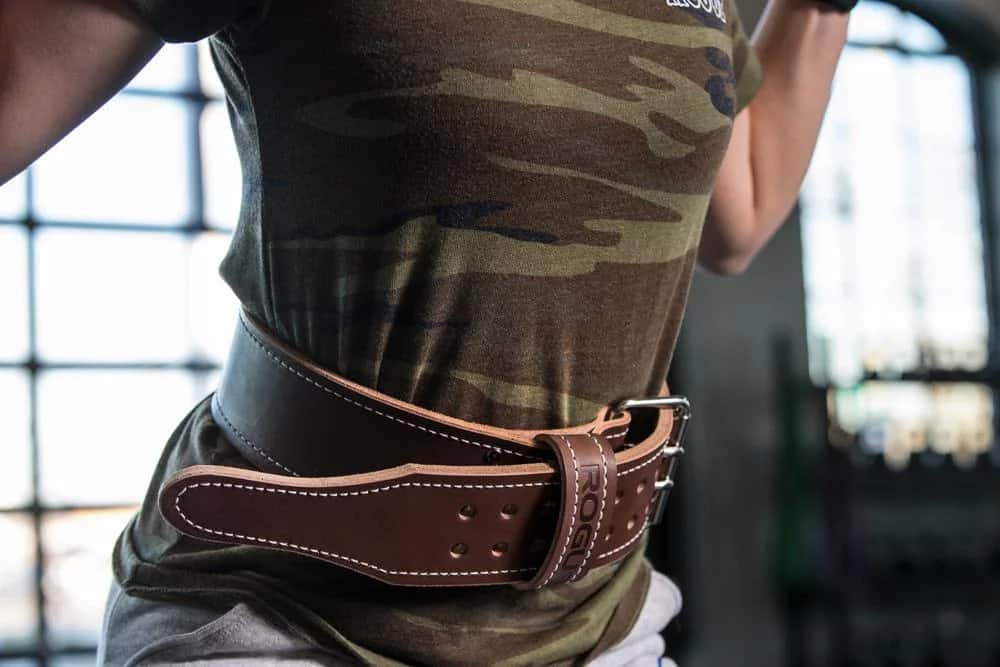 Steel Vise
The Steel Vide is designed by exercise physiologist and former bench press world champion Dr. Lavell "Dinky" Williams. It is made from solid steel and is a simple tool to get the ultimate support from a weightlifting belt. The goal of any weightlifting belt is to give support and decrease injury risks, but if a belt is not tightened correctly, you may not get the improved intra-abdominal pressure and bracing power that it should provide.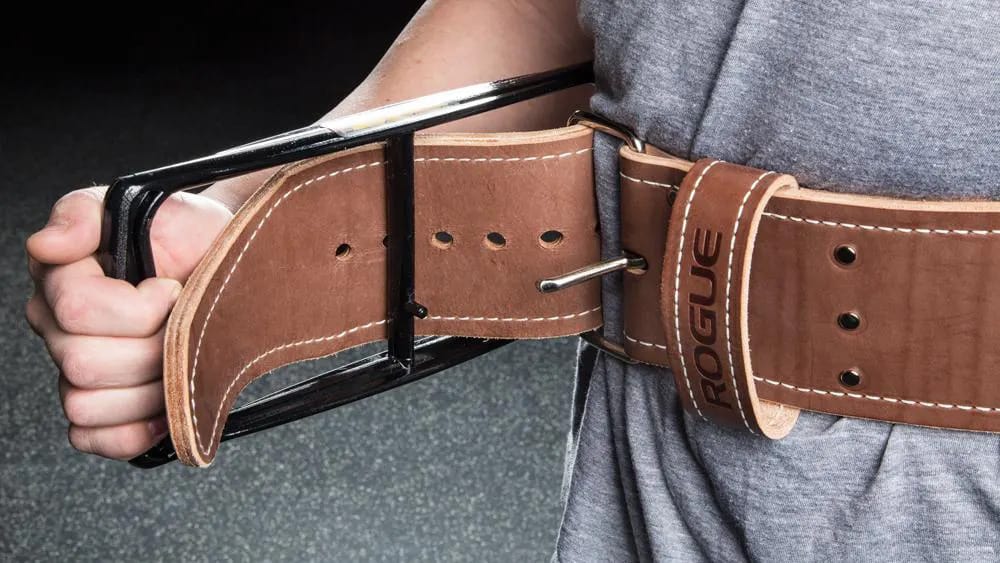 The Vise addresses these issues through this handy, durable tool that weighs less than 10 ounces. By sliding the device over the belt strap (single or two-prong), you can quickly attain further leverage when adjusting—ensuring a tighter, more protective fit. A lifetime warranty also backs this device.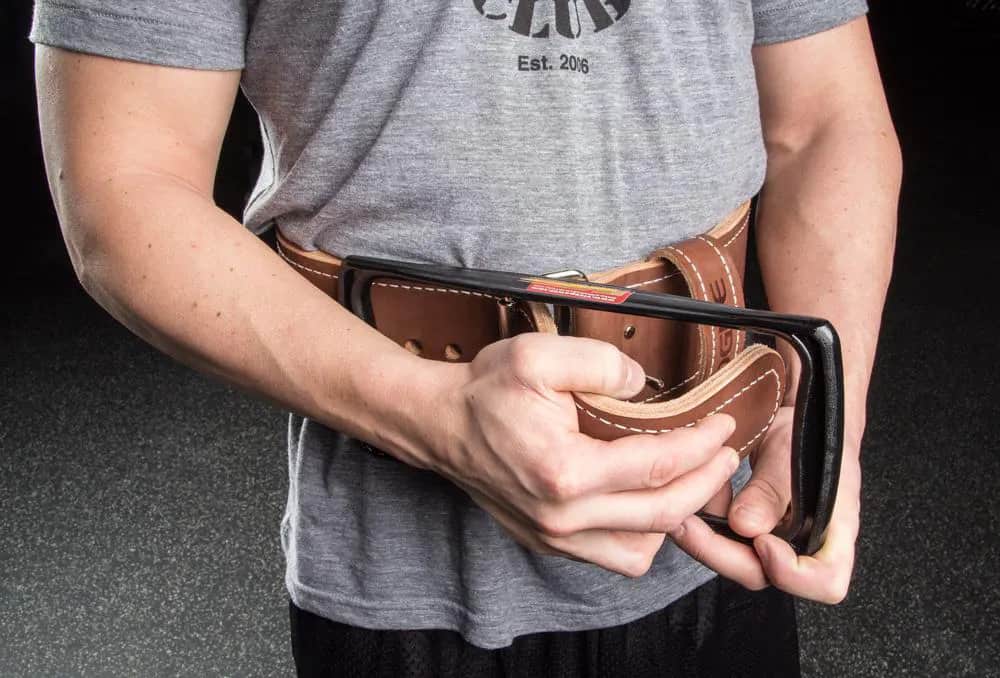 Weightlifting Belts – In Summary
There can be a variety of factors that will affect your decision of which weightlifting belt to choose.
However, knowing what you'll need and what kind of weightlifting you do should put you in the best position possible to choose one.
Each of the above could be well-recommended options, so you shouldn't go wrong with any of them. Despite this, it's still worth spending a certain amount of time comparing and contrasting them before you buy them.
This research and comparison should prove to offer a variety of dividends long-term, especially once you've been using a belt for a while.
Photo Credits
We are an affiliate of Rogue Fitness, American Barbell, and Rep Fitness. If you purchase equipment after clicking links in this article we receive a small commission at no additional cost to you. This helps us bring you great info about these products.
All Rogue Fitness product imagery is property of Rogue Fitness, and provided by Rogue Fitness.
Disclaimers
This website is not affiliated or associated with CrossFit, Inc. CrossFit is a registered trademark of CrossFit, Inc.
Tim is the founder of FitAtMidlife.com – an avid gym rat for 30+ years, he's a reviewer of many, many shoes – and founder of the Speed Bag Gathering – the world's only gathering of speed bag punching enthusiasts.  See more gym reviews at Tim's YouTube channel.