Music makes your workout better – it helps you get in the zone, can help you work harder, and can make the unpleasant more bearable.
But earbuds that constantly drop out of your ears, or offer poor sound, don't make for a good workout.
That's why I was excited to hear about the AirPods Pro (Buy on Amazon).
These new high-end earbuds from Apple offer excellent music quality in a form that fits much more securely than the original AirPods (which are known for dropping out of people's ears at the wrong time.
But, then I heard about the Echo Buds (Buy on Amazon) – and this new product from Amazon offers all the same major features as the AirPods Pro, but at a significantly cheaper price point.
Let's compare these two earbuds head to head and see which is the right choice for you.
This is Echo Buds versus AirPods Pro.
We're going to look at these earbuds through the lens of working out – which is the best active noise cancelling earbud for your workout?
Don't want to read? Watch our video review from our YouTube channel:
Secure Fit
Let's start with a prime workout requirement – these earbuds must have a secure fit.
They can't be dropping out of your ears – like the original AirPods frequently do.
Both of these earbuds use a sealed ear tip design.
There is a soft silicone cup that attaches to the earbud and ensures a tight, secure fit in your ear canal.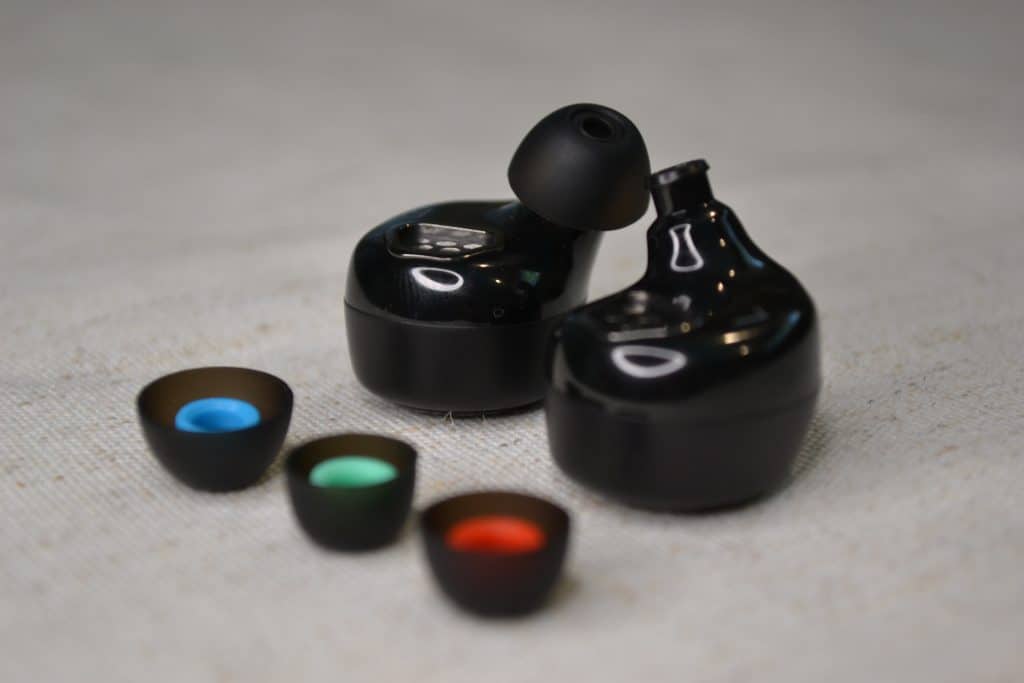 One of the big benefits of this – these earbuds stay in place much better than earbuds that don't have an ear tip.
(There are other benefits too – which will talk about in the next section.)
Both products come with 3 sizes of ear tips – small, medium, and large.
And getting the best fit, and sound quality from these earbuds require that you find the proper size – which is pretty easy to do.
For me personally, the Echo Buds fit better and more securely.
And I'm not even using the optional wingtips.
These can be attached to the earbuds to provide an ever more secure fit.
But, that may be due to the size of the eartip that is provided. The "large" eartip for the Echo Bud is smaller than the "large" for the AirPods Pro.
But, in my case, moving down to the medium eartip didn't provide very good sound quality.
Let's talk next about sound quality (for both music and calls.)
Sound Quality – Music and Calls
That soft silicone eartip isn't just for a good fit – it also provides passive noise cancellation.
It's a physical barrier to help keep unwanted background noise away from your ear.
It also helps the very small speaker (or driver) in the earbud work optimally to give you the best music and sound quality.
Both of these earbuds have significantly better musical sound as compared to older earbuds – like the original AirPods.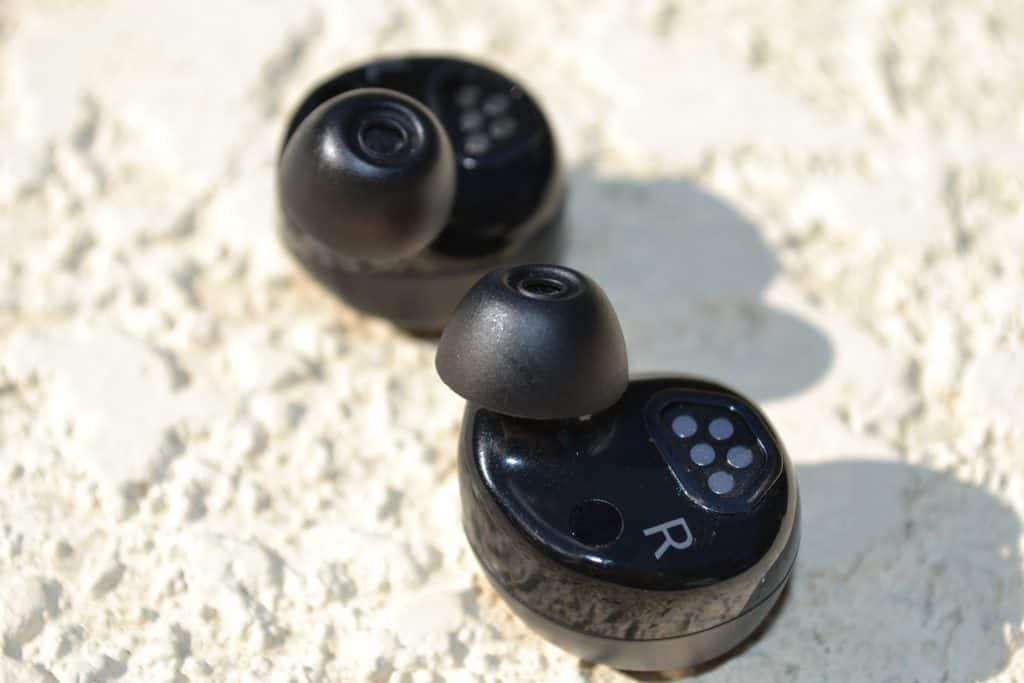 As a bonus, because the background noise is blocked out, you don't have to use as much volume to hear the music.
And that is going to be better for your ears over the long term.
But these earbuds don't just have passive noise cancellation – they also have active noise cancellation too.
This feature uses external facing microphones on the earbuds to pick up any unwanted background noise.
And thanks to the high powered chips within the earbuds they can broadcast a precise soundwave to actively cancel out the unwanted noise.
This active noise cancellation works best with continuous noises – think wind noise, road noise, jet engine noise, etc.
It is much less effective against impulse sounds (voices, shouts, music, etc.)
But overall, when you combine the passive noise cancellation with the active noise cancellation, you get a great listening experience.
To my ear, both sound great with music. There is significantly more bass – thanks to the passive noise cancellation.
To me, this was always a weak point of the original AirPods. The sound was just too tinny and lacked any punch.
Both have very effective active noise cancellation as well. It's hard to quantify the results – but both work highly effectively in a car traveling down the highway. Stay tuned for tests on an airline flight soon.
Which has the better sound quality?
Before we answer that, consider this.
You must have the right size eartip in place to get the best results from either of these – that's why they come with three choices.
For me personally , the largest Echo Bud eartip worked best – it provided a tight seal in the ear canal and gave the best musical quality.
The largest eartip for the AirPods Pro just don't quite fit right for me – and the next size down offers abysmal sound quality.
So, to some degree – it is going to depend on how well the ear tips fit your ears.
I can say that both offer much improved musical sound quality as compared to the original AirPods design.
There's also a comfort factor to consider.
Many people don't care for the sensation of having that eartip tightly fit in their ear canal. But, it is essential to getting the best sound.
I personally find the AirPods Pro to be more comfortable for long term wear.
But, it still feels like I have something jammed in my ear.
Let's talk about where noise canceling headphones can offer too much isolation…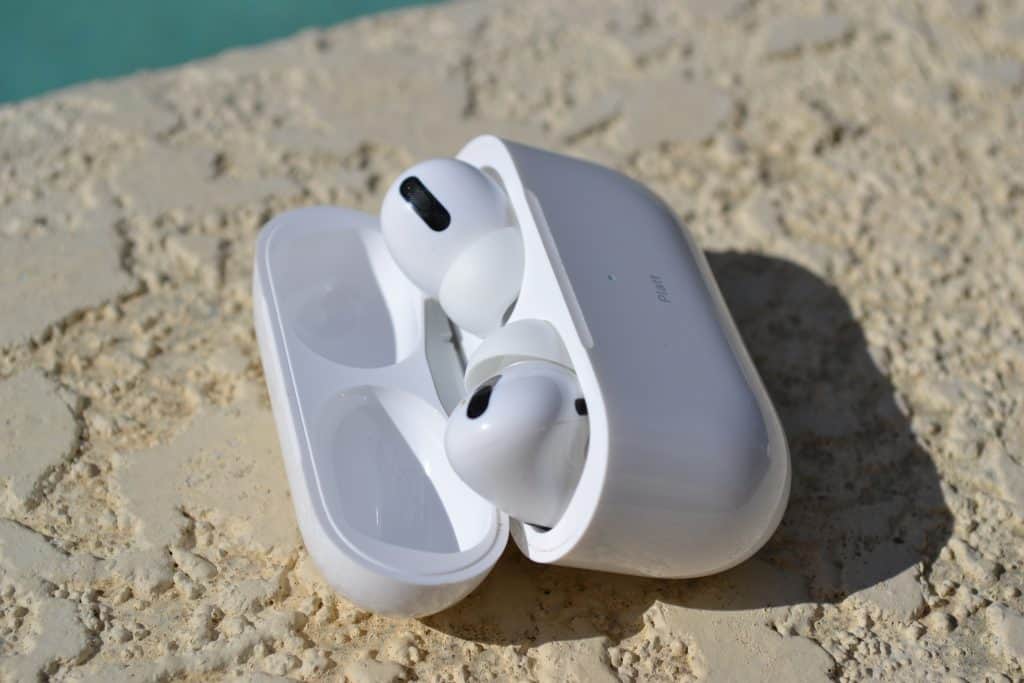 Situational Awareness
Sometimes you want to listen to your tunes, but you can't totally block out the background.
You might be in a crowded gym, jogging on a trail, or in class.
And while you want to hear your music – you need to keep an ear out for other things as well.
Earbuds that offer passive noise cancellation are sometimes not good for that sort of situation.
But both the Echo Buds and AirPods Pro bring something new to the table – passthrough mode / transparency mode.
This is the same principle used in electronic shooting earmuffs.
The external mics on the earbuds can pick up any ambient sounds or conversations and amplify them via the speakers.
So – you get great music quality – but you can still monitor what is going on around you.
How does it work?
It works well – I'm happy to report.
But, it works best in the AirPods Pro. They offer a less artificial sound.
(Remember that the background conversation is being played through the earbud speakers.)
The AirPods Pro just sound more natural as compared to the Echo Buds.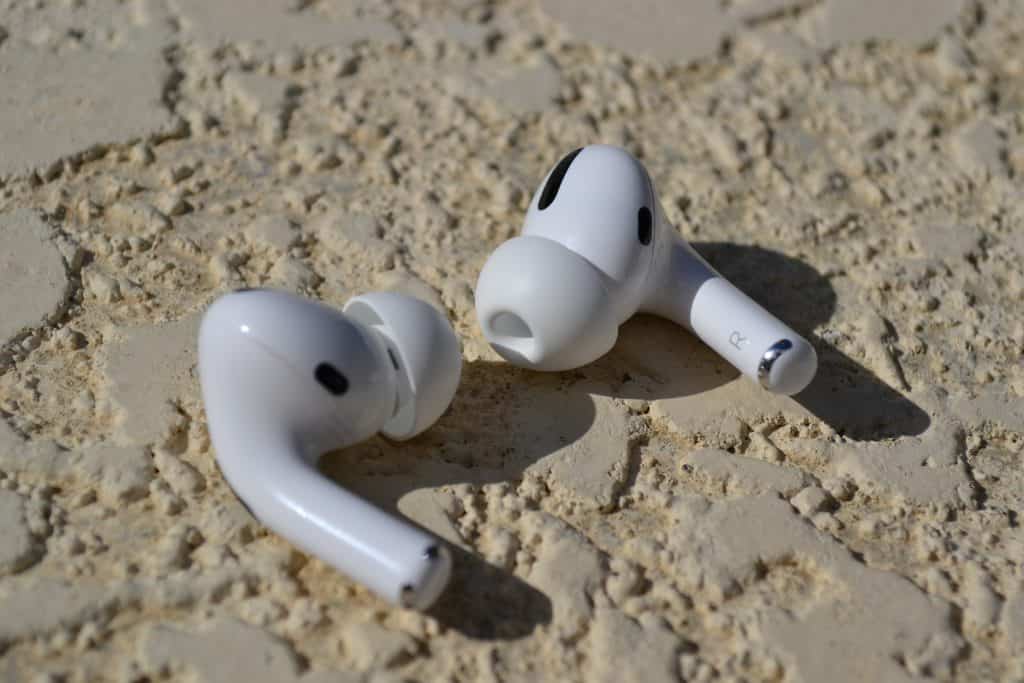 This feature is also great for phone calls and conference calls.
If you've ever taken a call with noise canceling headphones – you know it can be fatiguing.
Your voice sounds very different, and you can struggle to make sure you are being heard.
Passthrough Mode / Transparency Mode eliminate that issue with these earbuds.
Gestures
Both earbuds are easy to use with a variety of gestures.
The Echo Buds support double tap (on the side of the earbuds) and press to hold.
Via the Alexa app on your phone, you can configure what these do: turn on/off the active noise reduction, or pause/play music, etc.
The problem is that the Echo Buds only support two gestures – double tap and press to hold.
You can customize the left earbud and right earbud separately though – so double tap on the right can do something different than double tap on the left.
The AirPods Pro on the other hand have force sensors integrated into the stems.
These support single clicks, double clicks, triple clicks, and press to hold.
That makes it easier to play/pause, skip forward a track, skip back, etc.
You can also activate Sir just by saying "Hey siri", whereas with the Echo Buds the default is you must use press to hold to use the digital assistant (this also requires the Alex app on your smartphone.)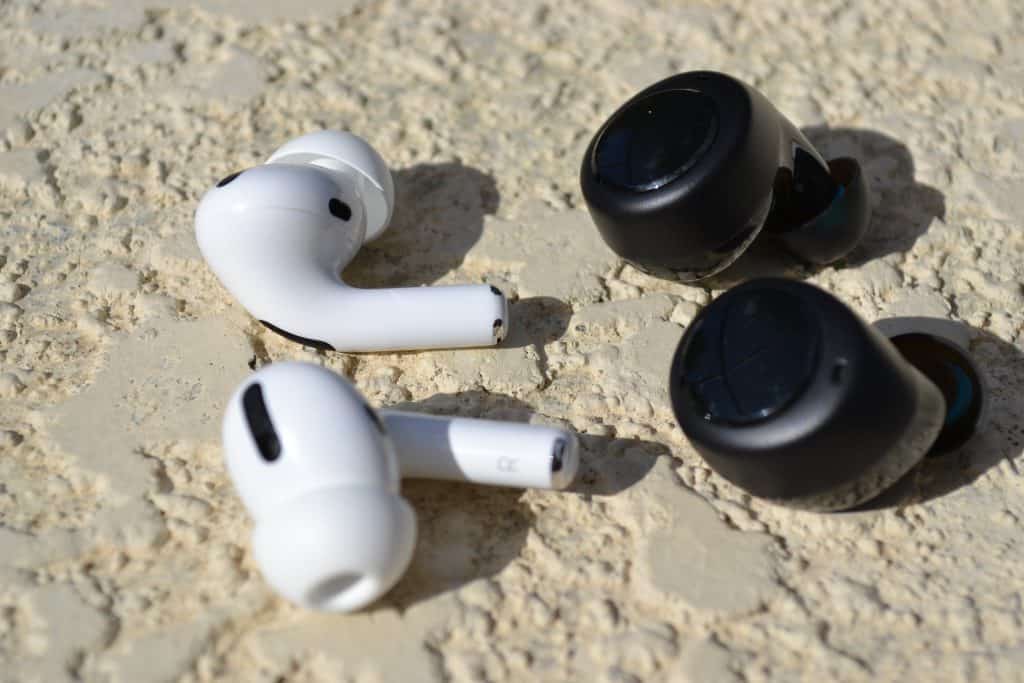 Charging Case
Both come with a charging case.
This can be used to recharge the earbuds, but also serves as a convenient protective case to prevent the buds from being damaged or lost.
The AirPods Pro case is only slightly larger than the original AirPods case. And it's in the same general form factor.
The case for the Echo Buds, on the other hand, is huge.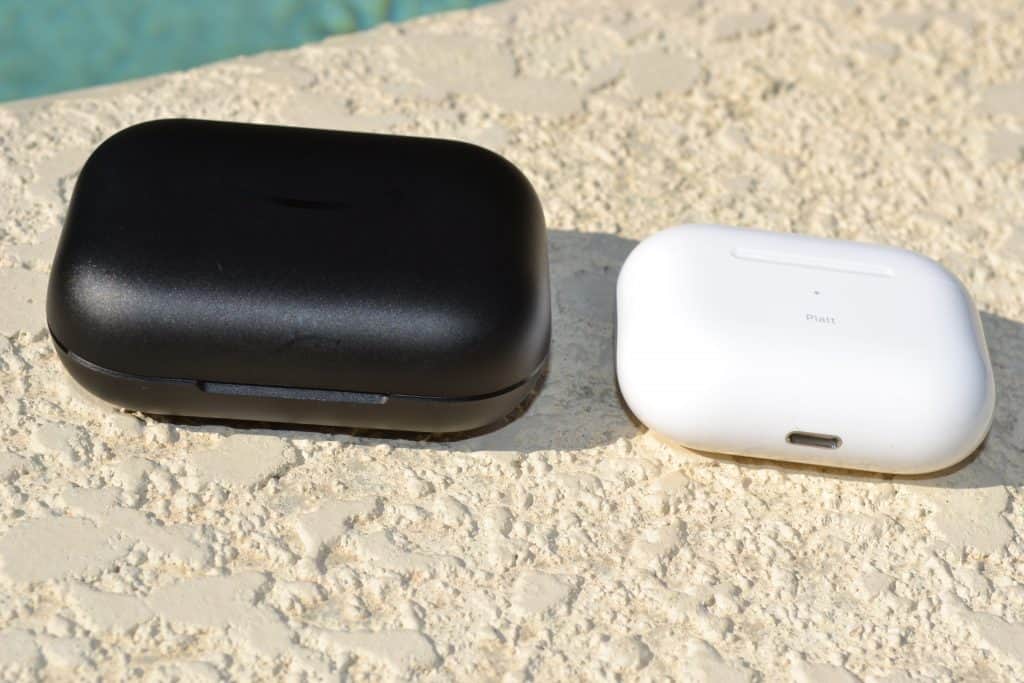 It doesn't really fit in your pocket too well.
As you can see here, the AirPods Pro case is just barely larger than the original.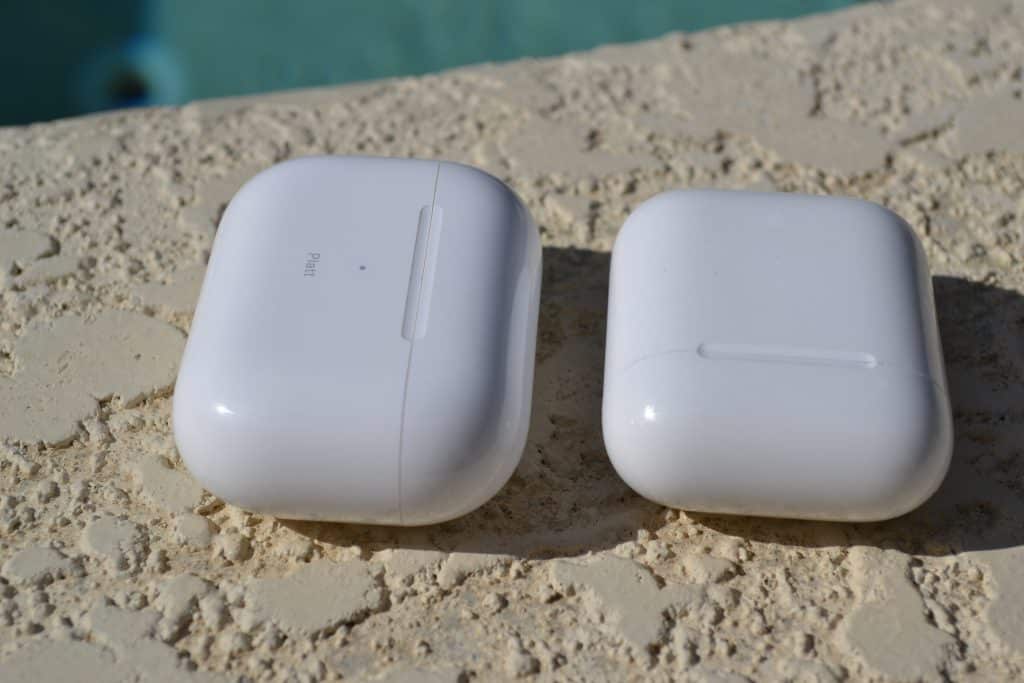 Cost
The AirPods Pro are quite expensive at $249.99.
But they are great earbuds, they are comfortable, and easy to use.
The Echo Buds are significantly cheaper at $129.99.
Yet, they offer much the same functionality as the AirPods Pro – in a slightly rougher form.
Both have a relatively secure fit (although the Echo Buds seem to have an edge – especially if you use the optional wing tips.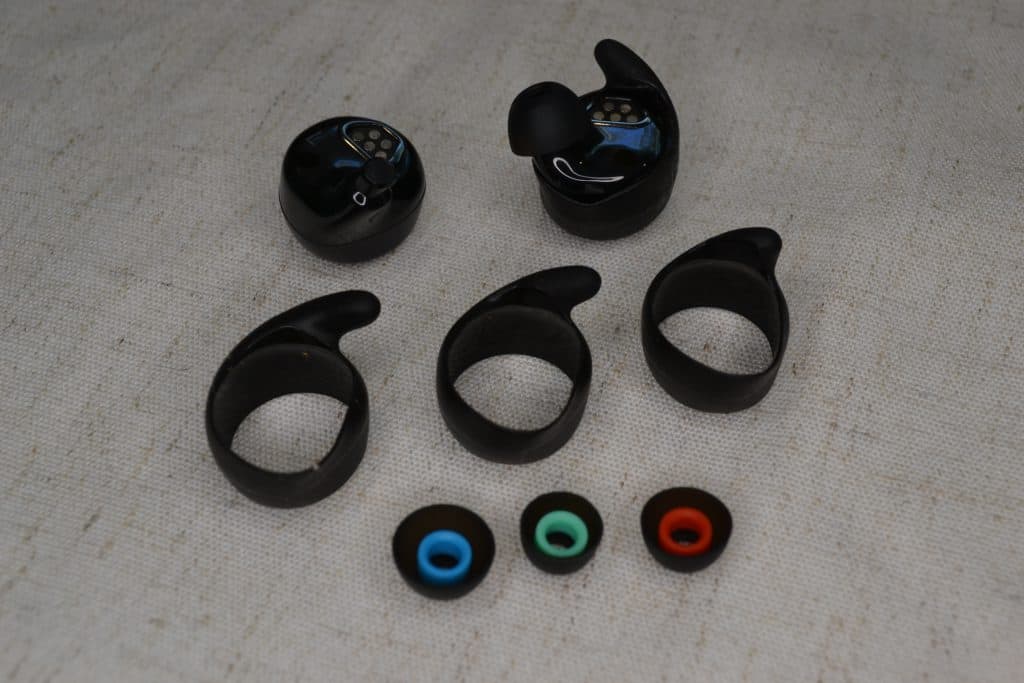 Sweatproof?
If we want to use an earbud for working out it has got to be sweat proof.
Both the AirPods Pro and Echo Buds have an IPX4 water resistant rating.
That means either of these can withstand splashing water.
They should be plenty fine for sweaty workouts – or even light rain.
They should not be immersed in water – so don't drop them in a puddle.
Please note that IPX4 rating is for the earbuds only – the charging cases are not water resistant and should never be subjected to water exposure.
Echo Buds vs AirPods Pro – In Summary
The Echo Buds and AirPods Pro offer great sound in a convenient way for your workout.
The AirPods Pro are the superior product – with a lot of ease of use, polish, and excellent sound, and comfort.
But, the Echo Buds have the same feature set for a much cheaper price tag.
Either make a great workout earbud option.
If you are on a budget (or an Android) user – I'd recommend the Echo Buds all day.
Otherwise, I'm sure you won't be displeased with the Apple AirPods Pro.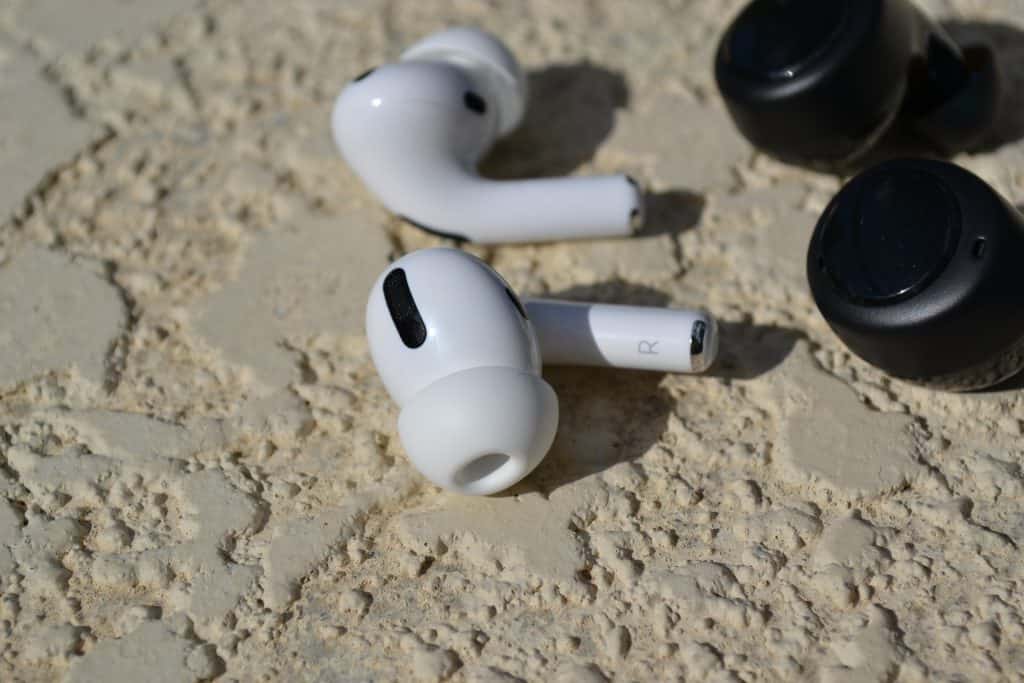 Tim is the founder of FitAtMidlife.com – an avid gym rat for 30+ years, he's a reviewer of many, many shoes – and founder of the Speed Bag Gathering – the world's only gathering of speed bag punching enthusiasts.  See more gym reviews at Tim's YouTube channel.