The best garage gym or home gym needs a squat rack or power rack.
Why? Because it's the best option for versatile and safe training with heavy barbells and weights.
But, a full power rack can be a big space commitment – especially if you need to keep a car (or two) in the garage.
Squat stands, or squat racks, are a great space-saving option that works in many situations where a full power rack won't.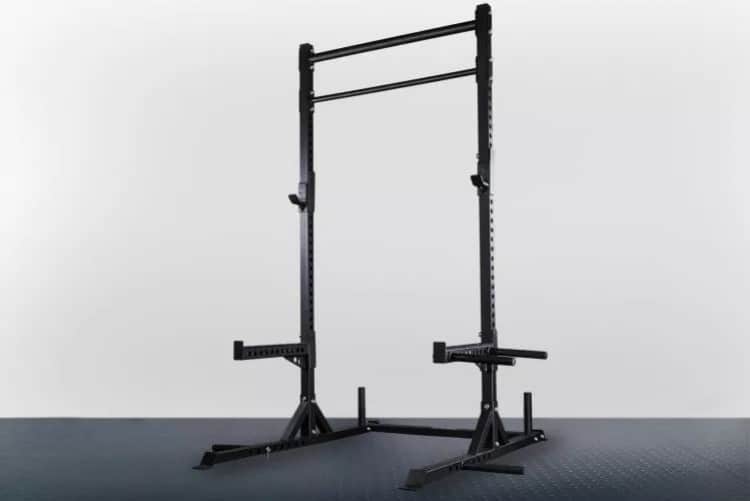 Shown here is the SR-4000 Squat Rack from Rep Fitness as an example.
It is an exceptionally well-built product, and has all the essential features we look for in the best squat stand or rack for a garage gym.
We're going to highlight products from Rep Fitness. They make high-quality gear – at bargain prices.
Rep Fitness is the "bang for the buck" champions of barbell equipment: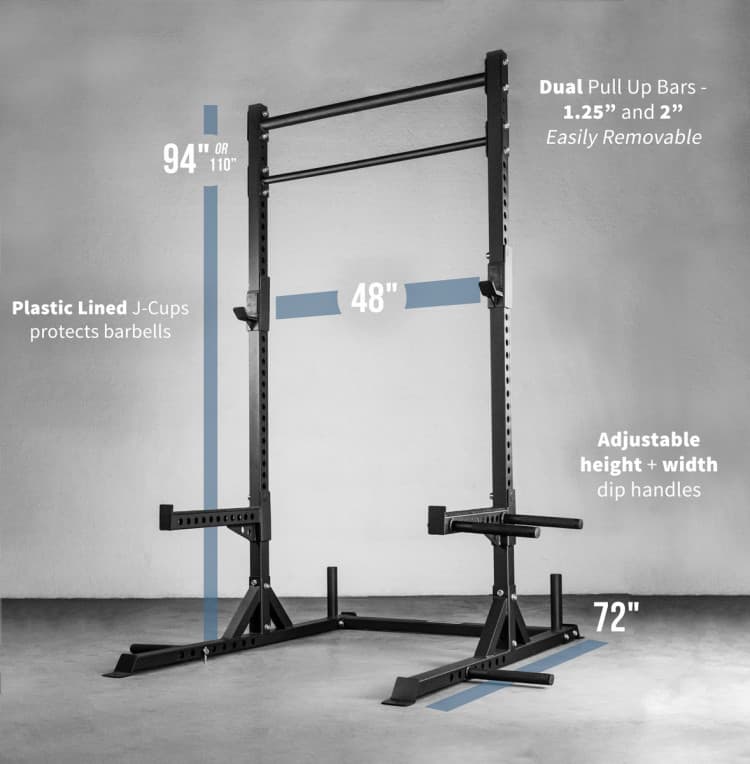 Rep Fitness Squat Rack SR-4000
The SR-4000 is a squat stand with some unexpected features. Of course it's great for barbell exercises with plastic lined j-cups and safeties, but it also has band pegs, two choices of pull-up bar, and dip handles! The SR-4050 is 94" tall - which is great for garages with a low ceiling.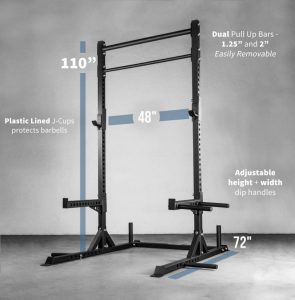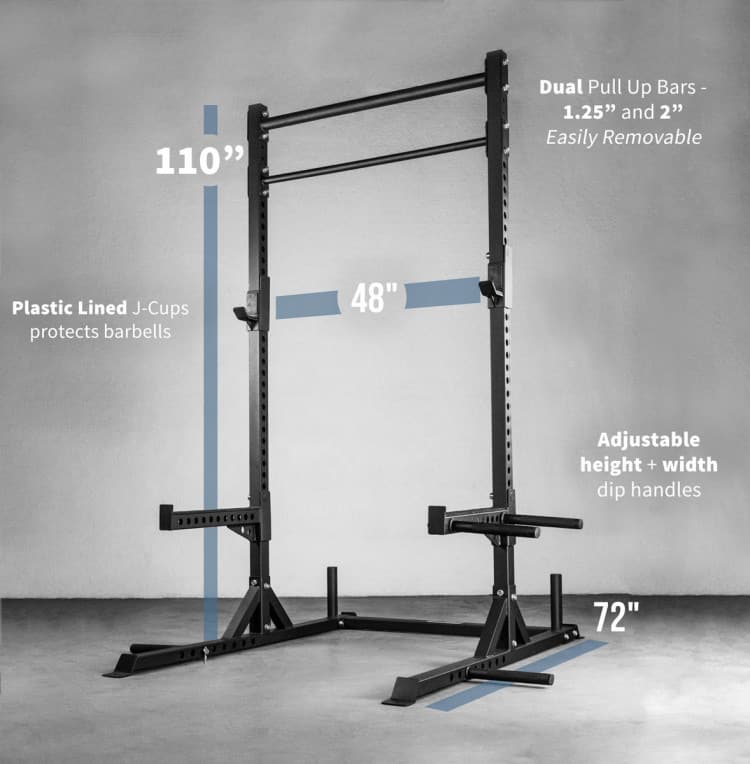 Rep Fitness Squat Rack SR-4000
The SR-4000 has all the great features of the 4050 - but is available in a taller 110" height. It is sturdy thanks to the wide base and 11 gauge 2.5" steel, but has weight pegs in the back for extra stability.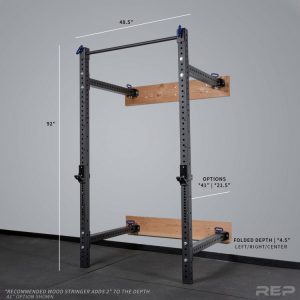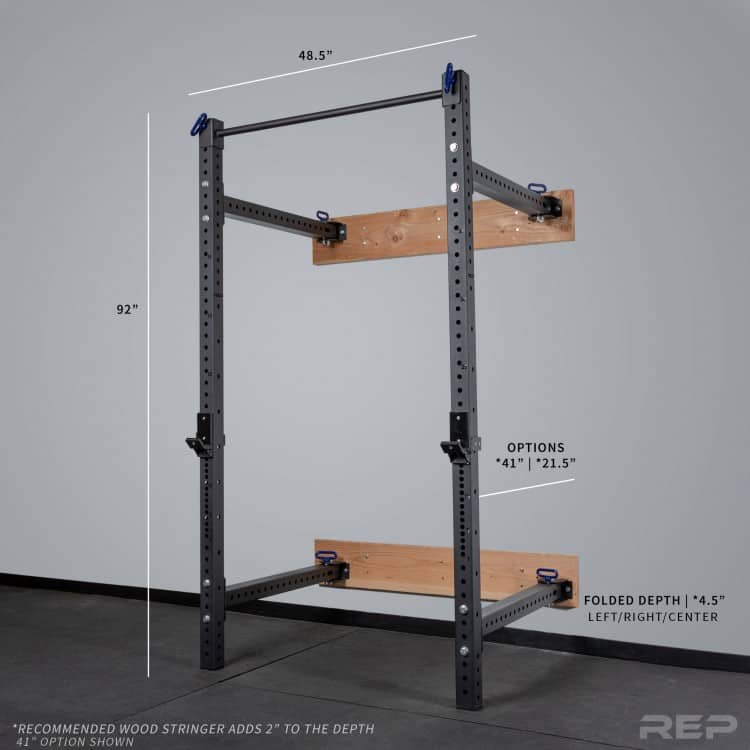 Rep Fitness Folding Squat Rack PR-4100
Need the ultimate in space savings? The PR-4100 is a wall-mounted, folding rack. You can fold flat for a minimum of space. But it still provides a variety of workout options.
The Squat Rack – What To Look For
What do you need in a squat rack?
First of all, let's clarify. We're going to talk about squat racks also known as squat stands.
These typically consist of two posts – and a wide base to stay sturdy.
(But we'll also look at a hybrid option too – because the space savings are so compelling.)
First of all, it's got to have adjustable height j-cups to hold the barbell.
Best if they are plastic lined – so you don't mess up the knurl on that expensive barbell.
Secondly – you really need Spotter Arms if at all possible.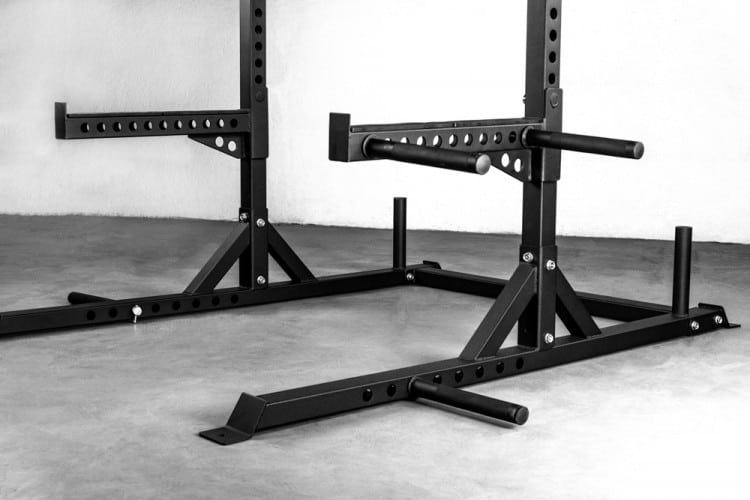 These let you do any number of barbell exercises safely – even when training alone.
Don't take a risk by dumping a fully loaded barbell of your back at the bottom of a squat – just get some spotter arms and be smart about it!
A stand alone squat stand needs to be sturdy. Look for 11 gauge steel – that's the industry standard for this kind of gear.
A wide base, weight pegs, and that heavy steel will all help to ensure you don't have to anchor the unit to the floor.
But, that is an option too – look for a model with pre-drilled mounting holes.
We highly recommend a chinning or pull-up bar too. Let's talk about that next.
Pull-Ups and Chin-Ups – Excellent Exercise
Don't miss out on one of the simplest and most effective exercises – the pull-up (or chin-up).
Equip your squat or power rack with a pull-up bar and you can use a wide range of exercises including: pull-ups, chin-ups, hangs, leg raises, etc.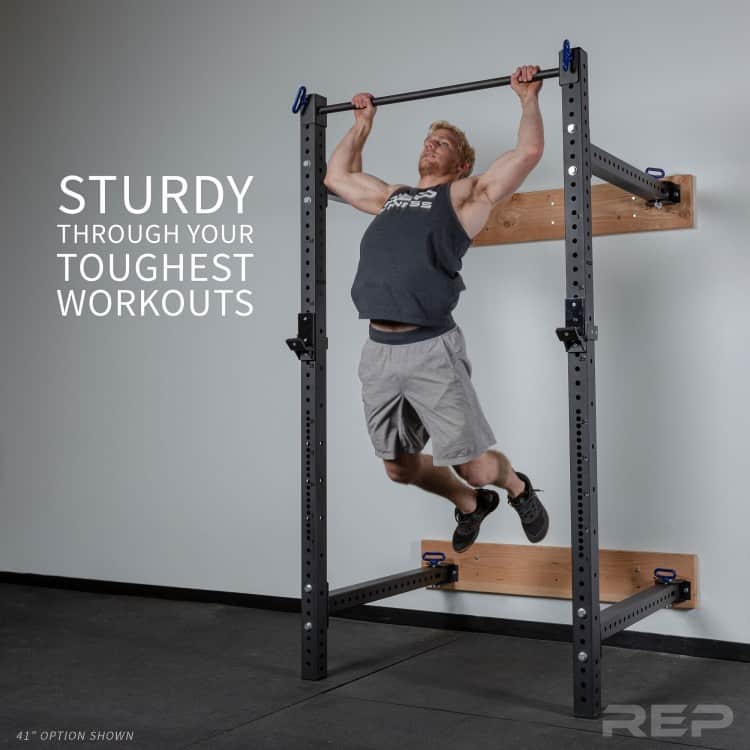 Being able to do these exercises is really one of the huge benefits of a rack.
We personally don't recommend the "kipping" style of pull-ups – unless your rack is securely anchored to the floor. But, that's OK – the strict version of pull-ups is a far better choice for nearly everyone.
Let's look at what Rep Fitness has to offer.
SR-4050 Squat Rack from Rep Fitness
The SR-4050 Squat Rack is a great budget option.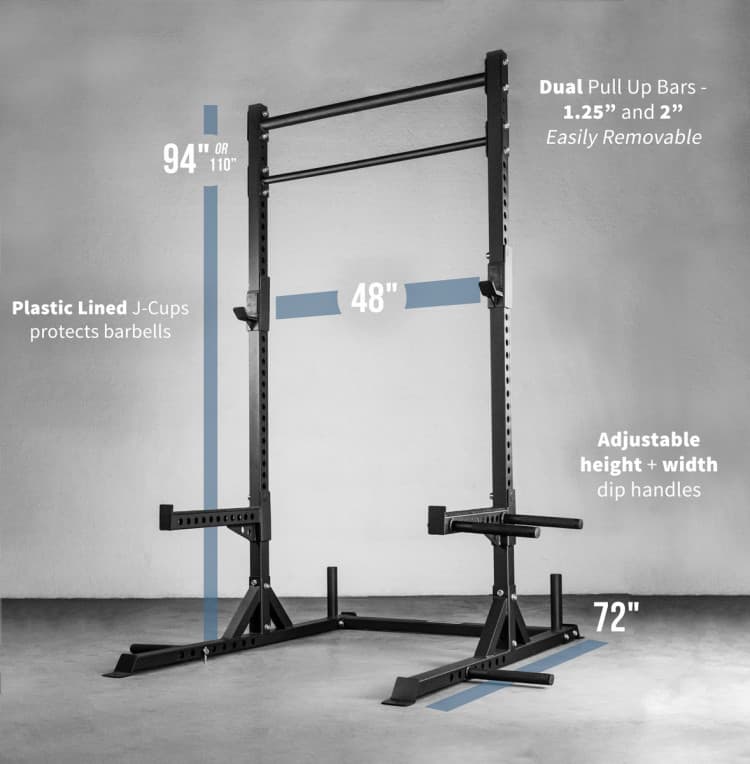 It's 94" – that's just under 8′ – so it should fit in any garage. (If your garage ceiling is even lower than that – I don't know what to tell you – maybe it's time to move?)
Made from 11 guage 2.5″ x 2.5″ steel – it's rated to hold 1,000 lbs.
That's probably more than enough for you – I know it is for me.
It has UHMW lined J-Cups for your barbell. Don't tear up the knurl on your barbells with anything less – you need catches that will protect the bar.
The spotter arms are also plastic lined. They are 24" long.
The spotter arms have band pegs that can double as dip handles.
This is a great feature – because the dip is an underutilized exercise for many trainees.
The only caveat is that you should counterweight the rack when doing heavy dips.
The dip handles will support up to 300 lbs.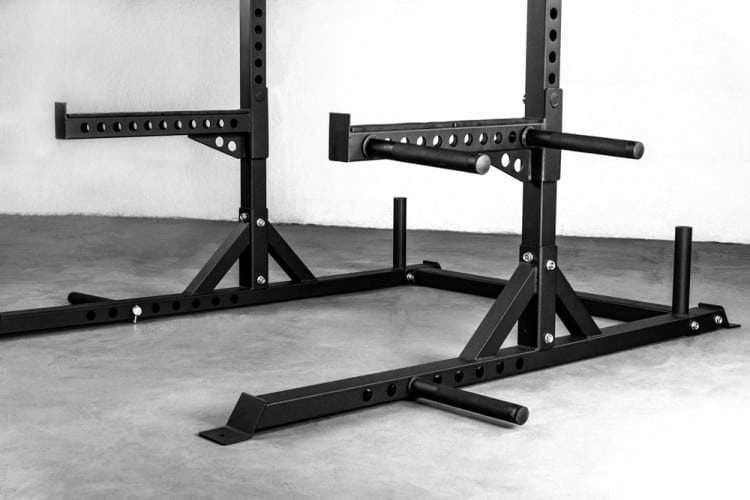 With features for heavy barbell lifts, dips, bands, and pull-ups or chin-ups – this really is a great bargain option for your garage gym.
SR-4000 Squat Rack from Rep Fitness
Got more ceiling height to play with?
The SR-4000 Squat Rack may be a better option for you.
This is a 110" tall rack – that's just over 9 feet.
That'll make those pull-up bars easier to use – especially for tall people.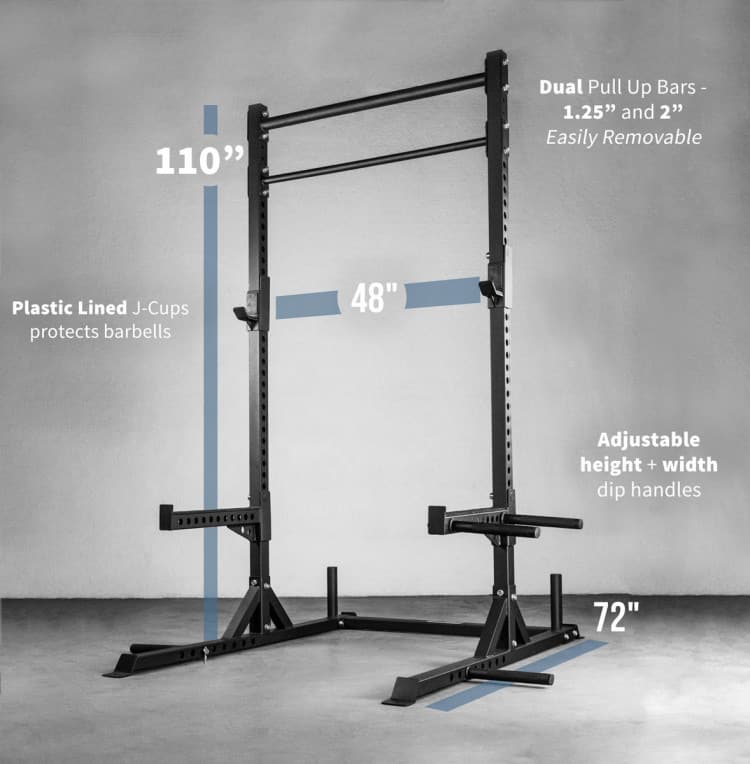 Beyond that, the SR-4000 has all the great features of it's little brother.
The band pegs, dip handles, plastic lined spotter arms, 1000 lb capacity – it's all there.
The SR-4000 is a very cost effective unit – there's no doubt about that.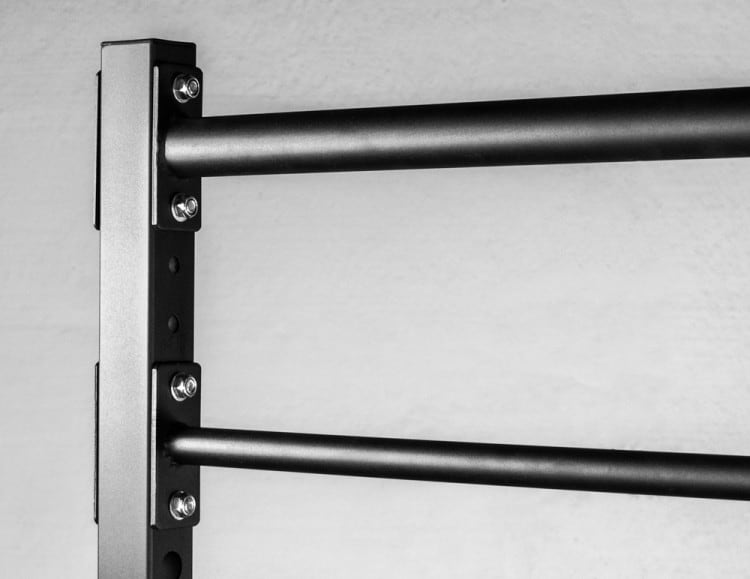 PR-4100 Folding Squat Rack / Power Rack from Rep Fitness
The PR-4100 Folding Squat Rack / Power Rack takes space savings to a whole new level.
This is a FOLDING wall mounted rack.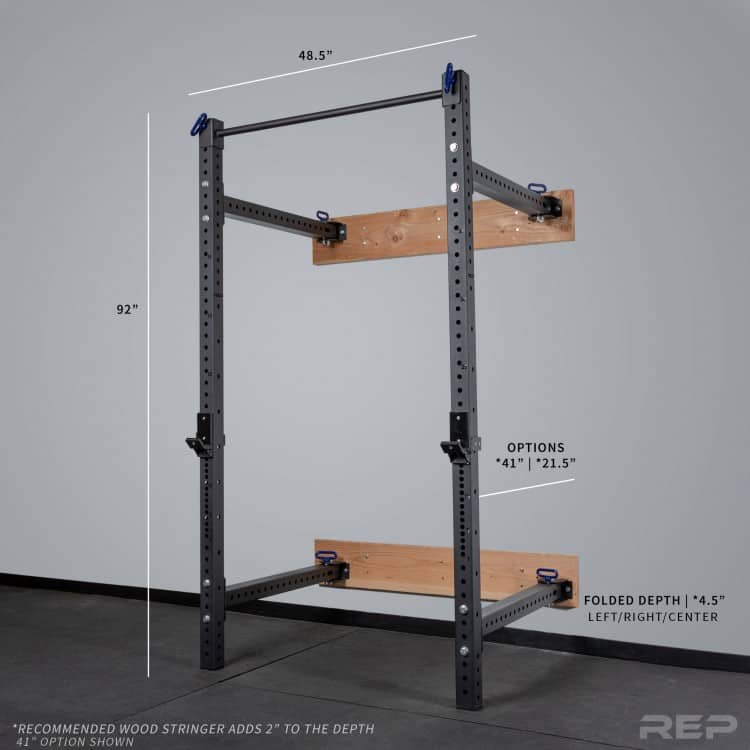 How flat? Pretty flat: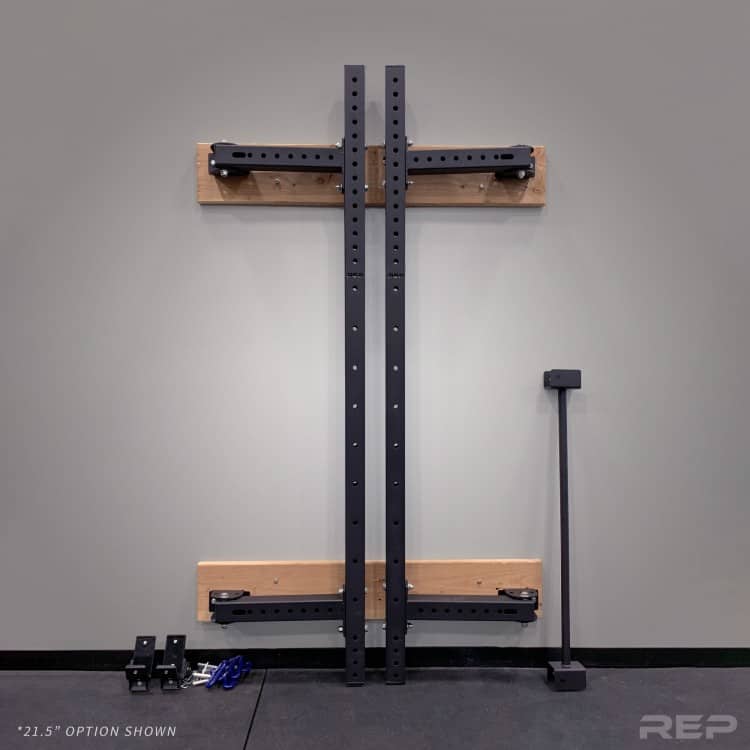 Please note there are two depths for this unit – 21.5" or 41" deep.
The uppers can fold inward or outward.
The PR-4100 comes with a single 1.25″ diameter pull-up bar (which is the equivalent of the "skinny" pull-up bar we highlighted on the other models.)
The PR-4100 has some other neat bells and whistles too.
For instance, it has Westside 1″ hole spacing.
This is allows for very fine adjustments to the barbell height – right where you need it – in the "benching" zone.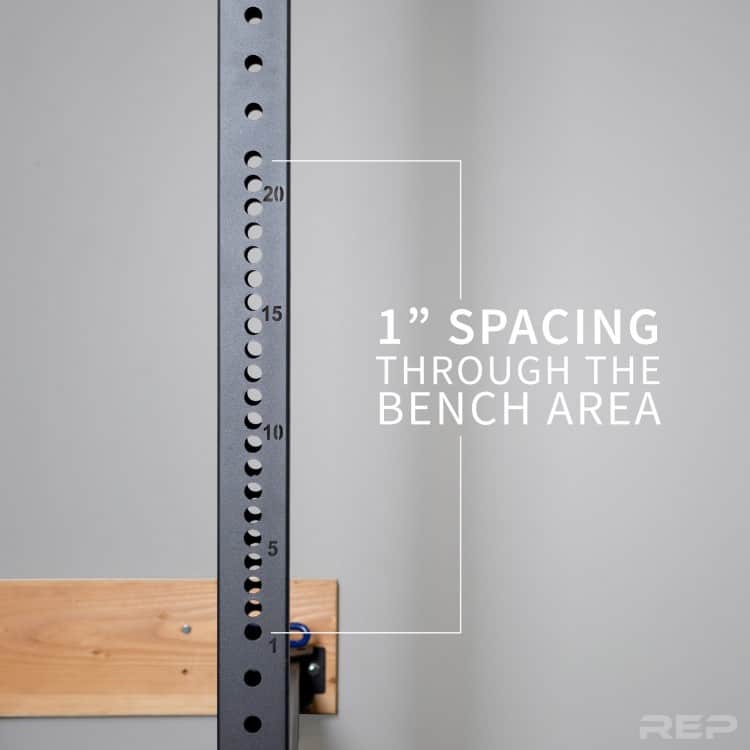 For the most secure mounting, Rep recommends the use of wooden "stringers" – mount these across the studs in the wall – then mount the PR-4100 to these.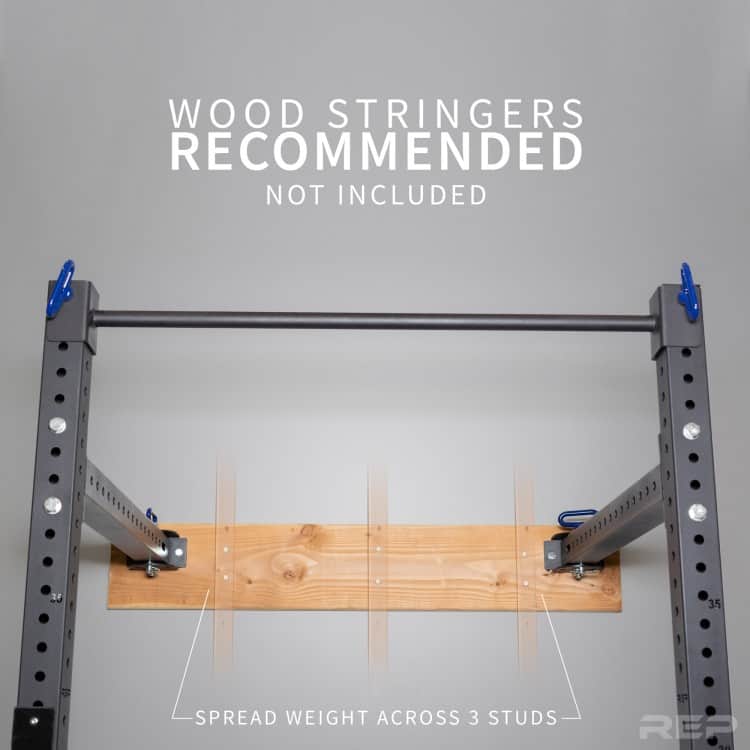 The Pull-Up bar can be easily removed for when it is time to store the unit.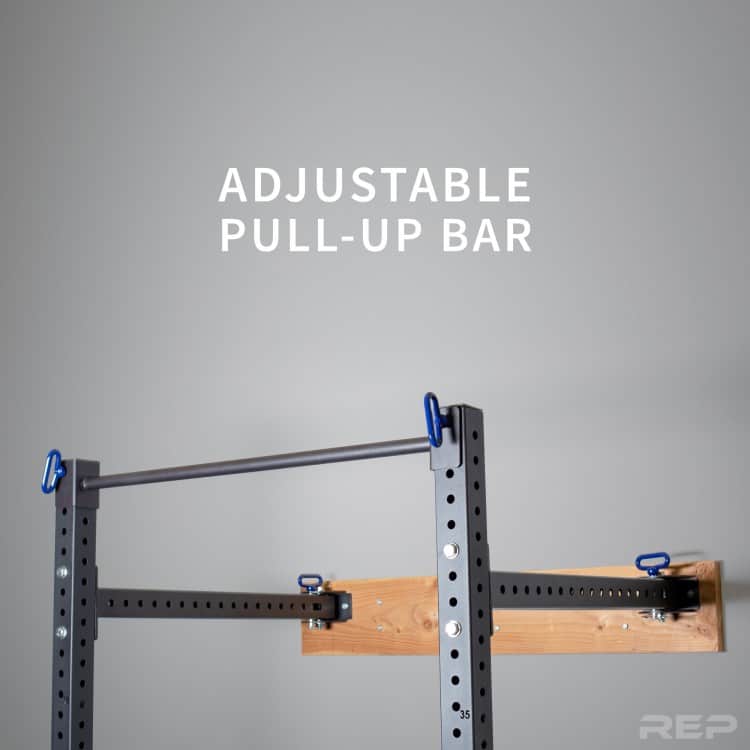 This unit is very sturdy – because it's got the two posts AND it's connected to the wall
How sturdy? Using the optional PR-4000 Dip Handles you can do body weight dips.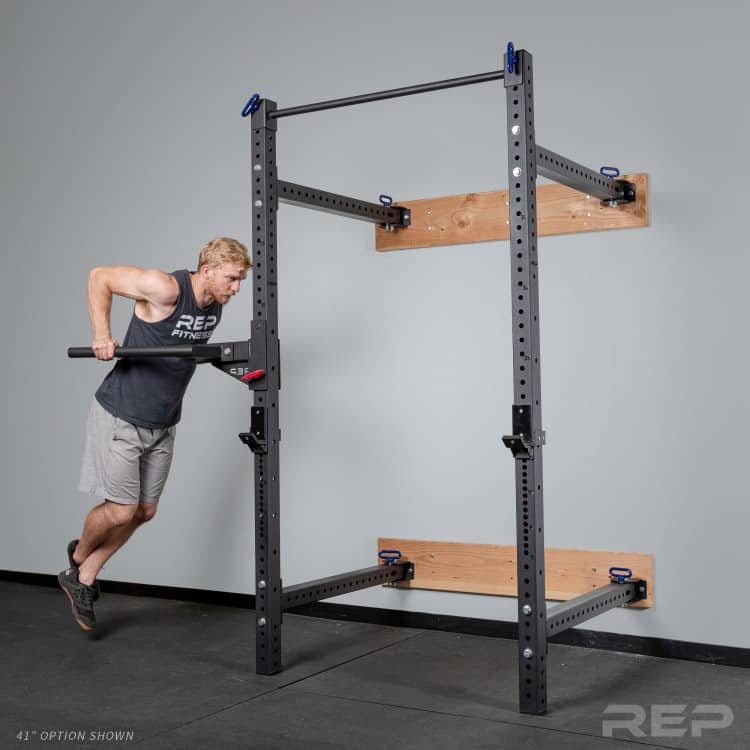 Overall, the PR-4100 is our top choice for a compact squat rack in your garage.
Squat Racks from Rep Fitness – In Summary
A Squat Rack (or Squat Stand) can be a space-efficient way to train heavily, and safely in your garage gym.
There are several innovative options available that let you get the best features of a power rack – in a much smaller floorspace footprint.
There's even a version that folds flat for storage. Keep your workout on point – and your car in the garage!
Why Rep Fitness Products?
We're a
Rep Fitness
affiliate – so if you order equipment after clicking the links in this article we receive a small fee – at no additional cost to you. Rep Fitness is the king of "bang for your buck" value in the fitness gear market. The quality is high – and the price is right. We're proud to help spread the word – and to help make your workout be the best it can be.
Photo & Image Credits
All Rep Fitness product imagery is property of Rep Fitness, and provided by Rep Fitness.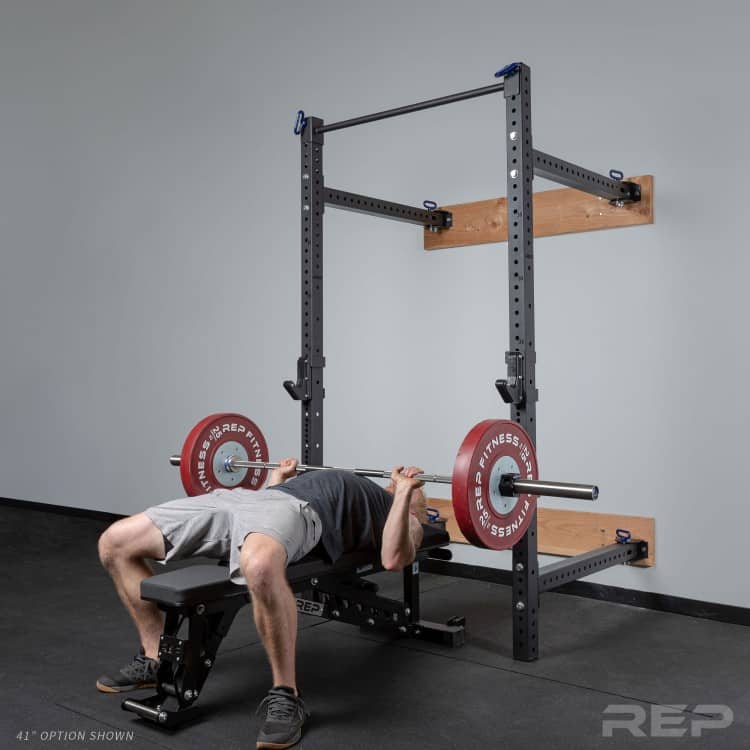 Tim is the founder of FitAtMidlife.com – an avid gym rat for 30+ years, he's a reviewer of many, many shoes – and founder of the Speed Bag Gathering – the world's only gathering of speed bag punching enthusiasts.  See more gym reviews at Tim's YouTube channel.