In this review we're going to look at the multi-grip swiss bar – also commonly called the football bar or the swiss bar.
But, no matter what you call them – they all have the same benefits.
The swiss bar gives you a variety of grip angles.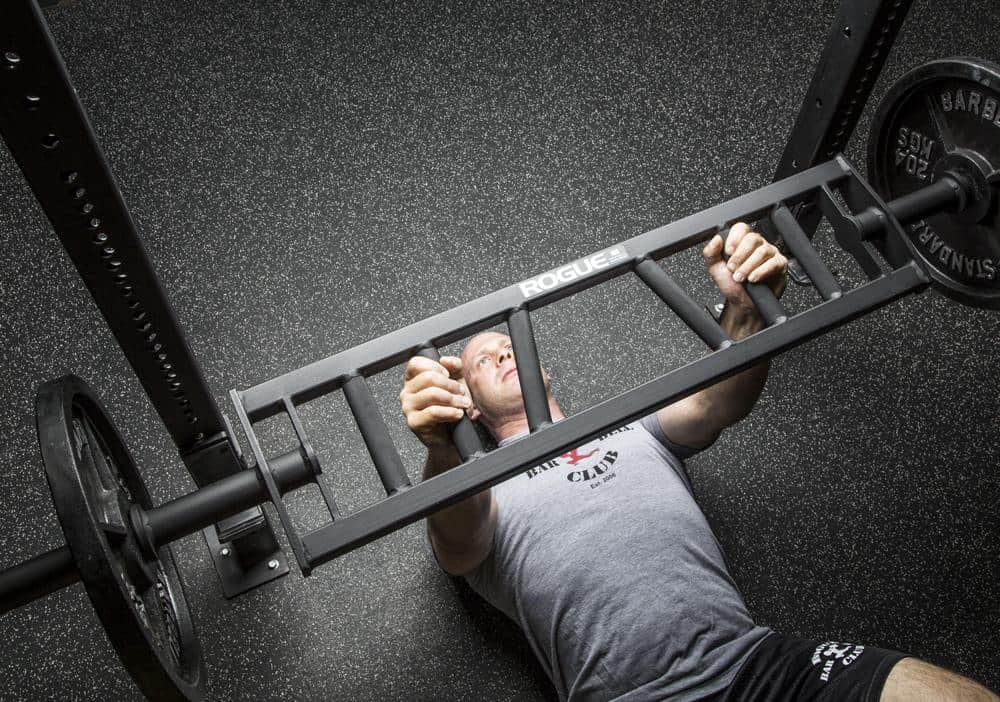 This can have huge benefits for those with shoulder, elbow, or wrist issues.
Pain when you bench press heavy? You should try the Swiss bar.
These are great for all kinds of pressing and rowing movements.
Bench press, incline press, rows, overhead press, curls, triceps extension – you can do all these with the versatile football bar.
These are also great for targeting your triceps.
Let's get started.
We're going to show you the best football bars from Rogue Fitness, American Barbell, and more.
Here's the best multi-grip barbells we have to review.
Benefits of Multi-Grip Swiss Bars
First of all, why would you even consider a special barbell for pressing?
As it turns out, the pronated (palms facing away) grip required for a regular barbell can put stress on your shoulders.
Supinated (palms facing you) grip can be the same – but that's less common with barbell exercises for the most part.
The multi-grip swiss bar will let you use a neutral grip – where your grip is neither supinated or pronated.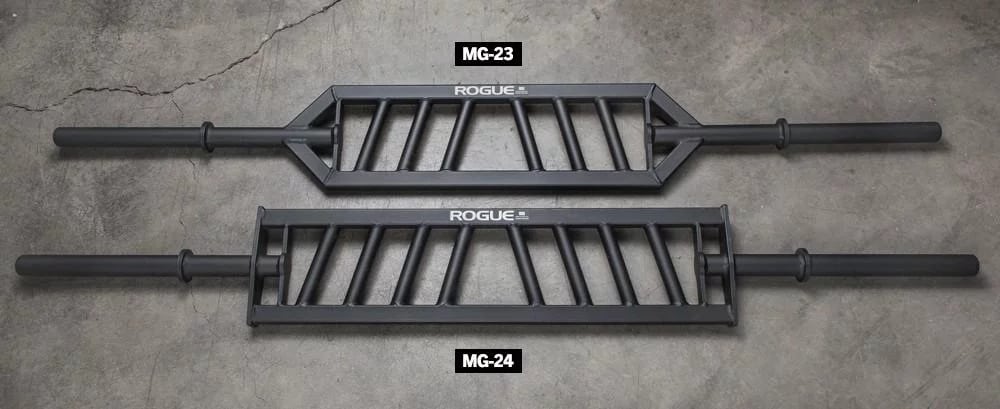 And this can resolve a lot of shoulder, elbow, and wrist issues for many.
For example, I CANNOT perform skull-crushers with a straight barbell. It causes intense elbow pain immediately for me.
But, if I grab a football bar and use the neutral grip – I'm all set.
Now, you can do skullcrushers with an ez-curl bar – but a proper swiss bar is a lot more versatile – you can use it for all kinds of pressing, rows, etc. Most of that cannot be done with a ez curl bar. Nor can you rack the average EZ-curl bar – it's too short.

The swiss bar may provide one or more slightly angled grips too – which can provide the maximum comfort for some.
Do you need a straight neutral grip or the one with a slight angle?
It's hard to say.
It's something that you really need to try for yourself.
Luckily some of these bars offer a choice of straight neutral and angled grips.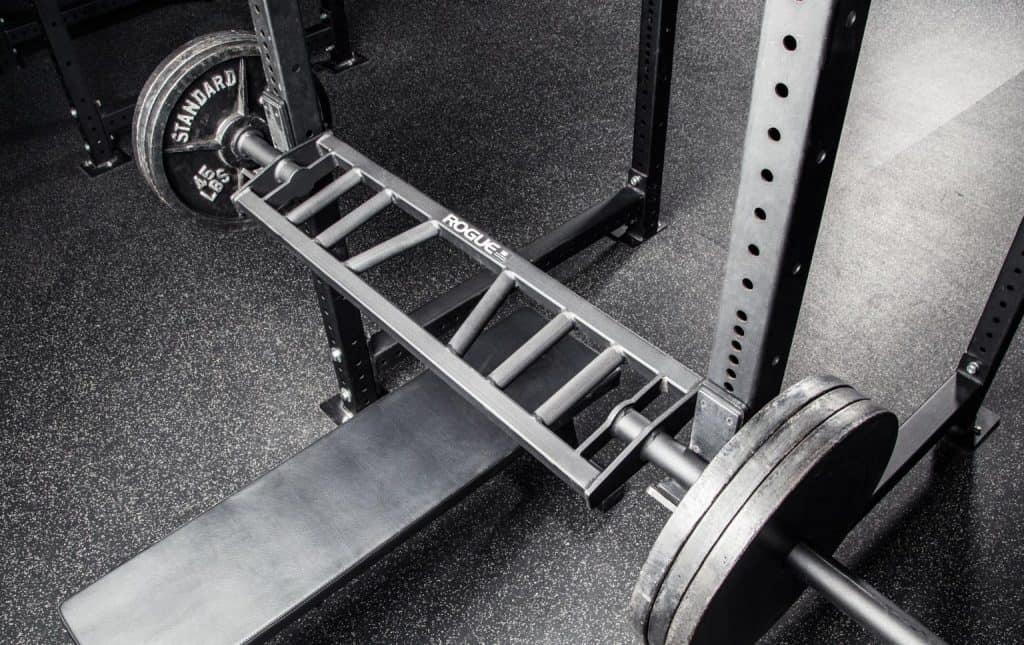 The second benefit of the swiss bar is that it let's you target the triceps quite well.
It has to – because most of the grips end up pretty narrow in the barbell.
It's not any different than using a narrow grip on a full size Olympic barbell – the closer grip requires for triceps recruitment – and less of the pecs.
But this is part of the benefit. There's extra training variety you can apply with movements such as : the close grip bench press, skull crushers, hammer grip curls, front raises and incline front raises.
The downsides of these bars are that they are a specialty item – you won't find them in every gym.
They also a very limited selection of grips – it's not like a straight barbell where there's a near limitless series of grip positions you can take.
Some of these bars are oddly sized too – and they may not fit onto the J-hooks of a standard sized power rack.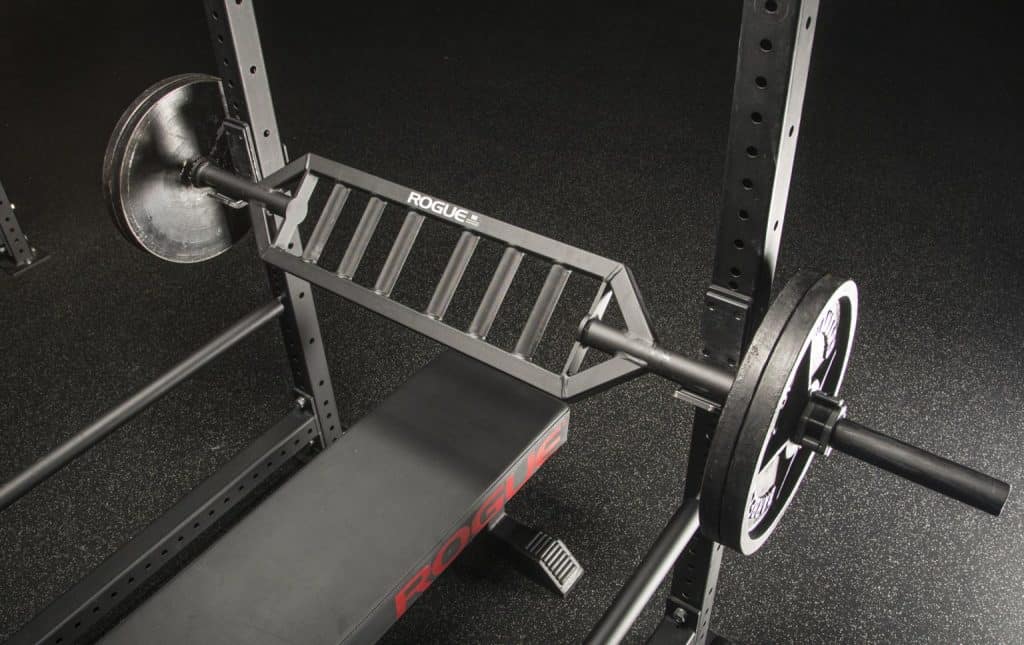 In this article, we'll only review products that are compatible with standard Olympic plates (with the 2″ hole in the center) and will fit into standard power racks.
Let's take a closer look at some products. We'll start with Rogue Fitness – because they have the widest variety of Swiss bar options.
Rogue Fitness Heavy Duty Multi Grip Bar MG-1
First, we'll look at Rogue's MG-1 Multi-Grip Bar.
Firstly, this bar only offers a straight vertical neutral grip.
The 1.25″ diameter grips are fully knurled.

This made in the USA bar is heavy duty – it weighs in at 39 lbs and has a 14″ loadable sleeve length.
It is compatible with Olympic plates (with the 2″ hole in the center) and will fit in standard power racks.
Want angled grips instead? Then look at the MG-2 model.
Rogue MG-2 Multi-Grip Swiss Bar
The Rogue MG-2 Multi-Grip Bar is made in the USA and robust like the MG-1 – but it's got either 3 or 4 angled grips.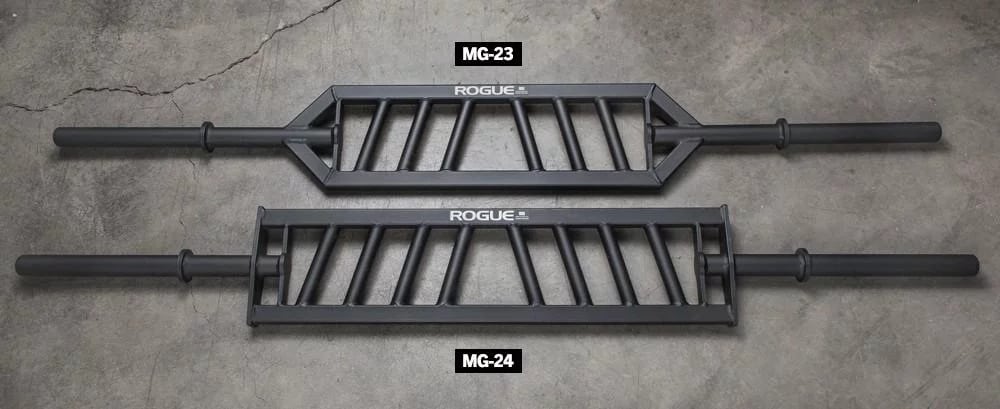 You can also flip the bar over to reverse the angle of the grip.
The MG-23 bar has a total of 3 grip options, and the MG-24 has 4.
The MG-24 weighs in a bit heaver at 44 lbs as compared to 39 lbs for the MG-23.
Like the MG-1, either model will fit in standard width power racks.
Rogue does recommend using their HG axle collars to accomodate the 1.9″ diameter sleeves properly.
Rogue MG-3 Multi-Grip Bar
Want the option of angled or straight?

The MG-3 Multi-Grip is the best of both worlds – It has one set of interior angled handles, and two sets of vertical neutral-grip handles.
By the way, the Rogue bars all have excellent knurl.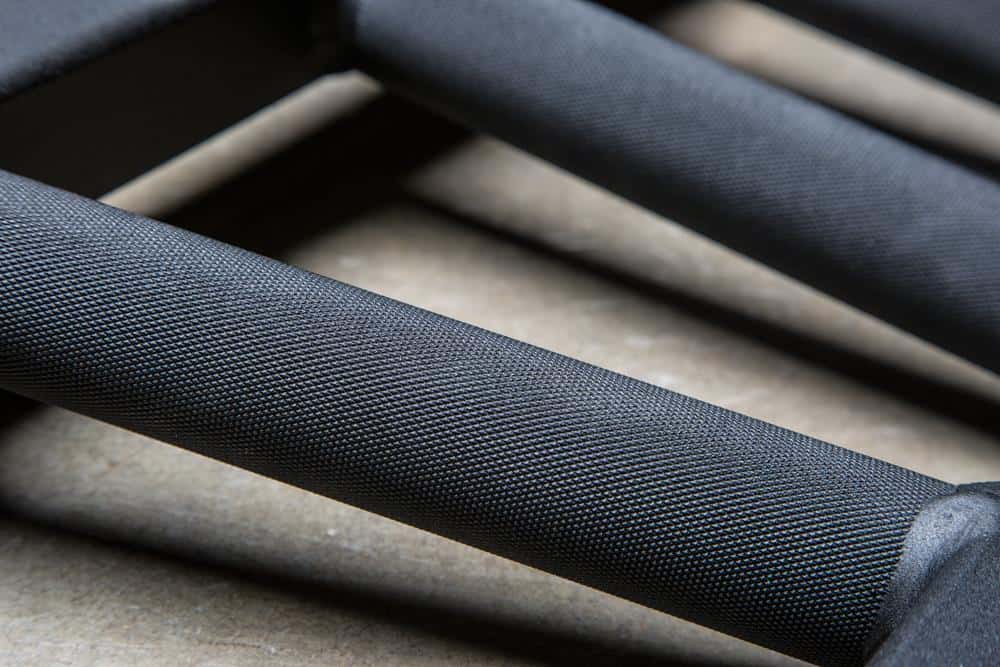 And, of course it fits in standard width power racks.
American Barbell Swiss Multi-Grip Bar
The swiss bar has been a gym staple for many years – and American Barbell makes them too.
The Swiss Multi-Grip Bar from American Barbell has all the features we look for.
It's made in the USA, works with Olympic plates, knurled handles, and fits in standard power racks.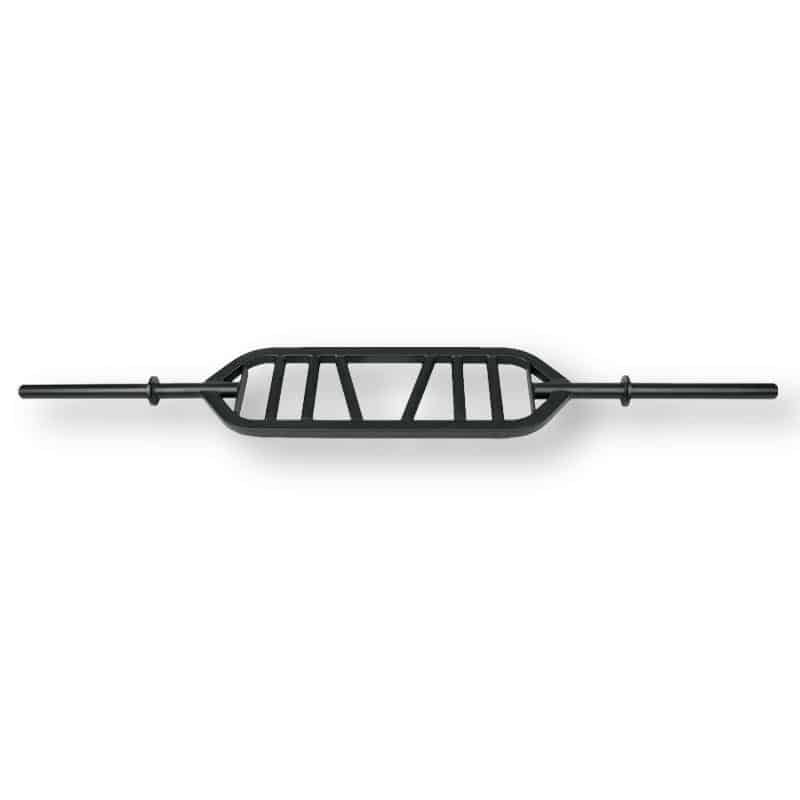 Here's where it stands out.
The sleeves have 16″ loadable length – that means you can put LOTS of plates on these.
As with many of the other Swiss bars, it is recommended to use "strongman" collars instead of standard barbell collars.
Secondly, it offers angled grips but you can see that the direction varies on the inside grip versus the two on the outside.
Fringe Sport Multi-Grip Swiss Barbell
Fringe Sport has an economical version of this bar called the Multi-Grip Swiss Bar.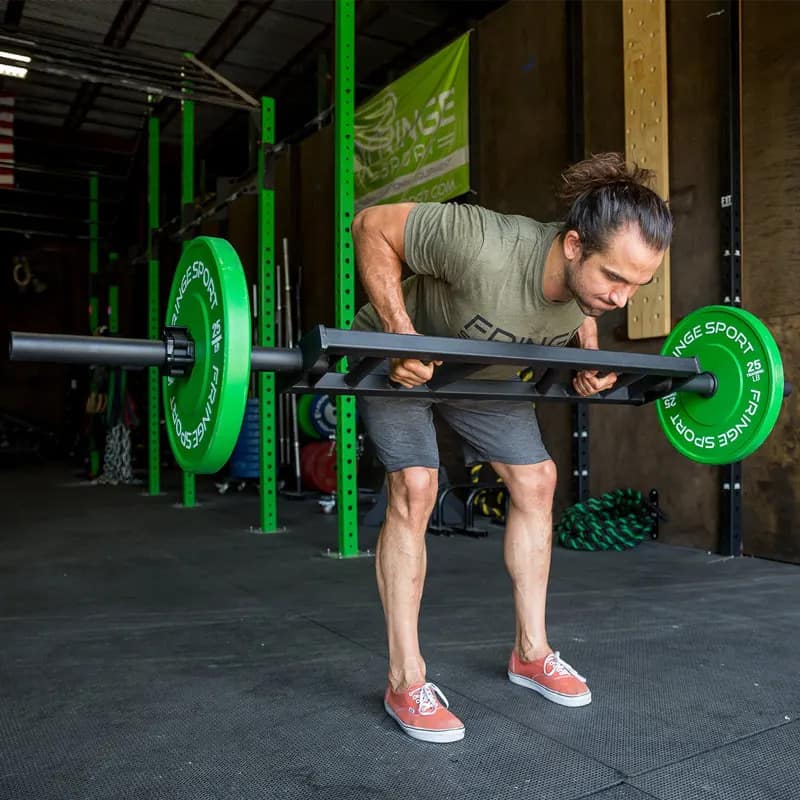 This beefy unit weighs in at 46 lbs – and the 14″ loadable sleeves can support up to 1,100 lbs – although you certainly won't load it that much.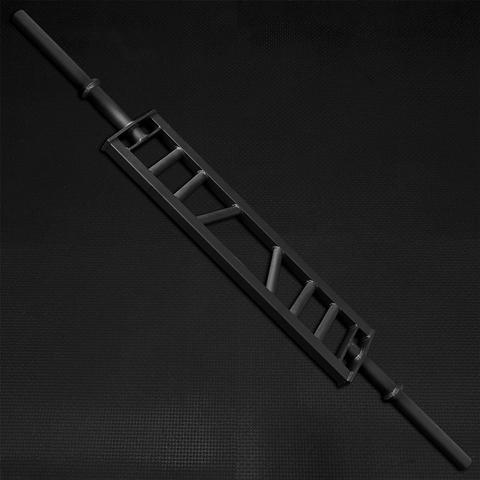 This bar has one more thing going for it – FREE SHIPPING.
Get RX'd Multi-Grip Bar 3.0
Last but not least – we have our bargain option the GetRx'd Multi-Grip Bar 3.0.
This is bargain priced – but packs a punch.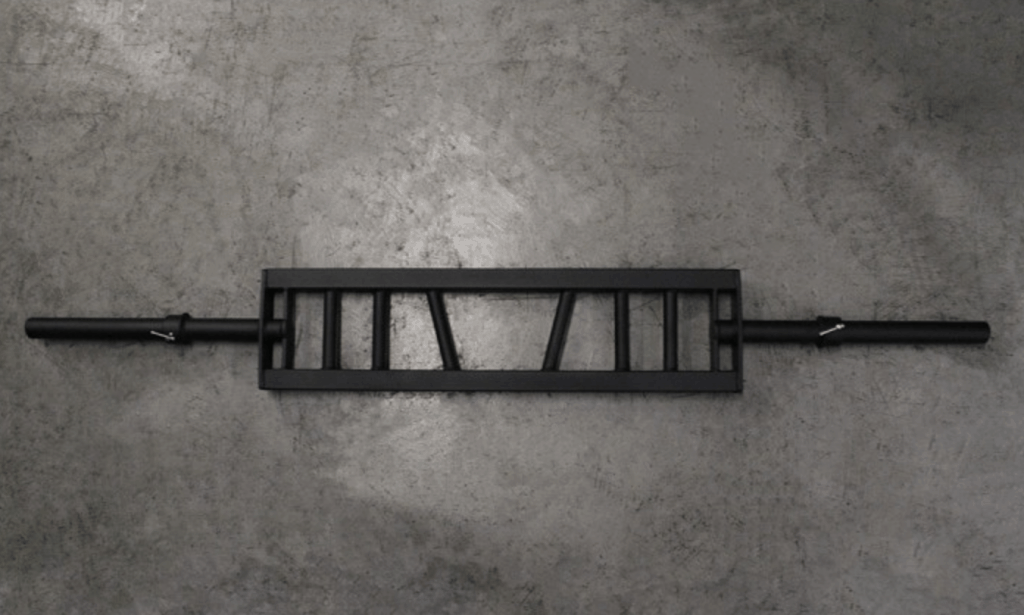 14″ loadable sleeve lengths, will fit on a power rack, and has two straight handles in addition to the inner-most angled handle.
Football Bars for Bench Press – In Summary
Whether you call it a football bar, multi-grip bar, or swiss bar – this device can help you vary your grip for any kind of pressing motion.
That means training variety – but it also means less stress on your shoulders, wrists, and elbows.
And this can have a huge impact for those with shoulder or wrist issues.
Leverage these bars for the best possible training you can have.
By the way, you may like our Better Ways to Bench Press article.
Photo Credits
We are an affiliate of Rogue Fitness, American Barbell, Fringe Sport, GetRXed and Rep Fitness. If you purchase equipment after clicking links in this article we receive a small commission at no additional cost to you. This helps us bring you great info about these products.
All Rogue Fitness product imagery is property of Rogue Fitness, and provided by Rogue Fitness.
We are also an American Barbell affiliate – the photos of American Barbell products are property of American Barbell.
We are also a Rep Fitness affiliate – the photos of Rep Fitness products are property of Rep Fitness.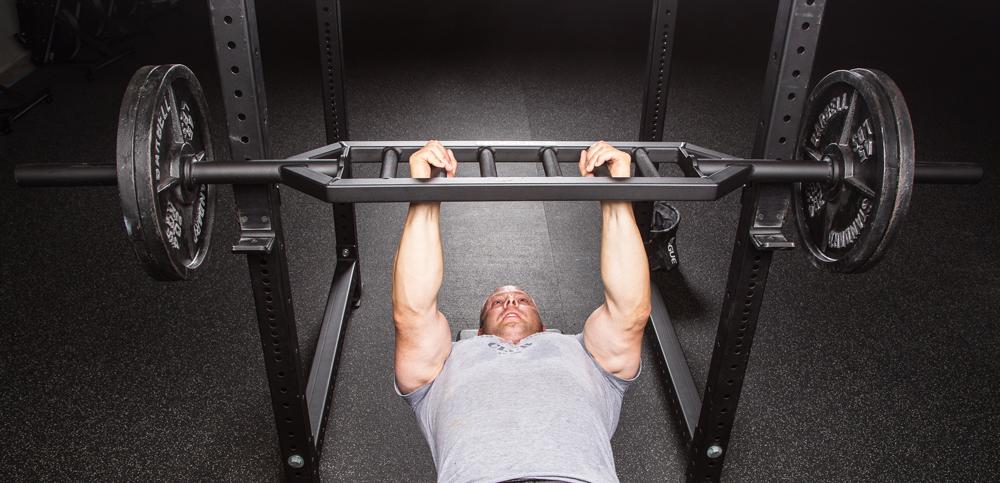 Tim is the founder of FitAtMidlife.com – an avid gym rat for 30+ years, he's a reviewer of many, many shoes – and founder of the Speed Bag Gathering – the world's only gathering of speed bag punching enthusiasts.  See more gym reviews at Tim's YouTube channel.