The flat bench press is an awesome exercise – it's the proper way to build massive upper body strength in the triceps, pecs, and front deltoids.
But performing the movement in the wrong way is hard on your shoulder joints – and possibly your elbows and wrists too.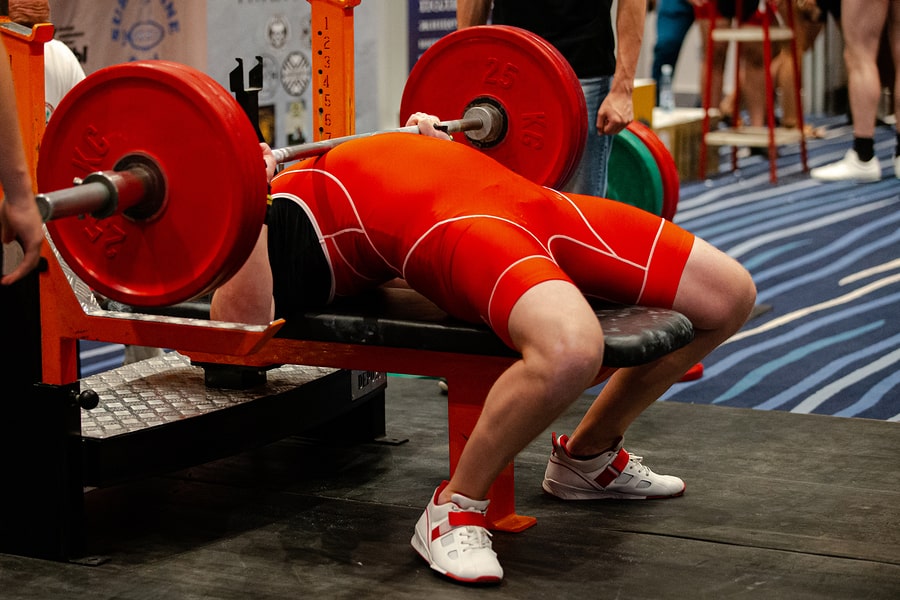 Add in the crazy amounts of weight you can bench – and you have a recipe for disaster.
The solution is not to stop benching; rather to start benching smart.
We're going to review equipment and gear that offers you better ways to bench.
Let's take a closer look.
Bench Press – Proper Form
First of all, the form you use for benching has a lot to do with your ability to train this lift long term.
One of the biggest improvements you can make immediately is to use a proper arch in your back.
This has two effects; it puts your muscles in a more advantageous position to lift heavy, and it reduces the range of motion (ROM) slightly.
You know how you can always lift more in a decline bench as opposed to flat bench? An arch on a flat bench is basically the same thing.
Secondly squeeze your shoulder blades together hard. Pinch your scapulas together as tight as you can.
This has a highly beneficial effect on the location of your shoulder joints.
Lastly, use your lats.
That's right – flex your lats hard to make a stable "shelf" for the whole bench press to happen on.
Just these changes alone may be enough to make your bench pains go away.
But, if you are doing all this and still having issue; read on.
Wrist Wraps
A heavy bench press puts a lot of weight on one of your smallest joints – the wrist.
Add wrist wraps to help provide stability to this critical area.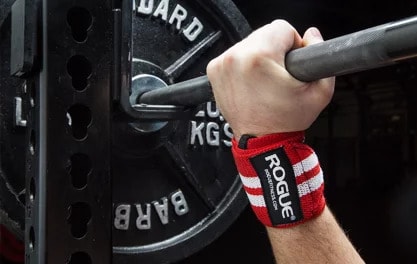 Rogue's White Series of wrist wrap are stiff and offer more support than their standard wrist wraps.
They are available in 3 lengths: 12″, 18″, and 24″.
The special blend of cotton, elastic, and polyester offers up to 30% more stiffness as compared to regular wrist wraps.
These are also available in a variety of colors.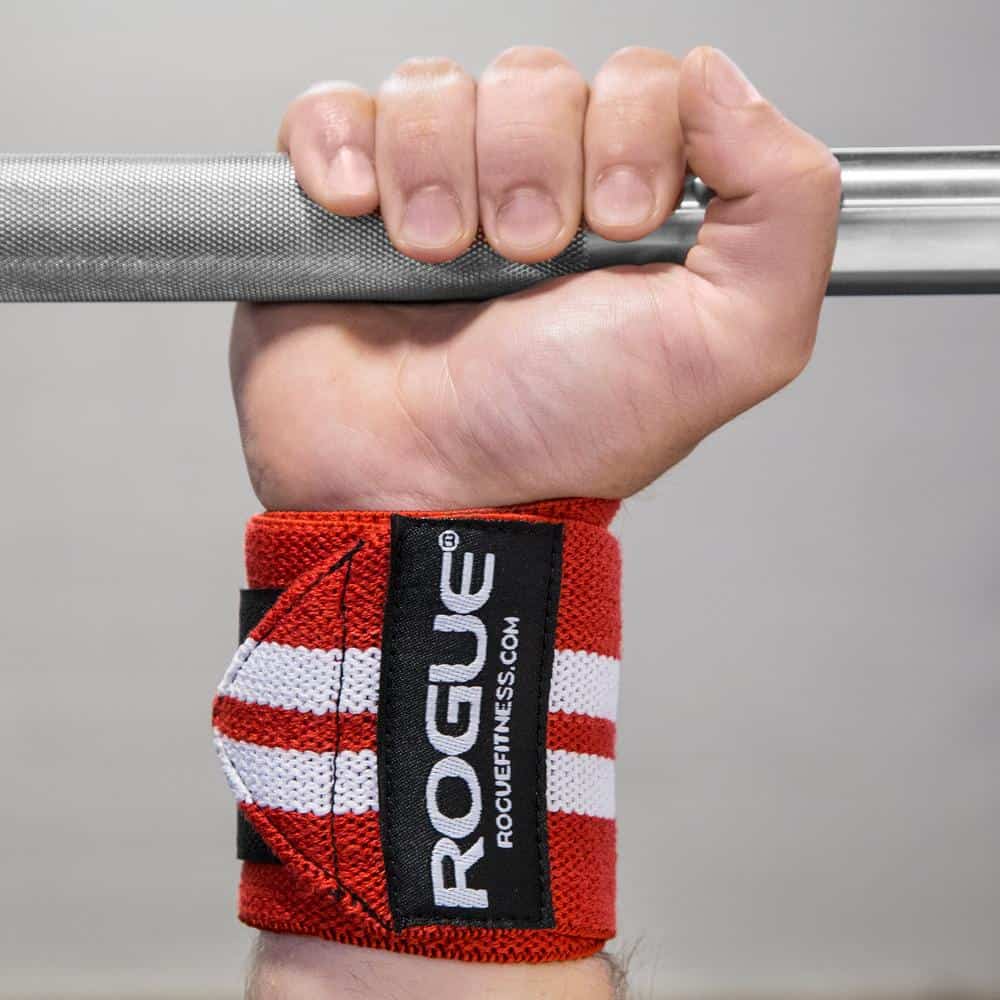 Multi-Grip Bar
Still having wrist issues?
Have you ever tried a multi-grip barbell (also called a swiss bar or football bar?
No matter what you call it, these bars let you use a neutral grip.
The Rogue MG-3 Multi-Grip Bar is an example.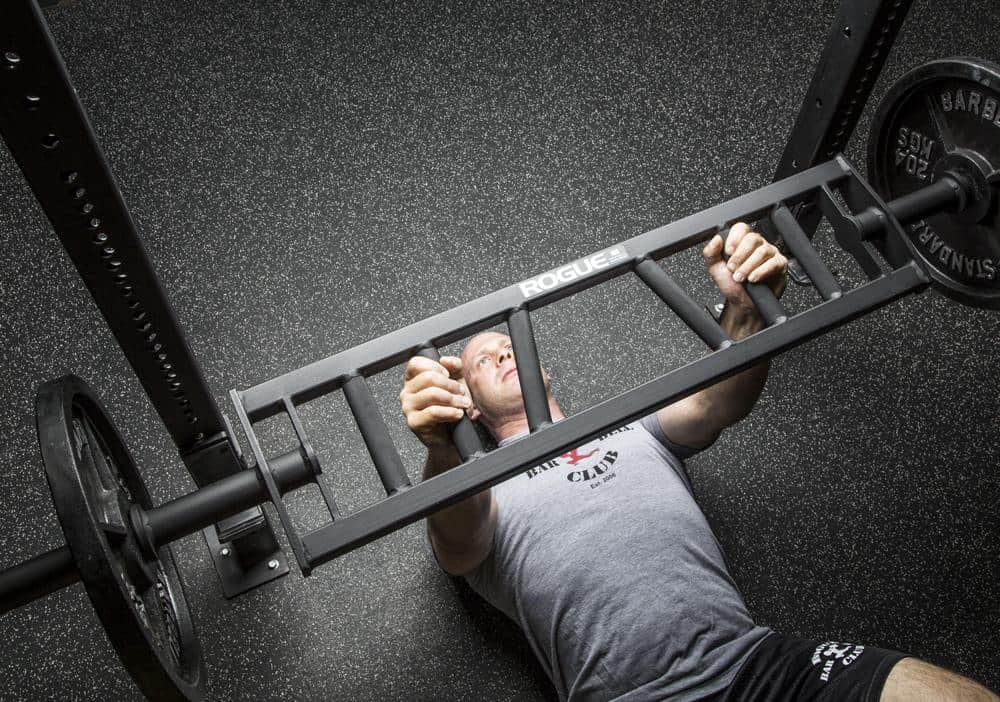 As it turns out, the pronated (palms facing away) grip required for a regular barbell can put stress on your shoulders.
Supinated (palms facing you) grip can be the same – but that's less common with barbell exercises for the most part.
The multi-grip swiss bar will let you use a neutral grip – where your grip is neither supinated or pronated.
And the MG-3 gives you a choice of angled or straight grips.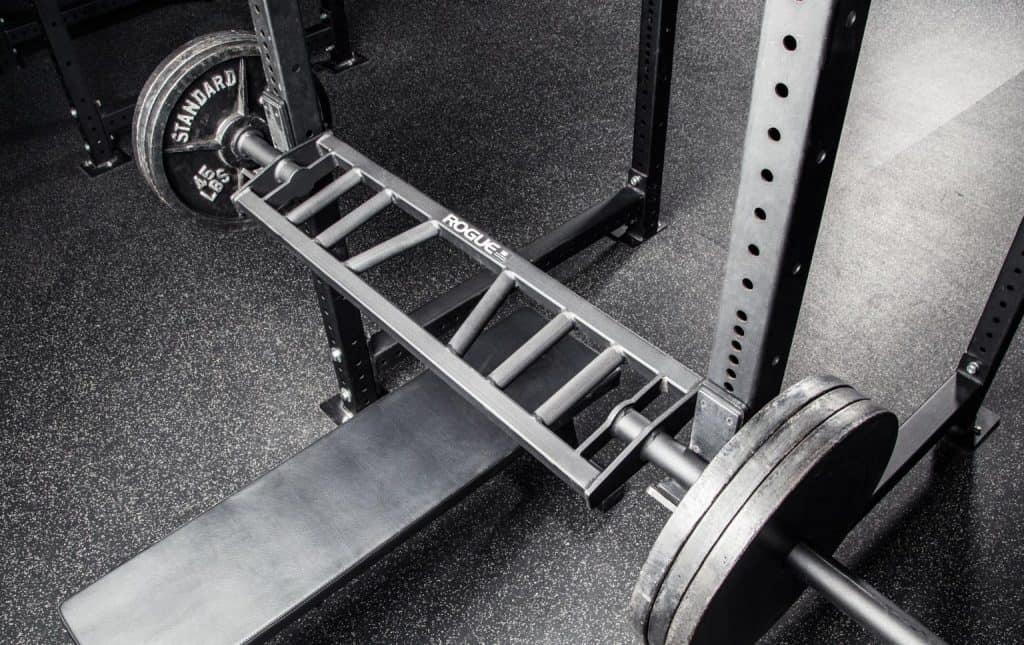 And you can load these just as heavy as an Olympic barbell, in most cases.
The Rogue bars have full knurl on all the grips – which is what we'd recommend.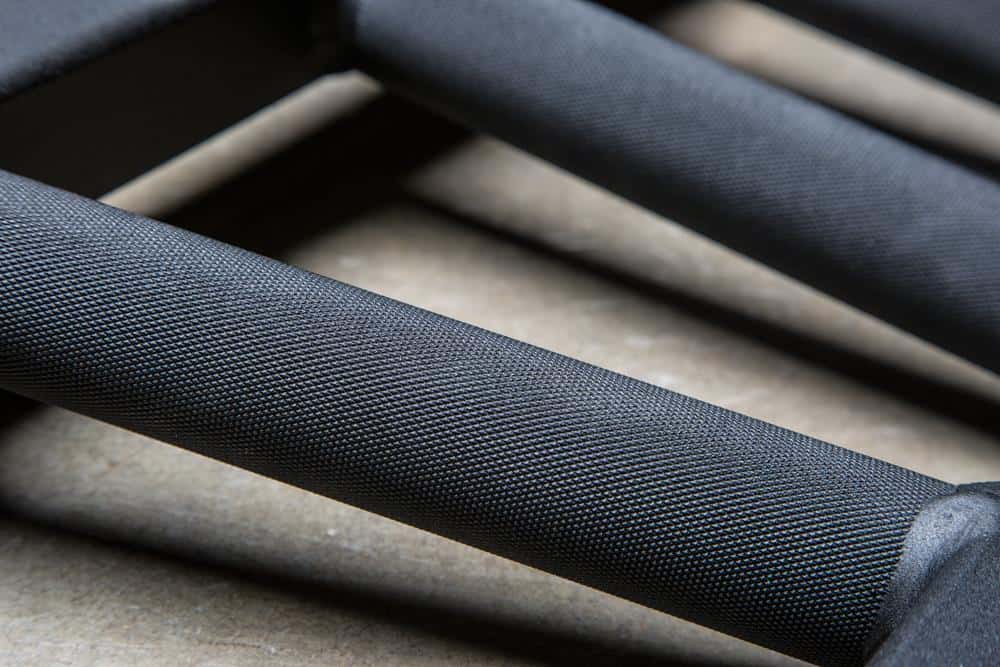 BenchBlokz
Board presses are a proven way to work a limited range of motion in the bench press.
This is great for blasting past a sticking point, rehabbing after an injury, or for keeping tension in the pecs (and off the shoulder joints).
While board presses are great – they aren't really practical for a solo trainee. They always require a volunteer board holder.
BenchBlokz let you work around those limitations.
These are available in two sizes – small and large.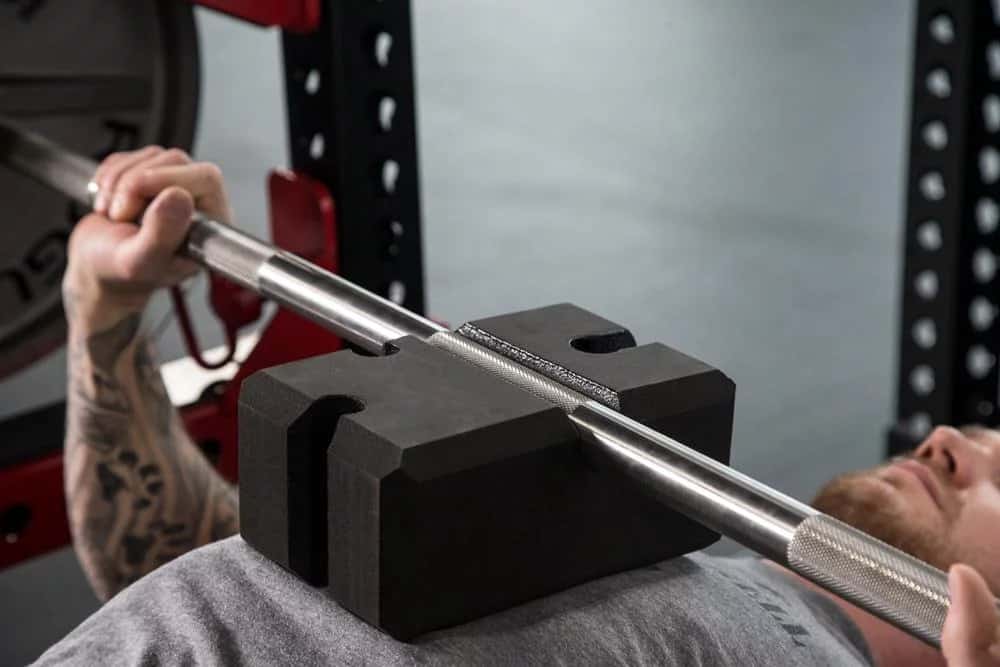 Each gives you a variety of depths – simply utilize the various notches on the blocks.
They are compatible with nearly all standard shaft diameters power bars – 28 mm and 29mm.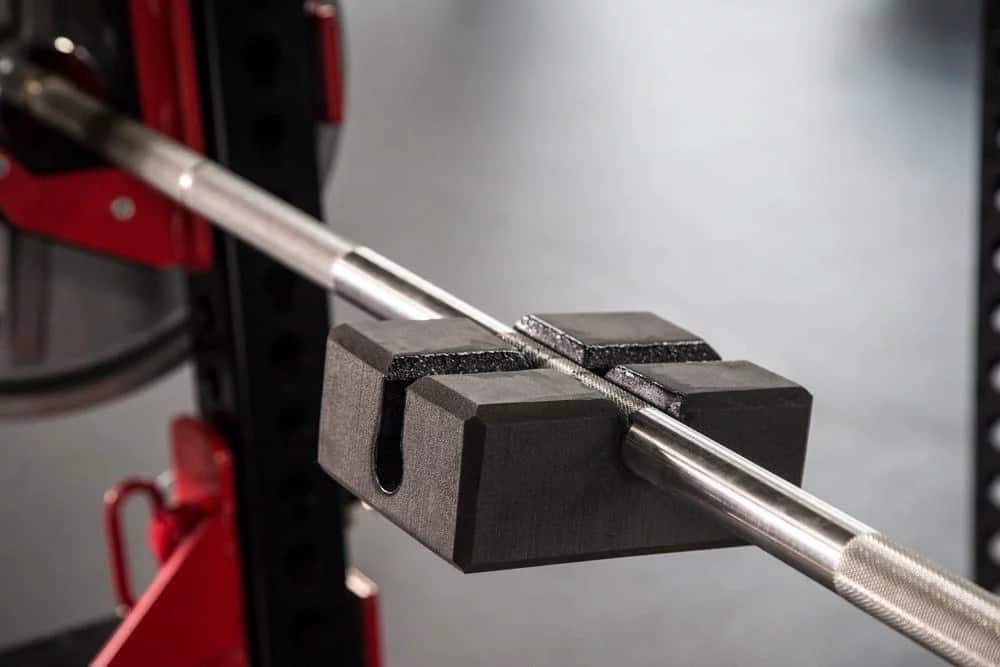 And these weigh less than 1 pound each – but will support 1,000 lbs.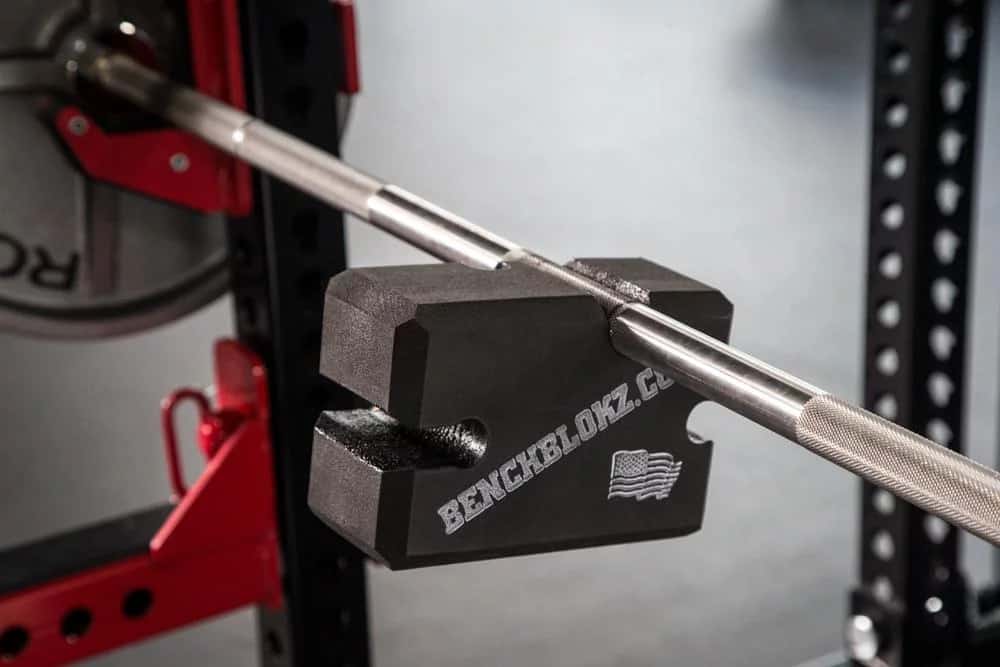 BenchBlokz are an innovative way to bring board presses to your home or garage gym.
Mark Bell's Slingshot
Experienced powerlifter Mark Bell invented the Slingshot.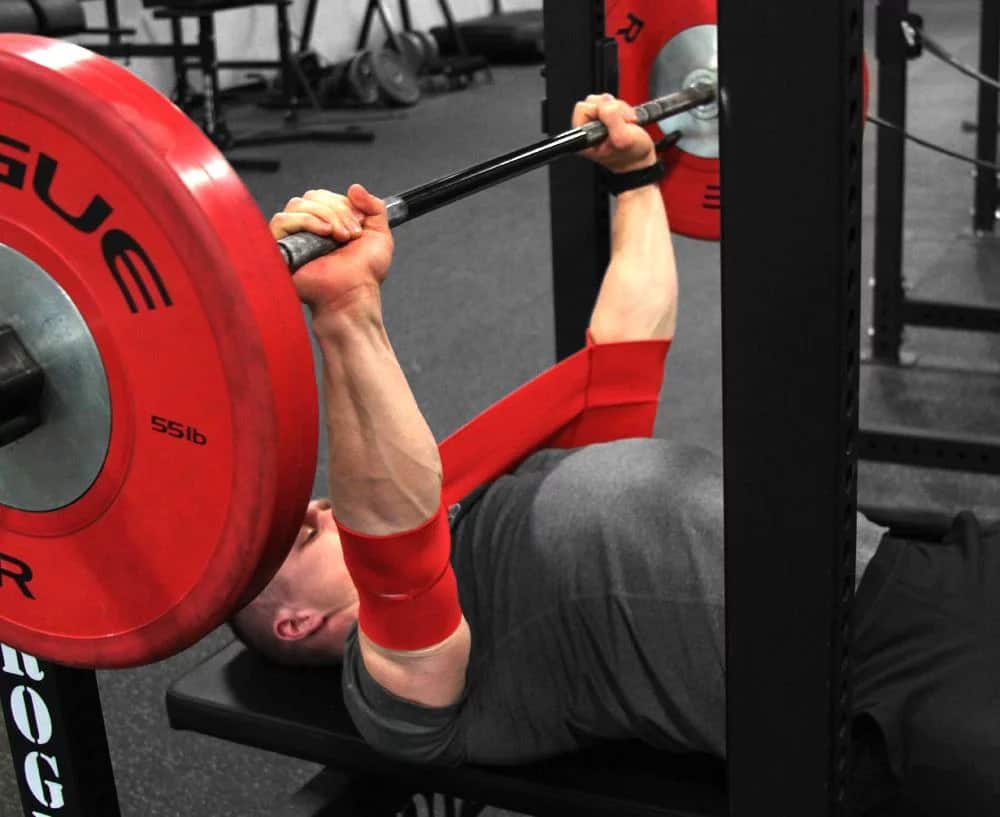 First of all, the Sling Shot will allow you to handle about a 10% overload in the bench press.
The Slingshot mimics your natural muscle movement by lengthening and shortening with the muscles thus giving support on the eccentric and concentric phase of a bench press. This effect can greatly reduce stress on the shoulders, elbows, and chest.

It can also be used for pushups or for assistance on ring dips and muscle ups.
There is also a Reactive version (blue) that is more flexible and pliable – and better for lighter bench pressers.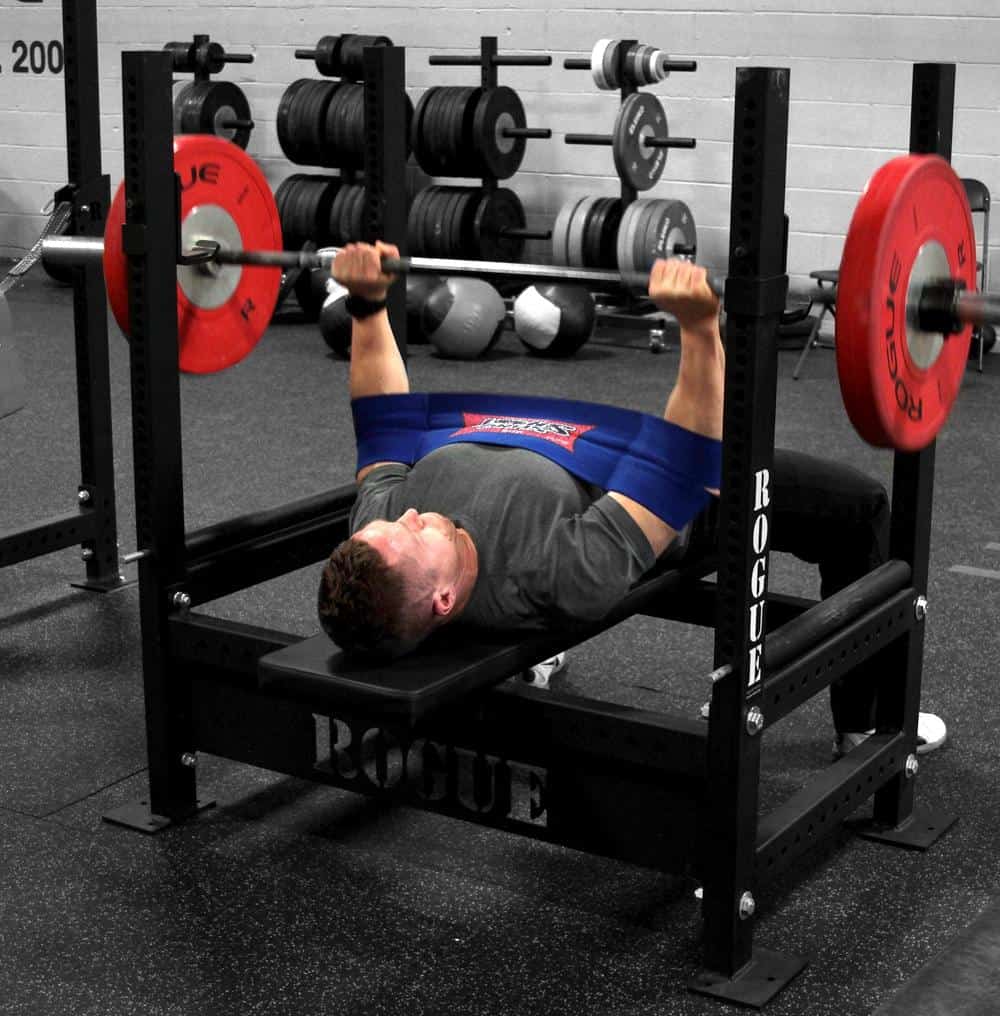 Thompson Fat Pad for your Flat Bench
Powerlifter Donnie Thompson invented the Thompson Fat Pad.
This replaces the stock pad on your flat bench and it's much thicker (4.5″) and wider (14.5″) than your average flat bench pad.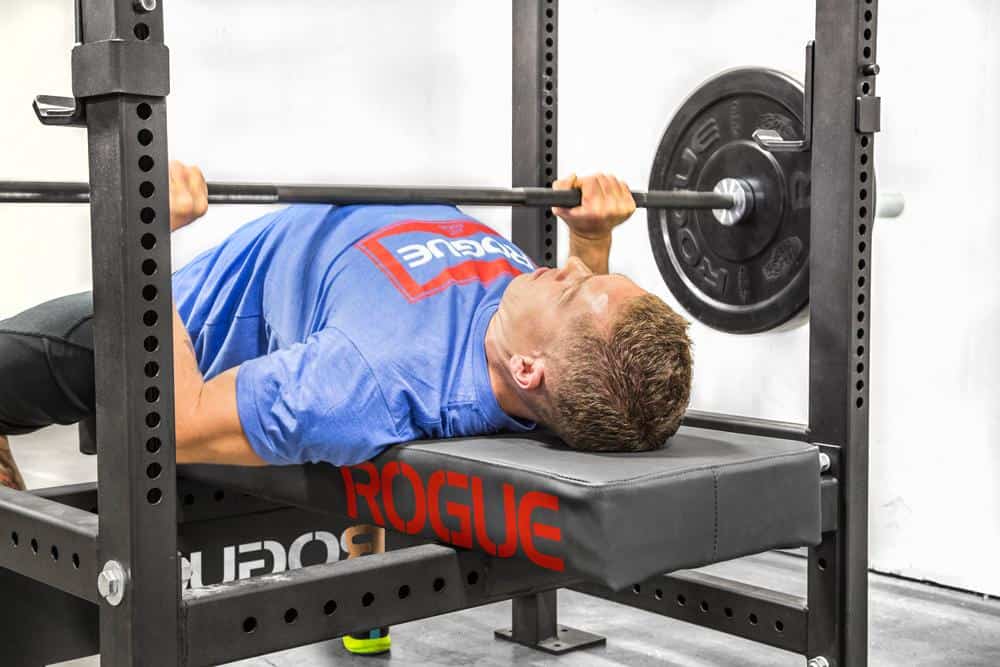 What's the benefits of this?
The inventor claims the Fat Pad will:
Promote Scapular movement
Eliminate Shoulder Hangover
Optimizes Back and Upper body Positioning
Increases mechanic leverages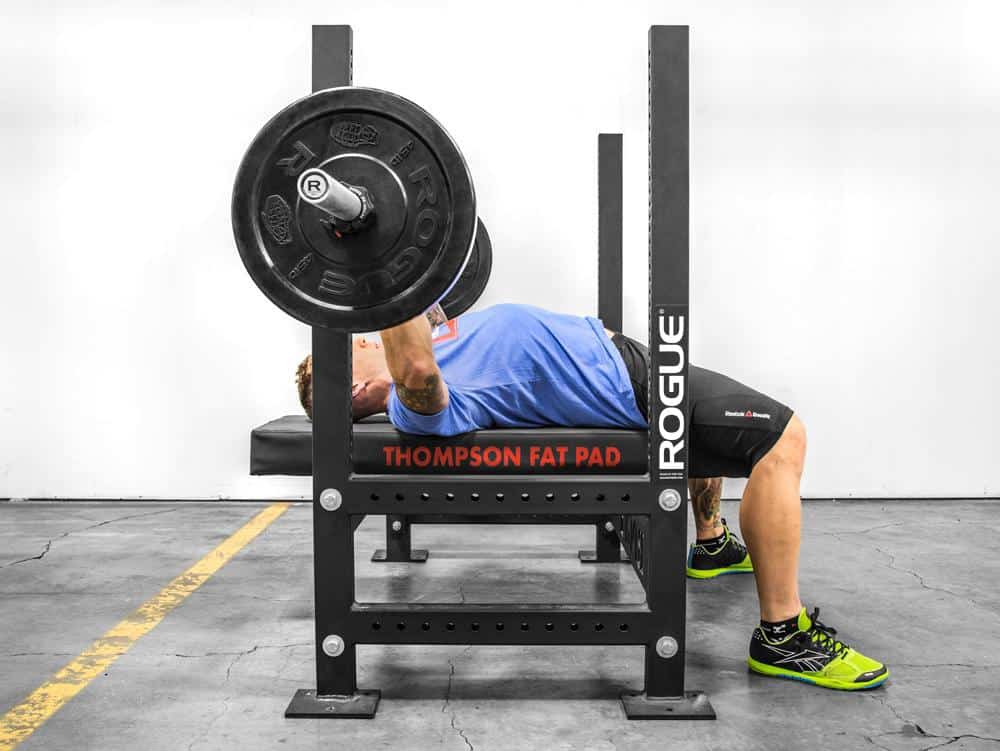 If you are looking for a similar, but cheaper "wide" bench option – check out our deep dive on the FB-5000 Wide Pad bench from Rep Fitness.
Duffalo Bar
The Kabuki Strength Duffalo Bar is designed by world renowned strength coach and powerlifter Chris Duffin.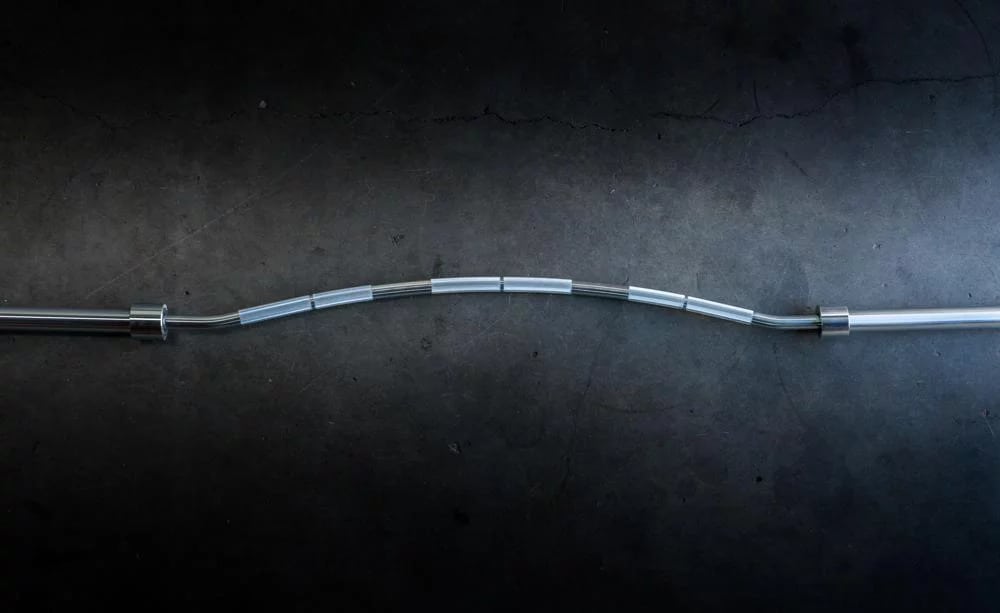 It's great for squats – low bar, high bar, or front squats.
But it's also great for bench pressing.
It helps enforce a beneficial wrist angle that reduces strain on the shoulders while promoting better lat and scapular engagement.
The proprietary bend encourages proper joint centration and reduces rotational demand on the shoulder.
It also improves scapular retraction and lat engagement in the press.
It is available in 3 finishes: Clear Zinc, Black Oxide, or Bright Nickel.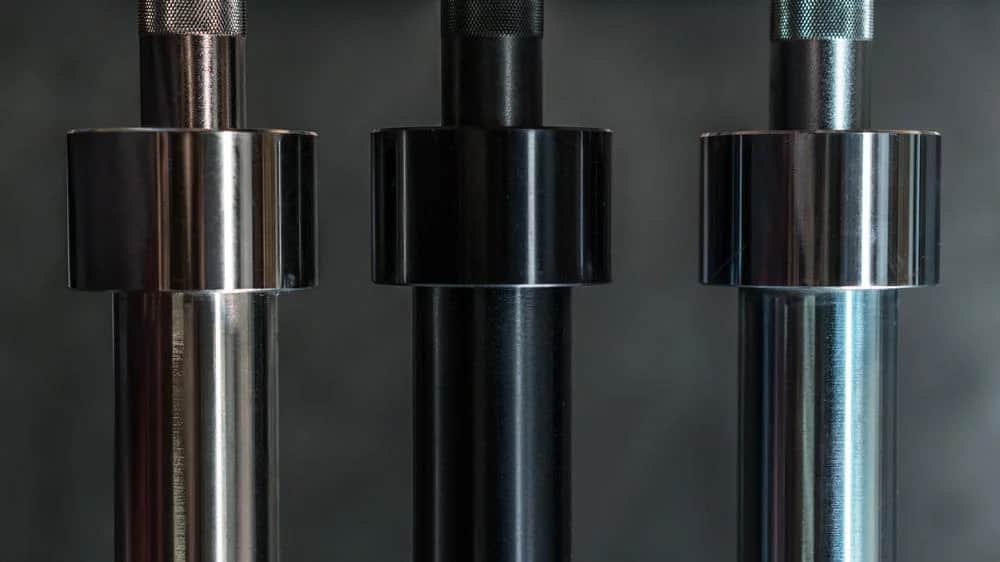 This item is made in the USA and has a lifetime warranty.
Dip Belt
Sometimes you just have to lay off the bench for a bit.
But that doesn't mean you can't continue to train your upper body.
In fact, dips are a great way to "conjugate" your press training.
Heavily loaded dips put a massive load on your triceps, front delts, and pecs – just like the bench press.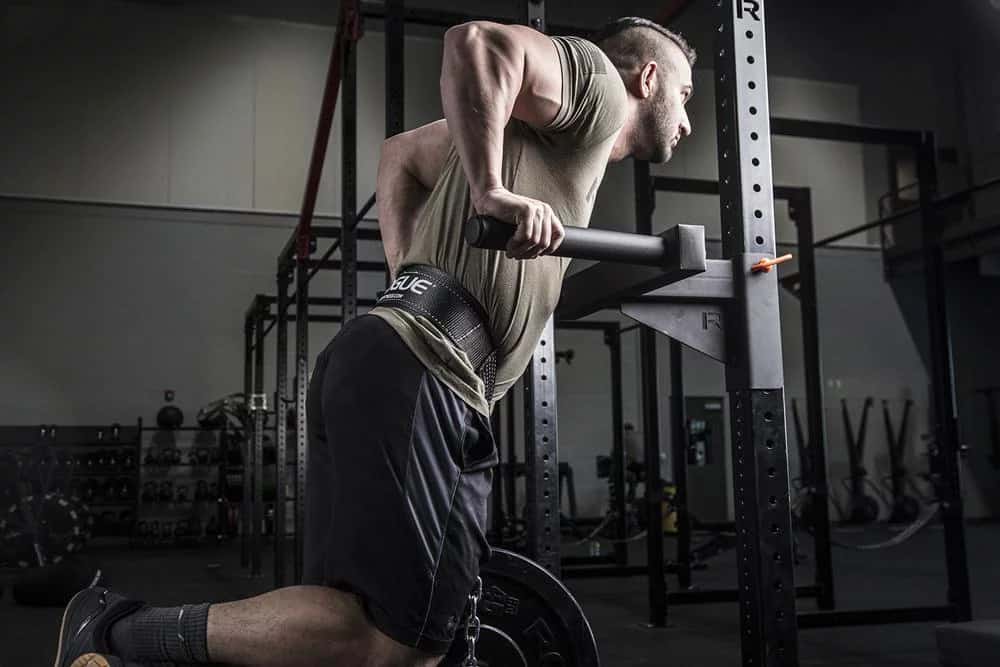 But it's a different variety of stress – and that an help you get stronger in the bench – and give you some training variety.
But, for these to truly be effective you've got to add weight.
The Rogue Dip Belt can help you do just that.
It's available in two colors – black or yellow.

The heavy duty nylon, 1/4" wide steel chain-link system, and D-shaped carabiners can support far more weight than you could ever dip.
As an added plus, it's made in the USA – as a lot of Rogue's best stuff is.
Better Ways to Bench – In Summary
The bench press is a mass and strength builder with no equal – but it can be hard on your joints.
Don't stop benching – bench smarter instead.
We hope these items help you attain your training goals – and keep you in the weight lifting game for a long time.
Image and Photo Credits
The Rogue Fitness logo and product imagery on this page is property of Rogue Fitness and provided by Rogue Fitness.
This website is not affiliated or associated with CrossFit, Inc. CrossFit is a registered trademark of CrossFit, Inc.