Let's talk about the best air bike (airbike) for 2019. We've got details on all the popular models.
The Rogue Echo Bike is our top pick, and is shown here as an example.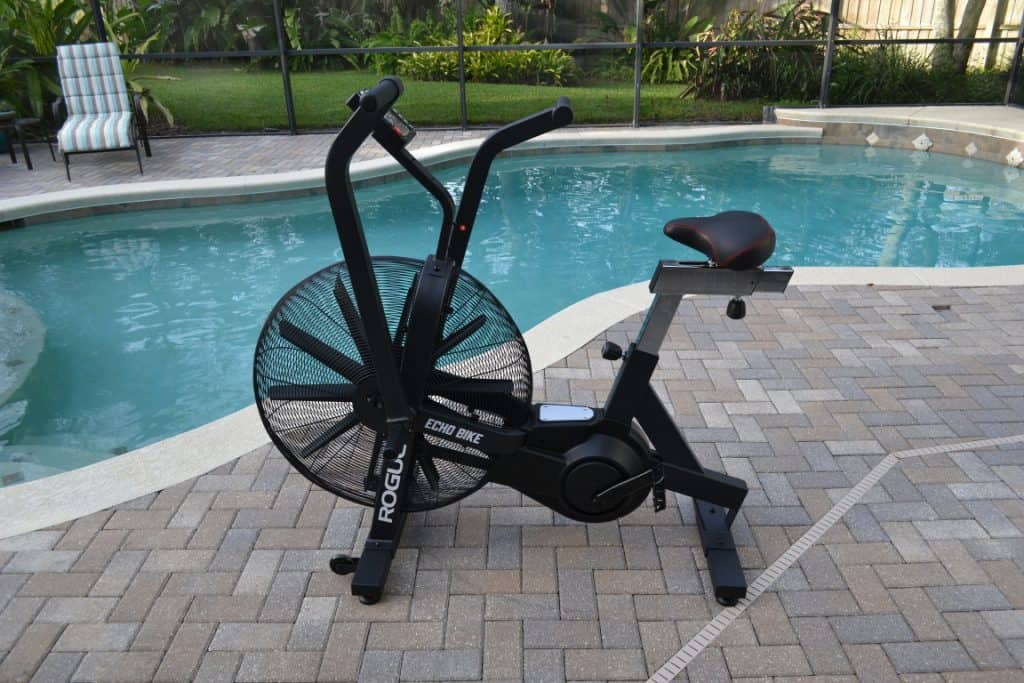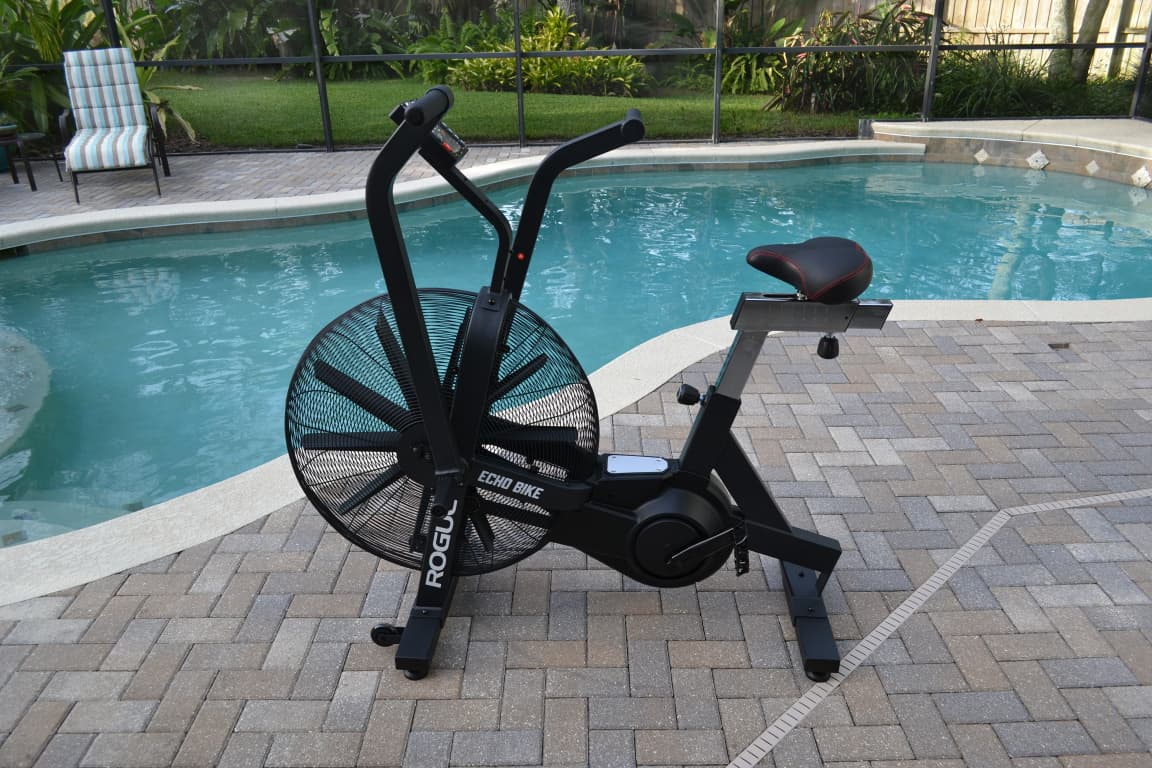 Let's dive right in, by first explaining what the best air bike would look like – and how it is used.
Here's the air bikes we'll be reviewing in this article. Be sure to read the entire article to understand the pros and cons of each.
What is an Air Bike (Assault Bike)?
An air bike, also called a fan bike, is an upright, stationary bicycle for indoor fitness use. They can also be called assault bikes, but that is usually referring to a specific brand.
It is different than traditional stationary bikes in that it uses air resistance to provide a limitless range of work. When you pedal, you are moving a fan. The harder you pedal, the more air resistance is provided.
The Schwinn Airdyne is another popular line of air bikes. There are several different models, shown here is the Schwinn Airdyne Pro (AD Pro). This is Schwinn's top of the line air bike model.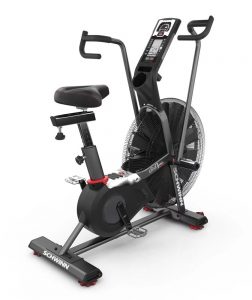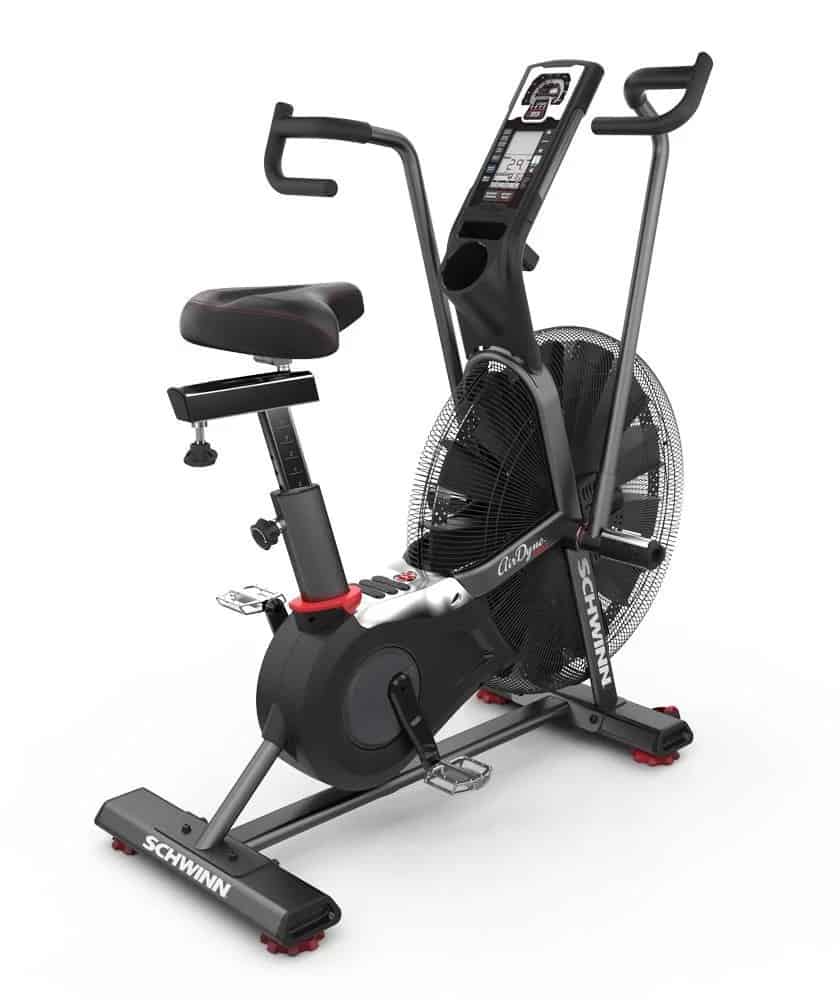 An air bike also incorporates your upper-body through the use of push and pull handles. This turns something that is traditionally just a lower-body workout into a low-impact, total body workout.
You pedal, push, and pull your way to a full body workout.
As such, the air bike or fan bike is known as a brutally effective workout. It is low-impact exercise, but the combined action of your legs and arms means it is not just an efficient calorie burning exercise, but also great for endurance and conditioning.
At this point we should mention this device has a nickname: Satan's Tricycle.
What is an Assault Bike?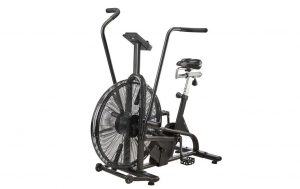 You may hear of an assault bike or air assault bike. This is an air bike made by Assault Fitness, called the Assault AirBike.
It was one of the first models popular for CrossFit use, and therefore some people use the term interchangeably with fan bike.
The Assault AirBike makes an almost guaranteed appearance at one or more CrossFit Games events every year – and the CrossFit Games 2018 were no exception.
Fan bikes have been available for many years, and popular models include the Schwinn AirDyne Pro, Assault AirBike, Assault AirBike Elite, Rogue Echo Bike, Cocept2 BikeErg, and more.
Air bike vs indoor rower?
For cardio endurance and metcon what is the better choice – the air bike or the indoor rower? The air bike is unbeatable for HIIT – but you can do that on a indoor rower such as the Concept2 Model D as well. The benefit of the
rower
is that it does work better for lower intensity cardio and longer steady state cardio workouts. Secondly, some people find the air bike seat uncomfortable for long workouts. However, the air bike is very lower back friendly – where the rower is less so.
How to Workout With an Air Bike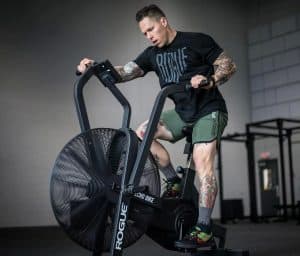 As we mentioned above, the air bike provides a wicked low-impact, total body workout. Here's a few workout ideas you can use to utilize this excellent training equipment.
First of all, it's a tremendous calorie burner. Because you are using both your arms and legs against significant resistance (and often at maximum effort) it can provide a very time efficient, calorie burning workout. Of course, this all depends on how hard you are pedaling (and pushing and pulling with your arms).
It is possible to burn up to 90 calories per minute on an air bike – but understand you will be working very hard to achieve that. Perhaps more importantly, most units have an electronic monitor built in which will give you a very accurate estimated calorie burn.
The other benefit of an air bike is that you control the pace, and you can speed up or slow down at will.
And this means it's not only good for steady state cardio (holding a steady pace for time) but it's also excellent for sprints and HIIT (High Intensity Interval Training) style intervals.
Air Bikes are best for HIIT
What's HIIT?
High Intensity Interval Training.
It's an exercise method comprised of short bursts of all-out effort followed by a brief recovery period, repeated multiple times. It is very efficient and allows you to reap most the benefits of longer bouts of low-intensity exercise in a shorter time. It's also more "interesting" than long, slow cardio – at least for most people.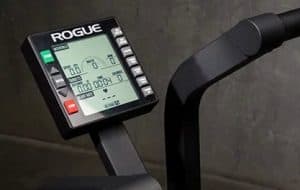 Stationary cycling is also an excellent fit for Heart Rate Training. Most bike units have an electronic monitor and when combined with the appropriate heart rate tracker, let you target precise heart rate zones with ease and precision. This allows you to tailor your workout to fat loss, endurance, or both.
Assault Bike vs Spin Bike (such as Peloton or Keiser) What's the difference between an Assault Bike and a Spin Bike such as Peloton or Keiser? Firstly – you can't free-wheel on an air bike/assault bike. You've got to keep in constant motion – and you use your arms to push and pull. Air Bike workouts are far more intense and let you do more in less time. Air Bikes are really a whole different class of equipment – because the harder you pedal (and push/pull) the more resistance there is – it is fundamentally different than a spin bike. A spin bike is much more akin to a riding a bike on the street.
An air bike is typically used indoors. And this means you can use it year round, in the summer when it is very hot, or in the winter when it is very cold. It also has great carry-over training effect for road cyclists – because after all , you are pedaling a bike. Some models even allow you to attach the same handlebars and seat (saddle) as your road bike.
How many calories do you burn on an air bike? It depends on how hard you pedal and pull! What's perhaps the best thing about these bikes – you control the effort. Most have a calorie display that will tell you precisely how many calories you are burning for your effort.
Many people hop on the air bike for a quick warm-up, or a cool-down after the WOD.
Lastly, the air bike is a great tool for rehabilitation, or keeping in shape while working through an injury. It's a low-impact, safe movement. It can be done moderately or intensely. It's all up to the rider.
The air bike involves no eccentric movement. In that regard, it's very easy to recover from. Muscle soreness largely comes from the eccentric portion (as opposed to the concentric portion) of muscle contraction or flexion. Just like pushing a weight sled is a wicked workout, but easy to recover from.
The complete home or garage gym needs a serious piece of cardio equipment. We always recommend an air bike or indoor rower, for every home gym.
Air Bike Workouts
Need some workout ideas for your Air Bike? Try these:
Tabata – Tabata intervals are ideal for the air bike. What's a Tabata interval? It's 20 seconds of all out effort, followed by 10 seconds rest – and repeat 8 times total.
The 60 Second Challenge- See just how many calories you can burn in one minute, with all out effort, for as much as you can stand. This is tougher than it sounds.
50 calories for time – Just how fast can you burn 50 calories?
Death by Assault Bike – Start with 2 calories per minute. Raise up effort by 2 calories with every additional minute until you can not complete a full minute of effort.
Boxers sometimes use Timed Rounds that mimic the 3 minute cadence of their matches.
Check out our Air Bike Workouts web page – it will give you almost 30 heart-pounding, burn inducing nightmares – and includes everything you need to get started, including a built-in timer.
We did mention this thing's nickname is Satan's Tricycle, right?
What Are the Features of the Best Air Bikes?
The first thing to look for in an air bike model is stability. When you are pedaling, pushing, and pulling with all your might you are going to want to ensure you are on stable equipment.
Look for a beefy unit, made with heavy gauge steel. And the general rule of thumb is – the heavier – the better. Maybe not for shipping costs, but certainly a stable unit is much more enjoyable to use than one that shakes and wobbles.
On the plus side, it's easy to find free shipping deals on these products.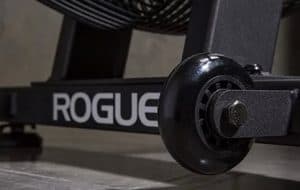 Fan bikes are a great option for a home or garage gym. But most home or garage gyms are space limited – so you probably don't want to dedicate floor space to it. Look for a unit with wheels or rollers for easy re-positioning.
Another must is leveling feet. Most garage floors are not level – they are cambered such that water will drain outside of the garage. A good fan bike will have individually adjustable leveling feet that can be used to level the unit. They will also offer good grip to ensure the unit doesn't move while in use.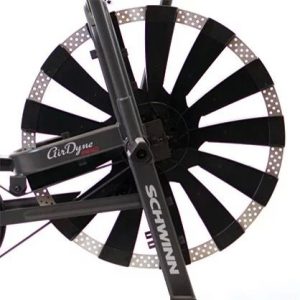 All air bikes have a fan.
They can also differ in how the power and torque from your feet working the pedals is transferred to the fan.
The best units utilize a belt drive. This is a low-maintenance, durable, and quiet option.
Some units have a chain akin to a regular bike chain. Chain drive is noisier, messier, and not as desirable. A chain can also break – and then it has to be replaced.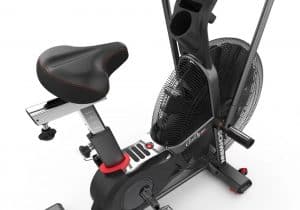 Next in importance is the seat, or saddle, as it is known in biking terms. Look for a unit with a comfortable seat with full adjustability. This will ensure you can exercise in comfort, and the adjustability means the equipment can accommodate many trainees. Some units have seat upgrades, or accept standard bike seats. This is also a plus, especially if you are trying to replicate the setup on a road bike.
Here's the seat on the Rogue Echo Bike. It's quite good and comfortable.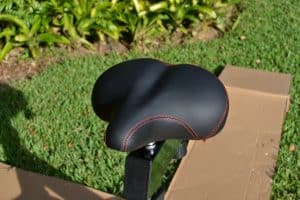 Similarly, the pedals are often upgradable. Whether you add aftermarket pedals or use the ones provided with the unit, you'll want to ensure the pedal crank is strong and robust.
Some units have multi-grip handles. This lets you vary the position of your hands, wrists, and arms for ultimate comfort. These handles also let you vary arm position to stave off fatigue.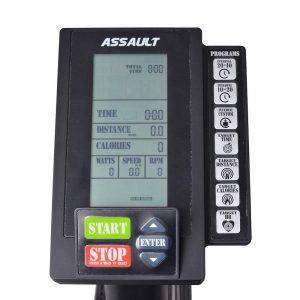 Look for a fan bike with a good electronic monitor. Much of the appeal of the fan bike is knowing just how much power you are generating, distance you are going, calories you are burning, etc. Make sure to find a unit that is compatible with a heart rate monitor (which is always an add-on). This will allow you to utilize heart rate training, if you wish. There are certain features any electronic monitor should have – workout modes, intervals, and a variety of metrics (RPM, time, speed, calories, distance, etc.) should all be easily accessible.
Lastly, look for a comprehensive and long duration warranty. Whether the equipment will be used by a few people in a home or garage gym, or in a CrossFit box, it's good to know any defects or breakage will be covered. Please note warranties will not cover improper use and regular wear and tear, of course.
Which Air Bike is Used in CrossFit Competitions?
What is the air bike most likely to show up in a CrossFit competition event?
Hands down it is the Assault Fitness Air Bike.
This bike makes a regular appearance at the Games, and can be found in many CrossFit boxes.
The Concept 2 BikeErg has also made a Games appearance, but not nearly as often – in fact, I believe it has only happened once.
Will the Rogue Echo Bike make a competition or invitational appearance? We'll see, but so far this has not happened.
The Rogue Echo Bike is a relatively new product.
But, if you are an athlete or competitor you might want the same bike that will show up in the event – and in that case we'd recommend the Assault Fitness Air Bike.
Best Air Bike Accessories
One of the benefits of exercising with an air bike is that they are customizable, to a degree.
The most popular customizations or upgrades are an upgraded saddle (aka the bike seat). Given there is a wide range in individual preferences for the seat this is understandable.
Clipless pedals are also popular. These are pedals that include a small catch to receive the cleat on a cycling shoe. This helps you stay firmly connected to the pedals. For most trainees the stock pedals are probably fine.
Other accessories include wind guards or wind diverters that prevent the breeze from the fan from hitting the rider (although that refreshing breeze is often an upside!) The air flow from the fan is considerable, so this is a popular option.
Some people just throw on some duct tape to block the wind. That will work too.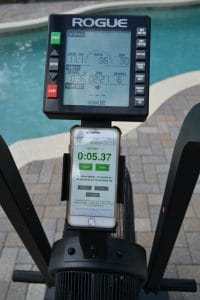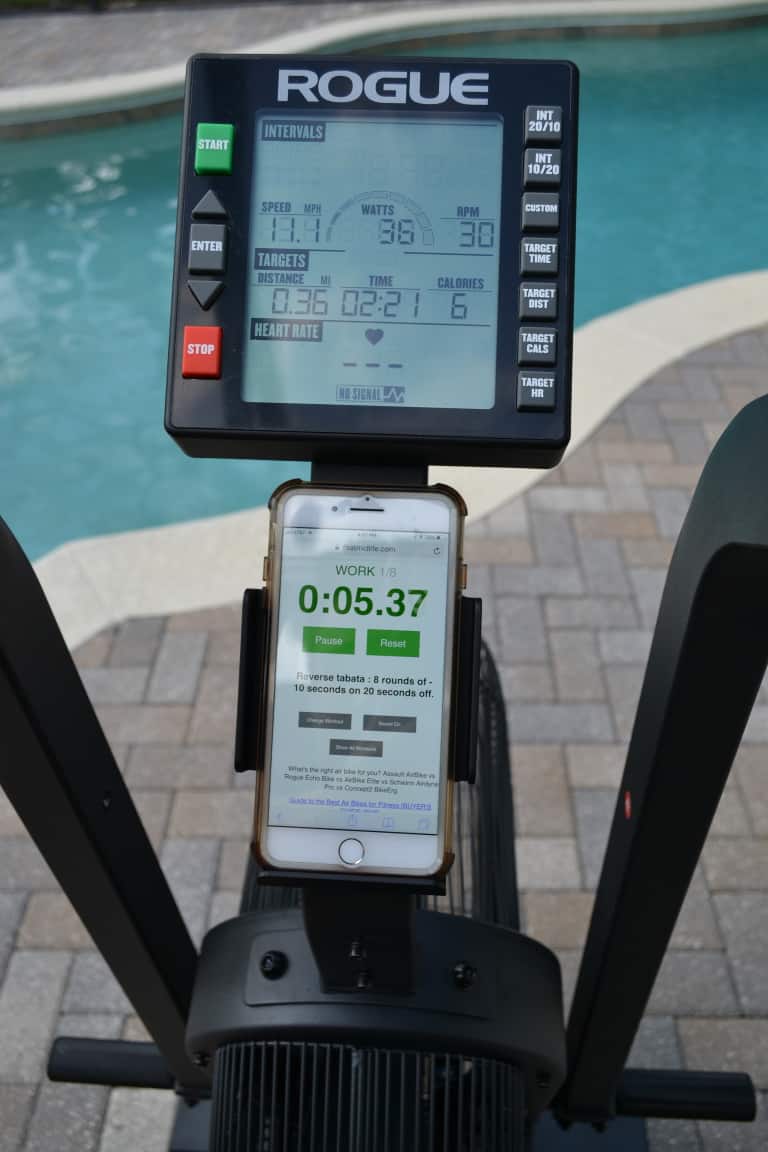 Smartphone holders are also popular.
Here's a look at the Rogue Echo Bike's phone holder in action. You can see that it accommodates any size phone (that's an iPhone 7 Plus).
Why a smartphone holder? Because there are some great apps you can use while working out on your air bike.
Shown below is the phone holder and the Rogue Echo Bike Wind Guard. Both of these are add-on accessories available for additional cost.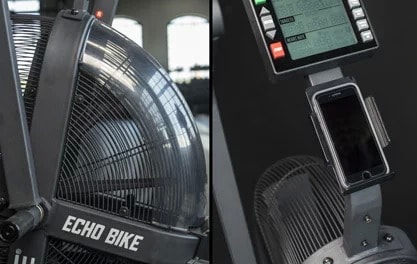 Now that we know what features to look for in the best air bike, let's review some popular models.
Air Bike: Assault Airbike by Assault Fitness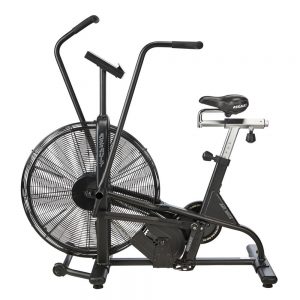 Assault Fitness makes the Assault AirBike. It's one of the most popular models used in CrossFit boxes around the globe. You've probably seen it in use at the CrossFit Games.
The Assault AirBike checks off most of the features we consider required for a good fan bike.
But, please note that this air bike uses chain drive and is significantly noisier than those that use belt drive.
It's heavy-duty with a 25" diameter steel fan. The electronic monitor shows multiple outputs and includes interval training modes (Tabata and custom). And weighing in over 98 lbs, you can rest assured this is a stable unit. Thick-gauge chromoly steel, sealed cartridge bearings and oversized pivots mean this unit is at home in a commercial facility, or your own garage.
| | |
| --- | --- |
| Brand | Assault Fitness |
| Color | Black |
| Product Weight | 98.1 lbs |
| Length | 50.9″ |
| Width | 23.3″ |
| Height | 48.4″ |
There are many adjustments that can be made for the padded seat, to ensure a wide variety of users will be comfortable.
It's also compatible with Shimano bike accessories. Want to swap out the seat or pedals? The sky is the limit.
Available accessories include a wind screen, to block the air from blowing in the user's face during workouts. It also has the benefit of reducing the noise. A water bottle holder kit is also available.
The Assault AirBike does use chain drive, rather than belt drive. Most user reviews indicate the unit performs well but it is noisier than other models of fan bikes with belt drive.
It will also require the maintenance that comes with a chain – tightening and lubrication specifically.
Lastly, with a 5 year warranty on the frame and 2 years on the other parts, it will give you peace of mind that you'll get many tough workouts from this equipment.
Do we recommend it? Yes, it's a proven piece of equipment, in use in many CrossFit boxes.
Assault AirBike vs AirBike Elite Assault Fitness also makes an improved model of the AirBike, the AirBike Elite. It's really nice, but a lot more expensive. Keep reading to find out more…
Air Bike: Rogue Echo Bike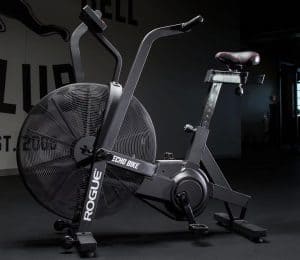 Rogue Fitness entered the fan bike market recently with the Rogue Echo Bike. They wanted to take lessons learned from existing equipment and make something better.
This unit is built like a tank – weighing in at over 127 lbs, it's built for a smooth ride. Whether you are pedaling all-out or cruising a bit, it's a rock solid unit. Meanwhile, it's easily portable thanks to 1" polyurethane wheels.
User reviews indicate it is smoother and quieter than the Assault AirBike. And, it's got that legendary Rogue build quality. That is likely a factor in the smoothness of this unit.
| | |
| --- | --- |
| Brand | Rogue Fitness |
| Color | Black |
| Product Weight | 127 lbs |
| Length | 58-7/8″ |
| Width | 29-7/8″ |
| Height | 52-3/4″ |
| Other Product Specs | Textured black powder coat, weight limit of 350lbs |
| Foot Print | 44-1/2″ x 23-3/4 |
It uses a belt driven fan and includes a high-contrast, battery-powered LCD console. The electronic monitor provides all the outputs you would expect, including time, distance, calories, and more. 20/10 and 10/20 intervals and custom work/rest intervals are available.
A two year warranty is included.
A Wind Guard to reduce air blowback is an optional accessory, as is a phone holder. It's also compatible with Shimano bike accessories.
This unit can use certain Polar heart rate transmitters. The heart rate will then be displayed on the LCD.
Here's a video of the Rogue Echo Bike:
Lastly, this unit has that legendary Rogue build quality.
I can't stress just how solid and smooth this unit is.
Really, it's a pleasure to ride (as much as an air bike ride can be a pleasure).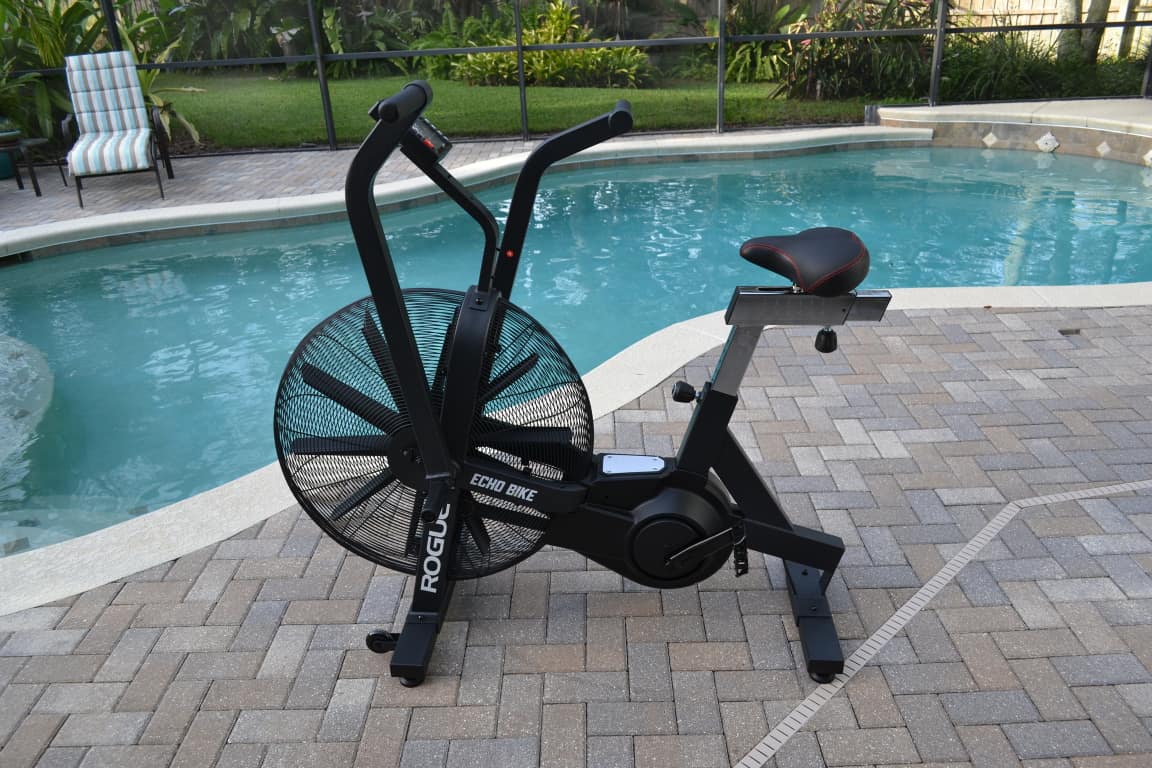 Rogue Echo Bike vs Assault Air Bike
Let's pause for a moment and directly compare the Rogue Echo Bike to the Assault Air Bike.
The Assault Bike is a common-place piece of equipment in the CrossFit box – so maybe you've used one, or seen one.
The Rogue Echo Bike is Rogue Fitness' entry into the field.
How do they compare?
The Assault Air Bike is currently cheaper – available at $699 – with free shipping.
The current pricing on the Rogue Echo Bike is $750 (also with free shipping). But, it's occasionally on sale for $699 as well.
The biggest difference is this – the Rogue Echo Bike is smooth and quiet.
This is for two reasons.
Firstly, it has a near silent belt drive – as opposed to the Assault Air Bike's chain drive.
Secondly, the Rogue Echo Bike is over-built – it's built like a tank.
It's a smoother, quieter workout experience.
Now, please understand – no model of air bike is silent – the fan makes wind noise – and the more you pedal, the more noise there is.
But it's not an unpleasant sound.
Also consider that the Rogue Echo Bike is maintenance free – the only recommended check-ups are occasionally making sure the bolts are tight (like those on the handle.)
The Assault Air Bike will need all the things that go with a chain – lubrication, tightening, and more.
Ask anyone with a motorcycle – moving to belt drives vs a chain was a huge leap forward.
If you can get a good deal on a lightly used Assault Air Bike – go for it.
But, if you are buying new, I whole heartedly recommend the Rogue Echo Bike.
Rogue has taken the basic air bike concept – and made it better.
Here's one more key difference – the fan blades on the Echo are bigger, and there are more of them.
Which is Harder? The Assault Bike or Rogue Echo Bike?
It's the Rogue Echo Bike hands down.
Why?
Because the fan blades are bigger, and there are more of them.
That means more work required to spin that fan faster and faster.
Here's the fan blades on the Assault Bike. There are 6 of them, and they are approx. 2.75″ wide by about 6″ long.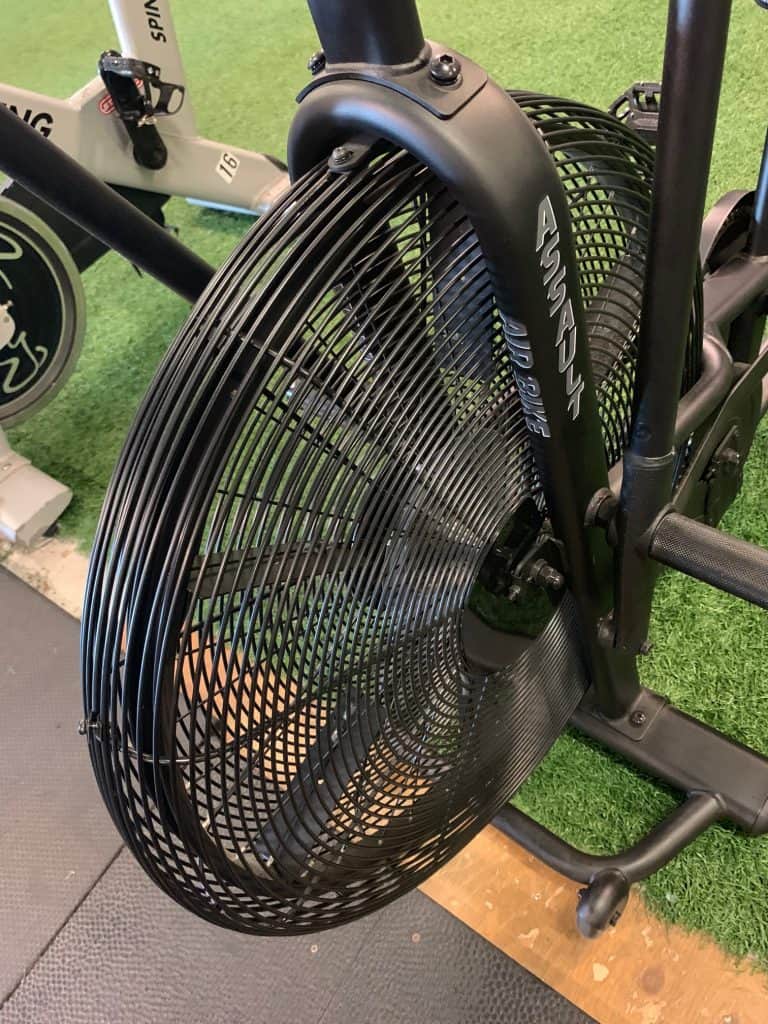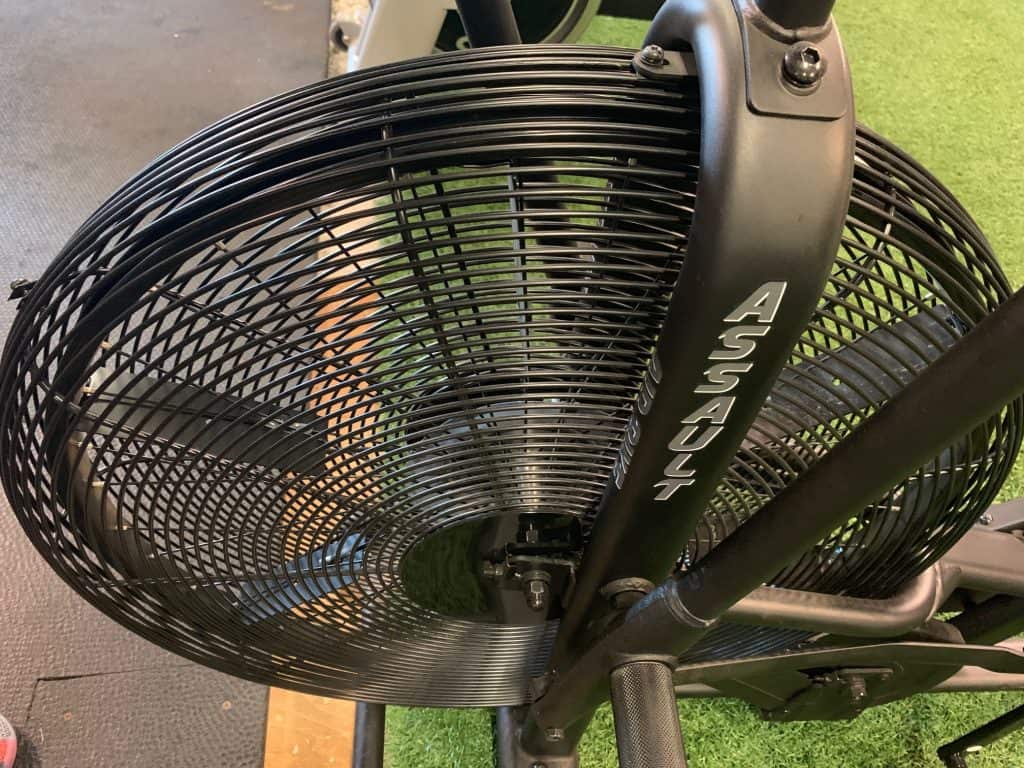 The Rogue Echo Bike fan blades have these proportions: 10 blades – 2.75″ wide, 26″ diameter.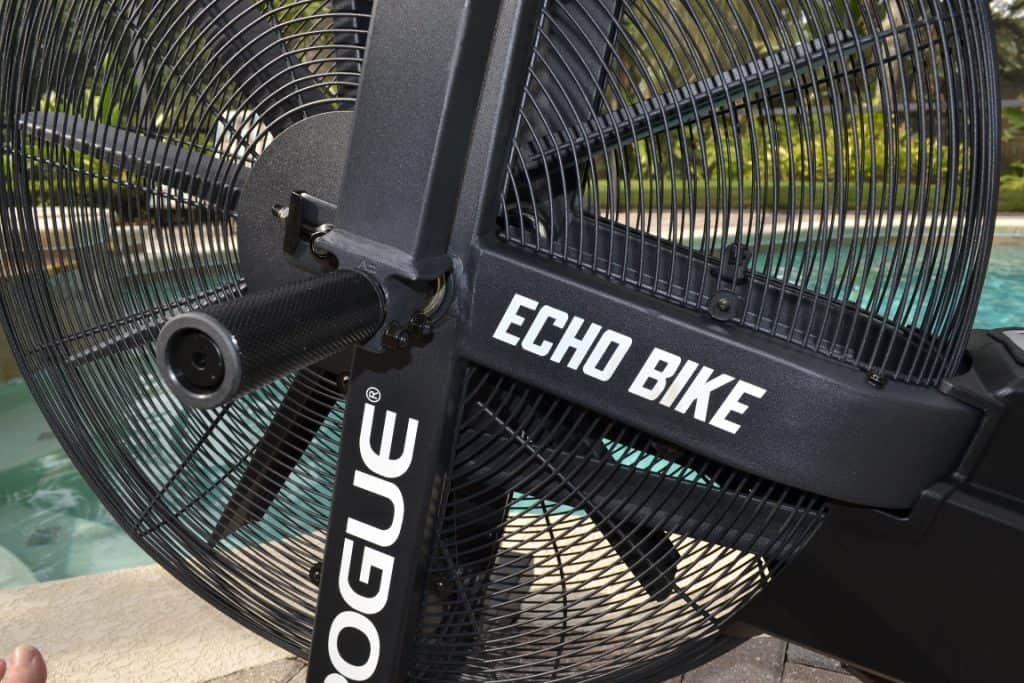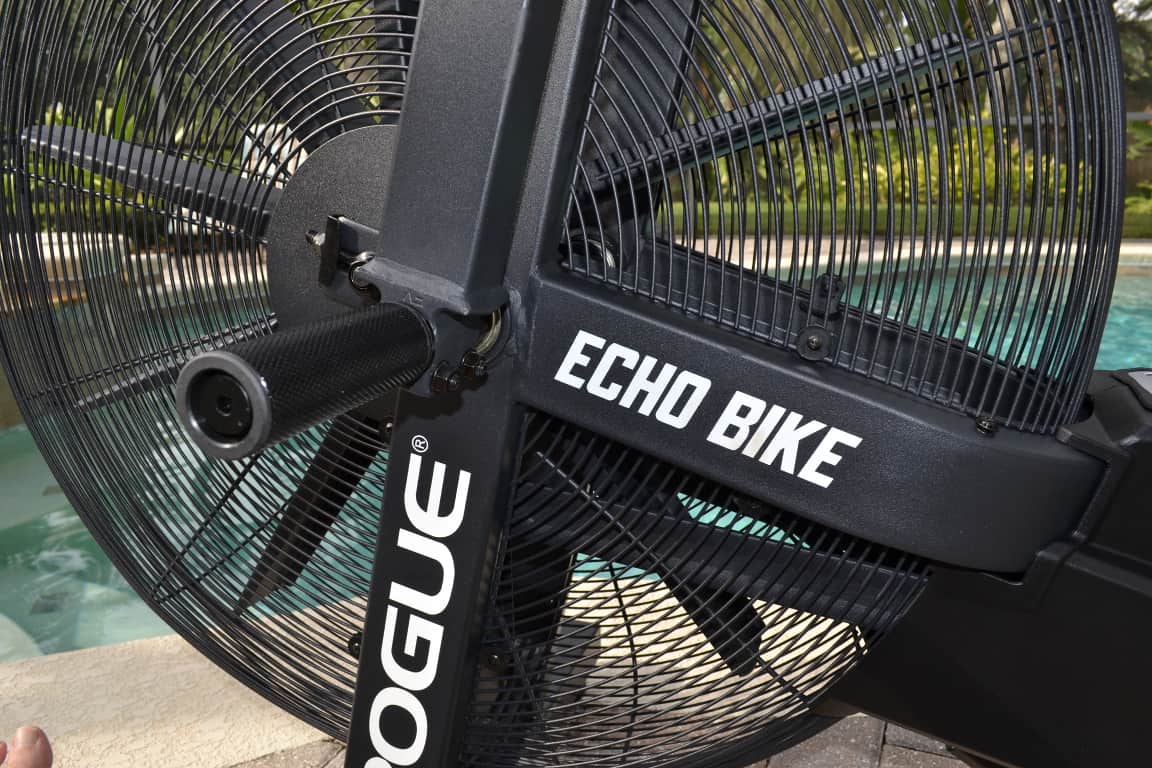 The fan blades are much bigger, and there are more of them.
That's why it is harder.
Also the handles on the Echo bike are massive – compared to those on the Assault model. That's more mass to move – so it contributes to the sensation of the Echo being harder to get going – and to keep going.
Having said all that – it's an air bike – it is supposed to be hard. You aren't going to pedal one of these for pleasure.
Air Bike: Schwinn Airdyne Pro (AD Pro)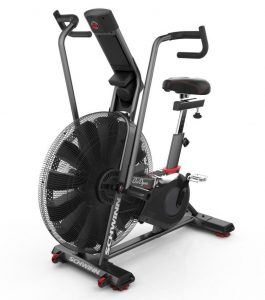 Our next featured fan bike is the Schwinn Airdyne Pro (AD Pro). Schwinn was one of the originators of the indoor fitness bike, and it shows in this product.
A single stage belt drive system provides smooth power flow to the 26 blade performance fan.
The LCD electronic monitor has 9 programmable workout options, and includes the metrics you would expect: time, distance, calories, RPM, watts (power), pulse, and speed.
| | |
| --- | --- |
| Brand | Schwinn |
| Color | Black |
| Product Weight | 113 LB (51 KG) |
| Length | 42″ |
| Width | 20″ |
| Height | 52″ |
| Other Product Specs | Maximum user weight: 350 LB |
One particular area of note on the Airdyne bike is the use of a oversized, padded seat. Many users find this more comfortable than the seat on other bikes.
Another unique feature – the multi-position handles allow you to choose a vertical or a horizontal grip. This is a nice option – because it lets you vary your grip.
There's a 10 year warranty on the frame, 2 years on parts, and 6 months on labor. This is a unit built to last.
Shimano bike accessories are compatible, and an Air Diverter (Wind Guard) is available for an extra charge as well.
Assault Fitness AirBike Elite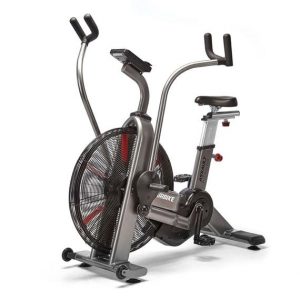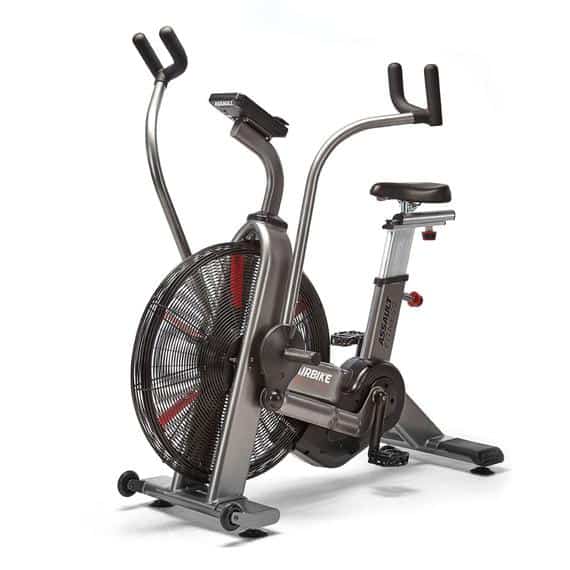 Assault Fitness also offers the AirBike Elite. This is the top of the line option in air bikes.
Why? Because it has just about every feature we look for – and is built rock solid. It's commercial facility tough – and built for interval training
With a massive steel frame, solid steel cranks, corrosion resistance, and a solid aluminum seat post and slider – this unit is more robust and smoother than the AirBike Classic.
And, it is more expensive. Look for sales and free shipping whenever possible.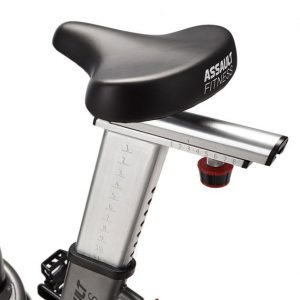 Here's some of the things that stand out on this model.
Pedal forward or backward for workout variation (but, all the models do this – there's no freewheeling.)
Multi hand position handles – vary your grip for comfort or variation
Foot pegs to allow you to use your upper body only – rest your legs while your arms do the work.
Exceptionally comfortable large seat to offer support on lengthier rides.
Additionally for comfort, a windshield is built in (Fan bikes create a lot of wind.)
And it has the Assault Fitness LCD console – which can connect with both Bluetooth and ANT heart rate monitors.
Here's some of the stats:
| | |
| --- | --- |
| Brand | Assault Fitness AirBike Elite |
| Width | 26.1″ |
| Length | 55.1″ |
| Height | 58.6″ |
| User Height | 5'0″ – 6'4″ |
| Product Weight | Product Weight: 150 lbs. / 68 kg |
See it in action here:
Another Indoor Bike Option: Concept2 BikeErg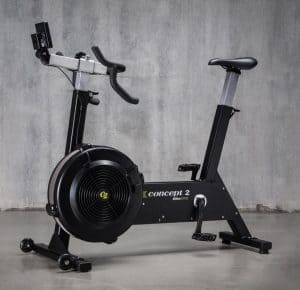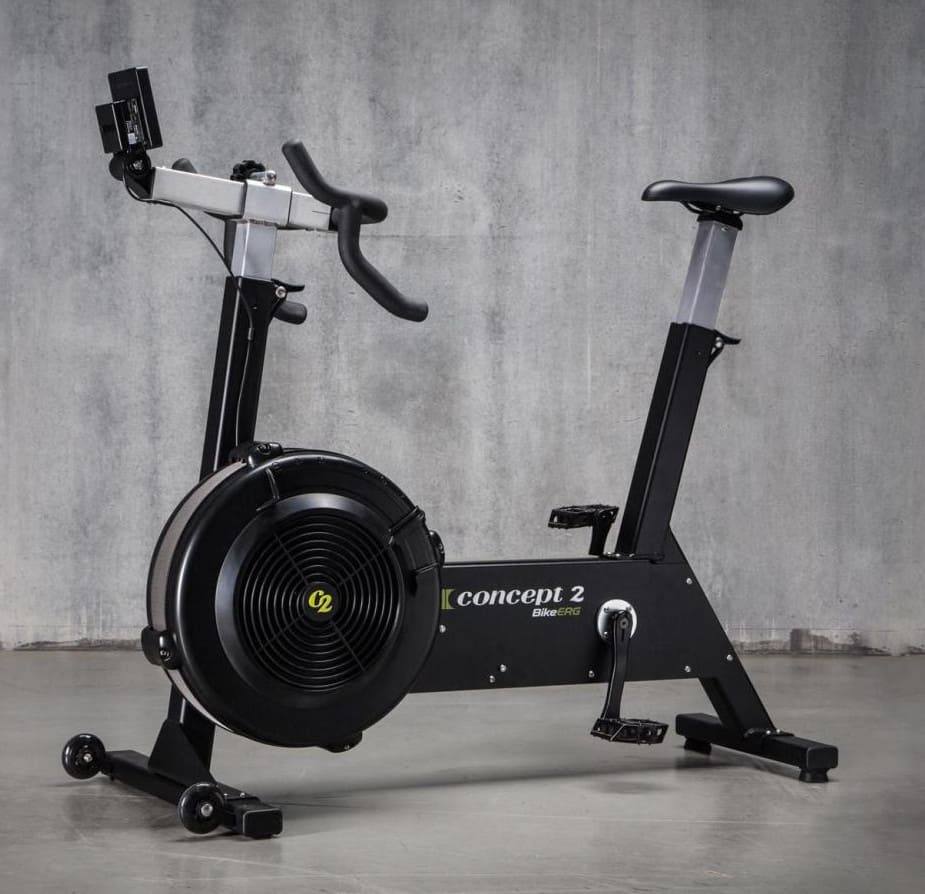 Concept2's BikeErg is not quite a proper air bike, by our definition.
It has fixed handle bars and therefore the upper body is not utilized in the workout.
But it does use a fan. And, we think it's got some compelling special uses.
By the way, the "erg" is short for ergometer. An ergometer is a device used for measuring work.
It provides a much closer feel to actual outdoor riding. It has a clutch to let you freewheel like a standard bicycle, and through a special damper you can even simulate the effects of changing gears.
One thing to note, the BikeErg isn't built for HIIT style workouts – it's more of a traditional cycling workout.
| | |
| --- | --- |
| Brand | Concept2 |
| Assembled in USA | Yes |
| Color | Black |
| Product Weight | 58 lb (26 kg) |
| Length | 48 in (122 cm) |
| Width | 24 in (61 cm) |
| Material Type | Welded aluminum frame, steel feet, black powder coat frame, gray anodized posts |
You can also attach many standard bike accessories – including handlebars and pedals similar to that of your road bike.
Given that you can free wheel and with the fixed handle bars – this is the option this is going to most resemble a real bicycle.
As such, if you are a road cyclist looking for a way to supplement your time on the road (perhaps during the winter or during the hotter months of summer), the Concept2 BikeErg would be our recommendation.
If you've ever used a Concept2 indoor rower, you will feel right at home on this unit. It uses the same PM5 electronic performance monitor to provide a variety of information to the user.
This unit uses belt drive, as opposed to a noisier chain.
Warranty is 5 years on the frame, and 2 years on all parts. The warranty is transferrable to subsequent owners of the equipment. If you ever decide to sell the bike, it will hold more value because of this.
You can see the BikeErg in action here:
Best Air Bike – In Summary
An air bike or fan bike is one of the best choices for a home or garage gym. But, it's an expensive piece of equipment. We hope we've provided helpful information for you to make your buying choice.
You might also be interested in our article on the Concept 2 indoor rower, which is also an efficient, effective, and low-impact total body workout.
And, if you like the AirBike from Assault Fitness, you may want to check out their AirRunner – manual treadmill – it works great for interval training.
Photo and Image Credits
The Rogue Fitness logo and some product imagery on this page is property of Rogue Fitness and provided by Rogue Fitness.
Some additional product imagery is courtesy of Concept2, Inc.
Some additional product imagery is courtesy of ForceUSA, Inc.
This website is not affiliated or associated with CrossFit, Inc. CrossFit is a registered trademark of CrossFit, Inc.