If you are looking into air bikes ("assault bikes") you've probably also run across the Concept 2 BikeErg.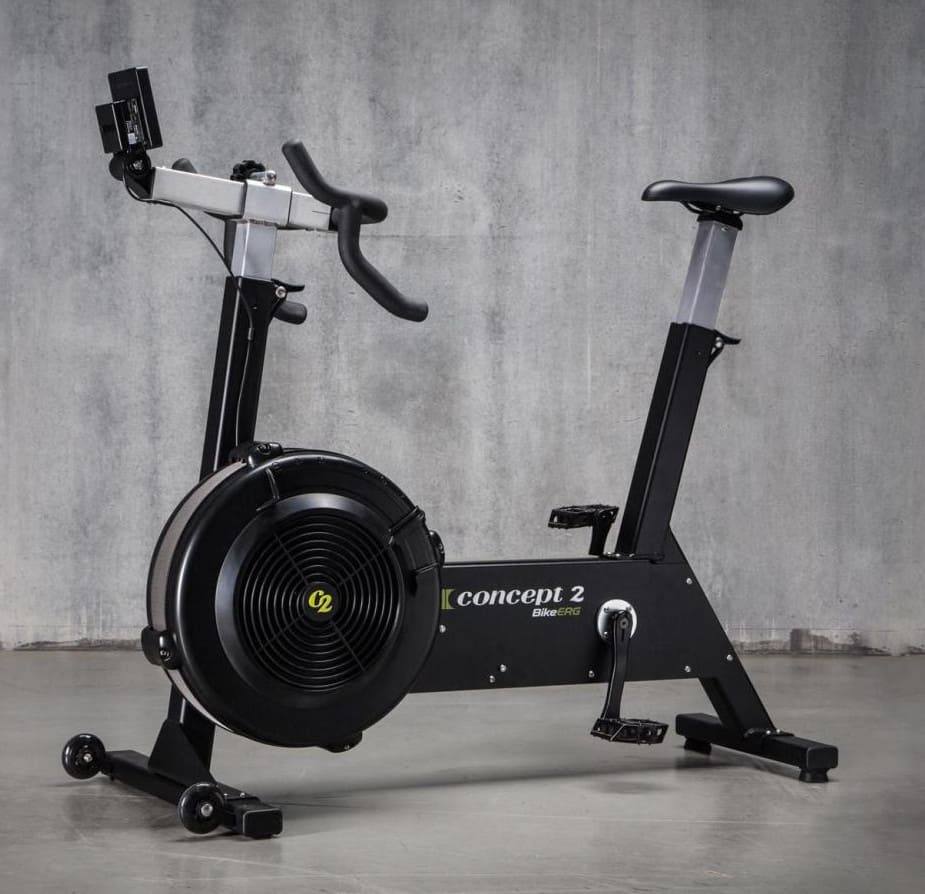 The BikeErg is a different beast than an air bike like the Rogue Echo Bike.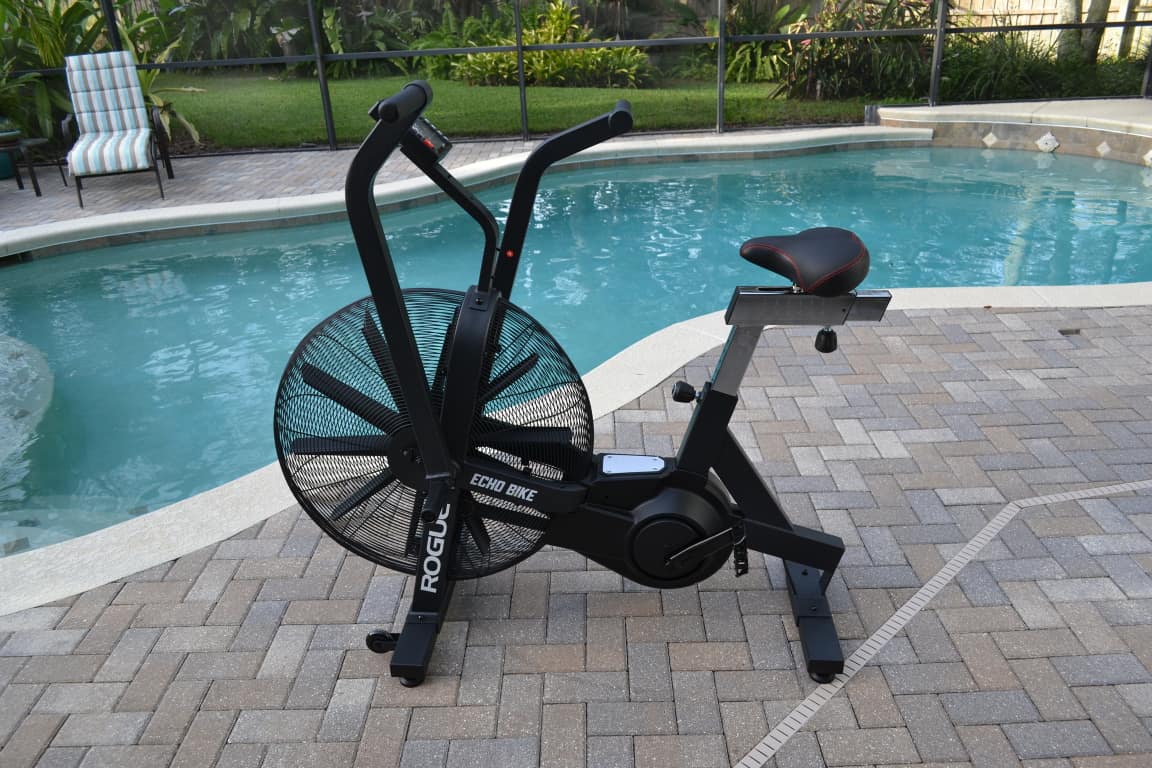 But, there are a lot of similarities too.
How do you decide which is the right metcon training tool for your home or garage gym?
That's what we'll review in this article – this is Rogue Echo Bike versus Concept 2 BikeErg.
Here's the gear we are going to be comparing:
Rogue Echo Bike
Rogue took the air bike concept and made the best air bike you can buy - this unit is smooth, solid, and quiet (for an air bike) thanks to the
belt drive
. Built like a tank - with outstanding Rogue build quality. It requires a minimum of maintenance. This is our top pick for an air bike.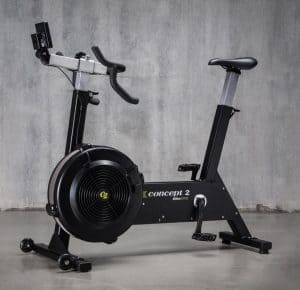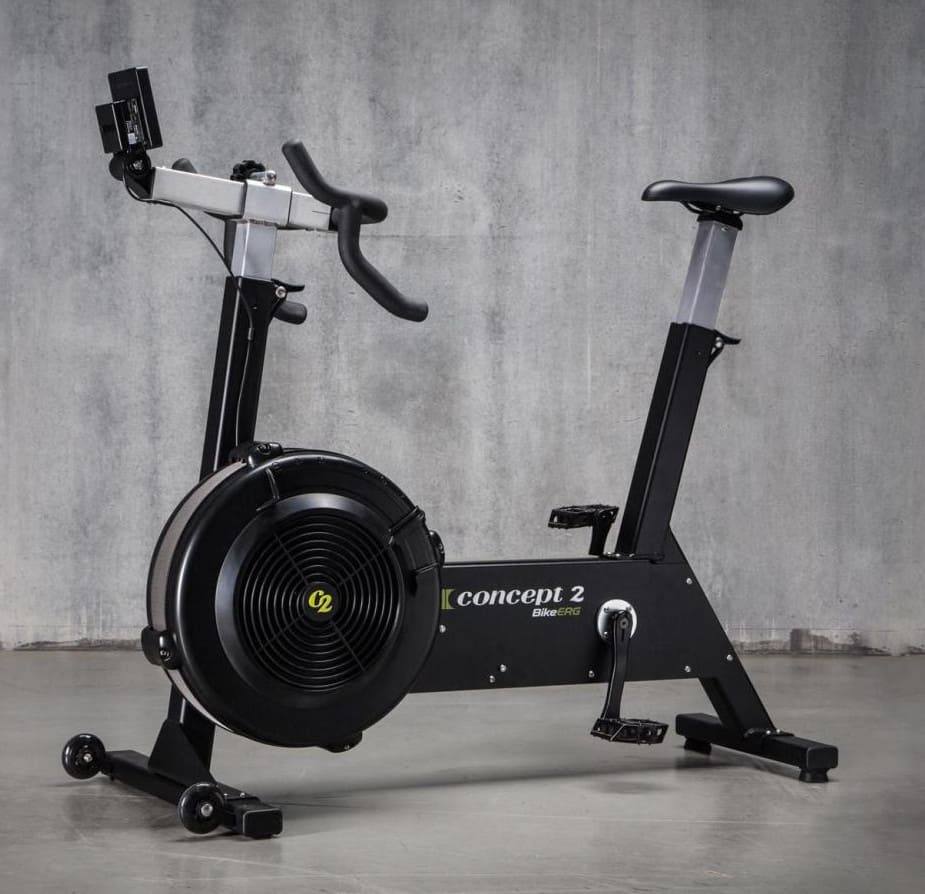 Concept 2 BikeErg
This is like an air bike - but different - it's an erg, like a rower, and you don't use your arms, you can freewheel and simulate gear shifts - like a real bike. We recommend this model for cyclists looking for an indoor, all-weather training option. This is a better choice for LISS - Low Intensity Steady State cardio.
Echo Bike Versus BikeErg – Key Differences
Right up front, let's cover the key differences between these two bikes.
Understand that the Rogue Echo Bike is an air bike (also somtimes called a "fan bike" or colloquially an "assault bike".)
As such, it basically works the same way as all the other air bikes on the market do.
There's a massive fan, and you crank the pedals and push and pull on the hand levers to make the fan spin faster and faster.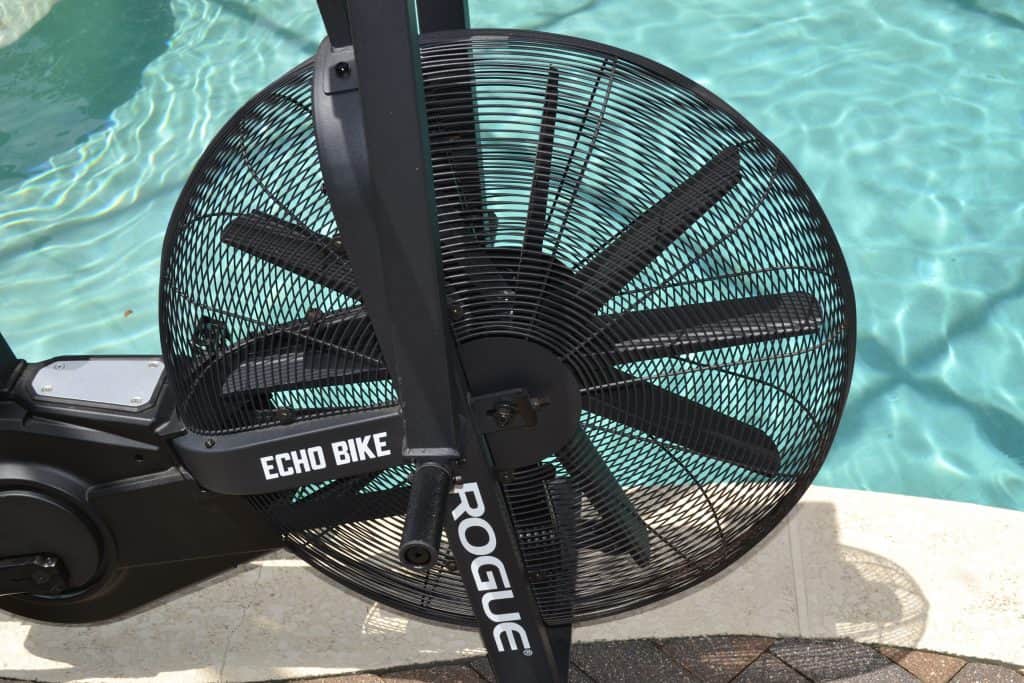 There's no coasting, no free-wheeling, no gear changes – it is not at all like a traditional road bicycle.
(It's all work, all the time – that's why they call it the "Devil's Tricycle".)
The BikeErg on the other hand, doesn't claim to be an air bike.
It uses an Ergometer (an "erg") to provide the resistance, but you don't push and pull with your arms. The BikeErg has fixed handlebars just like a real bike.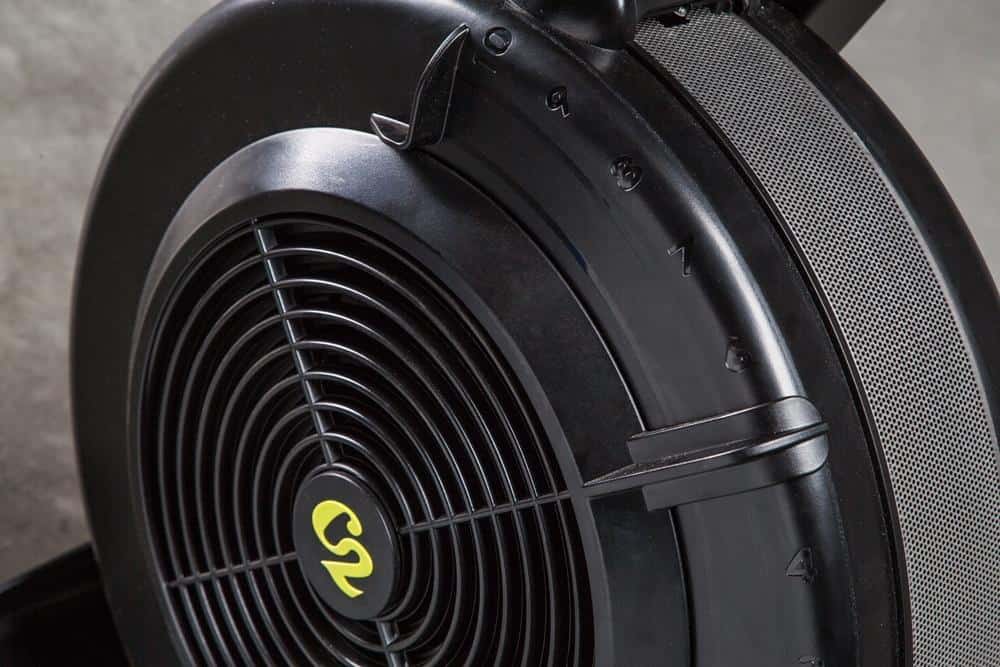 The BikeErg also has an adjustable damper that let's you vary the resistance provided by the Erg.
At the lowest setting (1), it's more akin to a spin bike, and only at the highest settings (9 or 10) does it feel like the resistance of an air bike.
In many ways, this is an advantage – because it gives you more workout options.
Echo Bike Versus BikeErg – Workout Differences
OK, so how do they work in the garage gym or box?
The BikeErg, with it's fixed handlebars, freewheeling, and adjustable damper feel much more like a real road bicycle.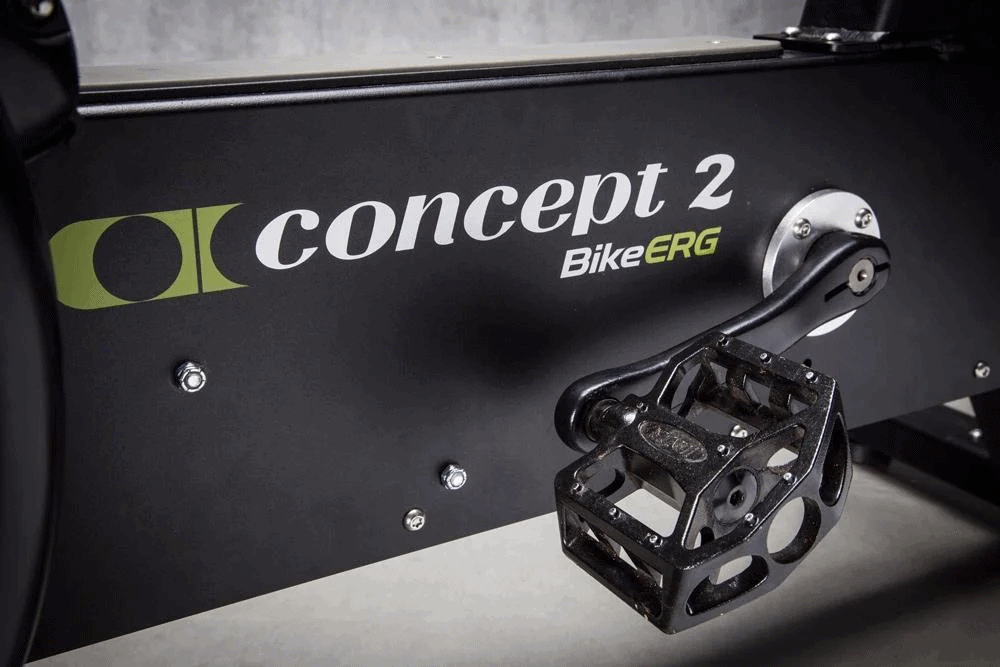 As such, you will find it immediately intuitive and great for LISS (Low Intensity Steady State workouts) – but remember you can crank the damper setting up and get a high intensity workout as well.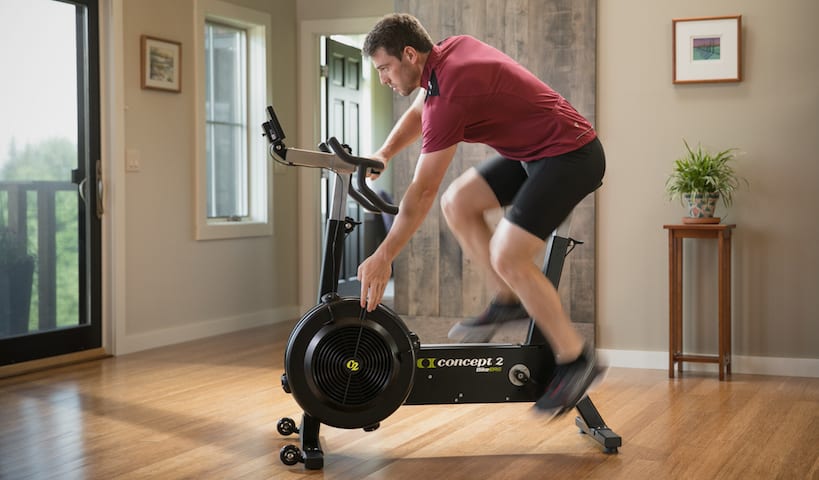 The Echo, on the other hand, is "all work, all the time."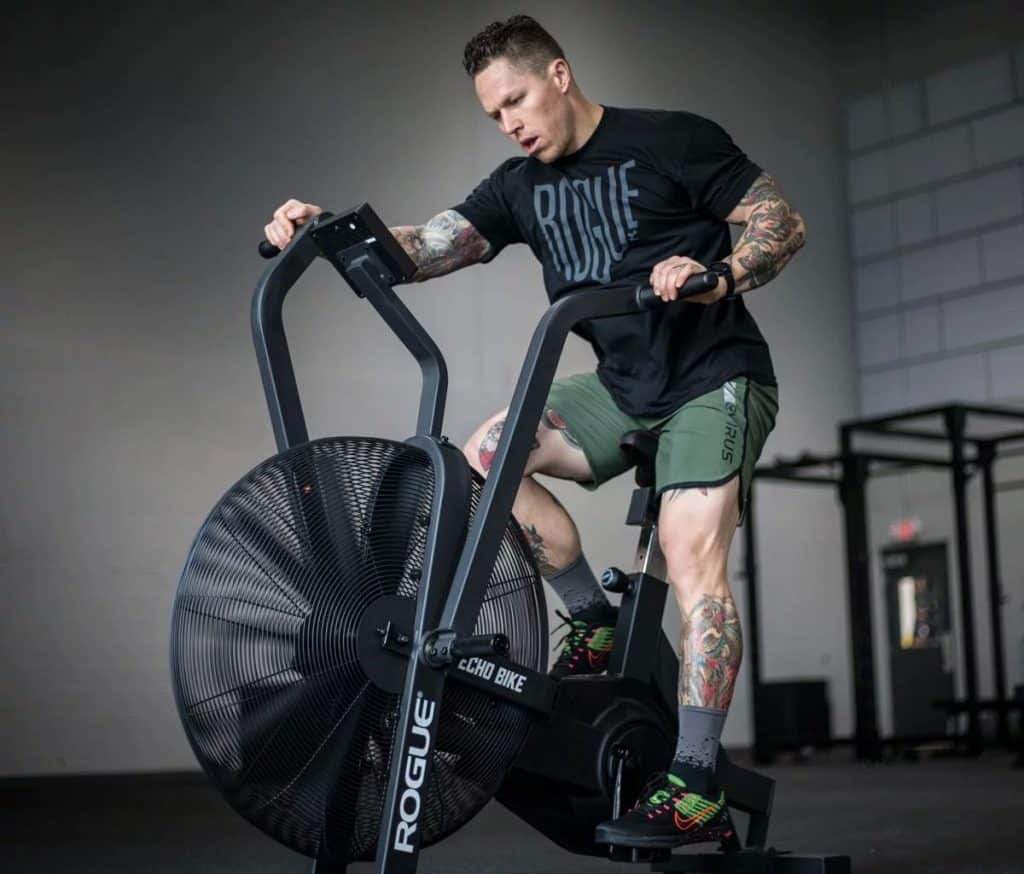 There's no freewheeling (not for the pedals OR the handles – they are always moving) – and to be honest the fan on the bike is like everything else – it is massive and overbuilt.
As such, the Rogue Echo Bike feels much harder than other air bikes, and certainly harder than the BikeErg (even when it's on the highest damper setting.)
If you are trying to replicate the road ride experience, it's clear the BikeErg is your pick.
But, don't discount the gains (and challenge) you can get from the insane intervals and other things you can do on the Rogue Echo Bike.
On the Echo Bike, intensity is the name of the game, and there are some really cool challenges that make it a great training tool.
For example, it's possible to burn 50 calories in a minute on the Echo Bike – that's a hell of a lot of work in a short time.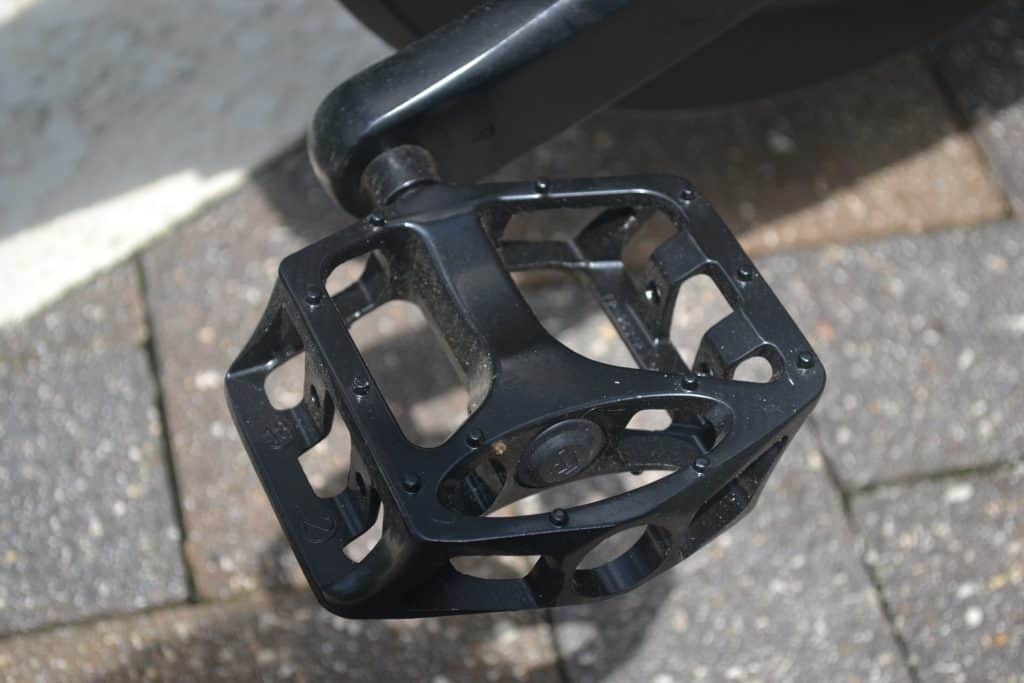 (Whether or not YOU can do 50 cal/min on the bike is an entirely different question though)
The Echo bike will get your upper body more involved. You'll be pushing and pulling furiously while pedaling. It is more of a "full body" workout than the BikeErg.
You certainly can use the Echo bike for LISS too, but it's not as adept at this due to the big differences from a road bike.
If you are looking for a full body, intense challenge – the Echo Bike is your pick.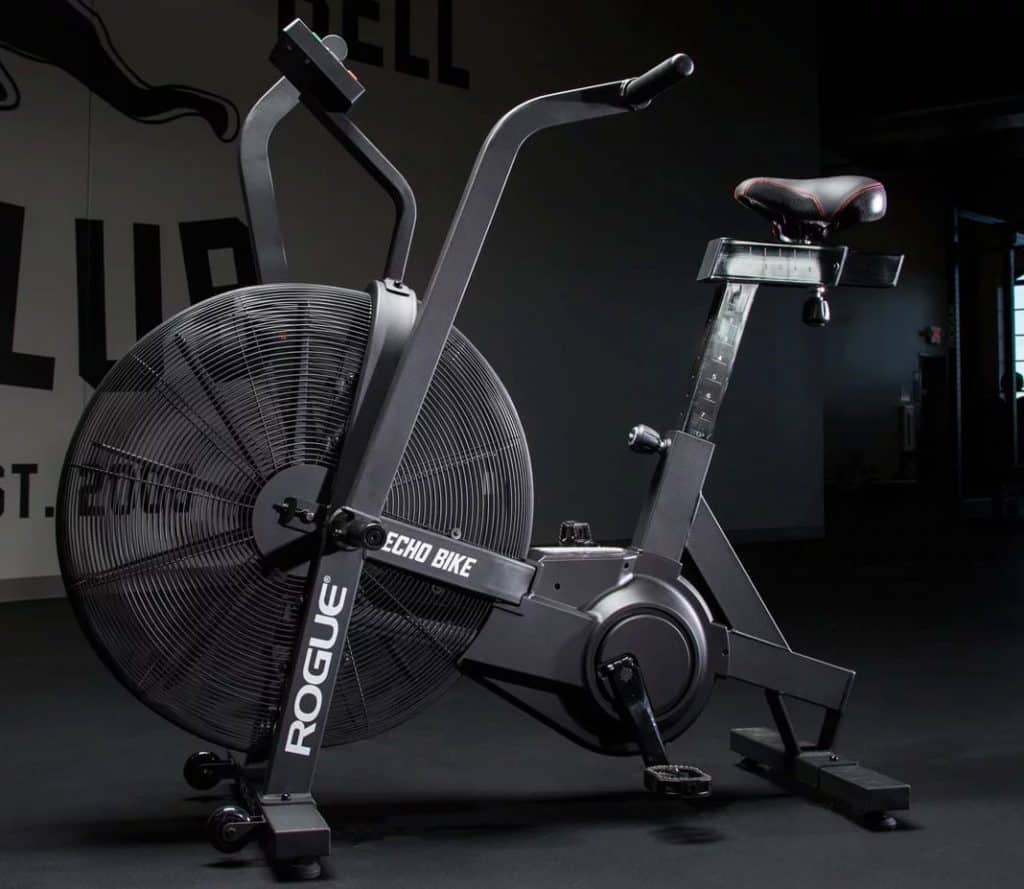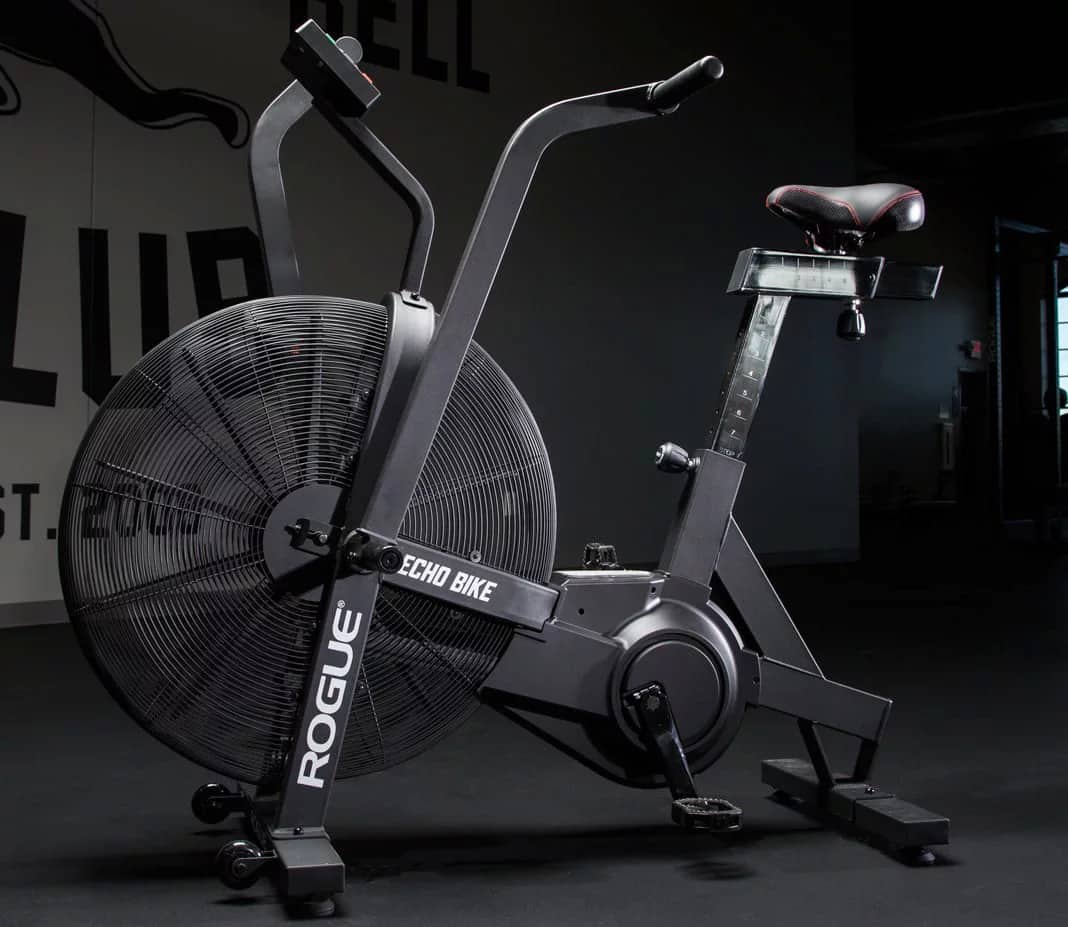 Echo Bike Versus BikeErg – Noise
Both make noise.
The source of the noise in the air bike is the big 10 bladed fan, and it's the Erg in the BikeErg.
The Echo makes a ton of wind too – that blows right in your face.
I find this particularly refreshing, as I use mine outdoors in Florida (Hot!).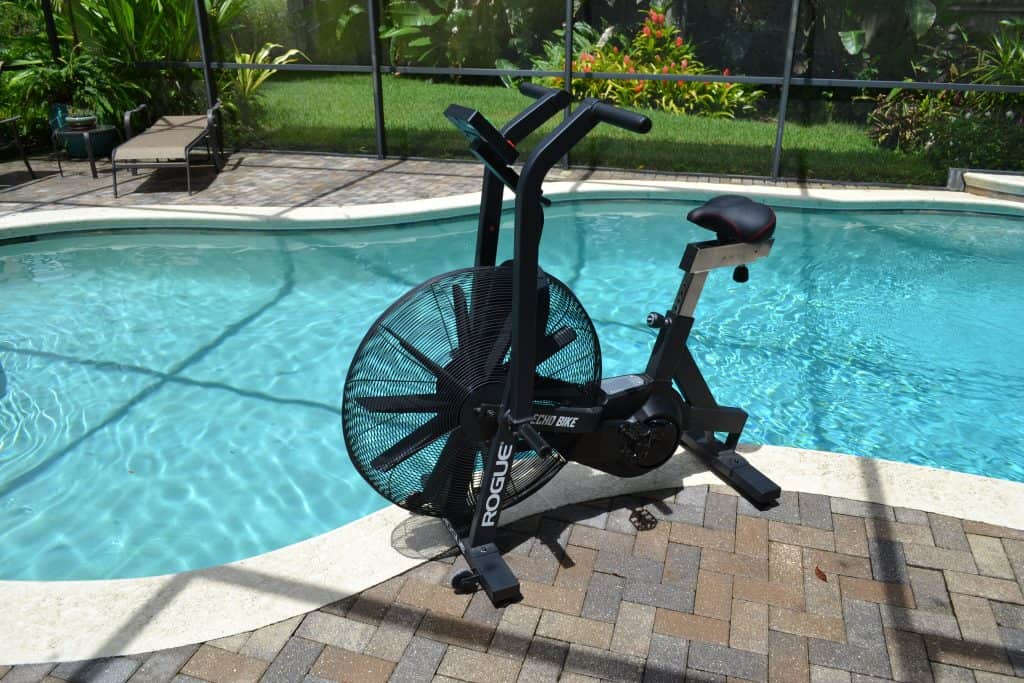 A wind guard is available to block this wind – and some people just use duct tape as well.
The BikeErg doesn't really make any wind blowing in your face, and it sounds just like a Concept 2 Rower – because the Erg is the same.
In both the faster you go, the more noise there is.
Echo Bike Versus BikeErg – Saddle (Seat) and Handles
Both bikes have a seat that adjusts for height.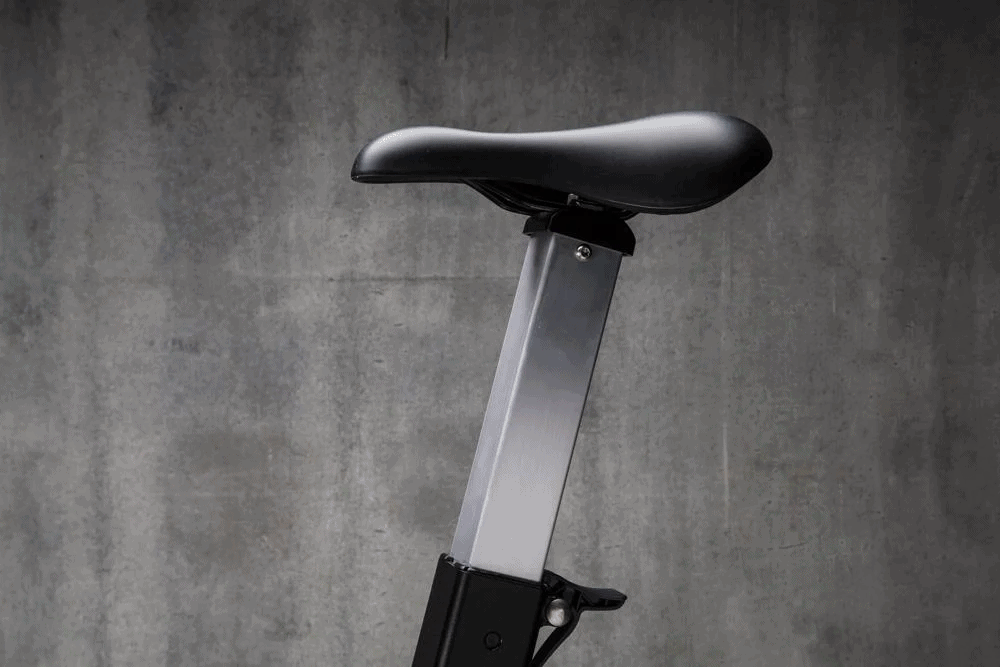 They are also capable of using a variety of real bike "saddles" (that's fancy bike talk for the seat.)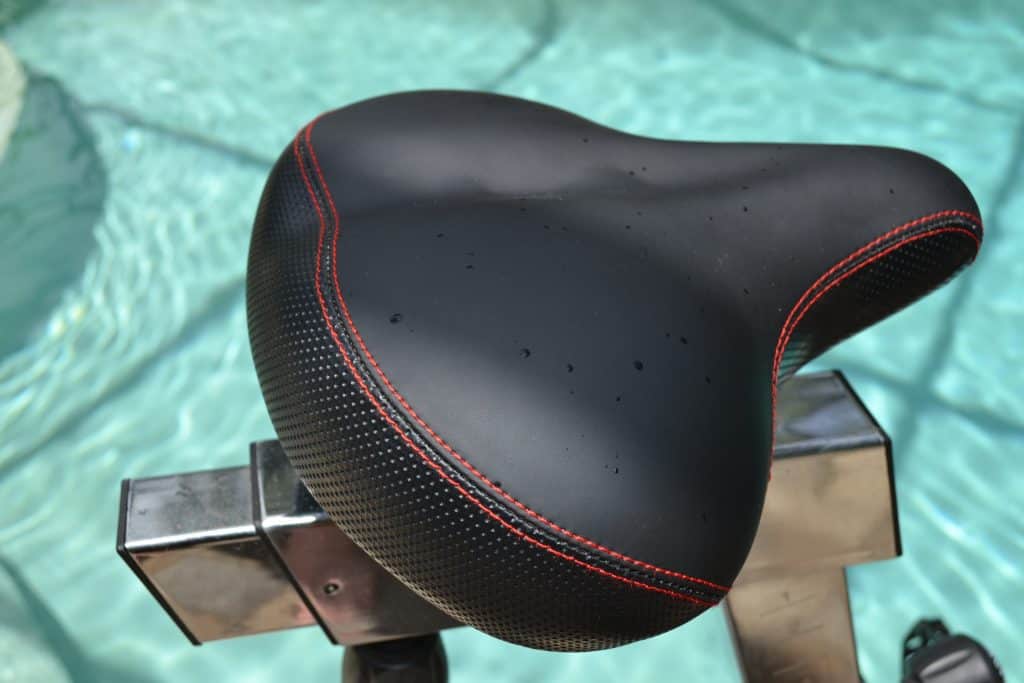 Here's one thing to keep in mind on the Rogue Echo Bike – while the seat height is adjustable – the fixed handles are not.
They'll be at the same height no matter what you do.
Take the seat higher up, and you'll be keeping your elbows lower. This is helpful in some situations, if you've got a cranky shoulder like I do.
On the BikeErg, not only is the seat adjustable, but the handlebars are too.
You can raise and lower about 10 inches, and you have around 7 inches of back and forth adjustment you can make as well.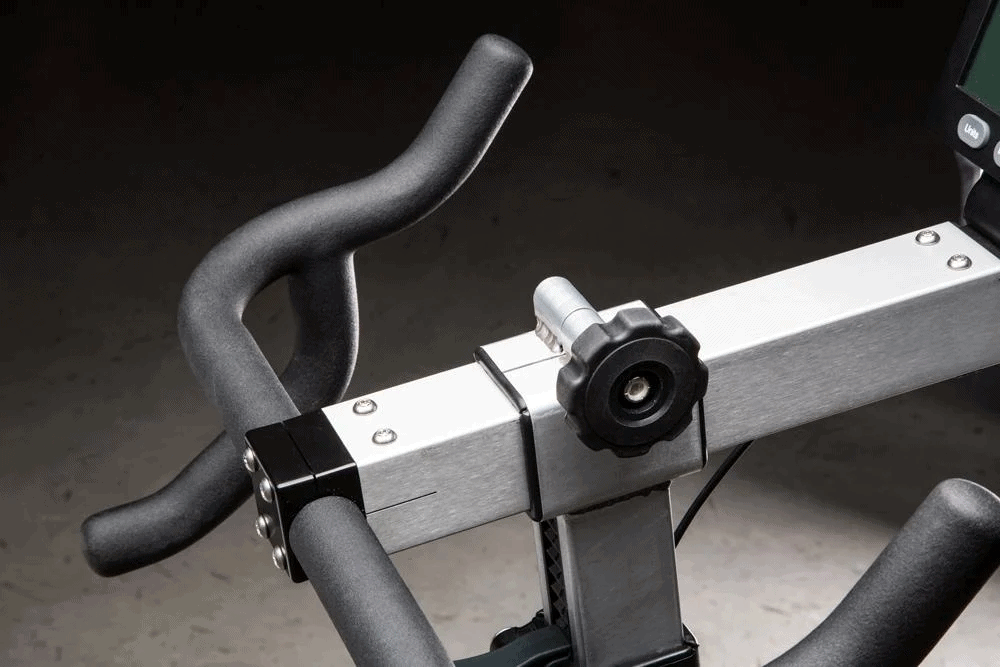 As such, you are going to get a better "fit" on the BikeErg.
The Rogue Echo is going to constrain you in regards to where the handles are – there's no way around it.
By the way, you can use the Echo bike "legs only" but it's not much fun. It's also difficult to ride standing up (off the saddle) because the handles will probably hit you in the thighs or hip constantly.
The BikeErg has multi-grip handlebars as well – so you can either find the perfect fit, or vary your grip.
The Echo's fixed handles are quite large in diameter (too big, in my opinion) and give you no real opportunity to alter your grip.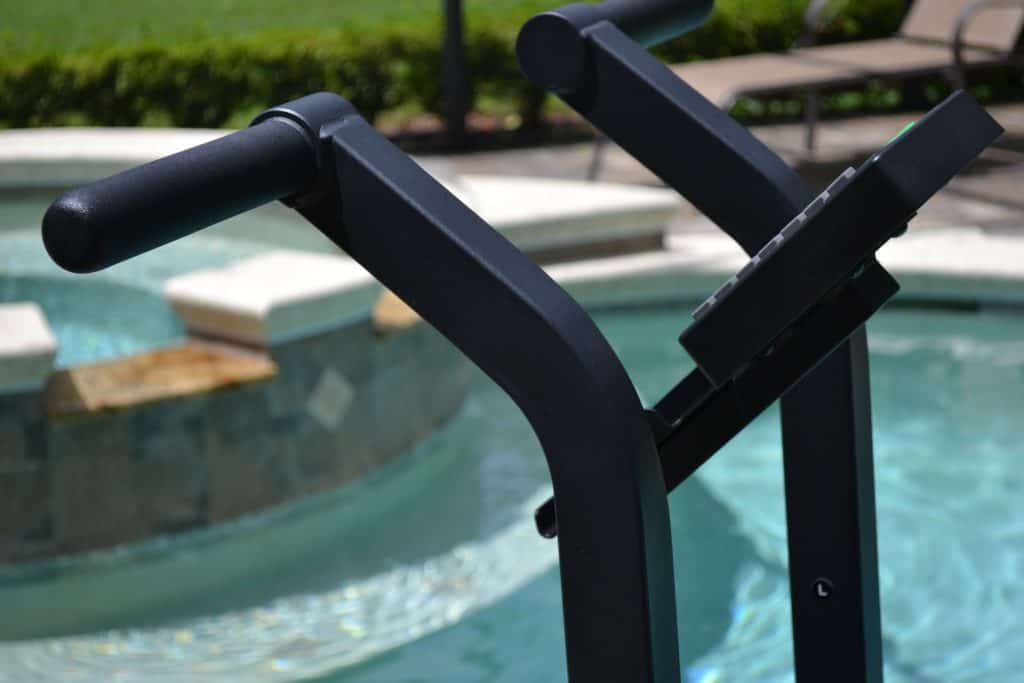 Lastly, it takes more time to adjust the seat height on the Rogue – there's a pop-pin that has to be loosened, then tightened, whereas the BikeErg seat adjustment is much more of a quick, smooth function.
How about the comfort of the saddle (seat) itself?
The BikeErg's stock saddle is long and thin, and many find it uncomfortable.
The Rogue Echo has a wide and more plush seat – but many also find it uncomfortable.
If you were going to spend a great amount of time on either, you might want to invest in a different saddle.
Echo Bike Versus BikeErg – Price
The Concept2 BikeErg is quite a bit more expensive than the Rogue Echo Bike.
Both have been in relatively scarce availability – due to the current global situation.
Can you find one used or pre-owned?
Maybe – but don't waste too much time trying. A used Echo Bike or used BikeErg is a rare find…
Concept2 BikeErg Versus Spin Bike?
The Concept2 BikeErg has some similarities to a spin bike (like Peloton), especially as compared to an assault bike. The variable resistance thanks to the damper, the ability to freewheel, and the fixed handlebars means you could possibly use the BikeErg for spin classes.
Where to Buy Used BikeErg
You might be able to find a used BikeErg on ebay, facebook marketplace, or craigslist – but it is unlikely.
These are very high quality and hold their value well – they sell very, very quickly when they do appear.
You won't find these on Amazon, but buy them direct from Concept 2 or from Rogue Fitness.
Echo Bike Versus BikeErg – – Assembly
Both bikes are very easy to assemble.
We did a full article on assembly of the Rogue Echo Bike – but if I hadn't been taking photos I could've had it all done in well under 30 minutes.
With the Rogue Echo Bike – all the hard parts are assembled at the factory.
The BikeErg is in the same ball park, it really shouldn't take you more than 30 minutes total – from unboxing to be being ready to jump on it.
In the same way, all the hard stuff was already done for you at the factory. If you can work a screwdriver, you can put together a BikeErg quickly.
Echo Bike Versus BikeErg – Size
There are two important aspects to the size of these exercise devices.
First, how much floor space do they take up?
Both items are approximately the same length, but the Echo bike is both wider and taller.
Rogue calls the footprint of their bike 44.5″ x 23.75″. Height is 52.75″.
The BikeErg, on the other hand has a footprint of 48" x 24". it's not as tall as the Echo Bike either, but only slightly shorter.
It's going to take up more of that limited floor space.
But, you can move it out of the way as needed (just as you can do with the BikeErg)
How easy are these to move or repositon?
After all your limited floor space in your home or garage gym is a rare commodity.
Both have wheels, that's the good news – but these little wheels don't work well in either if you need to go off a concrete floor or asphalt.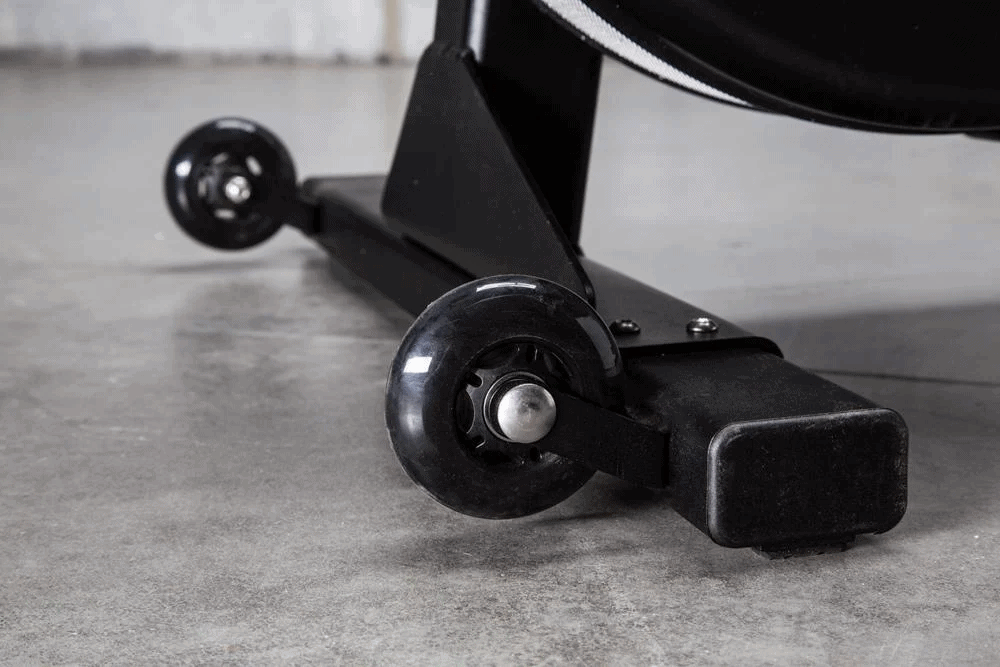 For example, if you need to move the into the yard from the garage or porch, you are going to have a tough time.
Here's the saving grace of the BikeErg it is both light enough (about 68 lbs) and compact such that one person can easily pick it up and move it – even when the wheels won't get the job done.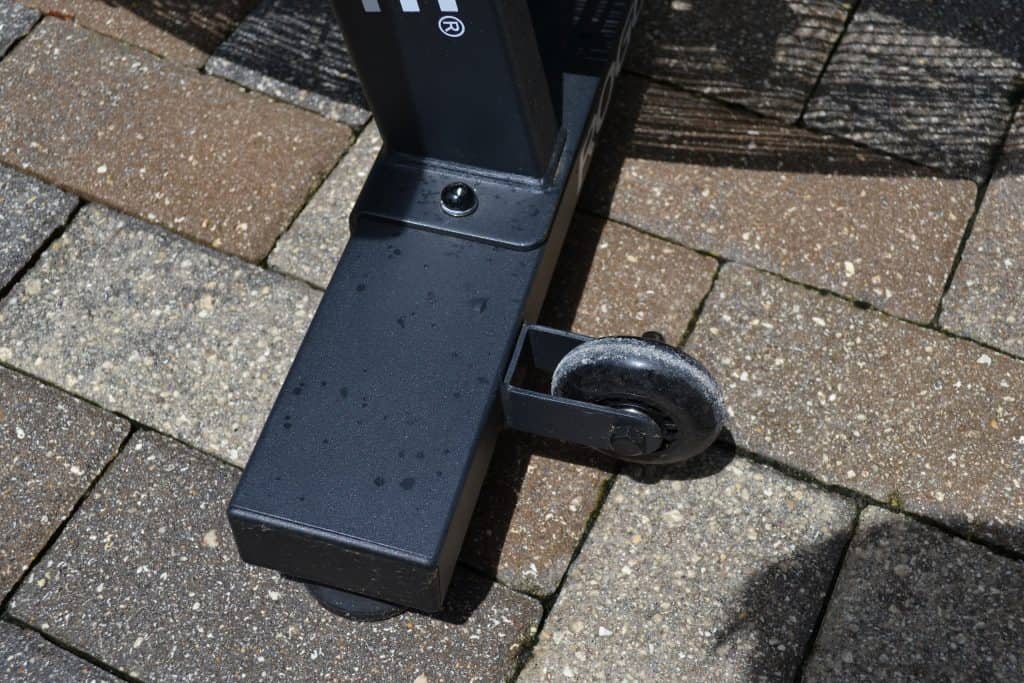 Not so the Rogue Echo Bike – this big beast is 127 lbs – and it's a very unwieldy and awkward thing to carry.
You can't really hold on to the handles (since they move) and with the foot pegs and pedals in the way, it's a tricky lift.
It's not a problem for two or more people to move it – the only real challenge is when it's just you.
Rogue does have a set of Turf Wheels you can buy as an add-on – these will work on all kinds of surfaces and make it easy to move this heavy bike anywhere.
My advice would be to invest in one of these if you have the floorspace, and provided you can easily wheel it into and out of position as you want to use it.
Echo Bike Versus BikeErg – Quality
Both of these fitness bikes are high-quality.
Rogue Fitness is known for making very high quality fitness gear.
And while the Echo Bike is NOT made in the USA, it's still a well-built, solid machine.
Much of Rogue's motivation when designing the Echo Bike was to make something that would NOT break as easily as another CrossFit staple – the Air Assault Bike from Assault Fitness.
As we mentioned elsewhere, the Echo Bike uses a belt drive – and that means a minimum of maintenance and no chain (like a bicycle) to stretch, break.
(Another benefit of this is there is nothing to lubricate and create a greasy mess!)
Similarly, Concept 2 makes the world's best rower – the Concept 2 Model D Indoor Rower.
The Model D is the gold standard for indoor rowing – and these devices have legendary build quality and robustness.
In fact, they hold their value so well it's not unheard of to see a used Concept 2 Rower for sale for only a few hundred dollars less than a new one.
As such, the Concept 2 BikeErg is made to the same high quality standards – and so far, this device has proven to be reliable as well.
Echo Bike Versus BikeErg – Electronic Monitor
The electronic monitor on the Concept 2 is one area where the BikeErg far outshines the Echo Bike.
It's a very high quality LCD display, with good contrast.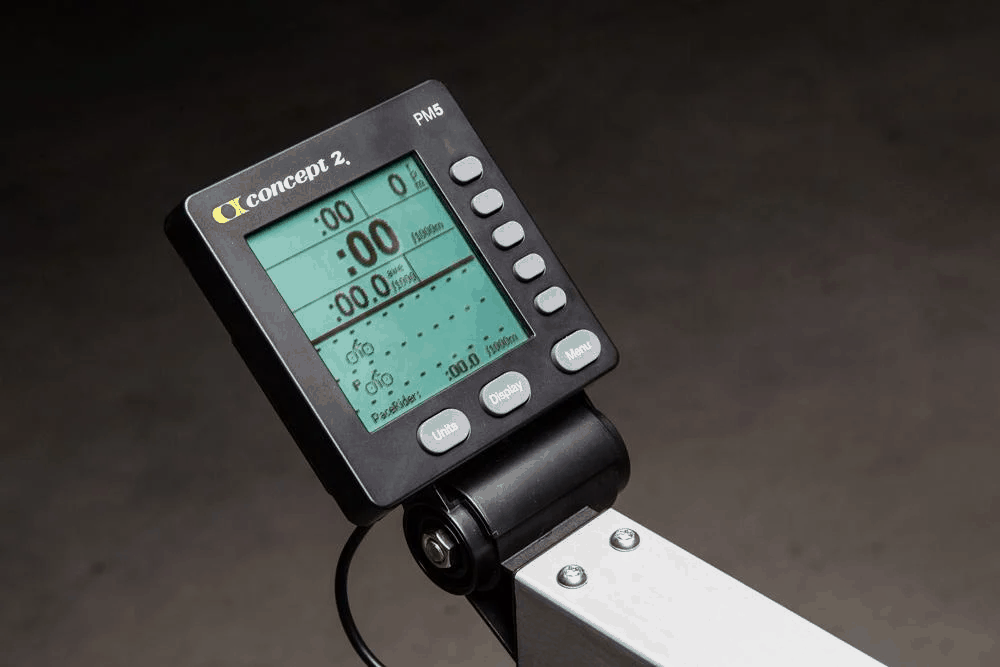 But, more importantly there's much more functionality and features built into it.
(It's very similar (if not identical) to the PM5 monitor on the Concept2 rower, if you are familiar with that.)
There are many metrics (time, distance, split, RPM, and it can track your hearrate – assuming you have the right compatible equipment).
There's a great memory feature such that you have a record of all your workouts.
What's even better – the LCD display is backlit – so there is no issue using this at night in a dimly lit garage or home gym (or outside in your driveway).
The PM5 monitor has excellent BlueTooth connectivity and will work with a wide array of devices.
The Echo Bike's electronic monitor, in contrast has a few simple modes, and some simple metrics.
There's no long term memory.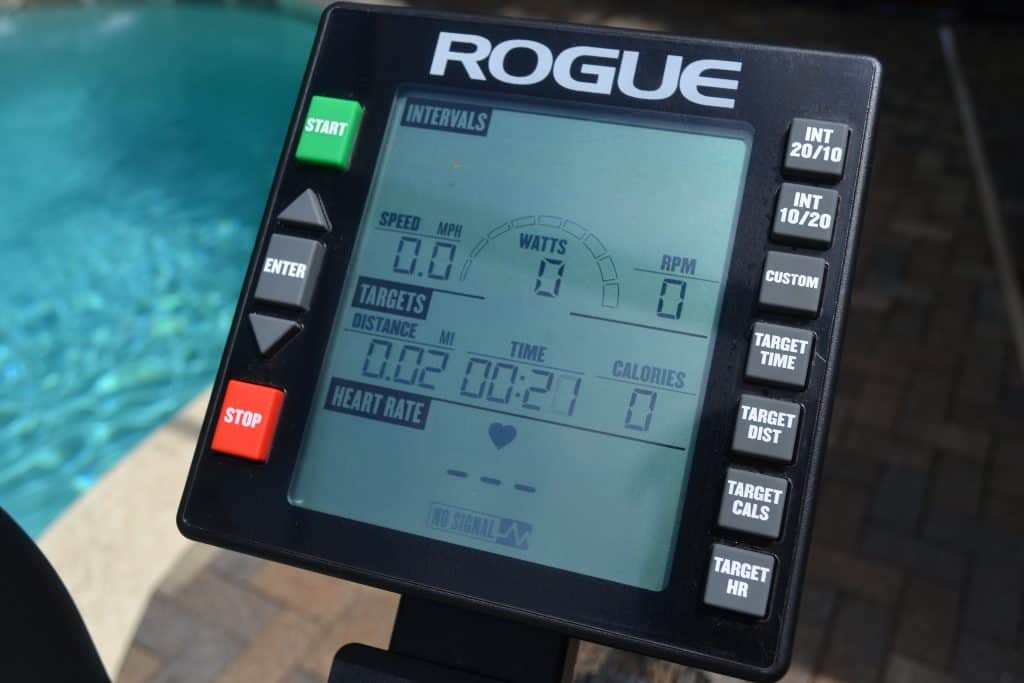 And to be honest, it's not as nice of an LCD display. The contrast is not as good, and it's not backlit – so you can't see it in the dark.
But, on the plus side the physical buttons are robust and have not given me any issues over the 18 months that I've used the Echo.
The Rogue Echo bike's electronic monitor does NOT support BlueTooth. It will support a few heart rate monitors that suppoert the ANT+ standard.
I consider that to be a big downside to the Rogue Echo Bike's monitor.
Echo Bike Versus BikeErg – Which One Is Better?
The BikeErg from Concept 2 more closely resembles a traditional road bicycle.
It is very well built, has a great electronic monitor and it is a flexible workout tool, thanks to the damper settings you can use to vary resistance.
The Rogue Echo Bike is more of a brute force alternative.
With the massive fan for resistance, you'll need to work furiously at all times to keep it moving (or to accelerate it.)
But where it shines is in high-intensity workouts.
It's also a better full body workout – because it will utilize you upper body immensely.
In the end, both are great workout devices – and which one is right for you will depend on your goals.
You might also be interested in our article on the Concept 2 indoor rower, which is also an efficient, effective, and low-impact total body workout.
And, if you are looking for more indoor workout options, check out the AirRunner – manual treadmill – it works great for interval training.
Photo and Image Credits
The Rogue Fitness logo and some product imagery on this page is property of Rogue Fitness and provided by Rogue Fitness.
Some additional product imagery is courtesy of Concept2, Inc.
This website is not affiliated or associated with CrossFit, Inc. CrossFit is a registered trademark of CrossFit, Inc.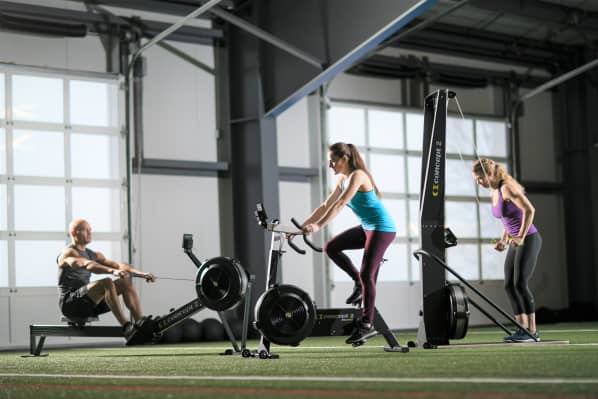 Tim is the founder of FitAtMidlife.com – an avid gym rat for 30+ years, he's a reviewer of many, many shoes – and founder of the Speed Bag Gathering – the world's only gathering of speed bag punching enthusiasts.  See more gym reviews at Tim's YouTube channel.