Let's review the Cloud X training shoe. Can a running shoe company make a good cross trainer for the CrossFit WOD?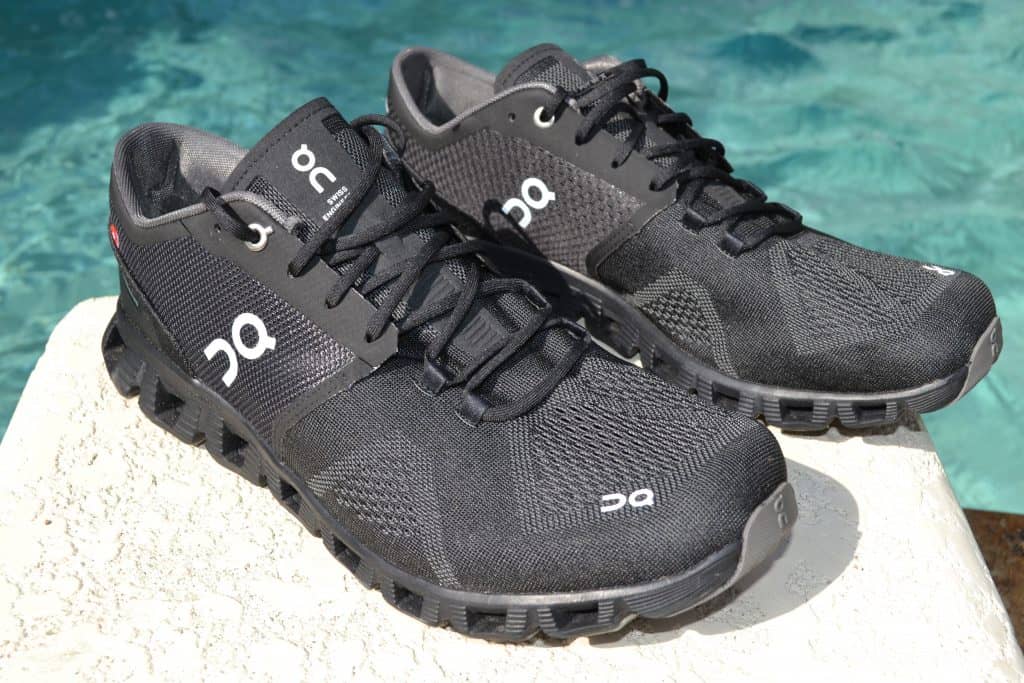 On Running is best known for making super-light and cushioned running shoes.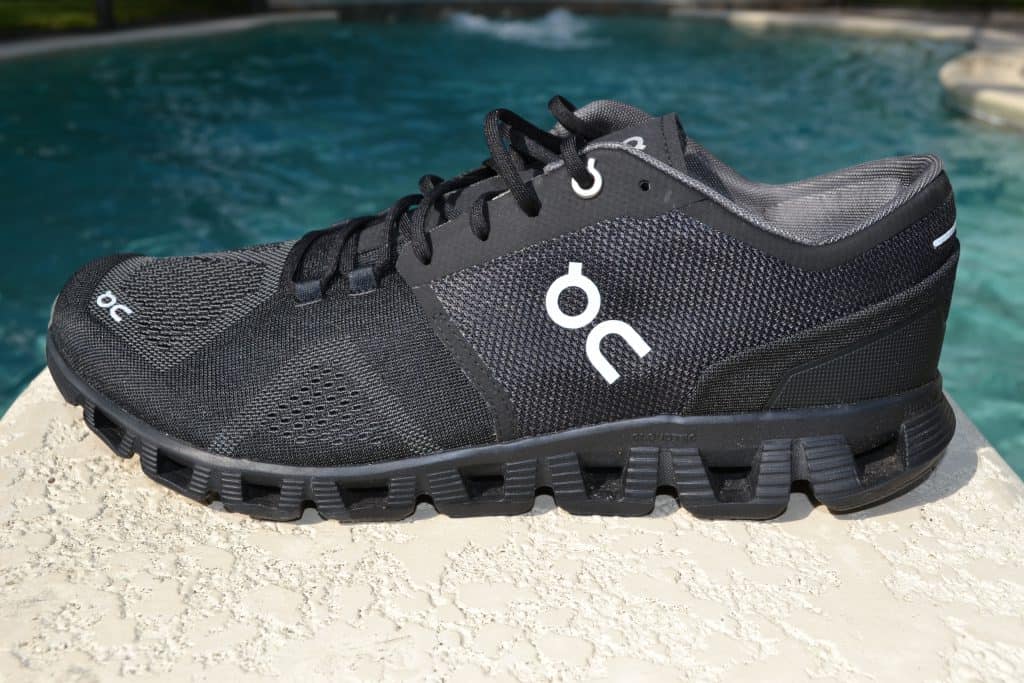 Does their design methodology work in the cross training shoe market? That's what we aim to find out in our review of the Cloud X.
Here's some of the styles available now: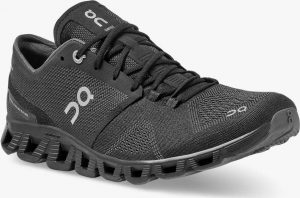 Cloud X Training Shoe (Black/Asphalt)
The new generation Cloud X shoe from On Running is a training shoe. It combines several features from the On line with the stability you need for gym sessions and HIIT workouts.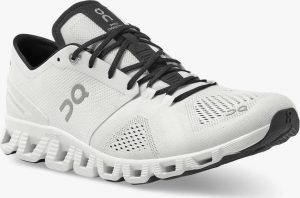 Cloud X Training Shoe (White/Black)
The Cloud X uses materials high in quality and low on weight. Flexible but tough, the engineered mesh upper has a function-focused weave pattern for durability, breathability and agility. And the no-sew design maintains a perfect fit during any activity that gets you fit.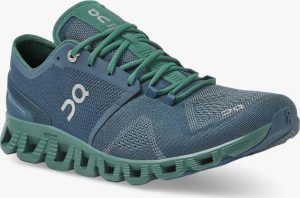 Cloud X Training Shoe (Storm/Tide)
The Cloud X is for those who refuse to define themselves by one activity. A lightweight and ultra-agile shoe built to handle punishing paces and intense mixed-sport workouts. It's at home on the track, street and in the gym. Get stronger, run longer.
On Running Cloud X Training Shoe Review on our YouTube Channel
Why read when you can watch? Check out this video from our YouTube channel:
On Running Cloud X Training Shoe – Overview
Let's take a closeup look at the tech that makes this shoe work.
Let's start with the fact that this training shoe is light.
Not just light by training shoe standards – light by running shoe standards too!
The Men's Size 11 (US) shown here weighs in at 9.2 ounces.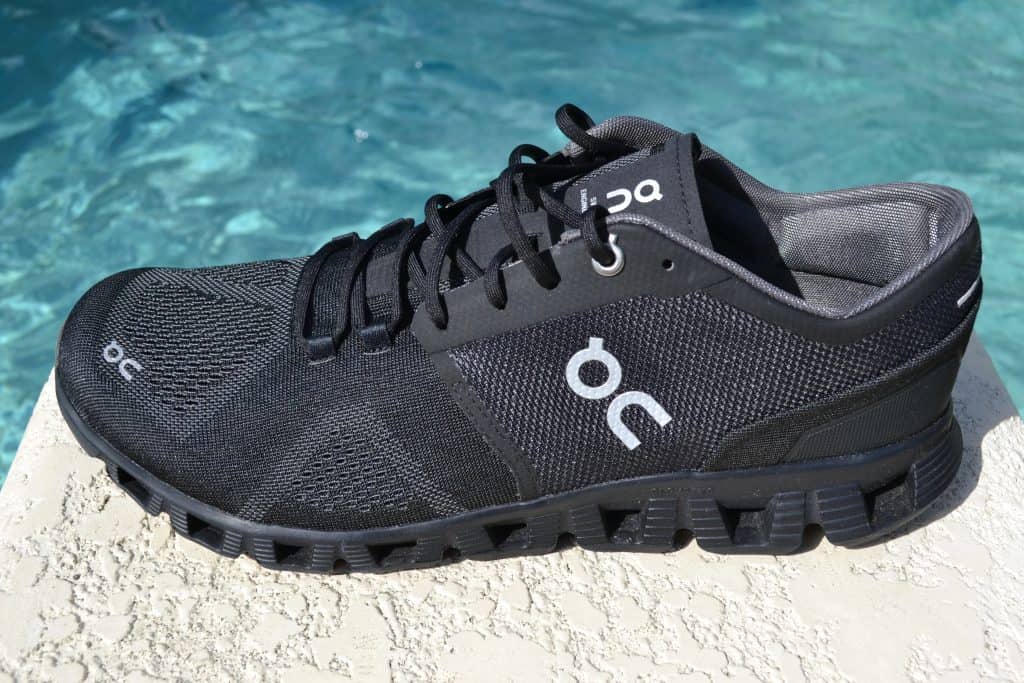 Compared to other training shoes like the Nike Metcon 6 and Reebok Nano X, there's a big difference.
For comparison, those shoes are in the 14 ounce range – that means the Cloud X is 5 ounces lighter.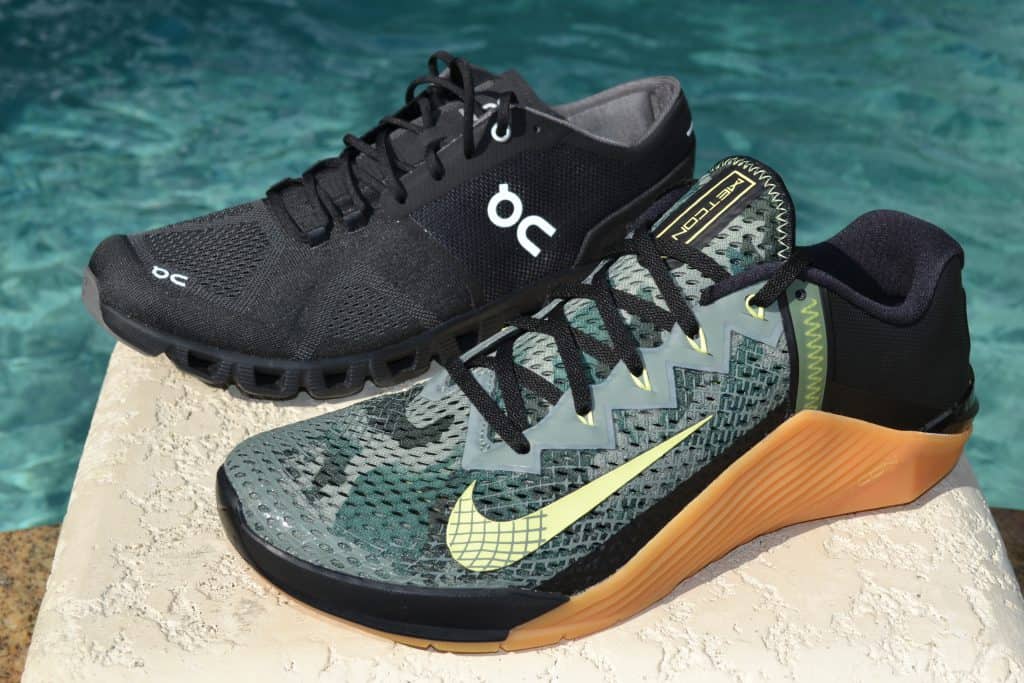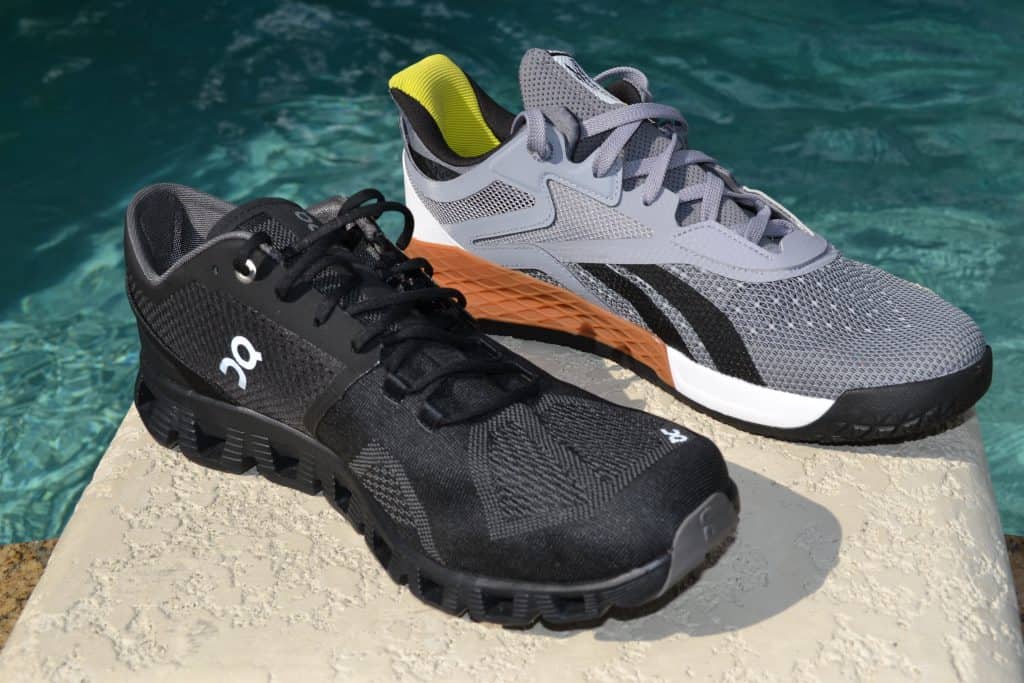 It's a difference you can feel immediately when you put these shoes on.
Why are these shoes so light? Let's look at how this is accomplished.
The upper (which On calls an "engineered mesh") is thin and lightweight. It's a single layer material.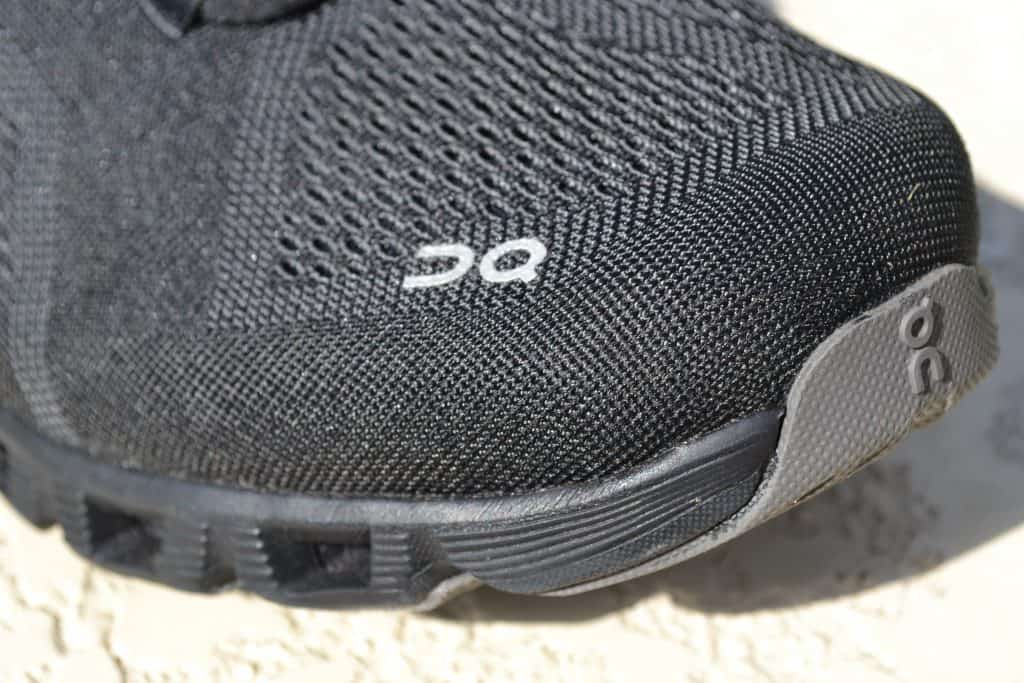 There are perforations up front to help with breathability – and these let the light shine in too (a little bit).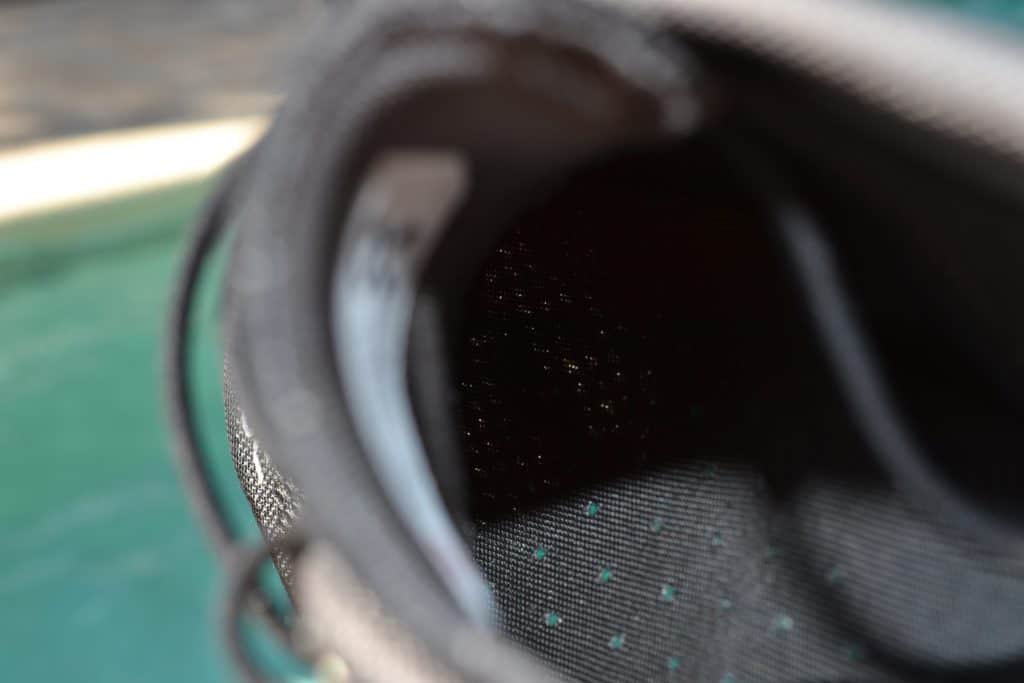 Overall the upper is comfortable and relatively soft.
It is not sock-like (stretchy and super-soft) like Nike's FlyKnit.
But, it feels like it's going to be tougher than FlyKnit.
(By the way, I'm talking about FlyKnit on the running shoes from Nike, not the really heavy, uncomfortable Forged FlyKnit on the React Metcon – Not a fan!)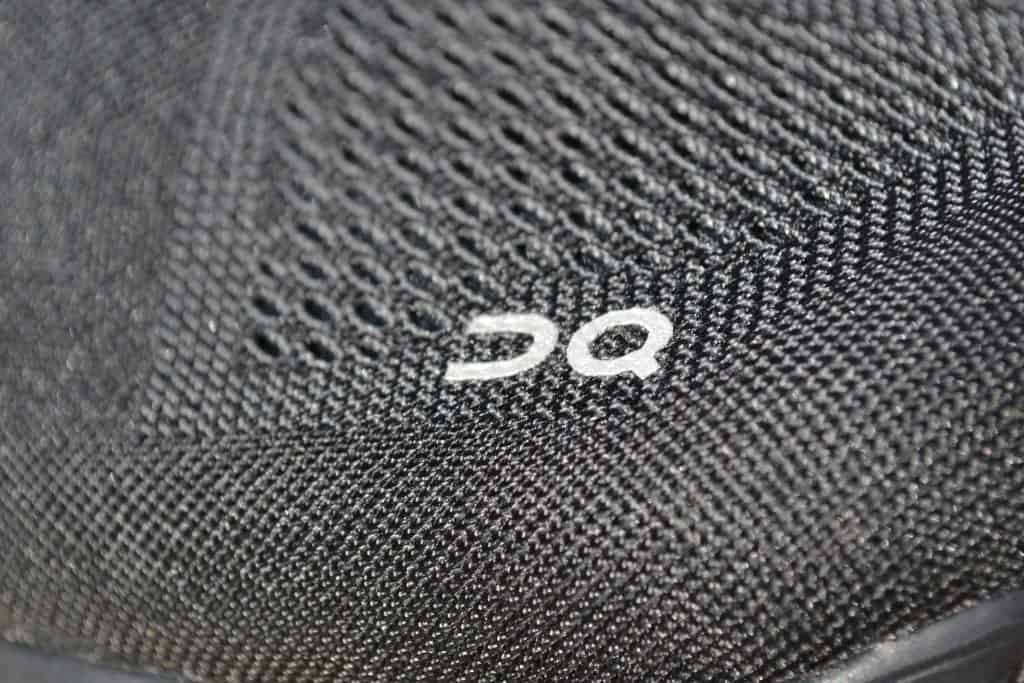 Beyond that, the upper is pretty simple – no extra straps, wraps, or layers.
All together, the upper is light – because there is a minimum of material.
We've got real shoe laces and a tongue – as you'd expect on a running shoe.
The other half of how this lightweight shoe is made is the cushioning system.
Let's look at that next.
On calls their technology "CloudTec" (like running on clouds).
In particular, in this shoe we have Helion foam in the midsole, and CloudTec pods on the outsole.
By the way, the heel to toe drop in these shoes is 6 mm.
The foam in the midsole works in conjunction with the CloudTec pods on the outsole.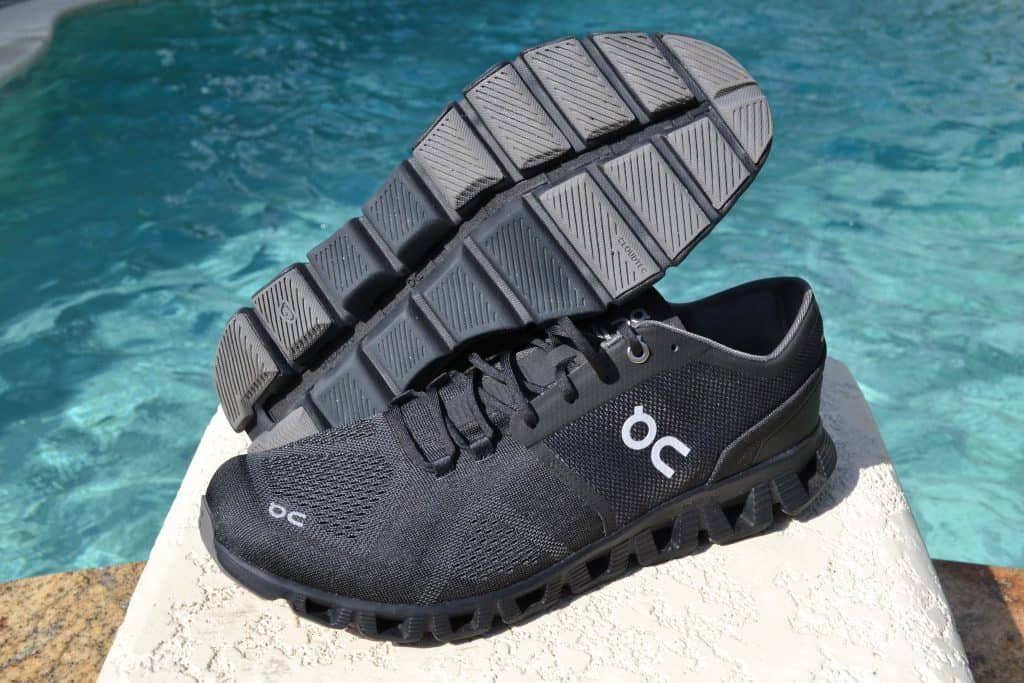 These are relatively firm, and hollow (see photo below).
The CloudTec pods aren't solid – they are hollow – so that helps save weight too.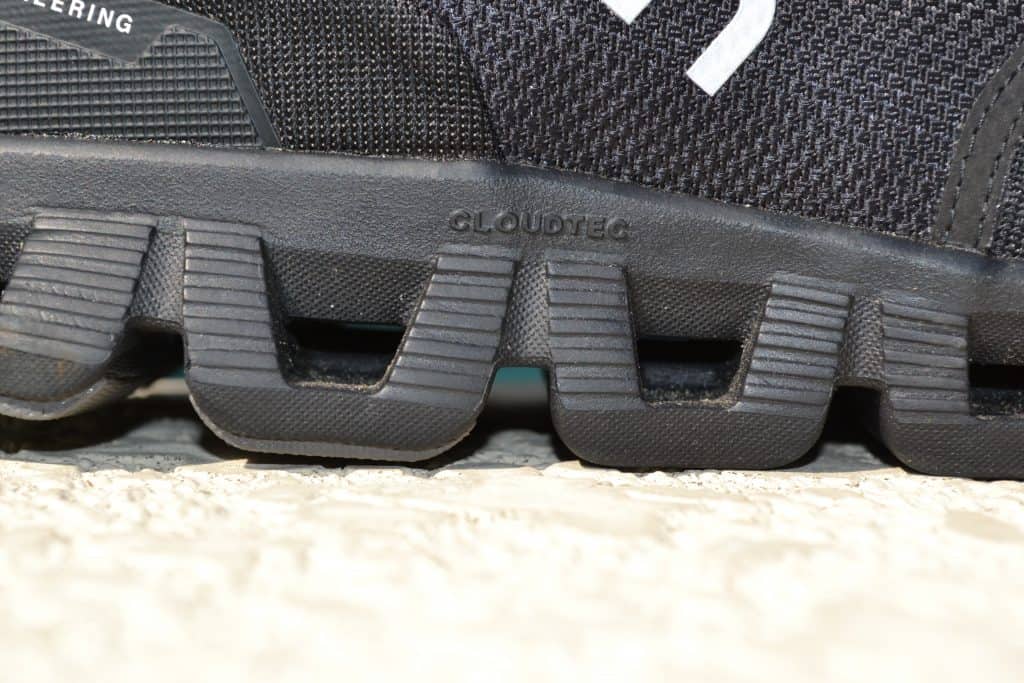 There is a durable rubber on the bottom of the CloudTec Pods – for durability and traction.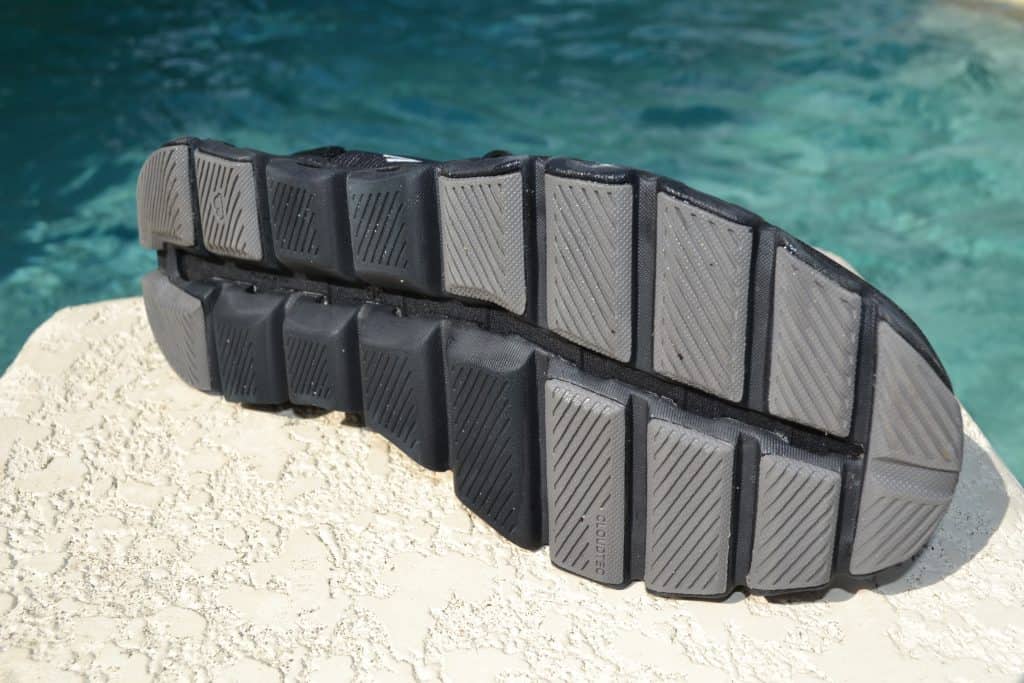 My only complaint about the outsole – it's is VERY squeaky when wet.
Run outside in the morning (dewy grass, after a rainfall, etc.) and you'll be squeaking with every foot step – far more than the average wet shoe outsole.
To be honest, it's almost too much.
But that complaint aside, I like the cushion in this shoe.
Remember this is a CROSS TRAINER, not a running shoe.
It's got more cushion in the heel than the Nano X or the Metcon 6 – which makes it better for running – and it's super-lightweight.
The real sweet spot for these is bodyweight HIIT – box jumps, cardio, classes, etc.
You don't feel like you are weighed down with concrete blocks because of their lightweight.
How does it compare to a true running shoe?
Being a trainer, there's much less cushion – so I wouldn't use this for long runs, but it's fine for your average CrossFit WOD style of running – 400 meters, 800 meters, sprints, etc.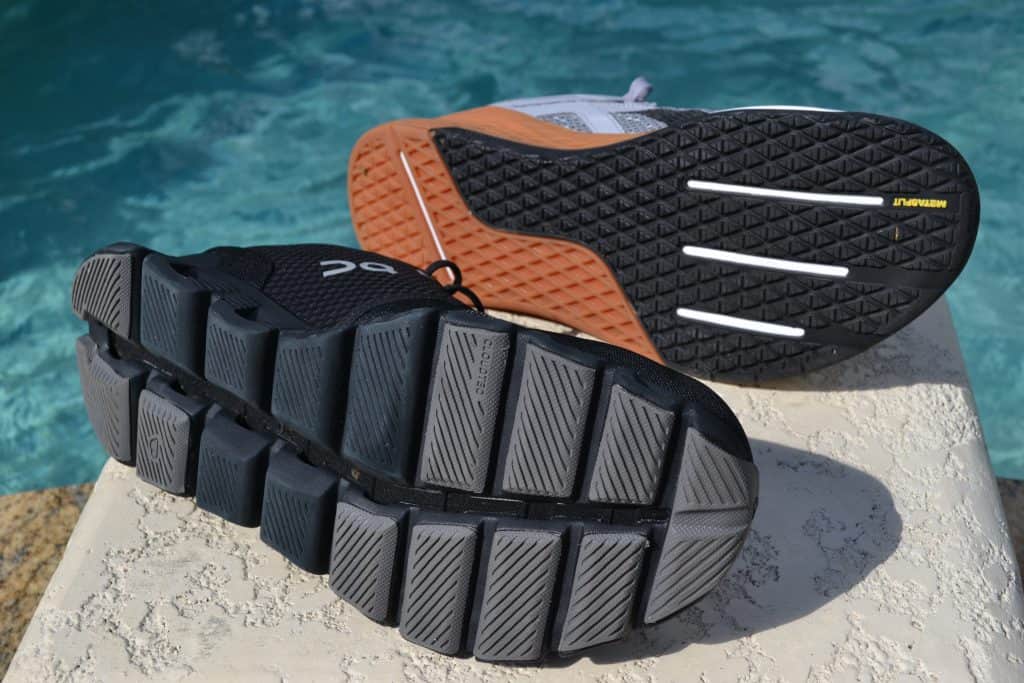 The cushioned heel is nice for short runs, sprints, box jumps, and more.
But the heel is too cushioned for very heavy weighlifting (like barbell squats, deadlift, cleans, jerks, etc.)
The Cloud X is ok for dumbbell, kettlebell work and similar light weights – but there is too much cushion in the heel for really heaving lifting.
(So don't use these for serious barbell strength work, powerlifting, or bodybuilding.)
The Nano X and Metcon 6 are better choices in that regard – both are excellent for lifting heavy weight.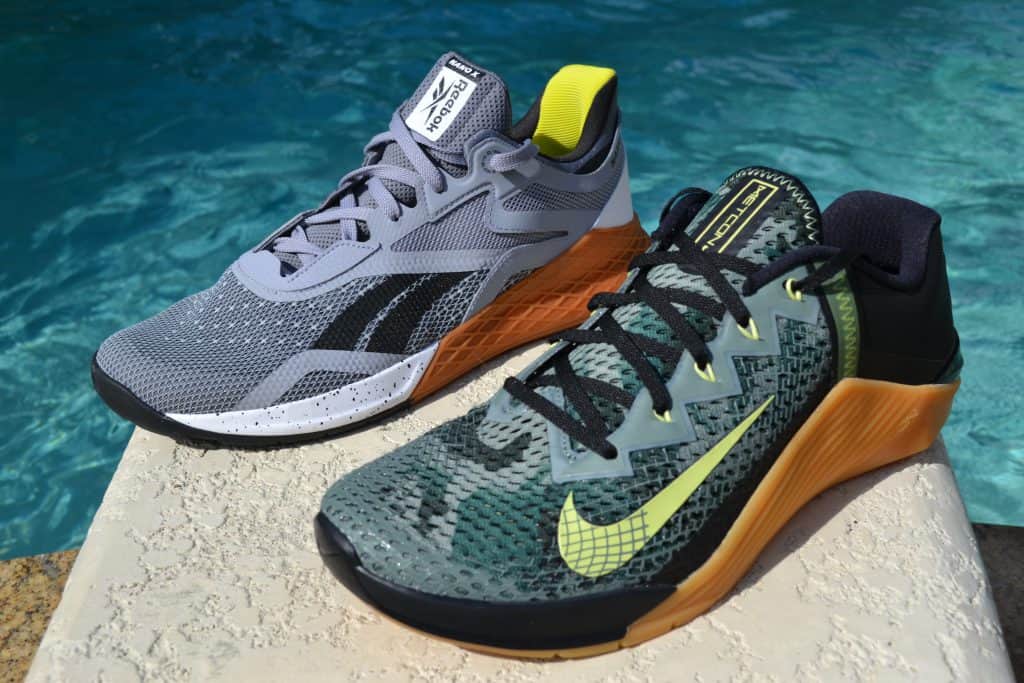 But, if you are doing a very balanced workout – these shoes are a nice option (as long as the outsole is dry!)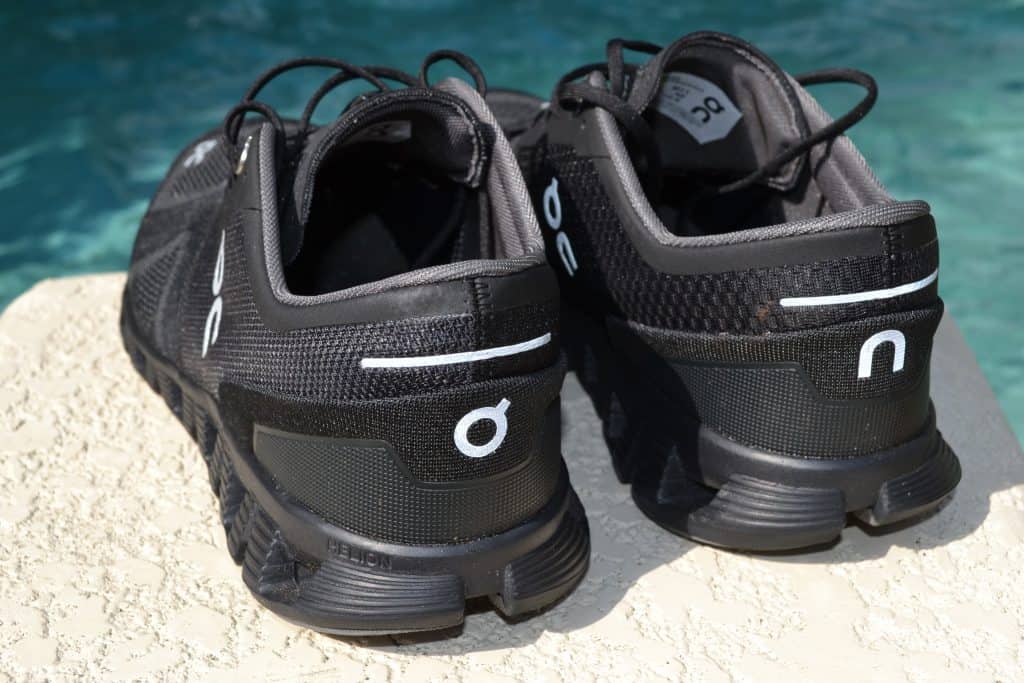 These are decent for side to side dynamic movements too.
The base is wide, and the outsole extends upwards to make a sidewall around your feet.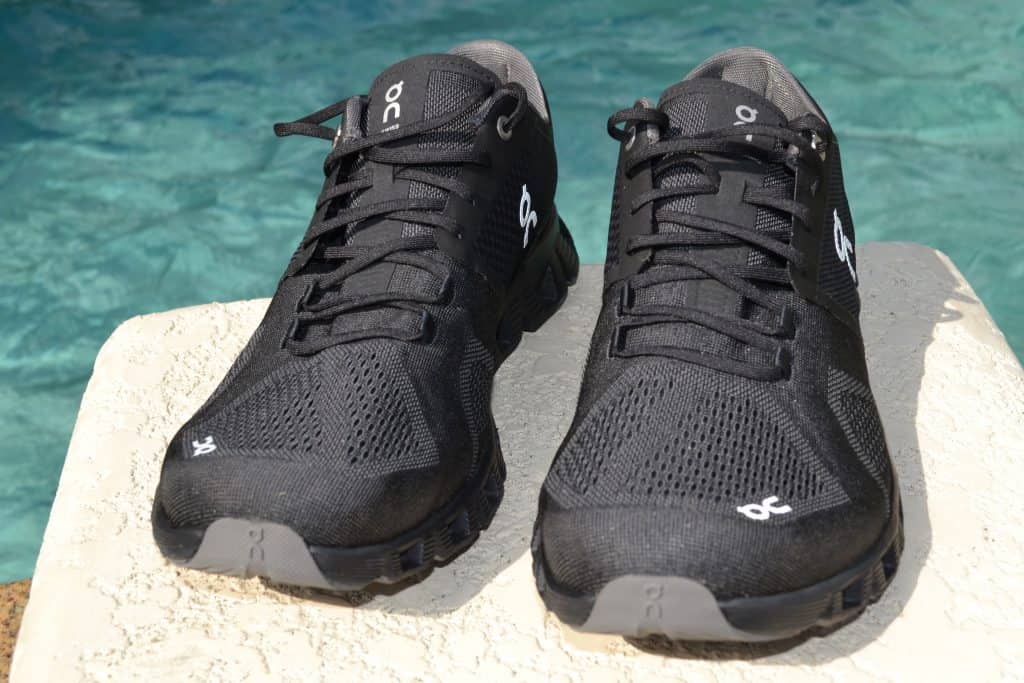 Lastly, being from a running shoe company, there's proper reflective details on the shoe – to help with safety in outdoor activities at night.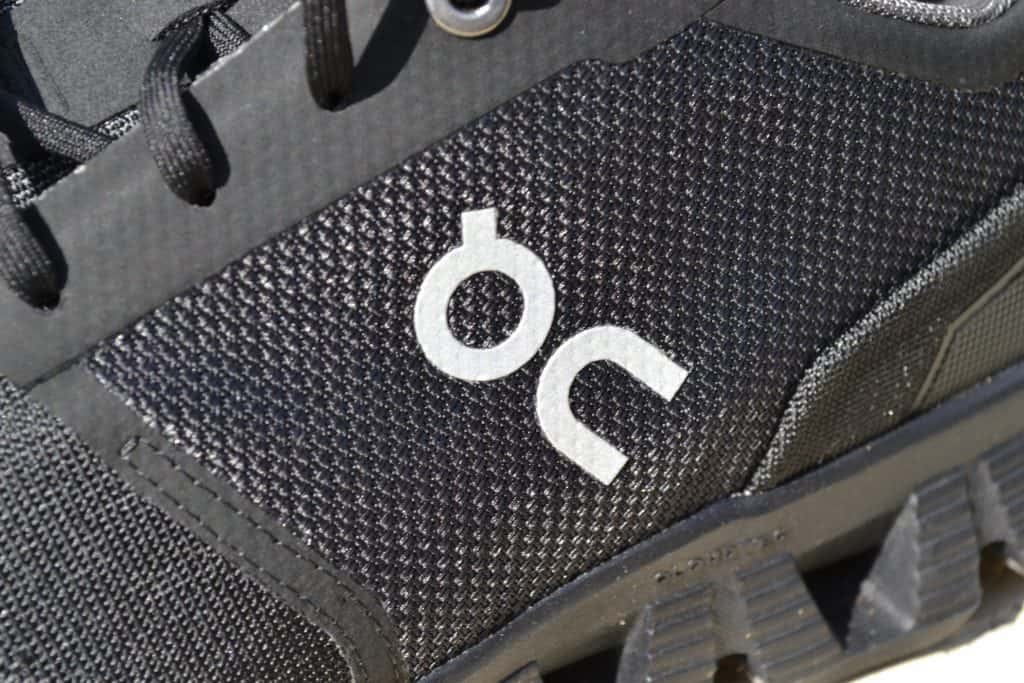 On running Cloud X Training Shoe – Fit and Sizing
These have a very light-weight, comfortable fit.
They run true to size.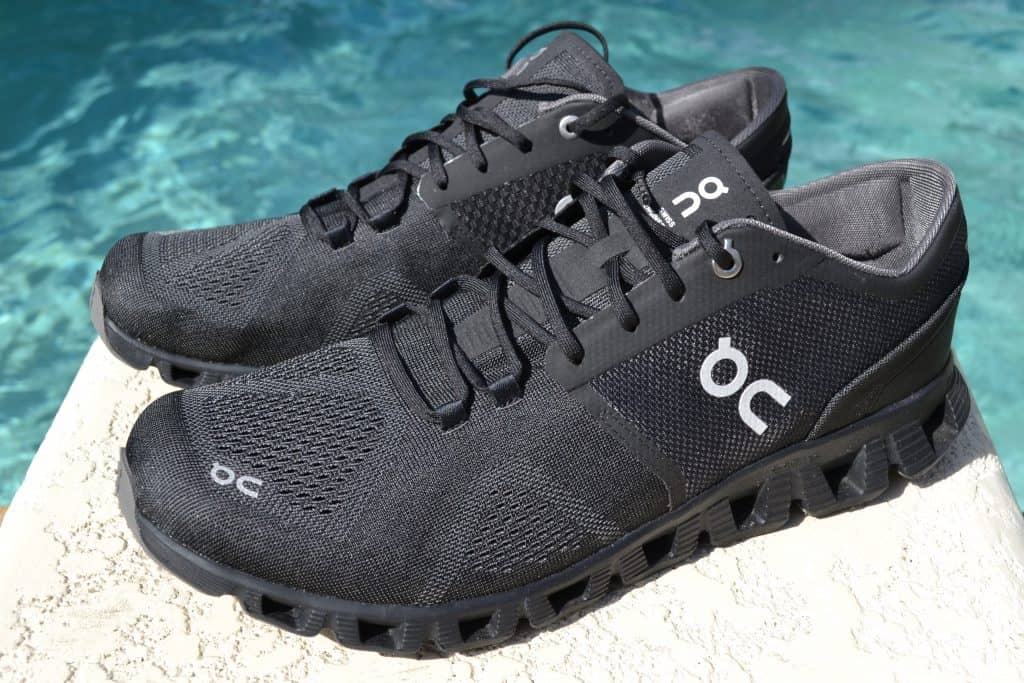 Therefore, I recommend you order you normal running shoe size.
On Running Cloud X Training Shoe – In Summary
It's nice to have a lightweight training shoe option.
The Cloud X training shoe is significantly lighter than other cross training shoes.
And while it's got too much cushion in the heel for barbell lifting, that is a big benefit to just about everything else.
Combine that with the extreme lightweight – and you have a very nice shoe for jump rope, box jumps, rower, air bike, short runs, and more.
(I wouldn't climb rope with these though – there's no particular protection for the lightweight upper from rope friction.)
But otherwise, these are a nice training shoe option.
(Just remember they are much squeakier than average when wet).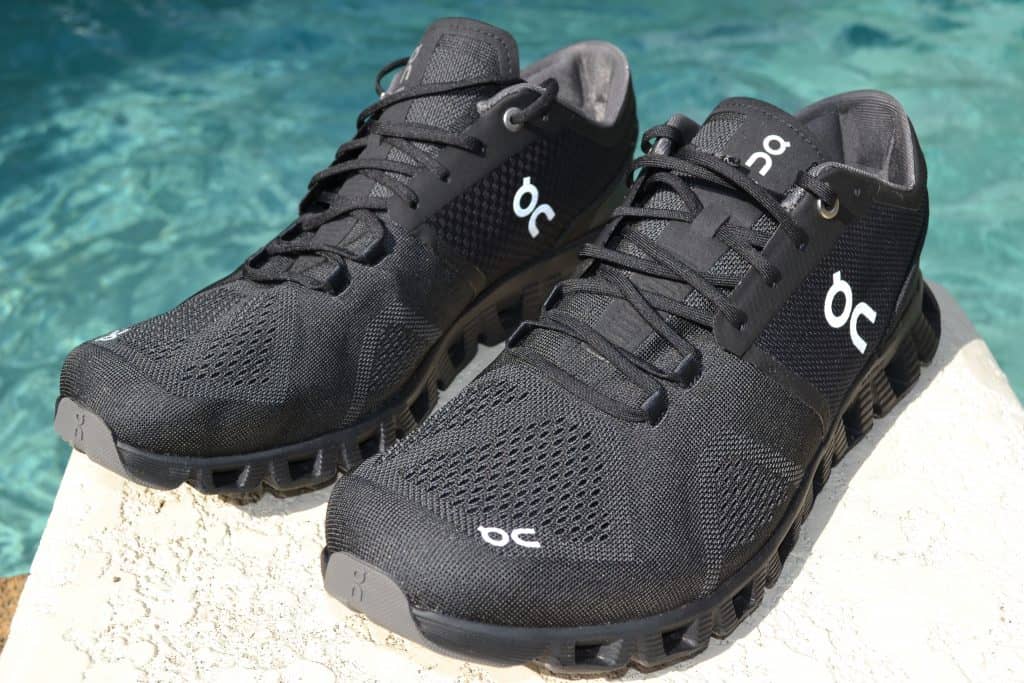 Photo Credits
Some product photos on this page are property of On Running.
This website is not affiliated or associated with CrossFit, Inc. CrossFit is a registered trademark of CrossFit, Inc.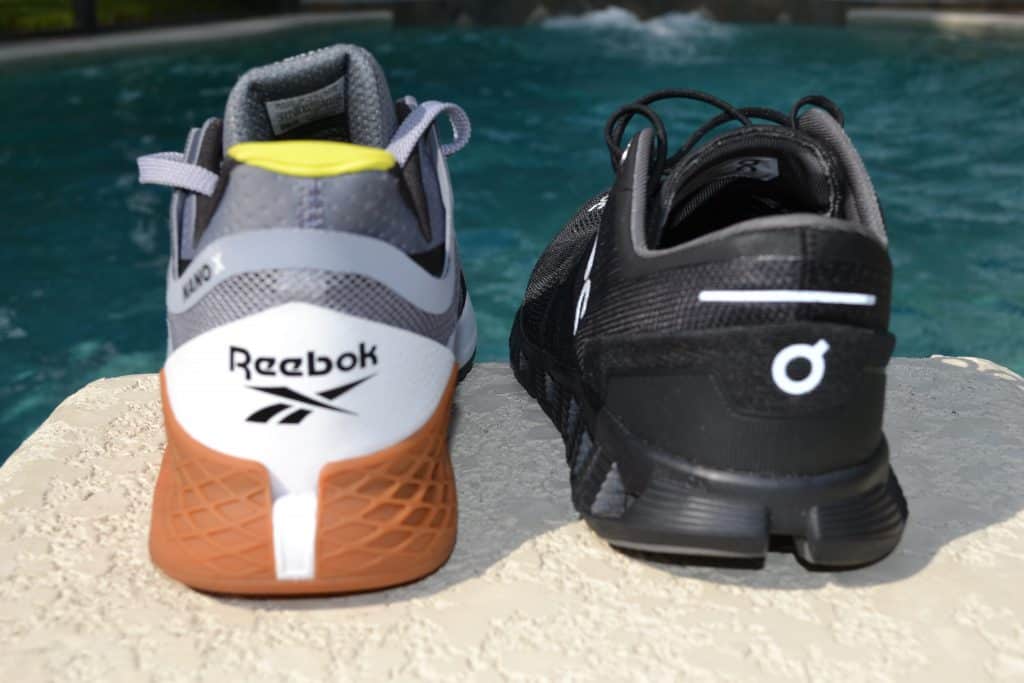 Affiliate Disclaimer
We are an affiliate of various sellers of this shoe. If you buy Cloud X shoes after clicking the links in this article, we receive a small commission at no extra cost to you. This helps us to bring you in-depth information and content on these great training shoes.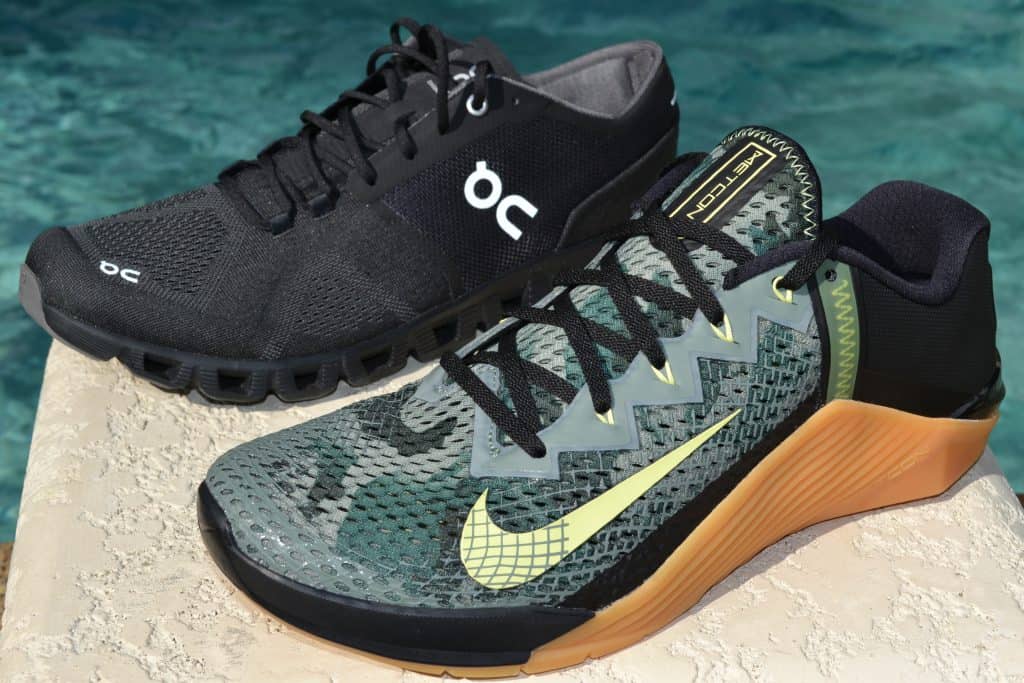 Tim is the founder of FitAtMidlife.com – an avid gym rat for 30+ years, he's a reviewer of many, many shoes – and founder of the Speed Bag Gathering – the world's only gathering of speed bag punching enthusiasts.  See more gym reviews at Tim's YouTube channel.