Get in the Halloween spirit with these Hell's 'Bells Kettlebells from Fringe Sport.
From their long history in Europe and Russia in the 1900s, kettlebells are now common equipment used for athletic training and competitive sport everywhere. They promote whole-body active movement for strength, power, and endurance training. They are found in the gym, sports facilities, and garages and are used to build muscles, tone the body, and burn fat.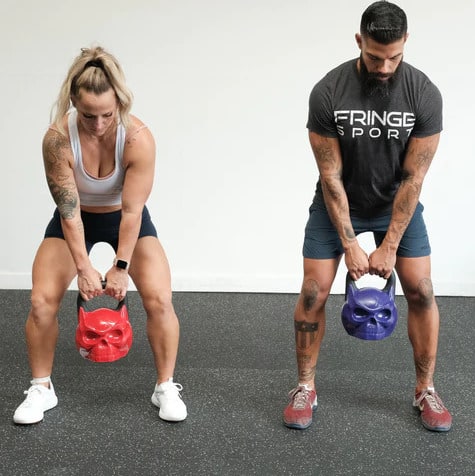 Only from Fringe Sport:
Hell's 'Bells Kettlebells – Overview
Need to know what to look for in the best kettlebells?
They may not be your definition of "attractive-looking" kettlebells, but the Hell's 'Bells Kettlebells will definitely bring fire to your workouts. These kettlebells are made of solid cast iron and coated in a black powder coat under hand-painted makeup. They can endure swings, lifts, stands, dances, twirls, or any other workout you throw at them. They are hand painted, so each one has a distinctive look created for just them.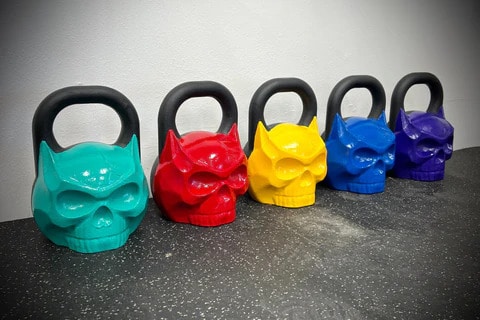 These kettlebells have different weights, but because of the milled center, they are the same size. The Hell's 'Bells Kettlebells were milled in the center to have the proper weight and plugged it, so they feel the same in your hand, whether you're gripping 26 or 71 pounds. The handles of the kettlebells have a reliable natural grip that holds chalk well and won't slip when you are sweating. At 1.25 inches, the handle diameter is perfect for using two hands for all your lifting.
Another great feature of these kettlebells is the completely flat bottom, so there's no tipping or rolling when you sit them down. They also have two specially contoured flat parts on the back of the kettlebell. This will decrease the friction and discomfort and keep your head, shoulders, and back from getting scratched in the wrong way when doing overhead lifts or snatches, or even cleans and presses.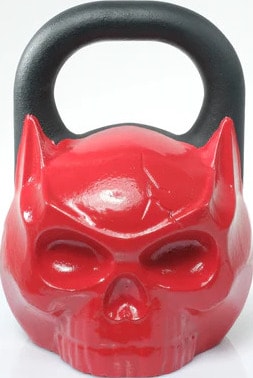 Hell's 'Bells Kettlebells – In Summary
That's our close-up look at Hell's 'Bells Kettlebells.
Kettlebells from Fringe Sport support whole-body and dynamic weighted movements and allow numerous exercises. They are made of solid cast iron coated in a black powder coat and have the same size but different weights. They have a lifetime warranty from product defects, but concerns with the powder coating or the unique face paint are cosmetic and not covered by warranty.
Looking for more options? Check out these other great products:
There's also Kettlebells from Kettlebell Kings and even Adjustable Dumbbells and Kettlebells for the ultimate in flexibility.
More products from Fringe Sport.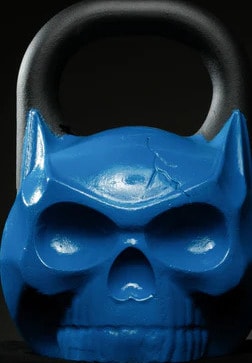 Photo Credits
Product photos on this page are property of Fringe Sport.
This website is not affiliated or associated with CrossFit, Inc. CrossFit is a registered trademark of CrossFit, Inc.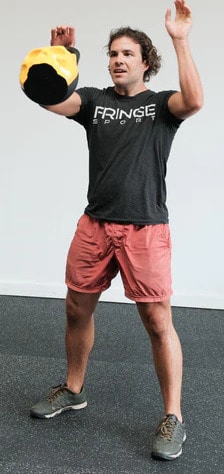 Affiliate Disclaimer
We are an affiliate of Fringe Sport and others that sell this training gear. If you buy clothing or other training gear after clicking the links in this article, we receive a small commission at no extra cost to you. This helps us to bring you in-depth information and content on these great training products.
Tim is the founder of FitAtMidlife.com – an avid gym rat for 30+ years, he's a reviewer of many, many shoes – and founder of the Speed Bag Gathering – the world's only gathering of speed bag punching enthusiasts.  See more gym reviews at Tim's YouTube channel.