Force USA: Use code
FAM5
to get 5% off any purchase over $1,500.
In this article we're going to review the best folding power rack.
Why a folding power rack?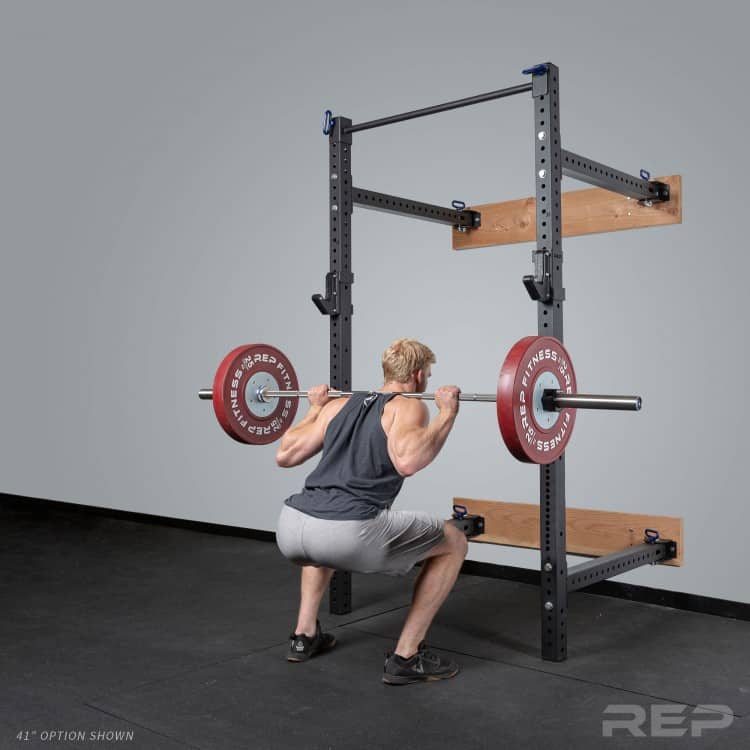 This innovative gym equipment let's you use your garage like a gym – or a garage – with ease.
There are some interesting options that let you make the most of your floorspace – and still keep the car inside the garage.
Here's an example. Shown above is the PR-4100 Folding Squat Rack from Rep Fitness.
It is an exceptionally well built product, and has all the essential features we look for in the best folding power rack for a garage gym.
We're going to look at these folding power racks from Rep Fitness, Rogue, and Force USA:
Let's talk about folding power racks for your garage gym.
Advantages of Folding Power Racks
What's the big advantage of a folding power rack?
Efficient use of space.
Why have a full four-post rack taking up room all the time?
A folding power rack is there when you need it – and compactly stored when you don't.
Rogue Fitness more or less invented this product space – but their competitors have brought new options to market.
And with more options and competition we have products that get better and better.
Squat Stands Versus Folding Power Rack
An alternative to a folding power rack are squat stands.
Here's the Indy Squat Stand from Fringe Sport.
The advantages of these are that they are light and easy to move. Therefore they are super portable – want to work out in the driveway? Just move the squat stands.
They are cheaper than a rack – because there is less to them.
They *might* be the right solution for you, but maybe not.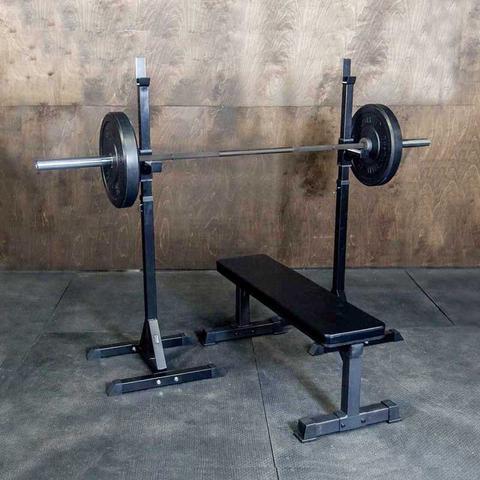 The downsides to squat stands (as compared to a folding wall rack):
They aren't as stable.
You can't mount a pull-up bar
They don't have as many safety options.
And they don't fold flat like some of these wall racks do.
(But, you can't move your wall mounted folding rack easily.)
So decide what the key needs are for your training – and make your decision based on that.
Pull-Ups Bars and Folding Racks
Whatever option you go with, make sure it has a pull-up bar or chin-up bar.
Don't miss out on one of the simplest and most effective exercises – the pull-up (or chin-up).
Equip your squat or power rack with a pull-up bar and you can use a wide range of exercises including: pull-ups, chin-ups, hangs, leg raises, etc.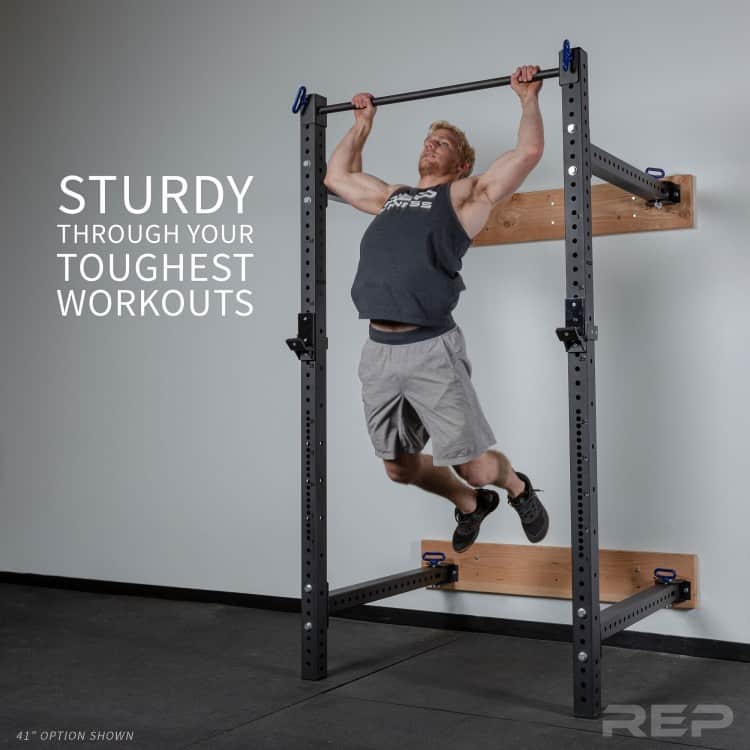 Being able to do these exercises is really one of the huge benefits of a rack.
We personally don't recommend the "kipping" style of pull-ups – unless your rack is securely anchored to the floor. But, that's OK – the strict version of pull-ups is a far better choice for nearly everyone.
Even better is a multi-grip pull-up bar – because that gives you a variety of grip options to keep the stress of your wrists, elbows, and shoulders.
PR-4100 Folding Squat Rack / Power Rack from Rep Fitness
The PR-4100 Folding Squat Rack / Power Rack takes space savings to a whole new level.
This is a FOLDING wall mounted rack.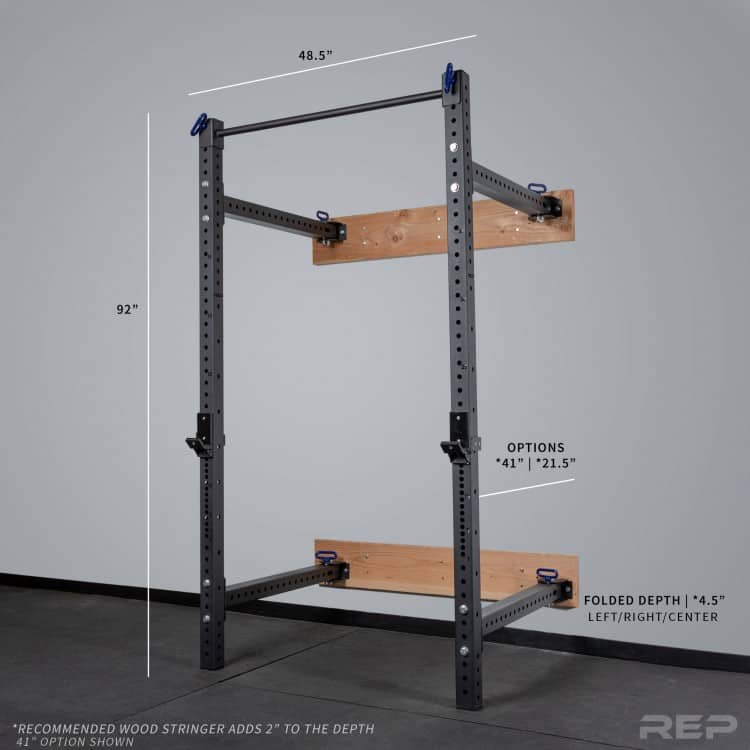 How flat? Pretty flat: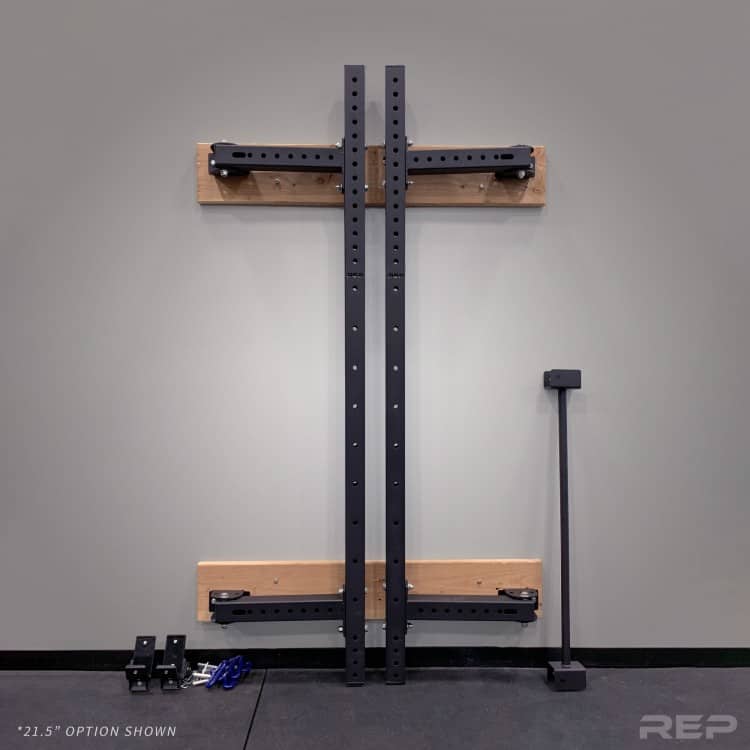 Please note there are two depths for this unit – 21.5" or 41" deep.
The uppers can fold inward or outward.
The PR-4100 comes with a single 1.25″ diameter pull-up bar (which is the equivalent of the "skinny" pull-up bar we highlighted on the other models.)
The PR-4100 has some other neat bells and whistles too.
For instance, it has Westside 1″ hole spacing.
This is allows for very fine adjustments to the barbell height – right where you need it – in the "benching" zone.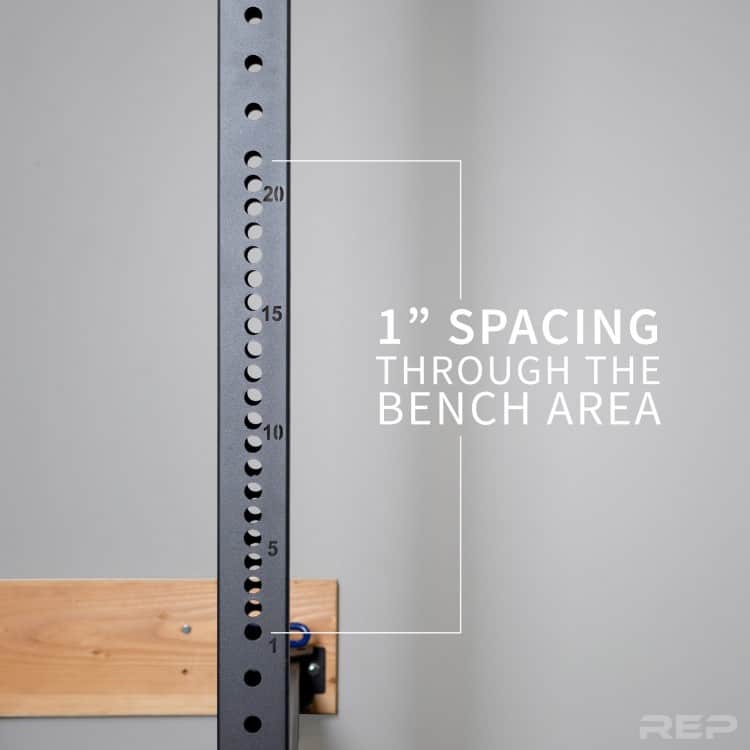 For the most secure mounting, Rep recommends the use of wooden "stringers" – mount these across the studs in the wall – then mount the PR-4100 to these.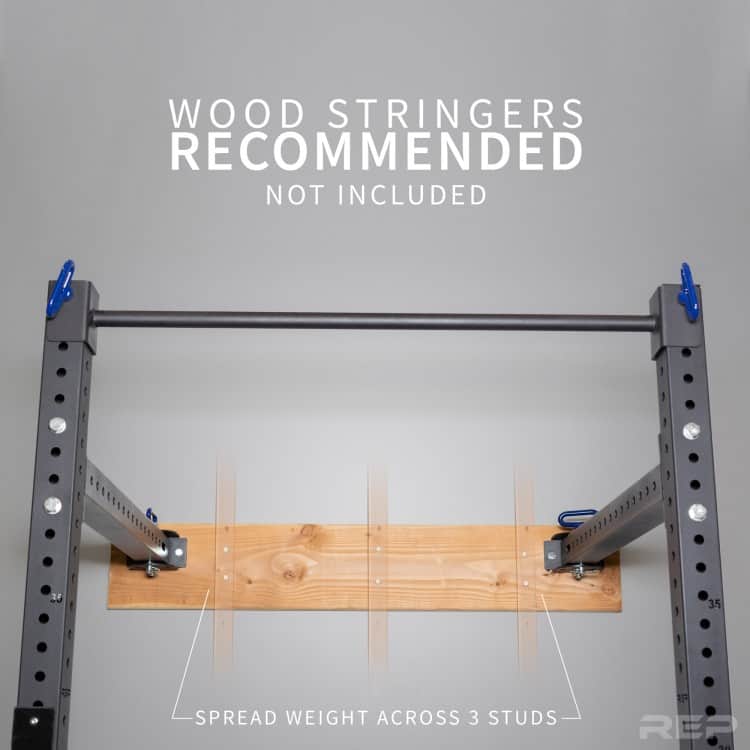 The Pull-Up bar can be easily removed for when it is time to store the unit.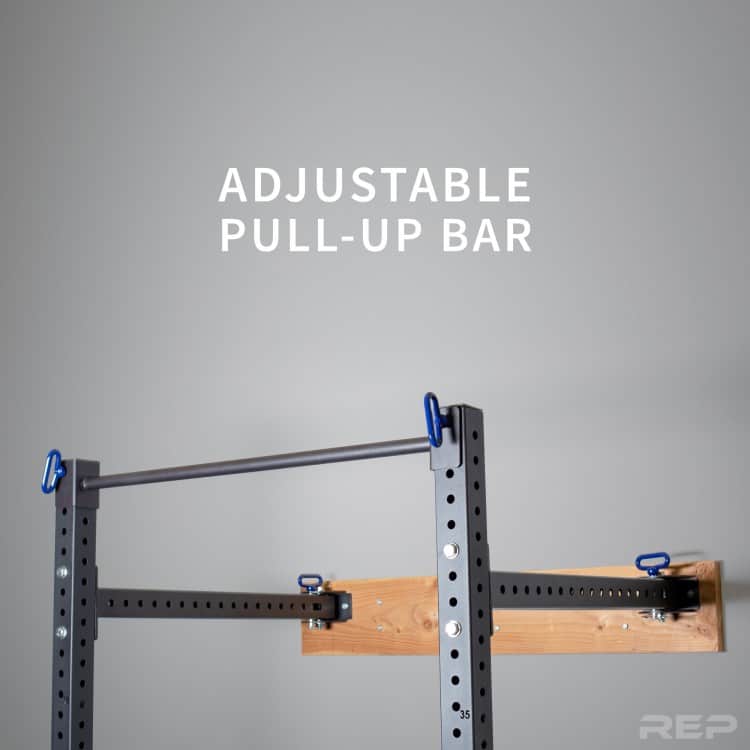 This unit is very sturdy – because it's got the two posts AND it's connected to the wall
How sturdy? Using the optional PR-4000 Dip Handles you can do body weight dips.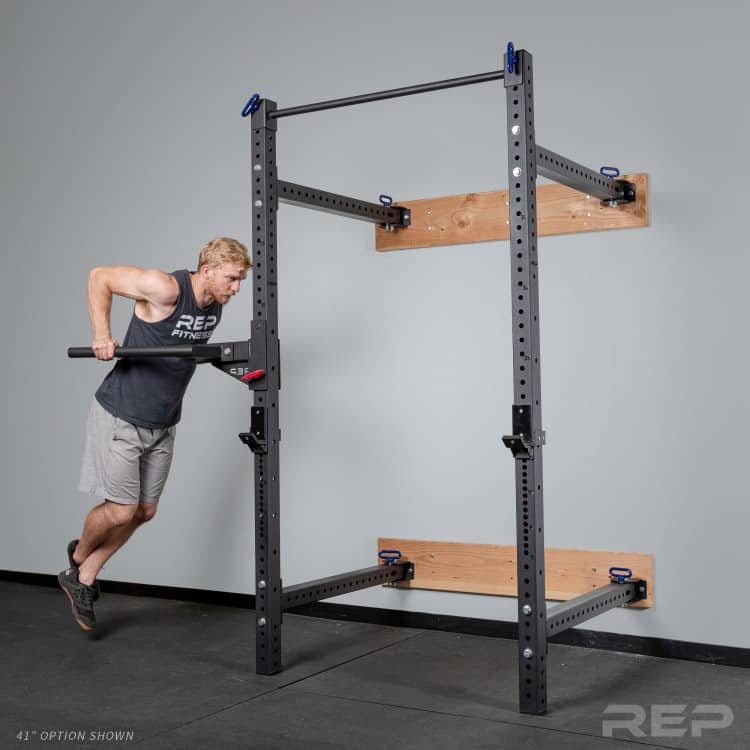 Overall, the PR-4100 is one of our top choices for a compact squat rack in your garage.
Best Power Rack For Limited Space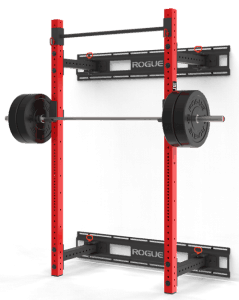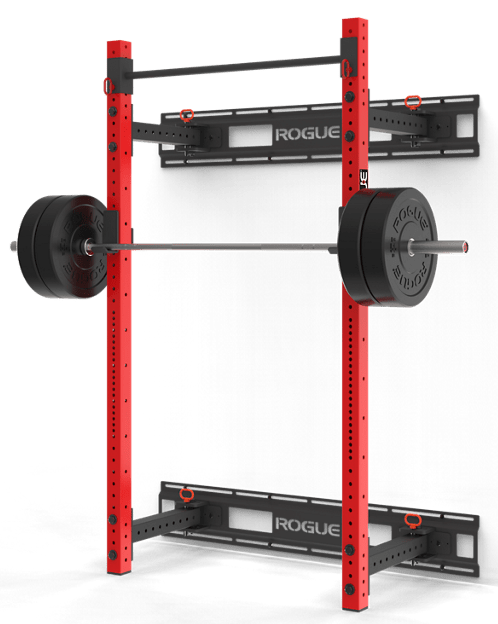 Need to keep a car (or two) in the garage? Then you need the ultimate in space saving technology.
And that's the Rogue Monster Lite RML-3WC Power Rack (Rogue Fitness: Click to see price), as shown here.
This innovative power rack design is mounted on the wall, and can fold nearly flat – reclaiming a lot of space.
Far from flimsy, it's from the Rogue Monster Lite (RML) line and the uprights are 3″x3″ 11-gauge steel. How tall? 90 3/8 inches, or about 7.5 feet, which means it should fit easily into any standard sized garage.
It's also available in 21.5″ or 41.5″ depth (the distance the uprights will be from the wall. OK, so it "folds flat." How flat? 5″ (for the 21.5″ depth model). We'd recommend the 41.5″ depth, to give a bit more breathing room, in case you need a spotter behind the uprights – but note that the 41.5″ depth rack doesn't fold as compactly as the 21.5″ model.
It also comes with a pair of J-Cups (these hold the barbell) and a Quick Attach Pull-Up Bar and is compatible with all the standard Monster Lite (ML) accessories, if you want to add attachments.
Since having a power rack is all about safety, we'd consider these a required purchase: SAML-24 Monster Lite Safety Spotter Arms (Pair) (Rogue Fitness: Click to see price).
They are built tough, but feature a plastic insert along the top to protect the knurling on your Olympic bars.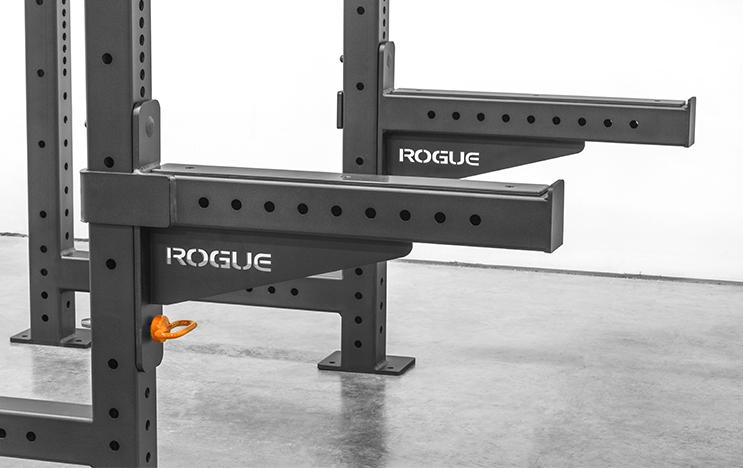 Half the fun of the garage gym is the customizations you can do – to make it your own space.
This power rack is available in 11 different colors (shown in Rogue Red above). Head on over to the Rogue page for this item, and check out the options.
Want yours in black? You can save about $50 by getting the non custom color version – known as the Rogue RML-3W Fold Back Wall Mount Rack (Rogue: Click to see price).
This is also a great image highlighting the features of these racks, and showing just how flat this unit can fold: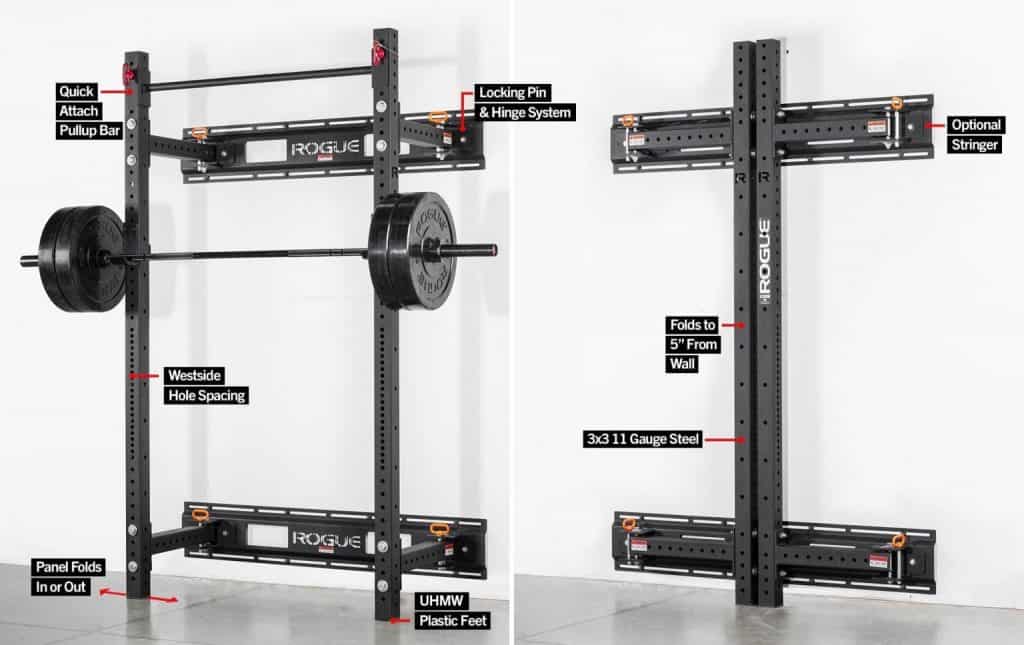 Be aware that this model lists the stringers as optional, but if you are mounting to the average garage wall with 16″ on center studs – you need the stringers.
Let's look at one more unique option – a four post folding power rack.
MyRack Folding Power Rack from Force USA
The first folding four post rack on the market is the MyRack Folding Power Rack.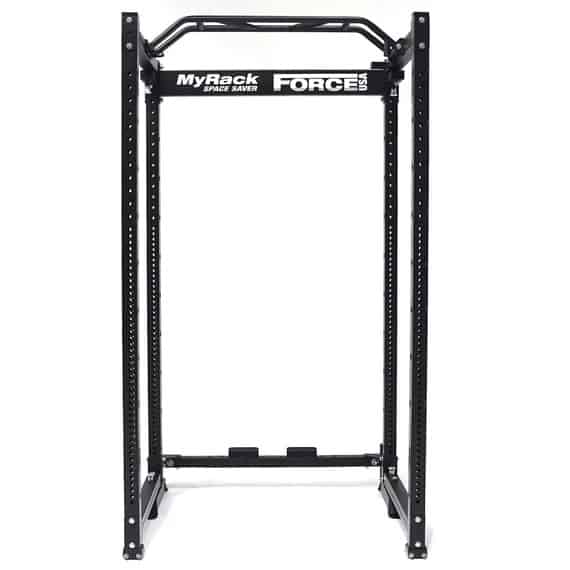 What's the benefits of a four post design?
It supports more weight, and has more options for customization.
It does take up more floor space though – but not that much!
The footprint when folded is: 20″ Depth x 52″ Width x 84″ Height
That's a height that will fit in most garages too.
When fully setup, it is 41″ Depth x 49″ Width x 86″ Height.
It also carries a lifetime structural warranty.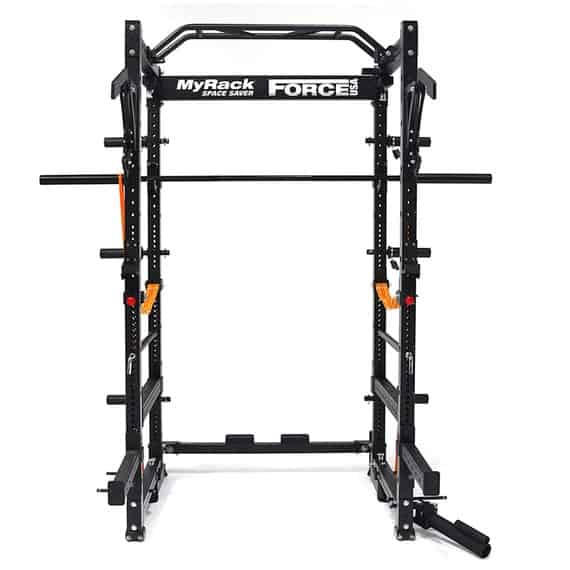 Advantages of the MyRack Folding Power Rack
How is this different from all the other folding power racks on the market?
You don't attach it to the wall.
As compared to wall mounted folding racks, you get these advantages:
No need to mount stringers on the wall,
More interior working space,
holds twice the weight – this rack can support up to 2,000 lbs.,
A multi-grip pull-up/chin-up bar (as opposed to a single grip angle),
More options – like weight plate storage
But, that's just a start – it's also super customizable and lets you use many of the MyRack attachments and accessories.
This folding power rack is far more versatile than the others on the market.
The base unit is forged with precision welded, laser cut 12 gauge steel, and weights 176 lbs.
You'll also notice that this rack has Westside style hole spacing – with 1″ increments in the "bench zone" for the perfect adjustment while benching.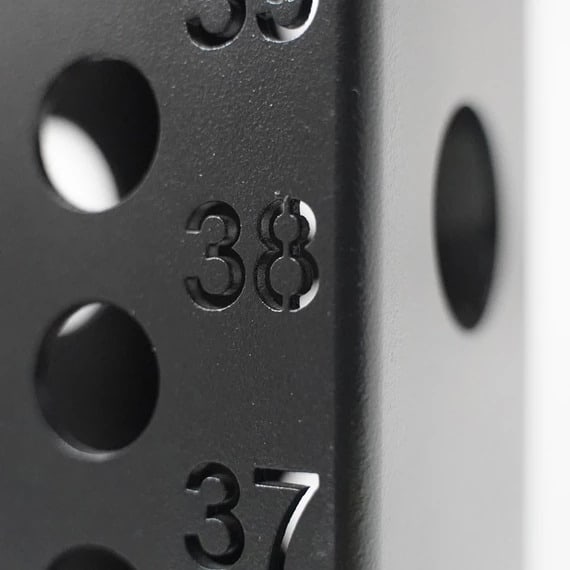 And how about that multi-grip pull-up bar?
Pullups – whether done with bodyweight or with extra weight – are an underutilized strength builder.
The multiple grip angles ensure you can switch things up – and keep the strain off your elbows and shoulders.
MyRack Folding Power Rack – Attachments and Accessories
Here's where the MyRack Folding Power Rack really shines – it provides more customizations.
Here it is with all of the optional accessories.
We've got band pegs, safety straps, safety pins, weight plate holder arms, J hooks, dip handles, spotter arms, land mine, and more.
There's even a monolift.
You'd never guess that was a folding power rack.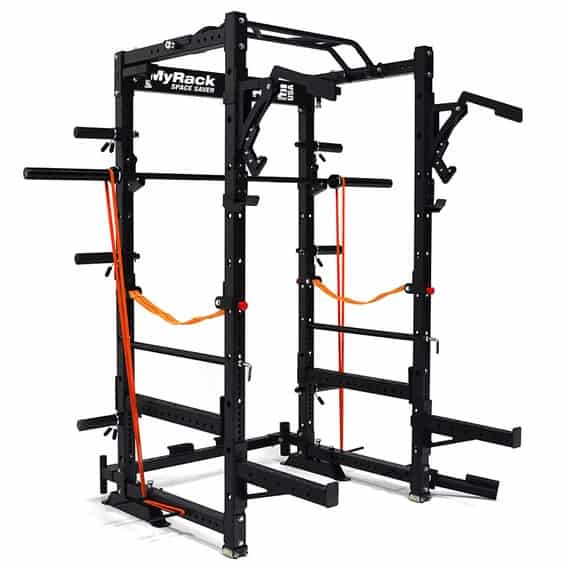 We'd recommend the MyRack for the most versatile workout options, provided you can give up a little more floor space.
Best Folding Power Rack – In Summary
There are two basic kinds of folding power racks – wall mounted and 4 post.
A wall mounted folding rack will take a minimum of space (when folded.)
A 4 post folding rack will give you more versatility – and weight capacity. But, the tradeoff is that it takes a little more floorspace.
No matter which option you go with – get a pull-up bar, j-cups/j-hooks, and safety spotter arms to go with the unit.
If you can add more accessories on top of those – that's all gravy.
The extra option will give you more workout variety – and greater options to progress.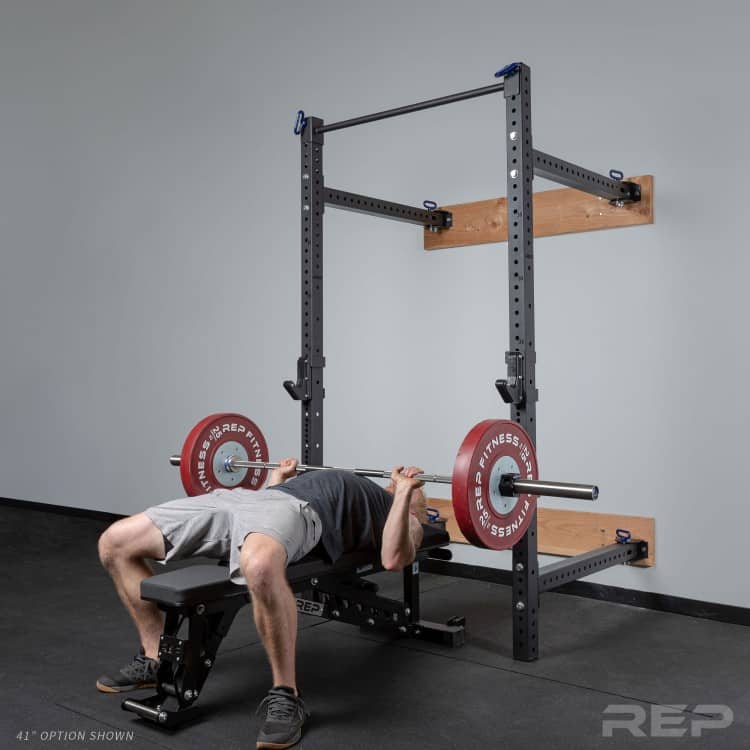 Photo & Image Credits
All Rep Fitness product imagery is property of Rep Fitness, and provided by Rep Fitness.
All Rogue Fitness product imagery is property of Rogue Fitness, and provided by Rogue Fitness.
Some of the photos in this article are provided by Force USA, and are property of Force USA.
We are an affiliate of Rep Fitness, Rogue, and Force USA. If you order equipment after clicking the links in this article, we receive a small commission at no extra cost to you. This helps us to bring you great information about health and fitness.
Tim is the founder of FitAtMidlife.com – an avid gym rat for 30+ years, he's a reviewer of many, many shoes – and founder of the Speed Bag Gathering – the world's only gathering of speed bag punching enthusiasts.  See more gym reviews at Tim's YouTube channel.