If you have a home gym – you probably want to conserve floorspace. You can do that with any of these great Half Racks for your home gym.
Just because they're half doesn't mean half racks don't have four uprights. They actually have four uprights posts, but they are closer to each other and have plate storage on the back posts. All the lifts you will do are in the front outside of the rack.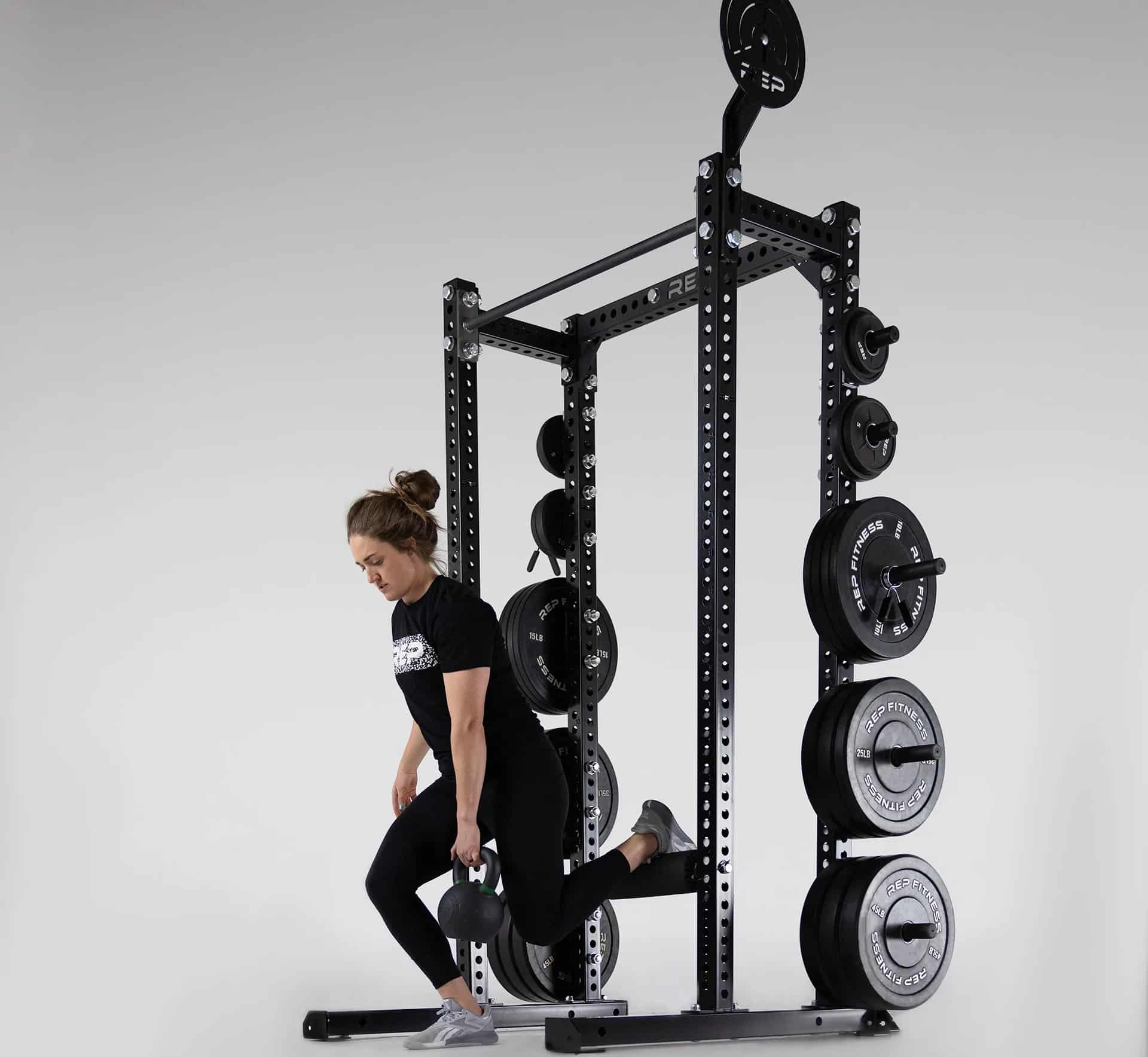 There's many choices – take a look at these:
Half Racks for your Garage Gym – Overview
Compared to a full rack, a half-rack takes up lesser space which is ideal if you have a tighter home gym space. It comes with spotters arms and j-cups that connect at contrasting heights to the exterior of the rack's front vertical posts. In terms of versatilty, a half-rack allows you to do numerous exercises, especially when adding more accessories. It is as versatile as a power rack but is more economical when it comes to its price.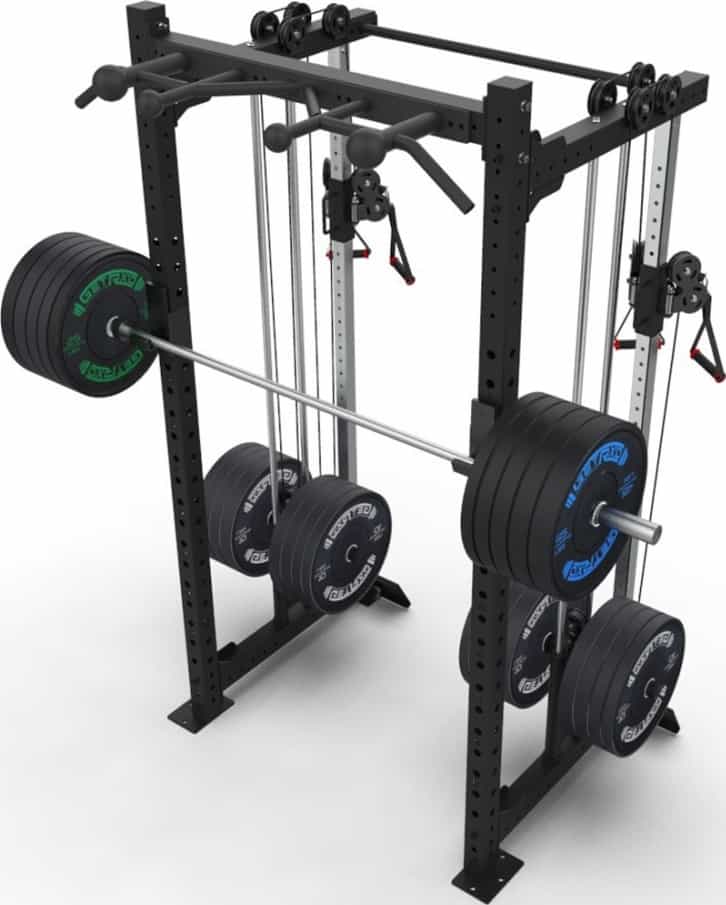 Half-racks can be turned into a full rack, making it perfect if you want to start with a half-rack. Half racks are also very stable; some no longer need bolting because their feet are wide enough to support the whole rack. They are also fitting for people who want a powerful squat rack and perform outside the cage. Take a look at some of these half racks from different brands you already know about.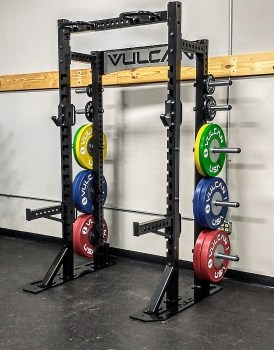 Vulcan Edge Half Rack (Vulcan Strength)
For facilities and gyms owners, the Vulcan Edge Half Rack is an excellent option as it frees up valuable space that can be utilized in the center of the training area. It does not require bolting or additional weight to anchor it to the floor.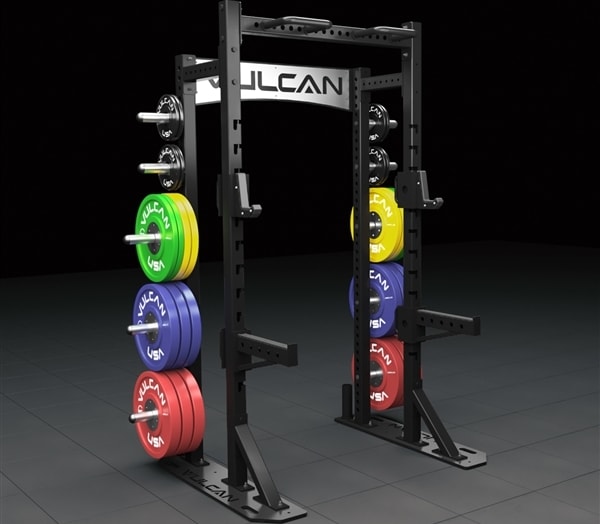 The double notch system is utilized because it is the safest and strongest technique for placing the J-Hook on the rack. The double posts of the notched J-Hooks disperse the load smoothly between two posts instead of only a single post. The feet of the Edge rack are solid 1/2″ plates, which add a substantial amount of weight and stability to the rack and prevent the rack bottom from spreading over time.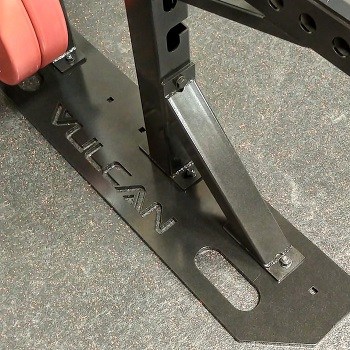 Vulcan Half Rack – Elite
The Vulcan Half Rack – Elite is a versatile training station designed to accommodate the big three power lifts, the Olympic Lifts, and every pressing/pulling lift that falls in between. This Half Rack option also extends time efficiency as time will not be wasted moving from the barbell rack to the lifting podium while lifting.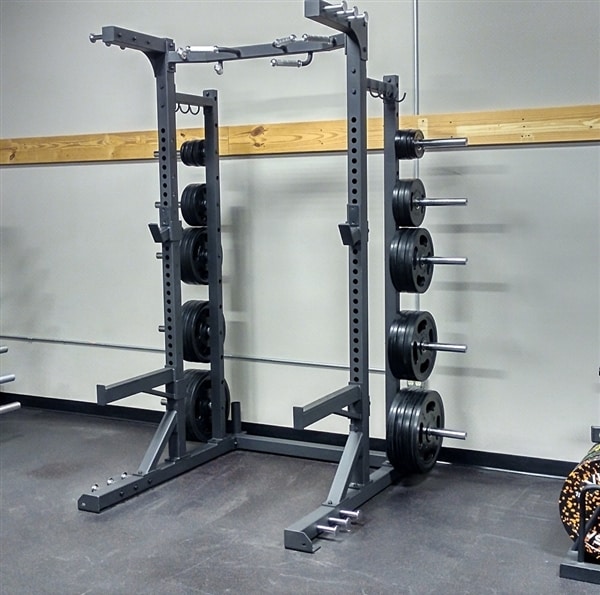 It is built from 11 Gauge 3″ x 3″ steel and has many rack attributes to enhance even the most innovative workouts. The rack has detachable upper and lower band pegs, knurled handles, and a charcoal matte powder coat finish. The laser numbered uprights with laser-cut viewports in j-hooks and safety spotters are in place for precise adjustments.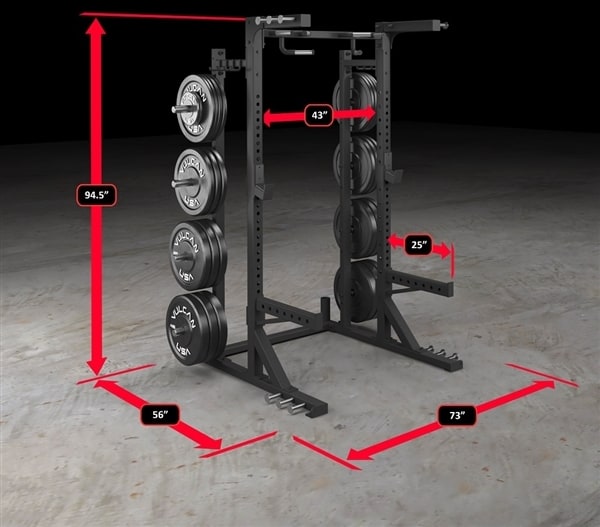 American Barbell Half Rack (American Barbell)
The American Barbell Half Rack is an exceedingly solid rack with 3×3 11 gauge steel and 3/4″ hardware. Its modular design and functionality make the rack easy to expand and reconfigure and can be used as storage for plates, bands, chains, and other accessories.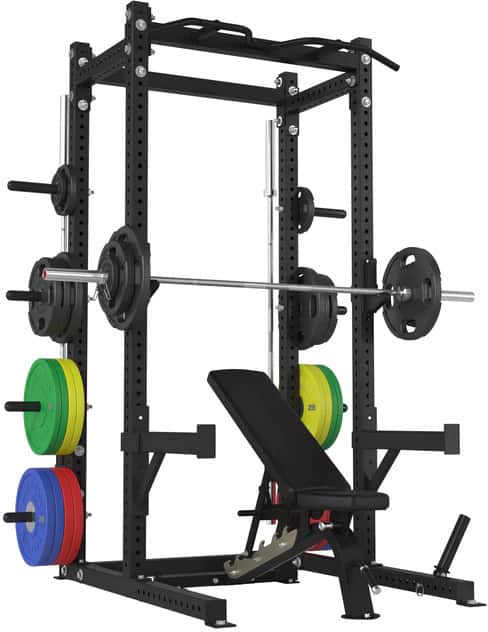 The J-Hooks' plastic protection on both sides helps protect the bar and uprights from scuffing and wear. The American Barbell Half Rack comes with extra 3×3 uprights and crossmembers for added stability and various storage functions. This bar is band compatible and should be anchored to the floor.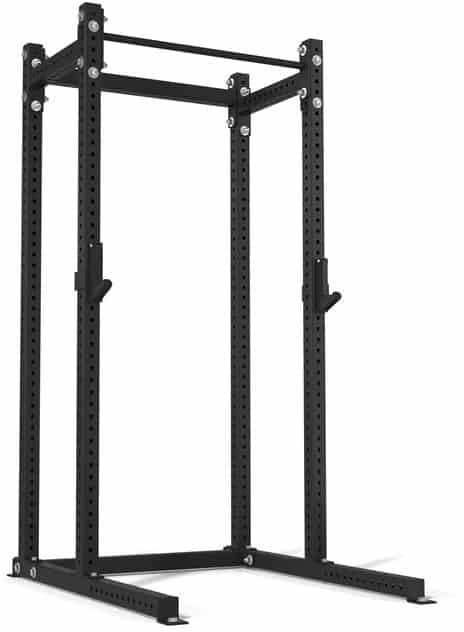 Apollo Half Rack (Rep Fitness)
The Apollo Half Rack is the ideal next-level addition to your home gym and is created to take up a minimal footprint without compromising your workout. It is a sturdy rack made with 11-gauge steel and 1″ holes and allows you to make your own rack while customizing the functionality. Whether you're kipping, doing muscle-ups, or doing other dynamic movements on the bar, you can be assured that the Apollo Half Rack will stay in place with its flat foot base and weight storage uprights.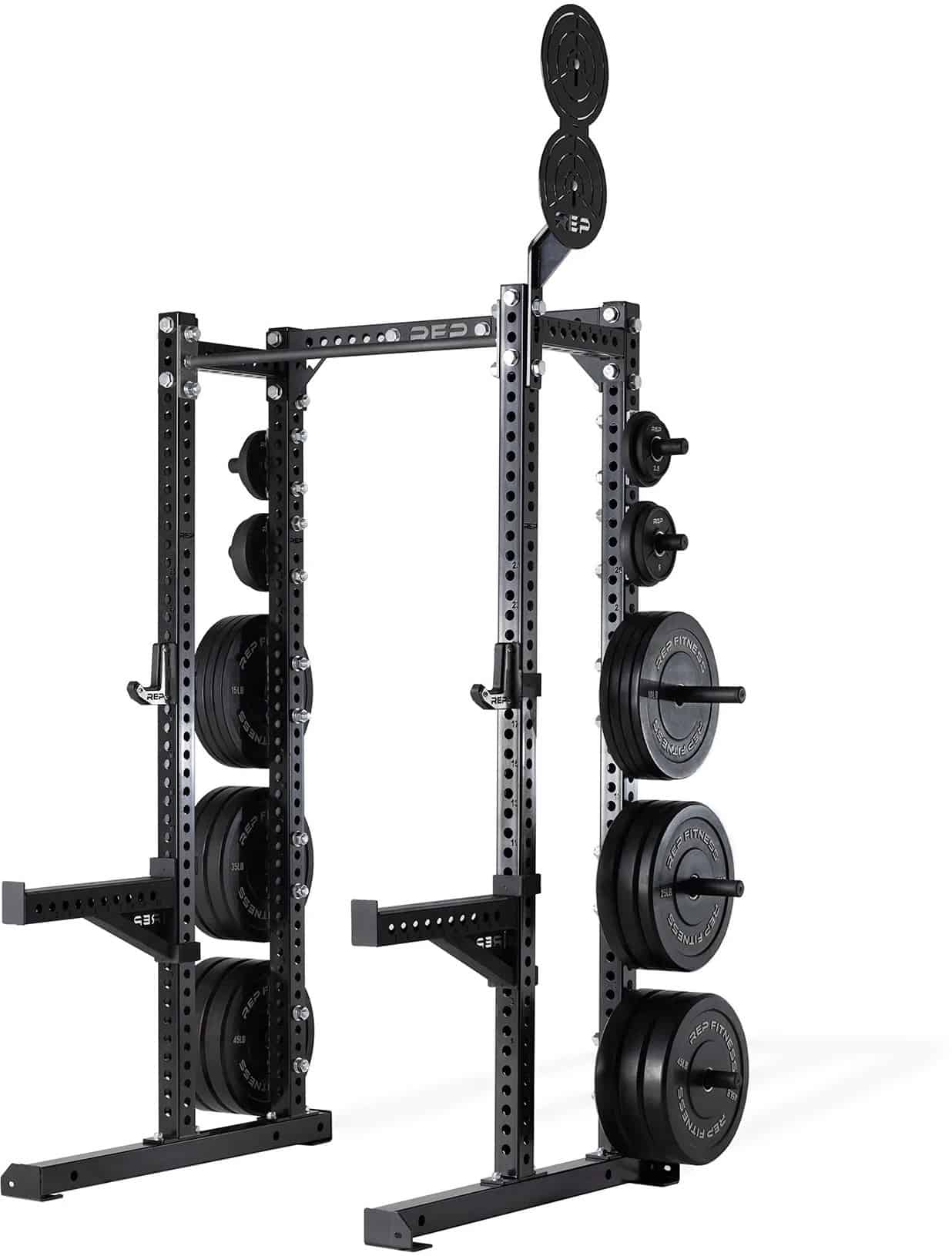 The usage of 3×3 11-gauge steel makes this rack beautiful, powerful, and attachment compatible. It also enables convenient on-rack storage on the back uprights, which can be challenging on a 4-post rack when lifting inside. This rack utilizes 1″ hardware with 2″ spacing, one of the most typical hardware sizes used on power racks.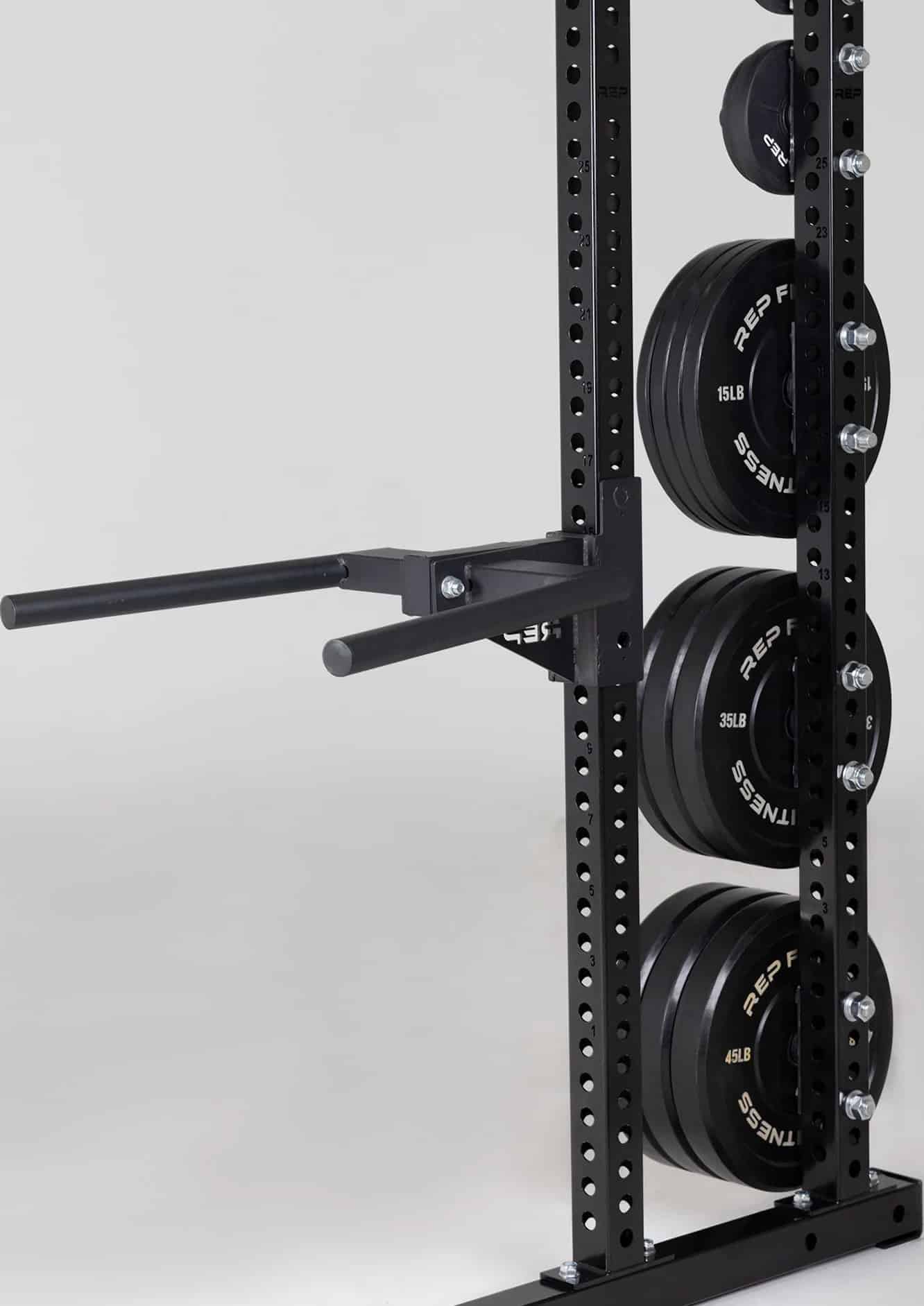 Builder Half Rack with Functional Trainers (Get RX'd)
The Builder Half Rack with Functional Trainers is a space-conscious answer for gym owners who like a half rack with the versatility and multi-functional use of a functional trainer. Get RX'd developed a method to fuse both units into one instead of having two separate units. This saves space and cost while keeping all the functionality and versatility.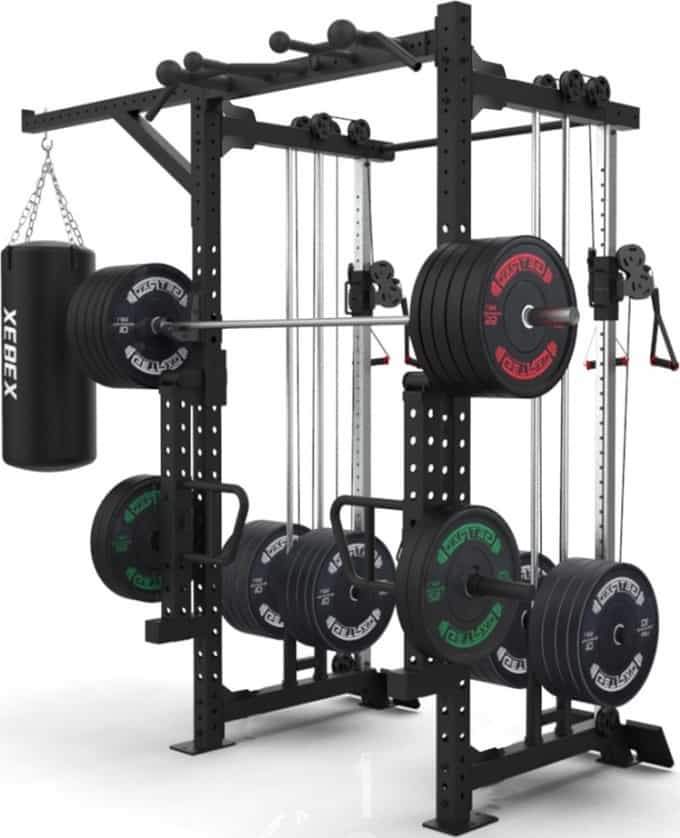 Your choice of accessories adds greater functionality to the unit, allowing you to accomplish strength, conditioning, and gymnastics movements all in one convenient space. You can also customize the rack by your preferred Functional Trainer, pull-up bar, j-cups, and additional accessories such as dip horns, spotter arms, heavy bag hanger, and more.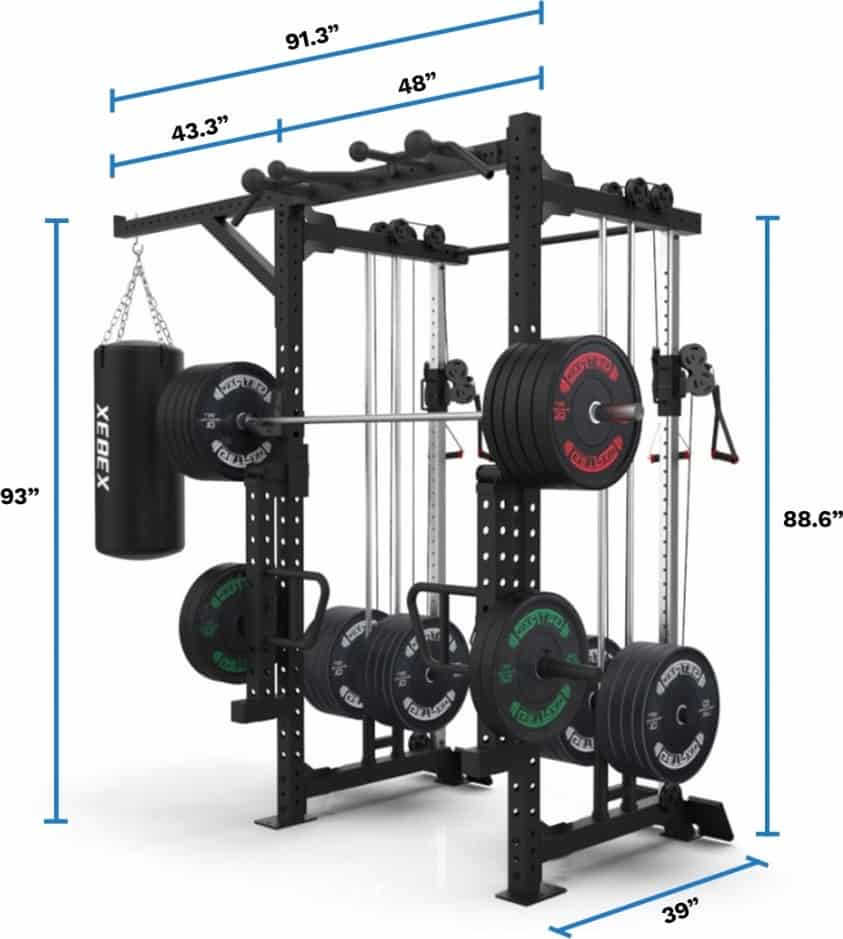 Half Racks for your Garage Gym – In Summary
That's our close-up look at Half Racks for your Home Gym.
Half racks are as versatile as full racks at a lesser footprint and cost. They are beefy and powerful and allow you to do various exercises, especially when adding accessory attachments. Some of them can be upgraded into a full rack should you decide to do so.
Looking for more options? Check out these other great products:
Here's the best Half Racks for your Garage Gym.
Got plenty of space? Then maybe a full rack is what you desire. Take a look at these Racks from American Barbell.
More racks.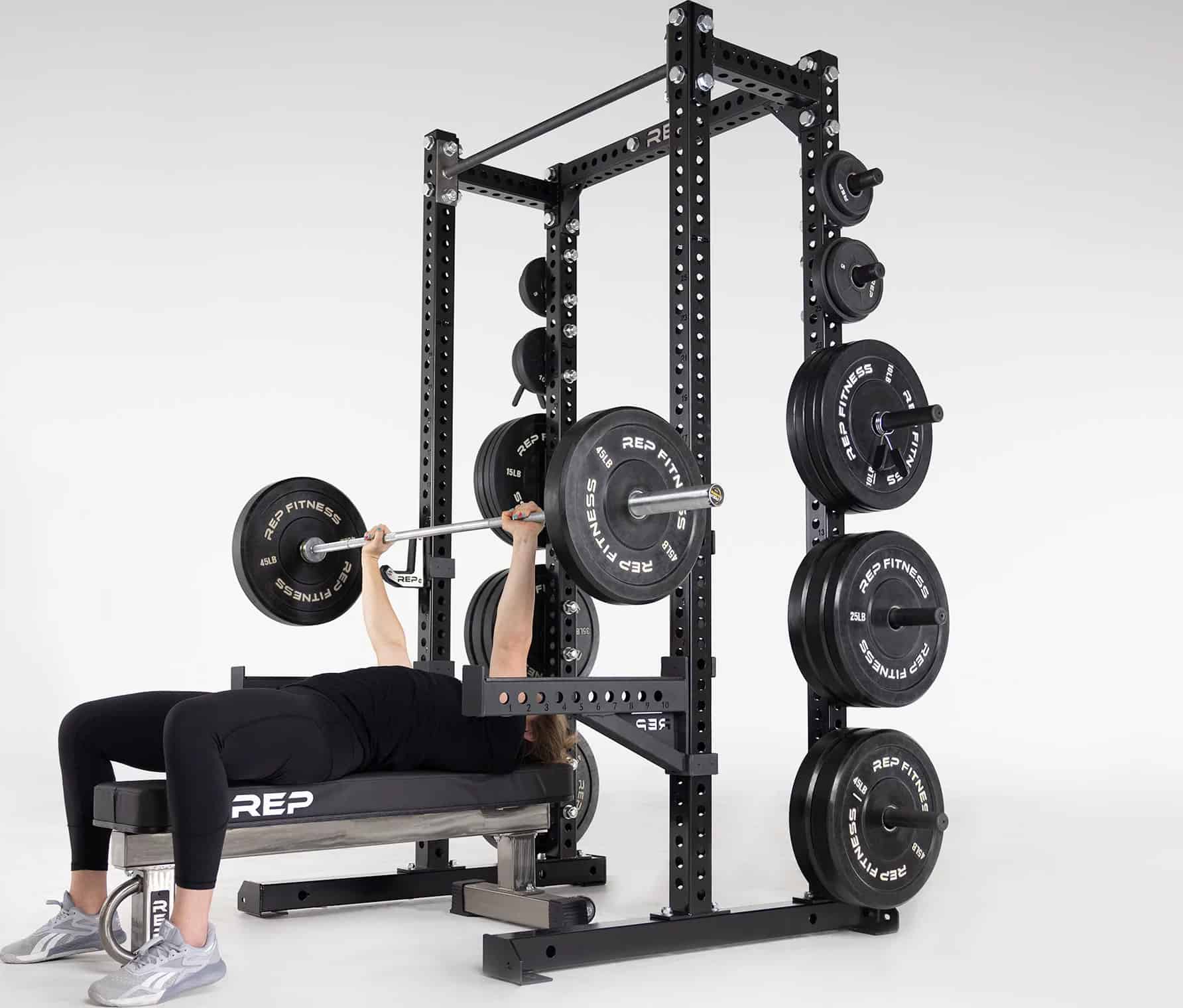 Photo Credits
Product photos on this page are property of the manufacturers.
This website is not affiliated or associated with CrossFit, Inc. CrossFit is a registered trademark of CrossFit, Inc.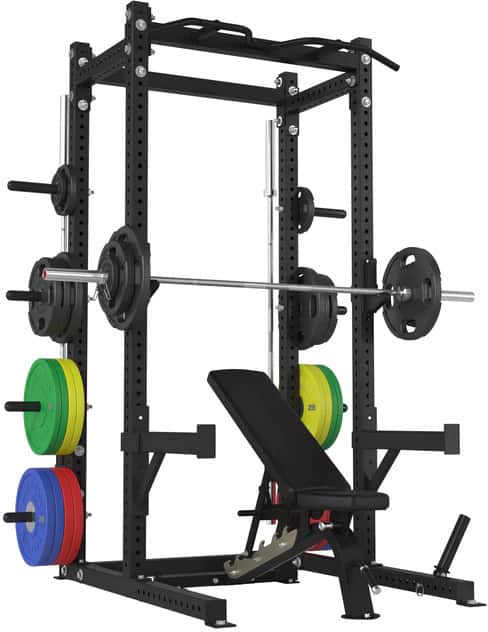 Affiliate Disclaimer
We are an affiliate of Vulcan and others that sell this training gear. If you buy clothing or other training gear after clicking the links in this article, we receive a small commission at no extra cost to you. This helps us to bring you in-depth information and content on these great training products.
Tim is the founder of FitAtMidlife.com – an avid gym rat for 30+ years, he's a reviewer of many, many shoes – and founder of the Speed Bag Gathering – the world's only gathering of speed bag punching enthusiasts.  See more gym reviews at Tim's YouTube channel.