Rogue has the red-hot
Echo Bike
. Grab one while they last!
Save some space in your garage gym with a half rack. What is it? It's a space-saving alternative to a full size power rack. Here's the Half Racks from Rogue.
Half racks don't have four uprights that surround you, unlike power racks. Instead, there are only two uprights, and if there are more, it is used for weight plate storage. A half rack comes with a reliable base with two metal bars extending up to the top. A half rack has small bars on the front that catch both the weights and the barbell.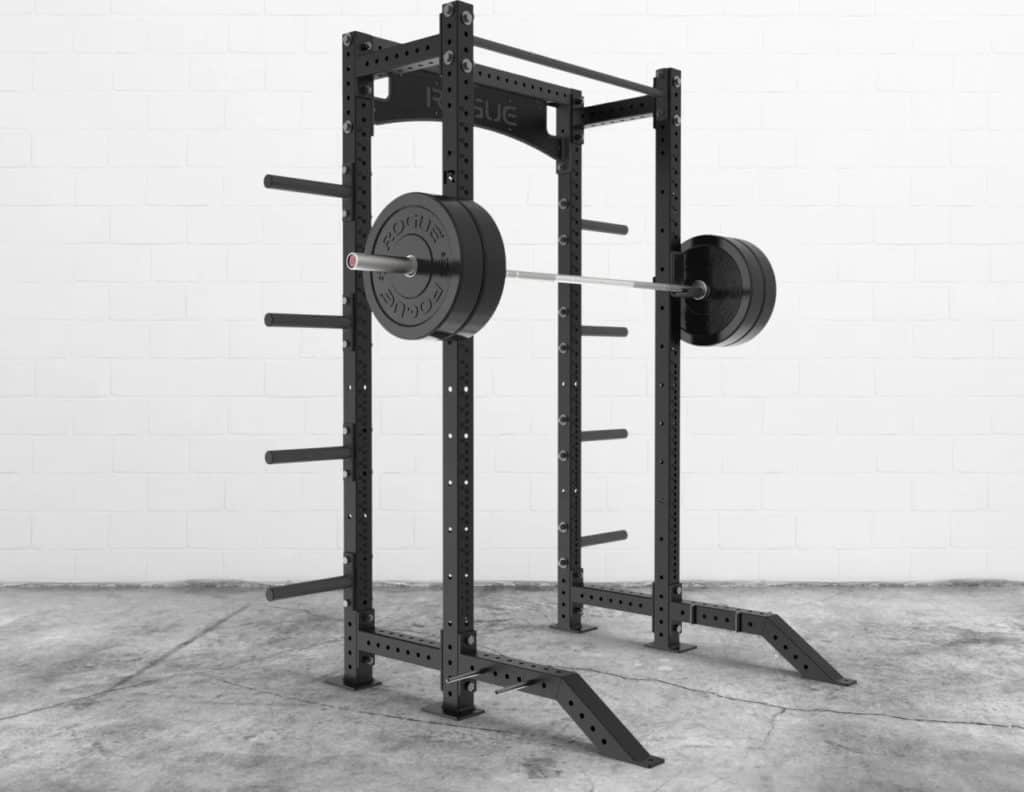 Here's some options, from Rogue Fitness: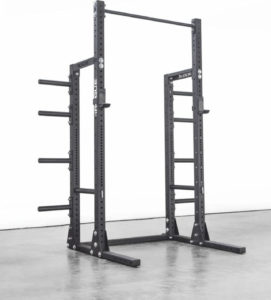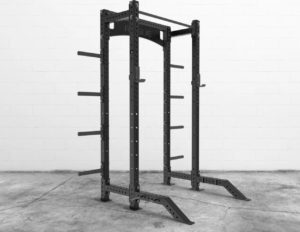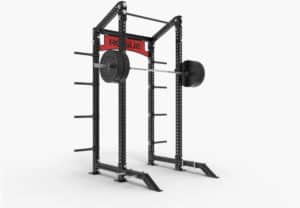 Half Racks from Rogue – Overview
Half racks are not as stable as full power racks, but they still allow you to have safe training. You can put weight plates on the half rack structure to make it more stable, stopping it from shaking or falling over. To load the barbell safely, half racks have adjustable J-hooks, which also hold them in the right position. They also have adjustable safety catches that ensure you don't hurt yourself while lifting.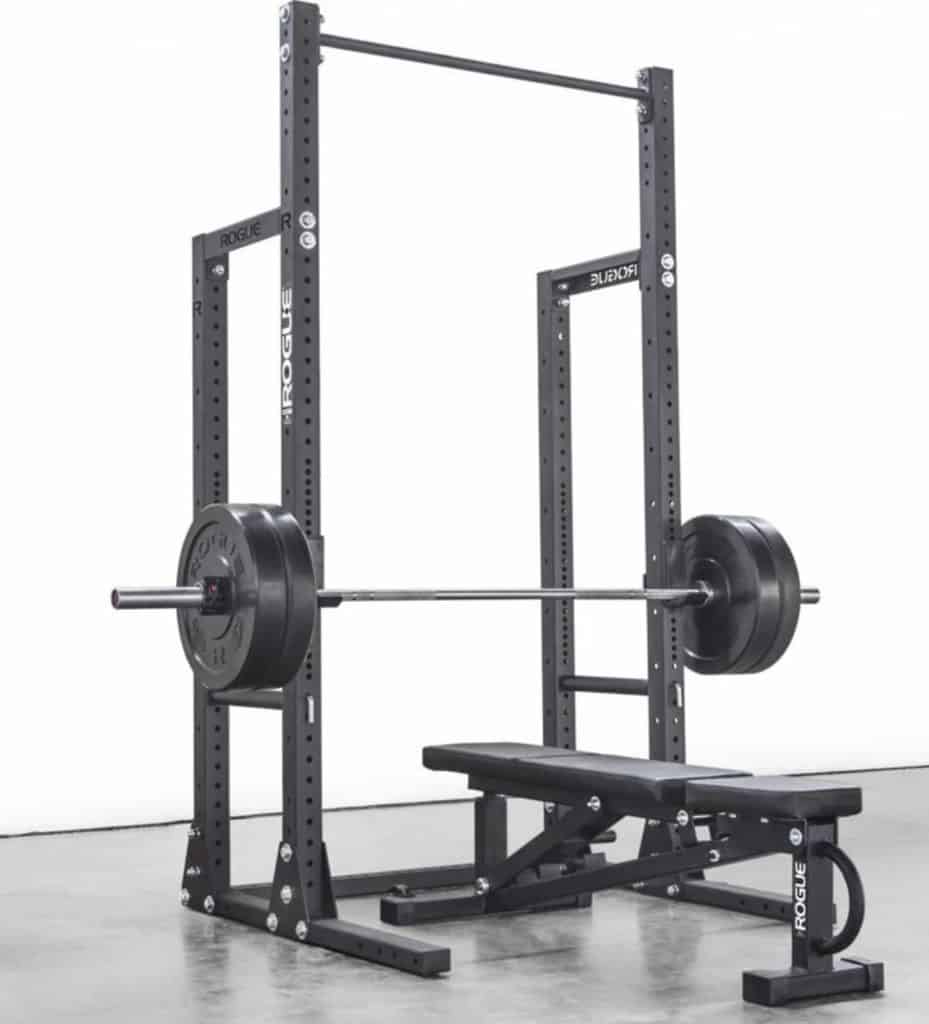 Because they are smaller than a full rack, half racks take up less space and are more affordable than a full rack. They are perfect for beginner and intermediate lifters and offer various exercises, including OHP and Olympic lifts. You can do more exercises with half racks, but the typical movements lifters do are overhead press, pull-ups, bench press, rack pulls, hanging leg raises, front and back squats, etc.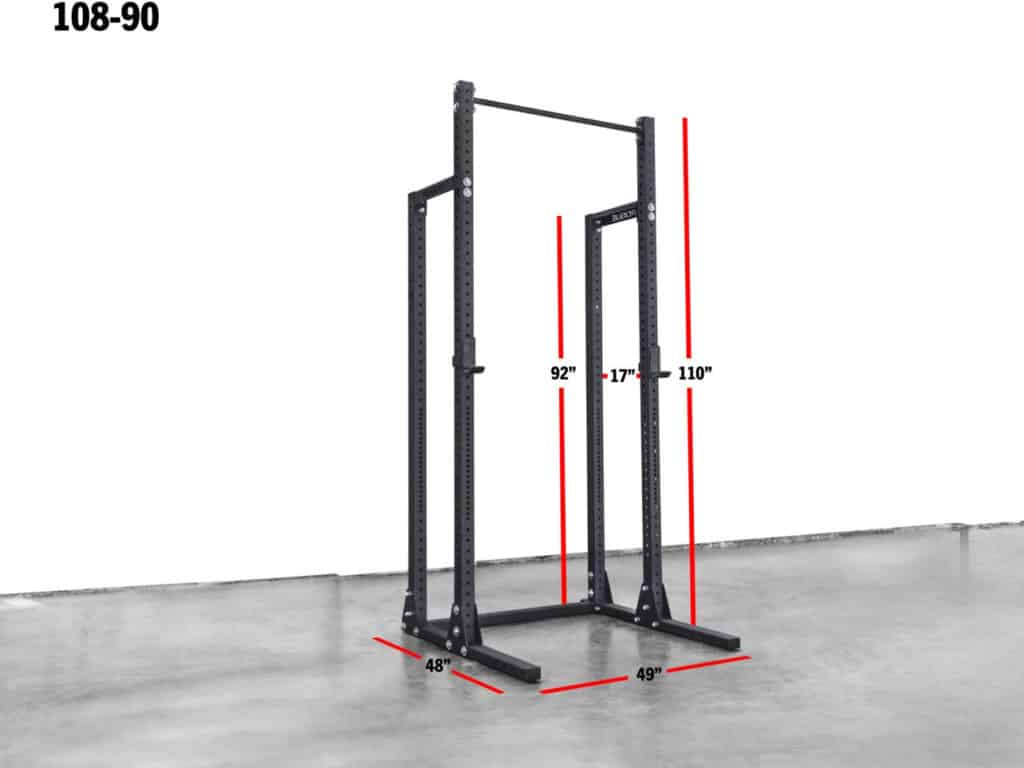 Rogue HR-2 Half Rack
The Rogue HR-2 Half Rack highlights the same 2×3″ 11-gauge steel base and 48″ x 49″ footprint as the SML-2 but includes an extra pair of 3×3" 11-gauge steel uprights and 17" crossmembers in the back of the unit. This provides the rack with a huge amount of added storage capability and almost a foot and a half of inside depth for benching, rack pulls, and more.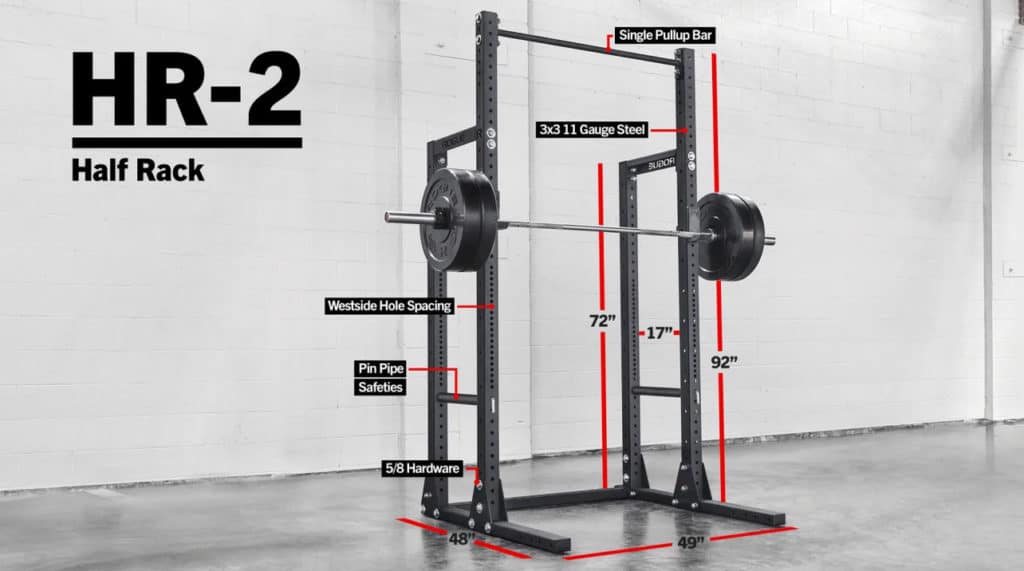 It can be installed as a stand-alone unit or by modifying an existing Monster Lite Series squat stand. The Half Rack also presents a degree of customizable alternatives to complement your needs, including the optional plate storage and pin/pipe safety sets and a choice of various heights for the uprights (90" or 108" for the front; 70" or 90" for the back). It has a Westside Hole Spacing and 3×3″ 11-gauge uprights, 2×3″ 11-gauge base steel notes.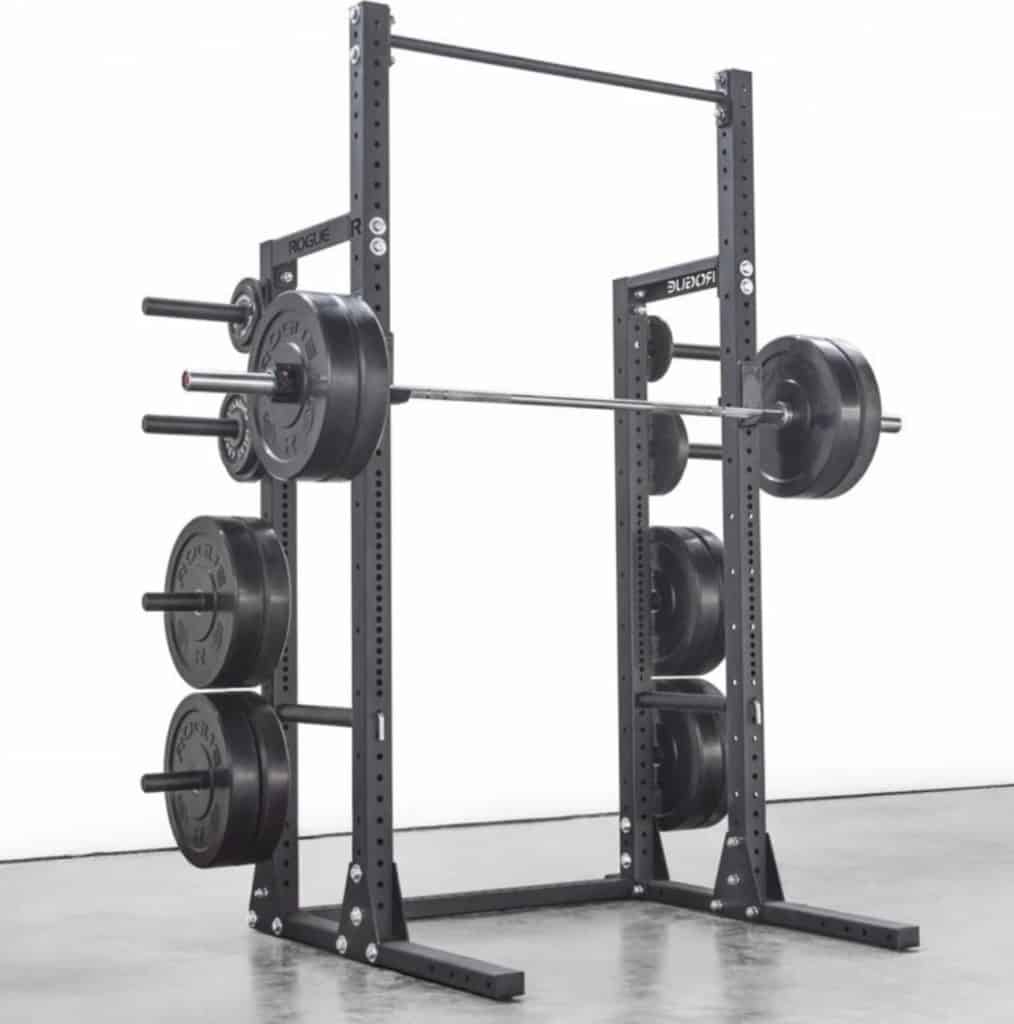 Monster Lite Half Rack
The Monster Lite Half Rack is a remarkable hybrid unit that surrenders none of the quality or durability of its full-size cousins and is more space-efficient than a traditional power rack with greater storage possibility than most squat stands. The M-Lite Half Rack is built in the USA and highlights four 90" tall uprights constructed from 3×3" 11-gauge steel with 5/8" numbered holes and a Medium Gloss Black finish.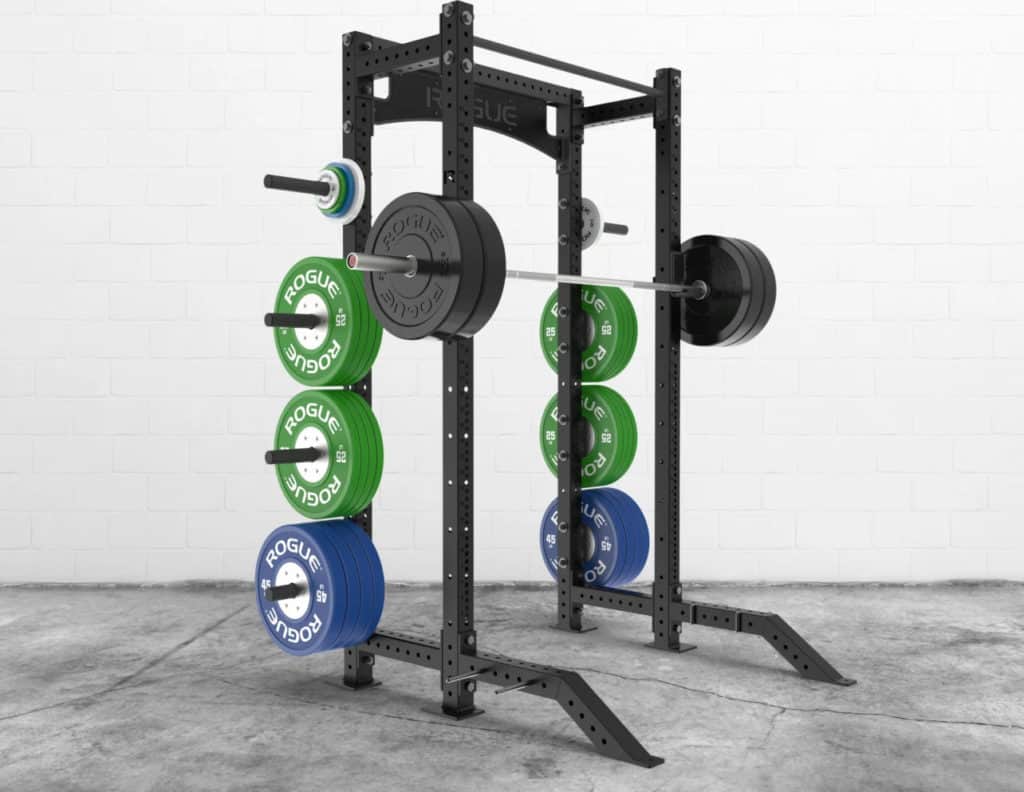 These angled feet extend 30" from the face of the front uprights with holes spaced 2" on center and help keep the rack tightly stabilized even when dropping weight on a set of (optional) Safety Spotter Arms. They also equip suitable attachment points for doing band work in front of the rack or adding compatible accessories like the Rogue Landmine. It weighs 330lbs and has a footprint of 53" (76.25" including plate storage) x 55" / 62".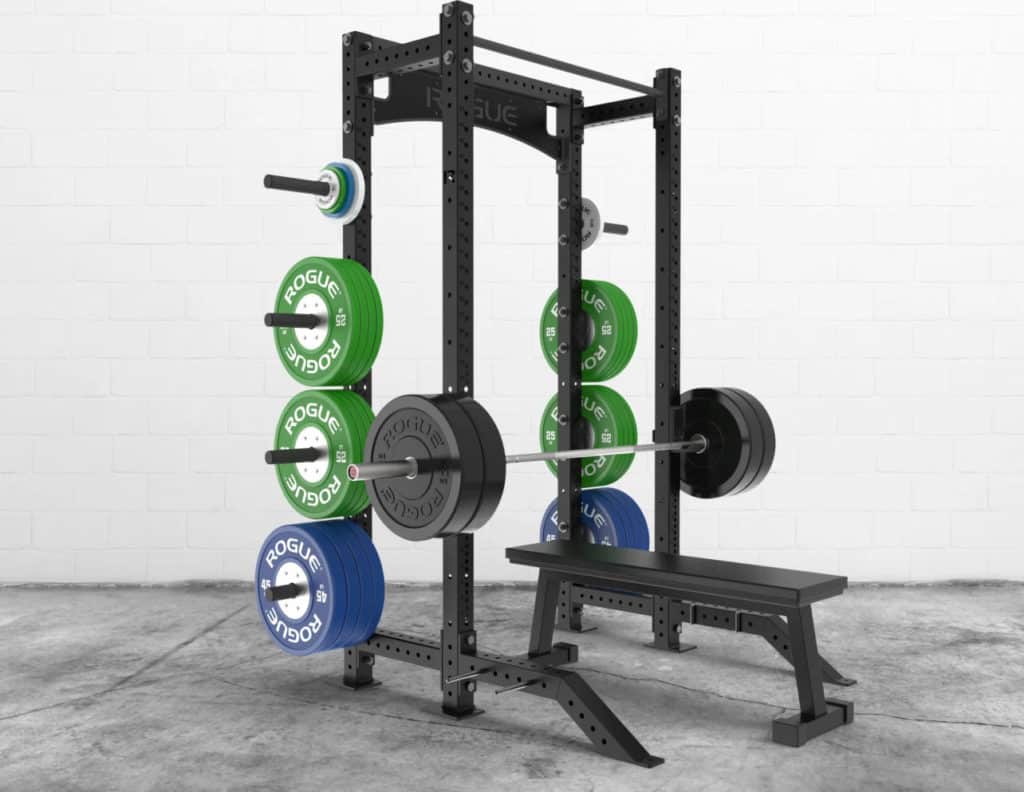 Rogue Monster Collegiate Half Racks
The Rogue Monster Collegiate Half Rack uses new angled crossmembers to create a finished look at the top of the rack with added height in front for pull-ups. It is constructed with 90″ uprights at the back of the unit and 100″ uprights in the front with longer 30″ front feet that provide added stabilization and allow you to complete band work without having to be inside the rack itself. The Monster Half Rack highlights the same 3×3″ 11 Gauge Steel structure and 1" hardware as the standard Monster power racks, and it's available in two designs, each created with the space efficiency necessities of a high school or college training facility in mind.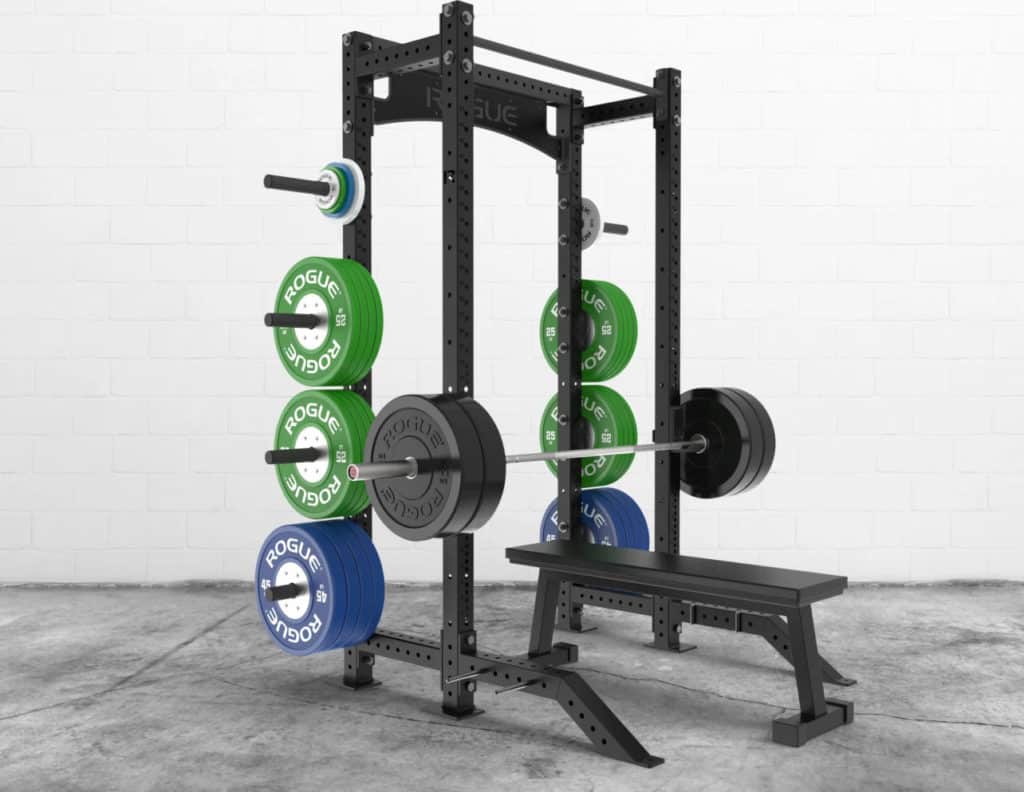 The Single Monster Half Rack is a compact unit for individual athlete use and has a 24″ inside depth, a 62″ x 53″ footprint and includes one optional pull-up bar, four-band pegs, weight plate storage posts, and one laser-cut Rogue nameplate in red. Double Monster Half Rack is a 2-in-1 unit with connected, back-to-back Half Racks and storage in the middle. It enables two athletes to train at the same time. It measures 24″ inside depth on both sides with a 117″ x 53″ total footprint and includes two optional pull-up bars, eight-band pegs, weight plate storage posts, one laser-cut Rogue nameplate in red.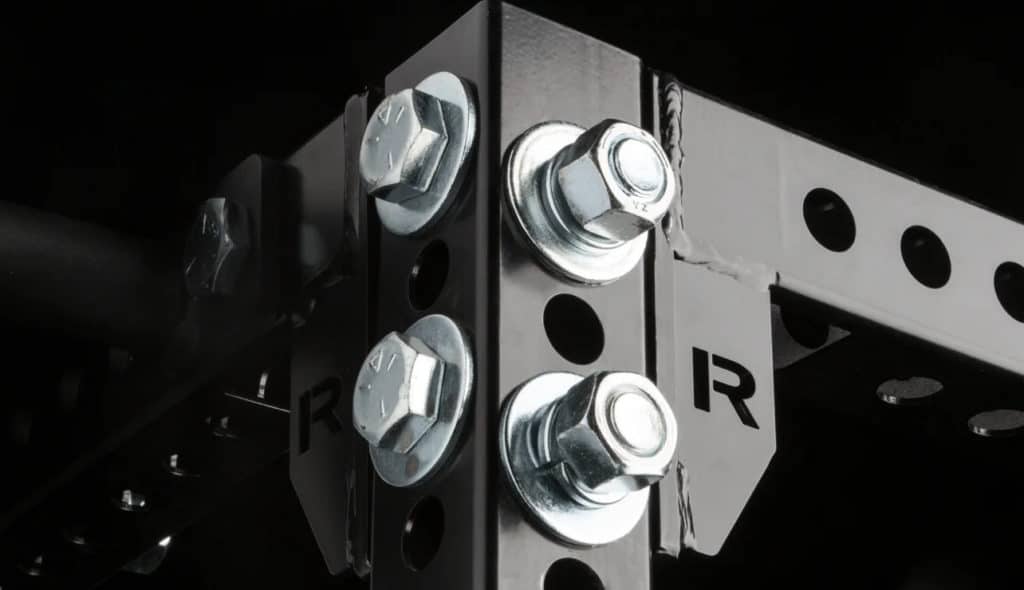 Half Racks from Rogue – In Summary
That's our close-up look at Half Racks from Rogue.
Half racks from Rogue offer versatility and durability, and they are all manufactured in Columbus, Ohio, using 3×3" 11-gauge steel with a Medium Gloss Black finish. They are cheaper and more space-efficient than full racks without compromising quality. With half racks, you can do exercises like Olympic lifts or even overhead presses with comfort and barbell flexibility.
Looking for more options? Check out these other great products:
Squatting big? The Rogue AM-2 Adjustable Monolift 2.0 for Monster Rack might be the best way to do that.
Here's our overview of the The Best Power Rack for Your Garage Gym.
Find more home gym and garage gym equipment on sale from Rogue.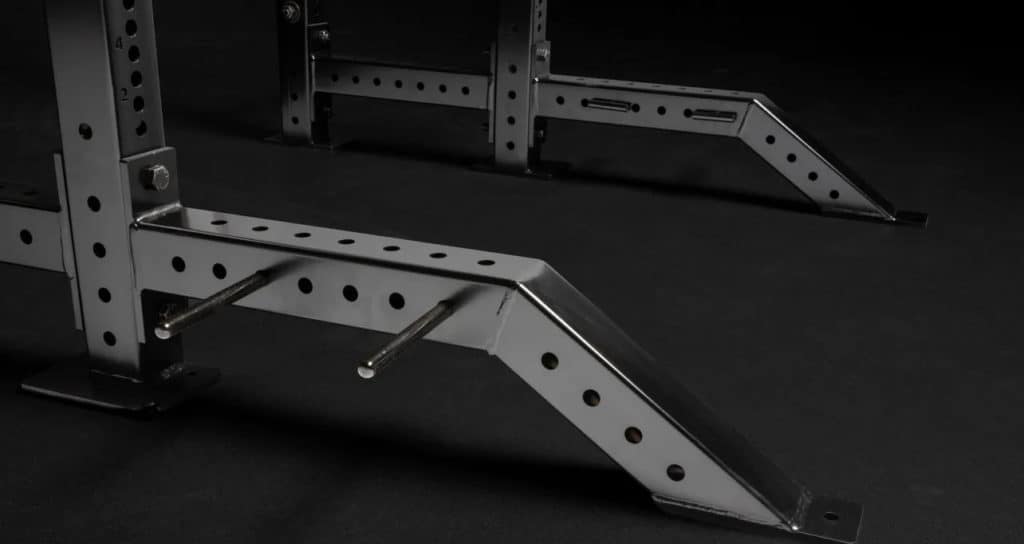 Photo Credits
Product photos on this page are property of Rogue.
This website is not affiliated or associated with CrossFit, Inc. CrossFit is a registered trademark of CrossFit, Inc.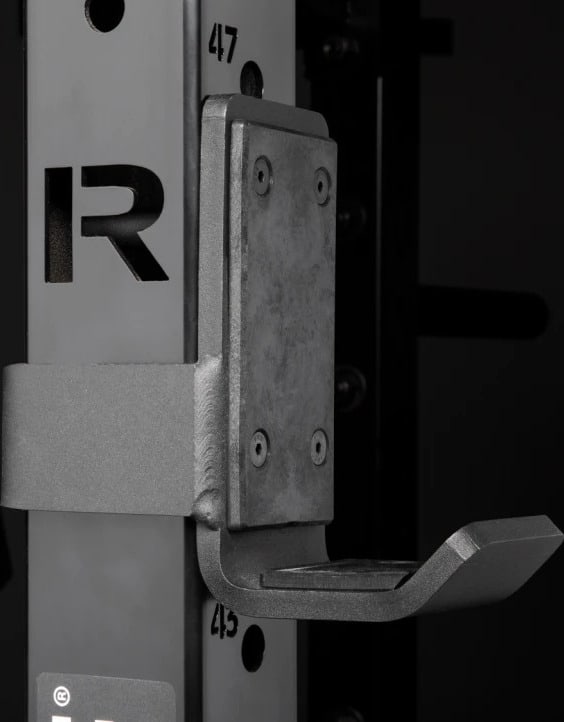 Affiliate Disclaimer
We are an affiliate of Rogue and others that sell this training gear. If you buy clothing or other training gear after clicking the links in this article, we receive a small commission at no extra cost to you. This helps us to bring you in-depth information and content on these great training products.
Tim is the founder of FitAtMidlife.com – an avid gym rat for 30+ years, he's a reviewer of many, many shoes – and founder of the Speed Bag Gathering – the world's only gathering of speed bag punching enthusiasts.  See more gym reviews at Tim's YouTube channel.