Rogue has the red-hot
Echo Bike
. Grab one while they last!
Let's look at the new Monster Cave from Rogue.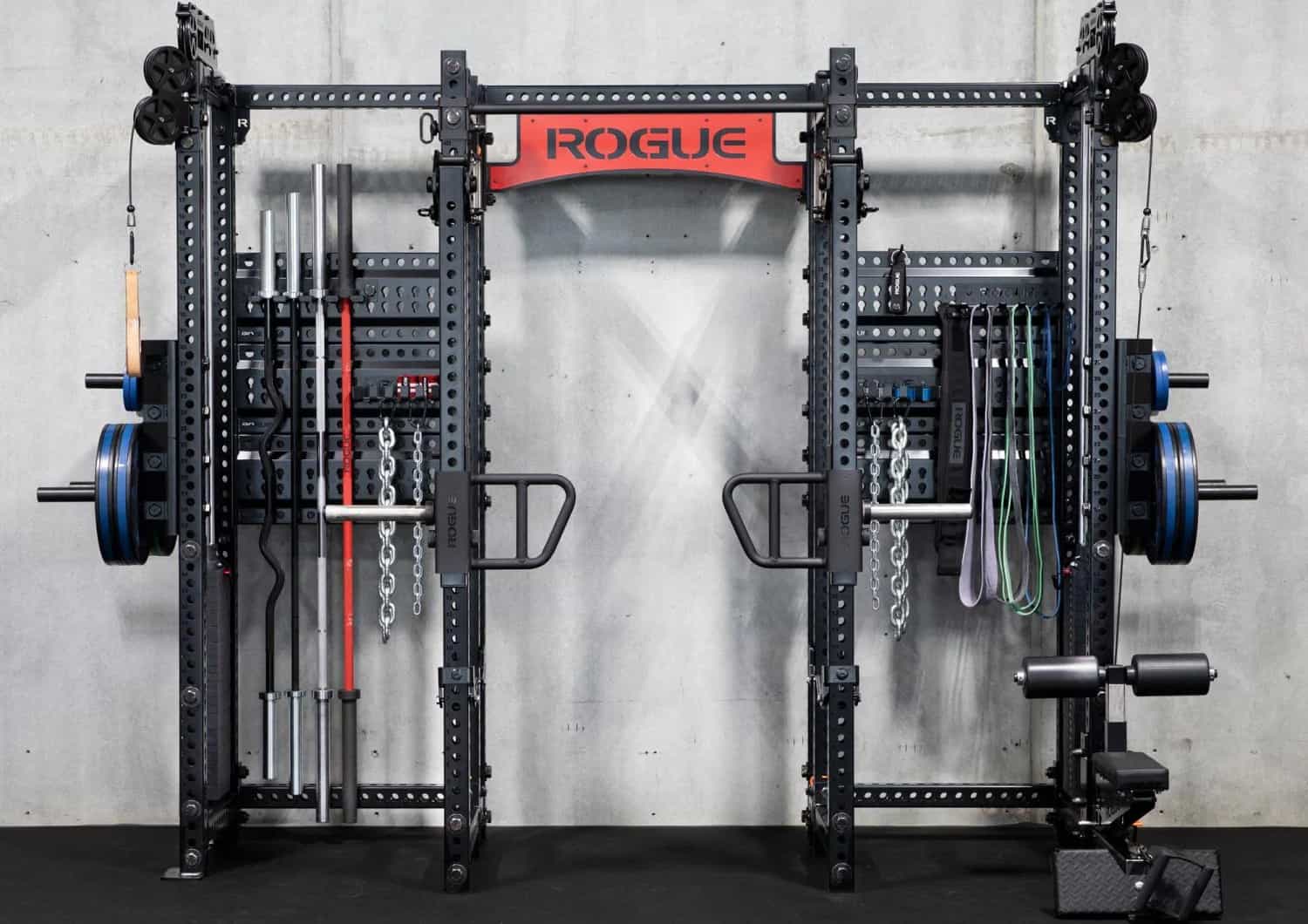 Working out in your garage or home gym has many advantages. It gives you privacy, saves you money and time, keeps you safe, and prevents you from having contact with other people in this pandemic. But there's also a downside to it. If you have plenty of gym equipment and accessories, there is also a possibility that they are taking most of your garage/space, and you can no longer maximize it. Seeing this dilemma, Rogue with Reflex Fitness (a Rogue subsidiary) created a complete integration of a power rack with modular storage and cable systems with the new Monster Cave.
Here are some of the styles we are going to look at:
Let's dive in.
Monster Cave – Overview
The Monster Cave boasts of the combination of a Rogue Fold Back Monster Rack with "two" independent cable-pulley systems and a great deal of accessible storage capacity. This permits athletes to do cable crossover movements from both high and low positions, doing triceps pushdowns and curls, low pulls, lat pulldowns, etc., alongside barbell movements like the press, squat, and bench press. Because of the system's compatibility with dozens of Monster add-ons and accessories, the customization options are limitless, making you unstoppable.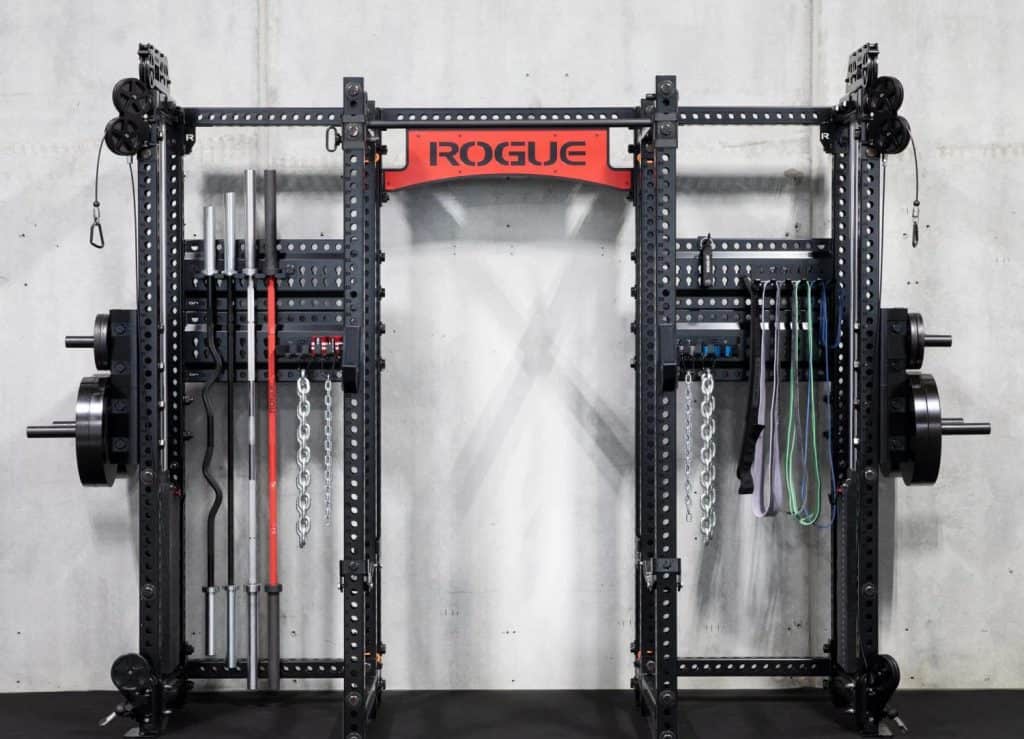 The Fold Back Rack in the middle of the rig is accessible as a full power rack with four uprights (in a 24″ or 30″ depth) and included strap safeties or as a standard 2-upright fold-flat in a 21.5″ or 41.5″ depth. You can select the height of the unit at either 90″ or 100″. You can also directly create additional space by folding the unit's uprights inward using the handy hinge-and-pin system because of the power rack's exclusive retractable design.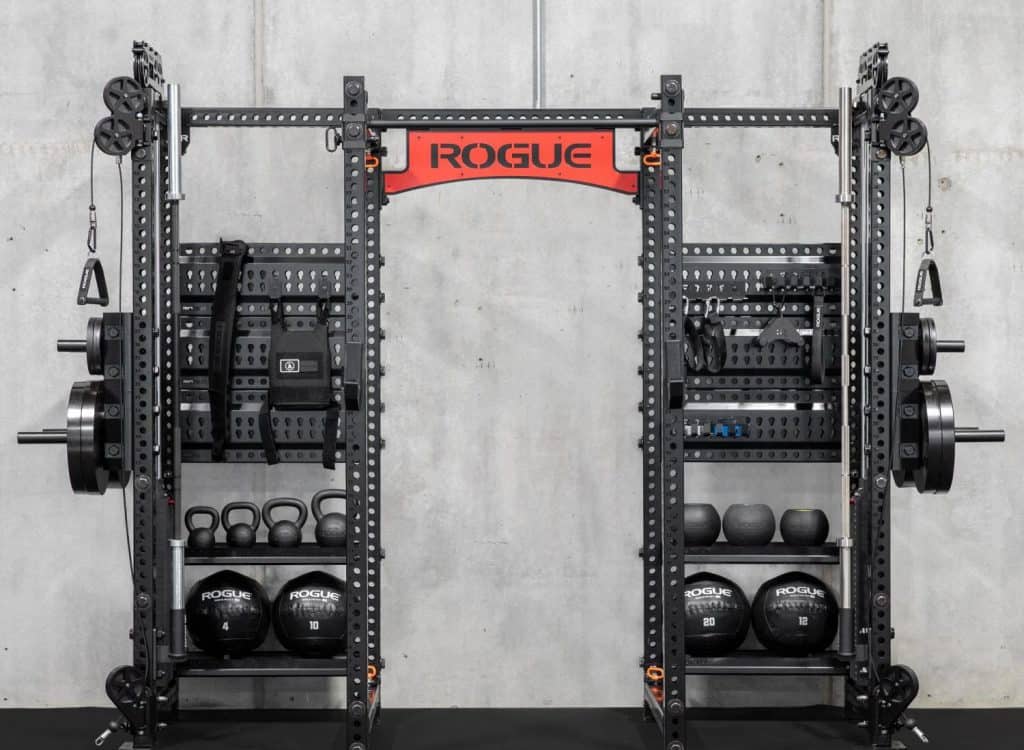 The Monster Cave is made of heavy-duty 3×3″ 11 gauge steel uprights with laser-cut holes (spaced 2″ on center), 1″ Black Zinc Monster hardware, Monster J-cups, and an MG Black finish. A laser-cut Rogue nameplate cross member is included standard, as is a Quick-Attach Pull-Up Bar. It is built in the USA and is made by Reflex Fitness, a commercial-grade fitness equipment manufacturer.
Other optional, compatible add-ons to The Monster Cave include:
Rack Storage Panels
Single Post Shelf
Kettlebell Shelf
43″ Monster Single Post Shelf (with Adjustable Dividers)
Monster Rack Mount Lat Pulldown Seat
Lat Pulldown Seat + Low Row Kit
Barbell Storage (Vertical, Horizontal, and 4-Bar Hanger)
Cable Handle Attachments (Webbing Press Down Handle, Leather Press Down Handle, Triceps Pressdown Attachment, Single Cable Handle, Stainless Lat Bar, Grip Triangle, Monster Grip Triangle)
Plate Storage Posts (Short and Long Monster Pins)
Monster LT-1 50 Cal Trolley & Lever Arm Kit
RM-3 Monster Strap Safety System 2.0 (24″ or 30" depth)
Monster Safety Spotter Arms 2.0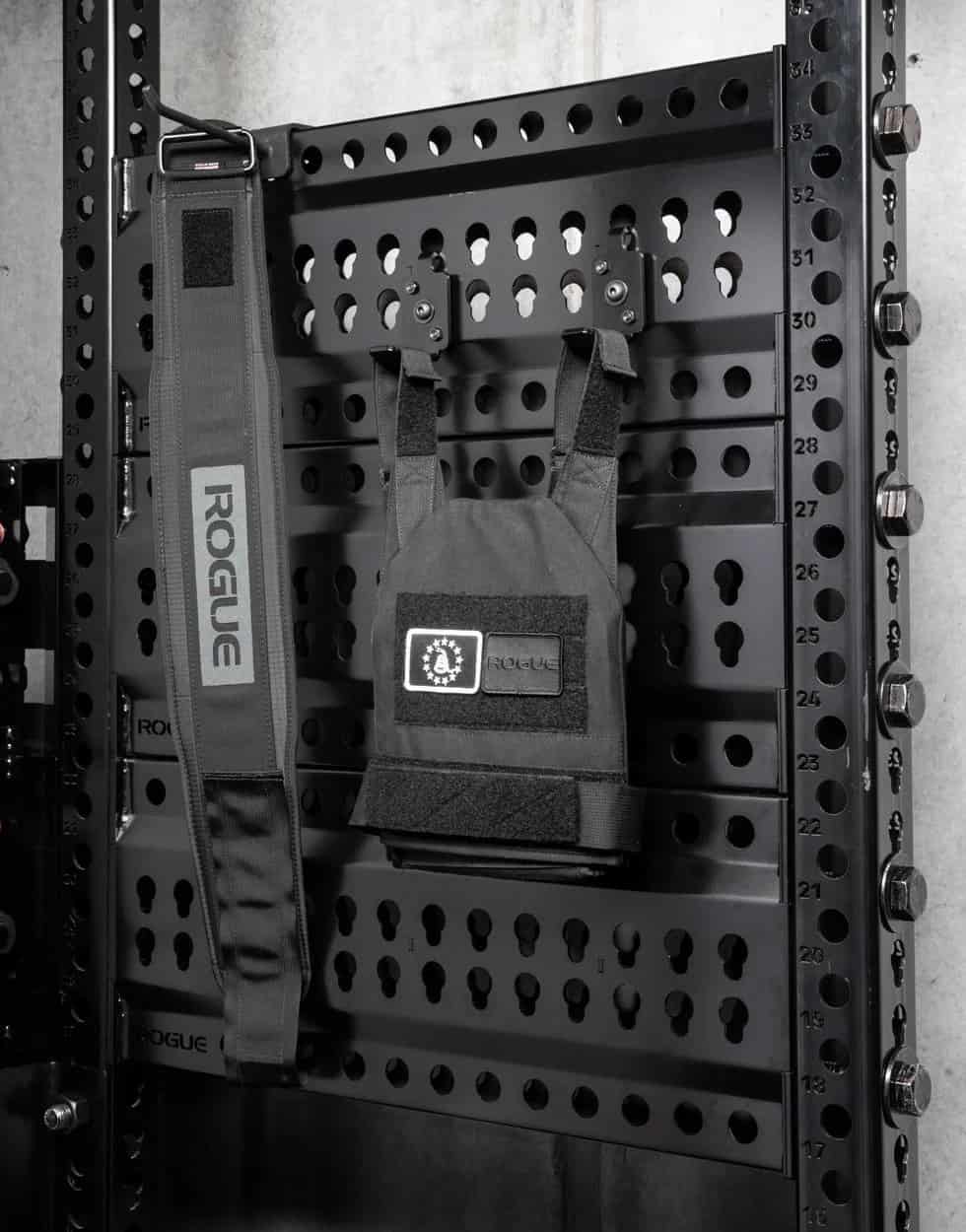 Here are two compatible options that you can add to your Monster Cave:
Rogue CT-1 Cable Tower
The Cable Tower is heavy-duty and is delicately polished from Rogue's original designs with precision-machining and in-house testing by experienced, high-performance athletes. With its custom precision adjustments, the machine is versatile to users of any size and to a wide range of exercises. It also has 16 different height adjustment settings on a 180-degree swivel.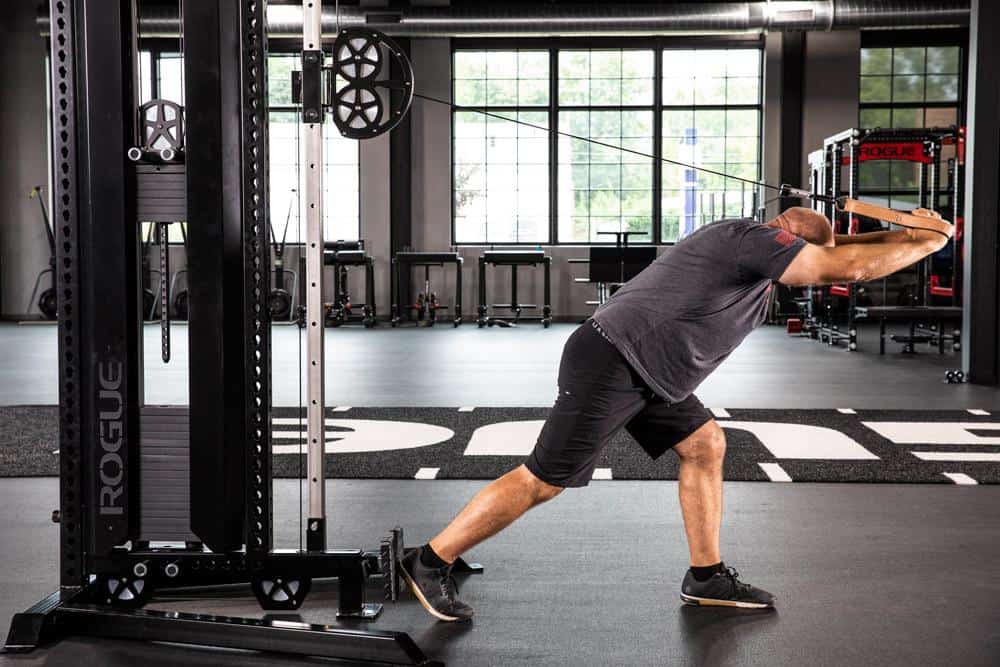 The 250 LB weight stack allows immediate adjustments to any skill level, with a 2:1 ratio in pull resistance and custom shrouds to avoid pinch points. Rogue Cable Tower is built with precision and offers an easily adjustable stand-alone column for a wide range of cable machine exercises, including rows, tricep pushdowns, curls, cable crossovers, and more.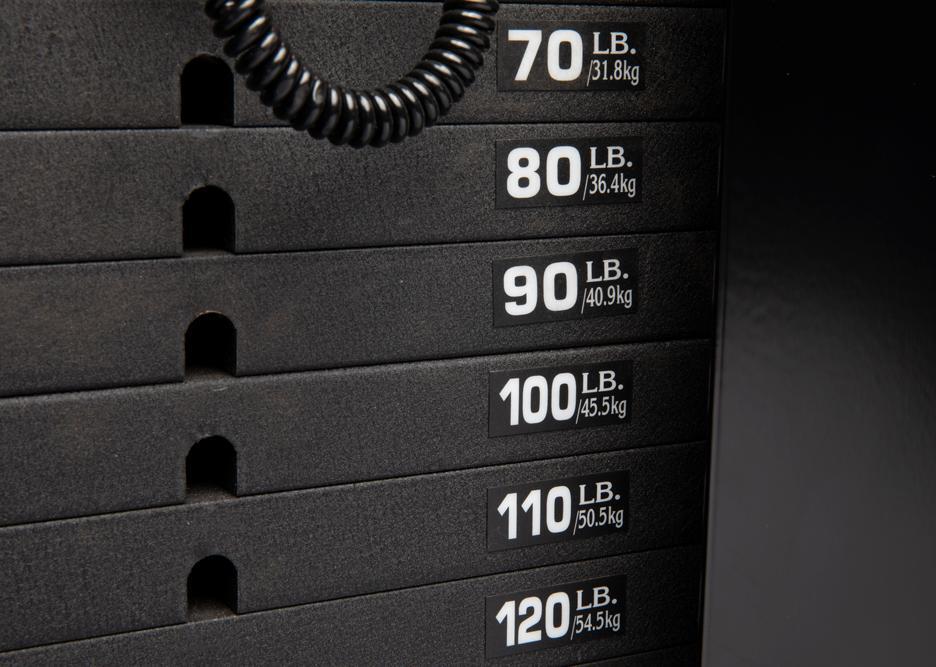 Rogue LP-2 Lat Pulldown/Low Row
The Monster Lat Pulldown 2.0 allows users to directly shift from seated lat pulldowns and triceps pushdowns to a low row by merely switching their body position. The durable aluminum pulleys are an enhancement over the preceding nylon version, and both the pulleys and weight stack are now machined in-house at Rogue's Reflex plant. The updated swing-arm style hip pad makes for effortless and straightforward custom adjustments.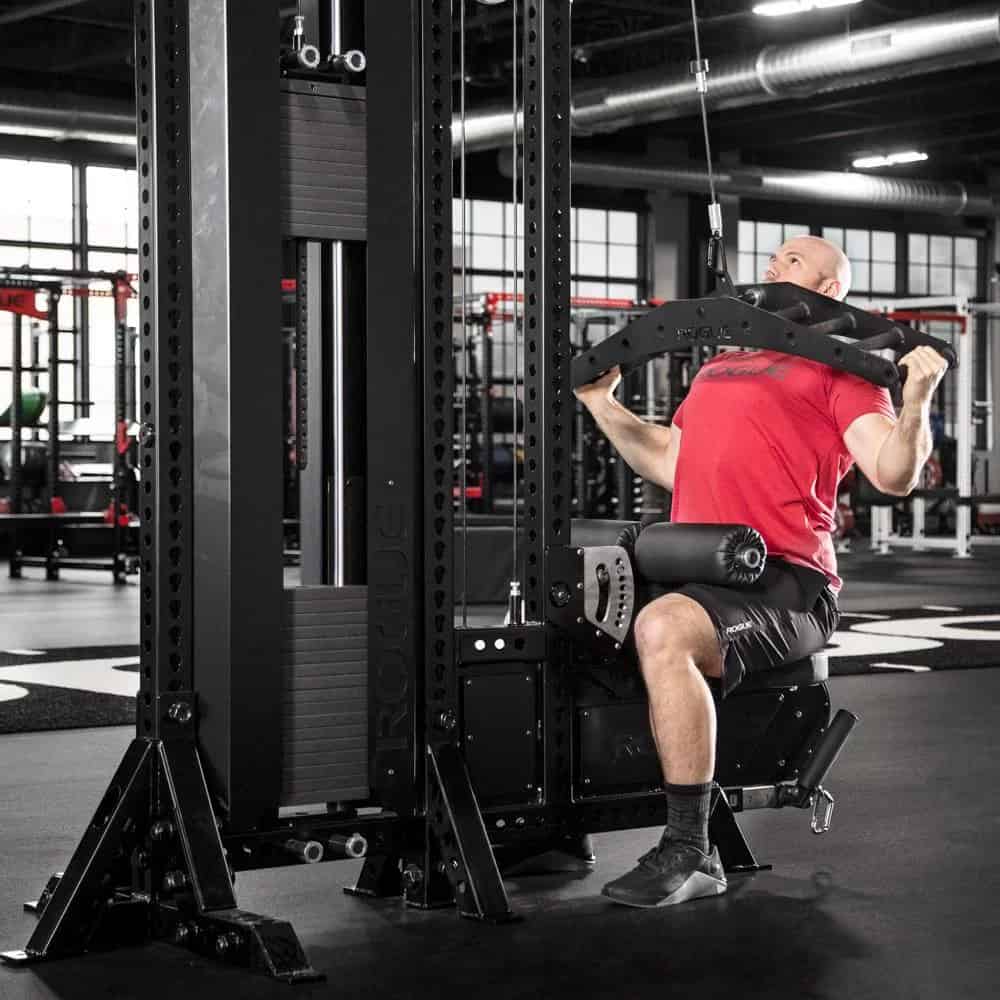 The LP-2 includes a 16.5" long x 11.75" wide foam seat along with a new swing-arm style foam leg roller assembly (8 adjustment positions spaced 0.83") and flip-down footpegs for the low row (8 adjustment positions spaced 2"). This means the machine can be easily customized to any athlete.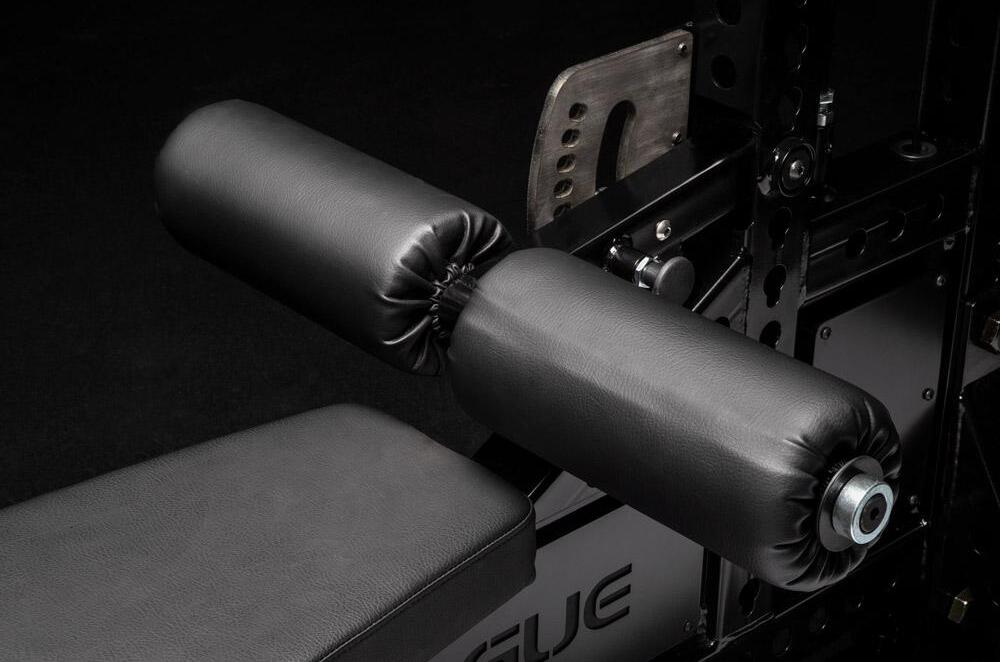 The Monster Lite Cave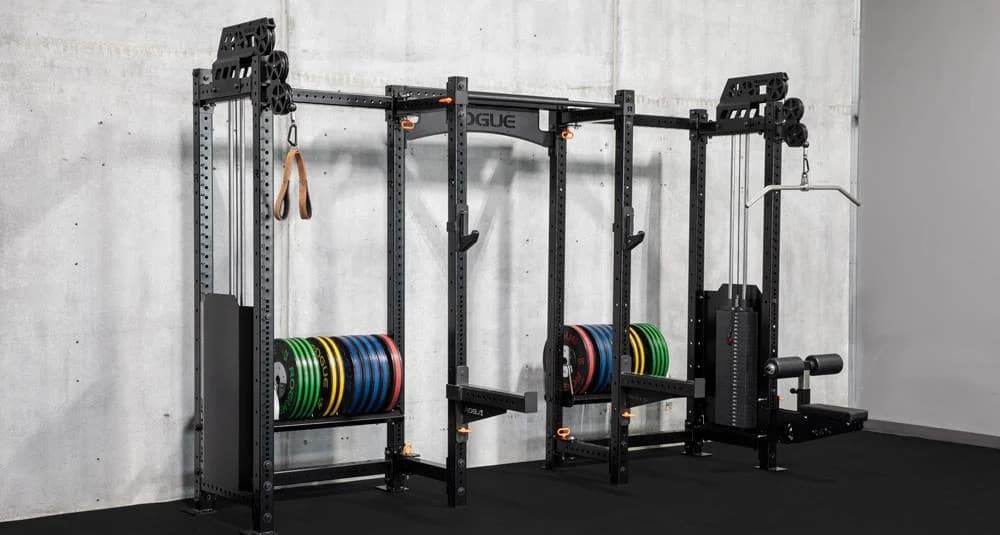 The Monster Lite Cave is the lighter version of the Monster Cave with only 5/8″ hardware compared to the 1″ of the Monster Cave, making it more economical. They both highlight 3×3" 11-gauge steel with an MG Black finish and laser-cut holes spaced 2" on center.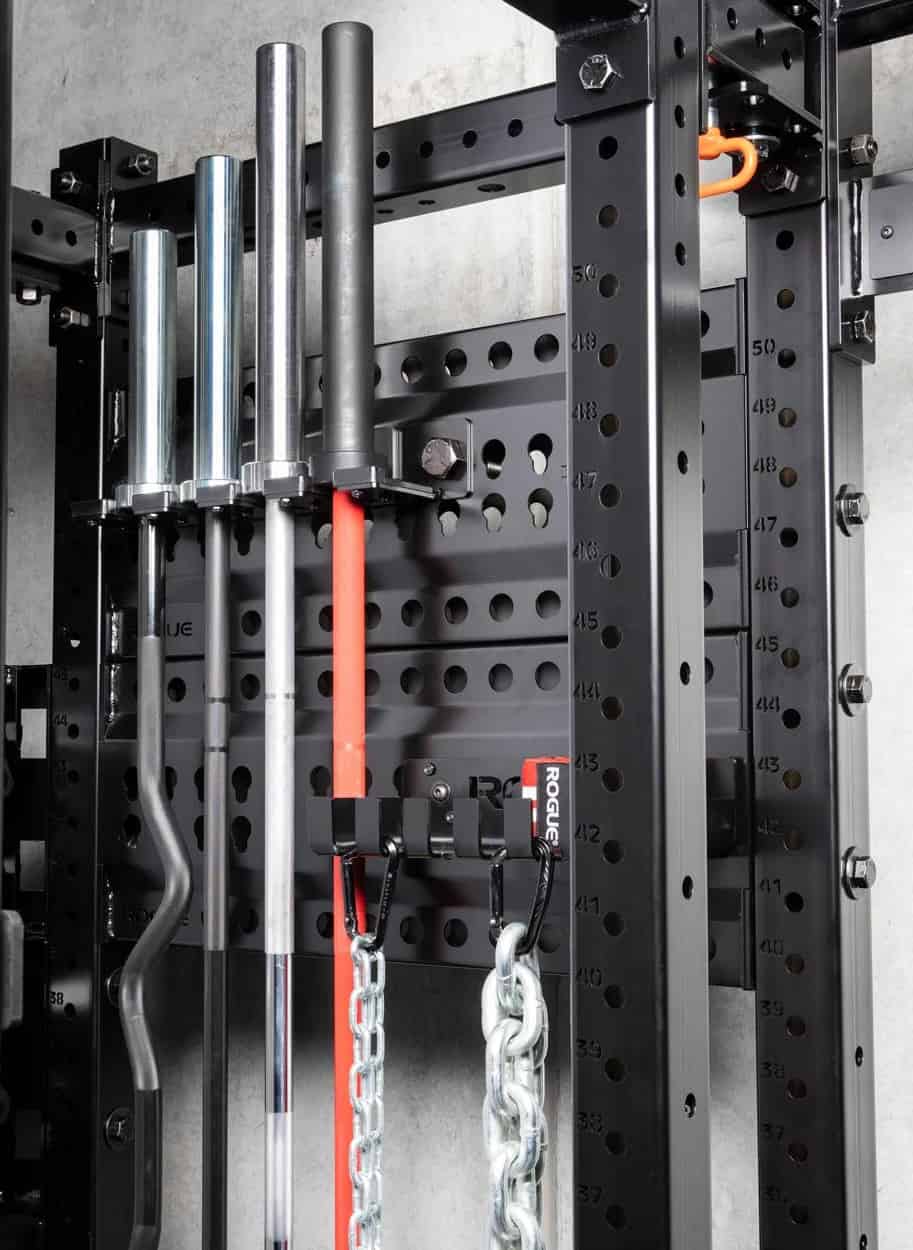 The Fold Back Rack in the middle of the rig is available as a full power rack with four uprights (in a 24" or 30" depth) with included strap safeties or as a standard 2-upright fold-flat in a 21.5" or 41.5" depth. The height of the unit can also be selected at either 90" or 100".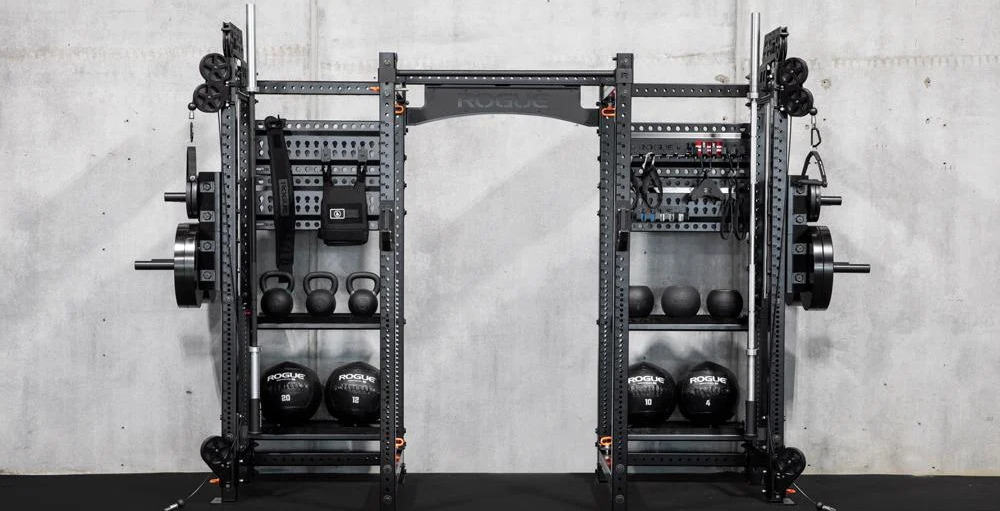 With the addition of the Monster Lite Cave's new offset brackets, a 24" Rack Storage Panel can be assembled front-to-back on the outside of a slinger panel, granting added storage selections.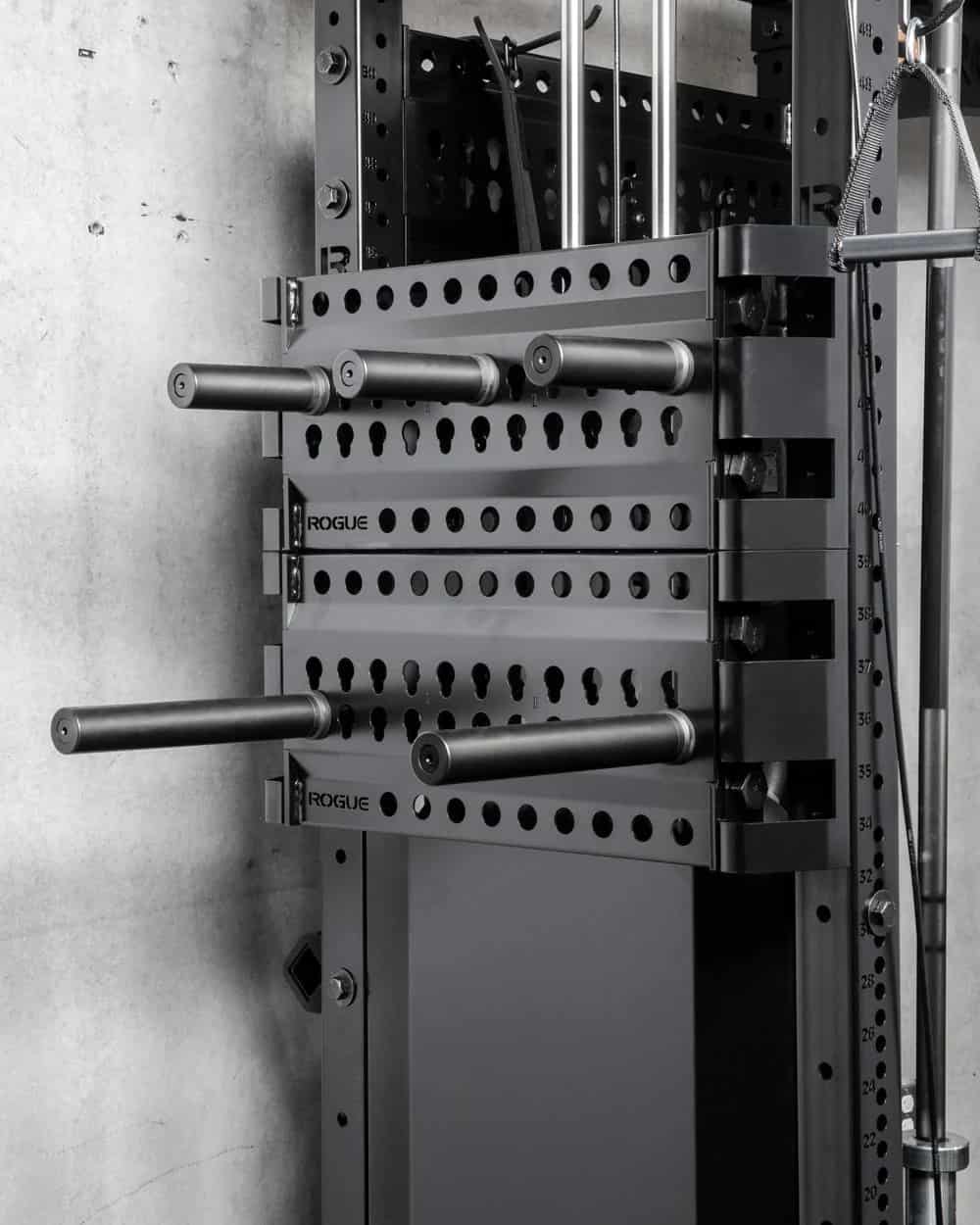 Monster Cave Review – In Summary
That's our first look at The Monster Cave from Rogue.
The Monster Cave is the complete combination of a power rack with modular storage and cable systems. It enables excellent training adaptability with unlimited customization potential, plus the capability to store up many of your equipment and accessories. You no longer have to worry about all your equipment and accessories taking up most of your space.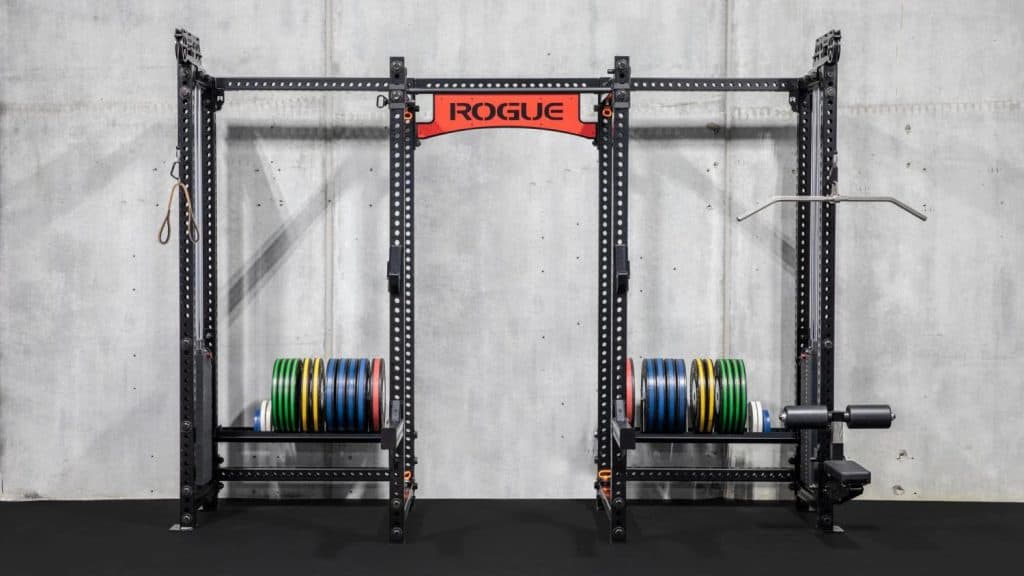 Photo Credits
Some product photos on this page are property of Rogue.
This website is not affiliated or associated with CrossFit, Inc. CrossFit is a registered trademark of CrossFit, Inc.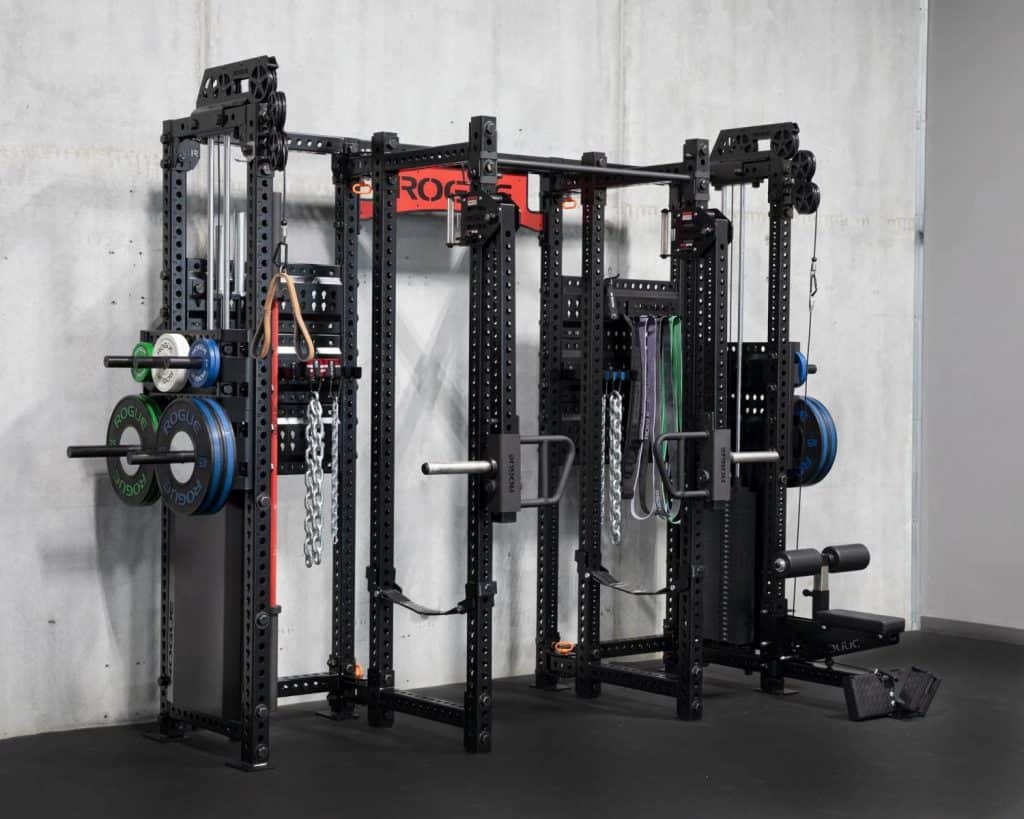 Affiliate Disclaimer
We are an affiliate of Rogue and others that sell this training gear. If you buy clothing or other training gear after clicking the links in this article, we receive a small commission at no extra cost to you. This helps us to bring you in-depth information and content on these great training products.
Tim is the founder of FitAtMidlife.com – an avid gym rat for 30+ years, he's a reviewer of many, many shoes – and founder of the Speed Bag Gathering – the world's only gathering of speed bag punching enthusiasts.  See more gym reviews at Tim's YouTube channel.