Let's review the new TriBase Reign 3 Training Shoe from Under Armour.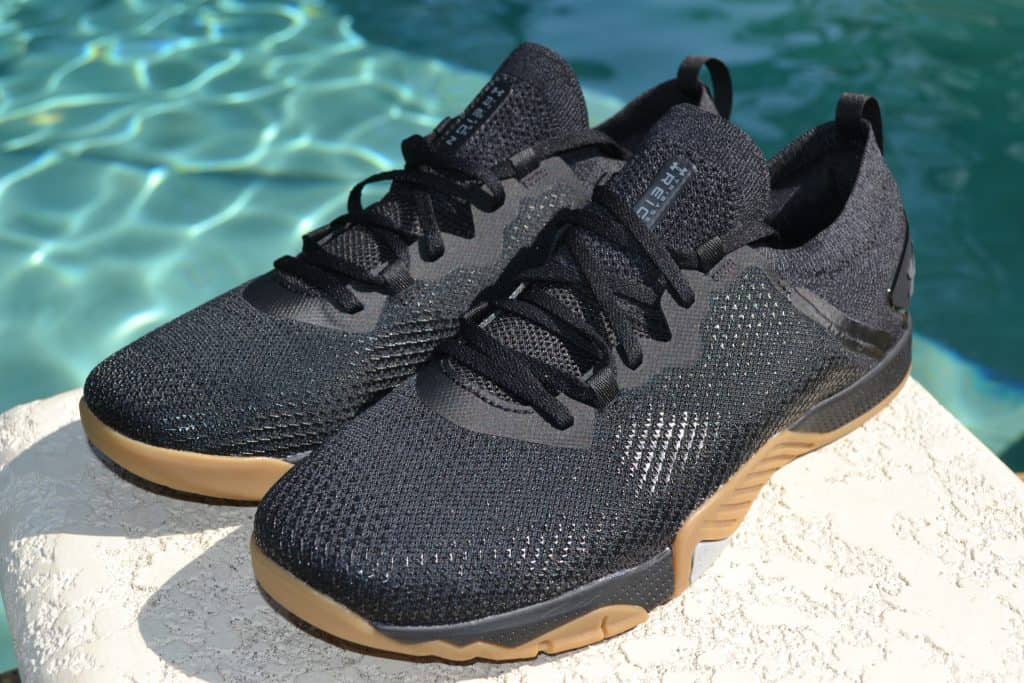 The TriBase Reign 3 is the 3rd version of UA's cross-training shoe.
It is squarely pointed at the CrossFit demographic – it's low-drop, very stable for heavy weight lifting, and has a rope climbing area – as just a few examples.
But let's figure out where this shoe has been improved and updated from the previous model – the TriBase Reign 2.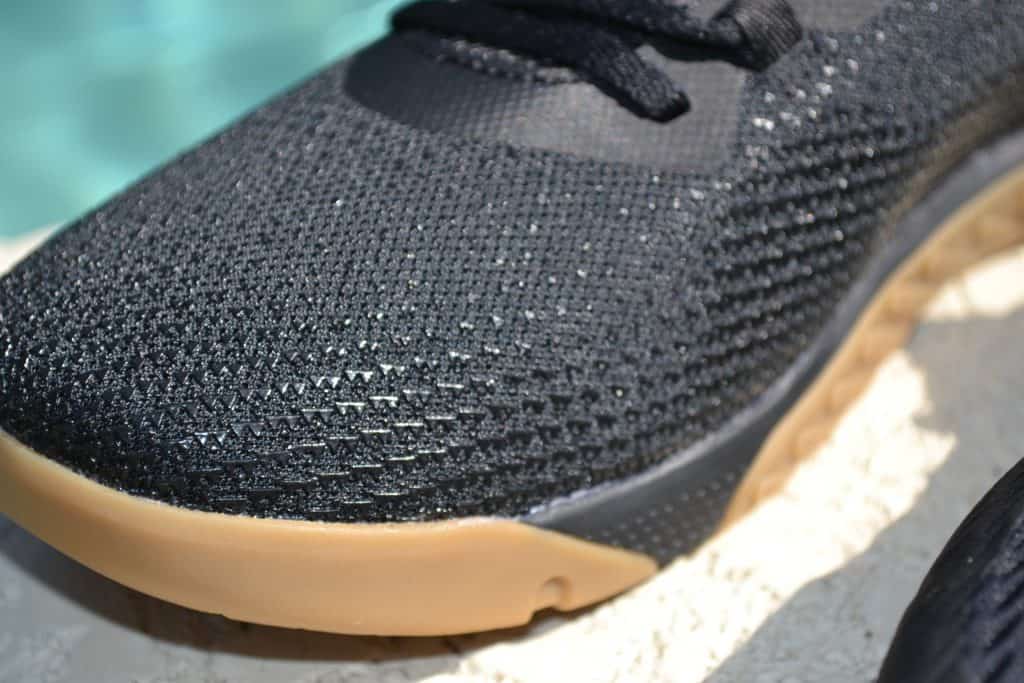 Under Armour offers a broad category of shoes created for diverse sports, but it was only in 2018 that UA made cross-training shoes especially constructed for functional fitness athletes.
I was excited when the TriBase Reign original first came out, and these shoes keep getting better and better.
When it comes to construction, performance, and specs, UA Tribase definitely competes with other known and established brands and can be considered as one of the best cross-training shoes for endurance workouts in the market.
Here's some of the styles we are going to look at: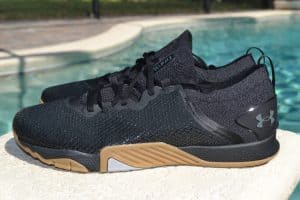 UA TriBase Reign 3 Training Shoe (Black/Pitch Gray)
With a 2mm drop, a very firm and stable heel and other features the UA TriBase Reign 3 is clearly meant for CrossFit and functional fitness style workouts. Black/Pitch Gray is the colorway shown in most of these photos (as it was the first one available.)
UA TriBase Reign 3 Training Shoe – Video Review on our YouTube Channel
Why read when you can watch? Check out this video from our YouTube channel:
In summary, the new upper is comfortable and tough – and seems to lighten up the shoe a bit.
This is a big step forward, most shoemakers keep adding features to the shoes and they just get heavier and heavier.
The revised heel counter is a nice touch too.
UA TriBase Reign 3 – How Well Does It Work?
This shoe feels a lot like the UA TriBase Reign 2. That's not surprising because the outsole and midsole are the same. The shoe is also the same general size and shape.
This is a very good shoe for heavy weightlifting – barbells, kettlebells, and pretty much anything else.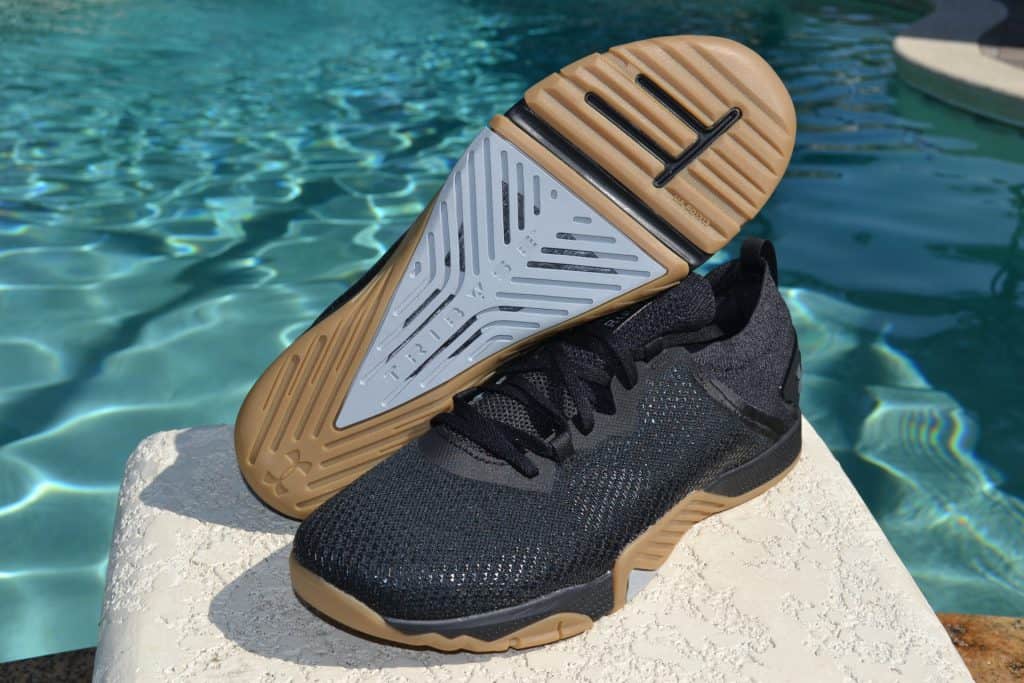 It's very firm all over – both the heel and the forefoot.
This is great for squats and deadlifts and things of that sort.
However, this shoe is not my favorite to run in – there's just not a lot of cushion (or drop – it's only 2mm).
But, these will certainly work adequately for short distances sprints and runs.
The UA TriBase Reign 3 runs true to size, my normal running shoe size fits me perfect.
UA TriBase Reign 3 Training Shoe – Overview
Tribase Reign now introduces the third addition to the pack with some revision from Reign 2. Reign 3 has a nicer upper than Reign 2 in a way that it provides extra toughness with its 3D print on top of the mesh. Reign 3 has an engineered mesh upper with a knit bootie construction and covers to add stability and abrasion-resistance. The upper is durable, roomy, and comfortable, especially in the toe box area.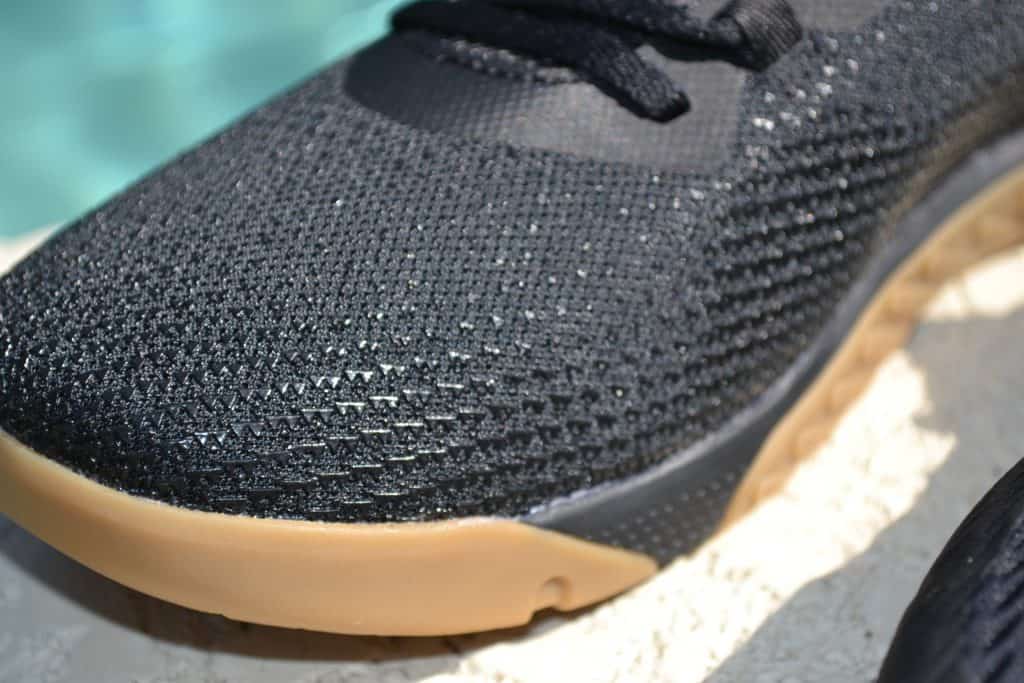 It feels as though UA took inspiration from the Nike Metcon 4 – as that shoe also had a mesh upper with a tough 3D print on top.
It was a good approach – and the Nike Metcon 4 is a classic as far as cross-training shoes go.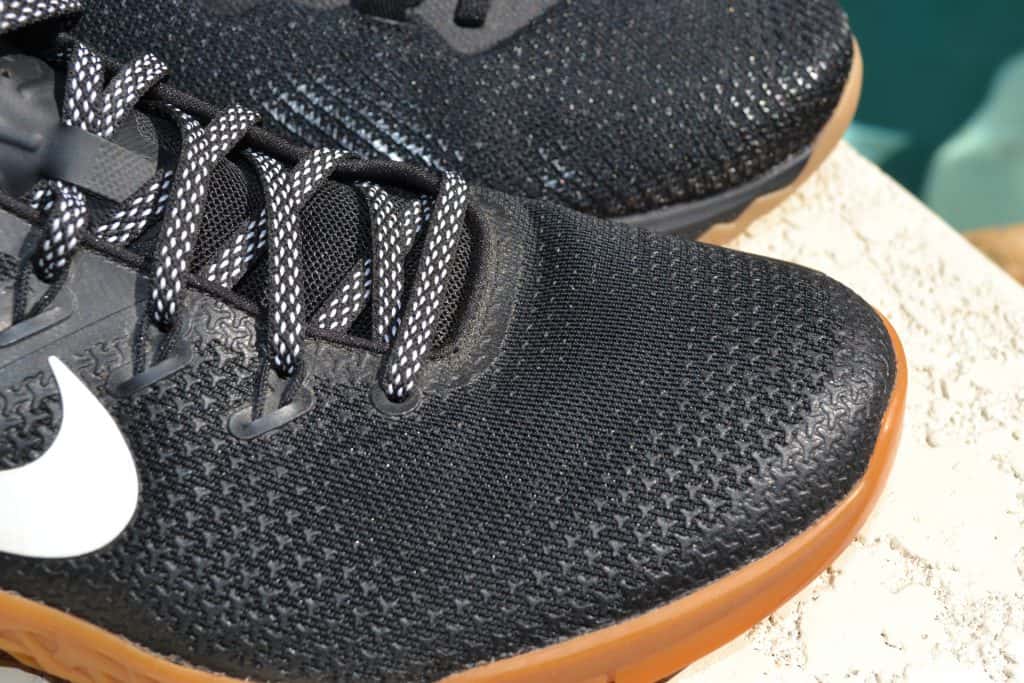 The full-length Micro G foam midsole provides ultimate responsive cushioning, which minimizes the impact force making you ready for any intense activity. Reign 3 maximizes ground contact, holds natural motion, and grants flexibility so you won't slip while doing barbell, snatches, box jumps, or even planks and mountain climbers. A small wrap-around section at the midfoot is placed to help in the grip for rope climbs.
Reign 3 has a full-rubber outsole that wraps up the sides for durability, and the heel, similar to Reign 2, has a strong TPU heel counter, but a low-friction knife-edge is added to Reign 3. It has a low-to-the-ground construction that provides for a greater feel and power transfer.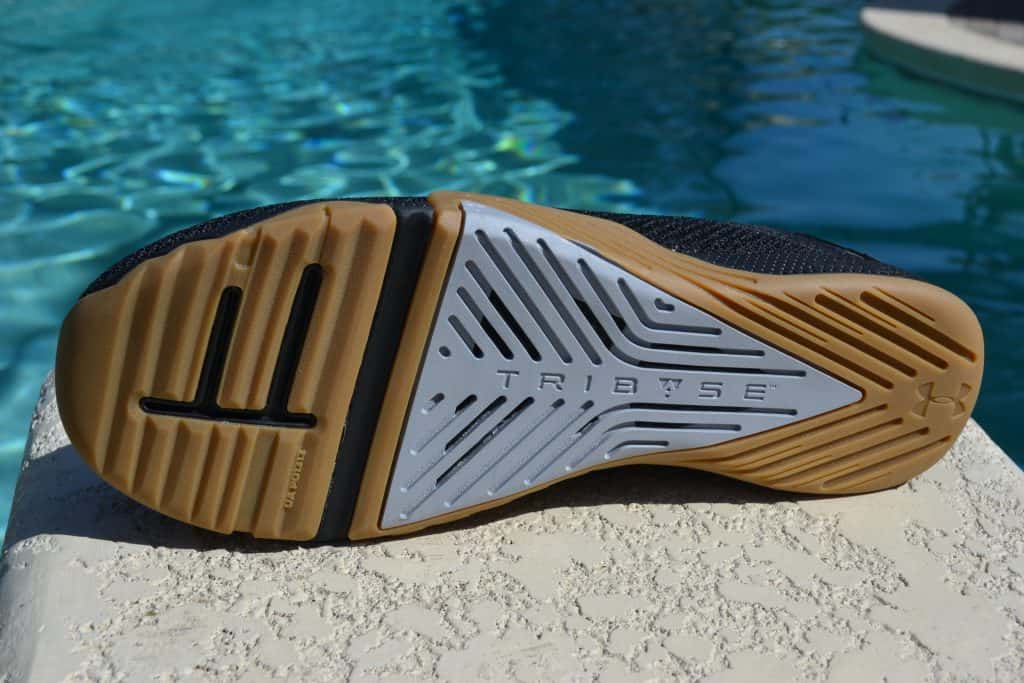 The other major tweak with this version of the shoe is the revised heel counter.
This helps to give support and structure to the heel, it's made from a very dense plastic material (TPU).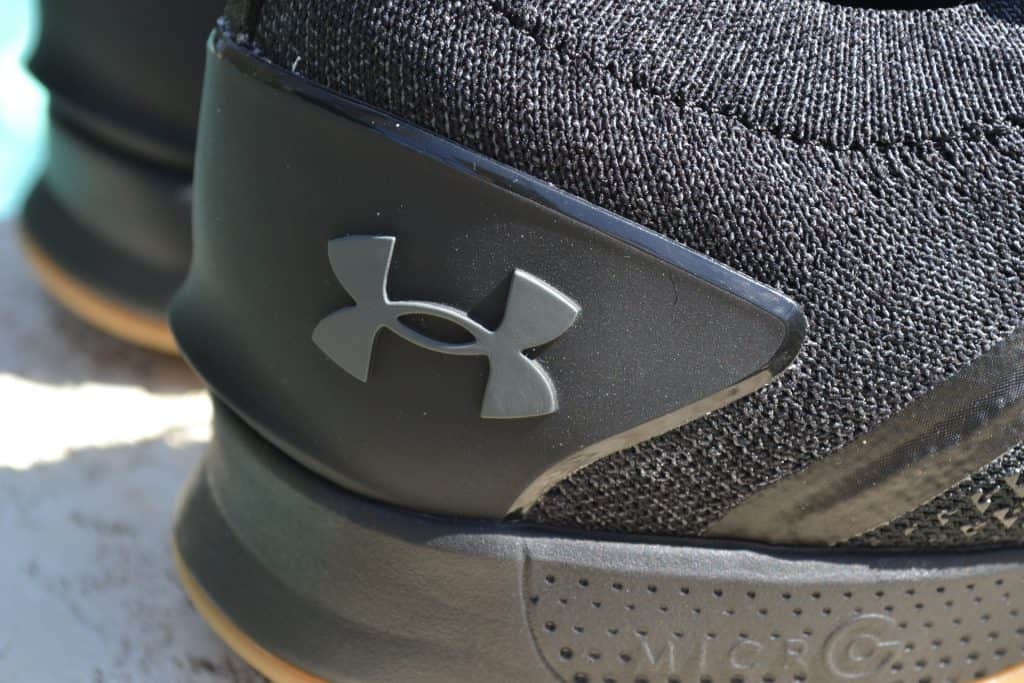 UA TriBase Reign 3 Training Shoe Review – In Summary
That's our review of the UA TriBase Reign 3 Training Shoe from Under Armour.
UA Tribase Reign 3 is a kind of CrossFit training shoe where you can put your confidence in. It boosts your floor contact with a low, steady, triangular base that allows your foot to flex freely. It has solid support, especially when carrying weight. It is comfortable and keeps the foot cool, protected, and flexible.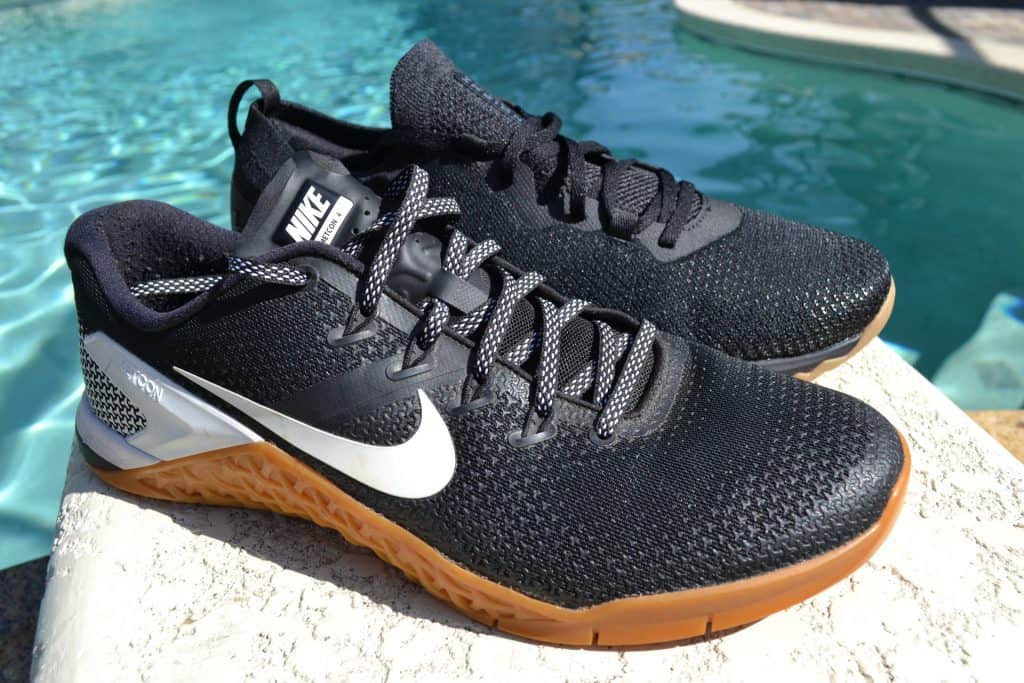 Photo Credits
Some product photos on this page are property of Under Armour.
This website is not affiliated or associated with CrossFit, Inc. CrossFit is a registered trademark of CrossFit, Inc.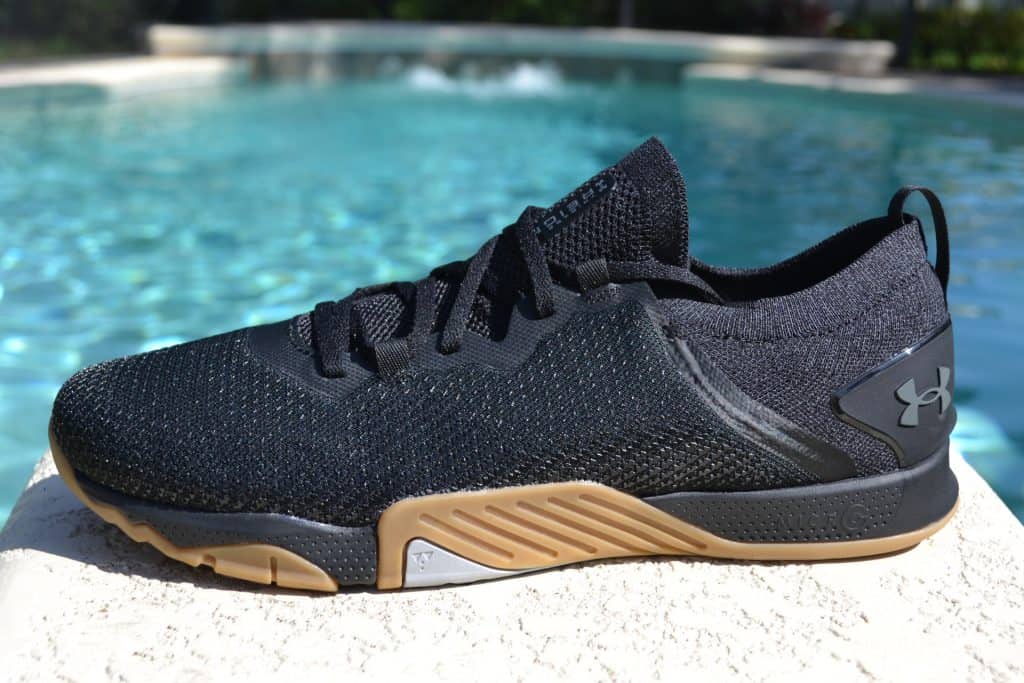 Affiliate Disclaimer
We are an affiliate of Under Armour and others that sell this training gear. If you buy clothing or other training gear after clicking the links in this article, we receive a small commission at no extra cost to you. This helps us to bring you in-depth information and content on these great training products.
Tim is the founder of FitAtMidlife.com – an avid gym rat for 30+ years, he's a reviewer of many, many shoes – and founder of the Speed Bag Gathering – the world's only gathering of speed bag punching enthusiasts.  See more gym reviews at Tim's YouTube channel.