The Rogue Echo Bike is now the official Air Bike of CrossFit!
CrossFit LLC declared that the Rogue Echo Bike is now "The Official Air Bike of CrossFit." It was the Assault AirBike from Assault Fitness that has the title for six years.
The Echo Bike is an exclusive and extraordinary exercise bike whose features and built go beyond any other air bike you know. It may be on the high-end side, but this tank is designed with high-quality steel, created for stability, and will last for a very long time.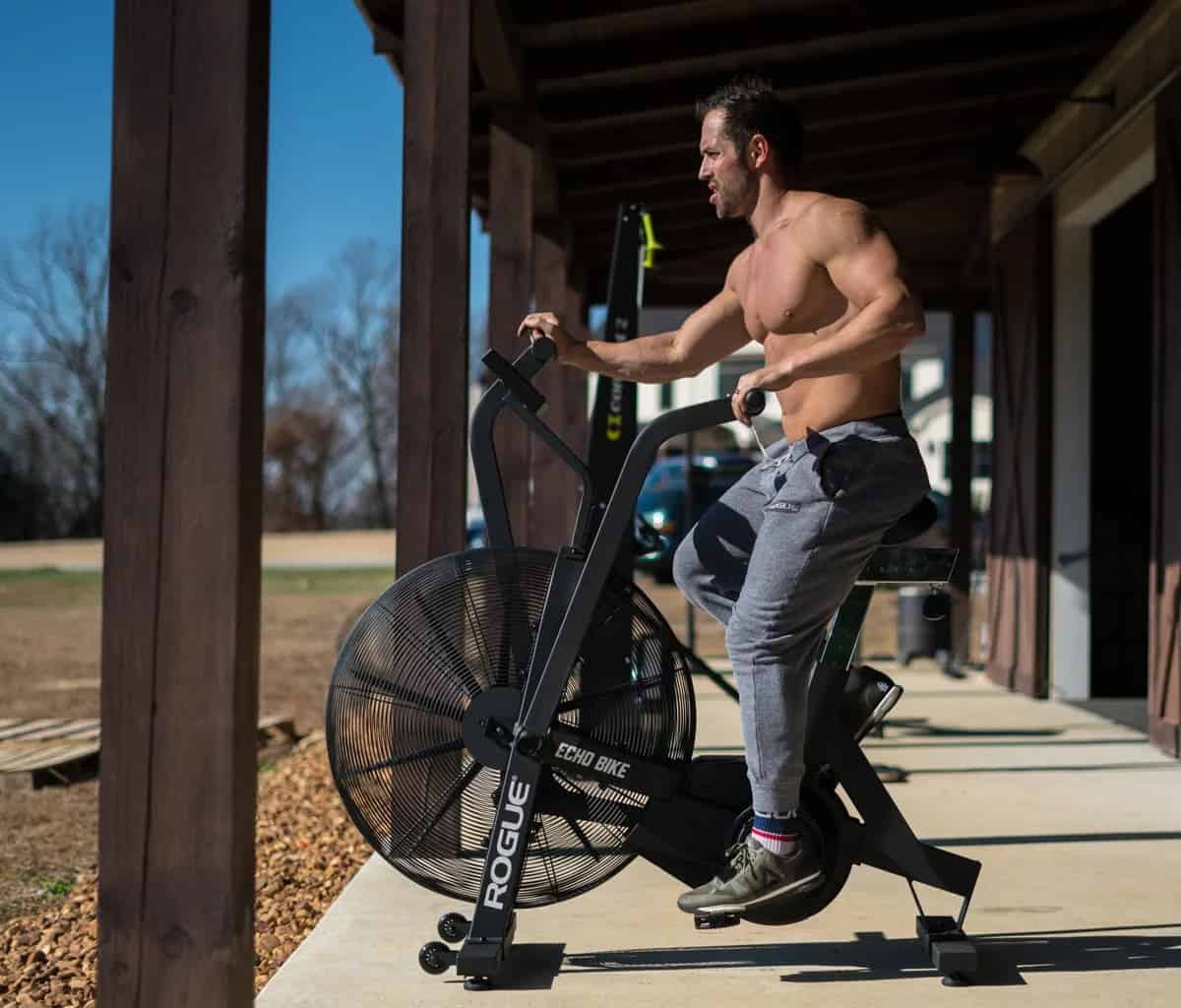 Get yours now! From where? Rogue, of course: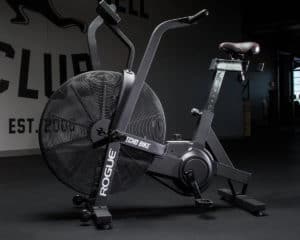 Rogue Echo Bike (Black)
Rogue Echo Bike - There's a reason the Rogue Echo Bike is now the official air bike of CrossFit - it's the best air bike (fan bike) on the market - by a long shot. Get yours now so you are ready for any online qualifiers or just to get a great HIIT workout.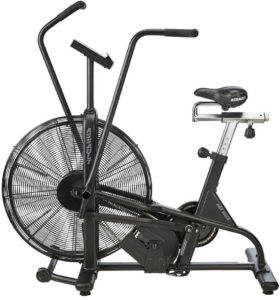 Rogue Echo Bike – Overview
The Rogue Echo Bike is overbuilt and gives a rock-solid base for max output bursts while still granting smooth portability around the gym through a set of 1″ polyurethane front wheels. It is constructed with a range of long-lasting steel tubing (2×3″, 1.25×3″, and 1.625×3.125″ steel) finished in a texture black powder coat. The bike weighs 127LB and has a 350LB weight limit, so you know it won't wobble and shake while riding on it. The steel construction is reinforced to give the bike rigidity and stability.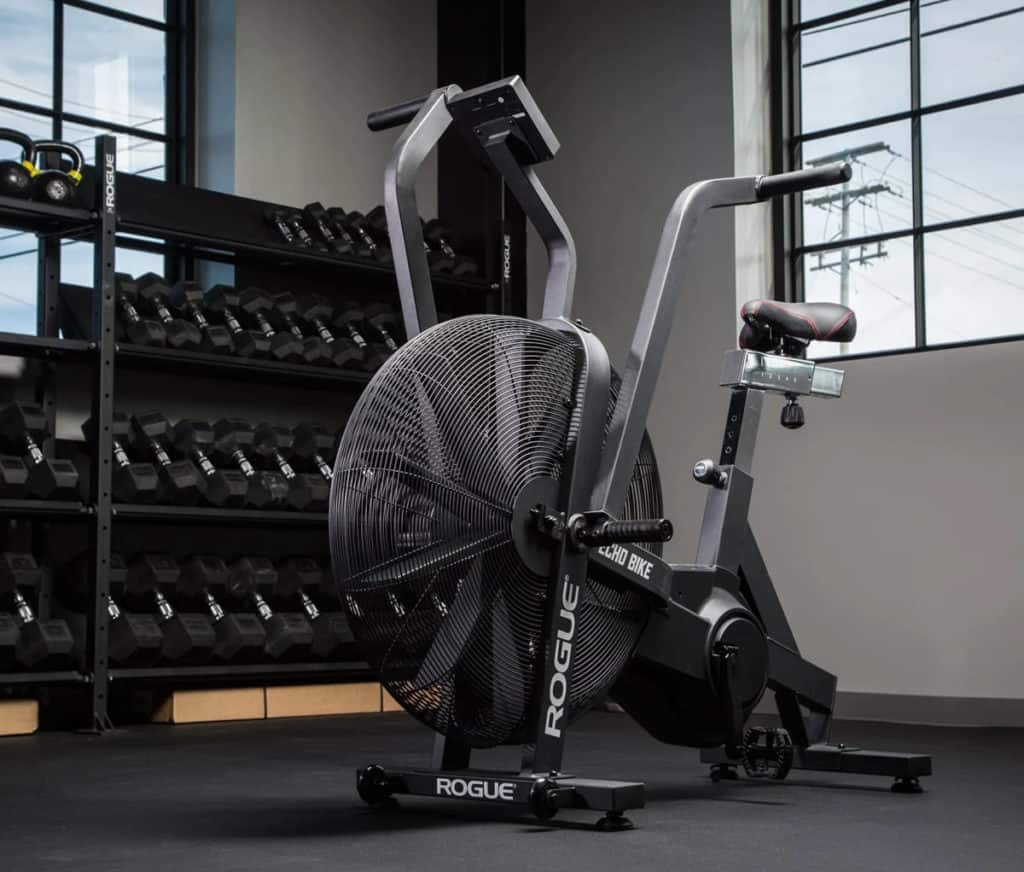 The Echo Bike is a great companion for your conditioning, resistance, and endurance training, whether you are in the garage gym or running your own large-scale facility. The fan also has an even response that presents a uniquely steady, smooth riding experience. The bike has an attached LCD console that measures 6.375″ x 6.375″ and highlights a crystal clear, sharp contrast display. It has different modes, and you can select and create from Heart Rate Tracking, Intervals (20/10, 10/20 or a custom Work/Rest interval), and Target (goal time, distance, calories).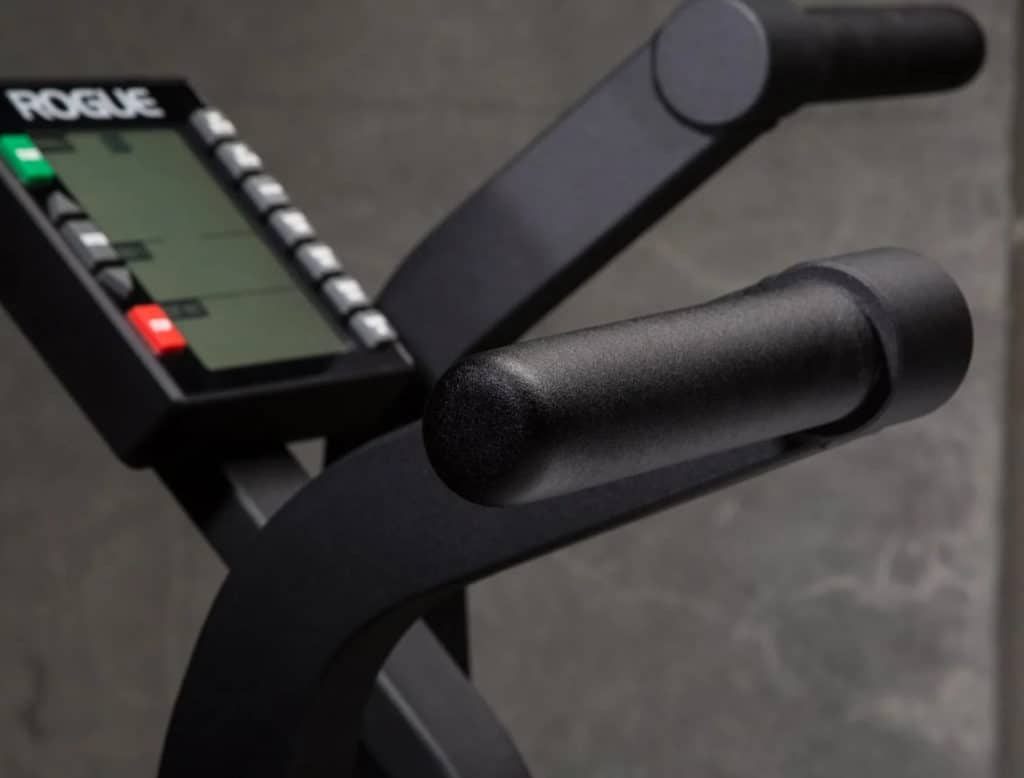 Rubber leveling feet are added under each base tube to provide extra stability. These feet conform to your floor and add "stick" to level the bike even on uneven surfaces. The adjustable padded seat can be locked into eight distinct height settings and five front-to-back settings, and the 1.5" diameter rubber grip handles are fixed right to the bike's arms for added rigidity. A steel step plate is rendered along with knurled 4.5″ long pivoting footpegs and metal pedals. The fan itself is a belt-driven, precision steel blade.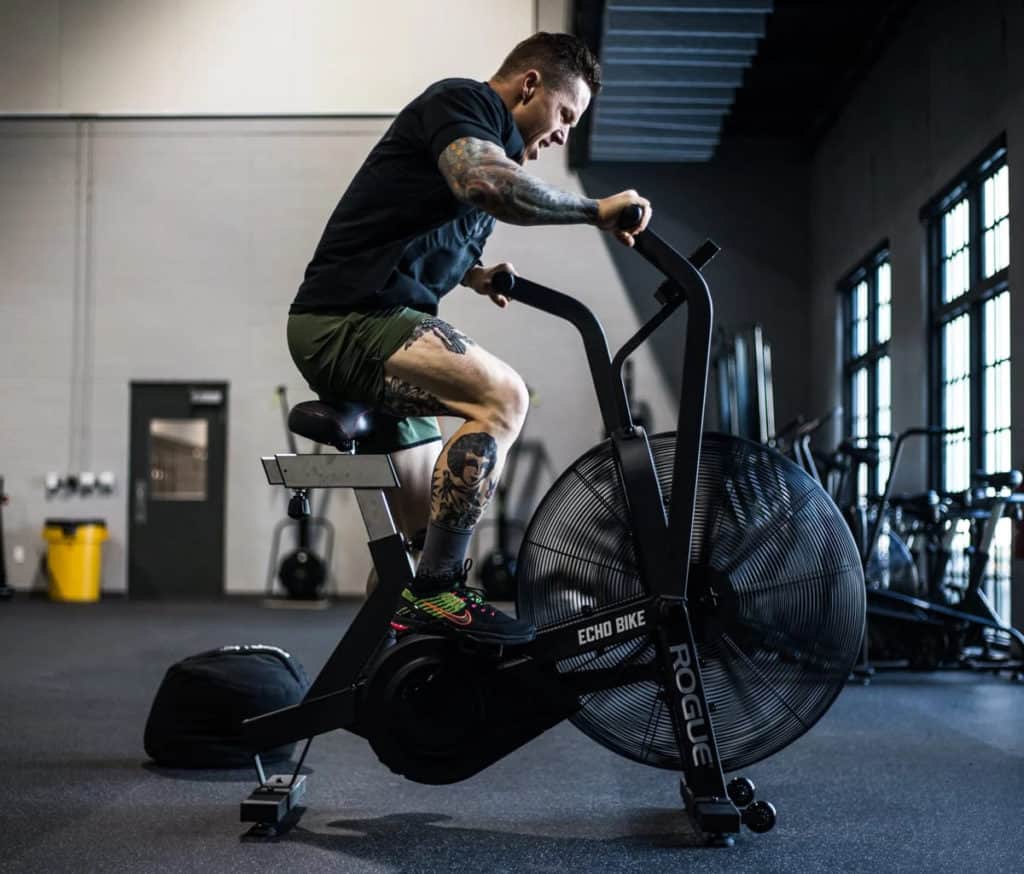 Assault AirBike
Whether you are an amateur, a rehabilitating athlete, or an experienced pro training, the Assault AirBike can work well – no matter what your sport, goal, or body type. This bike can handle daily abuse with its thick-gauge chro-moly steel frame. It has at least 1-2 sealed cartridge bearings in each single-pivot – from the flywheels and pedals to the bottom bracket and linkage arms. It has more than 20 bearings and a state-of-the-art LCD console to easily navigate at the push of a button. The Assault AirBike remade and modernized almost all components of the traditional fan bike, from the frame structure to the crank, pedals, monitor, and more.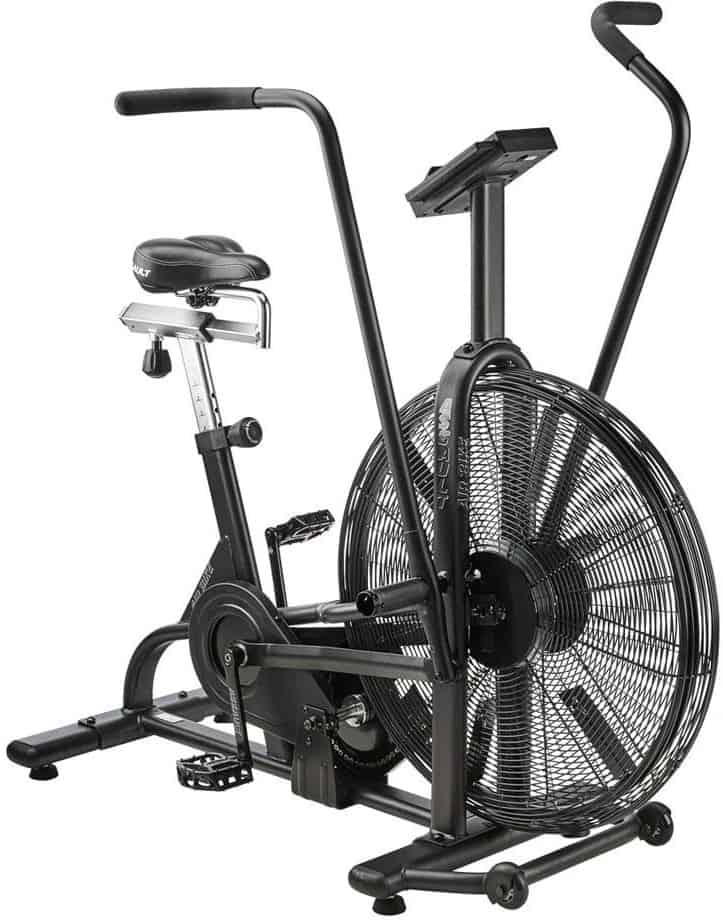 The Assault AirBike is solid and sturdy but not as much as the Echo. The Echo is beefier and sturdier (making it great for taller and bigger users) and has a rock-solid foundation that eliminates sways and bumps. The Echo Bike uses a belt drive which is smoother, quieter, and has a longer life with little to no maintenance. The Assault AirBike, on the other hand, is operated by a chain drive which is more efficient at low power inputs and is easy to adjust but needs more maintenance, louder, and mechanically complicated. The Echo Bike is more responsive as it speeds up fast, while the Assault AirBike imitates riding a regular bike.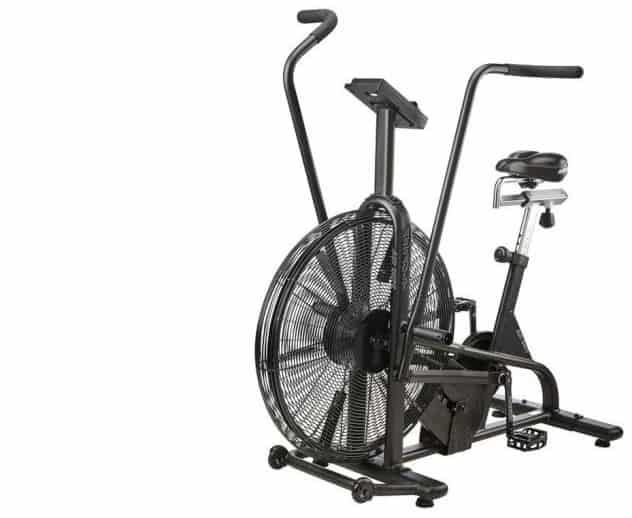 Rogue Echo Bike Review – In Summary
That's our review of Rogue Echo Bike.
With its connections to CrossFit and the high-quality equipment they make, you can be sure that every piece of Rogue equipment is thoroughly thought of and made of US manufacturing. The Echo Bike is more expensive than the Assault AirBike, but you'll know why once you ride on it. The Assault AirBike is sturdy and robust with updated features but only comes second compared to the Echo Bike.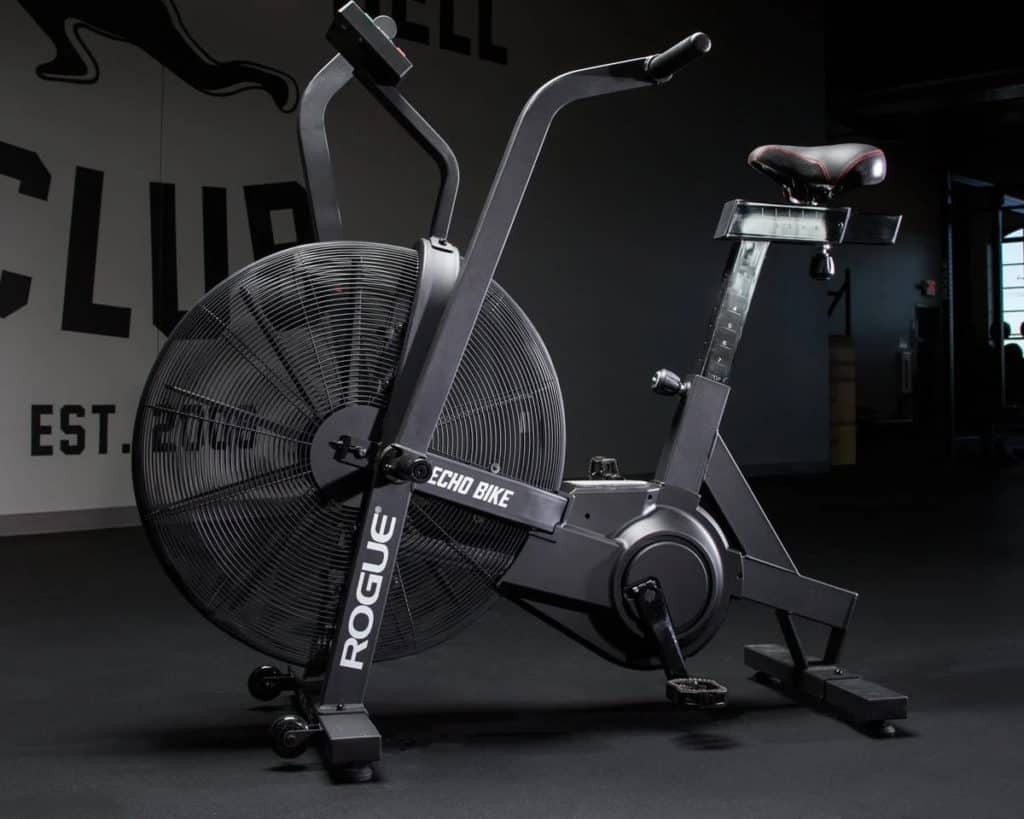 Photo Credits
Product photos on this page are property of Rogue Fitness.
This website is not affiliated or associated with CrossFit, Inc. CrossFit is a registered trademark of CrossFit, Inc.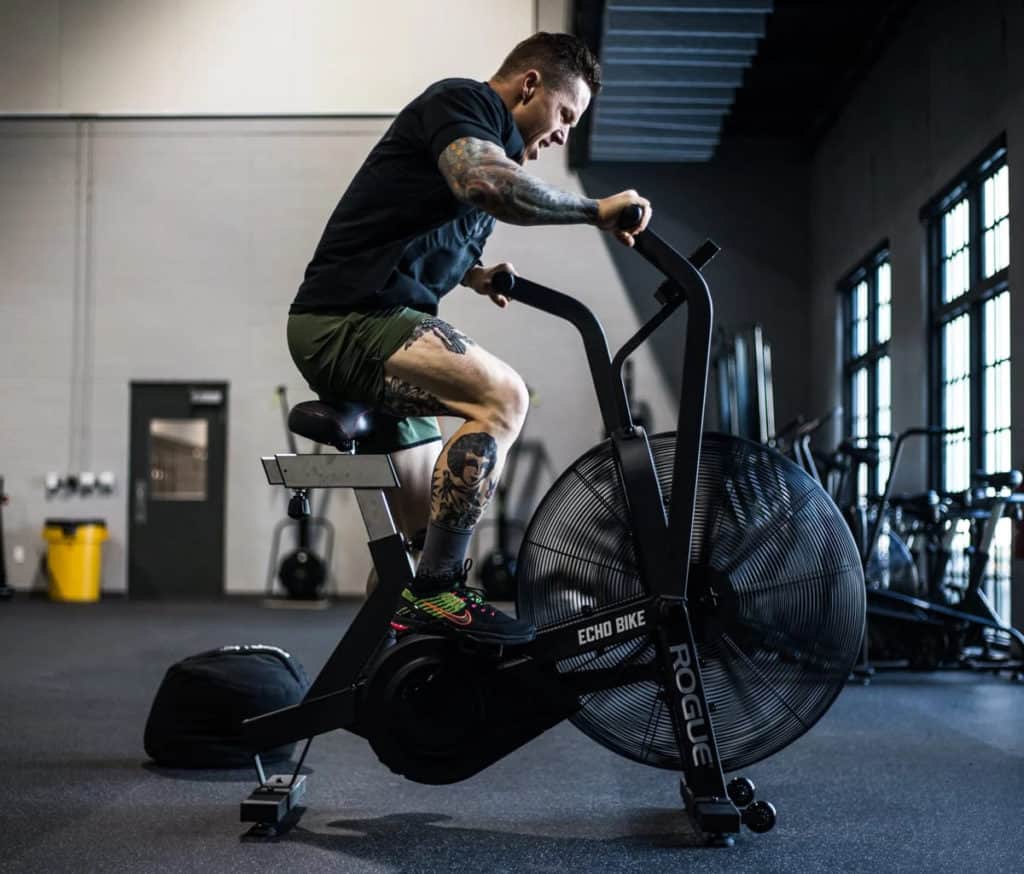 Affiliate Disclaimer
We are an affiliate of Rogue Fitness and others that sell this training gear. If you buy clothing or other training gear after clicking the links in this article, we receive a small commission at no extra cost to you. This helps us to bring you in-depth information and content on these great training products.
Tim is the founder of FitAtMidlife.com – an avid gym rat for 30+ years, he's a reviewer of many, many shoes – and founder of the Speed Bag Gathering – the world's only gathering of speed bag punching enthusiasts.  See more gym reviews at Tim's YouTube channel.