Need a plyo box? Check out the options for Plyo Boxes from Rep.
Training with plyo boxes makes you more athletic and levels up your speed and power. Plyo is short for plyometric exercises or jump training, which is a type of training that concentrates on increasing explosive power and targets your hamstrings, glutes, calves, quadriceps, and core.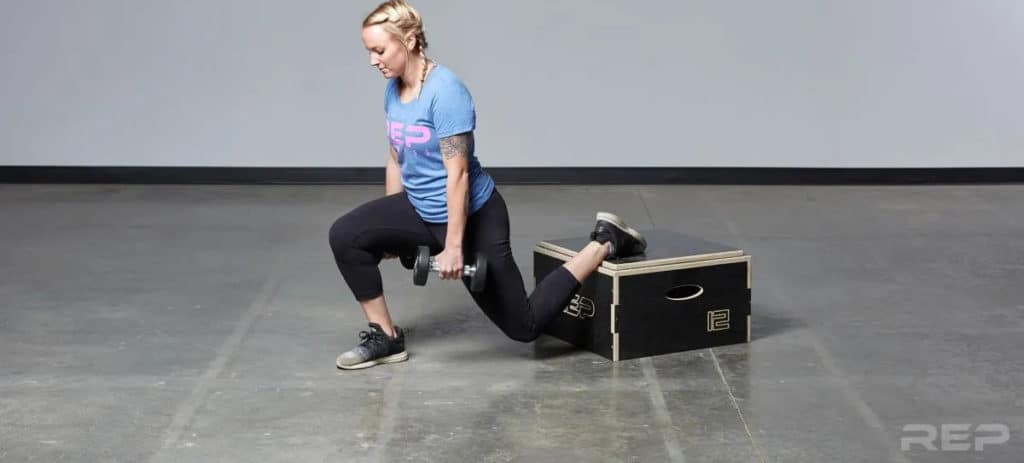 Here are some of the styles we are going to look at:
Plyo Boxes from Rep – Overview
Box jumps are a classic plyometric move where you jump from the floor up onto a high surface, like a box. They are a simple and practical addition to your training routine and can also promote and support various strength, conditioning, and movement exercises. They are multi-functional and can also be used with a barbell, dumbbells, medicine ball, or a weighted vest, and you can also do burpees, depth jumps, lateral step-overs, and different jumps and step-ups.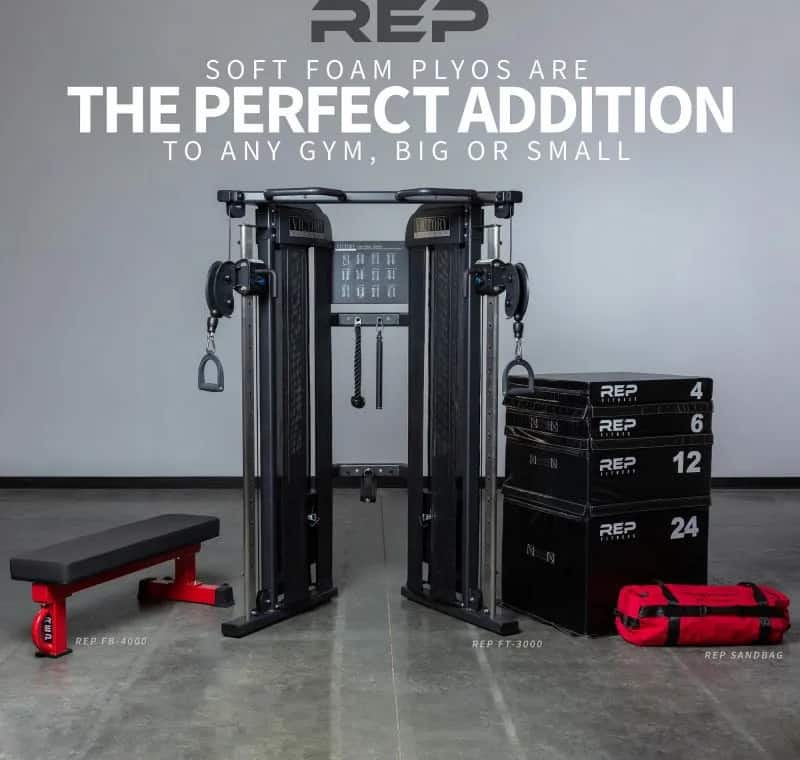 There are plenty of plyo boxes on the market, but we will focus on plyo boxes from Rep Fitness in this article. They have competitive prices while also presenting great value with the quality of their equipment. They constantly develop new equipment and accessories plus the quality of their products is the same as the others but at a lower price. Their boxes are created to take the fear out of box jumps and add back the fun.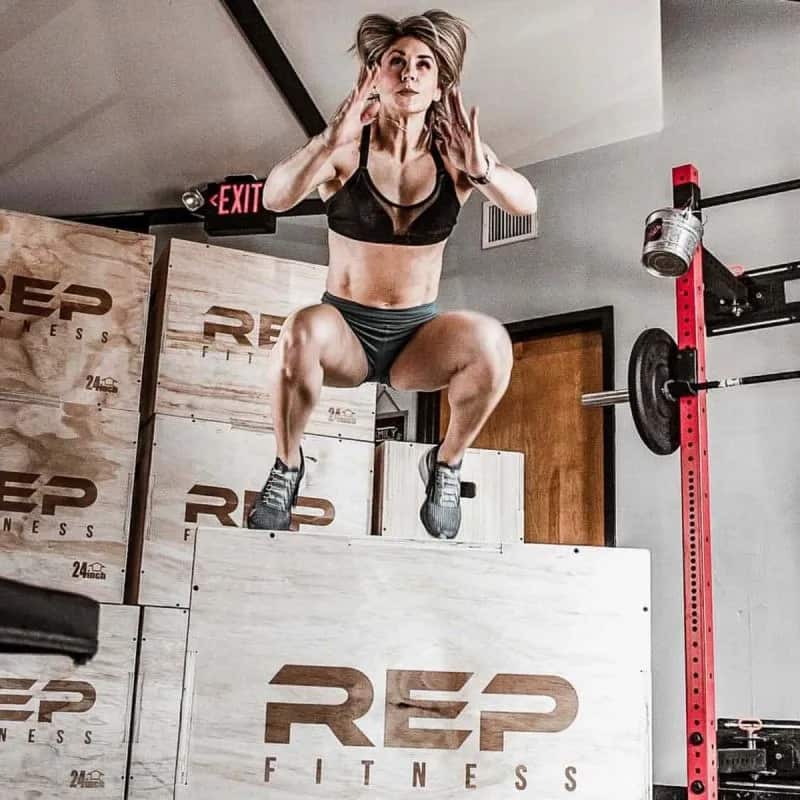 Rep Soft Foam Stackable Plyo Box
Rep Soft Foam Stackable Plyo Box is made of ultra-dense foam and protects your bones and joints by jumping onto a soft, impact-absorbing surface. The foam is condoning and gives you the courage to overcome a difficult workout or go for a personal record high jump. These boxes are heavy and highly tip-resistant when you jump on the edges.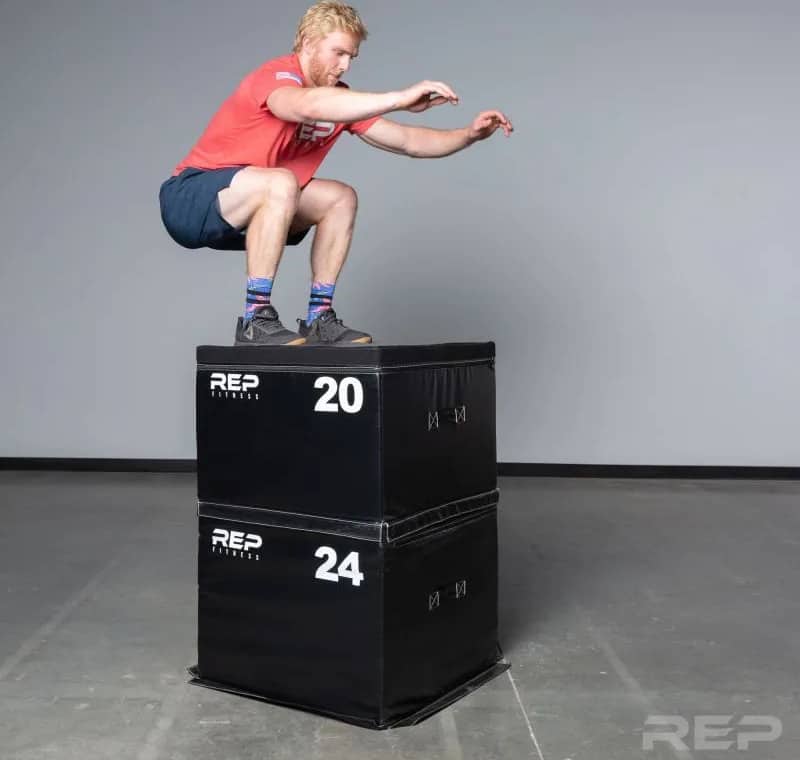 The Rep Soft Plyo Box is the ultimate box for jump training and conditioning. Despite their weight, these boxes are easy to move, and you can quickly flip, drag, or push them around without worry about damage to the box. Every box has a 28×28″ base and has heavy-duty vinyl covers. The box has Velcro flaps on all four sides to securely stack boxes, while the handles are cross-stitched with contrasting white thread.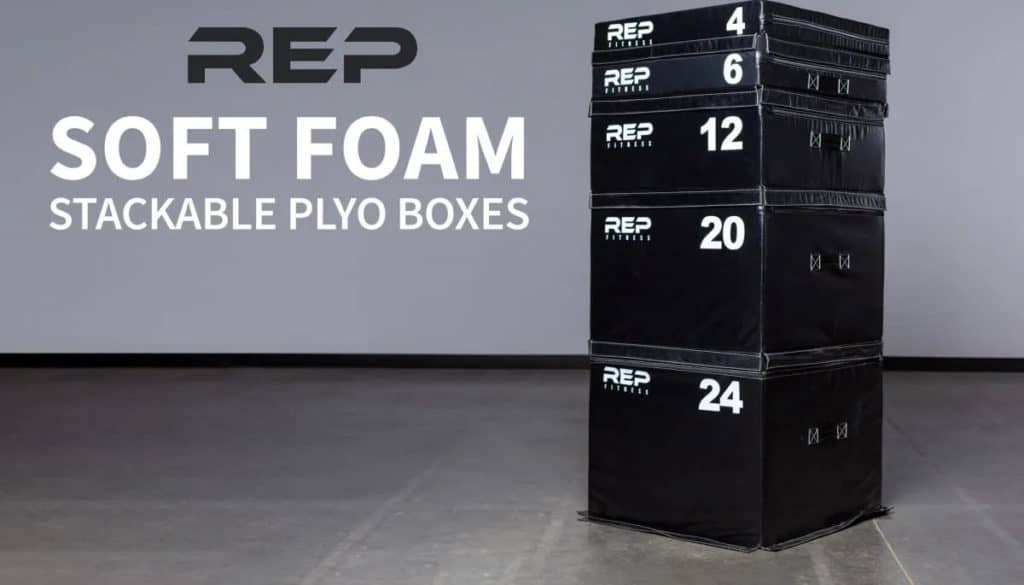 Rep 3-in-1 Wood Plyo Boxes
Rep 3-in-1 Wood Plyo Boxes are designed to work well for cross-training and HIIT workouts and are constructed like a tank. They are ideal for all kinds of plyometric box exercises, whether you're doing step-ups, box jumps, box squats, or negative jumps. These boxes are made of construction-grade 3/4″ plywood, and the four available boxes measure 30″ x 24″ x 20″, 24″ x 20″ x 16″, 20″ x 18″ x 16″, or 16″ x 14″ x 12″. The edges are sanded down to avoid scratches on missed jumps.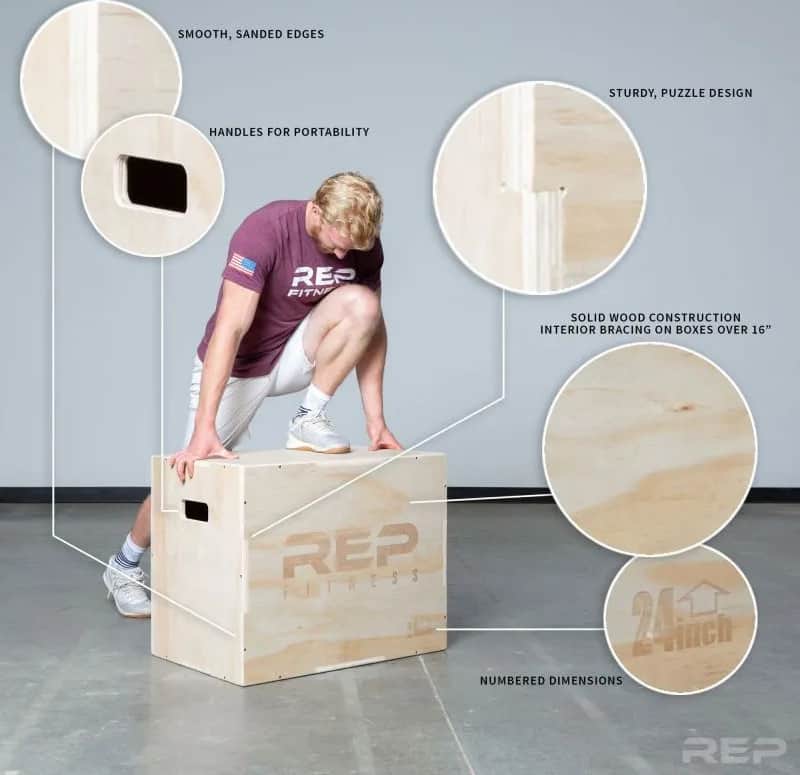 These boxes are CNC machined for a precise fit every time, and they are perfect for either commercial and residential use. The predrilled holes and interlocking joints make this plyo box very sturdy and easy to assemble. The unique interlocking joints and strengthened internal construction on the two larger boxes enhance the box's strength and lessen the number of screws required to assemble.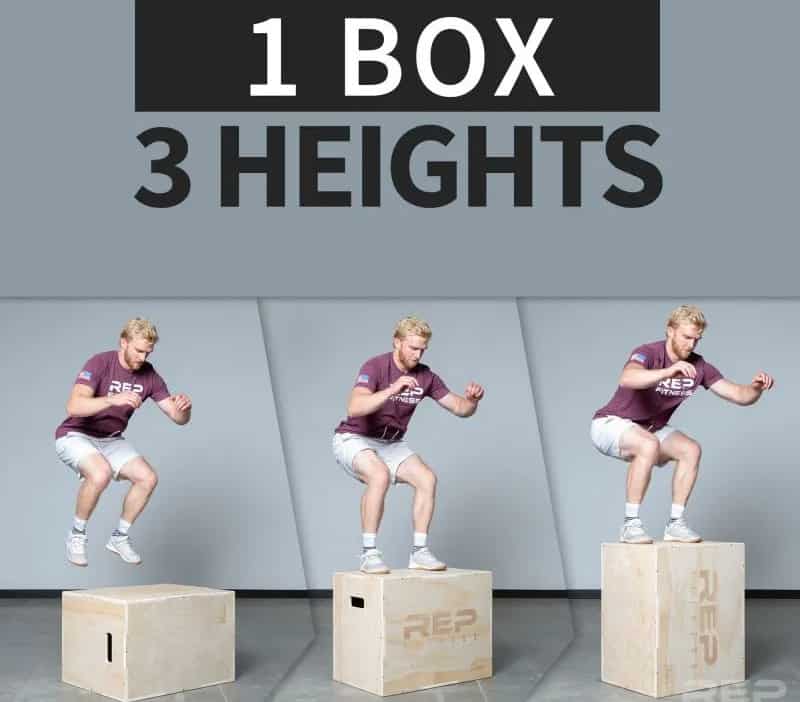 Rep 3-in-1 Soft Plyo Boxes
The most outstanding feature of these boxes is their soft foam cover that absorbs impact, but unlike many other competing softboxes, the unique inner wood core design keeps it steady on all sides. They come completely assembled and ready for use right out of the box. An excellent choice for either commercial or residential use, these softboxes go well for cross-training or HIIT workouts for step-ups, elevated pushups, jumps, and many other exercises.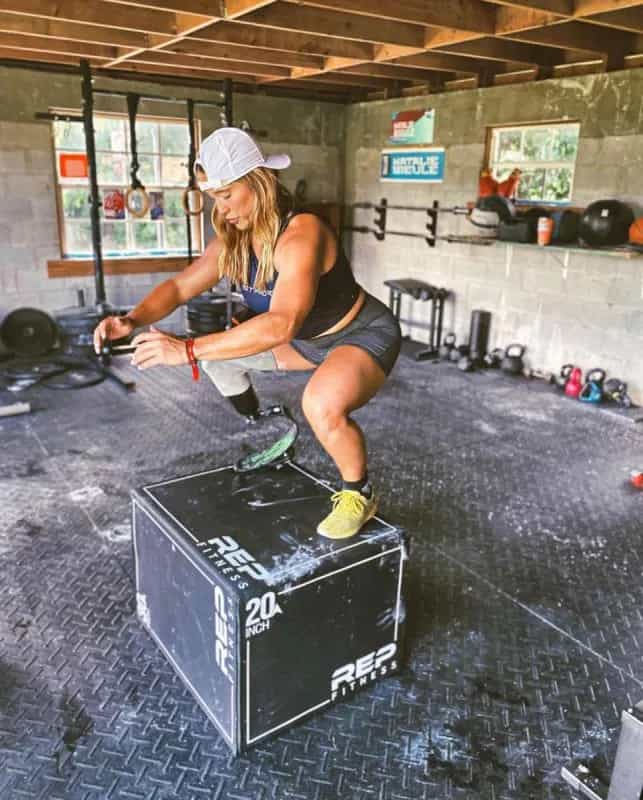 The combo-core is a blend of wood for durability and rigid foam for padding the outside. It has a durable non-slip textured vinyl cover and various size options to gratify your needs. You can now overcome your fear of missing a jump because these soft plyo boxes help prevent injuries to your shins. They weigh 27lbs, 34lbs, and 58lbs, respectively, with 400lb capacity.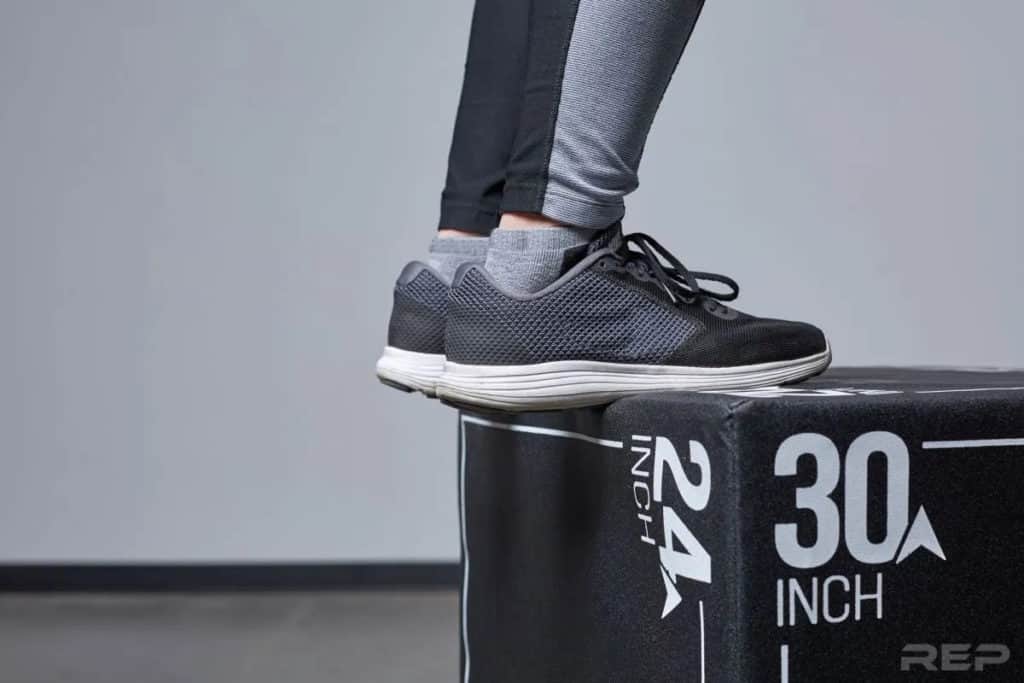 Rep Adjustable Plyo Box
The Rep Adjustable Plyo Box is made of thick steel for supreme durability and can be set to 16, 20, or 24″ high, with a 16×16″ landing area. The top and the feet are both rubberized for solid contact and non-slip surface. The lower twist-lock handles can quiet the legs, making it a practically silent jump box.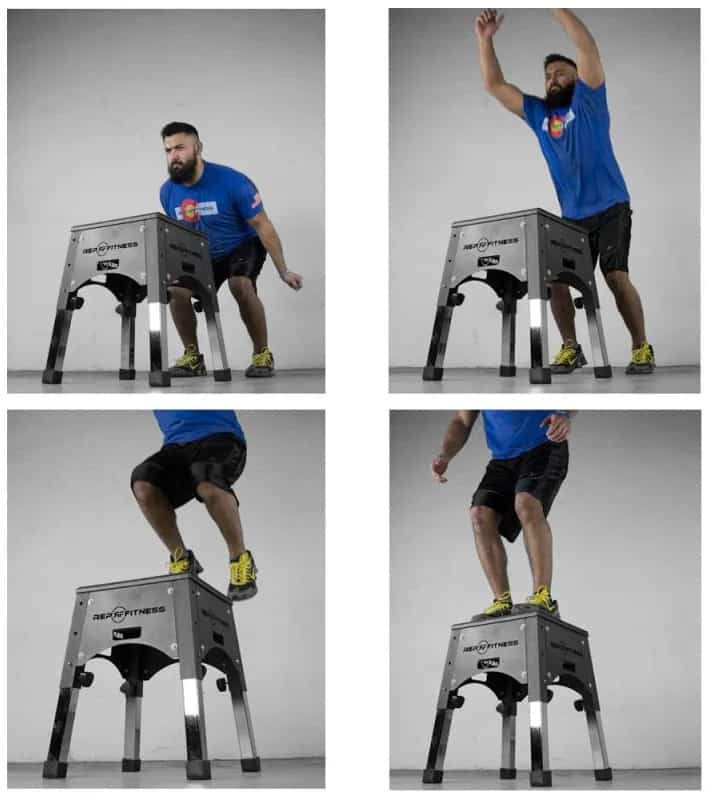 The Rep Adjustable Plyo Box is perfect for all sorts of plyometric box exercises, whether you're doing step-ups, box jumps, box squats, negative jumps, or vertical jump training. It has solid steel spring pins that lock the legs into place. It has handles on all four sides, and the box can be adjusted to three different heights – 16, 20, 24″.

Rep Stackable Wood Plyos
If you need various sizes for all of your plyometric exercises, the Rep Stackable Wood Plyos are the perfect solution. Each box is powerful enough to be used on its own or can be mixed with others to build a broad assortment of sizes. These boxes are designed to function best for all modern cross-training workouts. You can jump and step up with certainty because these boxes are rated to 400lbs.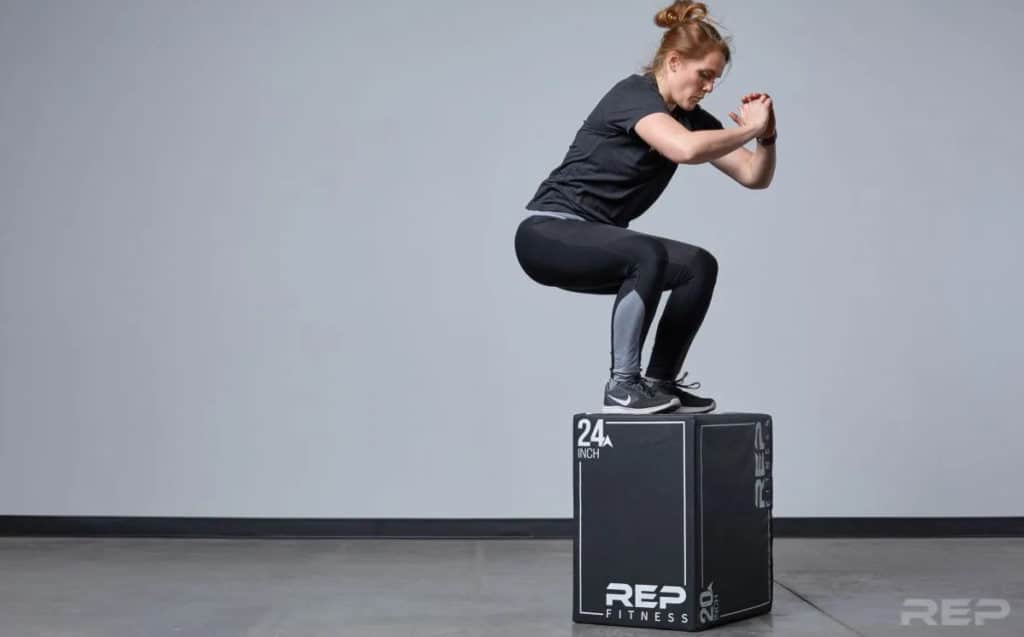 Plus, the sides and corners are rounded to help avoid scrapes on missed jumps. The unique black textured non-slip surface gives excellent traction whether the surface is wet or dry. Simply roll them around your gym with the handy carry handles. Rep Stackable Wood Plyos pile firmly on top of each other for easy storage when you are not using them.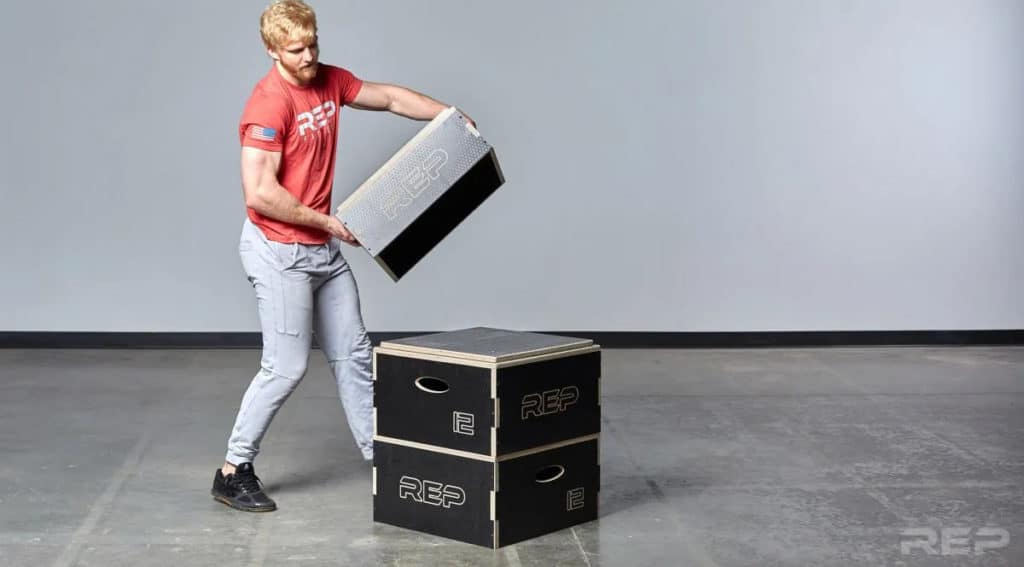 Plyo Boxes from Rep Overview – In Summary
That's our perspective on Plyo Boxes from Rep.
Plyometric boxes are an easy and powerful addition to your training routine. This exercise is high impact and targets your quads, glutes, calves, and hamstrings. It provides several benefits such as improving your power, increases vertical jumps, enhances sports performance, etc. Plyo boxes from Repo Fitness are heavy and highly tip-resistant when you jump on the edges.

Photo Credits
Product photos on this page are property of Rep Fitness.
This website is not affiliated or associated with CrossFit, Inc. CrossFit is a registered trademark of CrossFit, Inc.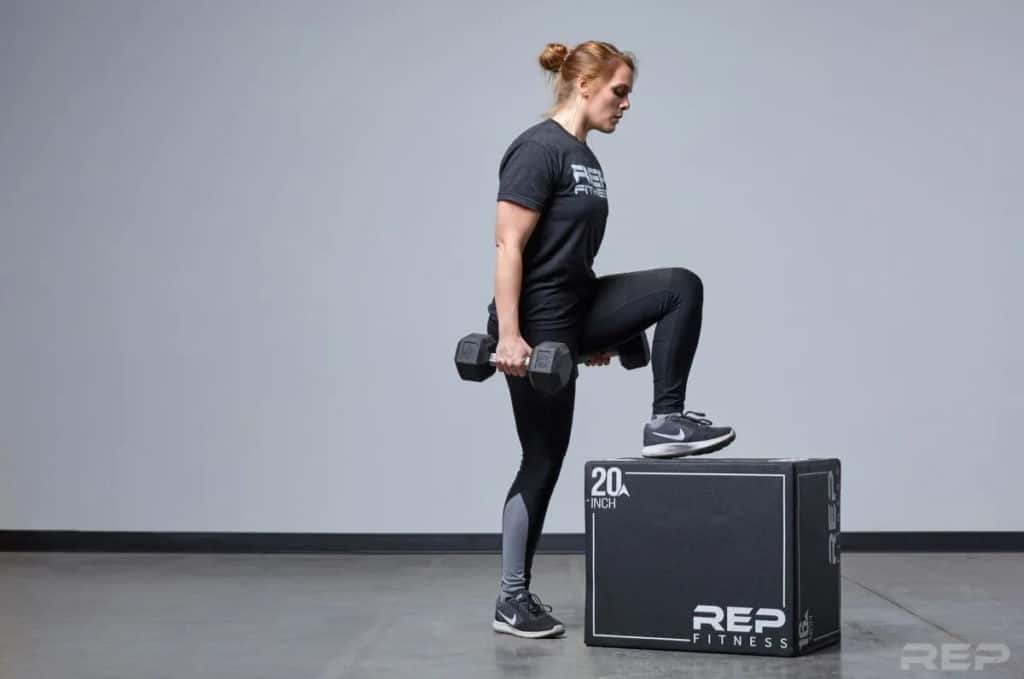 Affiliate Disclaimer
We are an affiliate of Rep Fitness and others that sell this training gear. If you buy clothing or other training gear after clicking the links in this article, we receive a small commission at no extra cost to you. This helps us to bring you in-depth information and content on these great training products.
Tim is the founder of FitAtMidlife.com – an avid gym rat for 30+ years, he's a reviewer of many, many shoes – and founder of the Speed Bag Gathering – the world's only gathering of speed bag punching enthusiasts.  See more gym reviews at Tim's YouTube channel.