Rogue has the red-hot
Echo Bike
. Grab one while they last!
Let's look at equipment options for the Murph Challenge.
The Murph Challenge is a Hero WOD in commemoration of Lt. Michael P. Murphy for his actions and sacrifice during the War in Afghanistan. The workout includes a one-mile run, 100 pull-ups, 200 pushups, 300 squats, and another one-mile run – all while wearing 20lbs of weight or body armor.
If you are planning to join the challenge, here's some of the equipment you will need for the preparation and for the challenge itself.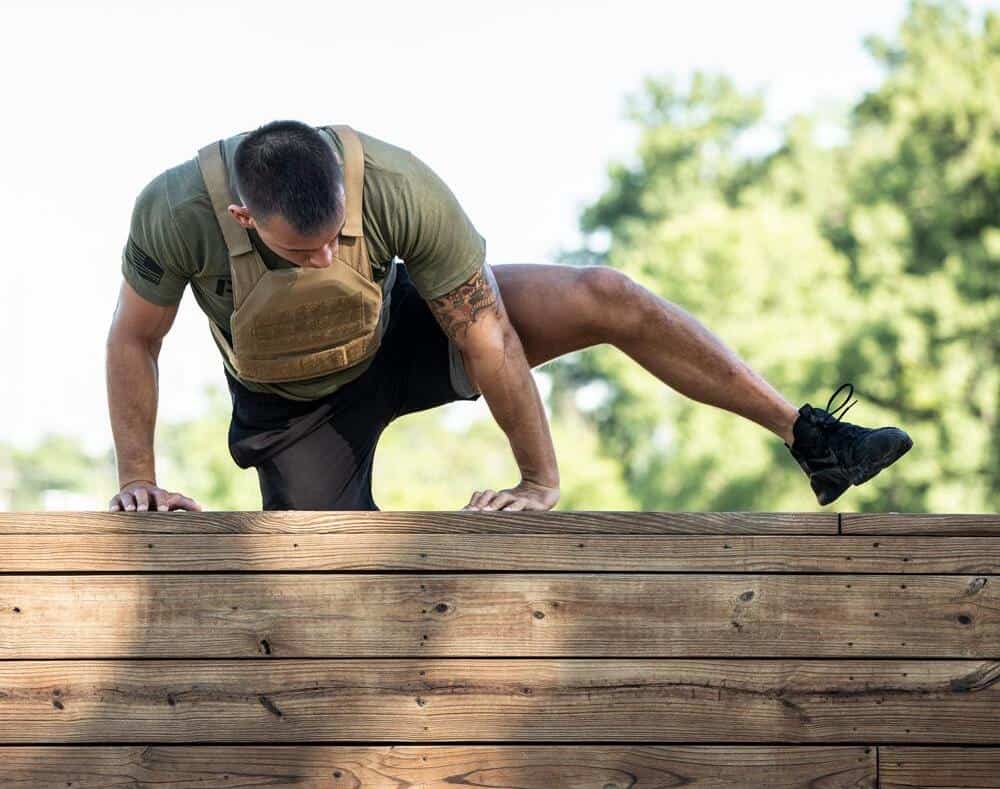 So, at a minimum you are going to need something to simulate the weight of body armor (like a plate carrier or weight vest) and a pull-up bar.
Here are some of the gear you might find helpful:
Gym Equipment for the Murph Challenge – Overview
The Murph Challenge is not an easy challenge to do, but you can crash it with the right strategy and enough preparation. Although you can break it down to make it easier and attainable, being prepared is one of the best things you can do to finish it.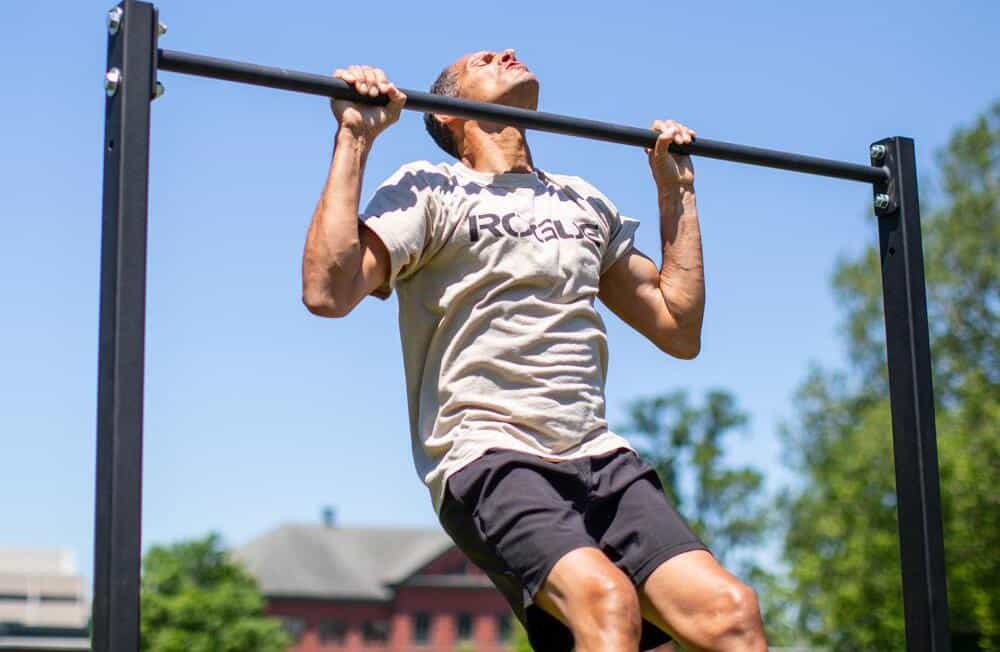 To do the challenge as LT. Murphy did, you will need a plate carrier, a vest plate, and a pull-up bar. In this article, we chose only the best and high-quality pieces of equipment from Rogue and GORUCK. This Memorial Day, get ready to feel the pain and test your limit as you remember LT. Murphy and his sacrifice.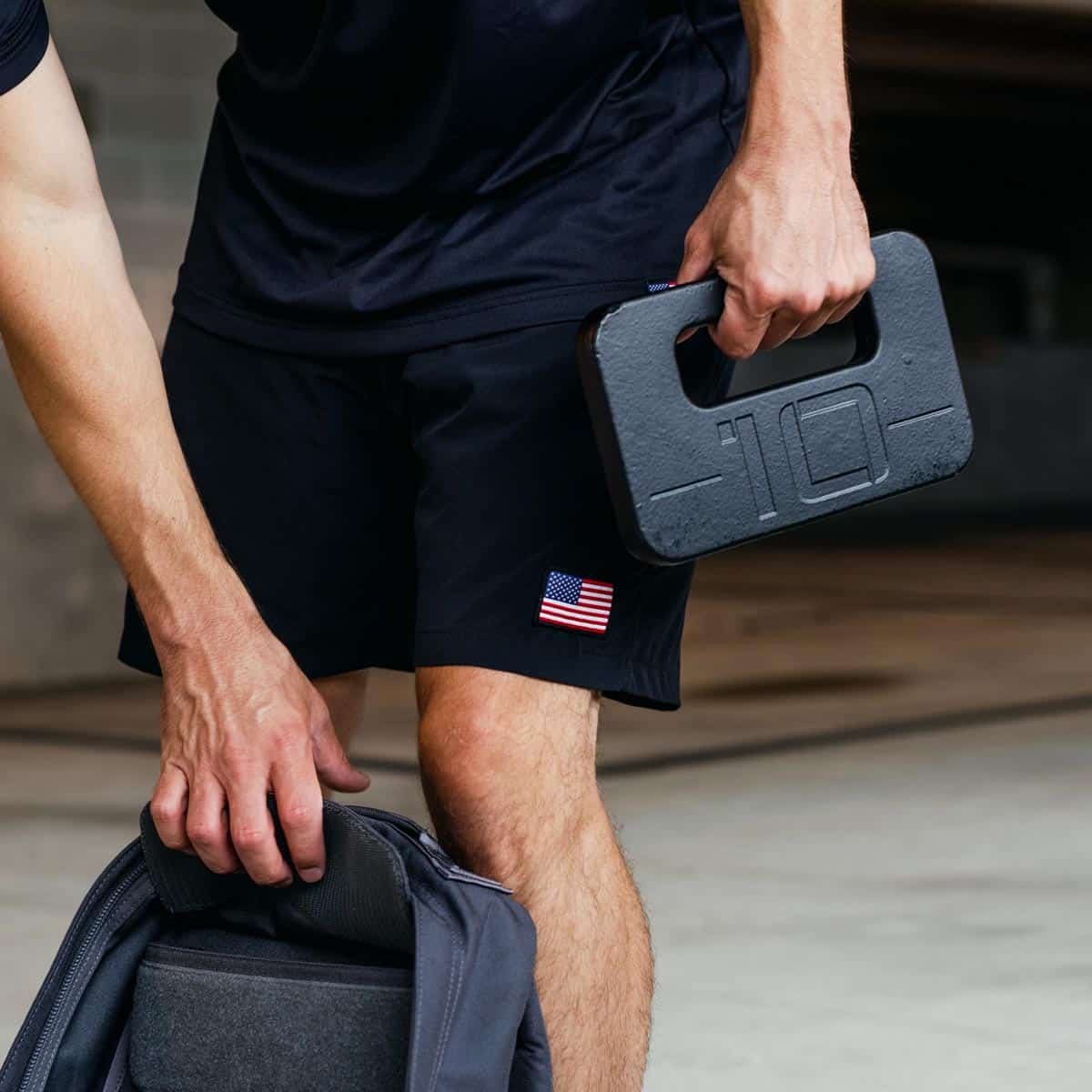 Rogue Plate Carrier
The Rogue Plate Carrier is a back-to-basics option to overpriced weight vests/tactical vests that try to over-complicate what can be an extremely effective, practical training tool. Rogue highlights quality materials, reinforced stitching, and a clean, simple look with minimal seams instead of adding loads of unessential features.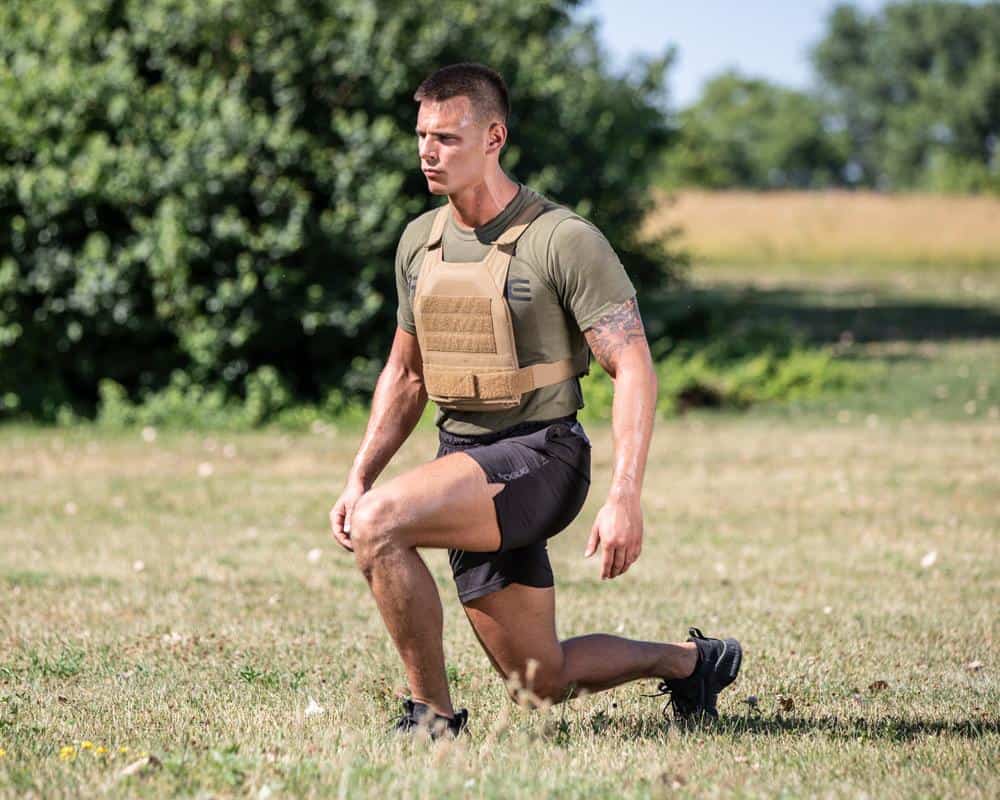 It highlights a 1000D and 500D Cordura® construction with USA Velcro® straps/fasteners and X-box reinforced stitching. Precision reinforced X-box stitching and USA-made Velcro® are included throughout the pattern for added support and superior gripping strength. You can add optional shoulder strap pads and/or patches to the vest for customization.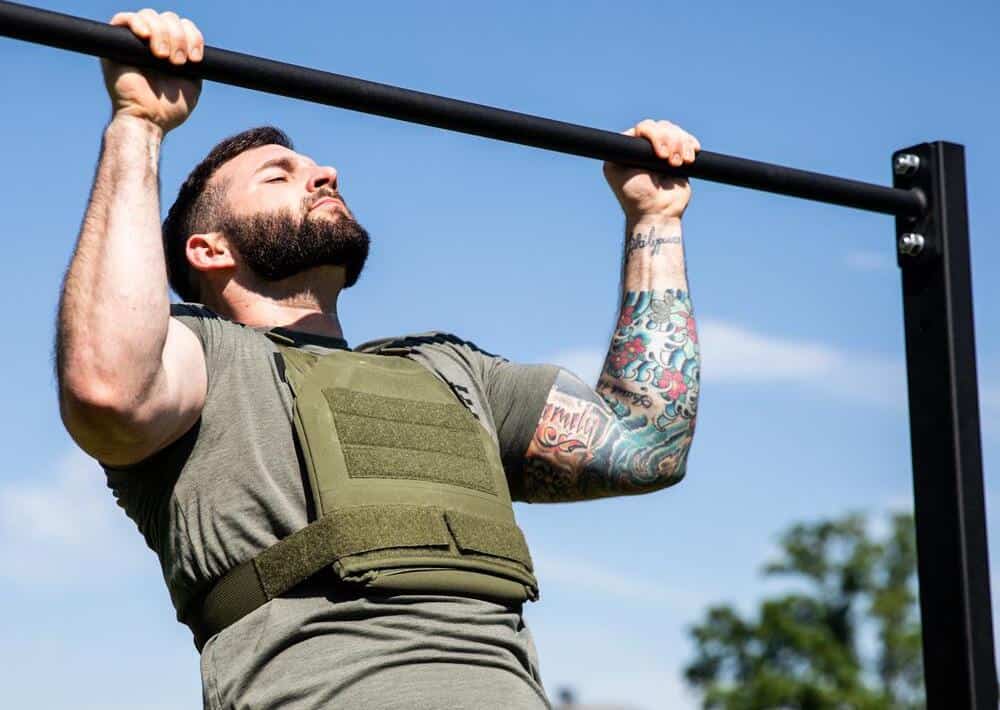 5.11 TacTec Plate Carrier
The 5.11 TacTec Plate Carrier has been the official plate carrier provider to the CrossFit Games for many years and is esteemed by some of the world's most proficient athletes for its solid execution, strength, decreased weight, and overall comfort. It can hold both medium and large ballistic plates, front and back.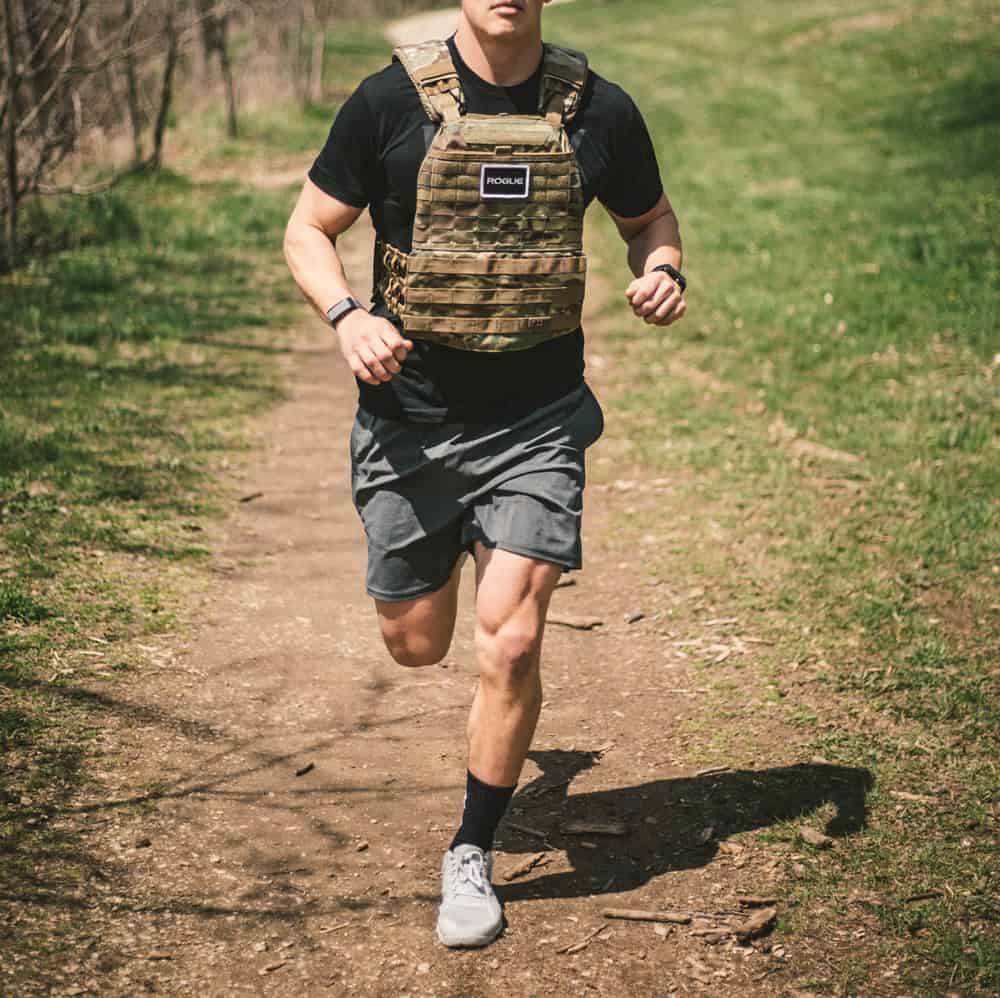 It is made from ultra-durable, water-resistant 500D nylon and is uniquely designed to give you an improved range of motion with a lightweight feel and optimal breathability. The Yoke shoulder pads decrease friction, while the adjustable tensional bands enhance stability, and innovative airflow channels and aerospace mesh guarantee sustained comfort.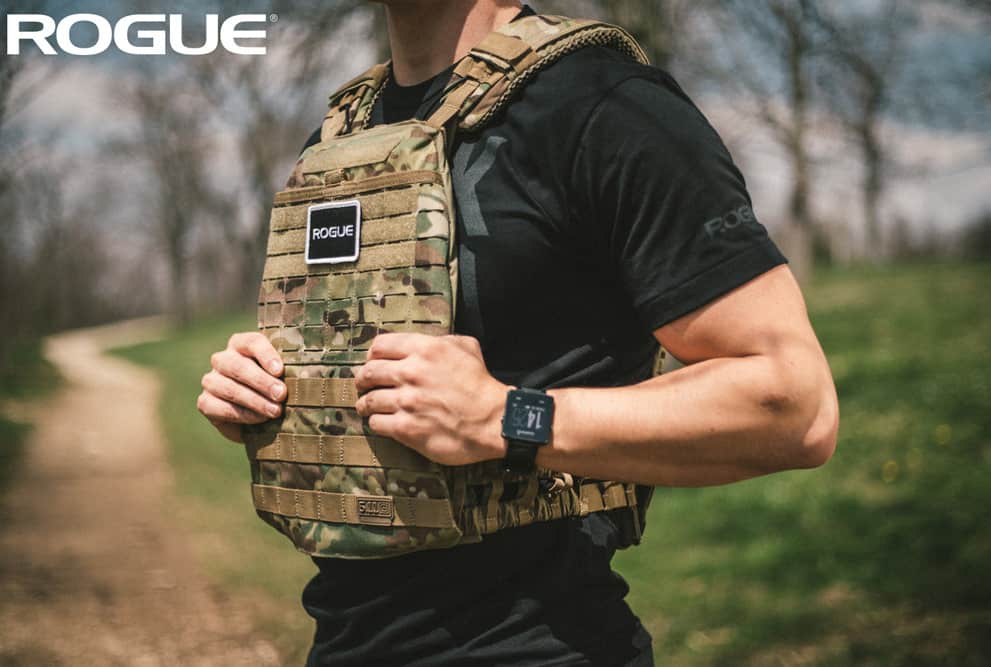 Condor Sentry Plate Carrier
The Condor Sentry Plate Carrier is a minimal-bulk, high-performance tactical vest that is durable and lightweight. It is well fitted to a wide scope of training programs because of its relaxed fit and greater range of motion. It has heavy-duty webbing for modular attachments, a padded mesh interior lining for optimal breathability, quick-adjust cinches, and fast-release buckles.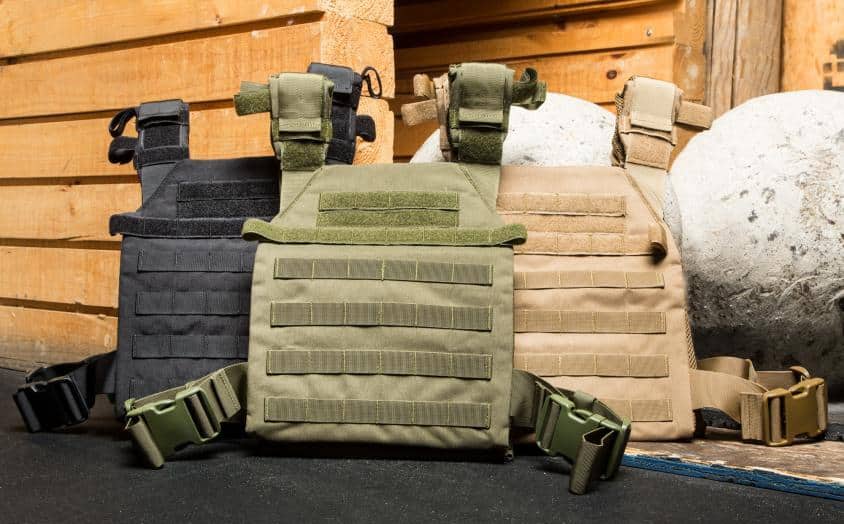 The adjustable sizing covers a waist size range of 30" to 46" and the easily accessible plate pockets are specially designed to hold both medium and large ESAPI standard plates up to 10.25″ x 13.25″. It also has an emergency drag handle and removable padded mesh shoulder pads with hook and loop guides. You can also customize the patches according to your mood or preference.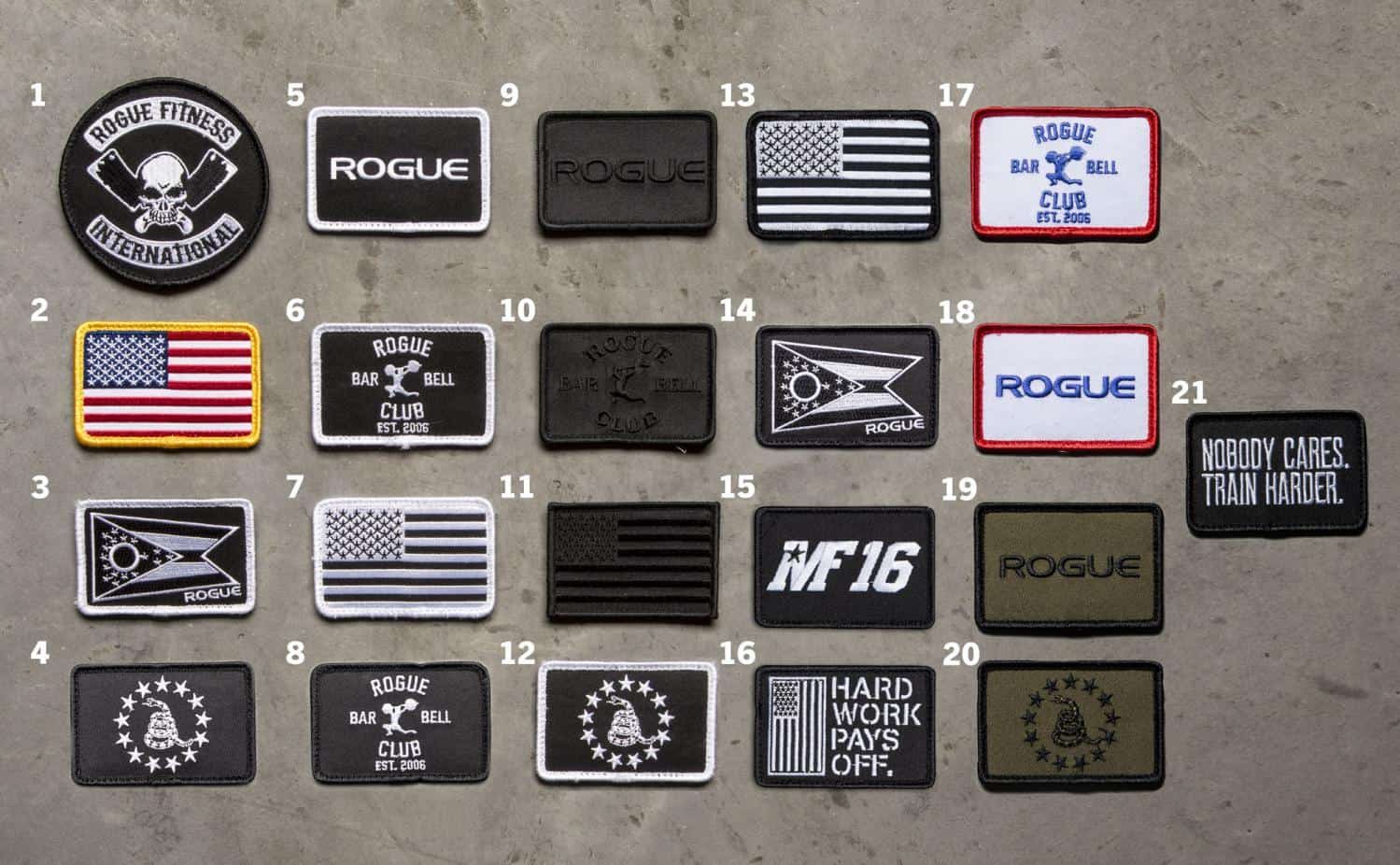 The Rogue USA Cast Weight Vest Plates are a custom, double-curved shape that dramatically increases your comfort when wearing a weighted vest. A black powder-coat finish forms a tight grip and refined look, and exclusive Rogue branding is cast directly into each mold, along with the weight measurement. The ergonomic design helps keep the plate tight to your chest while reducing discomfort and allowing clearer breathing as you train.
The USA Cast Weight Vest Plates are sold in pairs and available in four weight increments (5LB, 7.5LB, 10LB, and 20LB), each measuring 11.25″ in length and 9.25″ in width. They go well with the Rogue Plate Carrier, 5.11 TacTec Plate Carrier, Condor Sentry Plate Carrier, and other similar weighted vests.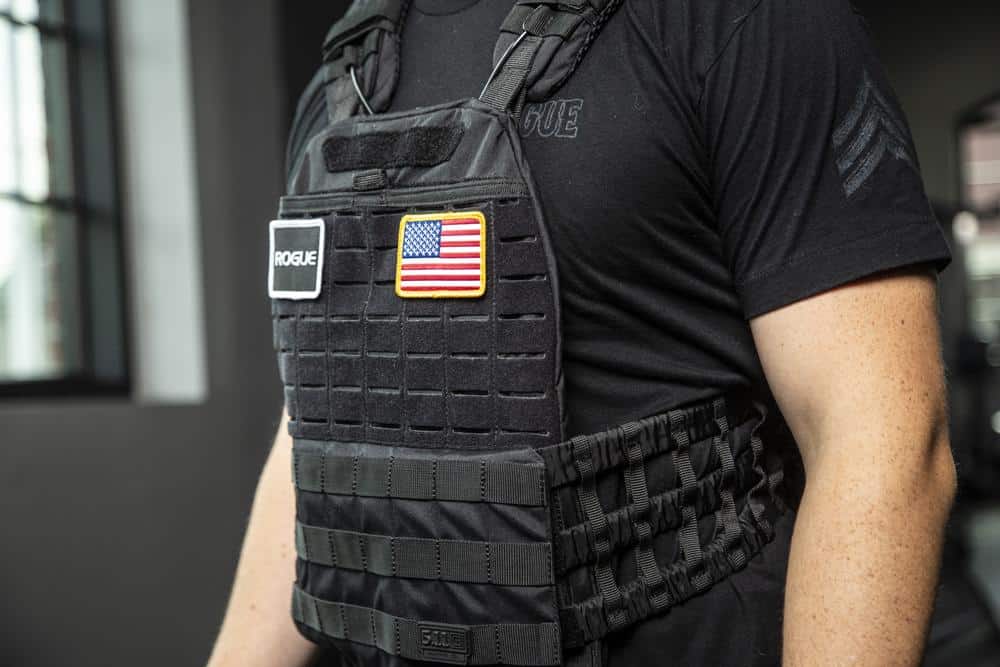 Rogue Echo Weight Vest Plates
Offering a similarly ergonomic, military-inspired design, the Rogue Echo Weight Vest Plates are the economy version of the premium USA Cast Weight Vest Plates. The double-curved shape of these plates provides much greater convenience and freedom of movement than traditional flat metal vest plates.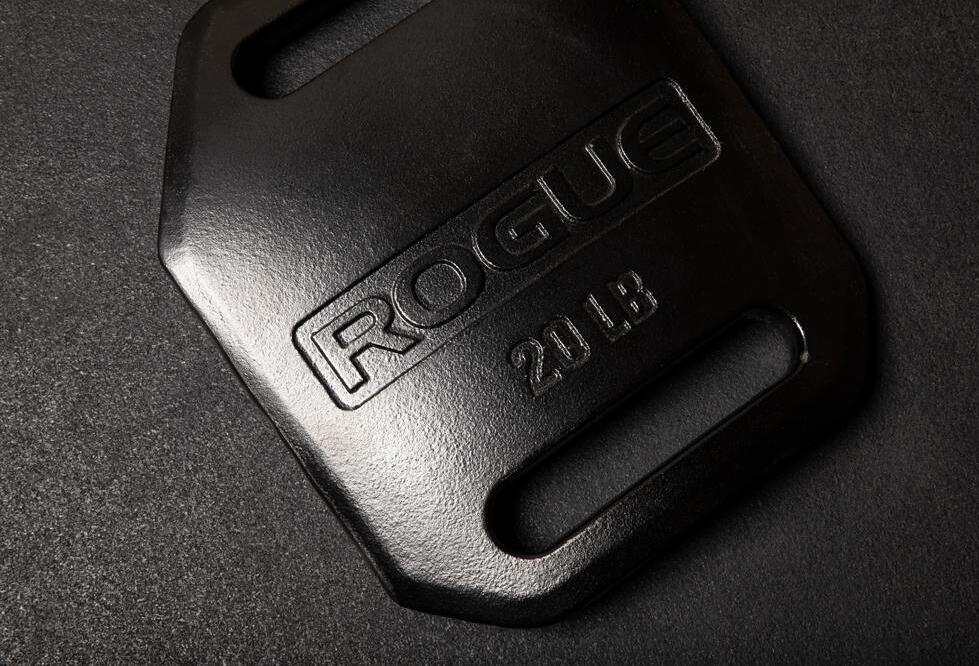 The black electro coat, or E-Coat finish, on these plates is an electrically applied paint coating regarded for its superior corrosion resistance, cost efficiency, and green benefits. They are available in three weight options, each measuring 11.3″ in length x 9.3″ in width. The 5LB plate pair produces a total vest weight of 12.5 LB, the 10LB pair adds up to 22.5 LB total, and the 20LB pair tops out at 42.5 LB.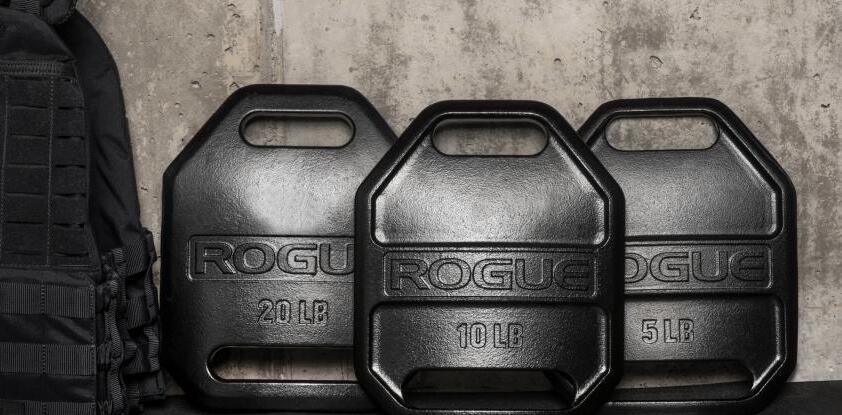 Box Weighted Vest
The Box Weighted Vest has a durable military-grade construction backed by Lifetime Warranty against flaws in materials and craft. This one-size-fits-all tactical training vest highlights panels on the back and front and gives enough coverage with minimal bulk.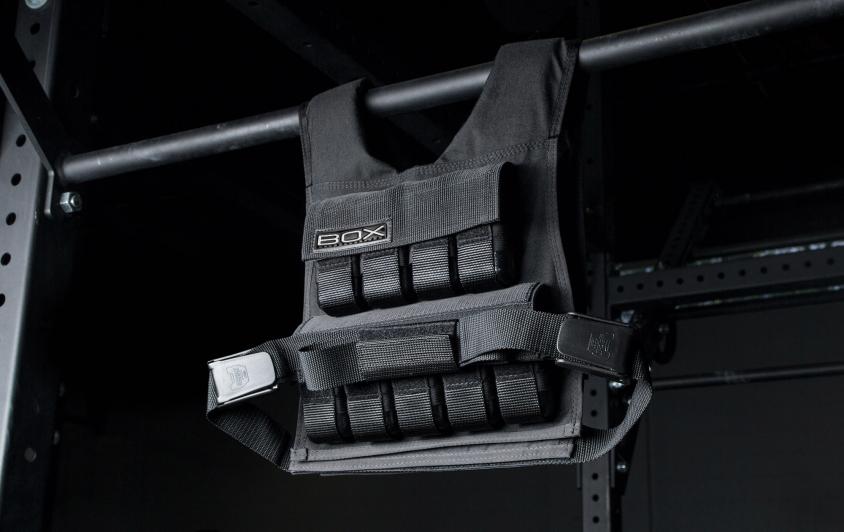 The slim 3.25" wide shoulder straps are improved for overhead and forward arm movement, and the kipping-proof Box belt system is simple to adjust and completely removable. The military-grade exterior materials are also moisture-resistant for a cool and dry feel in any training conditions.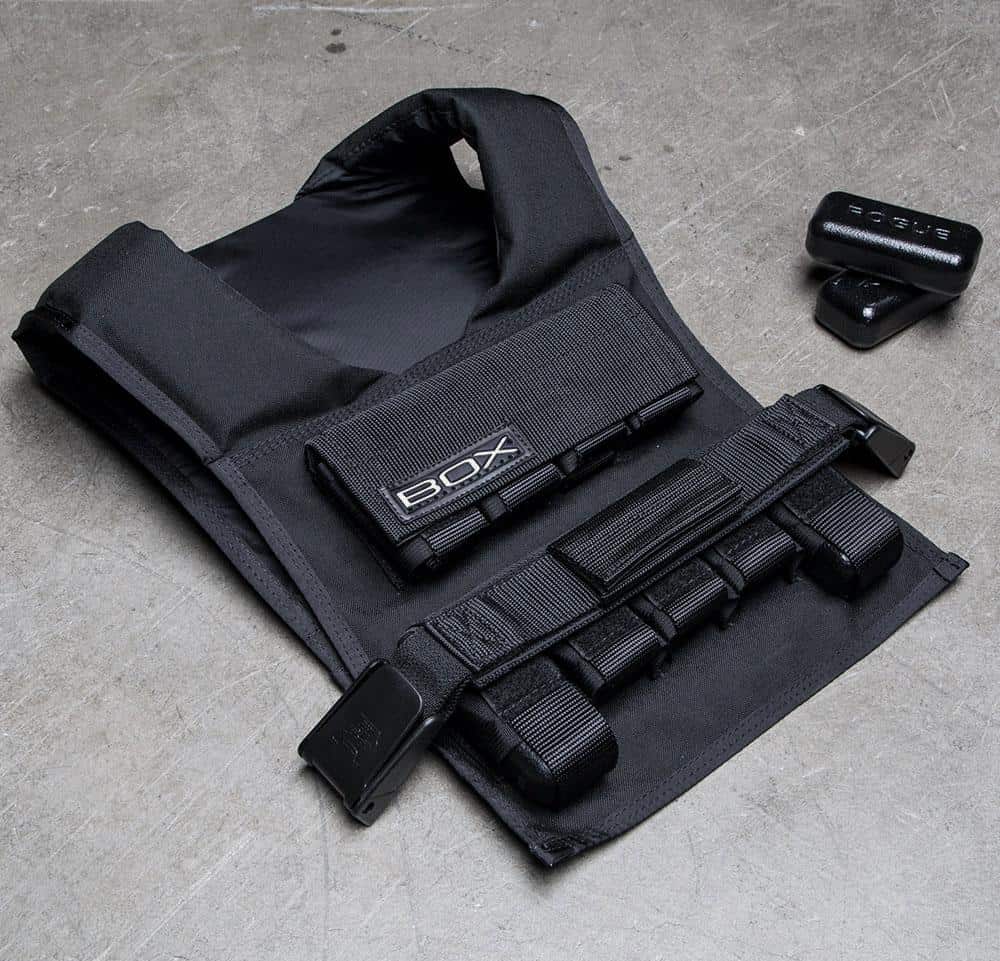 GORUCK Training Weight Vest
GORUCK uses shoulder straps from the Rucker and then sized and contoured them to make their Training Weight Vest the most comfortable weight vest ever. It is also made comfortable to the skin that you can wear it shirtless without friction. The vest is made compatible with Ruck Plates up to 2x 30 LBS and other training plates while maintaining the stability of the weight even while running.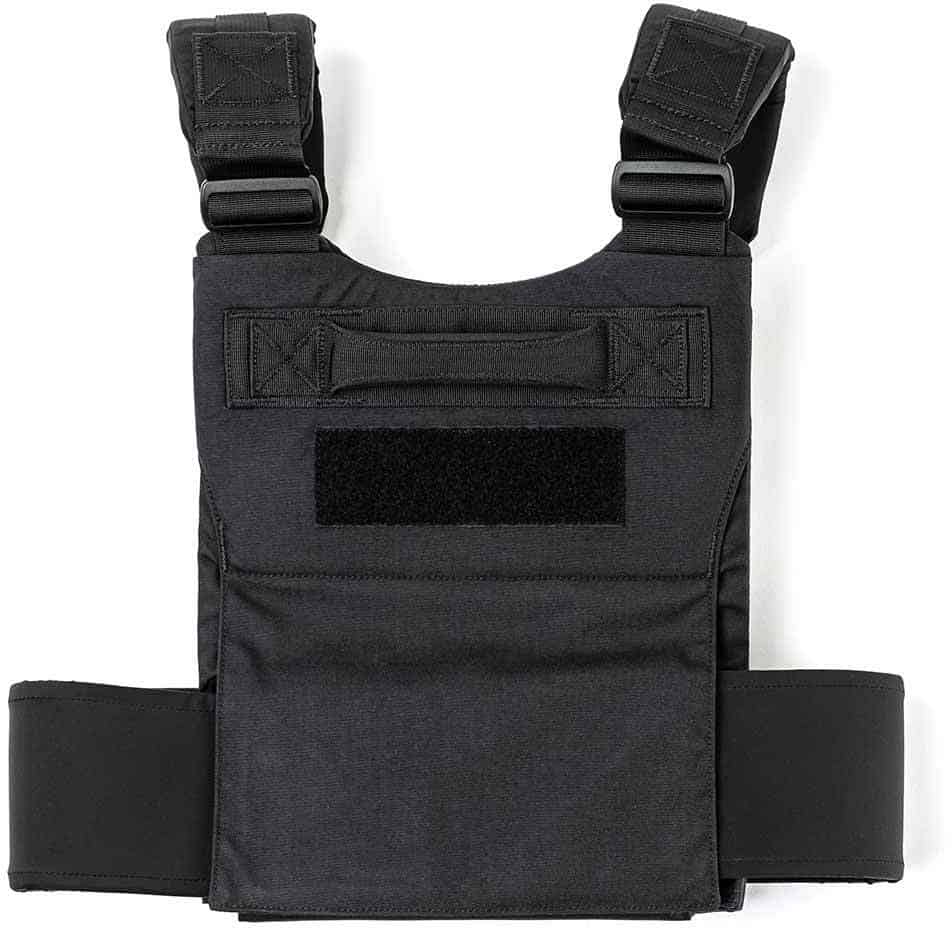 It uses 500D CORDURA® as the primary material, while the interior material uses 210D CORDURA®. The Velcro plate closure that holds the plate in place uses 1050 ballistic nylon. The two waist belt straps measure 19.5″ each while the plate pocket measures 9.5″W x 11.6″H. It comes with Scars Lifetime Guarantee, which means GORUCK will fix it just in case you break it.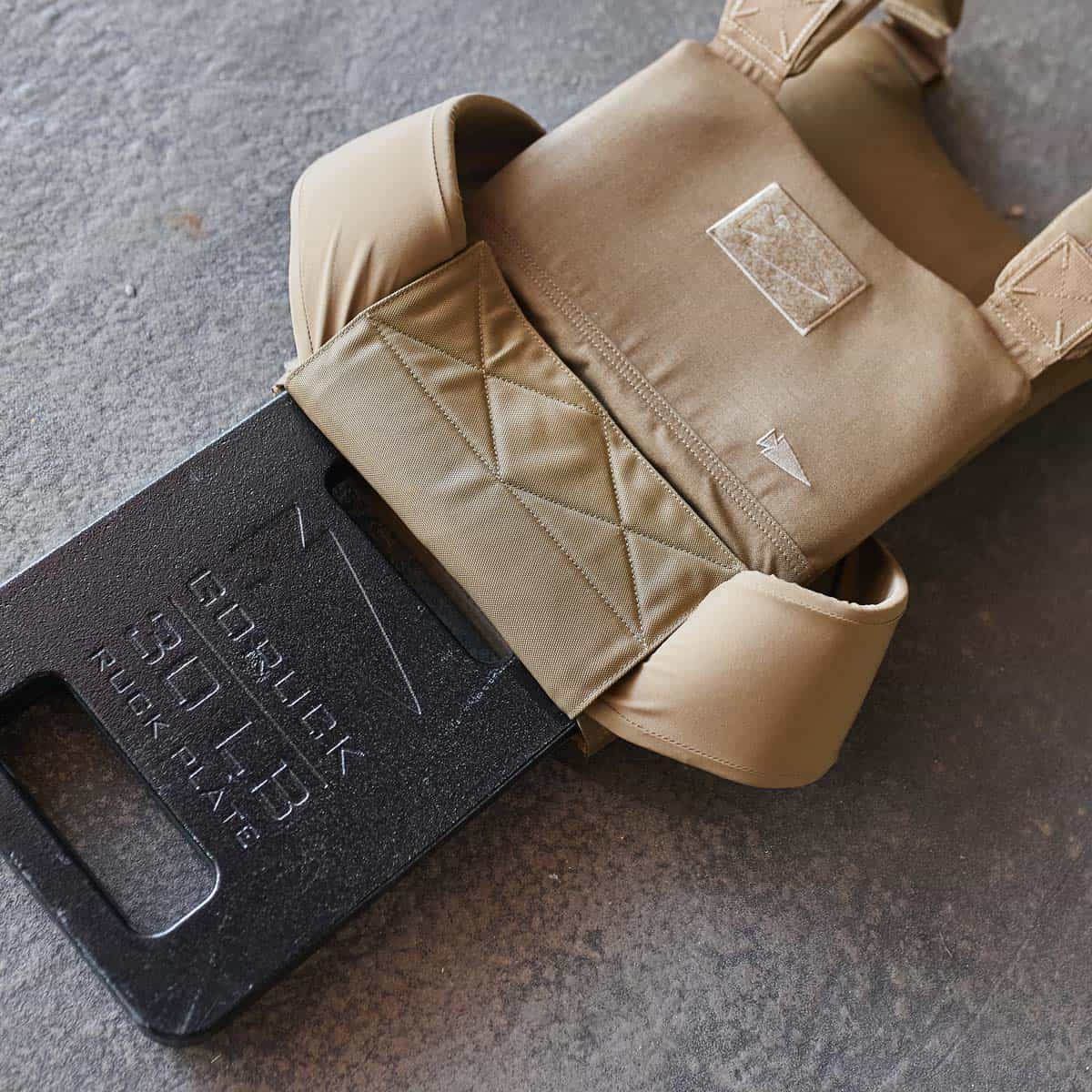 GORUCK Ruck Plate Carrier 2.0
The GORUCK Ruck Plate Carrier 2.0 comes with improvements from the previous version and is the most streamlined and effective way to add weight to your workouts. It has more padding, ergonomic lumbar support, and an all-new, less coarse fabric used on the back panel and underside of the shoulder straps. The lumbar padding supports the natural curve of your back, while the shoulder straps have more padding so you can carry heavier loads easily.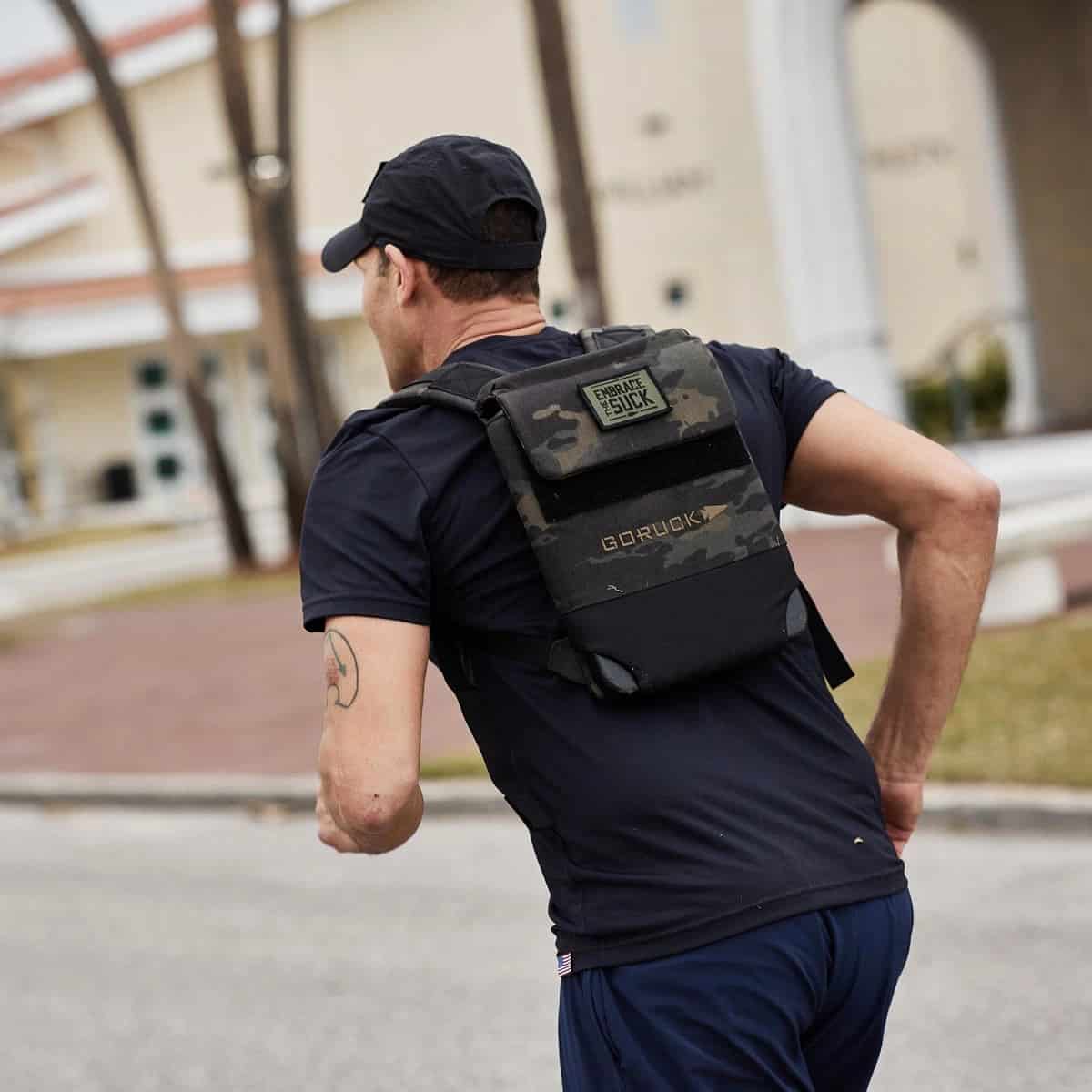 It comes with a Training Sternum Strap that is made tougher and wider to disperse heavy loads better. The 2.0 has a durable ballistic nylon bottom panel with a padded top lid to protect you during dynamic movements.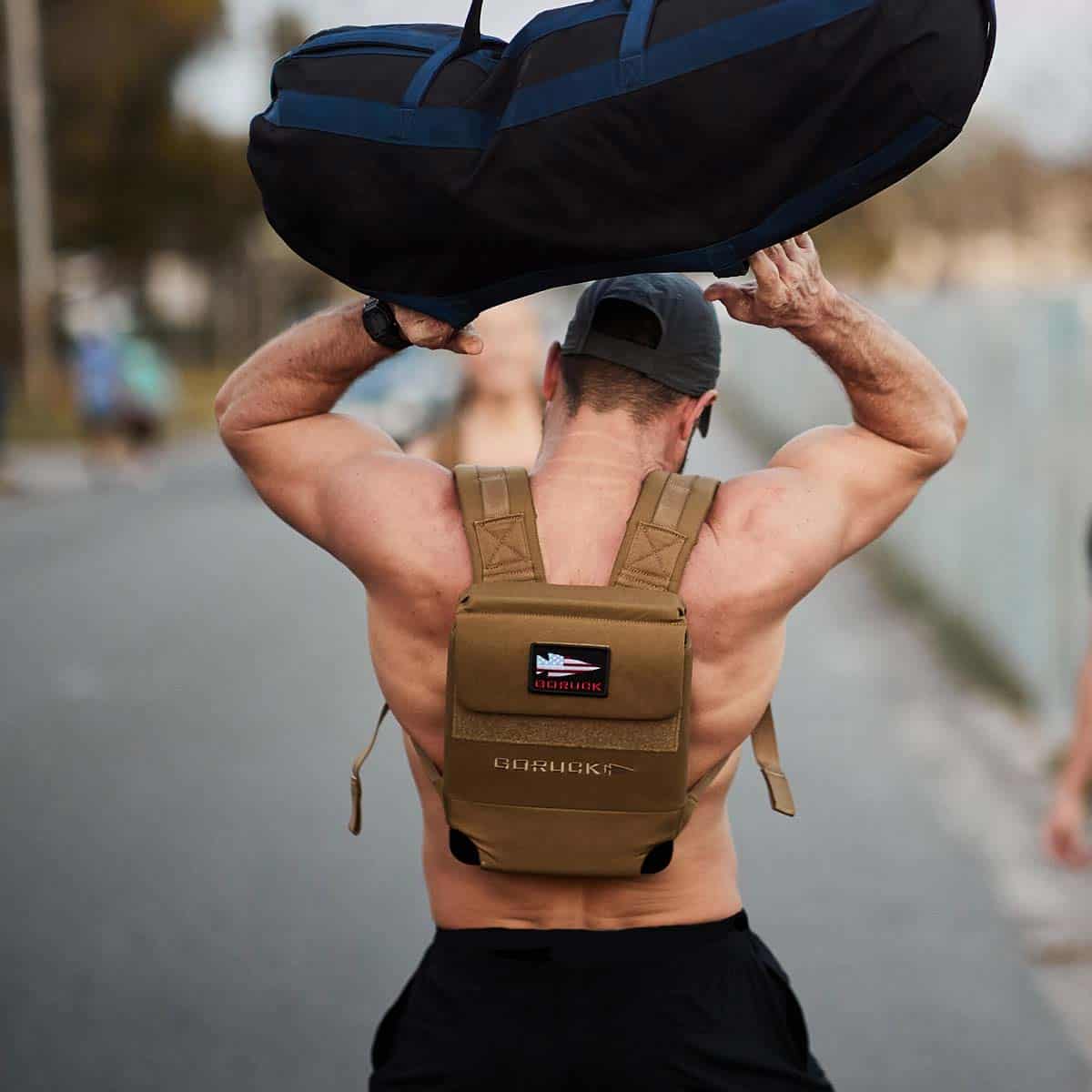 GORUCK Ruck Plate (20lb)
If you are new to rucking and over 150 lbs, the GORUCK Ruck Plate (20lb) is perfect for you. This plate is compact and fits smoothly in the Rucker® and Ruck Plate Carrier™ for excellent stability. GORUCK Ruck Plate embodies the very best of American production.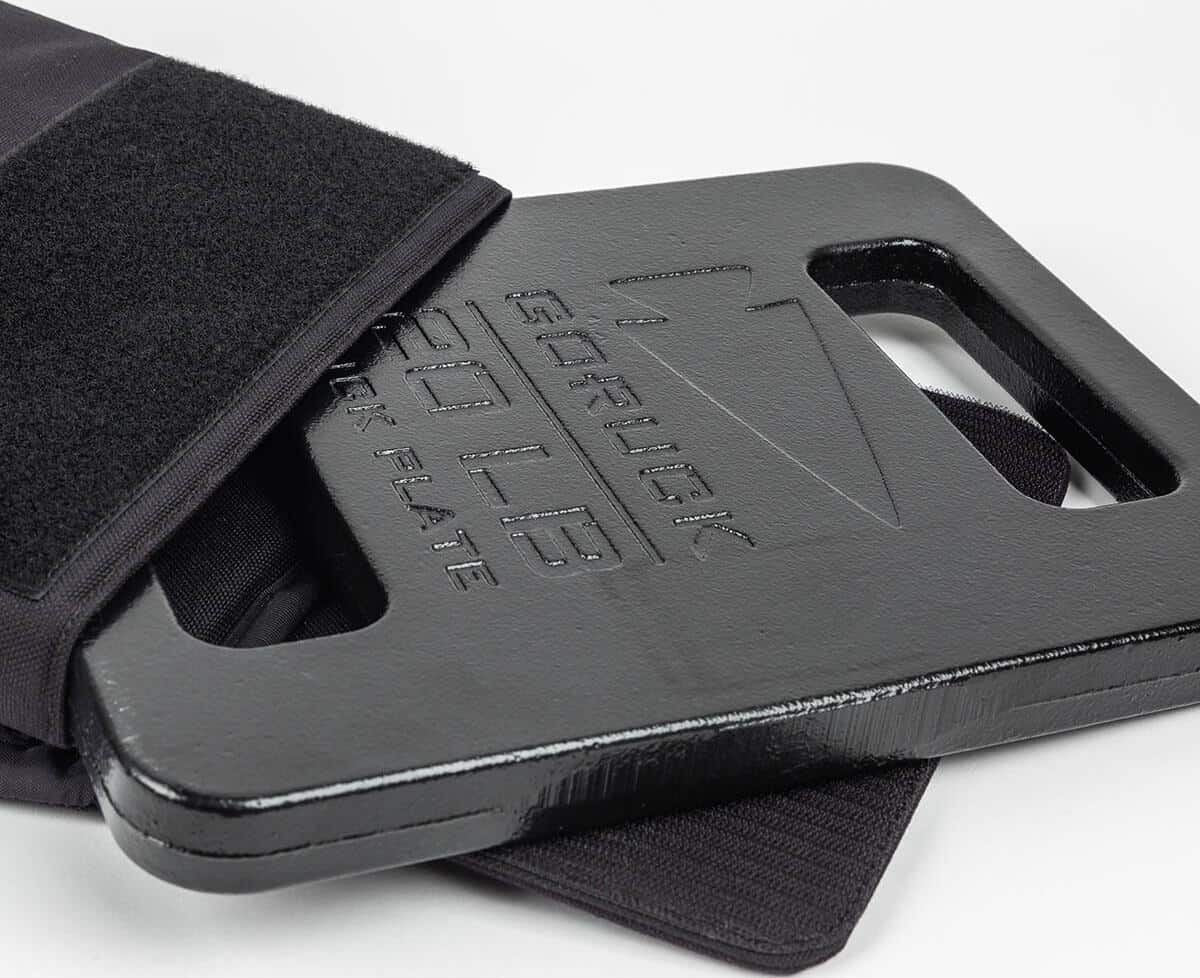 It has a powder-coated matte black with a break strength of approximately 90,000 lbs. It measures 9″ x 11.5″ x .92″ and has ergonomic, rounded edges and handle openings.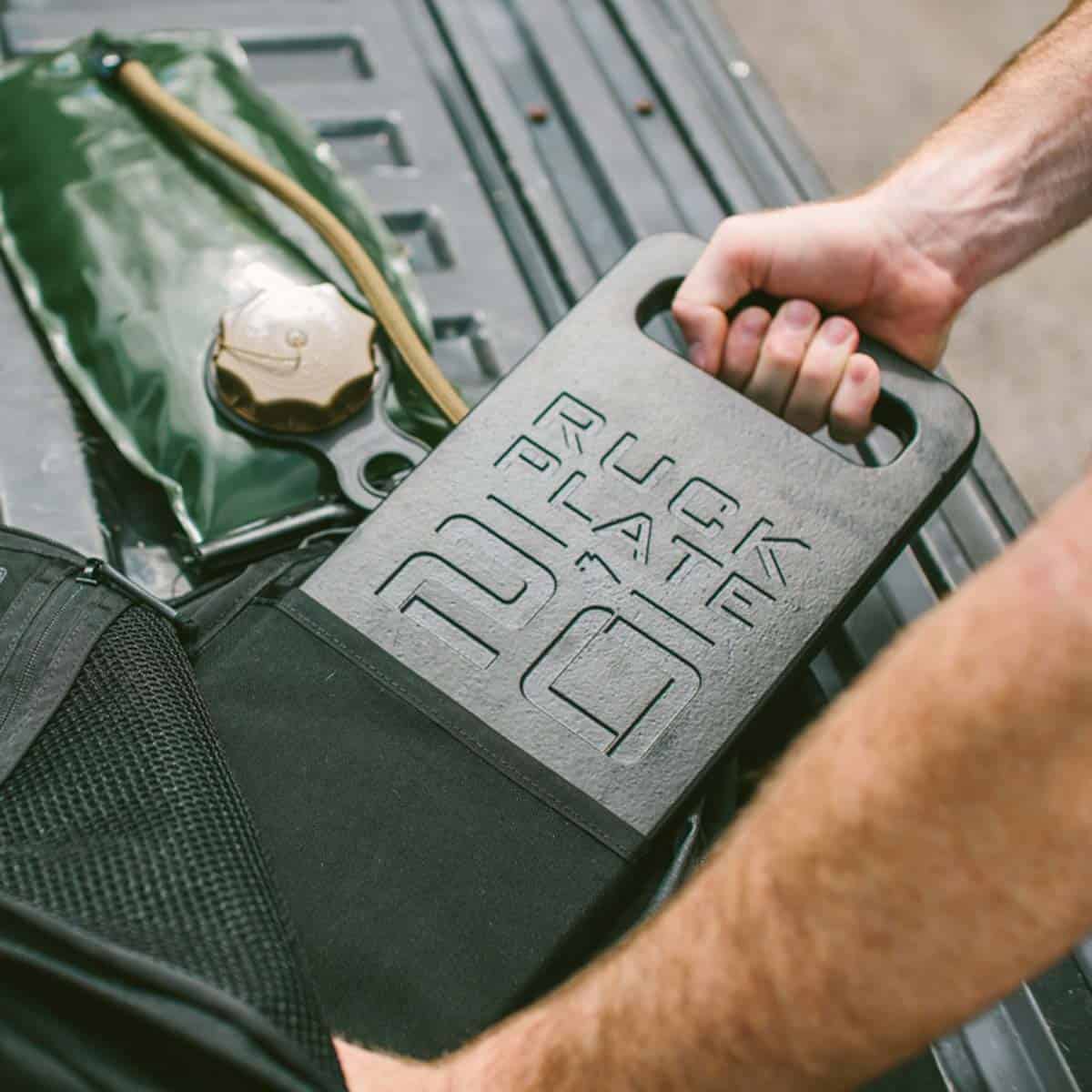 Mil Pull-up Station
The Mil Pull-up Station is a standard, dedicated pull-up stand for any gym and is also used in the Army Combat Fitness Test (ACFT) for completing the Leg Tuck movement. It has an extended length of 62″ which forms more space for doing the Leg Tuck movement. It is made in the USA with US steel using 2×3" 11-gauge steel tubing plus imported rubber for the attachable step.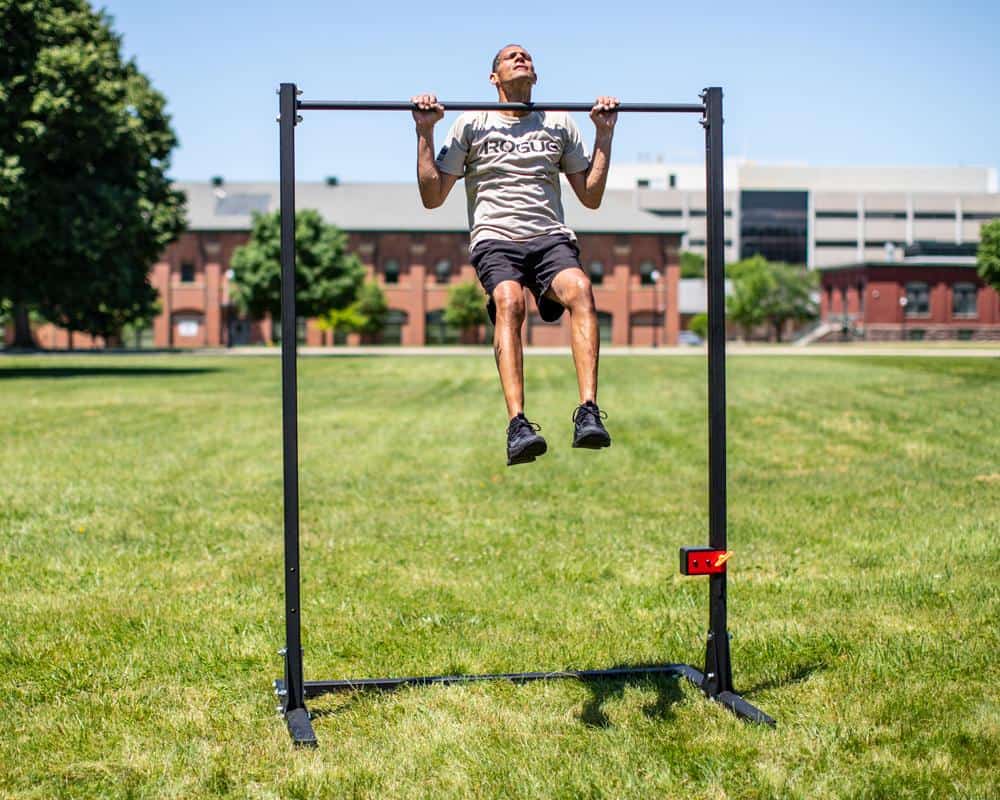 The stand is completed in a black powder coat with laser-cut Rogue branding on the rear cross member tube. The detachable step has an MG Rogue Red finish and a protective rubber insert for its metal edges. The MIL Pull-Up Station has a total footprint of 48" x 67" and an upright height of 93", and the pull-up bar position is adjustable from 90" down to 86".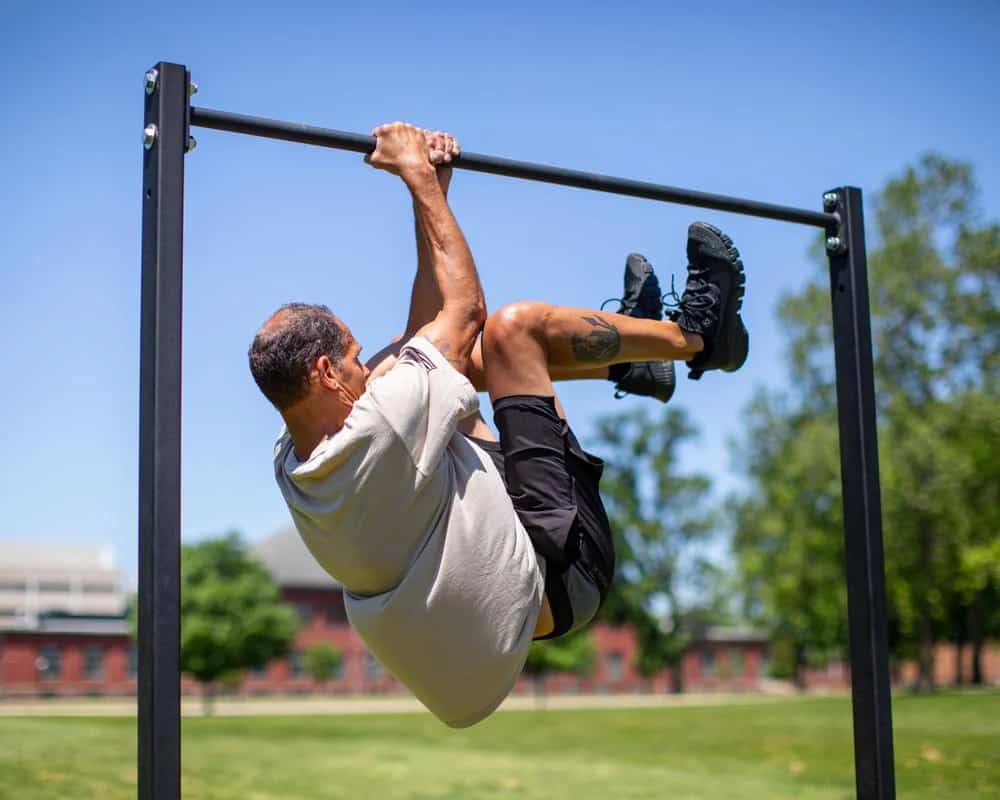 Rogue Jammer Pull-up Bar
The Rogue Jammer Pull-up Bar allows you to have the same high-quality equipment from the gym into your own house. This pull-up bar attaches above any door frame on a wood stud wall, and it is simple and built to a higher standard. You can choose between a knurled or smooth finish, and you can also choose different textures of black powder coat, stainless steel, or any one of the ten exclusive Cerakote color finishes.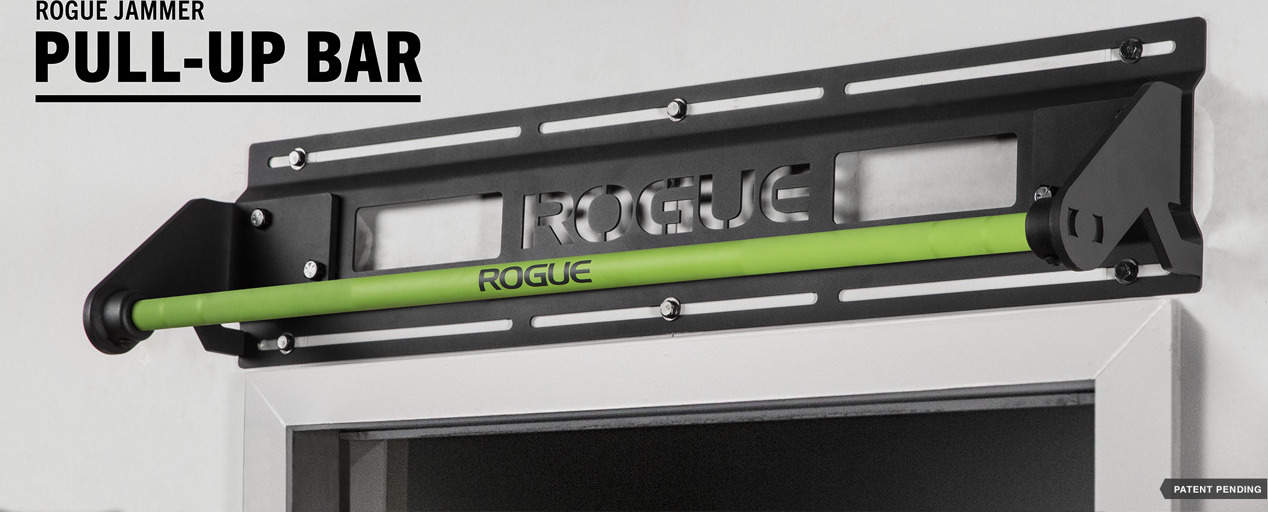 It incorporates a 43″ (Stringer) long stringer, 0.375″ thick laser-cut steel brackets, and a custom-finished 1.125″ diameter bar. It uses 0.375″ thick laser-cut steel brackets, 43″ (Stringer) long (8.875" tall) with Rogue branding, and the same style of pull-up bar included in Rogue's Socket sets.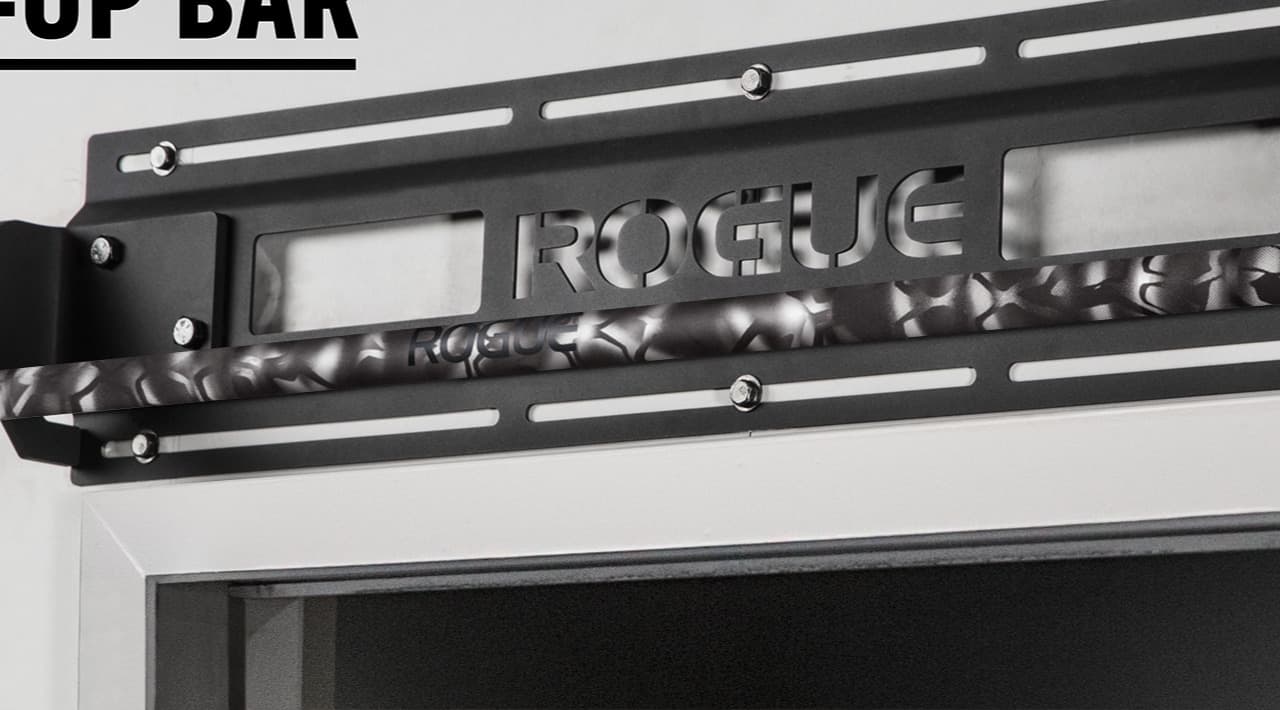 Rogue Monster Lite Socket Pull-up Bar
A curved or cambered bar can present a valuable change-up for experienced, beginner, and rehabbing athletes. This design helps decrease tension on the wrists during high-rep workouts. The shaft of the Pull-Up Curl Bar is chrome plated and polished with a black "E-coat" — the first pull-up bar Rogue has offered with this unique finish. E-coating produces an outstanding even finish without dripping, pooling, or gaps.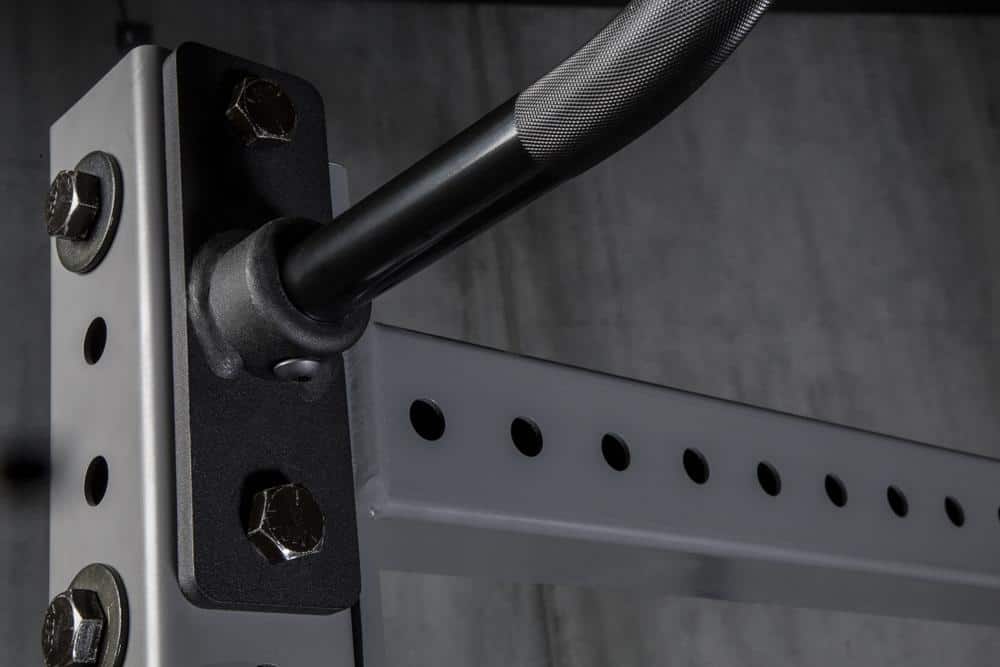 It is made in the USA using quality US steel or US & CAN steel and state-of-the-art machinery at the Columbus, OH plant. The bar measures 28.5MM, and the total weight of the bar plus sockets is 17LB. This version of the Socket Pull-Up Curl Bar is compatible with any 43″ space on a Rogue Monster Lite Series rack or rig. It is furnished with a pair of long-lasting mounting sockets to guarantee its durability after installation.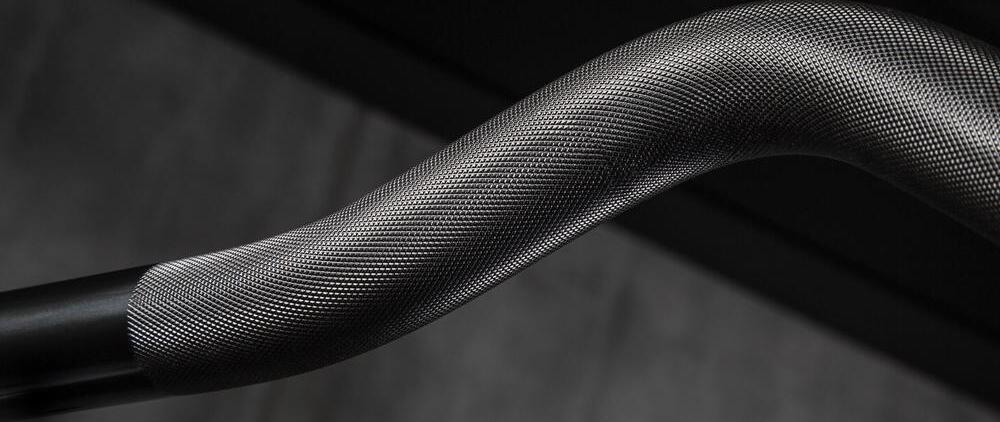 Rogue P-3 Pullup System
The functional Rogue P-3 Pull-Up System is a single, compact unit created for ceiling mounts (for a ceiling height of 8 to 9'6") or wall mounts. It provides you the option of a bar position at either 14" or 22" from the wall/ceiling when attached firmly to concrete or wood studs. It is made of 11-gauge US steel and manufactured in Ohio.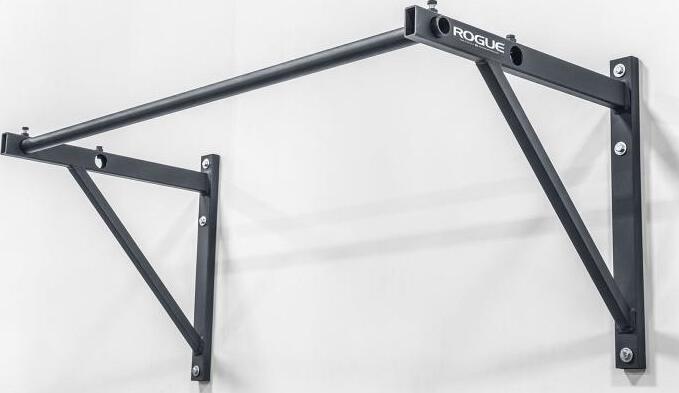 The complete P-3 Pull-Up System comes standard with a 52" Pull-Up Bar and can serve as a reliable rings station, as well. You can daisy-chain additional brackets together by spacing them out 3-4 feet apart, then running a single 1" steel tube/1.25" OD pipe through all of the brackets.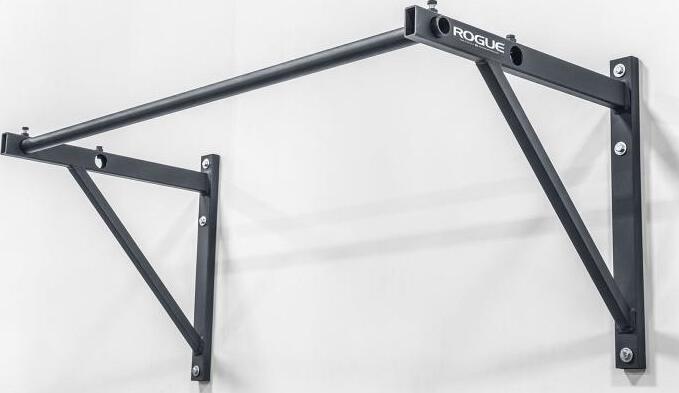 Gym Equipment for the Murph Challenge Review – In Summary
That's our roundup of Gym Equipment for the Murph Challenge.
Rogue is one of the front-line leaders in the fitness industry, while GORUCK builds the best and the most rigid rucking gear to equip the rucking revolution. Both are esteemed and have established a respected name in the fitness industry. If you are planning to take the Murphy Challenge on Memorial Day, choosing Rogue and GORUCK equipment will not only be useful on that day but even in the years to come.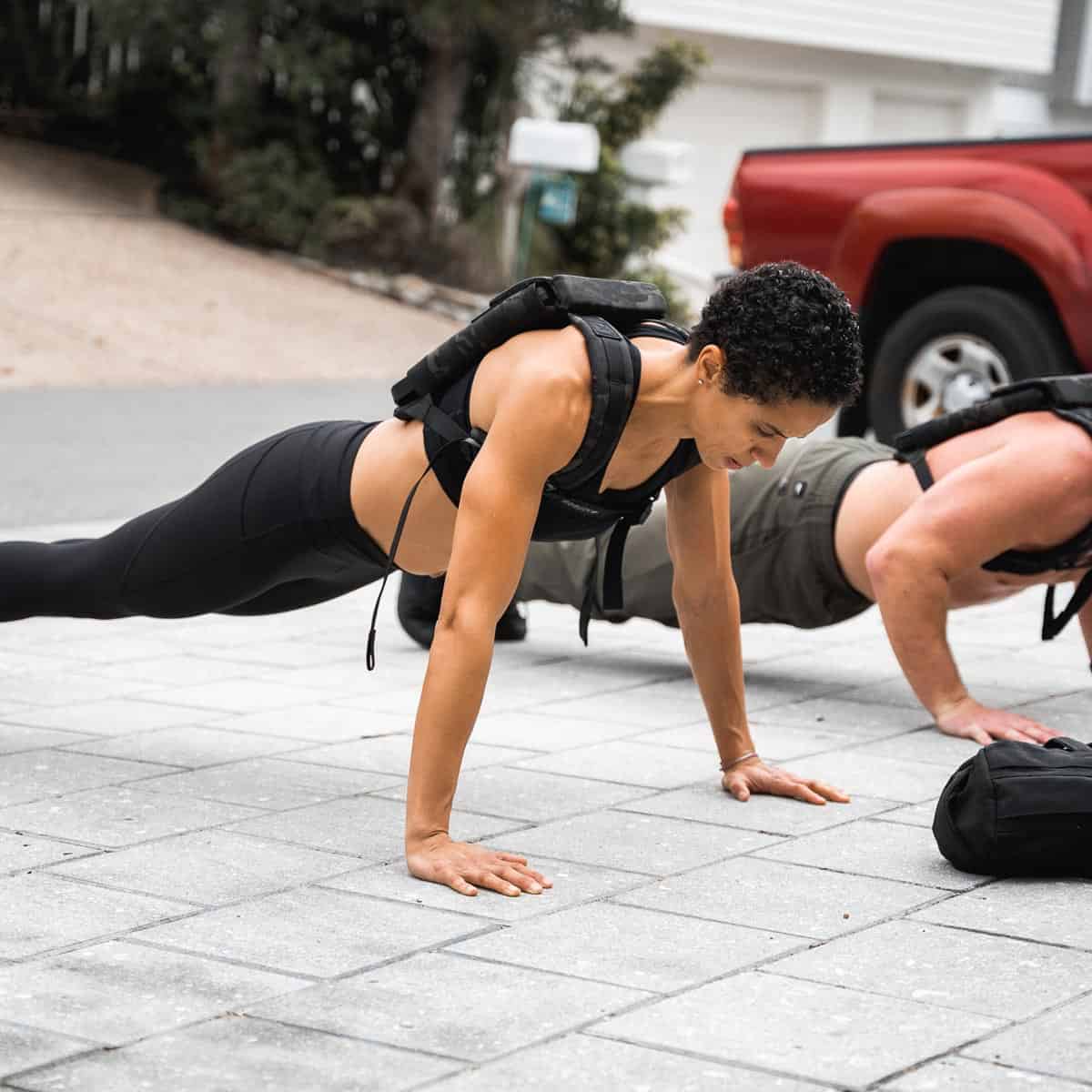 Photo Credits
Product photos on this page are property of Rogue.
This website is not affiliated or associated with CrossFit, Inc. CrossFit is a registered trademark of CrossFit, Inc.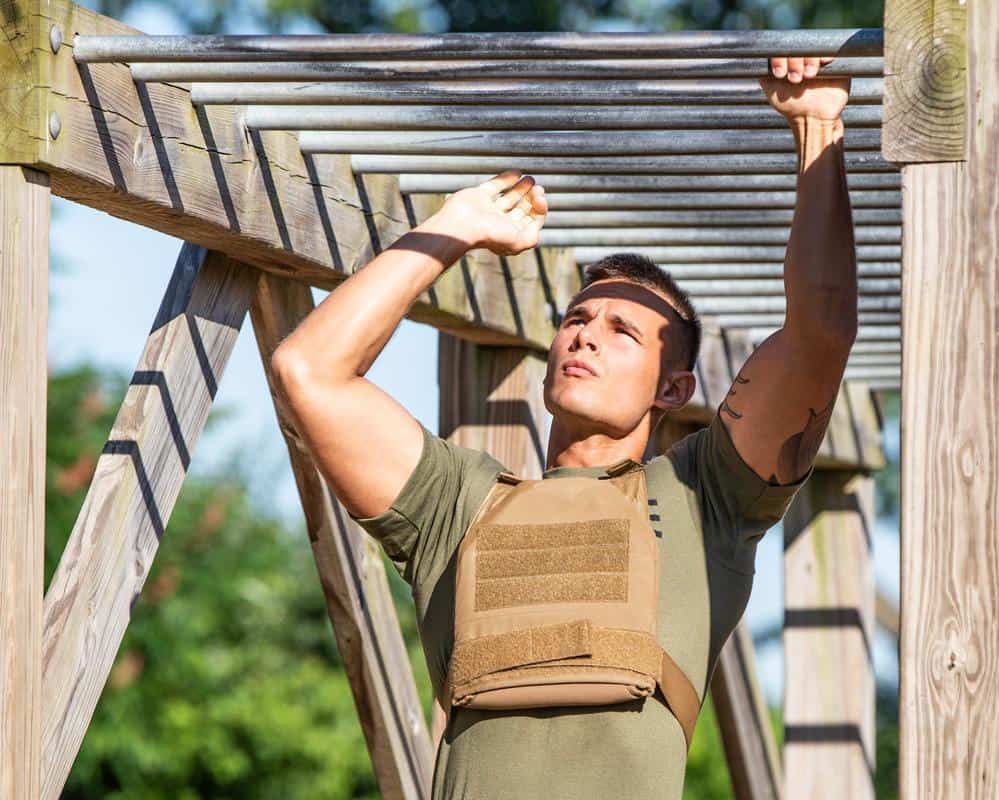 Affiliate Disclaimer
We are an affiliate of Rogue, GORUCK, and others that sell this training gear. If you buy clothing or other training gear after clicking the links in this article, we receive a small commission at no extra cost to you. This helps us bring you in-depth information and content on these great training products.
Tim is the founder of FitAtMidlife.com – an avid gym rat for 30+ years, he's a reviewer of many, many shoes – and founder of the Speed Bag Gathering – the world's only gathering of speed bag punching enthusiasts.  See more gym reviews at Tim's YouTube channel.