We're going to talk about one of the best kept secrets in quality gym equipment: the Rogue Fitness Boneyard Bars.
Let me tell you how I got a great Rogue Fitness bearing bar for weightlifting – at a $270 discount.
First of all, what is a boneyard bar?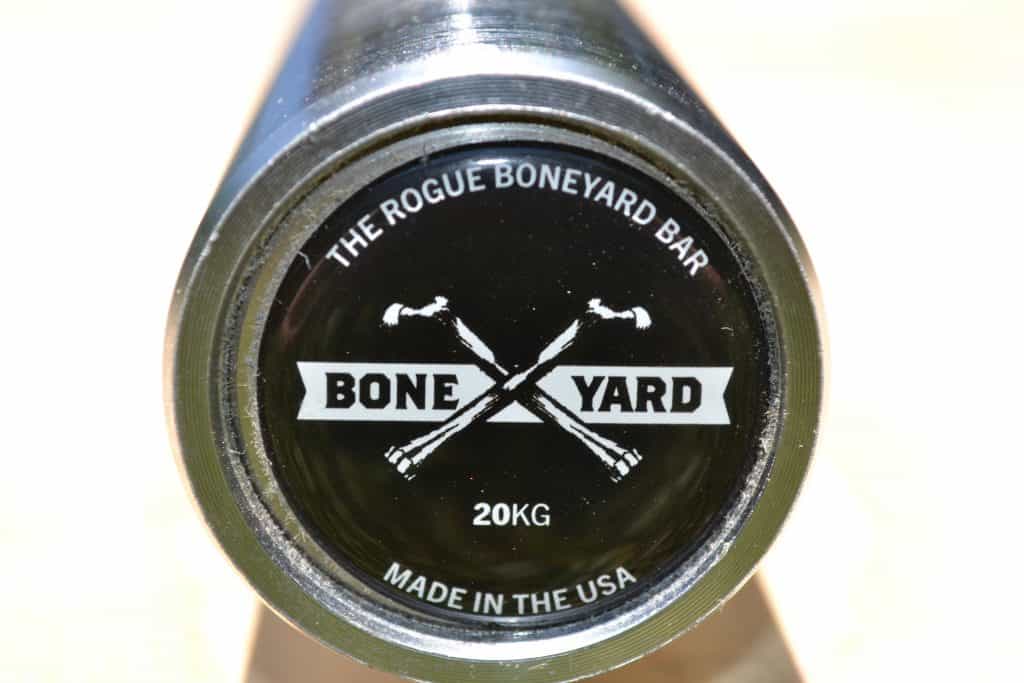 Boneyard bars are seconds quality Olympic barbells manufactured by Rogue Fitness that have simple cosmetic issues.
Consequently, these bars are brand new, made in the USA, function just fine, but are available at a sizable discount.
Before you search on craigslist, reddit, or fb marketplace for months at a time for the right thing – why not get a great bar brand new right from the source?
Sure, a used barbell for sale may be a good way to save money – but they also hold their resale value well – so buying new from the boneyard might be the best alternative.
Here's the bars we'll be reviewing today.
During the manufacturing process there are two problems that can send a bar to the boneyard.
Finish or plating blemishes can occur during the coating and plating processes (Cerakote, Black Zinc, Black Oxide, etc.)
This is primarily a pure cosmetic issue.
Here's an example of a finish blemish – provided by Rogue Fitness (my bar has nothing of this sort.)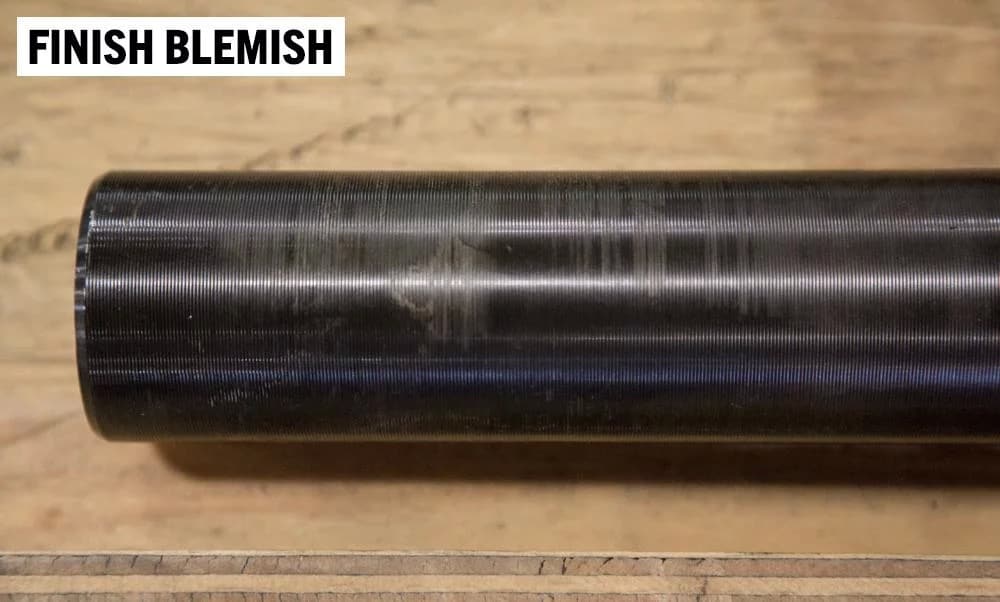 Double tracked knurl is a defect introduced when creating the barbell's knurl.
Knurling is a manufacturing process conducted on a lathe. A series of angled lines is rolled into the barbell's shaft.
And as such, sometimes they mess it up.
Courtesy of Rogue, here's an example of double tracked knurl.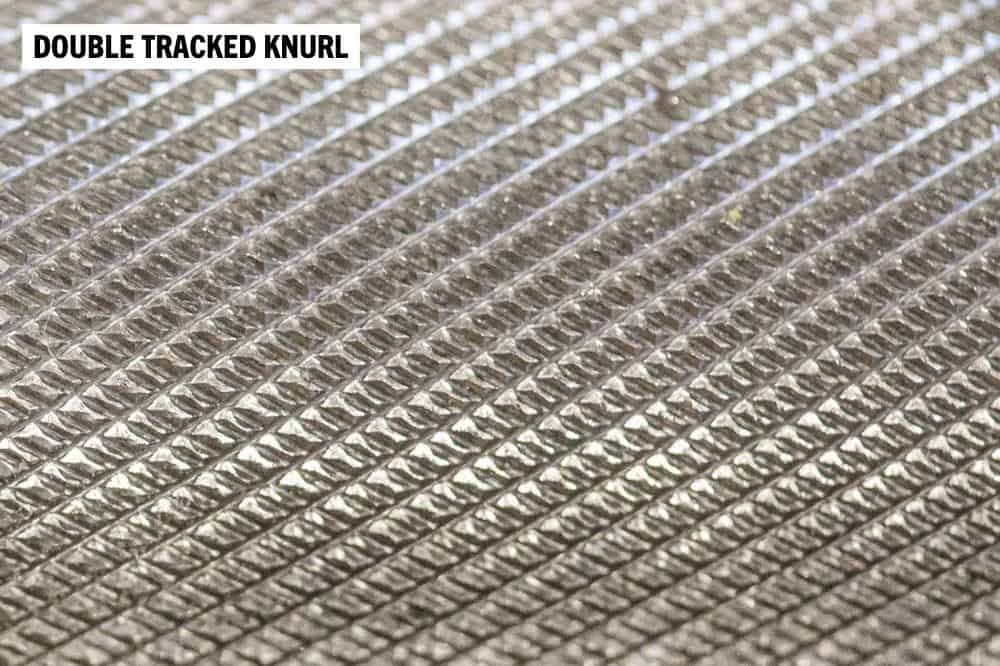 Does this impact your ability to grip the bar? Not really – even Rogue says so.
Rogue states that double tracked knurl will not impact your ability to grip the bar – but will be visible upon close visual inspection.
So, that's what a boneyard bar is.
Why Rogue Fitness Products?
We're a
Rogue Fitness
affiliate – so if you order equipment after clicking the links in this article we receive monetary compensation. But that's not why we recommend Rogue. It's because their equipment is tough, durable, well-made, and a lot of their best stuff is made in America. Their equipment looks good, and works even better. Their innovative designs and diversity of options make your training better – allowing you to reach your personal goals faster. And that's why we love them.
Boneyard Bar – How I Got A Great Deal on a Great Barbell
Here's what I ordered.
It was described as: Boneyard Rogue 28MM Rogue OLY WL Bar with (Stainless & CK Shaft / Polished Chrome Sleeve)
SKU number was "BYRA0567-SS-EBLACK-PC"
When I saw this available – my heart skipped a beat.
Stainless? CK for Cerakote? WL Bar (meaning it has NEEDLE BEARINGS)?
Price was $325.
If we check the WL Bar – Stainless page – we can see that's normally a $595 bar.
This is indeed the stainless steel model of the Rogue WL (Weightlifting) bar.
The weightlifting bar – you know – the one with the super-sweet needle bearings.
The sleeves are hard chrome – which is the toughest finish you can have on the sleeves.
The black Cerakote shaft finish (between the knurled sections) looks great with the Rogue logo.
My gym is a true garage gym – no A/C, no humidity control.
And – I'm in Florida.
Stainless steel bearing bar with Cerakote and hard chrome sleeves – that's a corrosion resistant masterpiece – and it is exactly what I've been wanting.
Shipping was $15 – and the bar arrived in about 8 days time.
Not bad – $340 shipped (no sales tax) for a great weightlifting bar – at a $270 discount.
Is it really a bearing bar?
Yep – the spin is excellent.
If I spin by hand the sleeves on my Rogue Ohio bar (which uses bushings) I can't get even one full rotation of the sleeves.
A similar amount of force on the WL bar sleeves is good for 12 non-stop revolutions of the sleeves.
That's a smooth spin.
That's because the WL bars use 5 sets of needle bearings per side – vs the plain bushings in the Ohio bar.
And, that's another reason this bar was such an outrageous good deal.
How about all those cosmetic issues?
Honestly, it is very hard for me to determine why this thing was even sent to the boneyard.
But, I think it's this scratch in the knurl. This is about as wide as my index finger – and it's right where the bar goes into the j-hooks.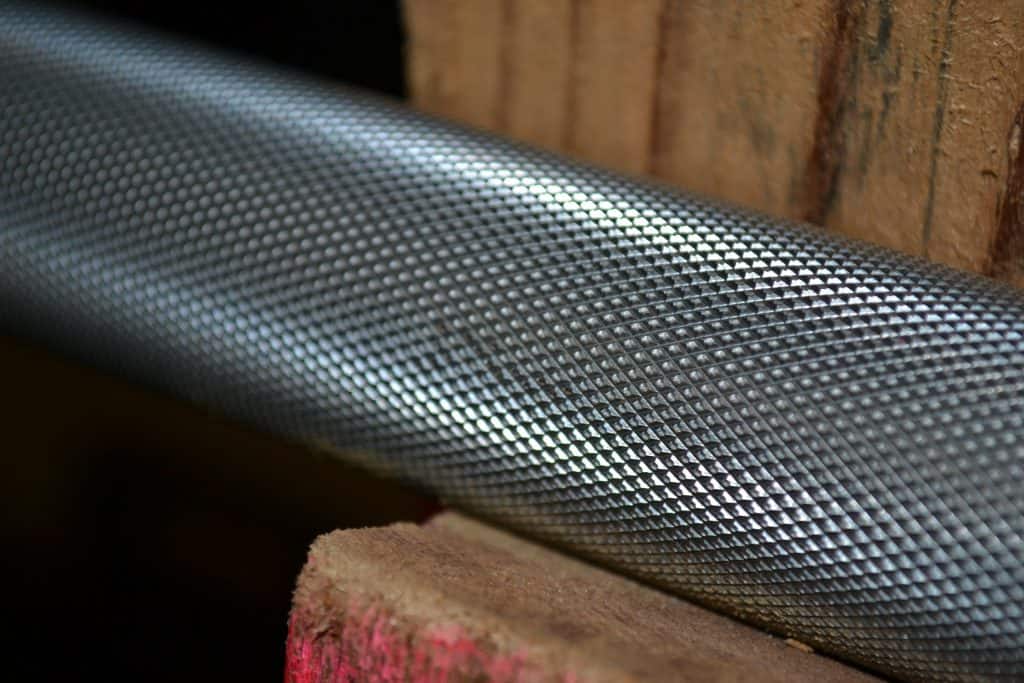 Here's some more close-ups.
Bear in mind the bar had already seen some light use before these were taken – so if you see any dings on the sleeves – it didn't come like that.
There's also a bit of yellow lint from the towel I used to wipe some chalk residue off the bar.
Here's a view of the sleeve and special endcap. Not much to see here.
Polished chrome sleeve. This bar saw some light use before this photo shoot – any slight dings were from loading tight-fitting bumper plates.
But, you can't really see any problems.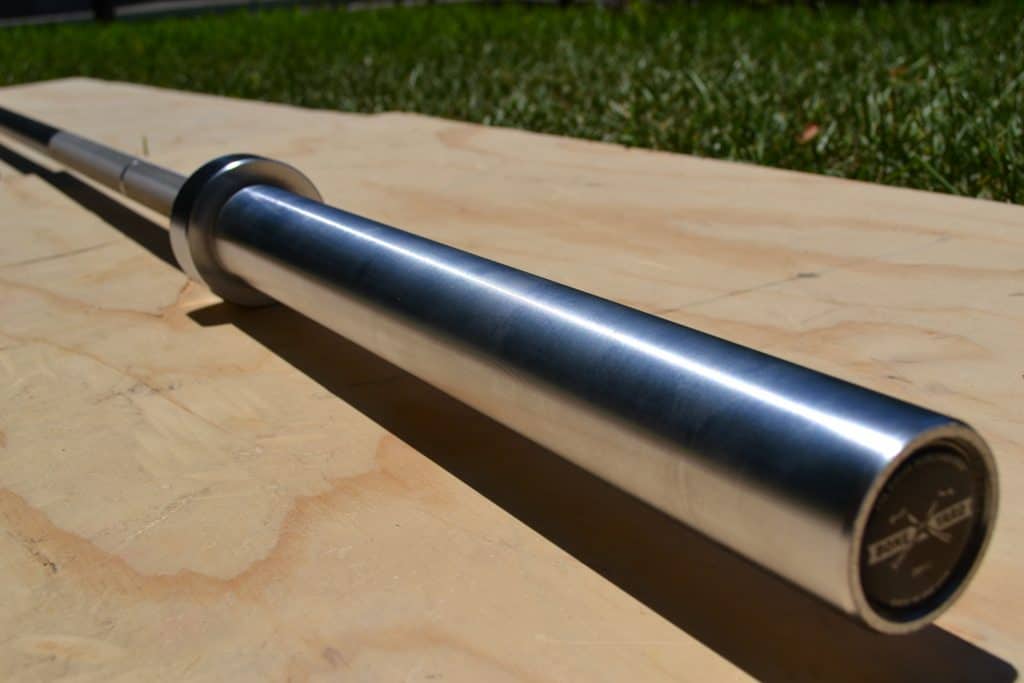 Closeup of the chrome sleeve. The entire length of both sleeves is of similar quality (excellent).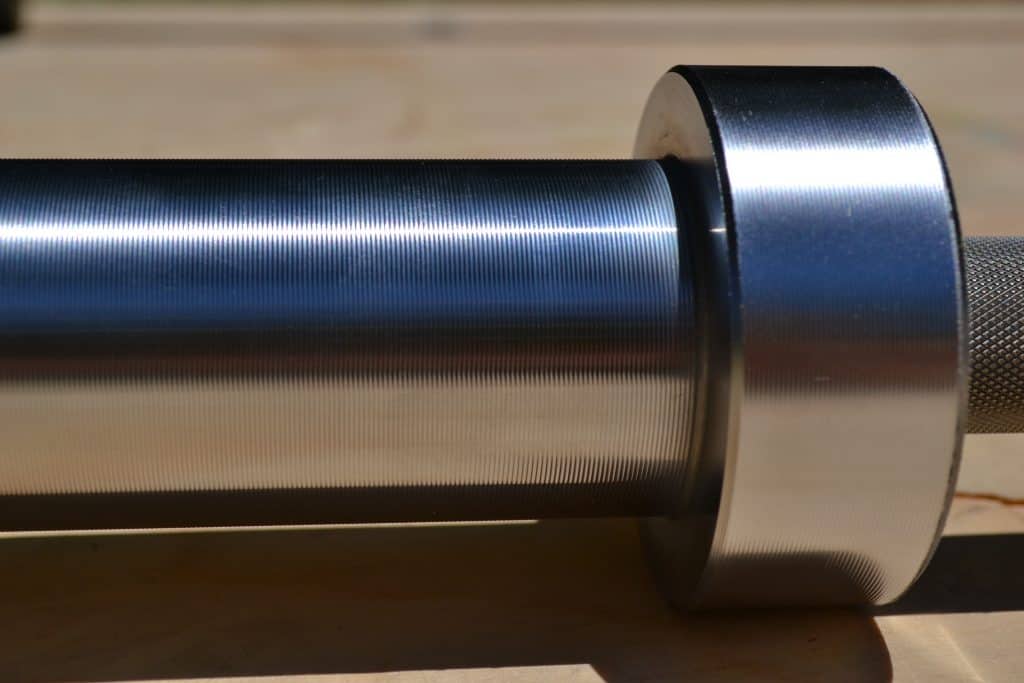 Knurl closeups. The knurl feels fine. The Rogue WL Bar is not as aggressive as the Rogue Ohio bar (which in turn is less aggressive as compared to the Ohio powerlifting bar.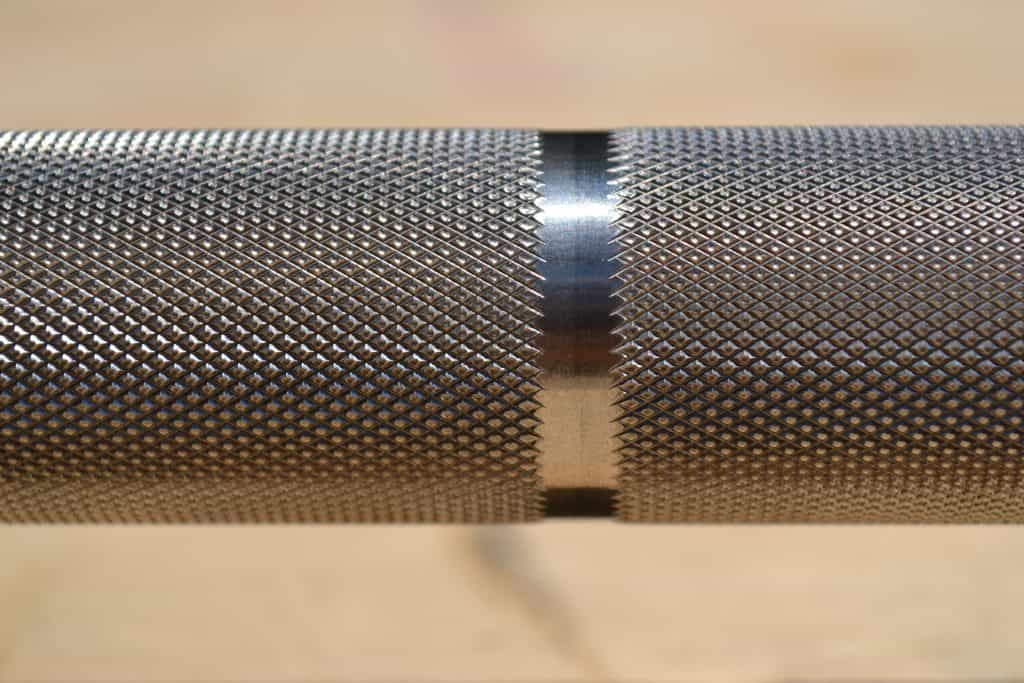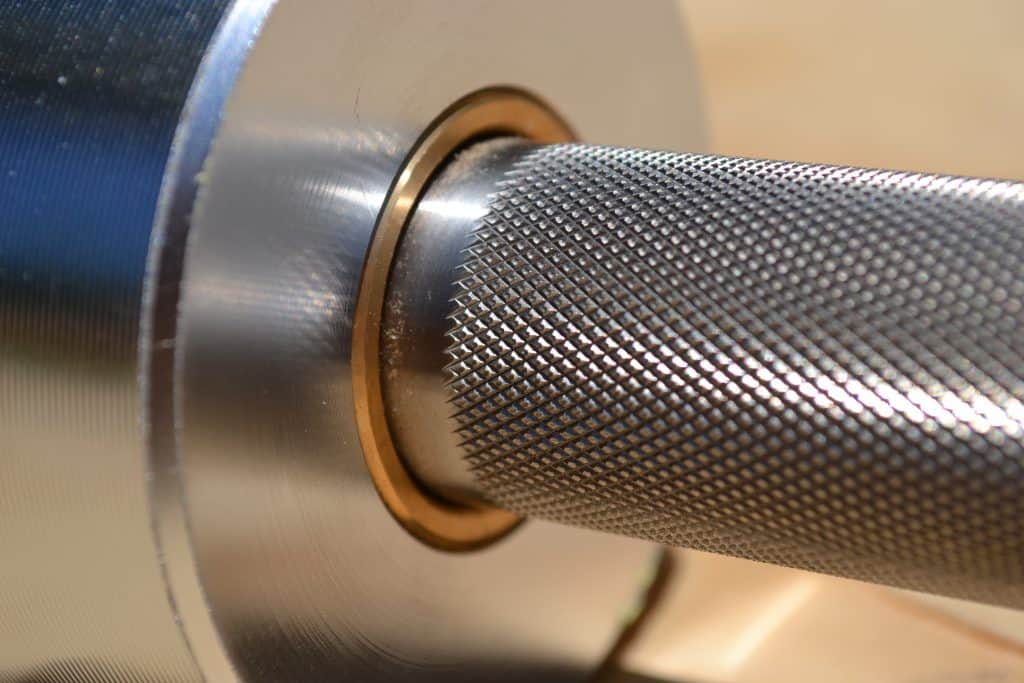 For comparison's sake – here's a Rogue Ohio Bar (Cerakote – red) that is not a boneyard bar. This is what the knurl looks like.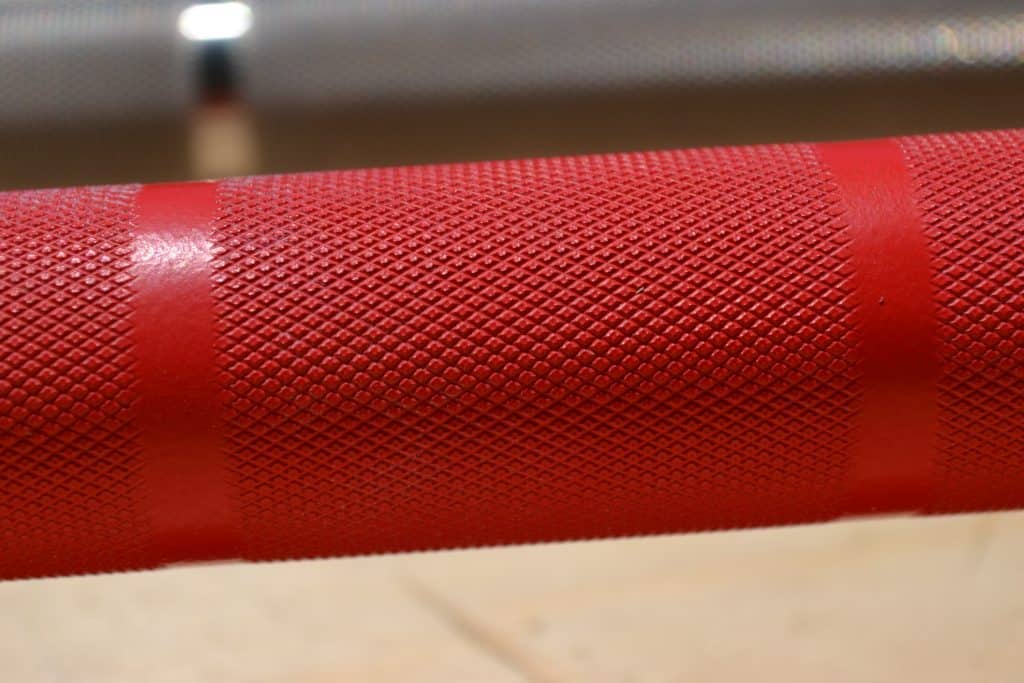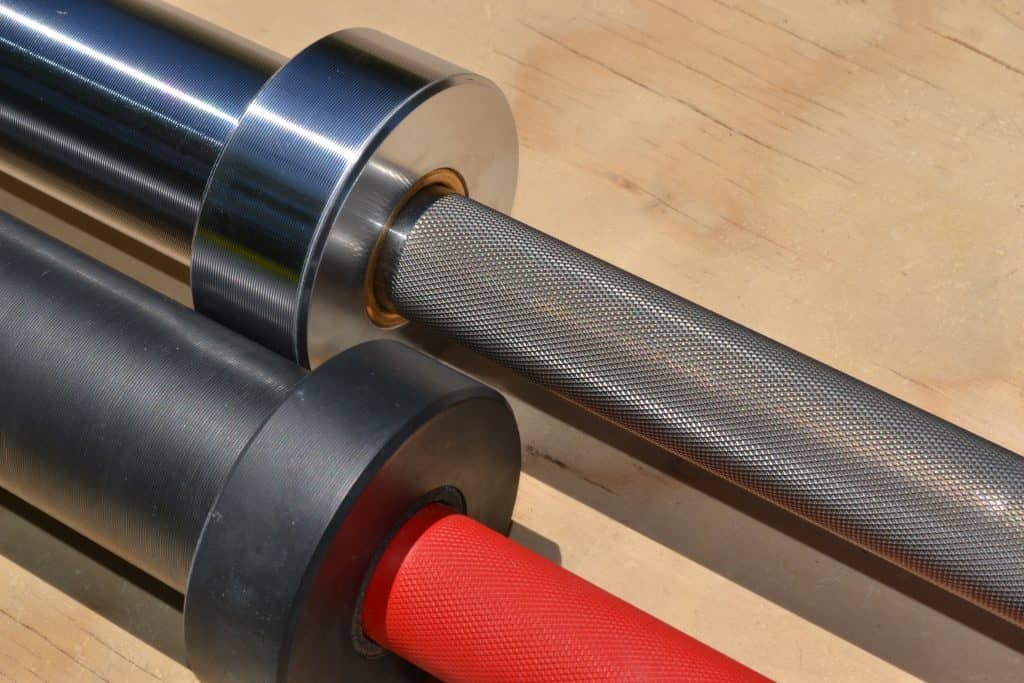 Overall, I am beyond pleased with this bar.
It looks great, and works great.
Did I get lucky?
Will your boneyard bar be as nice?
Maybe, and maybe not.
That's the chance you take for a great discount.
By the way, if you've purchased a boneyard bar – and it has some obvious cosmetic defects – I'd love a close-up photo to add to the website (See comments below.)
Boneyard Bars Carry No Warranty
Being that these are "seconds quality" – there is NO warranty.
Rogue guarantees you will receive the barbell in a functional condition – but all sales are final.
Is this an issue?
Not really.
First of all, consider the two reasons that send bars to the boneyard: Finish blemishes and double tracked knurl.
Both are primarily cosmetic issues, and aren't going to decrease the lifespan or usability of the bar.
These bars are still made of the same quality steel and other materials as the regular bars.
Rogue states that those cosmetic issues are the only conditions they consider acceptable for a boneyard bar – they aren't going to send something that has a major defect.
It's really hard to damage a high-quality barbell – unless you outright abuse it.
For example, if you were to drop a fully loaded barbell onto the safety pins of a rack – it is going to bend.
That's abuse and not covered by any barbell warranty (new or seconds or otherwise) anyways.
Therefore, I have no qualms about buying a boneyard bar.
As Rogue likes to state – their seconds quality bars might be better than the first quality bars sold by their competitors.
Where to Buy Rogue Boneyard Bars
You can buy Boneyard Bars direct from Rogue Fitness on their website.
The available selection is categorized by the shaft diameter (28mm, 28.5mm, 29mm, 25mm, etc.)
How is the selection?
It varies – almost every day – this isn't a regularly stocked item, it's not like they create these purposefully.
But, there is almost always SOMETHING listed.
I've seen deadlift bars, power bars, chan bars – and of course – Ohio bars.
My advice – keep a close eye on the relevant sales page – at some point you will get lucky.
And that's how I got a $270 discount on a great bearing bar – that will last me a lifetime.
And by the way, they are normally overflowing with 25mm bar options (Women's bars), so definitely check that out if you are in the market.
How To Identify A Boneyard Bar
All the boneyard bars are made in the USA – which is where Rogue makes their bars.
They will all have an exclusive Rogue Boneyard endcap.
That's really the only way to tell.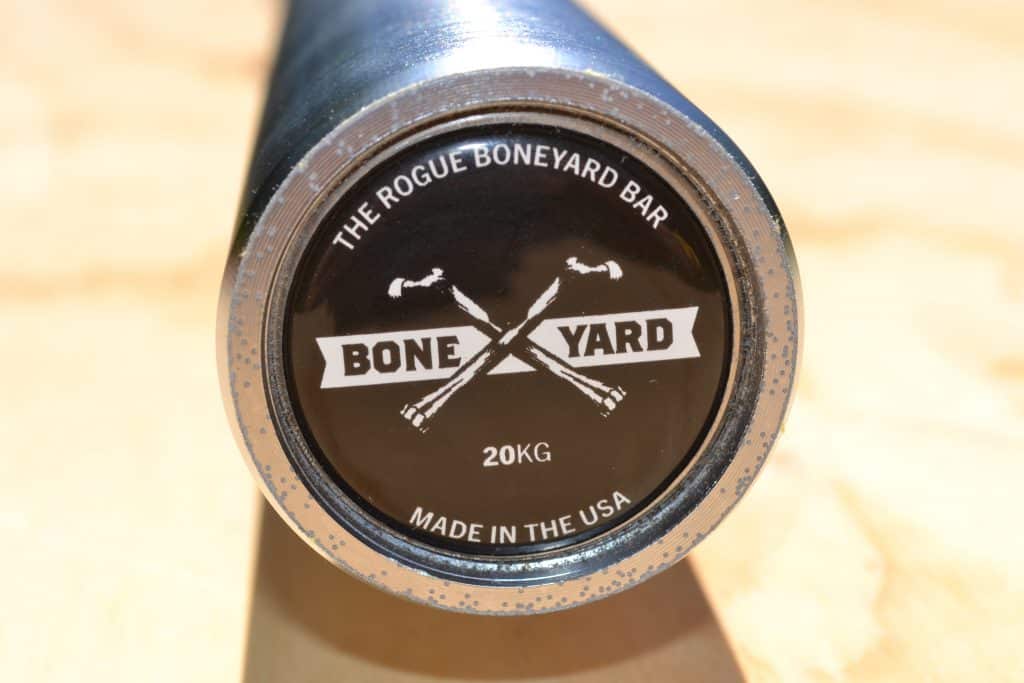 Available materials and finishes will vary (Bright Zinc, Black Zinc, Chrome, Raw) – according to what was being made at the time.
Otherwise, they have all the same materials and specs as the regular bars.
For example, if you buy an Ohio boneyard bar – it won't have center knurl – because the Ohio bar never has a center knurl.
Rogue Boneyard Bar Review – In Summary
So, that's what a boneyard bar is – a chance to get a great Rogue Fitness barbell at a sizable discount.
As the owner of a boneyard bar (as well as non-boneyard bars from Rogue Fitness) I wholeheartedly recommend this as a way to get a great piece of gym equipment for a sizable discount.
They are made in the USA of quality materials – and there are a wide variety of choices for women's bars (25 mm), power lifting, or Oly lifting.
So, before you consider a cheap overseas barbell – or a used barbell – take a look at the Rogue Boneyard Bar selection – and get a great bar at a great price.
Some Rogue Fitness product imagery is property of Rogue Fitness, and provided by Rogue Fitness.
Tim is the founder of FitAtMidlife.com – an avid gym rat for 30+ years, he's a reviewer of many, many shoes – and founder of the Speed Bag Gathering – the world's only gathering of speed bag punching enthusiasts.  See more gym reviews at Tim's YouTube channel.