Rogue has the red-hot
Echo Bike
. Grab one while they last!
Got Echo Bike? If not – here's a new option – the Rogue Echo Bike is now available Refurbished.
This means you are getting an awesome Rogue Echo Bike – direct from Rogue – at a healthy discount.
Air bikes are unique because they have a built-in fan that creates wind resistance. The higher the resistance will be when you pedal harder, which is a great resistance exercise that works your arms, legs, abs, and back. It also provides you with a good HIIT that strengthens your muscles as well as a whole-body workout.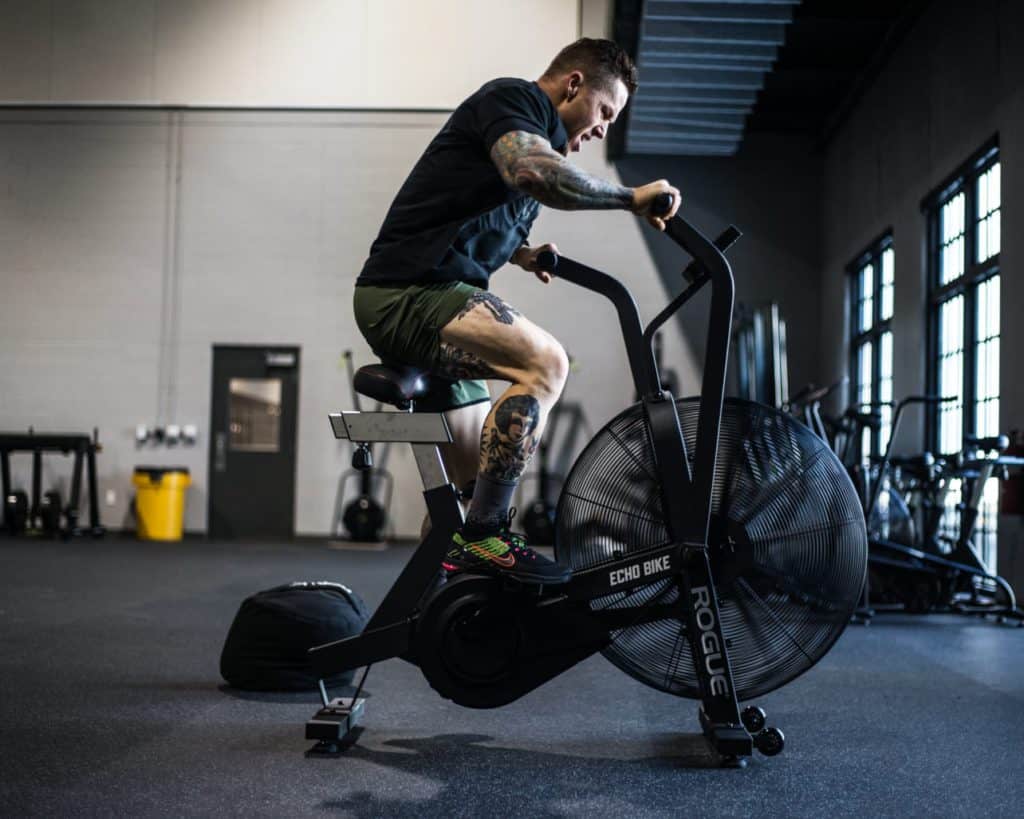 Want it? Get one now – quantities are limited: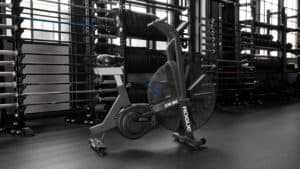 Rogue Echo Bike Refurbished (Black)
Rogue Echo Bike Refurbished - get a great air bike at a healthy discount. Refurbished Echo Bikes are fully functional, but have no warranty. Also - you have to pick it up at Rogue in Ohio - these will NOT be shipped!
There are a few caveats though:
This is Pick-Up Only – you have to be local to Rogue in Ohio.
Bikes are guaranteed to be received in fully functional condition, but do not carry a warranty.
Rogue Echo Bike – Our Review
We've previously tested a brand-new (not refurbished) Rogue Echo Bike.
Here's what we found:
The Echo Bike, weighing 127 Lbs, is constructed with thick steel tubing that has 2×3″, 1.25 x 3″, and 1.625 x 3.125″ and will remain sturdy and stable for a long time. Because it is overbuilt, it provides a very smooth ride and doesn't have a bike chain that will stretch, break over time and make noise.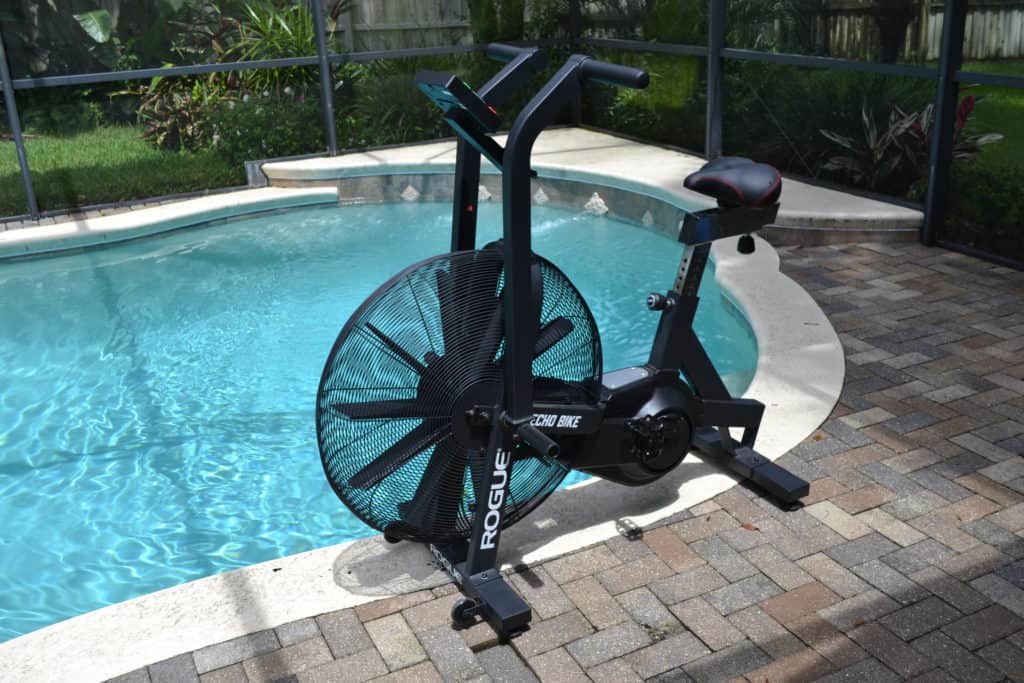 It uses a belt drive which is quieter and requires no maintenance. Even the fan of the Echo Bike is overbuilt, and the fan blades are so much bigger.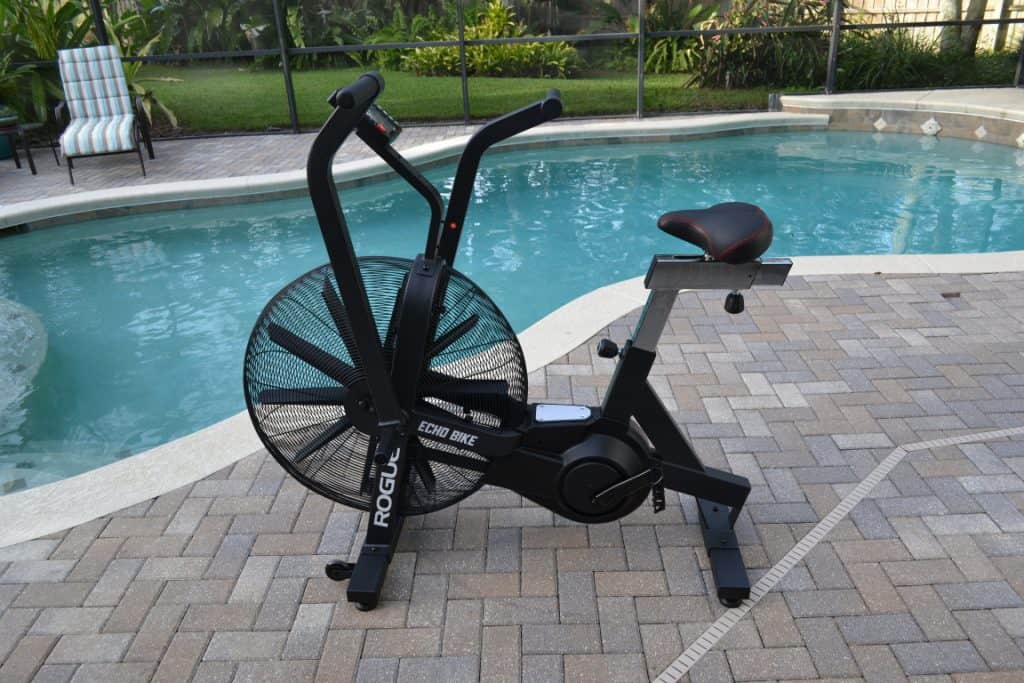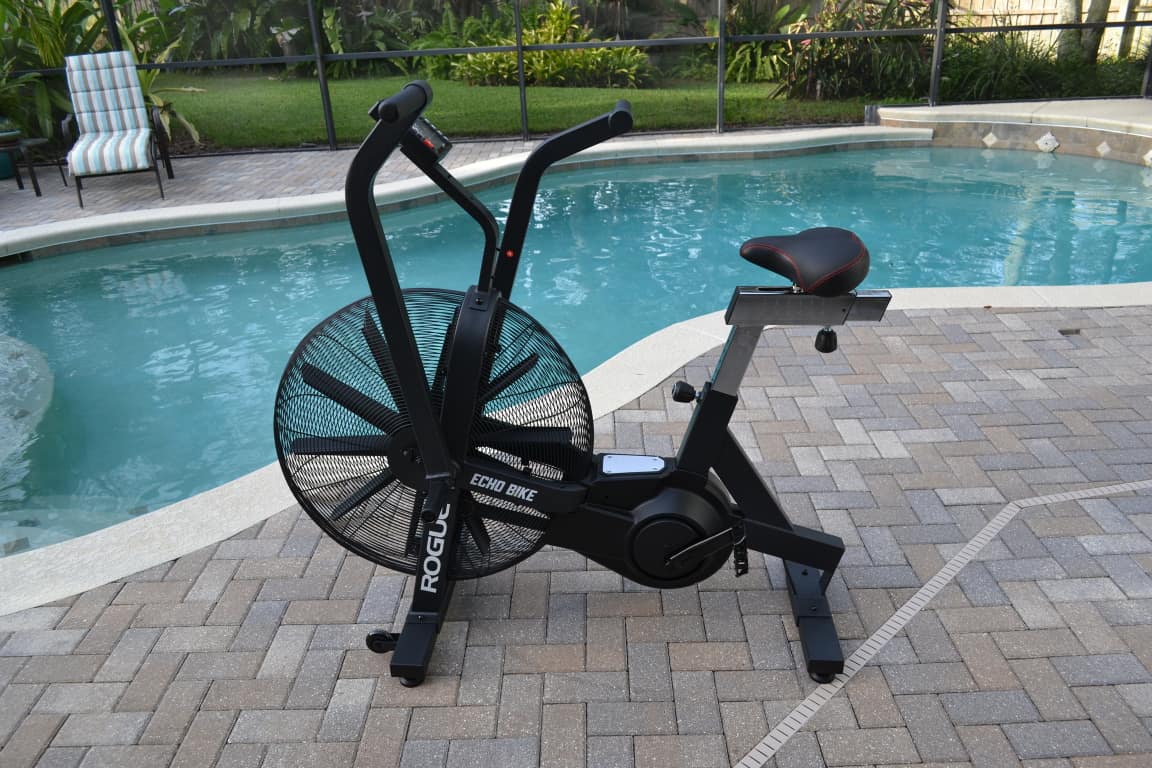 There are six fan blades, and they are about 2.75″ wide by about 6″ long. The grip part of the handle is 1.5″ in diameter. The Echo Bike also has enormous steel handles that are beefier than the Airbike, which means Echo Bike will require more effort to move.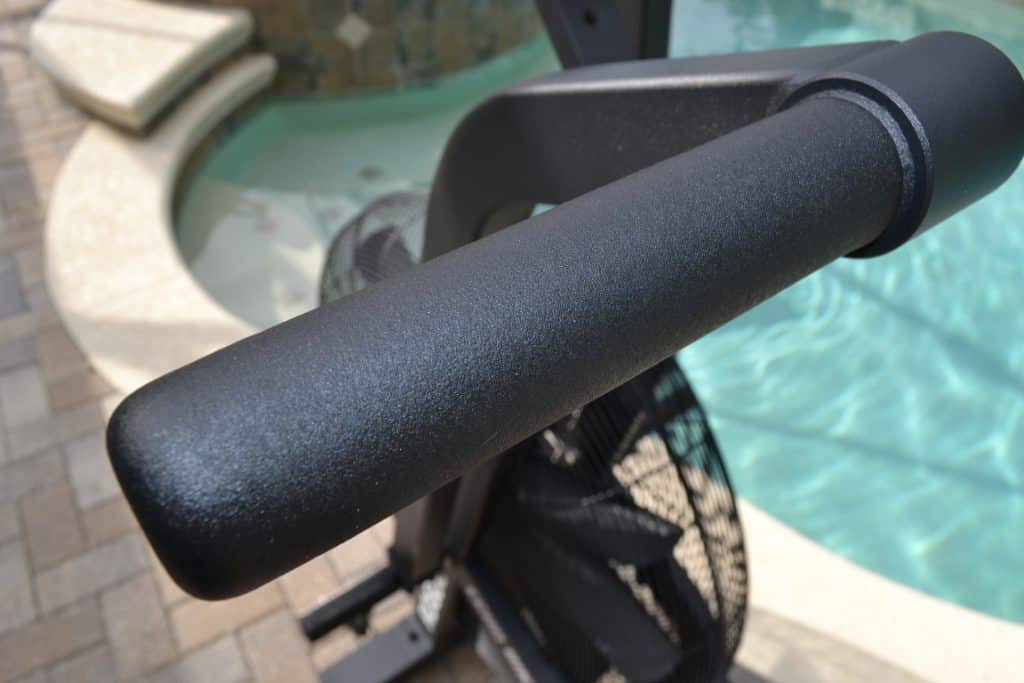 Want to find out more? Check out our hands-on, in-depth Rogue Echo Bike review.
PS – That was over 3 years ago – our Rogue Echo Bike is still going strong – the only real work it has needed is changing the batteries periodically for the electronic monitor.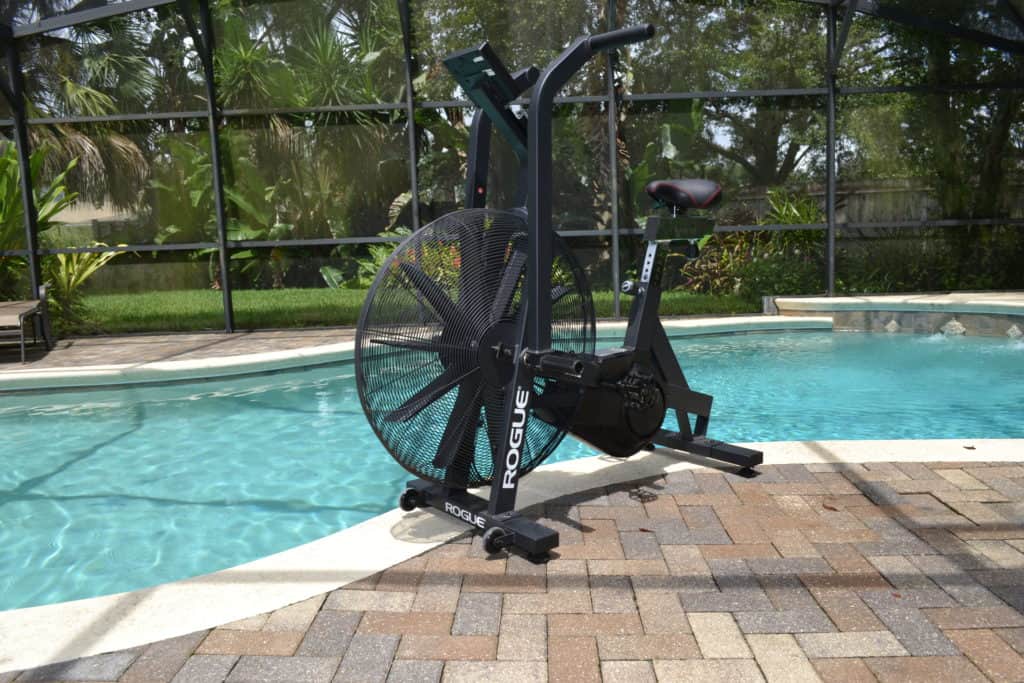 Rogue Echo Bike – Overview
If you are looking for an air bike that will not wobble no matter how heavy you are or how hard you push, then the Rogue Echo Bike is the way to go. It weighs 127 lbs and is constructed with reinforced steel that provides rigidity and balance to help eradicate sways and bumps during even max output bursts. The Echo Bike is built with a range of long-lasting steel tubing (2″ x 3″, 1.25″ x 3″, and 1.625″ x 3.125″) finished in a texture black powder coat.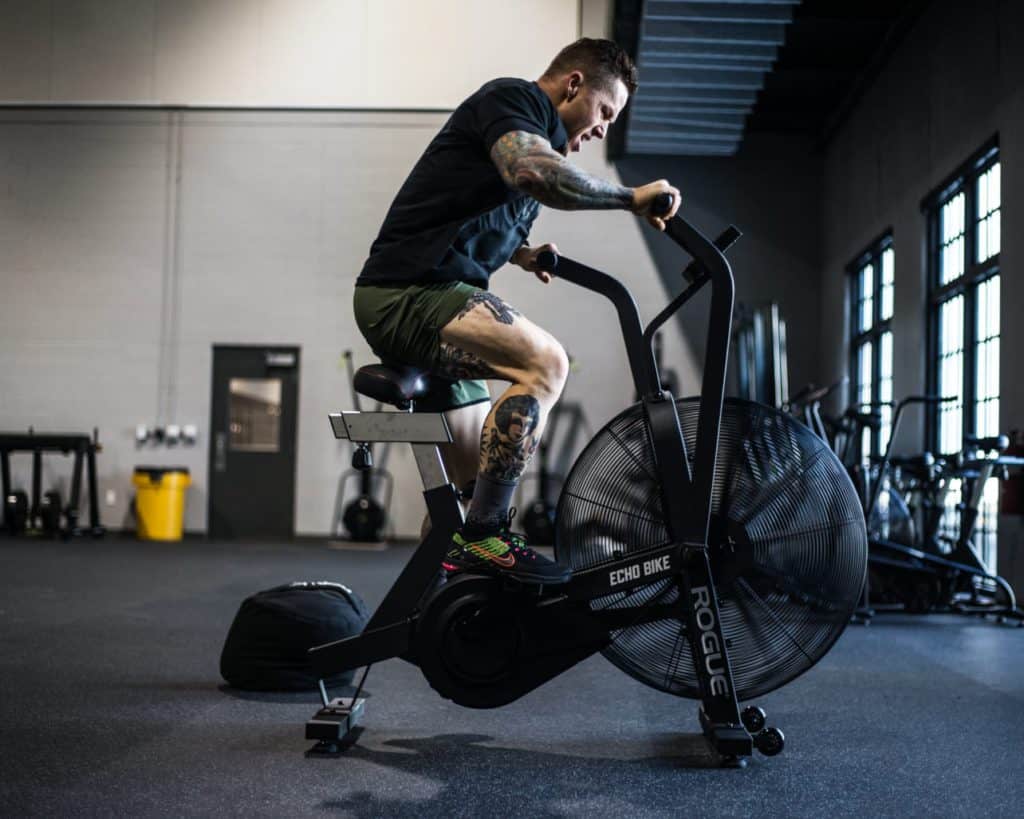 The fan's steady response provides a uniquely consistent, smooth riding experience, and the rubber leveling feet are added under each base tube for added stability. These feet adjust to your flooring and deliver added "stick," leveling the bike even on an uneven surface. Measuring 6.375″ x 6.375″, the mounted console highlights a crystal clear, high contrast display. You can choose or make a broad range of modes, including Intervals (20/10, 10/20, or a custom Work/Rest interval), Target, and Heart Rate Tracking.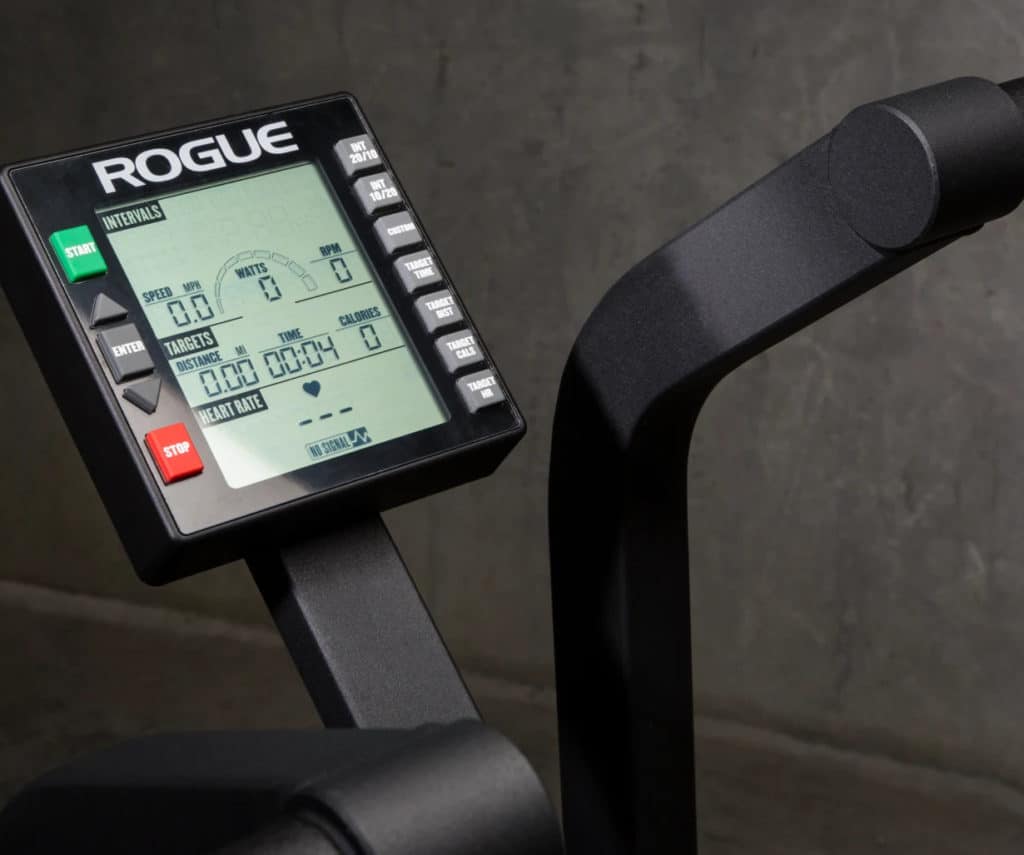 The adjustable padded seat locks into eight distinct height settings and five front-to-back settings, while the 1.5" diameter rubber-grip handles are welded straight to the bike's arms for added toughness. A steel step plate is furnished along with knurled 4.5" long rotating footpegs and metal pedals.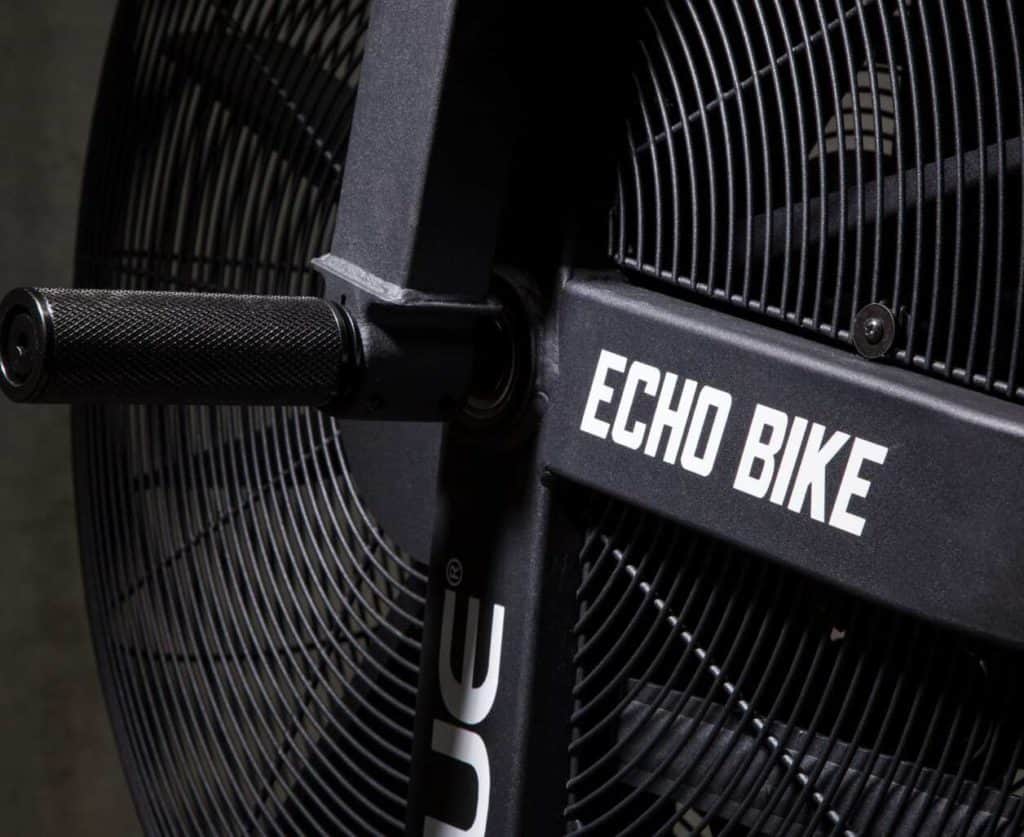 Rogue Echo Bike Refurbished – In Summary
That's our close-up look at Rogue Echo Bike Refurbished.
The Rogue Echo Bike integrates heavy-duty steel, precision engineering, and comfortable customization to develop a robust, bulkier fan bike. It is overbuilt but still offers effortless portability around the gym through a set of 1" polyurethane front wheels. Its quiet, belt-driven steel fan blade delivers a smooth, consistent ride, while the high-contrast, battery-powered LCD console enables you to track intervals, distance, calories burned, heart rate, and more.
Once you have an Echo Bike, you might be interested in Making the Echo Bike More Comfortable .
Going hard? Keep your feet solidly on the pedals with the Fyxation Pedal Straps for Rogue Echo Bike .
The Rogue Echo Bike is the best air bike around – but it's not perfect – here's the Top 5 Ways Rogue Could Make the Echo Bike Even Better .
More products from Rogue.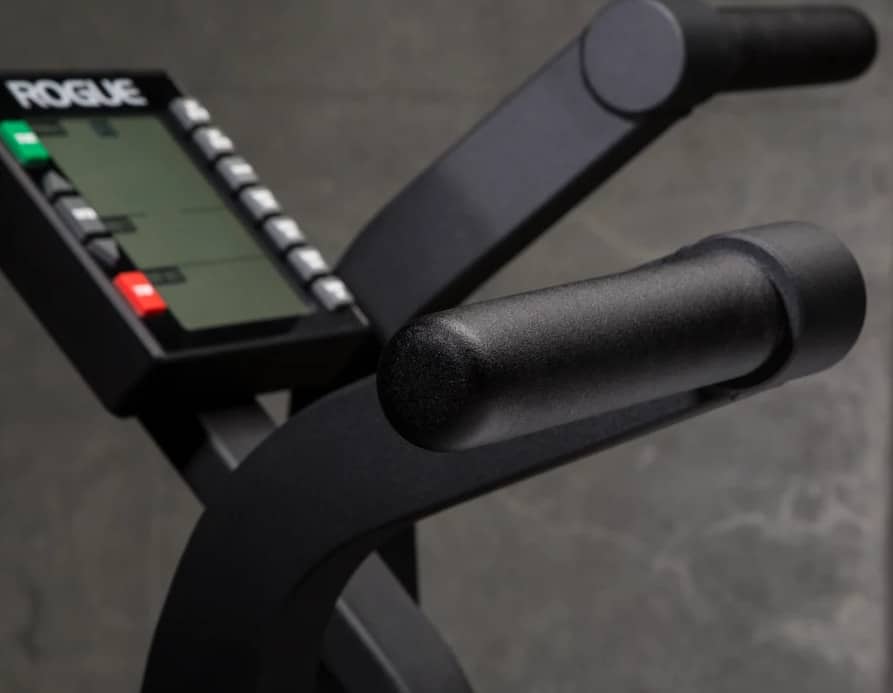 Photo Credits
Product photos on this page are property of Rogue.
This website is not affiliated or associated with CrossFit, Inc. CrossFit is a registered trademark of CrossFit, Inc.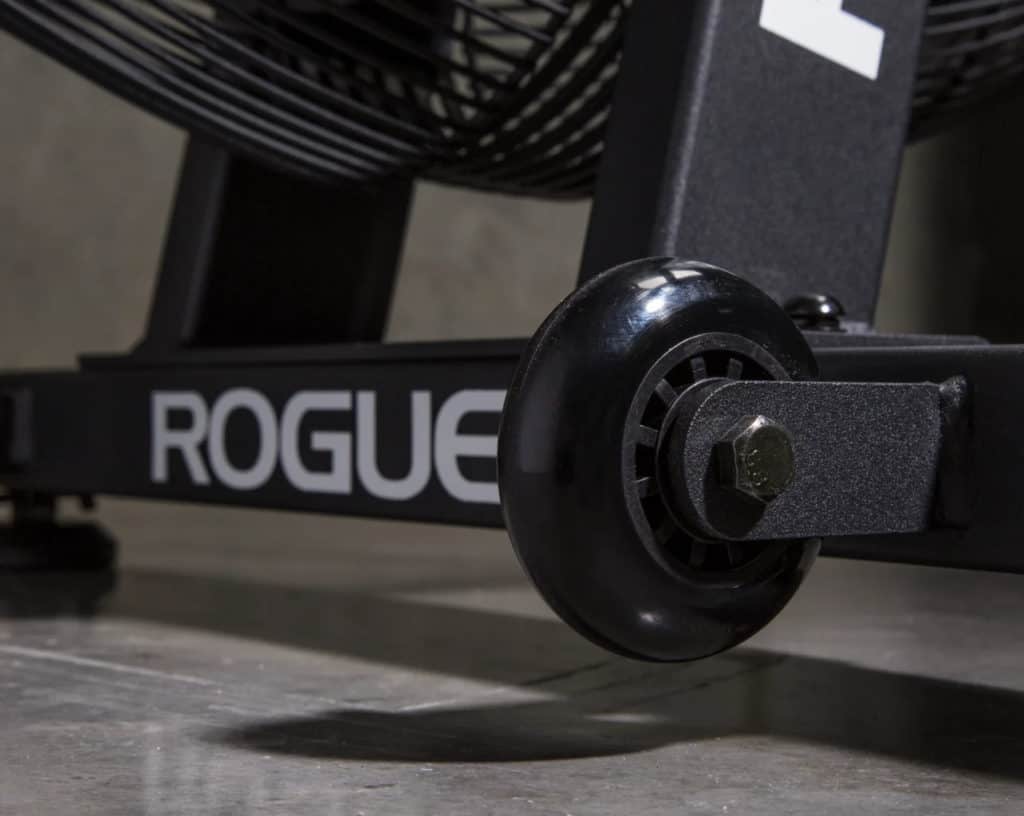 Affiliate Disclaimer
We are an affiliate of Rogue and others that sell this training gear. If you buy clothing or other training gear after clicking the links in this article, we receive a small commission at no extra cost to you. This helps us to bring you in-depth information and content on these great training products.
Tim is the founder of FitAtMidlife.com – an avid gym rat for 30+ years, he's a reviewer of many, many shoes – and founder of the Speed Bag Gathering – the world's only gathering of speed bag punching enthusiasts.  See more gym reviews at Tim's YouTube channel.