In this article we're going to present our hands-on review of the Rogue Echo Bike.
We believe the Rogue Echo bike is the best air bike option for anyone in the market for a new air bike in 2022.
Why? That's what we'll talk about here.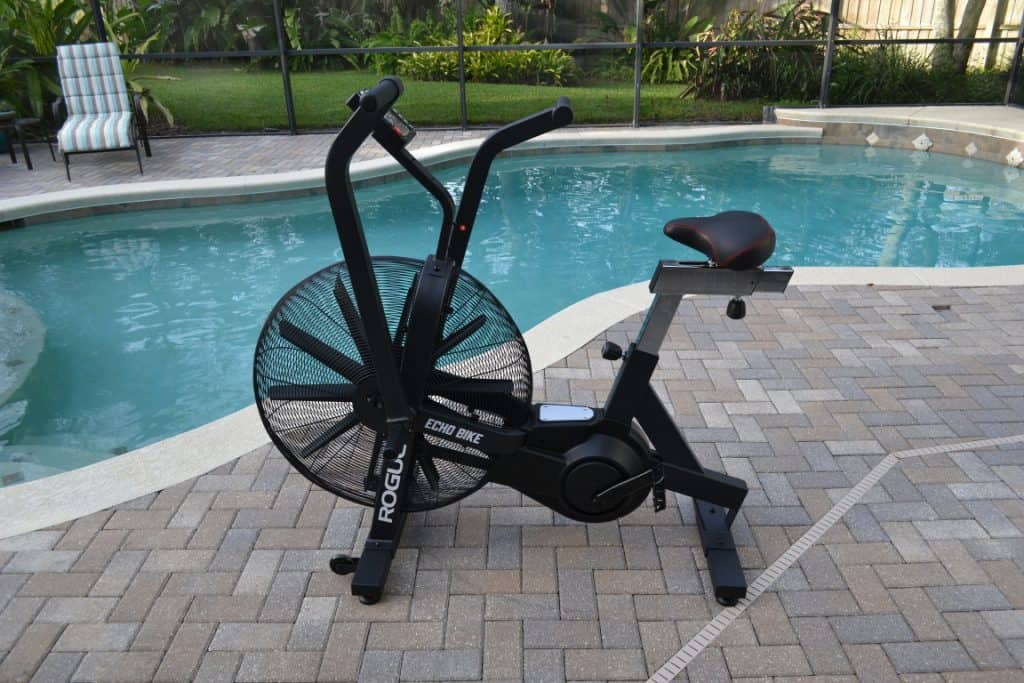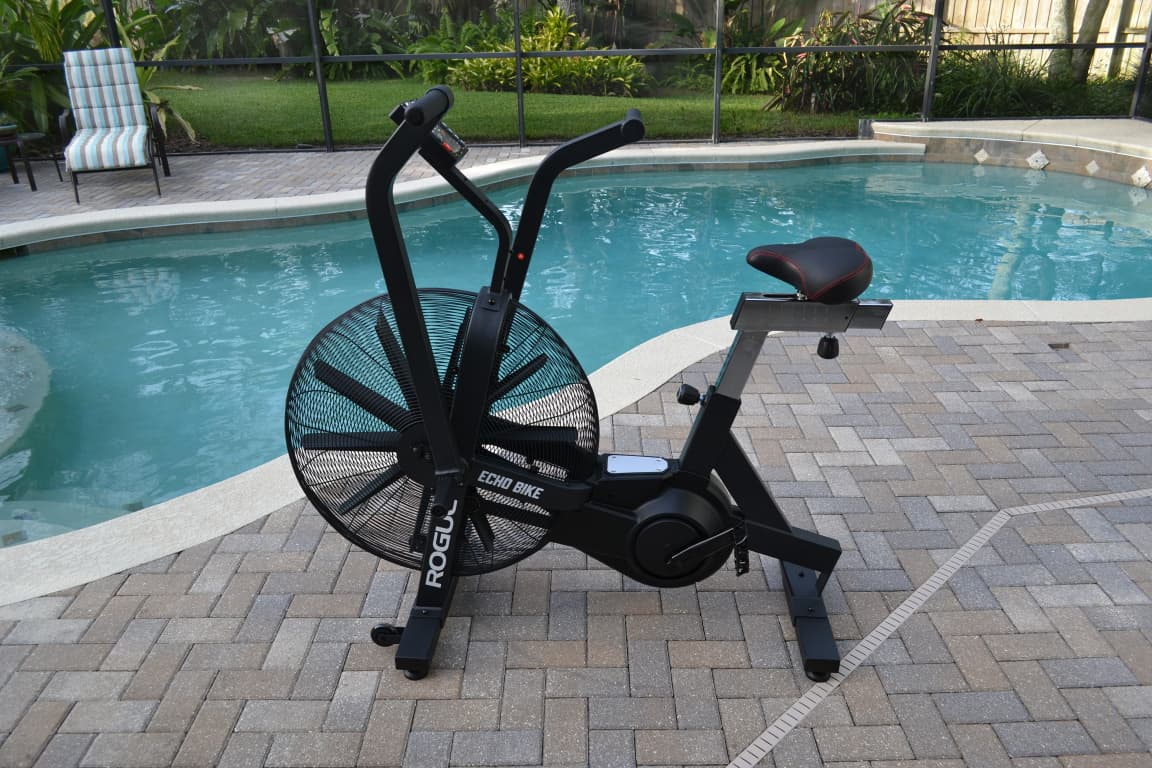 Here's a preview of the gear we're going to be covering in this review.
Let's take a closer look.
Why a Fan Bike?
First of all – let's get this out of the way.
A fan bike (or air bike, or "assault bike") is a wicked metcon workout.
This is NOT like riding a spin bike like the Peloton or Keiser – this is a whole different beast.
"Brutal" is often used to describe them – and many people talk about a love/hate relationship they have with air bikes.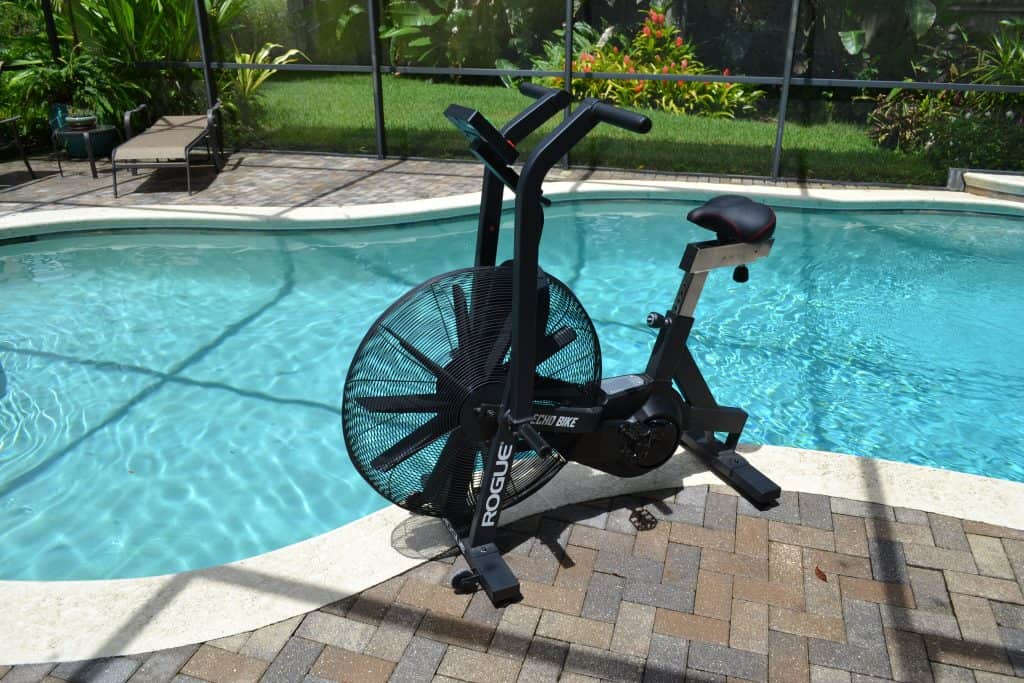 Why is that? Well, they are very, very hard.
When you crank the pedals and push and pull the levers you are moving the fan – faster and faster.
And it takes a hell of a lot of effort to keep accelerating.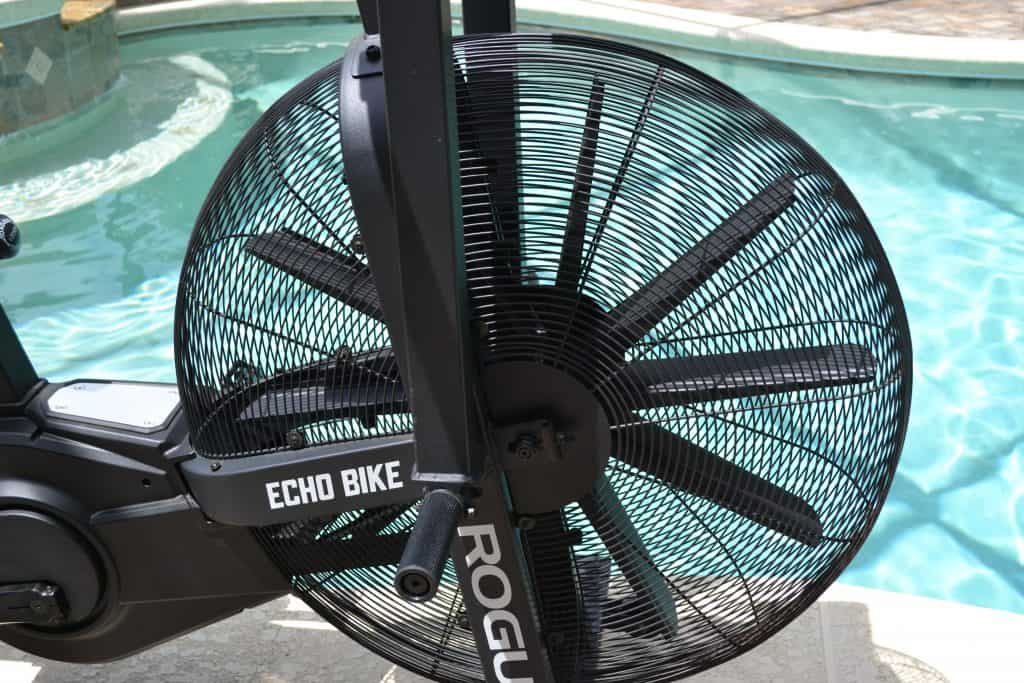 Is this good or bad?
The air bike is stupendous for HIIT style workouts, like Tabata.
Pedal hard and fast for 20 seconds, then slow or stop for 10 – and repeat 8 times.
If you are truly going "all out" that is one heck of a workout.
There are a lot of fun challenges you can do on these air bikes too.
Like how fast can you burn 50 calories?
Would you believe you can burn 50 calories in under 30 seconds?
Well – some people can anyways – but it's not a pleasant experience.
Does the Rogue Echo Bike deliver the goods?
Yes, it can be a brutally hard workout.
And to be clear – an air bike ("assault bike") of any sort is not what you want for LISS – Low Intensity Steady State cardio.
For that, look at a spin bike or a Concept2 Bike Erg.
There's just too much work involved with the air bike for LISS use.
Having said all this – let's switch gears now and talk about why we think the Echo bike is the best fan bike for 2019.
Rogue Echo Bike – Overbuilt
Let's take a brief moment to compare and contrast the Echo Bike to the other bike you've likely seen or used at the box or elsewhere.
The Assault AirBike is a good piece of equipment.
It's a fan bike and as such, it can be used for that brutally hard, HIIT style workout we talked about earlier.
But as you can see, it's built very light-weight – in comparison to the echo bike.
And here's the Echo bike.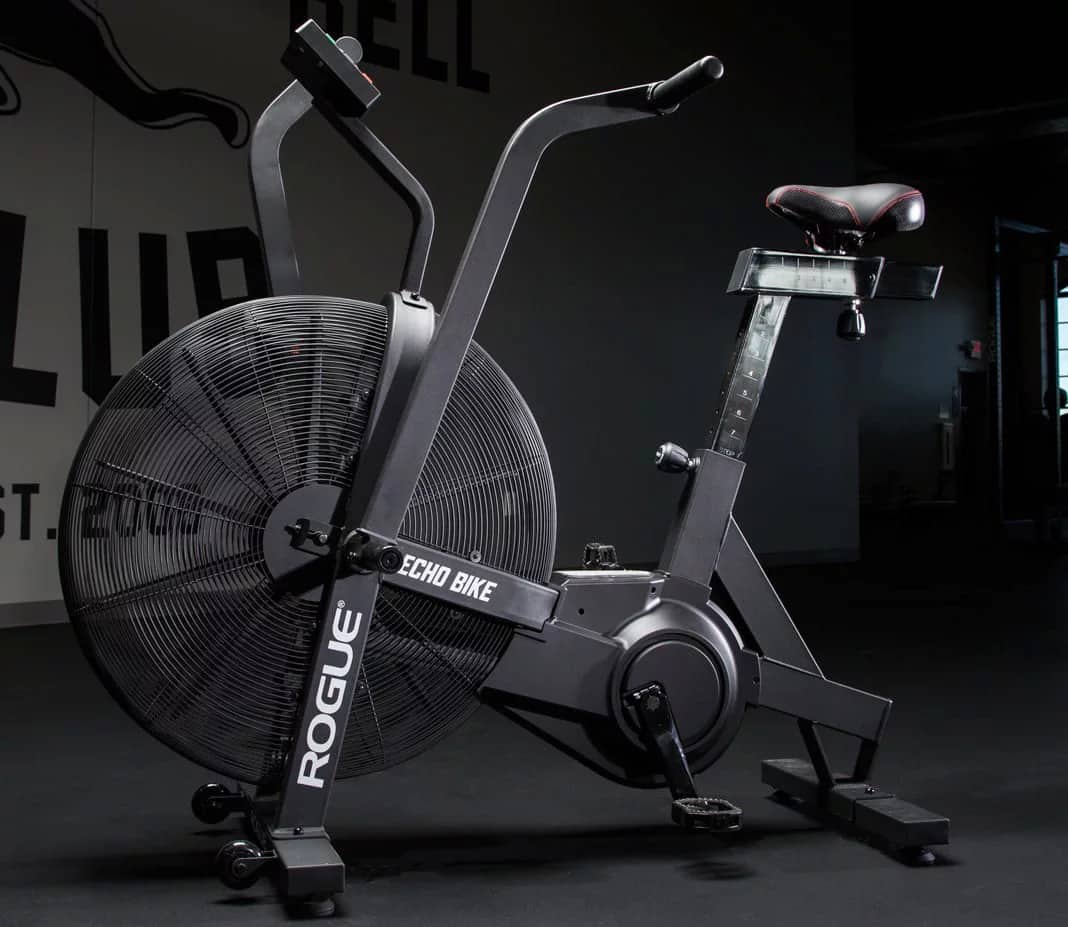 See the difference?
The Echo Bike (which weighs in at 127 Lbs) is made with thick steel tubing that includes 2×3″, 1.25 x 3″, and 1.625 x 3.125″.
Those handles are massive.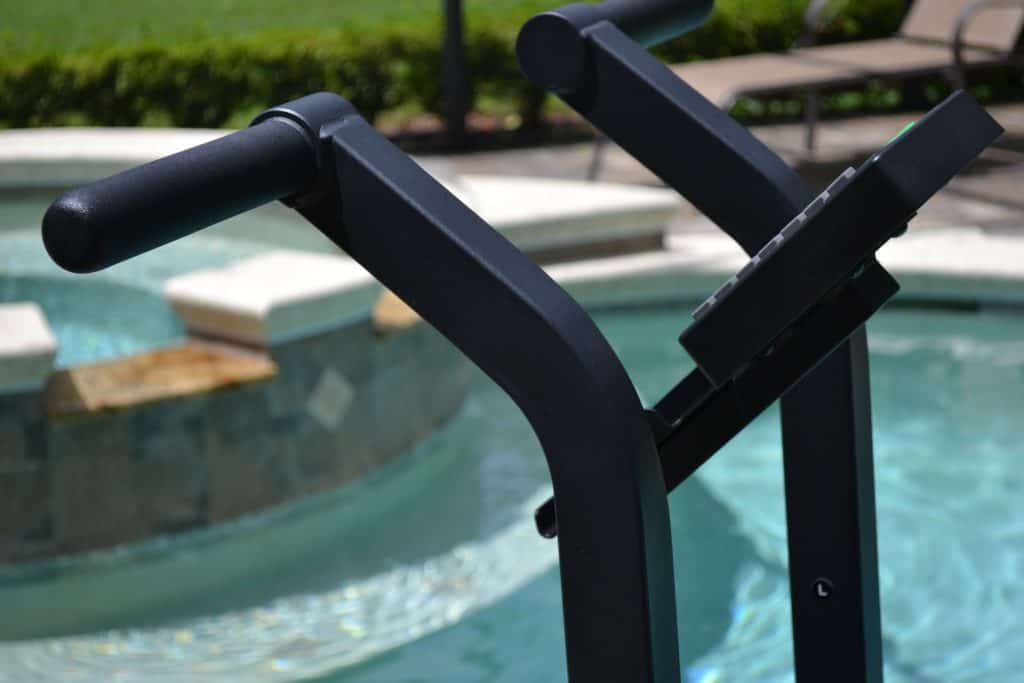 And so is everything else.
Why does this matter?
Because when you are really rocking and rolling – and trying to hit 800 watts of power (or more) on the air bike you are really going to be working it hard.
And the echo bike will be sturdy and stable throughout.
The Assault AirBike weighs 30% less than the Echo. And while that's fine when you want to move it around the gym – it's not as sturdy when you are pedaling hard.
Speaking of mobility – both units have wheels on the front.
So, if you need to move the Echo Bike you can easily do so, despite the bulk.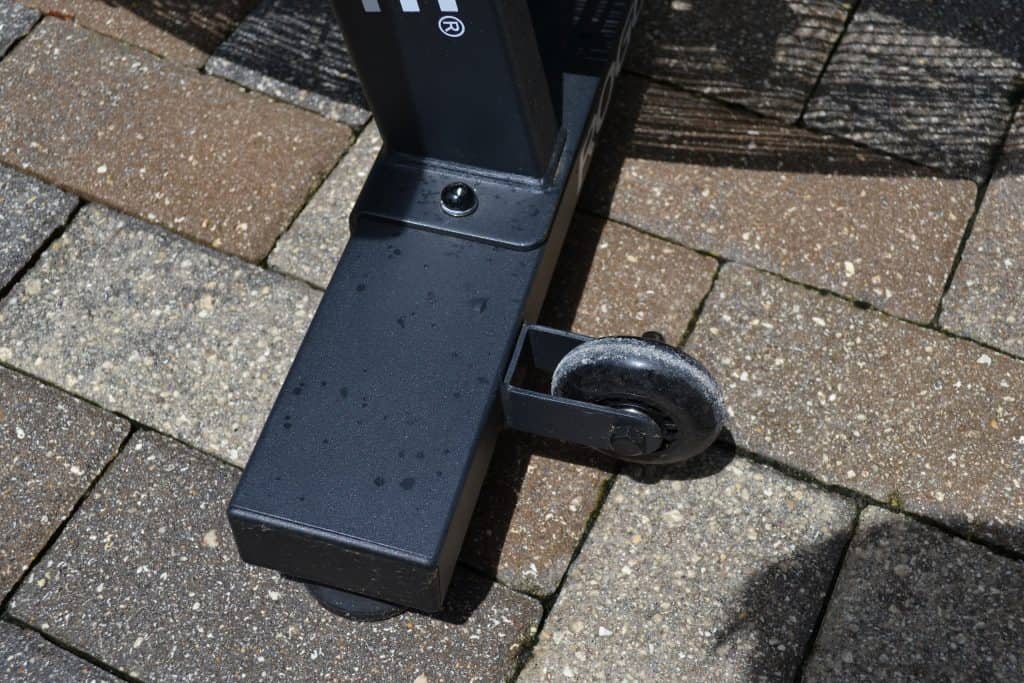 If you are on a surface where you can't roll it, that's another story.
But inside a gym, garage, or CrossFit box, it's very easy to re-position the Echo – just tilt and roll.
Smooth and Quiet
All that overbuilt-ness makes it a pretty smooth ride too.
But here's another key feature of the Echo – it doesn't have a bike chain.
The chain drive on a regular bike is messy – you have to keep it lubricated and that means grease (and the grime that gets stuck in it).
Chains stretch and break over time as well. We want to be riding the bike – NOT working on the bike.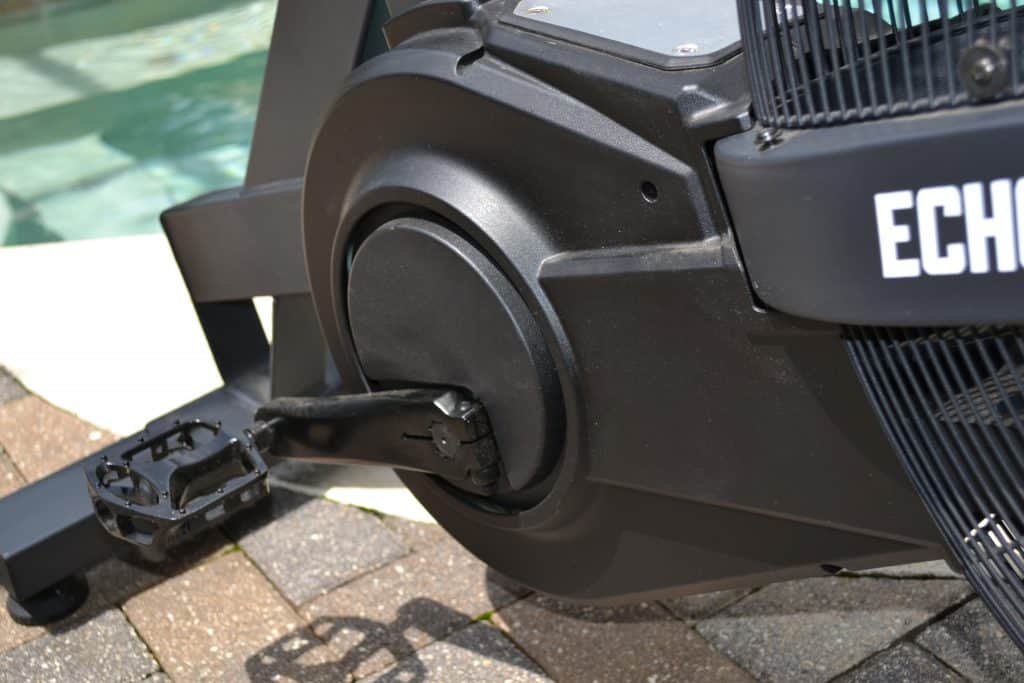 And lastly chains make noise – because there's a decent amount of metal on metal contact happening as the chain slides over the gears.
The Echo bike doesn't have a chain.
It uses belt drive instead.
Belt drive means quiet(er). The fan still makes noise, but it's not unpleasant – sort of a nice whooshing nice.
Belt drives require no maintenance.
And breaking a belt drive is unheard of. It just doesn't happen.
For all those reasons, belt drive is superior. And that is what the Echo Bike has.
Rogue Echo Bike – Even the Fan is Overbuilt
Here's another interesting face about the Echo Bike – even the fan is overbuilt.
The fan blades are bigger, and there are more of them – as compared to the Assault AirBike
Here's the fan blades on the Assault Bike. There are 6 of them, and they are approx. 2.75″ wide by about 6″ long.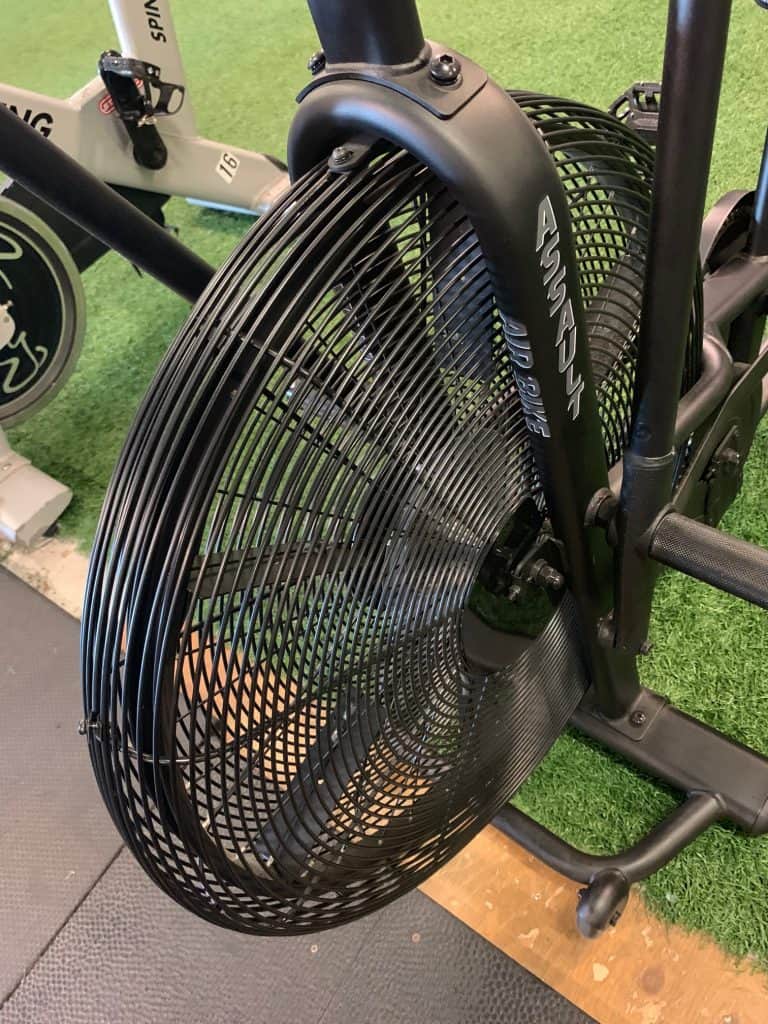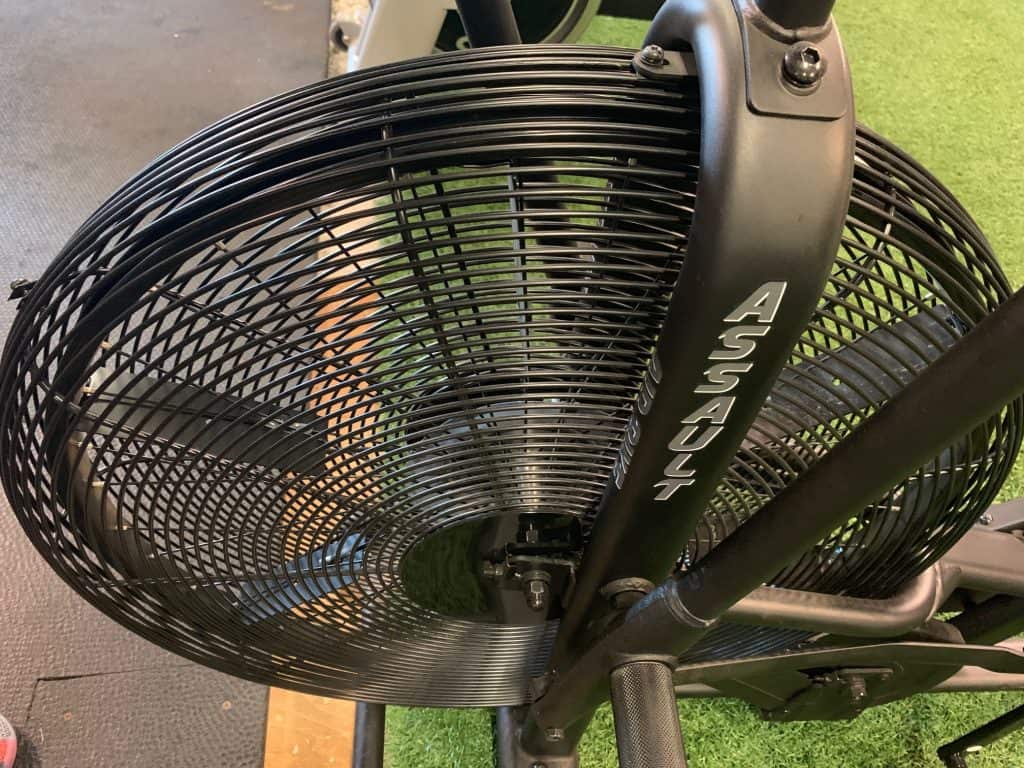 The Rogue Echo Bike's monster fan blades have these proportions: 10 blades – 2.75″ wide, 26″ diameter.
(Those numbers are approximate – but close – because I did NOT remove the shroud protecting the blades to make these measurements.)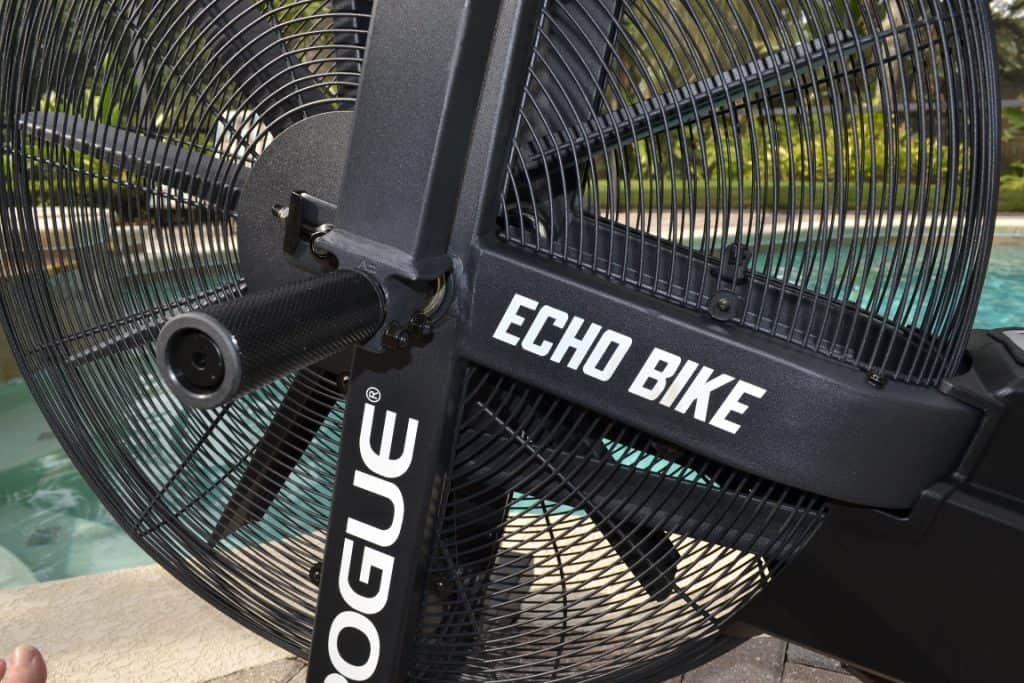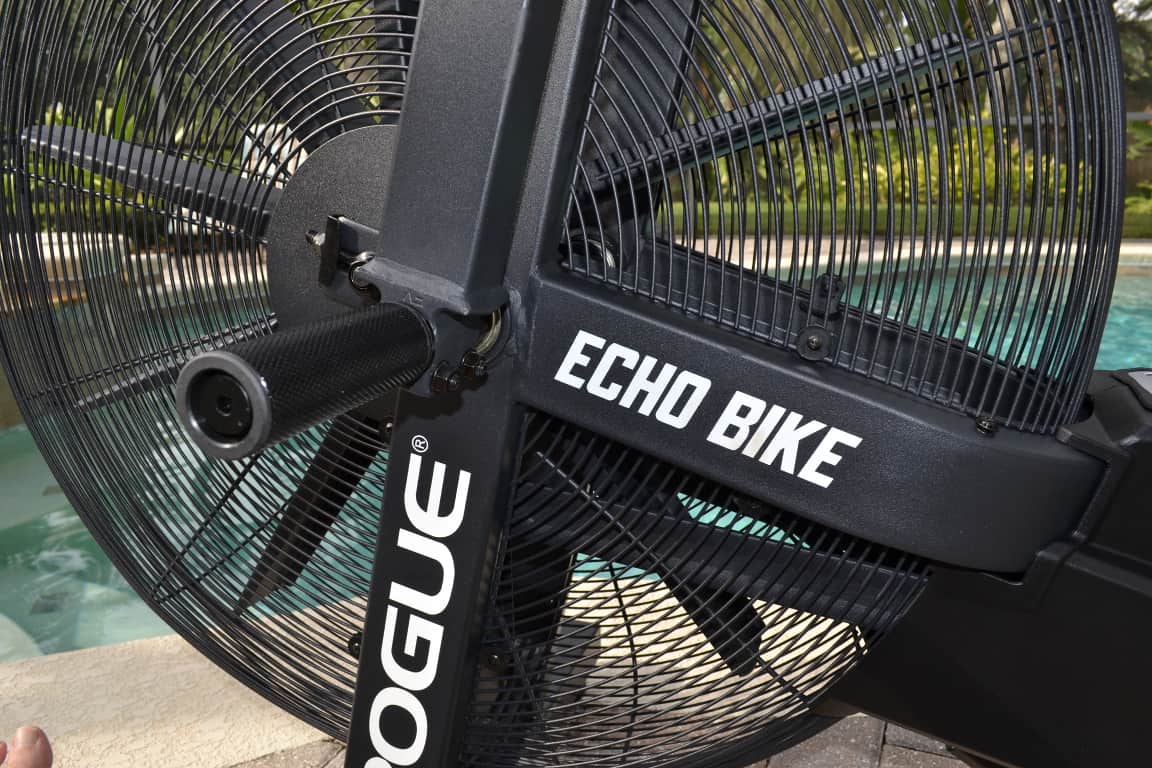 The fan blades are much bigger, and there are more of them.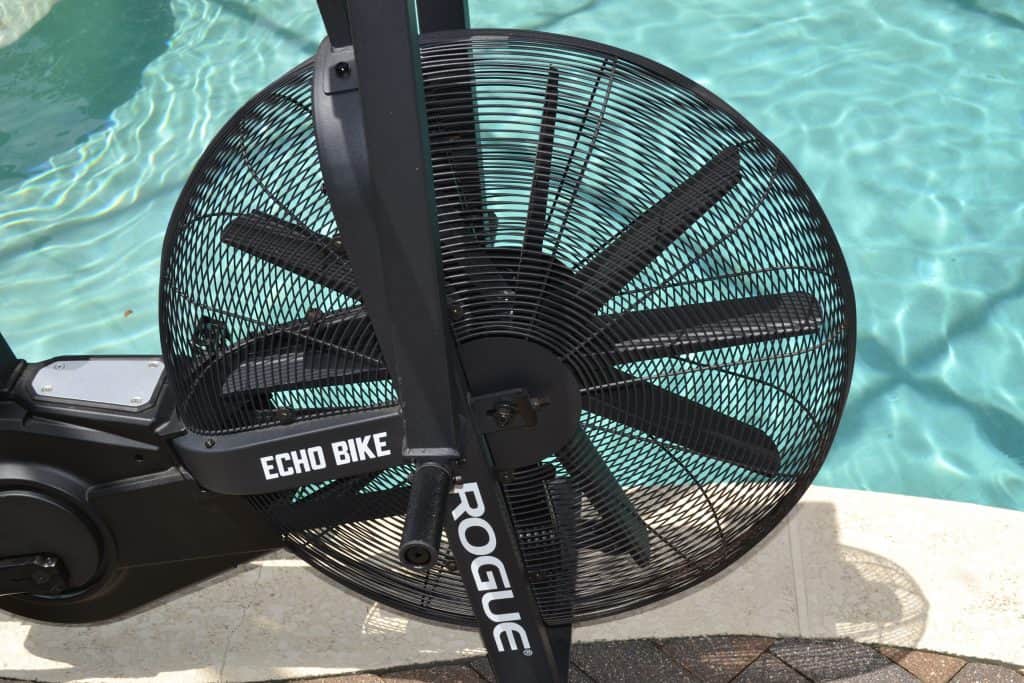 Also consider this – the Echo Bike has those massive steel handles. They are much, much beefier than those of the AirBike.
What does this all mean?
It means it takes more effort to get the Echo Bike moving as compared to the AirBike.
It also means it takes more effort to keep it moving, and more effort to accelerate.
People who have tried both bikes comment that the AirBike is easier.
This is why.
But, let's remember what we are here for.
You don't jump on a fan bike to have a good time.
You jump on it to work your ass off.
So does it matter that the Echo Bike is significantly harder than the AirBike?
Not in my opinion.
But hey, if you want an easier time, or find the AirBike more pleasant – go ahead and get one.
Again, it's not a bad piece of equipment.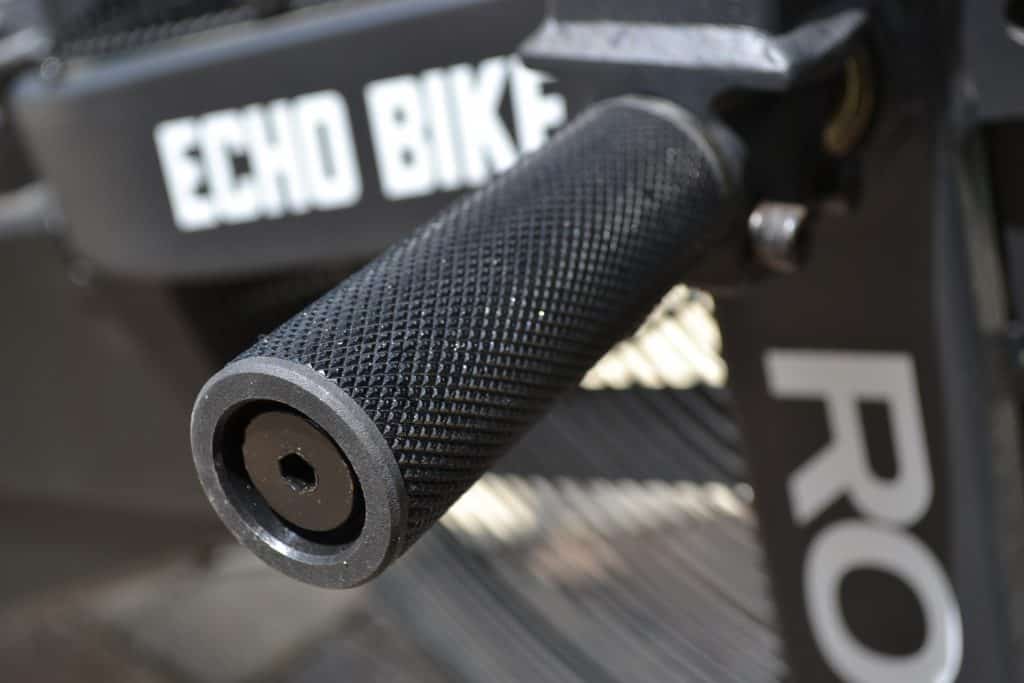 A Few Gripes…
I love my Echo Bike.
I don't have much to complain about.
But, I do have three things.
First, the LCD display is not backlit. That means it's hard to see and use in the dark.
You need an external source of light to see when using it at night.
Maybe not a problem in your CrossFit box – but many of us like to use our Echo bikes outdoors – on the porch or garage, for example.
Having a backlit display would make that so much easier.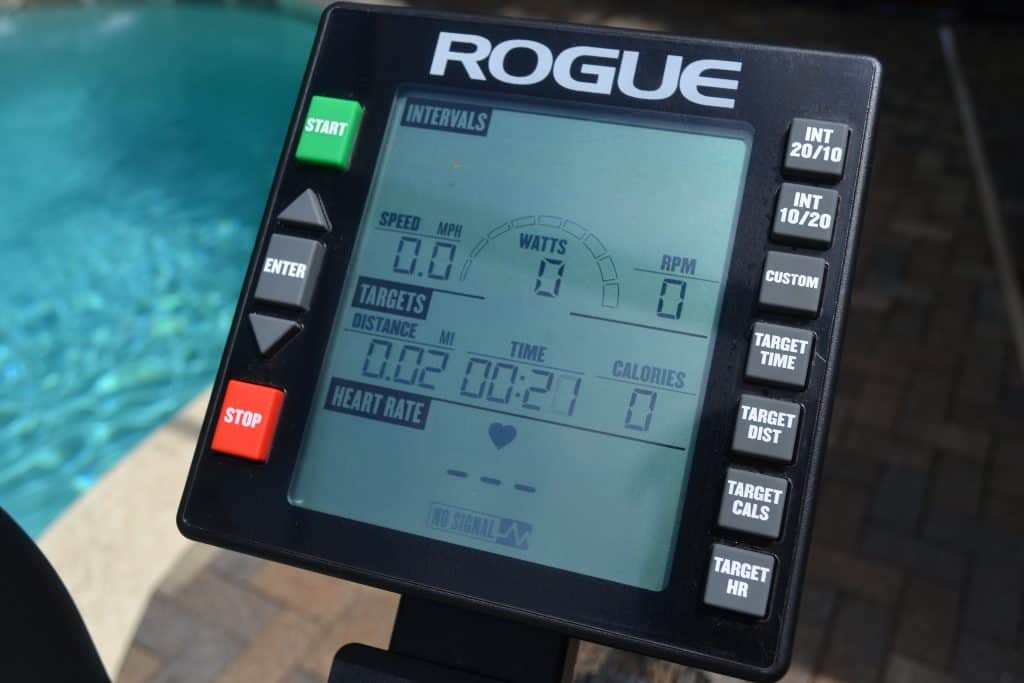 Secondly, it would be nice if the electronic monitor was Bluetooth compatible.
It's the year 2019 – and throwing a Bluetooth transmitter chip into this unit can't possibly cost much.
And it would make it so much easier to use with a wide range of electronics that EVERYONE has these days.
But, you can easily use a ANT+ compatible HRM like the Polar H10 Heart Rate Monitor.
Lastly, the handles have 1.5″ diameter grips.
This is maybe all part of being overbuilt – but they are just a little too big to be gripped comfortably.
Frankly, it stresses my wrists a bit.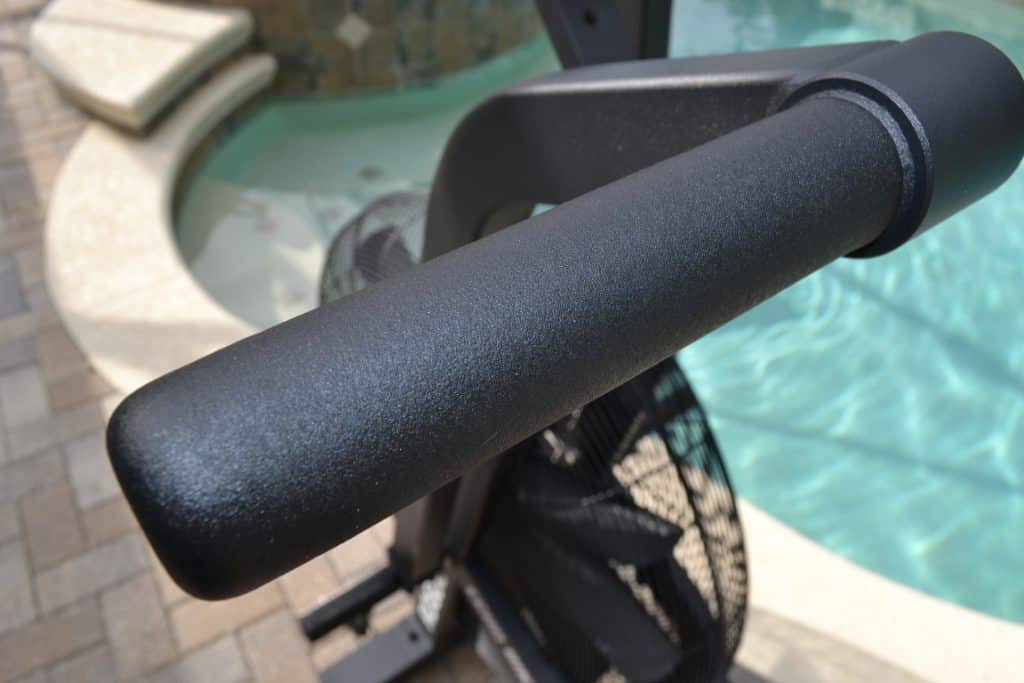 I'd prefer something more akin to barbell diameter – like 28.5mm or 29mm" (or just over a 1″ maybe).
It seems like that could be done without compromising the smoothness and stability of the bike.
Rogue Echo Bike Accessory – Seats
In the near future, we'll review a replacement bike seat for the Rogue Echo bike.
But, for now, let's talk about the stock seat.
Here it is.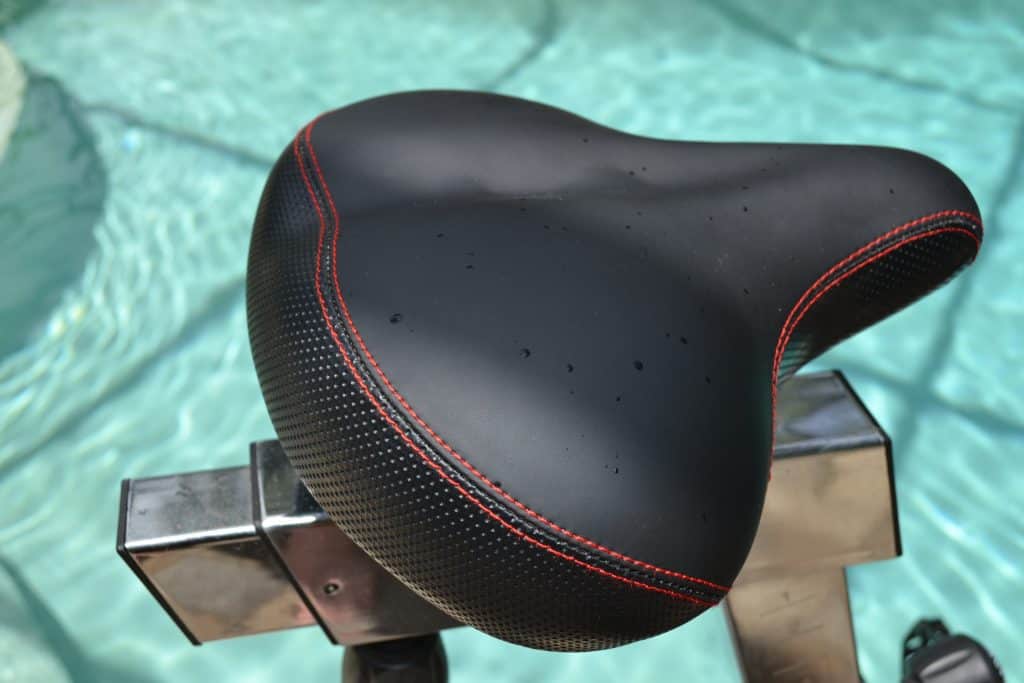 It's not bad. At least for the amount of time you normally ride an air bike. It's not like you are going to go on a 2-hour ride with this thing…
It's mounted like a regular bike seat.
So, you should be able to replace it with a real bike seat – like the Shimano models of saddle (fancy word for a bike seat.)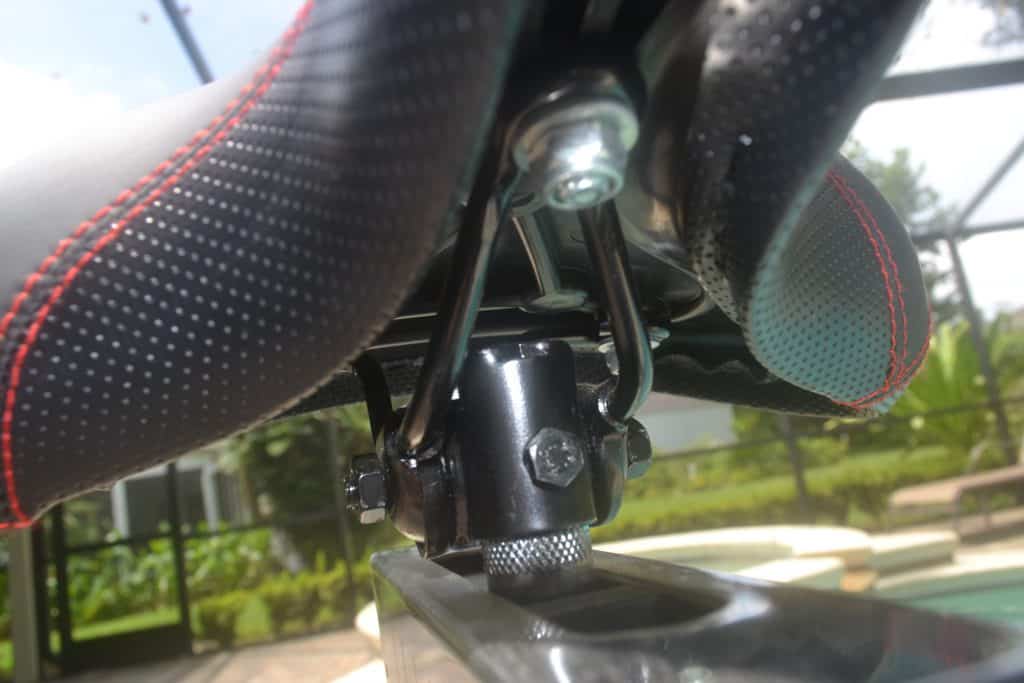 By the way, the height and depth are adjustable.
Here's the settings.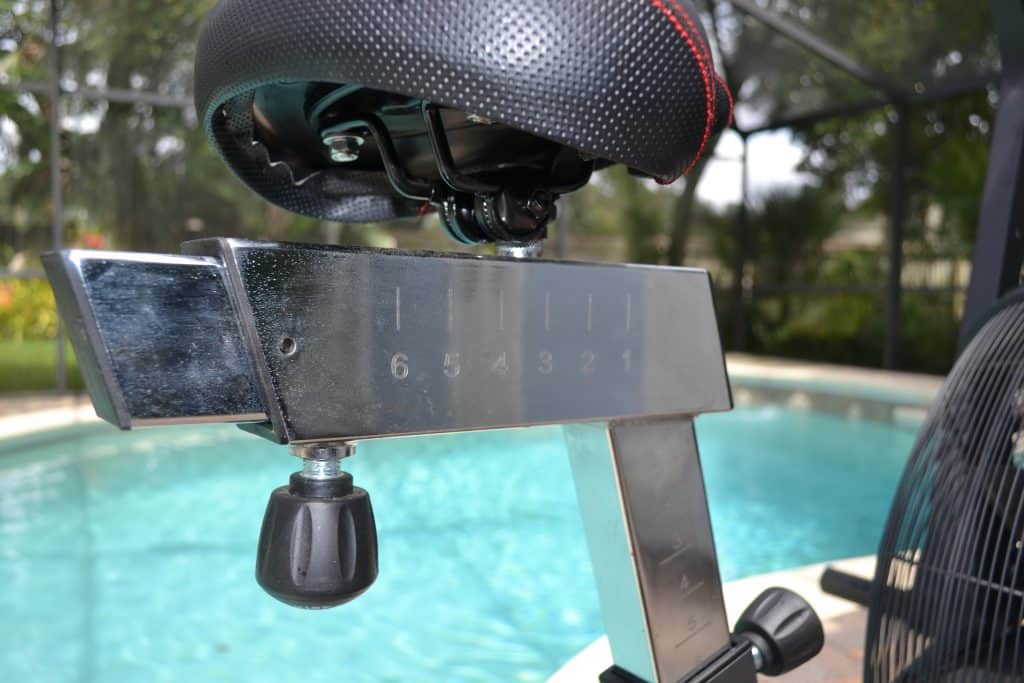 Rogue Echo Bike Accessory – Phone Holder
It's $5.
For the love of all that is holy – get the phone holder.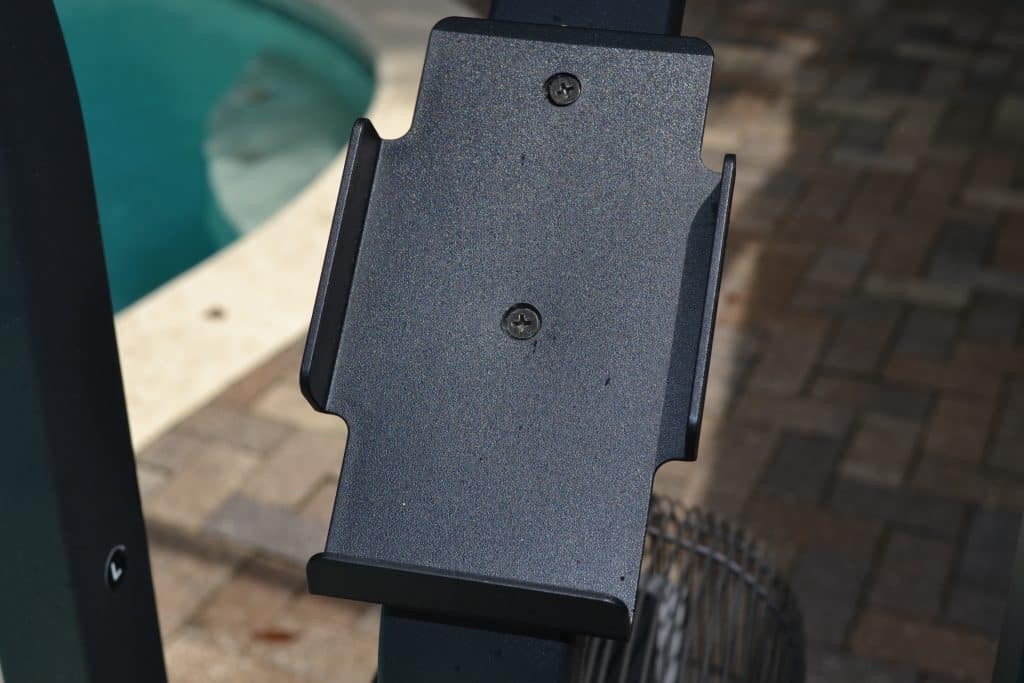 It'll fit most sizes of phones, including the iPhone XS Max.
And, you can then use it with our awesome air bike workouts page.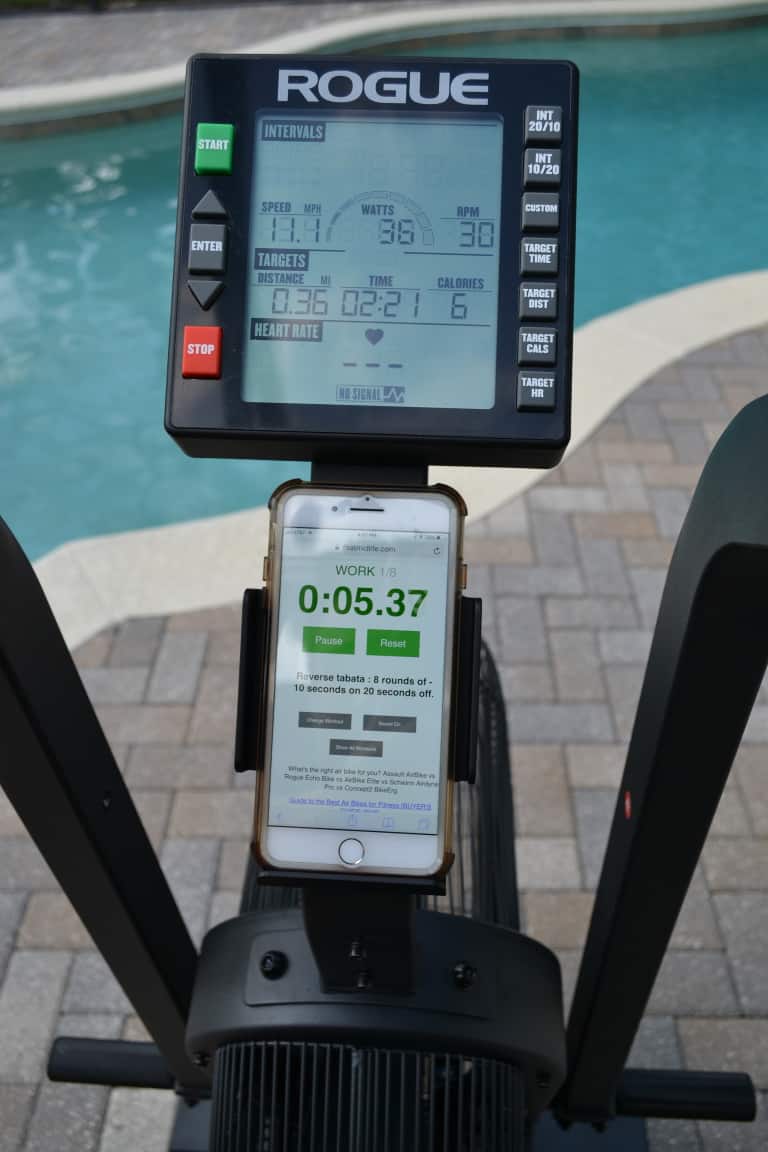 Rogue Echo Bike Accessory – Pedals
In the near future, we'll highlight some of the replacement pedal options for the Rogue Echo.
But for now, let's look at the stock pedals.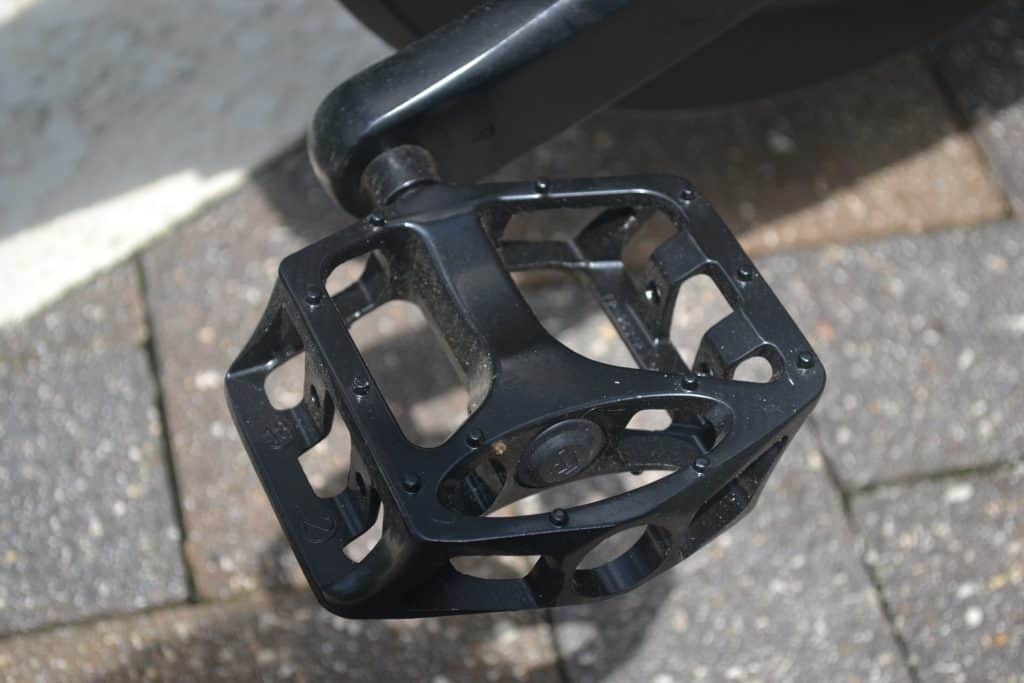 Yep, bike pedals.
Rogue Echo Bike Assembly
We have a whole article about how to assemble it – but it's easy.
They include all the tools you need and the hardest parts are already put together for you.
If you can work a wrench and a screwdriver you can put this together.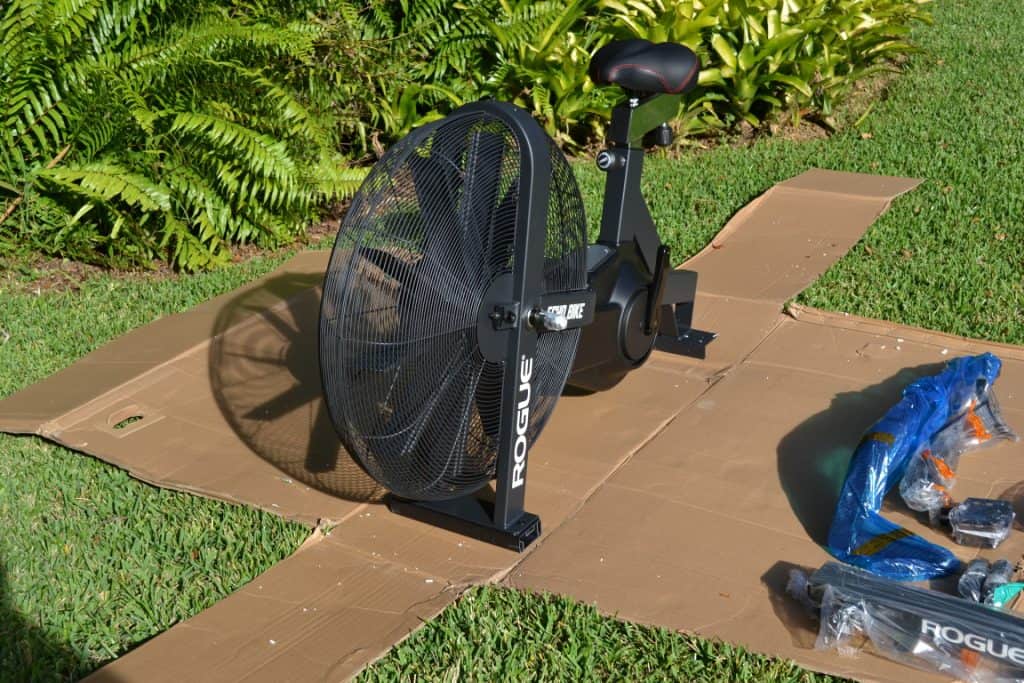 Rogue Echo Bike Review – In Summary
A fan bike is a great choice for a garage or home gym – especially for HIIT (High Intensity Interval Training) workouts.
But, the equipment is pretty expensive – and hard to find.
We recommend the Rogue Echo Bike.
It's built super tough, it has near-zero maintenance, it's quiet (for a fan bike), and it delivers the goods.
A heart-pounding workout is yours for the taking – just jump on and start to pedal (and push and pull).
By the way, you may want to check out ways to make the Echo Bike more comfortable.
You might also be interested in our article on the Concept 2 indoor rower, which is also an efficient, effective, and low-impact total body workout.
Looking for more air bike options? Check out our Best Air Bikes of 2022 article.
PS – If you are local to Rogue you can pick-up a Refurbished Rogue Echo Bike at a healthy discount.
Why Rogue Fitness Products?
We're a
Rogue Fitness
affiliate – so if you order equipment after clicking the links in this article we receive monetary compensation. But that's not why we recommend Rogue. It's because their equipment is tough, durable, well-made, and made in America. Their equipment looks good, and works even better. Their innovative designs and diversity of options make your training better – allowing you to reach your personal goals faster. And that's why we love them.
Photo and Image Credits
The Rogue Fitness logo and some product imagery on this page is property of Rogue Fitness and provided by Rogue Fitness.
This website is not affiliated or associated with CrossFit, Inc. CrossFit is a registered trademark of CrossFit, Inc.
Tim is the founder of FitAtMidlife.com – an avid gym rat for 30+ years, he's a reviewer of many, many shoes – and founder of the Speed Bag Gathering – the world's only gathering of speed bag punching enthusiasts.  See more gym reviews at Tim's YouTube channel.