Recently I wanted to get into some heart rate training techniques and do some other work evaluating calorie burn.
This is my review of the Polar H10 Chest Strap Heart Rate Monitor.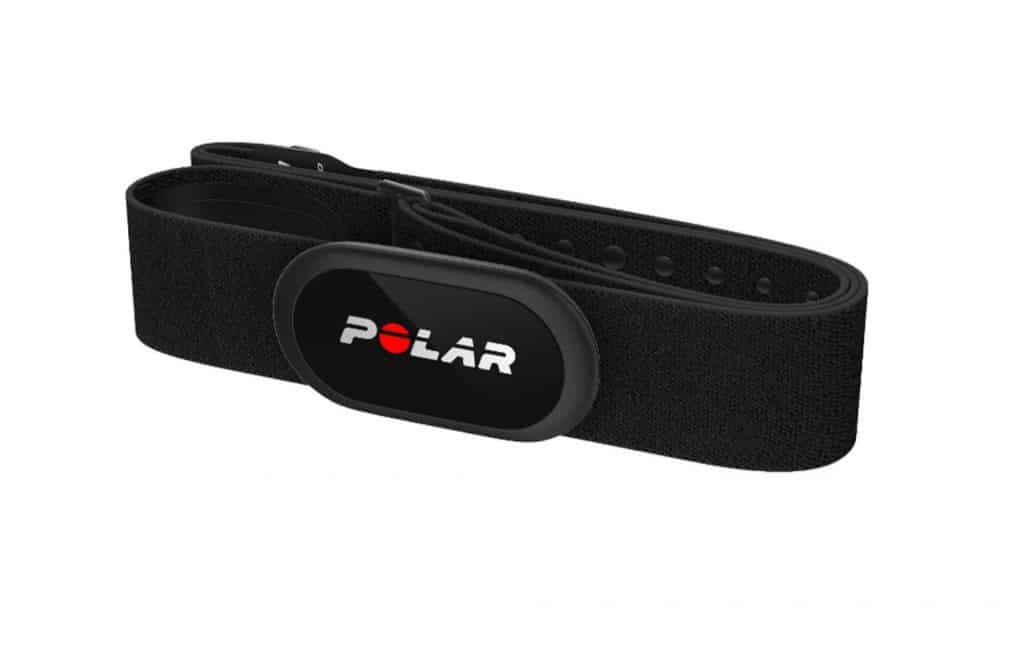 Why a chest strap heart rate monitor (HRM)?
These types of heart rate monitors are known to be the most accurate.
Because it's a chest strap, it isn't impacted by movement (like a heart rate monitor you wear on your wrist or arm).
Secondly, it operates by detecting the electrical signals of your heart – and this is a more consistent and accurate method than that used by wrist-mounted heart rate monitors (which use optical sensors.)
Here's some of the gear I used during this review.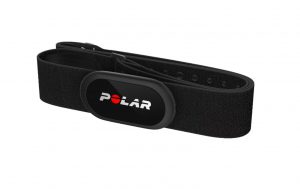 Polar H10 Heart Rate Sensor
The Polar H10 Chest Strap Heart Rate Monitor is a premium product with high accuracy. It supports both Bluetooth and ANT+ connections. Works with your phone, the Echo Bike, or C2 Rower - and more.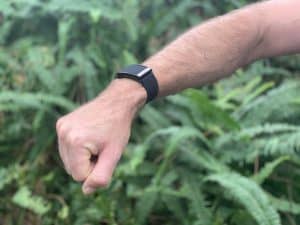 WHOOP Strap 3.0
The WHOOP Strap can also measure your heart rate - but it does a lot more as well. It provides a detailed activity and sleep tracker and provides recommendations on recovery. It does this primarily by measuring your overall cardiovascular strain and your sleep quality. It is expensive, but does give deeper insights than just straight heart rate monitoring.
Rogue Echo Bike
Rogue took the air bike concept and made the best air bike you can buy - this unit is smooth, solid, and quiet (for an air bike) thanks to the
belt drive
. This is an excellent, versatile training tool. You can get your heart rate into any of the 5 zones with a simple, efficient workout.
Polar H10 Heart Rate Monitor – Overview
The Polar H10 transmits your heart rate data using 3 different technologies – 5 kHz, ANT+, and Bluetooth.
This means it is compatible with almost any piece of equipment that is prepared for a heart rate tracker.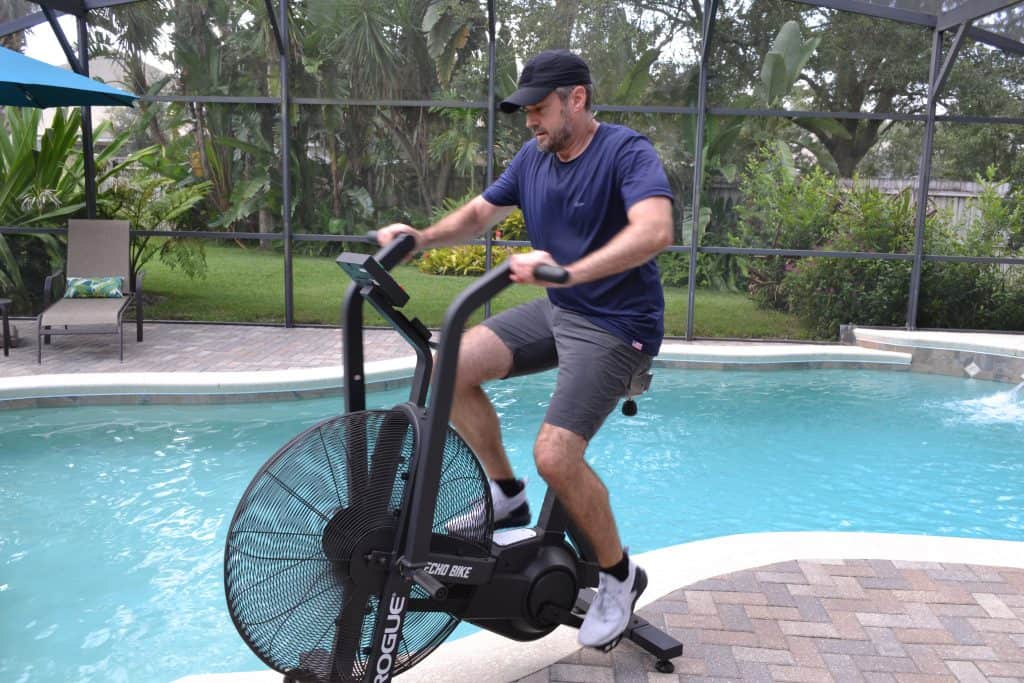 The Polar H10 works great with the Rogue Echo Bike.
The Rogue Echo Bike doesn't support Bluetooth, but it does support the same 5 kHz signal as the Polar H10 can transmit.
Bluetooth connectivity means it'll work great with your smartphone as well.
I have been using the Polar Beat smartphone app from Polar.
It is simple, robust (doesn't crash), easy to use, and gives me the information I need.
One of the reasons I bought this was so I could conduct some experiments and find out how many calories does rucking burn.
The Polar H10 combined with the Polar Beat app was a great tool for that job.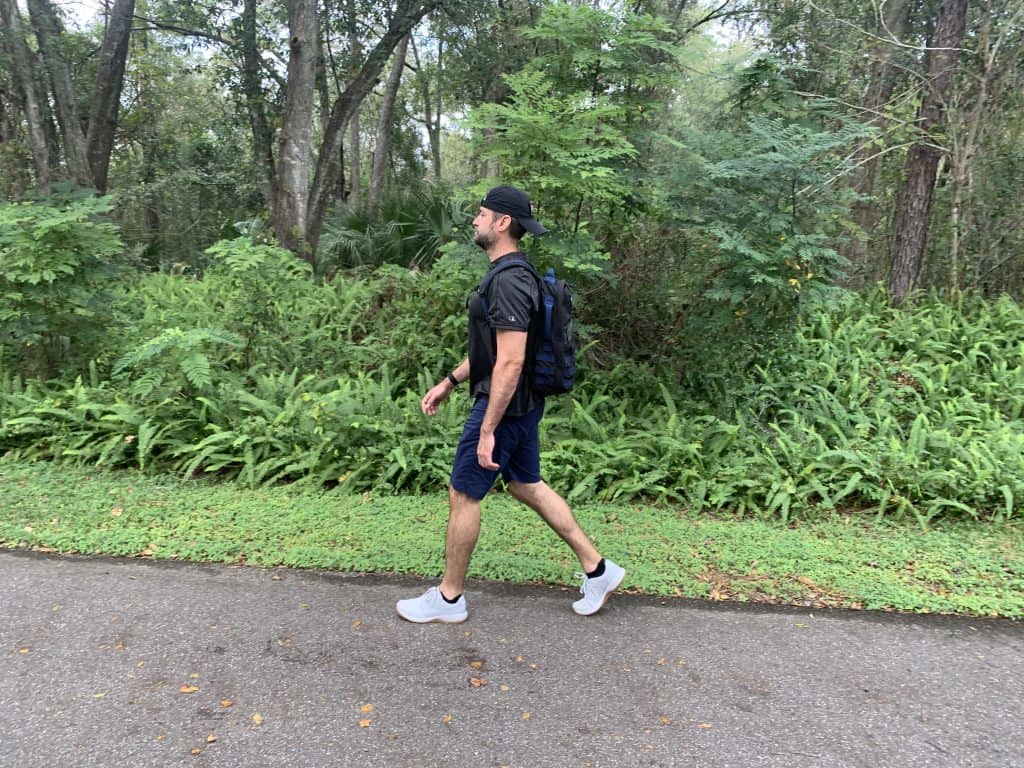 The Polar H10 Heart Rate Monitor uses a CR 2025 size battery.
Battery life is quite good (estimated 400 hours), but they do recommend you disconnect the monitor from the chest strap when storing it – to provide maximum battery life.
That is easy enough to do.
Knowing your heart rate is one thing, but I find the quick and easy way that Polar Beat shoes your heart rate zones in a chart format to be very helpful.
For example, here's a workout on the Rogue Echo Bike.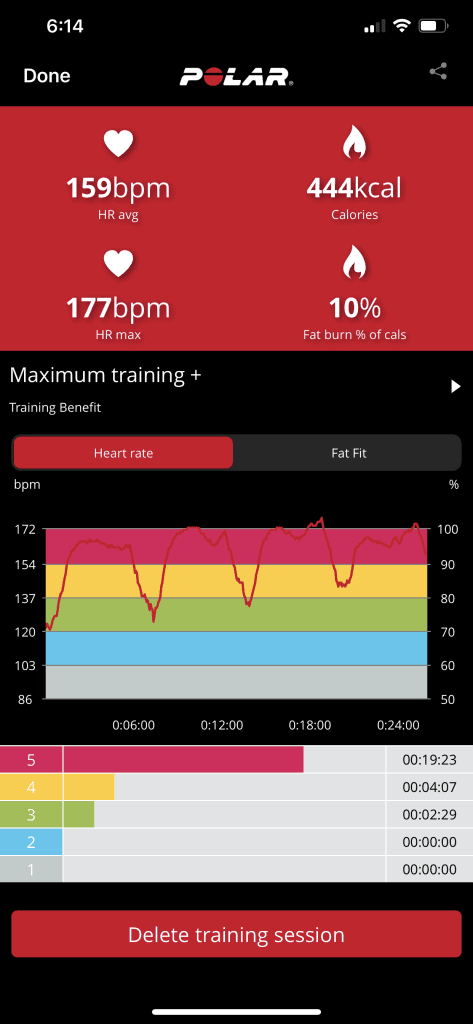 It's nearly all Zone 5 – all the time. That's why they call it "The Devil's Tricycle".
Here's some heart rate zones from rucking: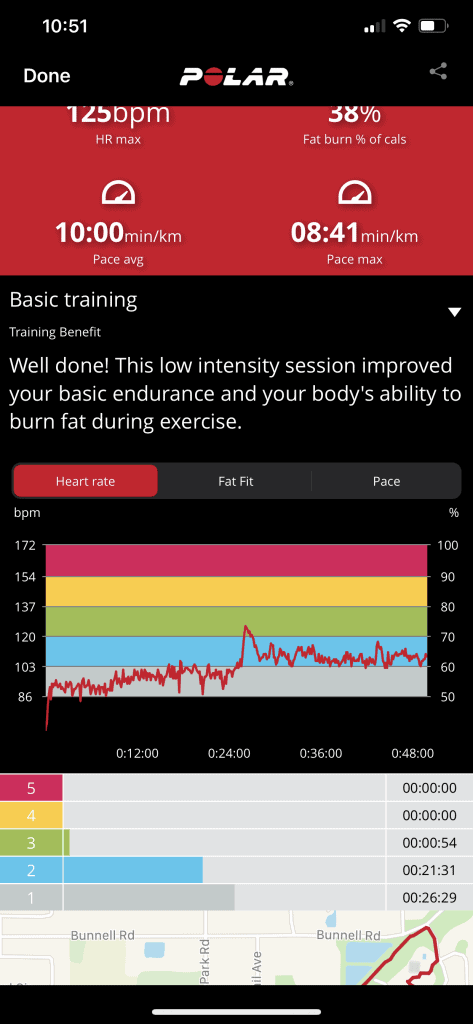 Rucking is a much less intense exercise activity – as compared to the Echo Bike. I didn't need an HRM to tell me that, but it's good to have raw data to plan my training in detail.
What Can You Do With a Heart Rate Monitor?
Monitoring your heart rate is important for 2 different things.
First of all, you can estimate the number of calories you are burning via your heart rate.
Most of the apps you will use with your HRM will use the heart rate data, and a calculation to estimate calorie burn.
I like doing this whenever possible because it gives you a quantitative measurement of how hard you are working.
Secondly, you can use the HRM for heart rate zone training.
Being able to see, and react to your current heart rate lets you target your training precisely.
For example, you can choose to stay in the fat-burning zone or go into the max heart rate zone.
It all depends on your training goals.
Some of the things I have used mine for include:
Figuring out how many calories I burn when rucking.
Figuring out how many calories I burn when punching the speed bag.
Polar H10 Heart Rate Monitor – How Well Does It Work?
The Polar H10 is my go-to HRM when I need accurate numbers.
Wrist mounted HRMs tend to not work as well when you are doing anything with rapid hand or arm movement.
Secondly, the electrical pulse method used by the H10 is going to be more accurate overall – as compared to the optical methods used in watches and wrist-mounted devices.
The H10 is comfortable enough to wear and is unobtrusive and out of the way.
It is worn tight around the lower sternum, but doesn't feel uncomfortable or impede your breathing.
Best of all, I like the fact that this HRM works with just about anything – the Echo Bike, BikeErg, any smartphone, etc.
Battery life has been very good as well. I've been using mine for months now with the same battery.
Here's one more thing – it's totally waterproof too – so you could wear it while swimming. I haven't tested this though.
Polar H10 Heart Rate Monitor – In Summary
Overall, the Polar H10 Heart Rate Monitor works as advertised.
With ANT+, Bluetooth, and 5 kHz compatibility it is very versatile.
Battery life is quite good, and while wearing the chest strap is not as streamlined as a wrist-mounted HRM, I found it to be secure and it seems to be accurate.
References
Heart Rate Zones | The Basics (www.polar.com)
Photo Credits
Some product photos on this page are property of the vendor.
This website is not affiliated or associated with CrossFit, Inc. CrossFit is a registered trademark of CrossFit, Inc.
Affiliate Disclaimer
We are an affiliate of various sellers of the equipment used in this review. If you buy gear after clicking the links in this article, we receive a small commission at no extra cost to you. This helps us to bring you in-depth information and content on these great training tools.
Tim is the founder of FitAtMidlife.com – an avid gym rat for 30+ years, he's a reviewer of many, many shoes – and founder of the Speed Bag Gathering – the world's only gathering of speed bag punching enthusiasts.  See more gym reviews at Tim's YouTube channel.