New for 2019, New Balance has released their take on the CrossFit training shoe – the Minimus Prevail.
New Balance is entering a crowded market – after all the most popular training shoes in 2019 are the Reebok Nano 9 and Nike Metcon 5 – which everyone has heard of.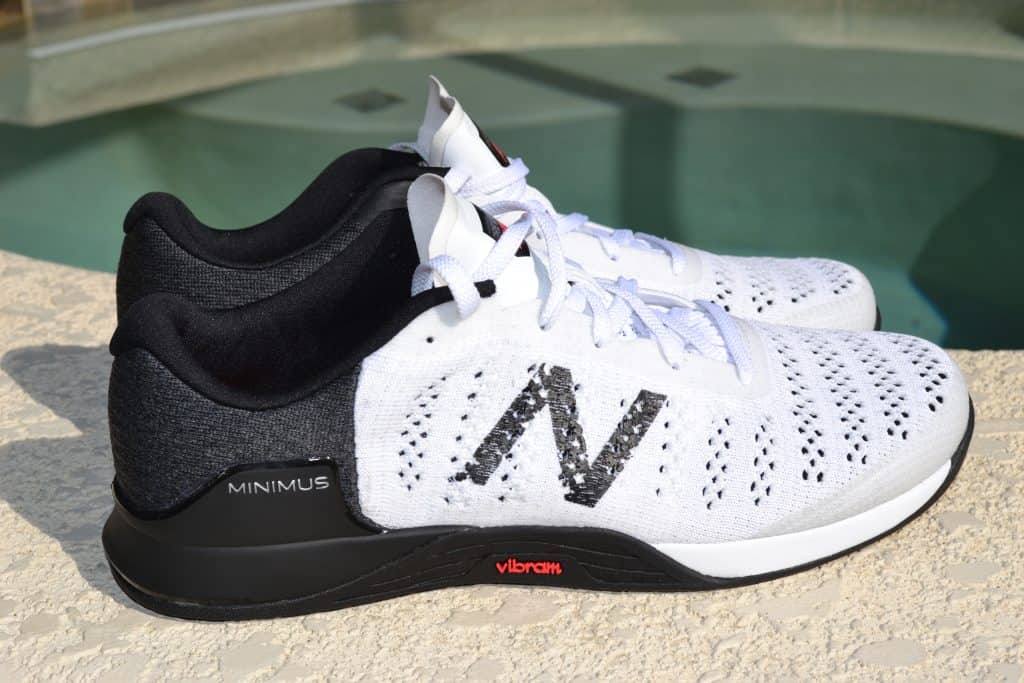 What does this new shoe from New Balance bring to the game?
That's what we'll talk about here.
Here's a quick glance at some of the shoes we'll be reviewing in this article:
New Balance Minimus Prevail Hands On Review on YouTube
Get a closer look at the Minimus Prevail here:
Let's talk more about these shoes.
What Makes the Minimus Prevail a "Training Shoe"
If you've read any of our previous shoe reviews – you'll know what we mean by a "training shoe".
It's a shoe meant for CrossFit WODs or functional training.
And that means training that can involve lifting, running, sprinting, jumping, skipping rope, and even climbing a rope.
These shoes have to do it all – because you don't know what the WOD will throw at you.
Compare these to more specialized shoes like running shoes – with their squishy, shock-absorbing cushioning, or to lifting shoes with their uncompromising stability and giant heel raise – and you'll find that the cross training shoes are generalists.
They are all-around shoes.
For example, let's start from the ground up – with the outsole (or sole).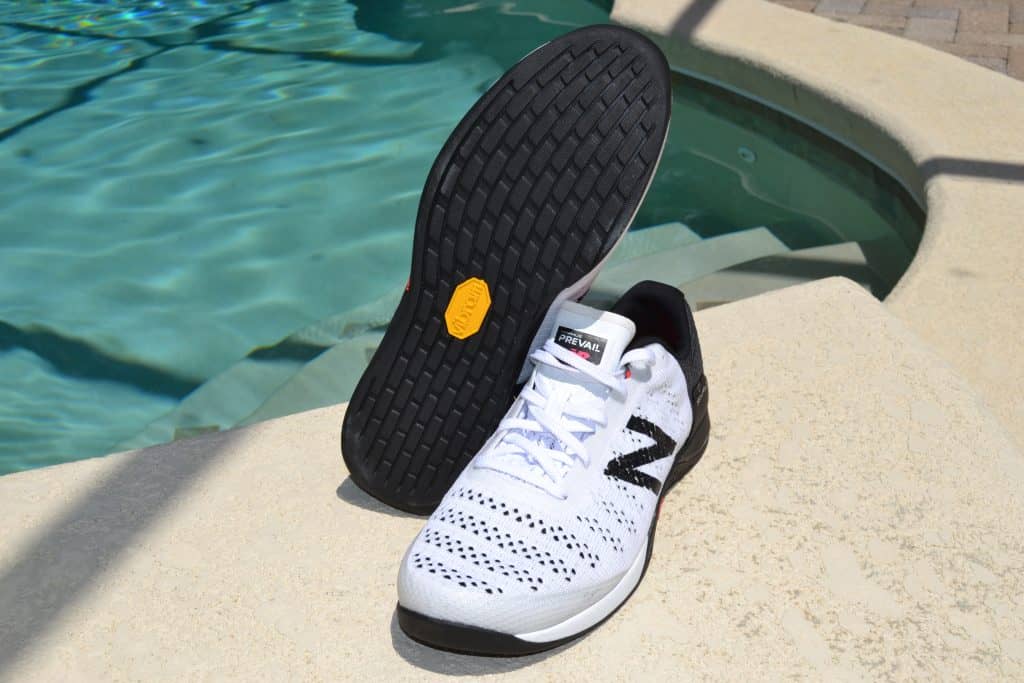 First of all, the Prevail uses a Vibram outsole.
Vibram is a specialist in making shoe soles.
New Balance claims the Prevail's sole will provide maximum surface contact and multi-directional traction.
I'd say that's probably the case. You may not be able to see from the picture, but the tread isn't very deep – and that's common with CrossFit shoes.
It's not like you will be running trails with these – they'll mostly be used indoors or on hard surfaces – and that's where you want maximum grip and contact area – especially for weight lifting.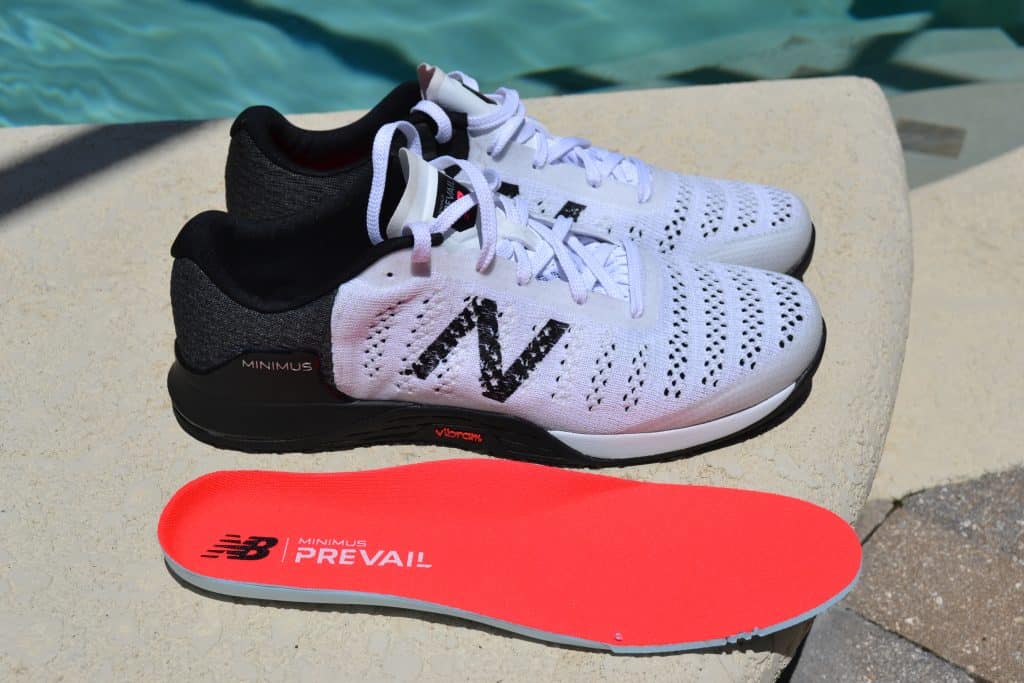 The insole is removable in the Prevail. As you can see in the picture above, it has been taken out.
It's pretty minimalist – but there shouldn't be any surprises there.
With training shoes you typically don't find a lot of cushion. While some cushion and shock absorption is needed we also need max stability for lifting heavy weights.
Think back squats, cleans, deadlifts, etc.
You don't want a squishy soled shoe for those.
New Balance claims the "RevLite" midsole has the ideal balance of cushion and support – at a minimum of weight. After all, this is the "minimus".
And lastly, the Minimus has a minimum heel to toe drop of 4mm.
This is the same as used in the Nike Metcon and Reebok Nano lines.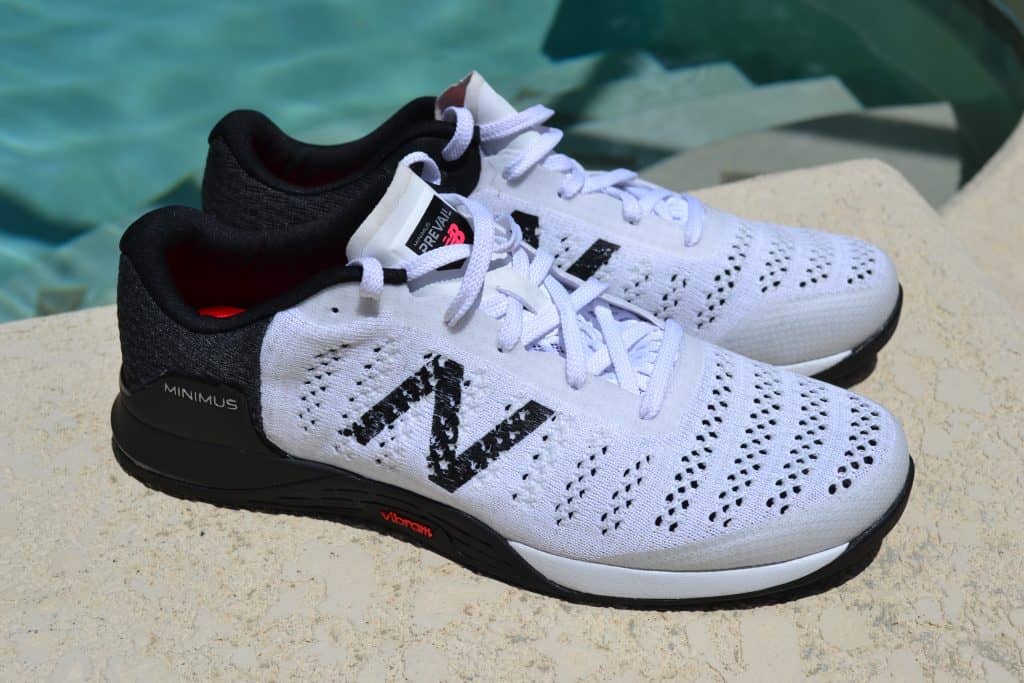 The "heel to toe drop" (also called the "offset" or just "drop") is the difference in height between your heels and your toes.
4mm is pretty small – some running shoes have a 10mm drop, and some lifters (Nike Romaleos 3 XD, etc.) have a drop of 20mm!
But, for a versatile WOD shoe we might need to jump, run, sprint, etc. and for that a versatile minimal drop is what is desired.
There's a minimal outsole wraparound in the middle of the shoe – this will help make the shoe more durable with rope climbs.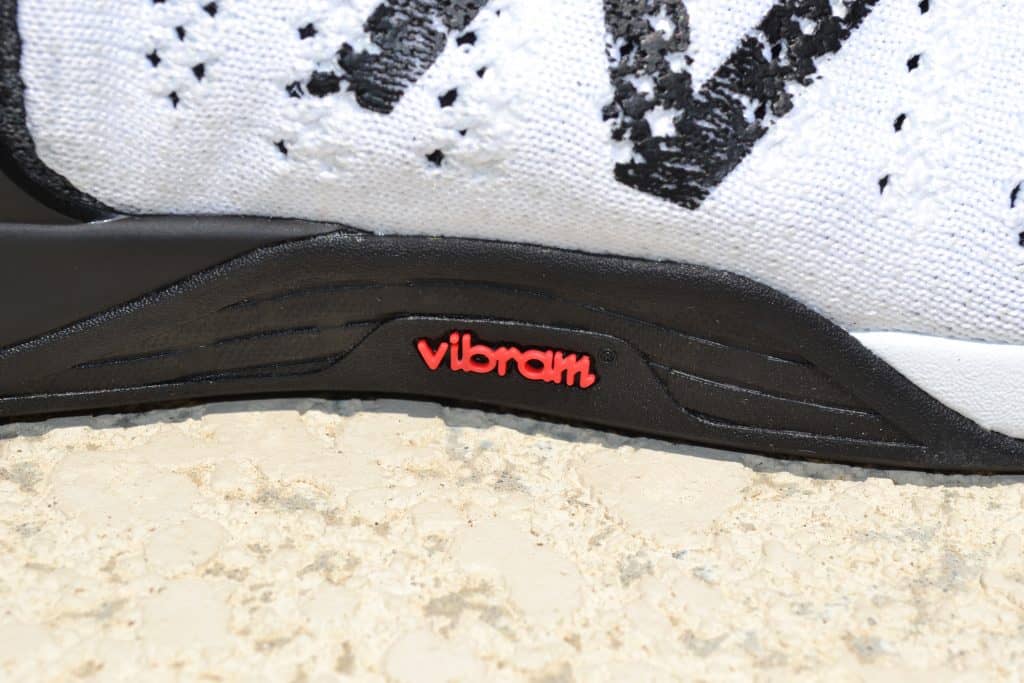 This sort of thing is now considered table stakes with CrossFit shoes.
(As rope climbing can absolutely shred a shoe's upper.)
Let's move on and talk about the upper.
That's the part that covers your foot.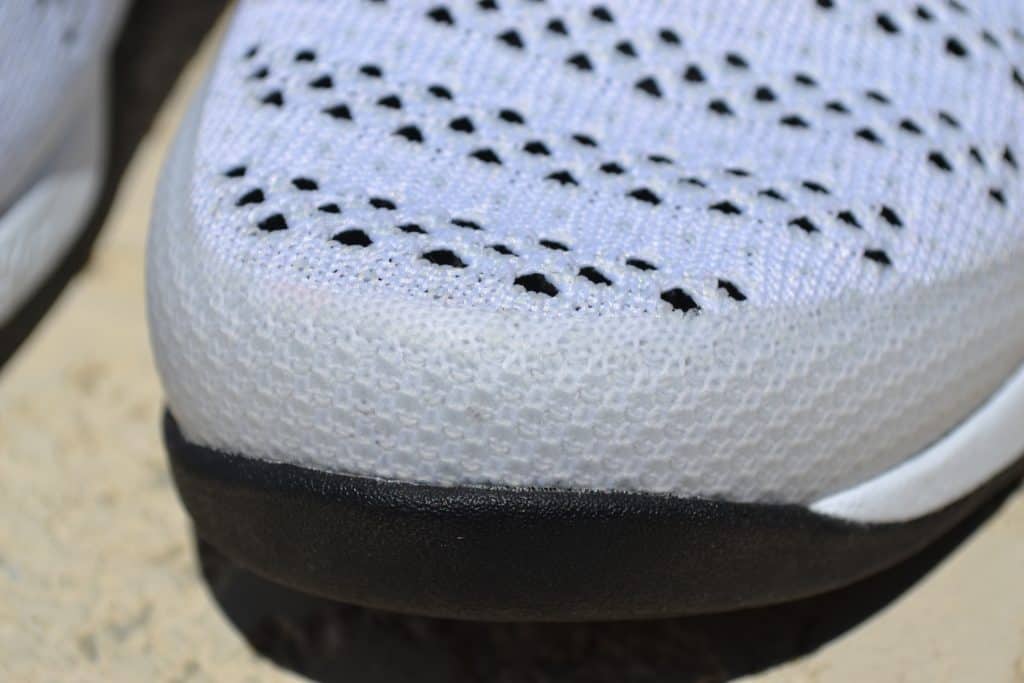 This shoe uses a knit upper that New Balance claims is "…infused with TPU fibers provides lightweight stability and support".
TPU is a tough, plastic like material that is very durable.
I like these knit uppers – it's a very light weight and breathable feel.
The tongue and laces of the Minimus Prevail are pretty standard – there's not much to talk about here.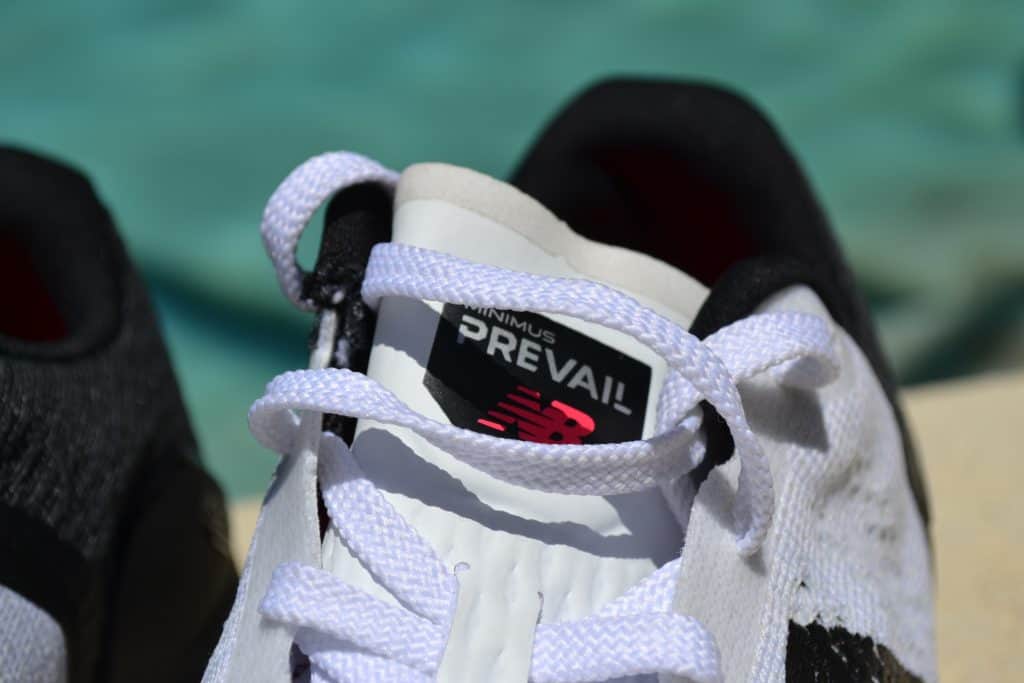 But, I will say the tongue is very well ventilated – not so much at the top (as in the picture), but lower down there is see through mesh.
These sort of things count – both for saving weight and making the shoe more breathable.
That's important when you workout in a box or garage with no A/C.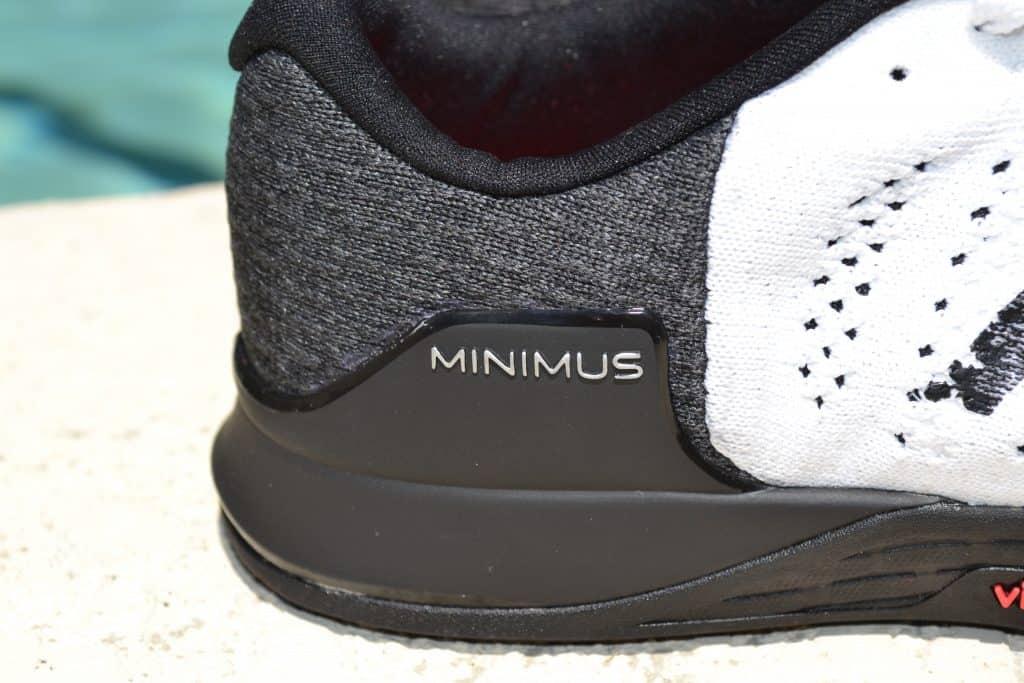 The heel counter is very firm and supportive. It's made from some sort of tough, smooth plastic – probably TPU.
The heel counter is labeled with "Asym" on one side.
This represents the asymmetrical collar with: "molded foam that allows for a more natural heel fit".
Further, there's a very slight edge to the back of the heel – probably like that of the Metcon to ensure minimum drag against the wall when doing HSPU (Hand Stand Push Ups).
A strong heel cup or counter is desirable in a cross training shoe – because we'll be lifting heavy weights with it.
So, that's our whirlwind tour of what makes the Minimus Prevail a CrossFit training shoe.
How does it stack up to it's claim of being light-weight? We'll talk about that next.
Minimus Prevail – The Lightest CrossFit Training Shoe
OK, after all this – is the Minimus Prevail the lightest cross training shoe?
Yep, seems that it is.
For this test, we compared a men's size 11 (size 11.5 for the Metcon 5 – because it runs small) against one another.
Here's where we ended up.
Minimus Prevail – 11.1 ounces
NOBULL Trainer – 11.3 ounces
UnderArmour Tribase Reign – 11.7 ounces
Reebok Nano 9 – 13.6 ounces
Nike Metcon 5 – 13.6 ounces
Nike Metcon Sport – 13.8 ounces
So, there you go.
All that bragging New Balance did is right on the money.
The Minimus Prevail is the lightest cross training shoe you can buy in 2019.
It's a difference you can feel – they do feel lighter than the Reebok and Nike Metcon.
Of course, it's very little difference as compared to the Tribase and NOBULL.
But, we're going to talk about those pros and cons next.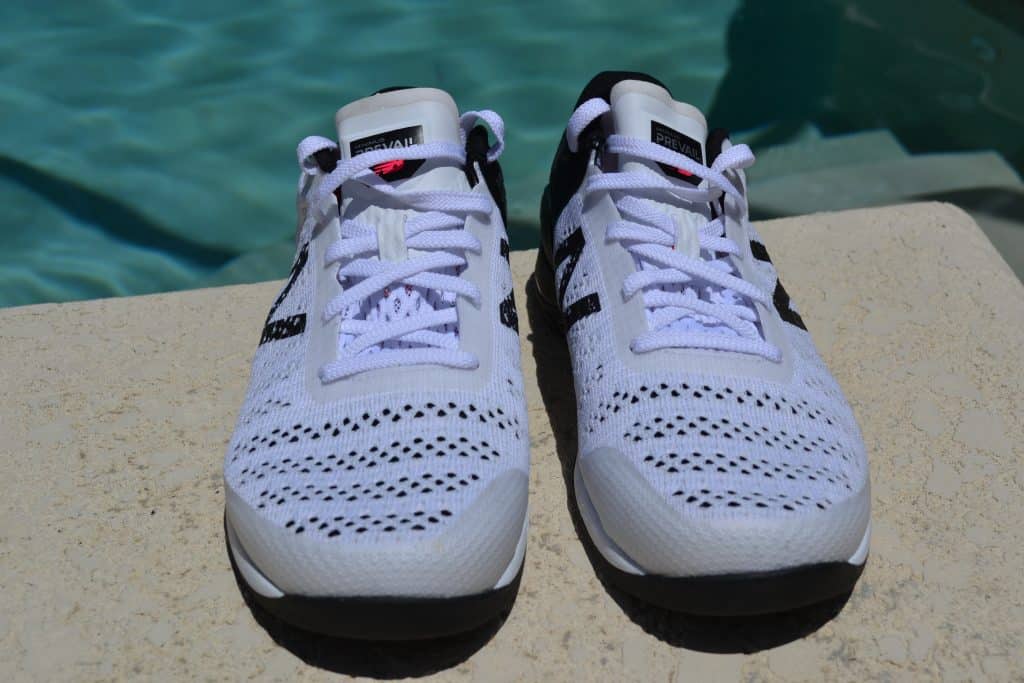 Minimus Prevail vs Nike Metcon 5
The Nike Metcon 5 is Nike's latest cross training shoe for 2019.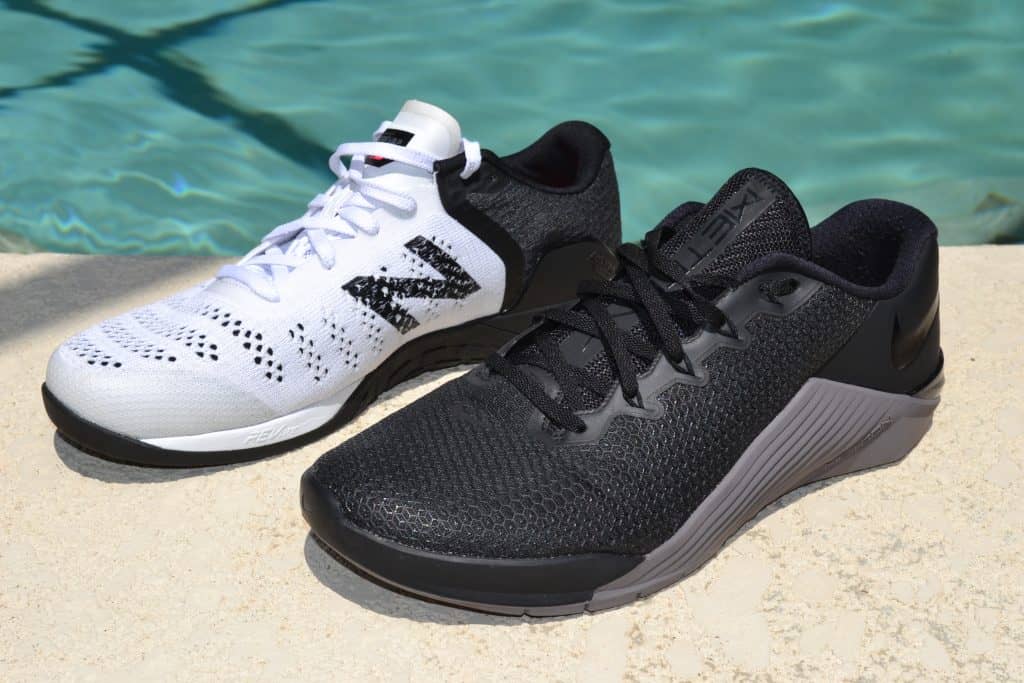 They've made evolutionary changes to this shoe to make it pretty damn good.
Both are "low drop" with a 4mm difference between heel and toe.
Both offer firm support for weightlifting – especially in the heel.
The Nike Metcon 5 has a very advanced drop-in midsole with dual density foam.
It has more cushioning that you can feel.
That said, it is heavier at 13.6 ounces for the Metcon 5 and only 11.1 ounces for the Prevail.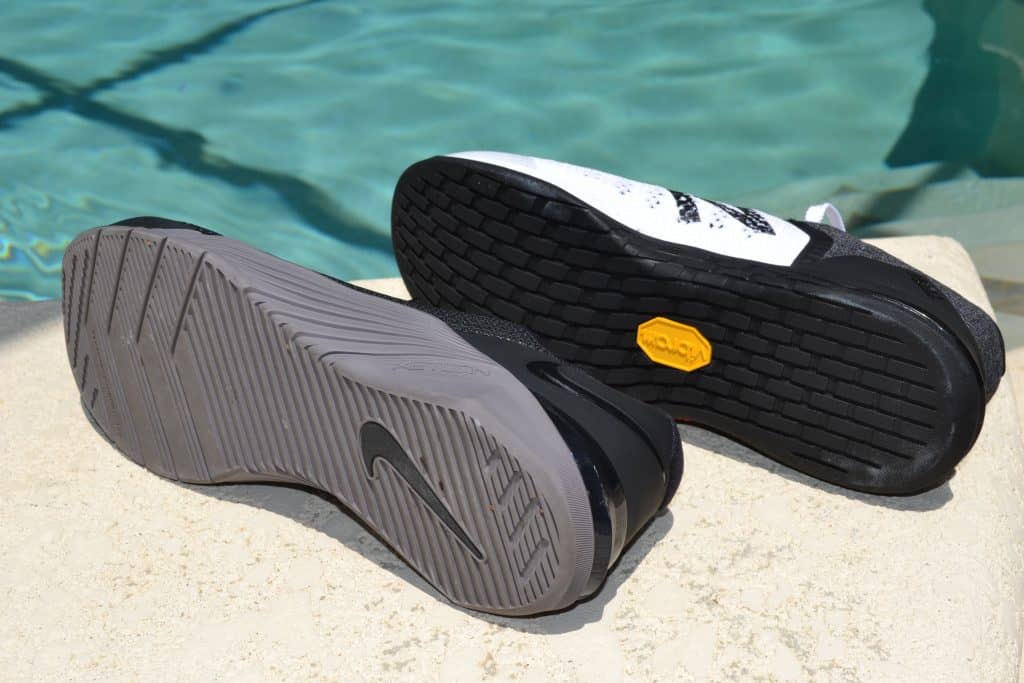 Like to rope climb? Then the Metcon 5 might be your shoe.
The wraparound outsole is HUGE – and tough.
And better yet, it has a new tread pattern on it for better grip.
Outside of that, the outsoles are similar – both claiming good grip and traction in all directions.
Neither has very deep tread – because you'll mostly use these indoors or on hard surfaces like asphalt.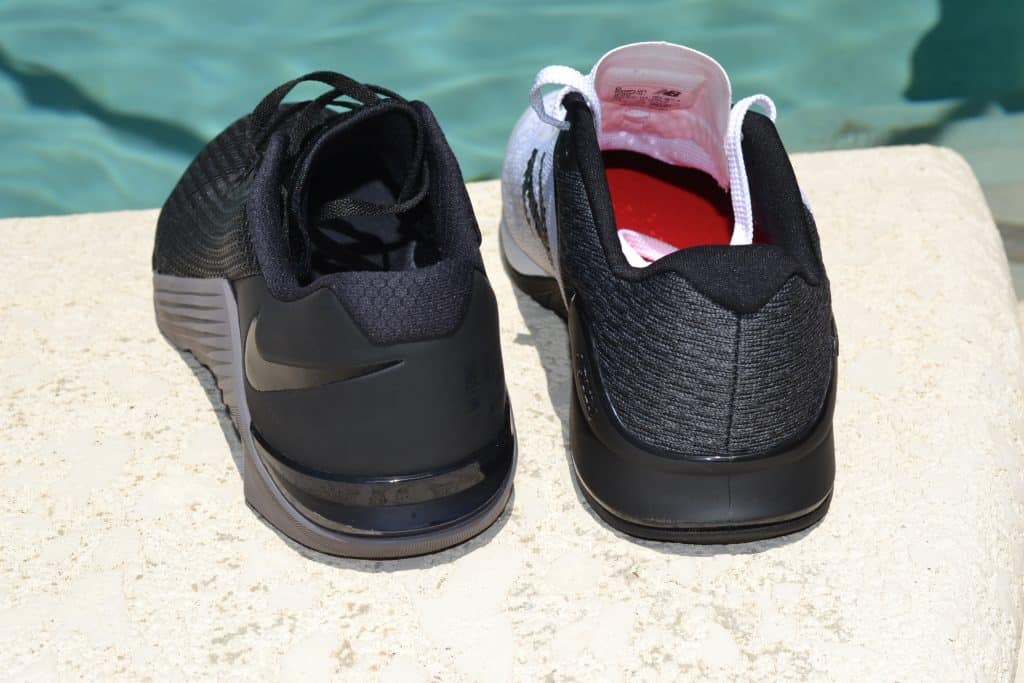 Both shoes have stiff heel counters that help keep the shoe stable for heavy lifting.
They both also use smooth, tough TPU on the heel for low drag against the wall.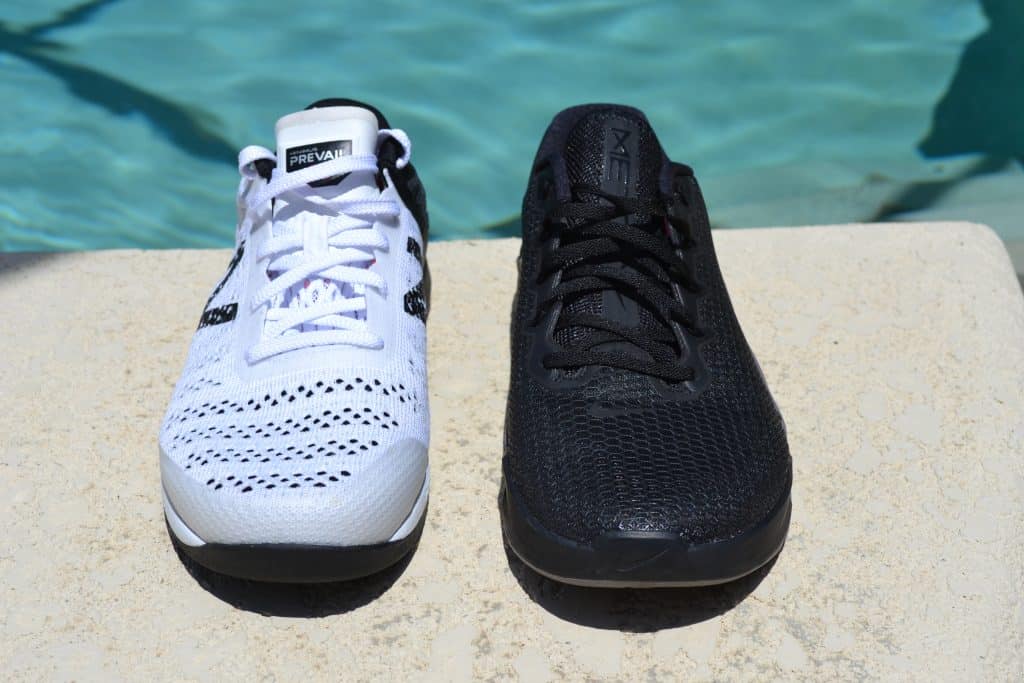 Both are of a similar size and profile.
It's a close race. The Prevail is unquestionably lighter – if that's what you want.
I feel like Nike's 3D haptic print on the Metcon 5 will fare better over time for durability though.
But that is speculation – check back in the future and we'll have long term test results.
Minimus Prevail vs Reebok Nano 9
The Reebok Nano 9 also came out in 2019.
This is the official CrossFit training shoe for the year – it says so right on the heel.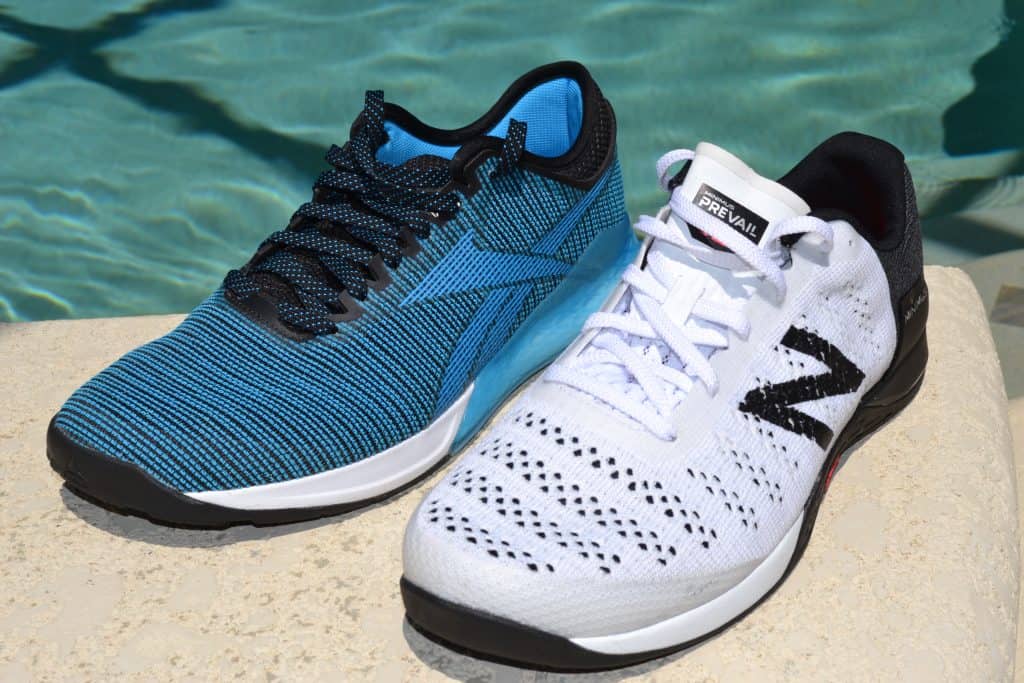 Both shoes are low drop (4mm) and have breathable uppers.
The Reebok uses FlexWeave – their own proprietary technology.
It is a comfortable, breathable "weaved" upper.
But to me the Prevail knit feels lighter and more breathable.
And, as we saw previously the Prevail is indeed lighter at 11.1 ounces vs 13.6 ounces for the Reebok.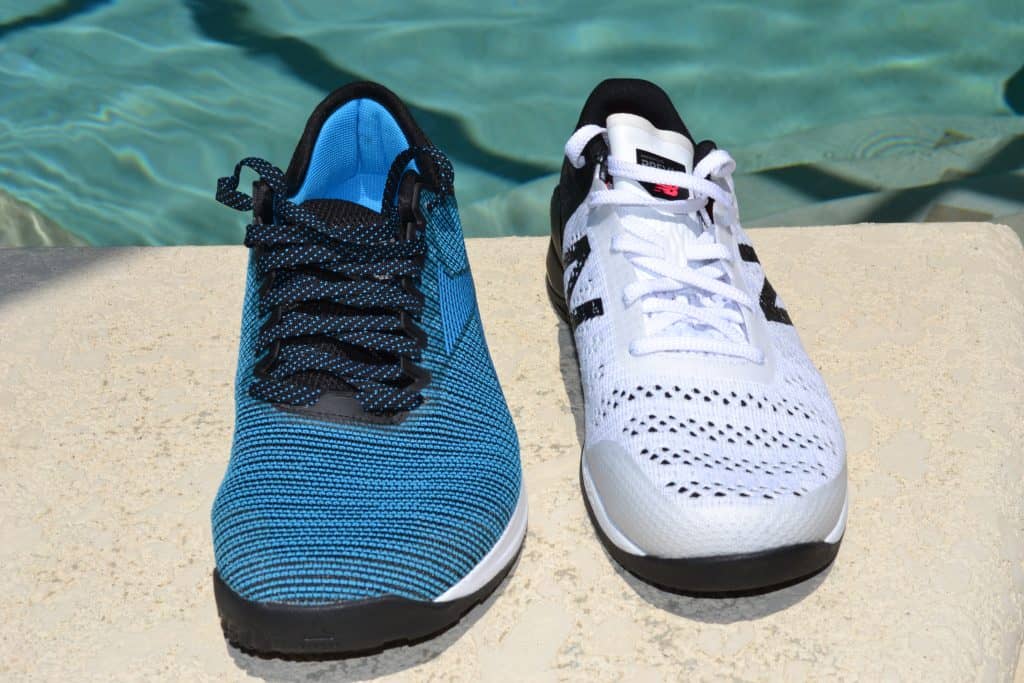 The Nano continues to be the champ for those with wide feet.
This has been a feature of this shoe for the last few iterations – and it's a difference you can see in the picture above.
The Reebok Nano 9 also has improved cushioning – this year's model is supposed to be better for running compared to last years.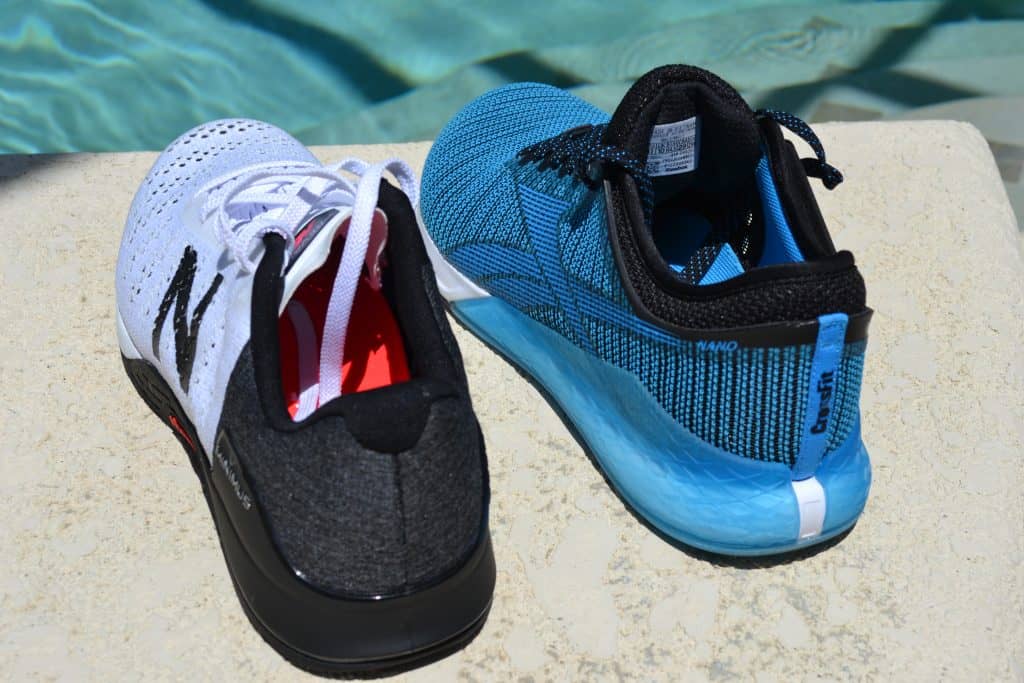 From the heel view you can see the super-tough protection wrap that the Reebok has.
This is another area where time will only tell – will the Prevail wear out quicker due to it's lighter construction?
Or does it matter at all? If you want a light shoe – get the light shoe.
Minimus Prevail vs Nike Metcon Sport
The Nike Metcon Sport is our recommended shoe for outdoor use and agility.
It's the only CrossFit training shoe with a deep tread – for better traction on grass, turf, or otherwise outdoors.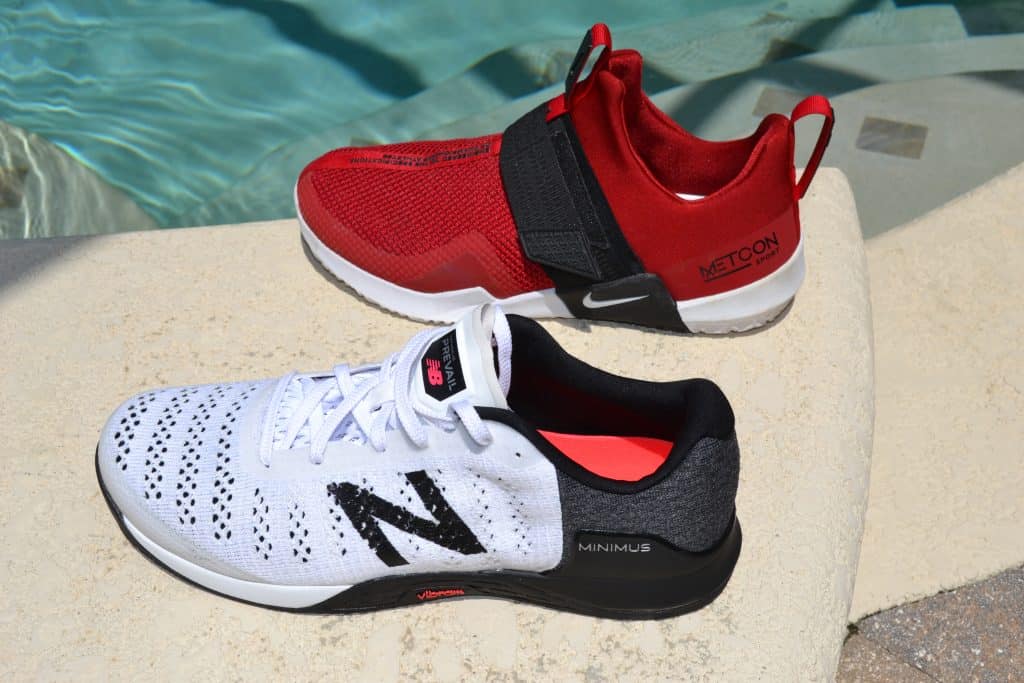 Additionally, it's slip fit is something unique in the category.
And I can confirm, these are comfortable shoes that are just fine for lifting weights.
As you can see, these are just plain bigger than the Minimus – and the weight shoes – 13.8 ounces vs 11.1 ounces.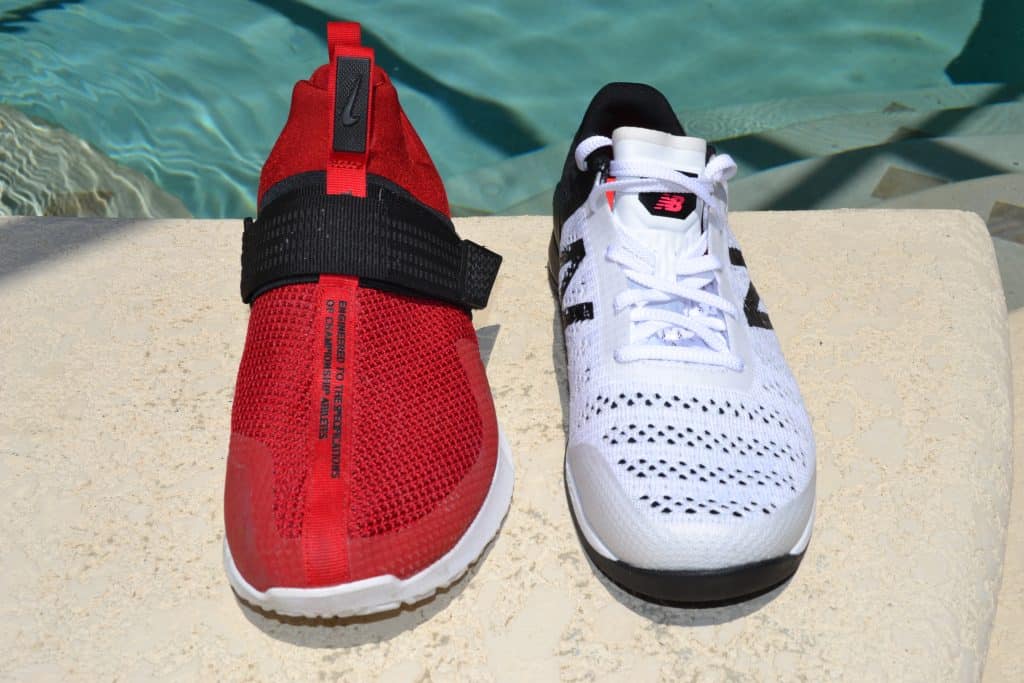 The Metcon Sports are also surprisingly noisy.
They use a drop-in insole that cradles your feet in the shoe – but it makes a lot of noise when the shoe flexes.
This isn't a problem in the Minimus (and seems to be resolved – in my experience so far- in the Metcon 5.
That's the famed Nike "Metcon Squeak" you hear people sometimes complain about.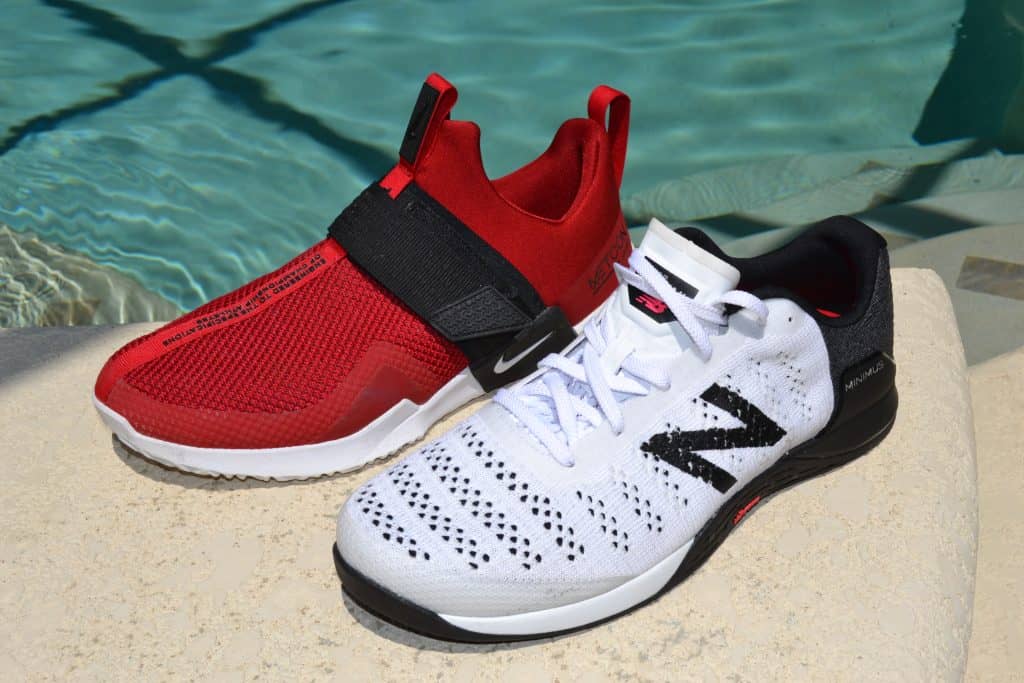 How to choose?
This is a tough one – the Sport is all about agility and outdoors use.
And it is heavier.
But, I have to say I really love that slip fit. It's not insecure at all – as many feared it would be.
Minimus Prevail vs UnderArmour Tribase Reign
UnderArmour's cross training shoe for 2019 is the Tribase Reign.
It's a great shoe.
Shall we reign or prevail?
These shoes are neck and neck, but I've got to give it to the Prevail.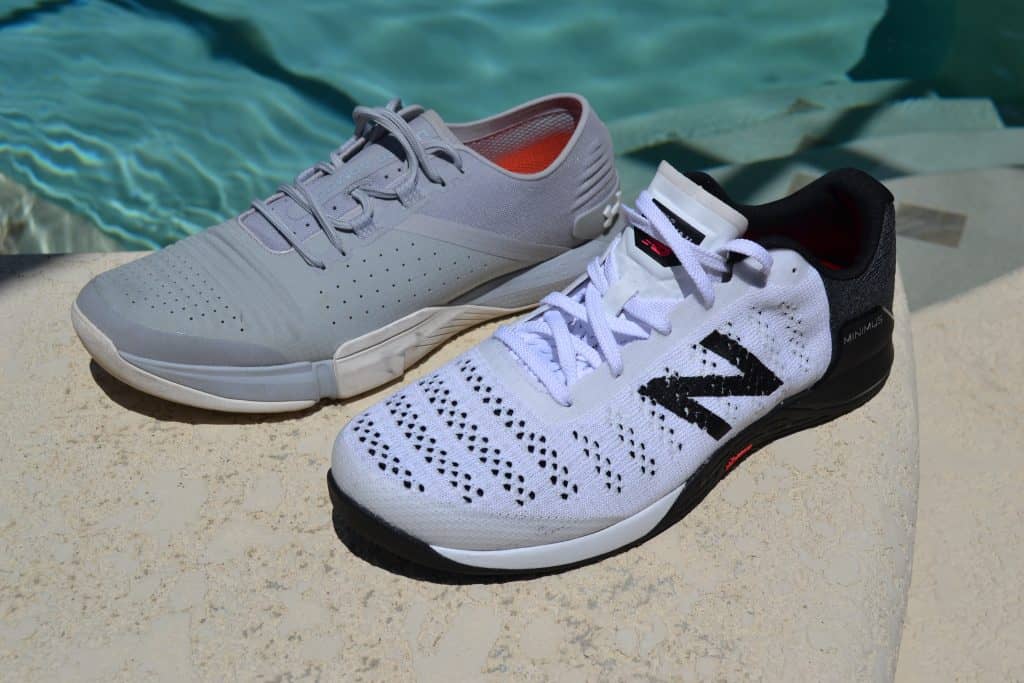 It feels lighter (it is) and it breathes better.
But, having said that – both are low offset (or "drop"). The Minimus is a 4mm heel to toe drop and the UnderArmour Tribase Reign is 2mm.
In fact, they both cost right about $120.
Both have relatively scant cushioning – but as we explained earlier, that's what you would expect in these shoes.
They aren't really running shoes – but you can run in them, of course.
Minimus Prevail vs NOBULL Trainer
That brings us to our last comparison – the Minimus Prevail vs the NOBULL Trainer.
Both are light-weight – with the Prevail having a slight edge of .2 ounces.
Can you feel that difference? Probably not.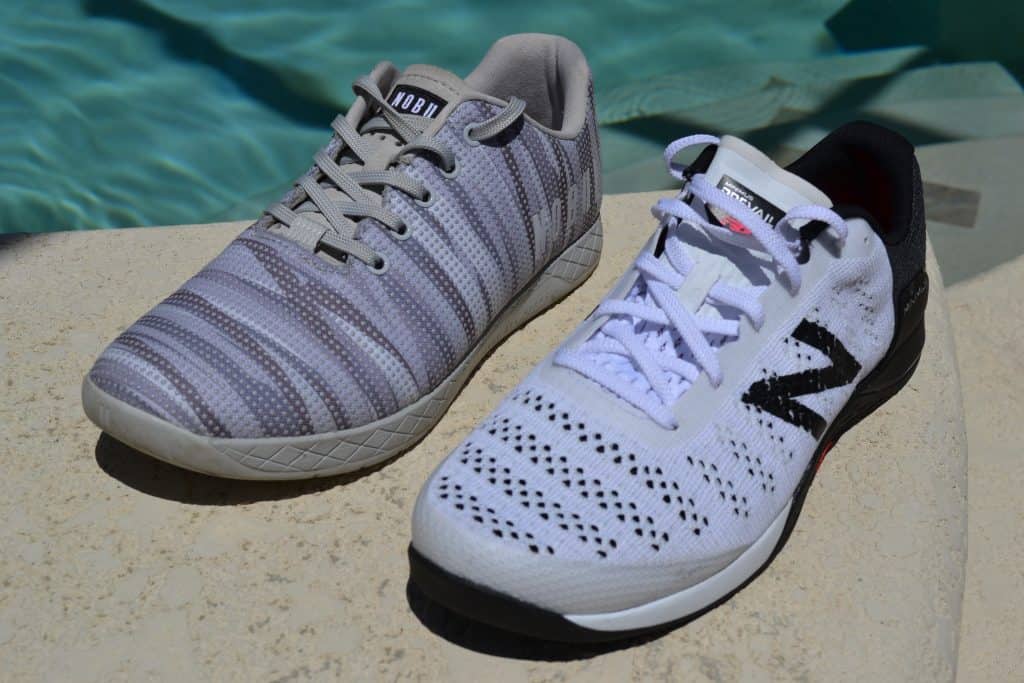 But, you can feel comfort.
The NOBULL trainer feels like an inflexible, clunky shoe to me.
They also don't breathe well.
I think the "SuperFabric" they are made from (Cutproof!) is just too much for what's needed in a shoe.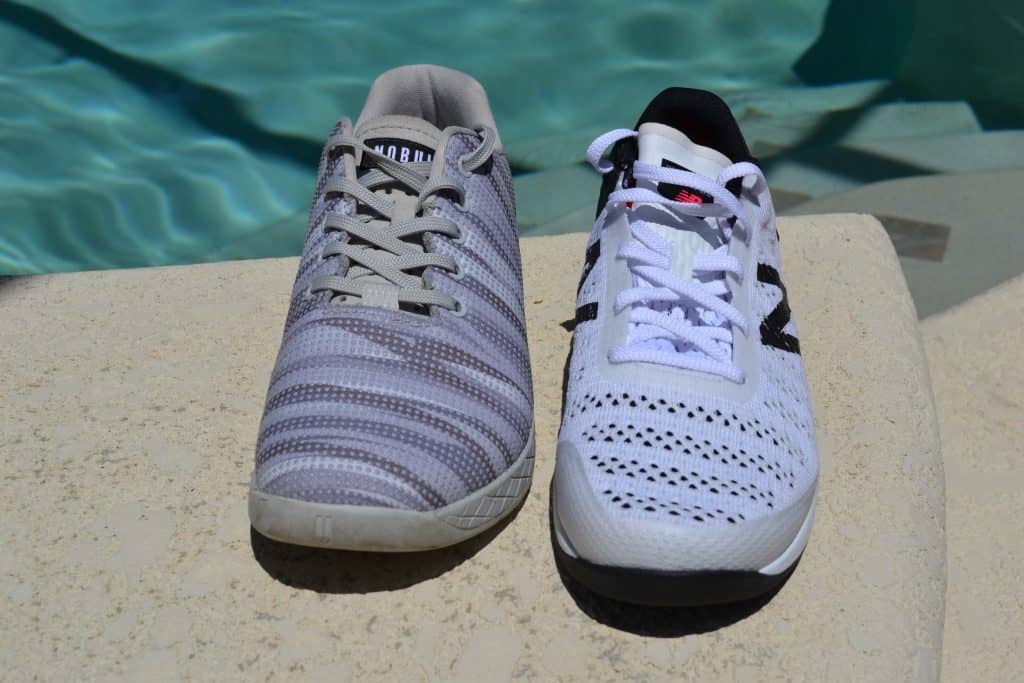 Having said that, they are perfectly functional shoes and you can run, jump, lift, etc. with them.
But, if I have a choice – I'm reaching for the Prevail over the NOBULLs.
Minimus Prevail – In Summary
The Minimus Prevail have all the features we like in CrossFit training shoes.
They are low drop (4mm), they have great traction, they are comfortable and breathable – and they are great for lifting weights.
Where the Minimus Prevail stand out is just how light-weight they are.
These are the lightest shoes we've tested yet in 2019.
But more importantly, these are just plain good training shoes.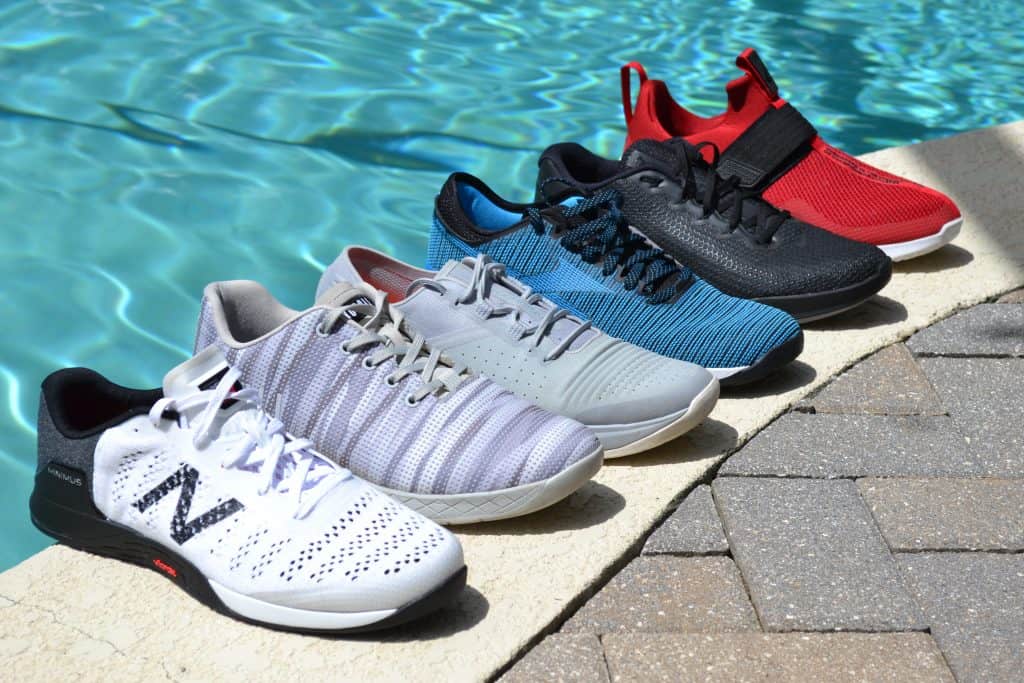 Photo Credits
Some photos used in this article are property of New Balance, and provided by New Balance.
We are a Roadrunner Sports affiliate, so if you purchase items after clicking through some of the links in this article, we receive a small commission – at no additional cost to you. This helps us bring you great information and hands-on reviews.
Tim is the founder of FitAtMidlife.com – an avid gym rat for 30+ years, he's a reviewer of many, many shoes – and founder of the Speed Bag Gathering – the world's only gathering of speed bag punching enthusiasts.  See more gym reviews at Tim's YouTube channel.