If you are shopping for a CrossFit-style training shoe in the year 2023 – two of the best shoes are the Nike Free Metcon 5 and the Nike Metcon 8. What's the difference? Is one better than the other? How do you decide?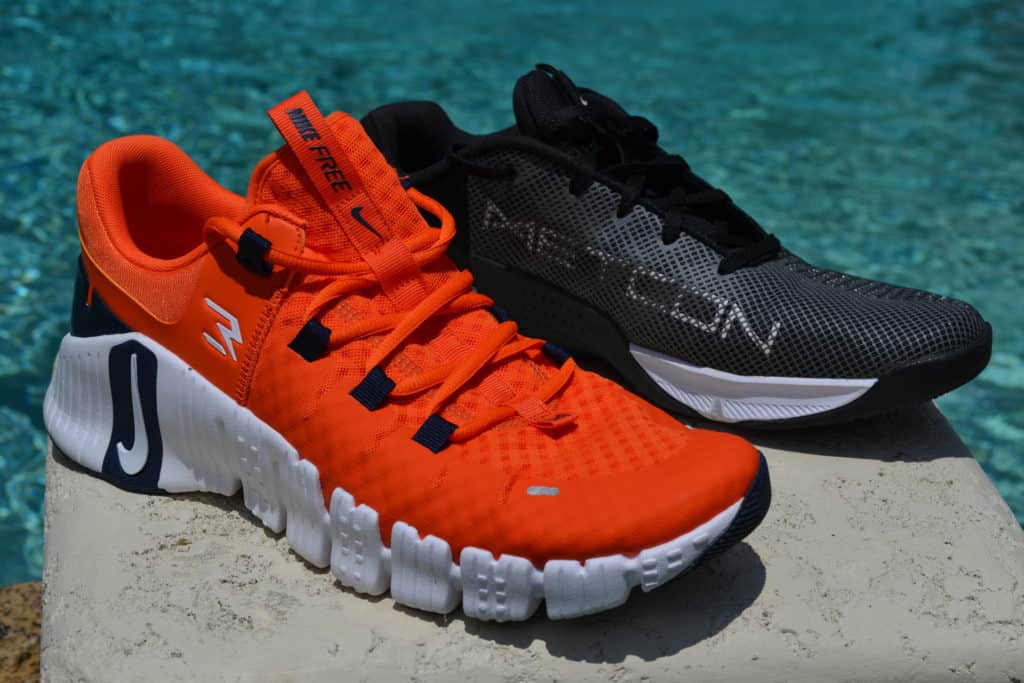 That's what we'll discuss in this article – this is Nike Free Metcon 5 versus Nike Metcon 8.
Get the Nike Metcon 8 or the Nike Free Metcon 5 from these vendors:
Let's compare and contrast these two shoes.
Nike Free Metcon 5 Versus Nike Metcon 8 – Overview
The Nike Free Metcon line has been a big hit for Nike. The Nike Free Metcon 3, 4, and 5 are all basically the same shoe. I have owned all of these.
Nike isn't going to mess with success, so they keep pumping out newer versions – without really changing anything.
But that's OK. These are the most practical of the Nike Metcon shoes.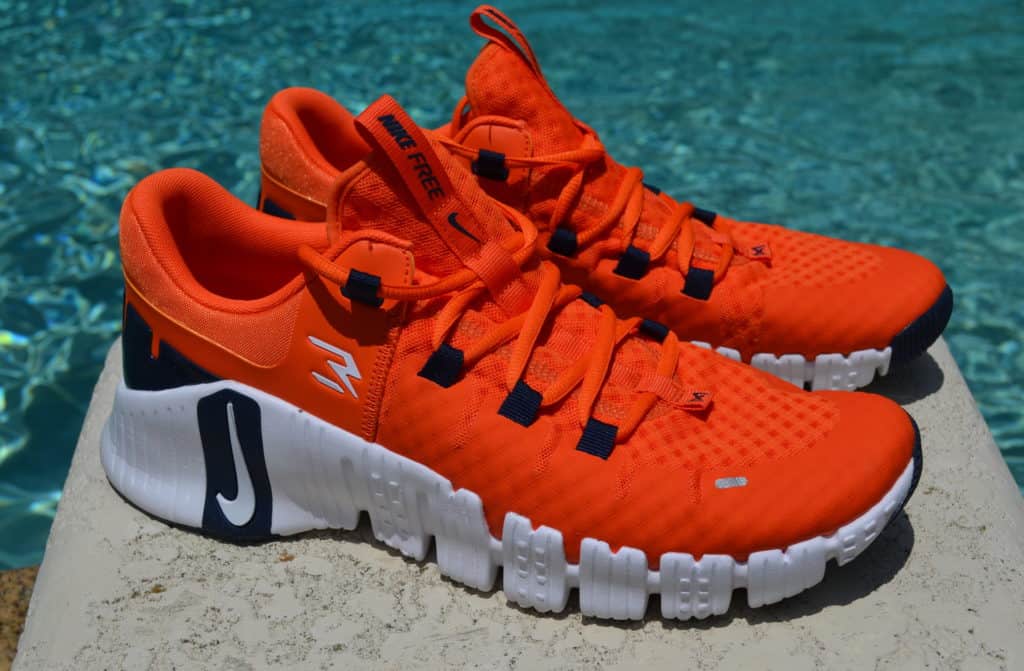 Why? Because they are comfortable to wear and they have more cushioning than the Nike Metcon 8.
The idea behind this shoe is to combine the "Free" running shoe features with the "Metcon" cross trainer features – and they've done a great job.
Whether or not you like the looks is a subjective decision – but I've grown to love these.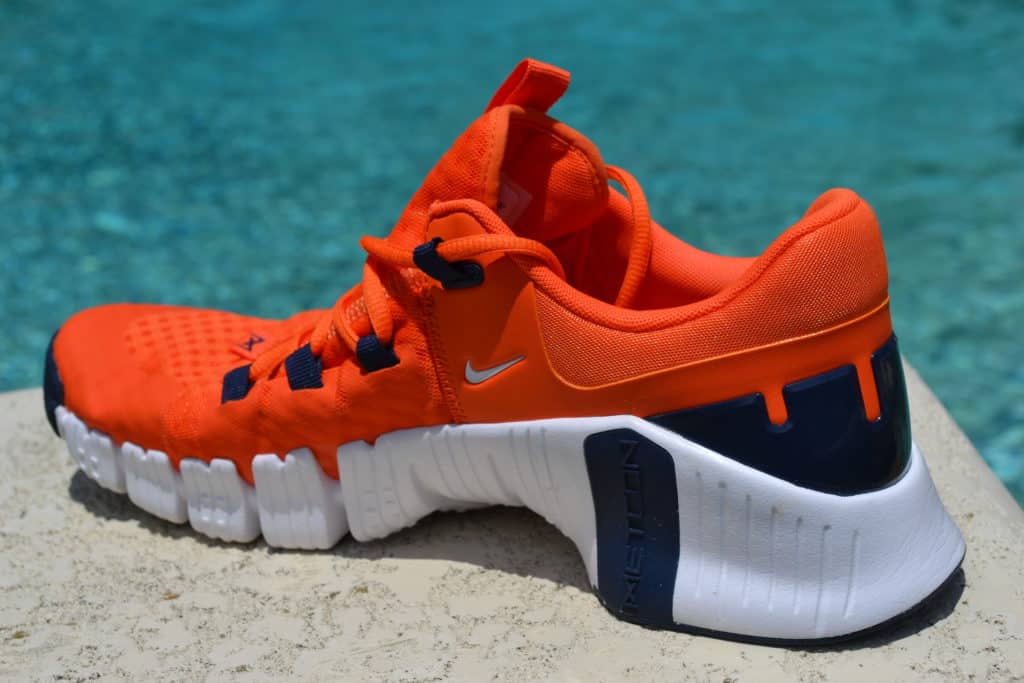 On the other hand – if your workout consists of mostly big barbell lifts – you probably want the Nike Metcon 8 instead.
Nike Free Metcon 5 Versus Nike Metcon 8 – In The Gym
The Nike Metcon 5 is basically a minimal drop Oly lifting shoe.
The heel to toe drop is only 4 mm – so there's no heel raise to speak of.
And like an Oly lifting shoe – it is solid and heavy.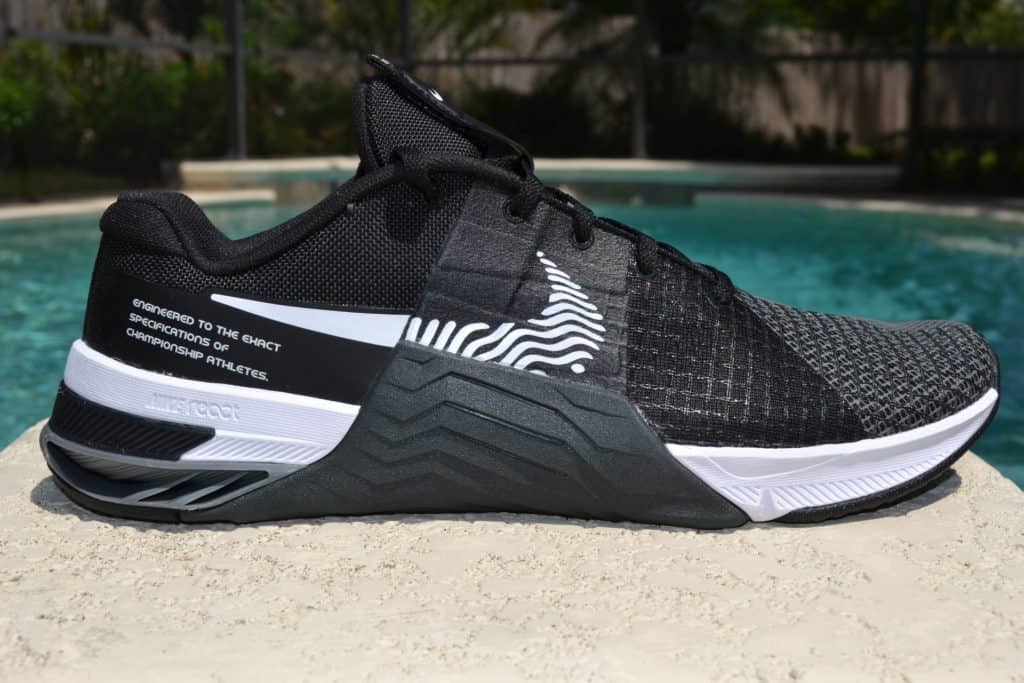 That means these are stellar for the big lifts – barbell squats, front squats, deadlifts, etc.
But that's really the only high point. The Nike Metcon 8 is not a great shoe for any sort of impact activity – and definitely not a great running shoe.
The heel is super solid and stiff – it's a noisy shoe. You'll be clip-clopping around in the gym and on any other hard surface – like wood floors and tile.
(I know – who cares? – Well people who spend $100+ on shoes would like to use them for more than just one thing and the Nike Metcon shoes have ALWAYS been noisy)
You can sprint short distances, do box jumps, skip rope and all that stuff – but it's going to be a lot more jarring impact on your joints as compared to just about any other shoe.
The stiff, thick upper of the Nike Metcon 8 is less comfortable, but it does provide great support.
If I do heavy sled pulls (like 6 or 7 plates) with the Nike Free – it feels like my feet are sliding around in the shoe – because the upper is so soft and stretchy.
The Nike Free Metcon 5 on the other hand is much more versatile. It can be used to lift heavy, but maybe not as heavy as the Nike Metcon 8.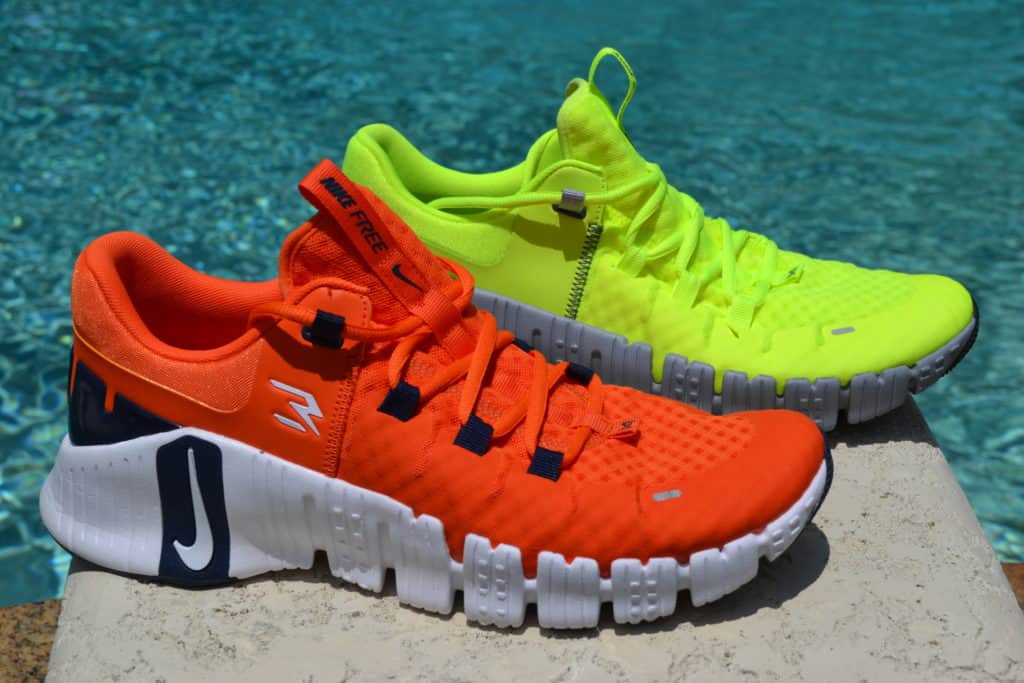 It's sort of spooky that you can see daylight underneath the middle of this shoe…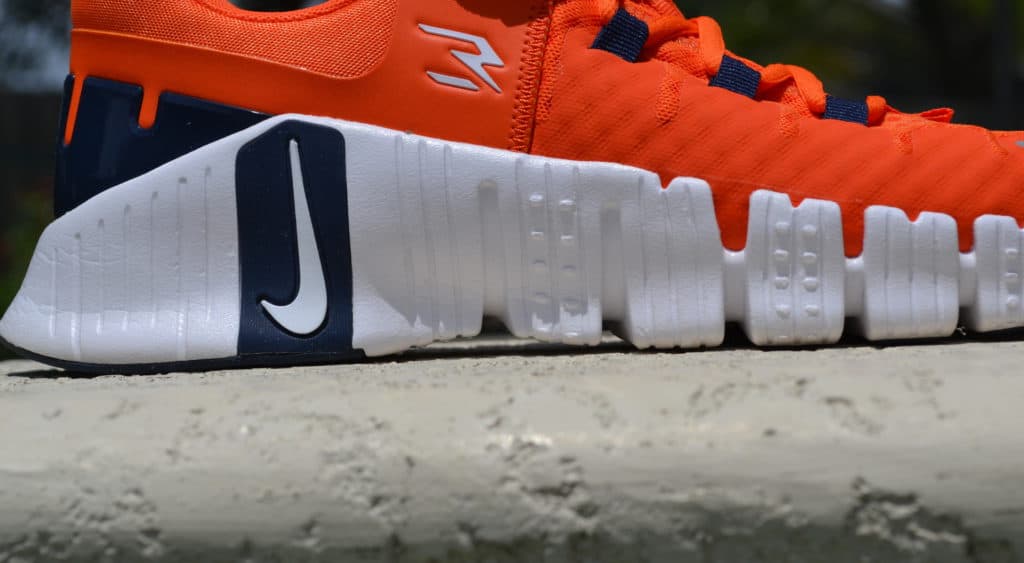 So maybe don't wear it for Personal Record (PR) attempts with heavy barbells, but it's great for all that other stuff you might do in the CrossFit box or gym.
It's overall just much more comfortable too.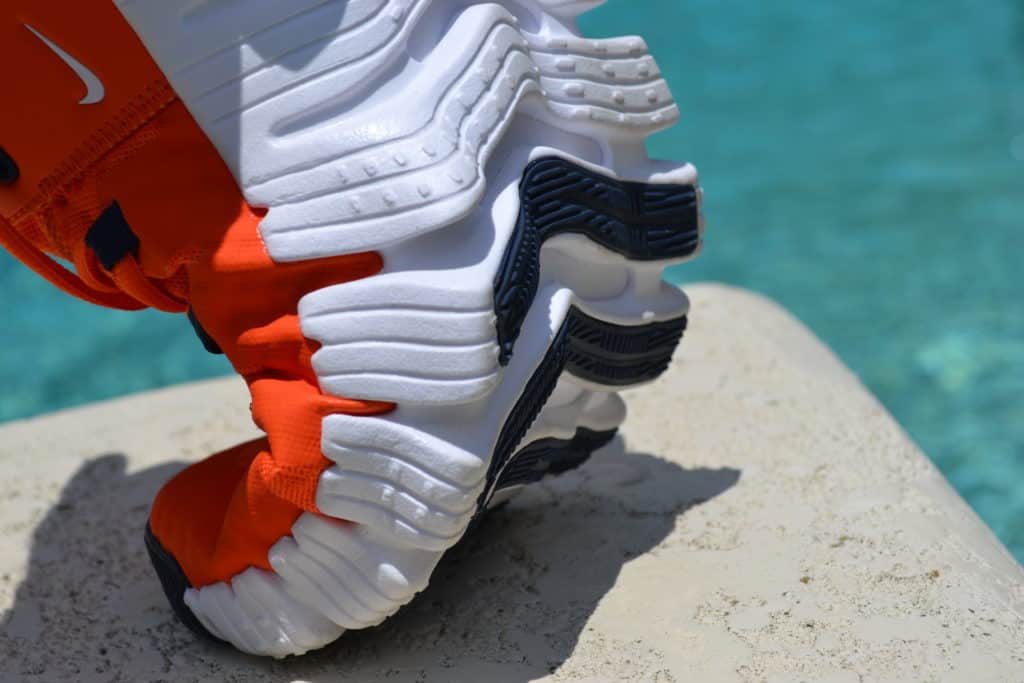 Nike Free Metcon 5 Versus Nike Metcon 8 – Sizing
I have owned every pair of Nike Metcons and Nike Free Metcons for the last 5 years.
In my experience, I always have to go 1/2 size up on the regular metcons.
Otherwise the toe area is uncomfortably cramped.
I also get more heel slip (the sensation that the heel is loose and too low) in the Metcon shoes.
This has been my consistent experience with the Metcon 3, 4, 5, 6, 7, and now also the M8.
Therefore I recommend that you consider going 1/2 size up on the Nike Metcon 8. And be prepared to return them for a different size if they aren't comfortable.
The Nike Free Metcon 5 is a totally different story – I buy my normal running shoe size and they fit great.
The Nike Free Metcon 5 is a much more comfortable shoe. It's due to the cushioning underneath (which is very minimal in the M8) and the soft, stretchy upper.
I feel like the upper is more breathable than the M8 too. It might not be as durable (because it's so soft) but few people are going to really put a lot of stress on the upper.
I also get no sensation of heel slip in the Nike Free Metcon 5.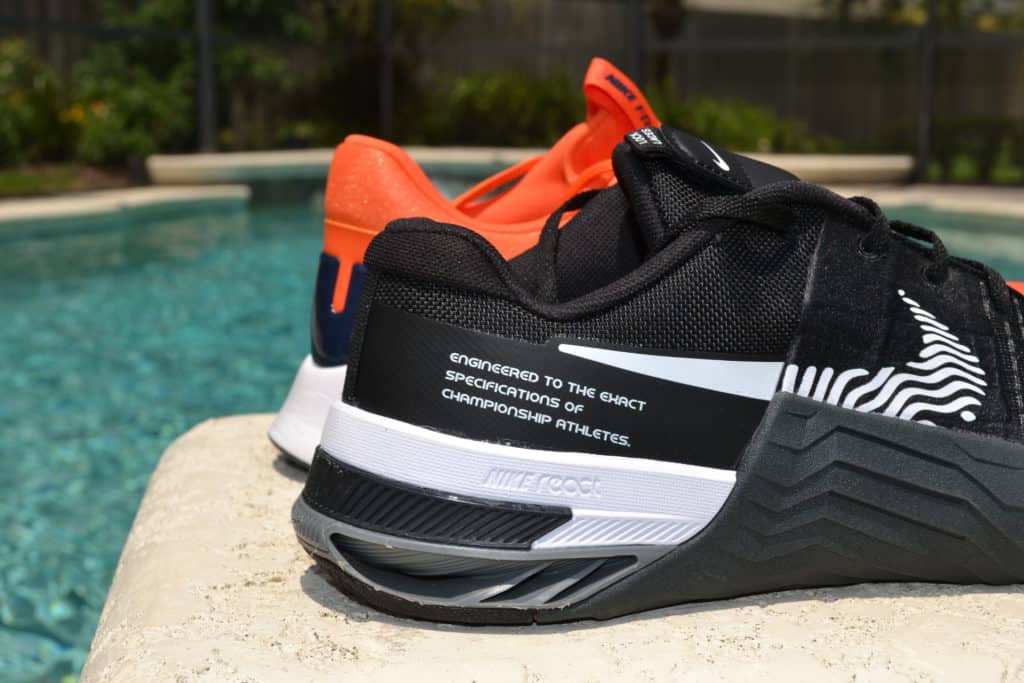 Nike Free Metcon 5 Versus Nike Metcon 8 – In Summary
The Nike Free Metcon 5 is going to be the better choice for the average gym-goer.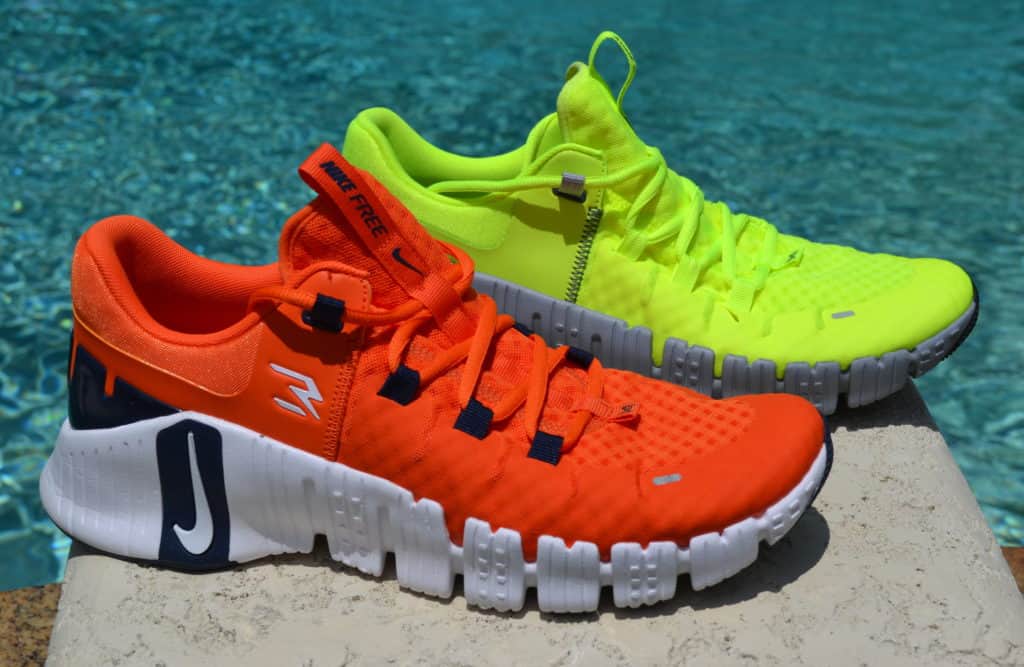 The Nike Free Metcon 5 is cheaper, more comfortable, and more versatile.
But, the Nike Metcon 8 is definitely the weight-lifter's choice. It is effectively a "no heel raise" Oly lifting shoe. Perfect for anything you do with a heavily loaded barbell.
Just be aware it's not as comfortable for day to day use.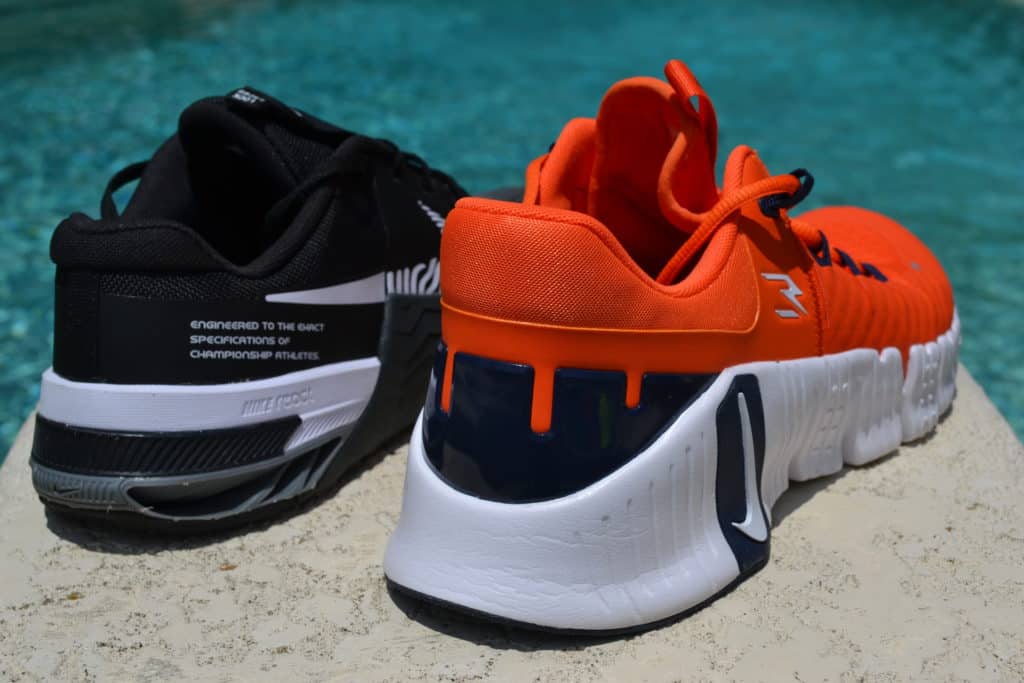 Photo Credits
Some product photos on this page are the property of Nike.
This website is not affiliated or associated with CrossFit, Inc. CrossFit is a registered trademark of CrossFit, Inc.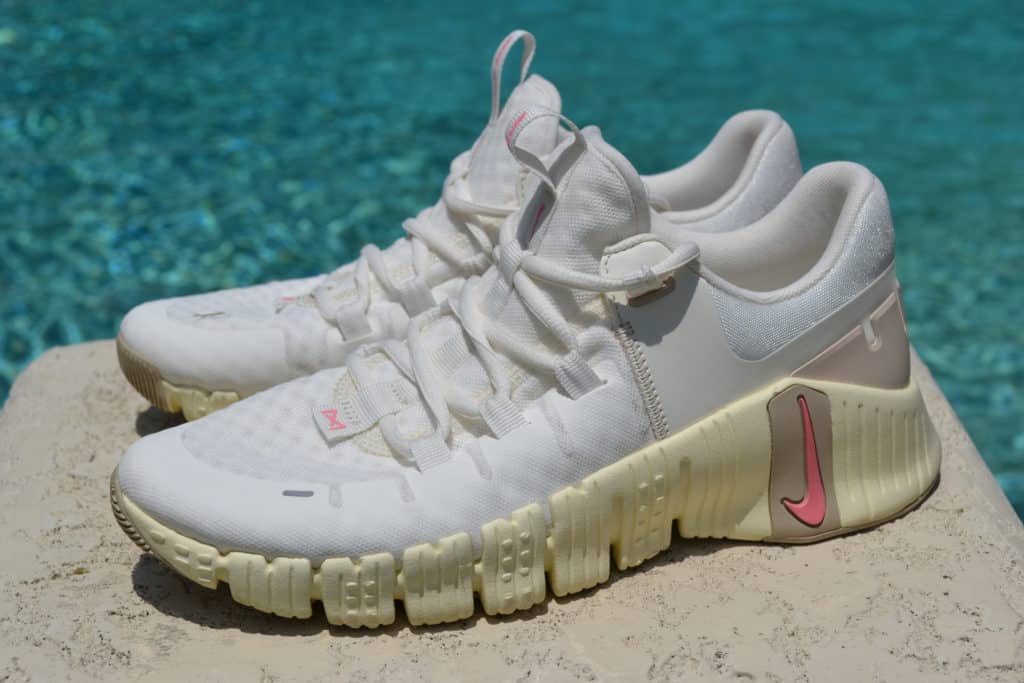 Affiliate Disclaimer
We are an affiliate of Road Runner Sports, Rogue, and others that sell this training gear. If you buy clothing or other training gear after clicking the links in this article, we receive a small commission at no extra cost to you. This helps us to bring you in-depth information and content on these great training products.
Tim is the founder of FitAtMidlife.com – an avid gym rat for 30+ years, he's a reviewer of many, many shoes – and founder of the Speed Bag Gathering – the world's only gathering of speed bag punching enthusiasts.  See more gym reviews at Tim's YouTube channel.