Rogue has the red-hot
Echo Bike
. Grab one while they last!
Let's review the best trap bars.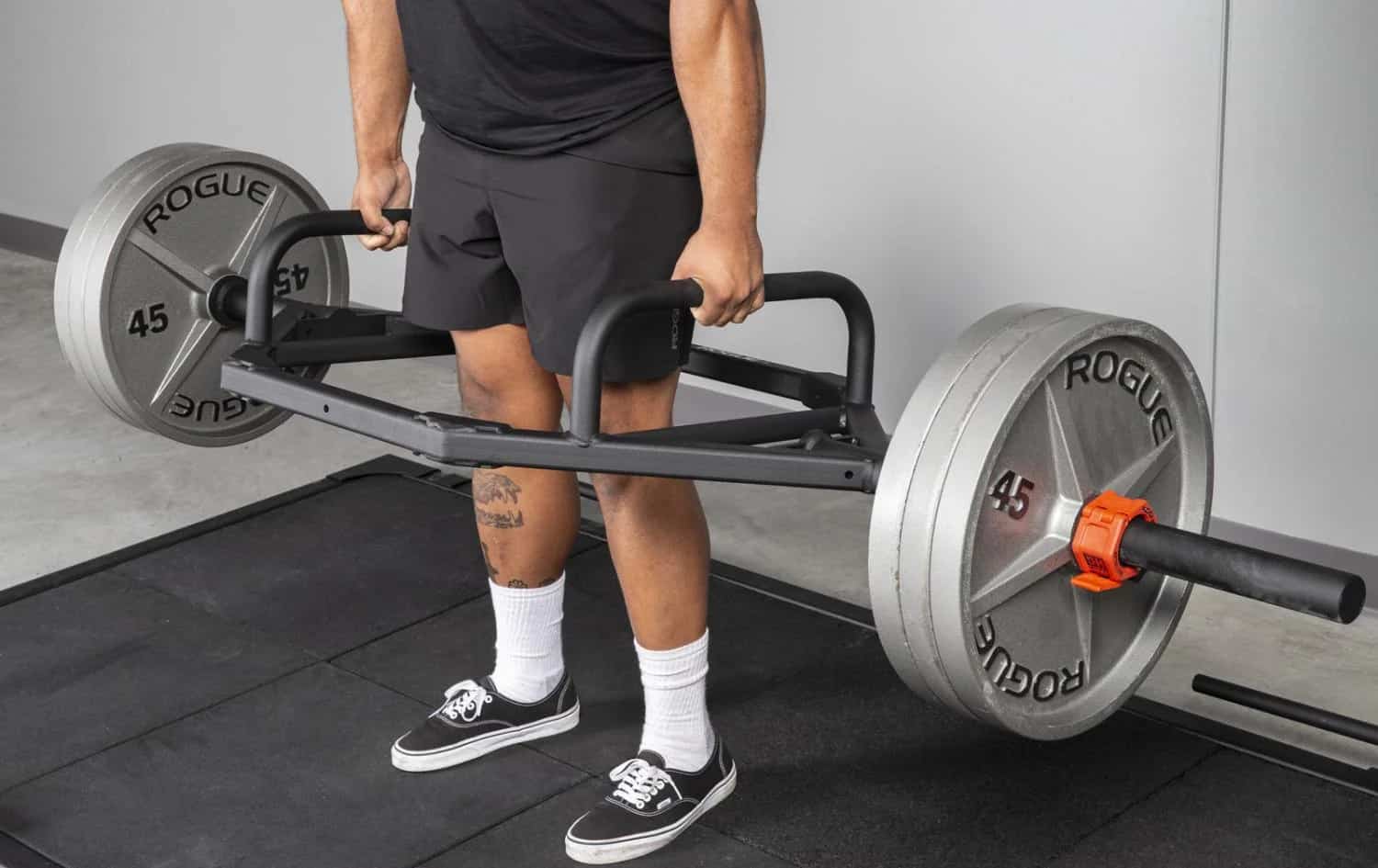 The trap bar also called a hex bar, is a great way to deadlift without overly stressing your lower back. If you are in the military, you might even recognize this device from the ACFT (Army Combat Fitness Test). What's great about the trap bar? It lets nearly any body type go heavy on the deadlift. We're going to review several high-quality trap bars here.
Here's the trap bars we are going to look at:
Let's dive deep on trap bars.
Trap Bar – Overview
A trap bar is a hexagonal shaped barbell with two large handles welded in the center so you can hop in the middle and take it up by the handles instead of placing it on your back – or having to lift it past your shins.
This picture is worth a thousand words. This is a trap bar deadlift about to be performed. Notice the comparatively upright posture of this trainee – and the fact that he's not going to have to drag a straight bar up his shins.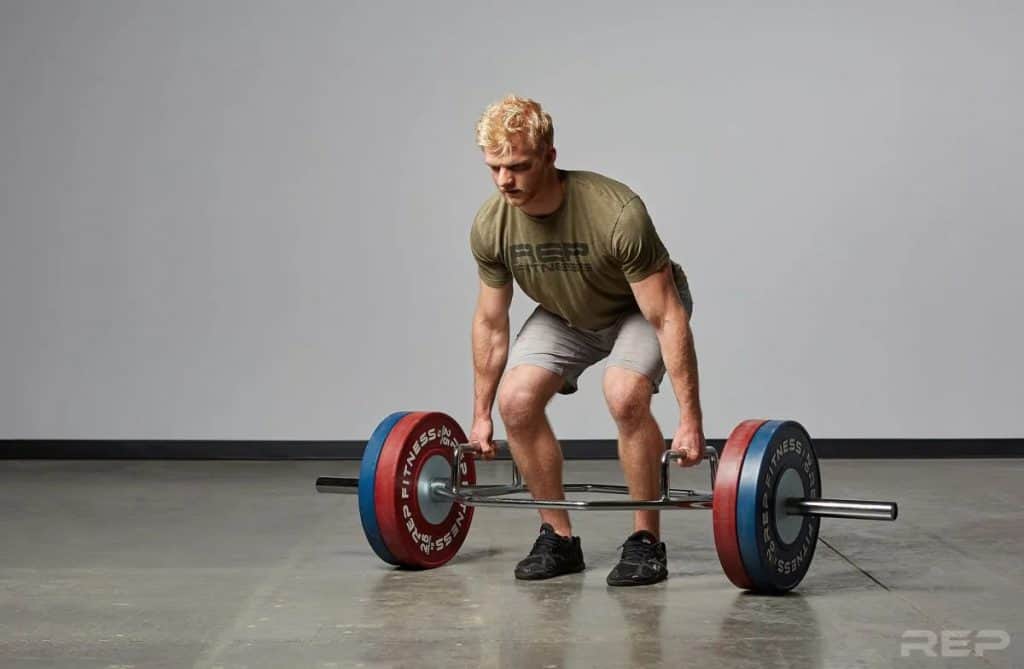 There are also trap bars that have two sets of handles, one high, one low.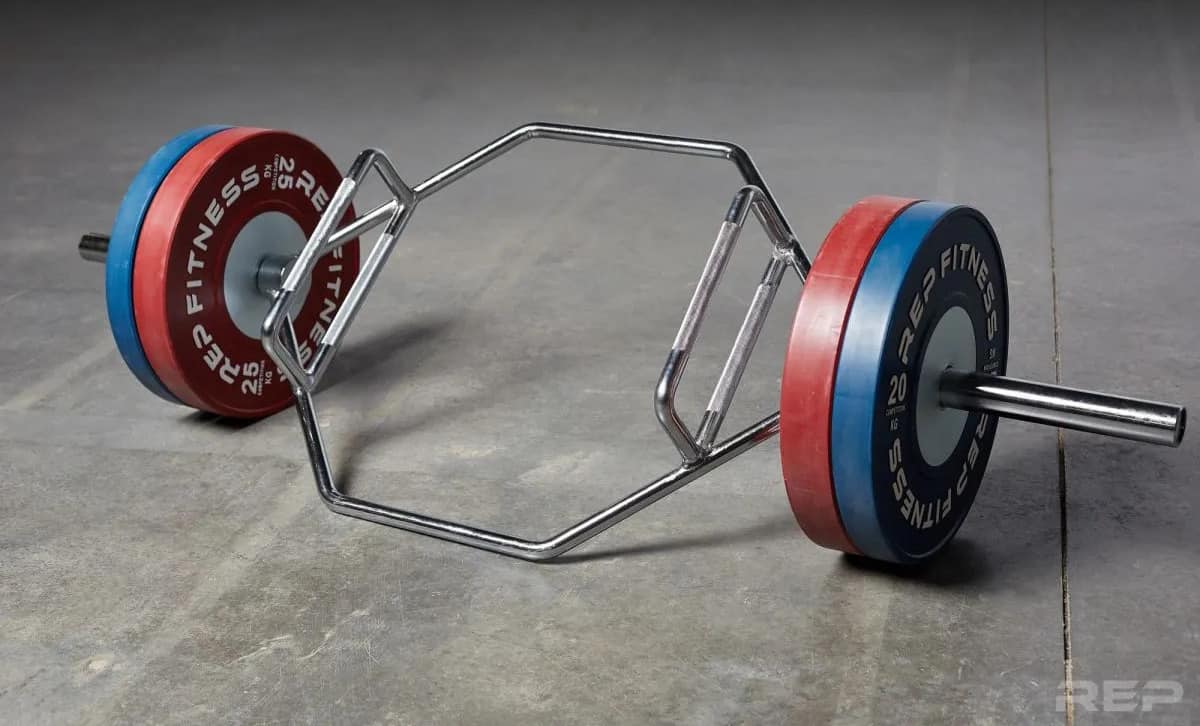 Trap bars are user-friendly, assist with positioning, and guide you about proper leg force, making it perfect when you are training to lift. Since no part is touching your legs at the top and bottom of the movement, this opens up options for what you can do with it.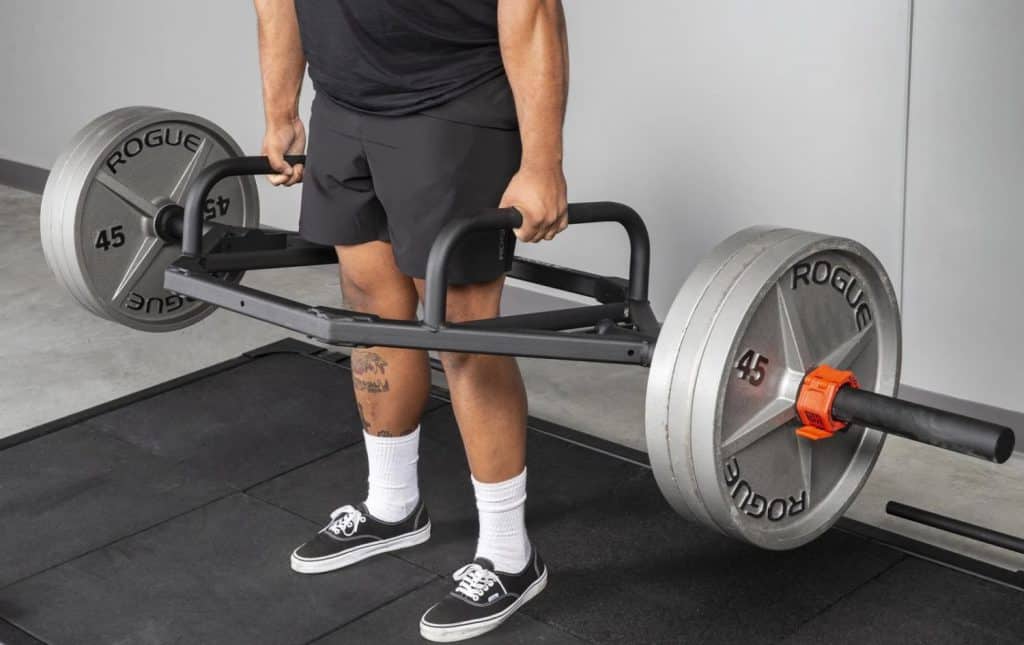 Performing power training is also attainable with the trap bar since the device makes jumps achievable. This sort of power training is useful in making great athletes and is recommended by sports and power coaches.
That's the basics of what a trap bar provides – but there are some special bells and whistles you can find on premium trap bars.
How to use the Trap Bar
For those with limited mobility, a trap bar deadlift might be a better choice as compared to a straight bar deadlift.
Here's the step by step movements:
Stand in the center of a trap bar with your feet hip-width apart. Squat down and grip the handles of the trap bar.
Rest your hips back, so you feel pressure in your hamstrings. Pull your shoulders down and back, stick your chest up and straighten your back.
Breathe deeply and contract your core as if preparing for a punch.
Swiftly stand up by aligning your hips, followed by your knees. Keep your back flat and core tight.
With control, drop the trap bar to the floor.
Rogue TB-2 Trap Bar
The Rogue TB-2 now comes better with a more functional dual-handle design, with SCH 80 pipe Olympic sleeves, and a 25% decrease in weight. With its elevated handles on one side and the regular flat handles on the other side, an athlete can effortlessly change from one set of handles to the other simply by swinging the bar over during a workout.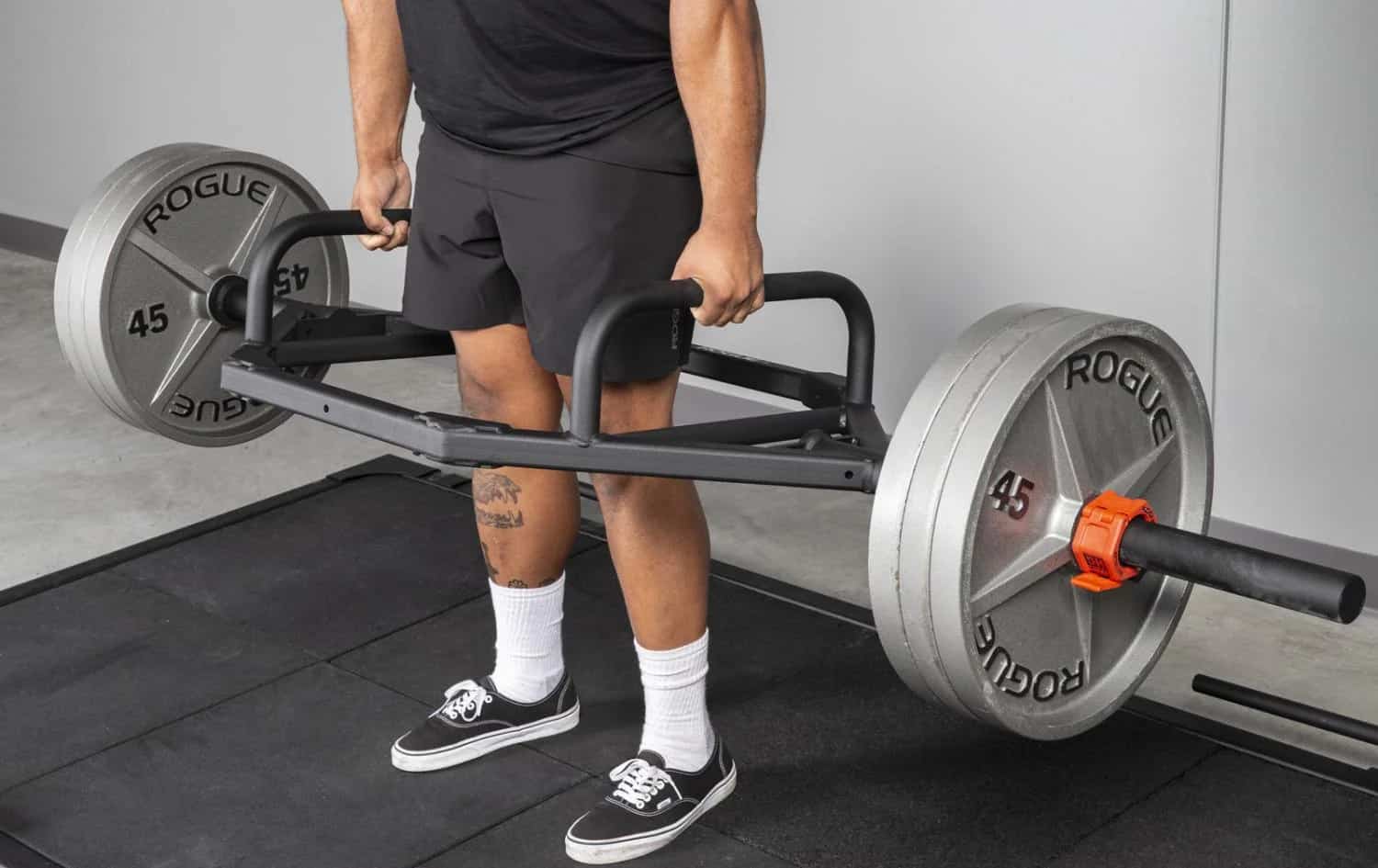 TB-2 is kind to your lower back and it allows beginners or reconditioning athletes to concentrate on their range of motion or slowly improve to deadlift program. This creation also features 16 inches of loadable sleeve length so there will be enough room for as much weight as you demand.
Rogue TB-1 Trap Bar 2.0
The TB-1 features an aggressive knurl, hard and firm square tubing, long enough sleeves to fill it up with iron or bumpers, and a modest price. TB-1 can be used for presses or rack deadlifts in addition to the exercises usable outside of the rack.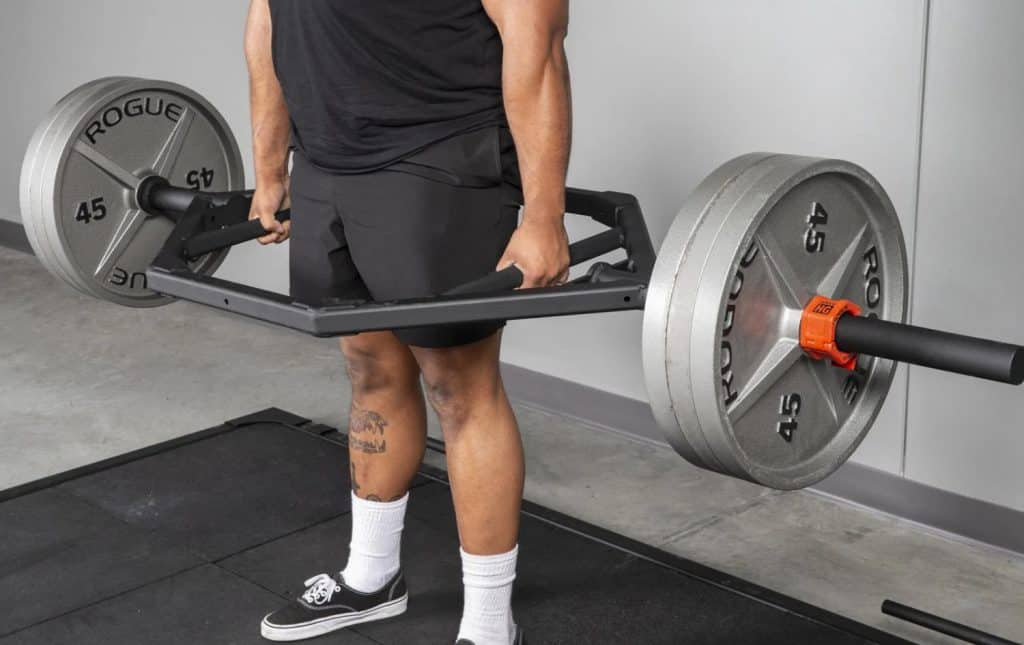 It is spaced 25" in the center with sharp easy-grip knurling. This product has been officially certified for use with the United States Army's Combat Fitness Test, a 6-event readiness assessment replacing the previous 3-event Army Physical Fitness Test in 2020.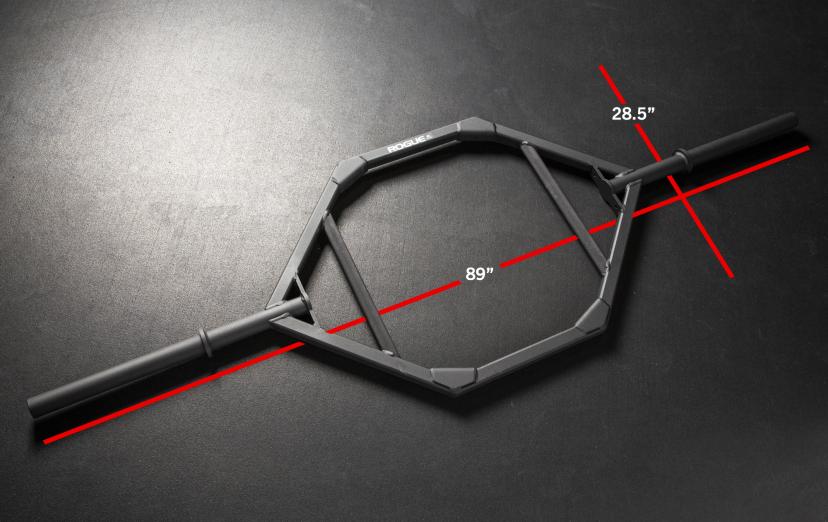 Force USA Walkthrough Trap Bar
Loading and unloading plates have never been this easy with the built-in bar jack of Force USA Walkthrough. It's as easy as transitioning the trap bar from the lifting position to the standing position using the transition handle.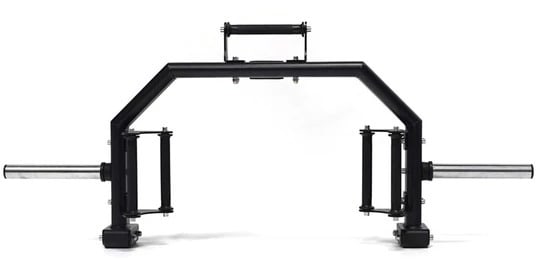 It has low and high rotating lifting handles manufactured with medium knurling and positioned exceptionally for ease, balance, and stability during all lifts. It has superior quality, strength, and stability used by high-performance trainers, strength coaches, athletes, and personal trainers.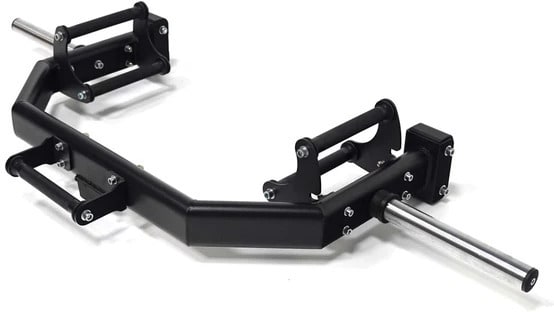 Rep Trap Bar
Compared to other trap bars, the Rep Trap bar is a bit thin, but its performance is similar. It has two handles, and both of them have knurled grips.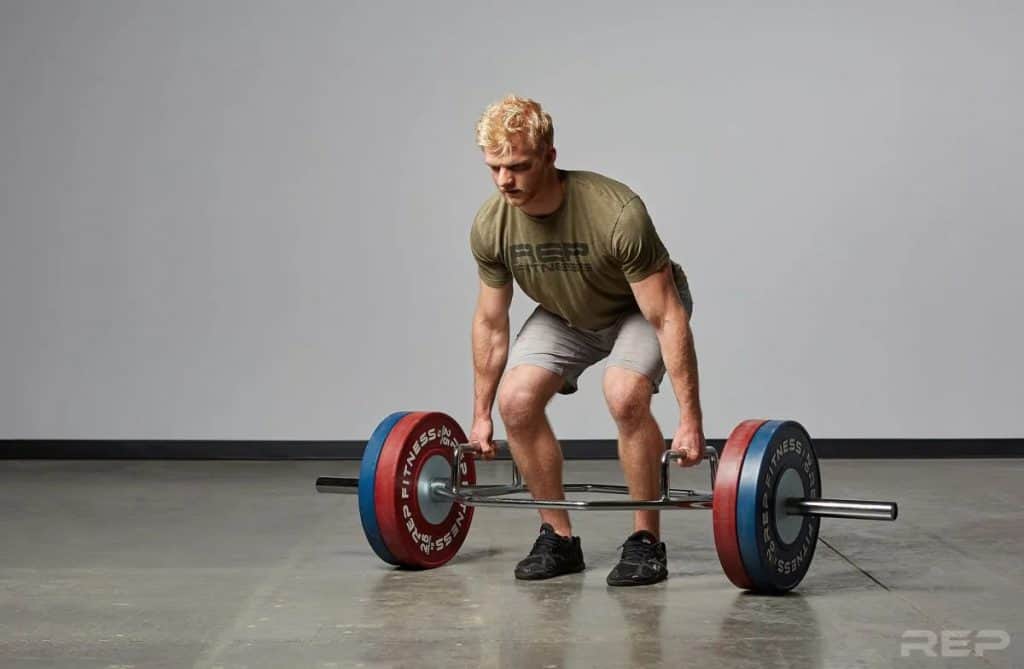 It highlights a tough hexagonal frame, enabling even distribution of weight around your body rather than in front. It has solid steel construction and 16" loadable sleeve space.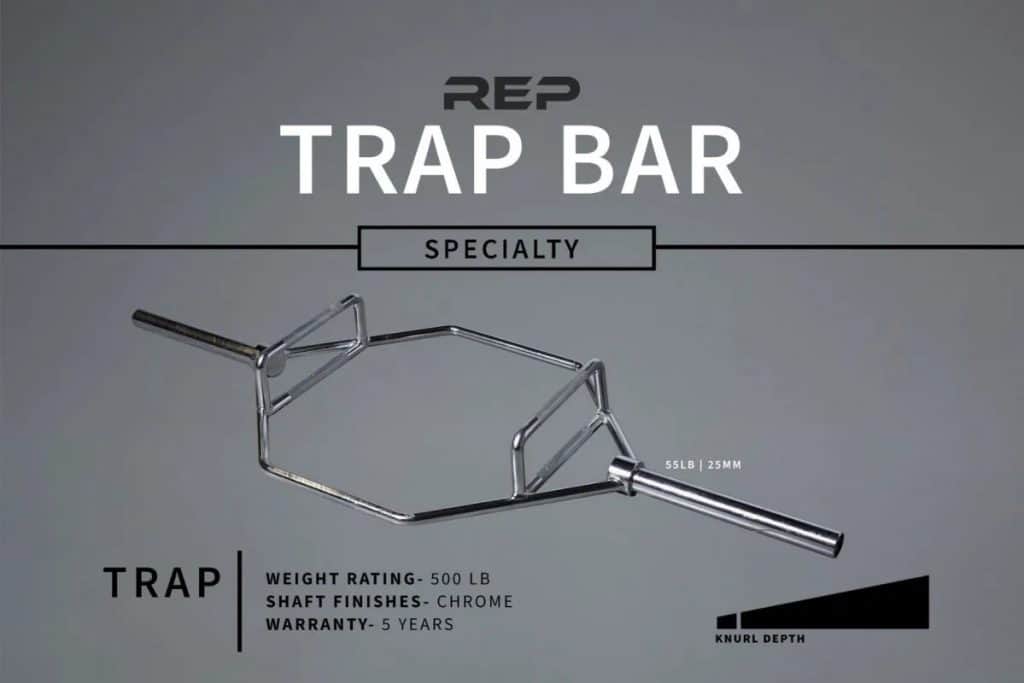 American Barbell Hex Bar
The Hex Bar is entirely rackable and takes standard Olympic diameter collars. It's also a powerful tool for more difficult training and an excellent option for lifters new to the deadlift.

It is heavy duty and can withstand plenty of heavy rack work. It fits all Olympic plates and has a handle diameter of 1.405″.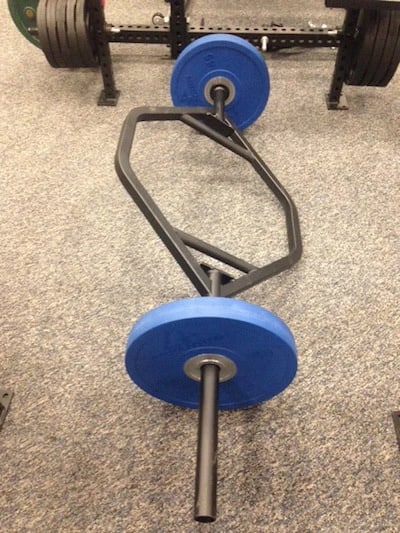 Dual Height Fat Grip Hex Bar
American Barbell Dual Height Fat Grip Hex Bar is excellent for shrugs and squats, rackable, and can be used right-side-up or upside down.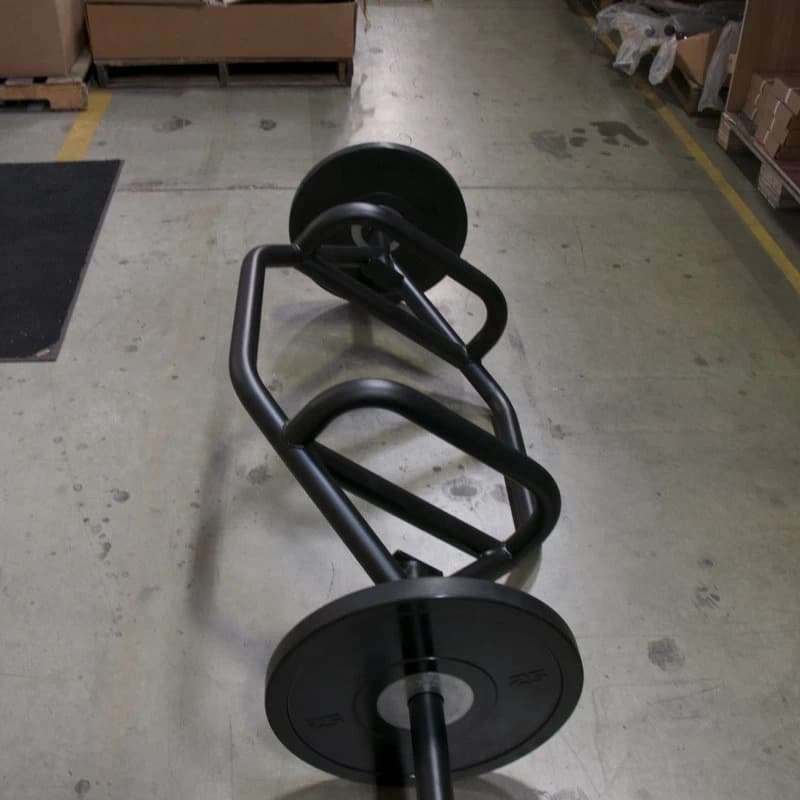 It is perfect for athletes who want to increase leg, hip, and back strength while decreasing the lower back's tension.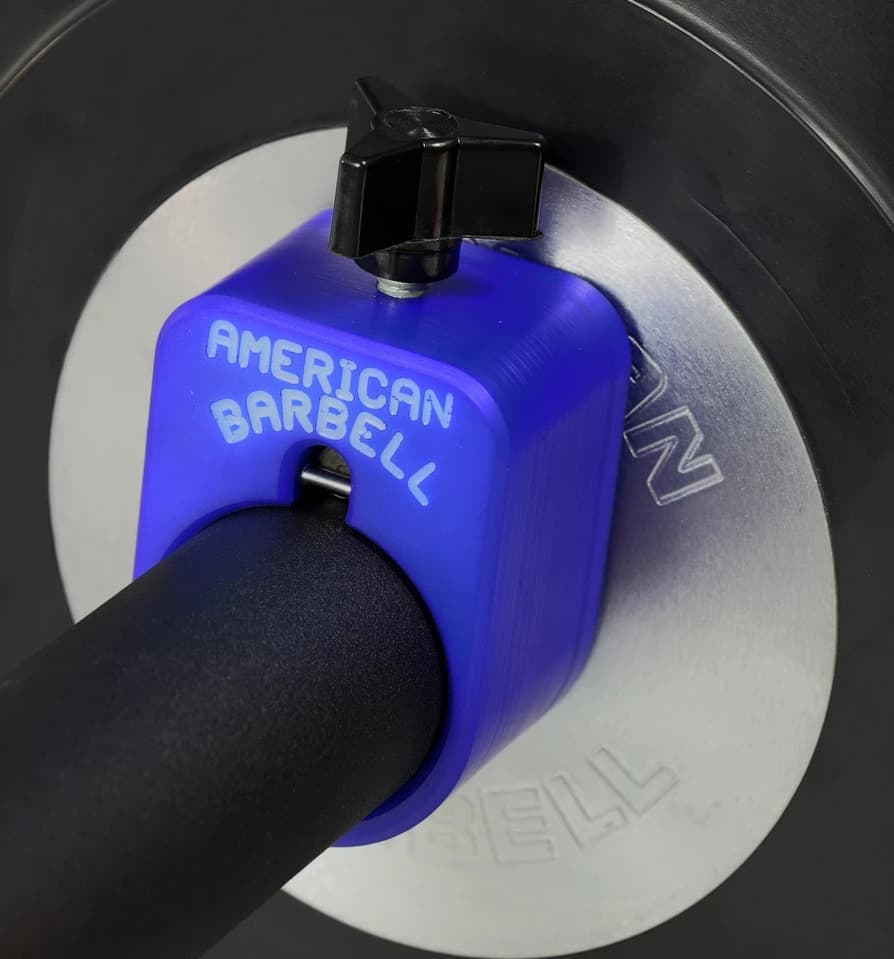 Vulcan Open Hex Bar – Ox Bar
Vulcan Open Hex Bar – Ox Bar is solid, durable, and stable, and even without heavy plates around the corners, this bar will withstand any pull.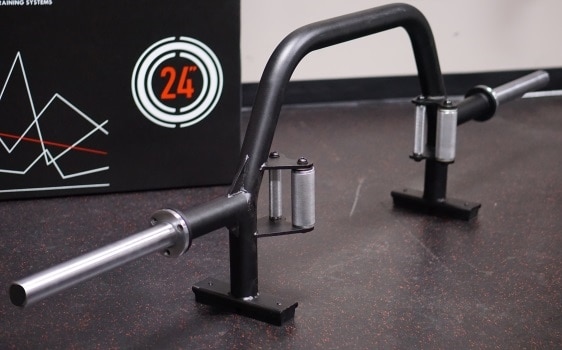 It has a hard chrome with metal logo plates fastened with snap rings and has a loadable sleeve length of 15.5″. Its gussets have 6mm steel to grant support and avoid degradation after years of hard and heavy usage, drops, etc.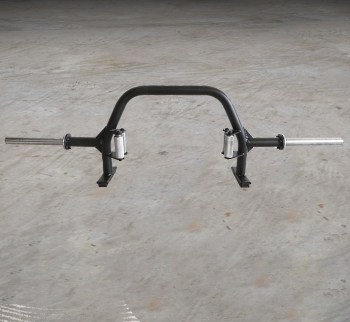 Vulcan Prime Hex Trap Barbell
The Vulcan High Hex Bar has solid chrome-plated sleeves identical to a barbell. The solid chrome barbell sleeves drop the common concern of powder coat coming off the sleeves and unattractive rust.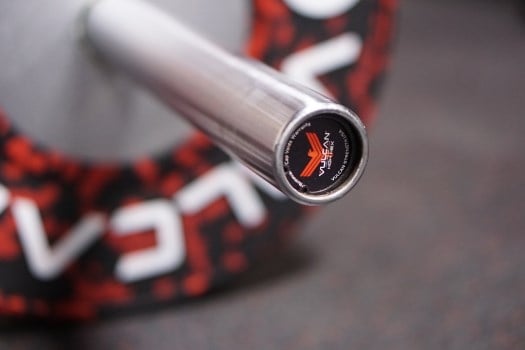 It can be used with regular Olympic bar collars or spring clips and has a loadable sleeve of 16″.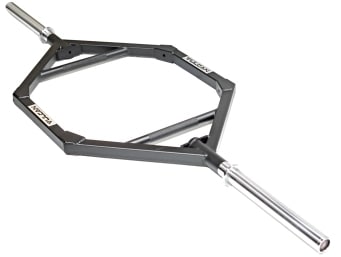 American Barbell 6 Bar Vertical Storage
The American Barbell 6 Bar Vertical Storage Rack has a wide base (which makes it different from other trap bars) on this bar storage rack to guarantee supreme support even when it is fully loaded. The rack will hold all manner of bars, as well as specialty bars.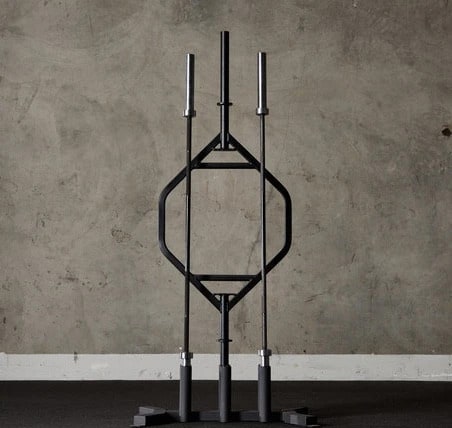 Having vertical bar storage is a brilliant idea for keeping your bars neat, secure, and compact. There is no assembly needed with this bar rack.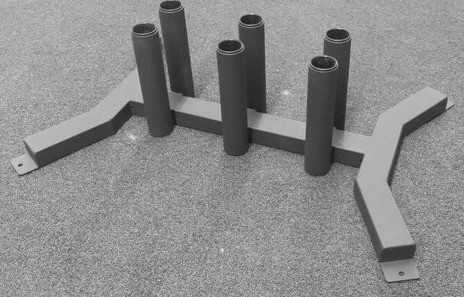 Fringe Sport Hex Bar
Fringe Sport Hex Bar best works with the usage of metal plates to add your maximum load. It has knurling on both handles and perfect for doing heavy shrugs and dead-lifts.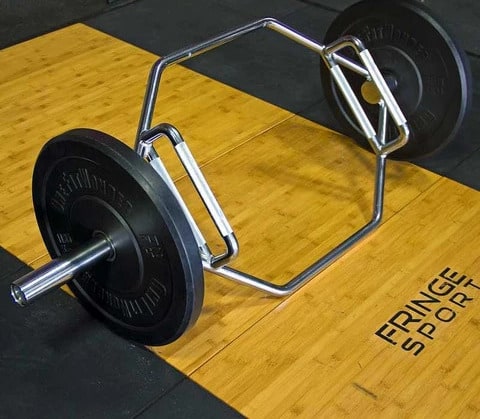 This bar is resistant to rust with two handle selections, one flush with sleeve and a second directly above. Its weight capacity is 600 pounds and has a bar length of 56 inches.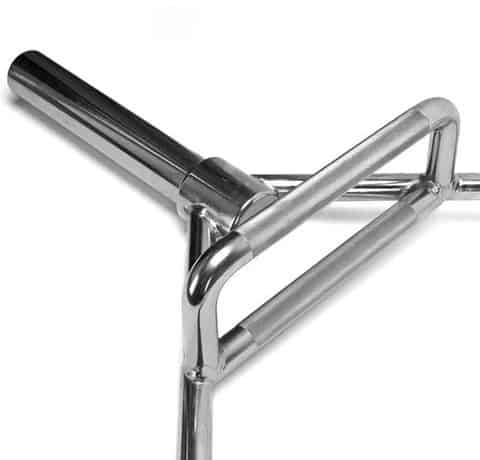 Get RX'd Hex Bar
The 72″ Hex Bar is created to keep weight centered through the mid-line of the body of anyone using it. This uncommon characteristic enables most people to lift heavier than they can with a traditional barbell.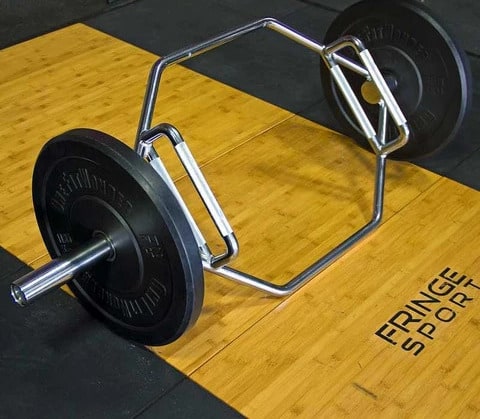 Get RX'd Hex Bar comes with two separate grip points that add comfort and modification to all users who are considering working on form and grip strength. The Hex bar is commonly used for DeadLifts, Power Pulls, and Shrugs.

Trap Bar Review – In Summary
That's our review of Trap Bar.
A trap bar grants avenue to some neutral-shoulder shrugs and farmers walks, which are tricky to complete with other barbells, dumbbells, or objects. The main advantage of using trap bar is that they put less strain on the lumbar spine than barbell deadlifts. Practicing the lifts using a trap bar should be the top priority of someone who wants to train for powerlifting or weightlifting.
Need a neutral grip option for the bench press? You want a multi-grip bar.
Find our picks for the best powerlifting barbell here.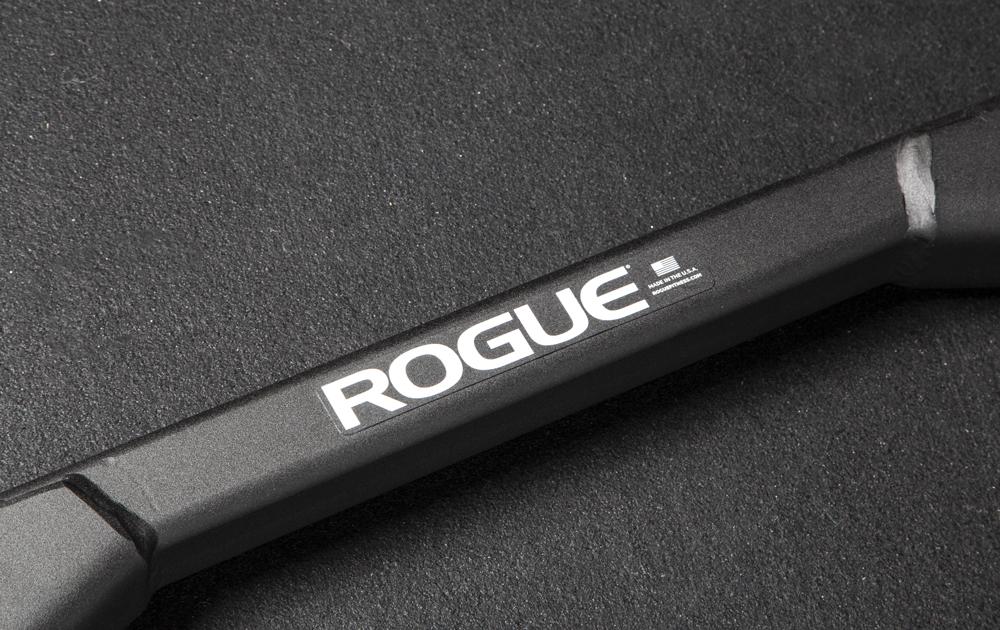 Photo Credits
Some product photos on this page are property of the manufacturer.
This website is not affiliated or associated with CrossFit, Inc. CrossFit is a registered trademark of CrossFit, Inc.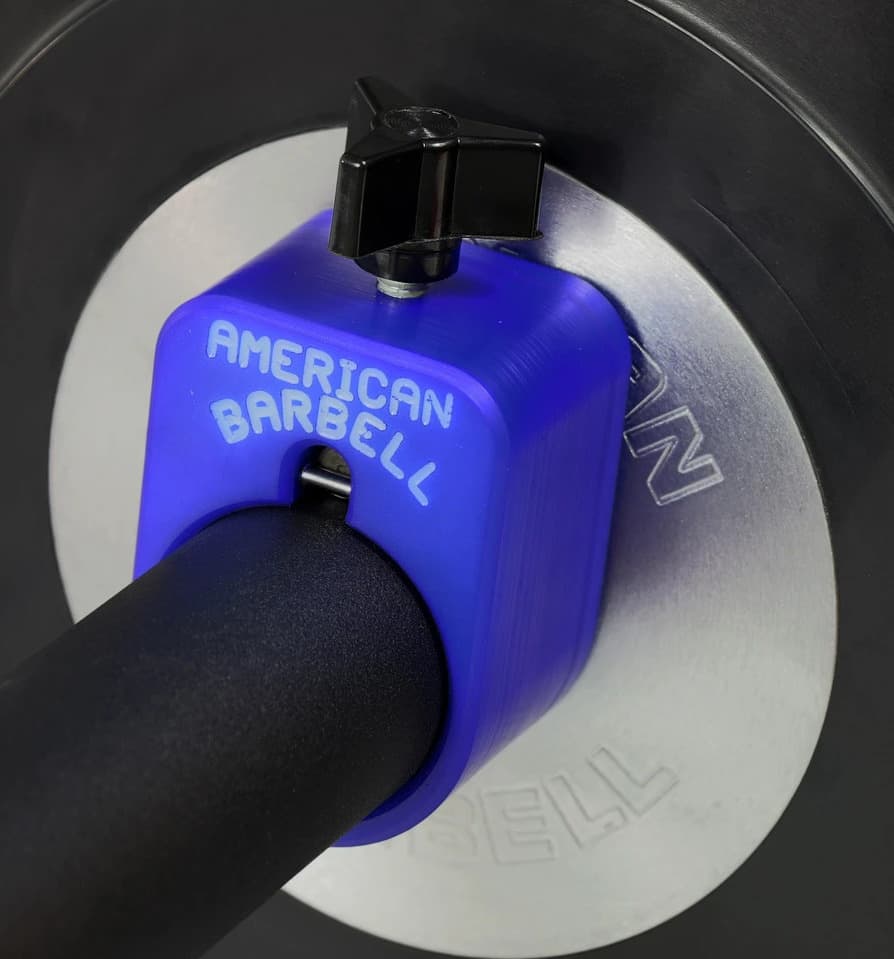 Affiliate Disclaimer
We are an affiliate of Rogue, Rep Fitness, and others that sell this training gear. If you buy gym equipment or other training gear after clicking the links in this article, we receive a small commission at no extra cost to you. This helps us to bring you in-depth information and content on these great training products.