Rogue Fitness now has the
Kabuki Strength Duffalo Bar
available. This specially curved bar reduces stress on the shoulders, biceps, and back, while enabling scapular retraction and superior joint centration.
Let's look at who makes the best powerlifting barbell.
What's a powerlifting barbell (Also called a power bar or power barbell)?
It's a tough, stiff Olympic sized barbell used for lifting big weight – think heavy squats, heavy deadlifts, and big bench presses.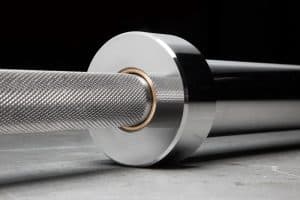 Shown here is the Rogue Ohio Power Bar – it is our top pick for best power bar.
These bars are big so they can hold a lot of weight, but they also have some very important differences as compared to the type of Olympic barbell you would use for the Olympic lifts – the snatch and clean and jerk.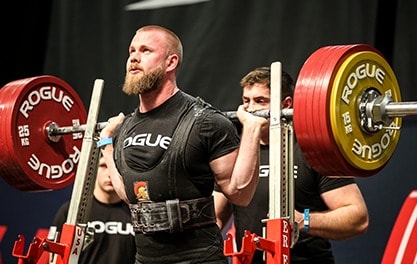 Let's get started.
We're going to show you the best power bars from Rogue Fitness, American Barbell, and Rep Fitness.
We're also going to look at specialized bars: squat bars and deadlift bars.
Here's the best powerlifting barbells we have to review.
Let's talk in detail about what you should look for in the best powerlifting bar.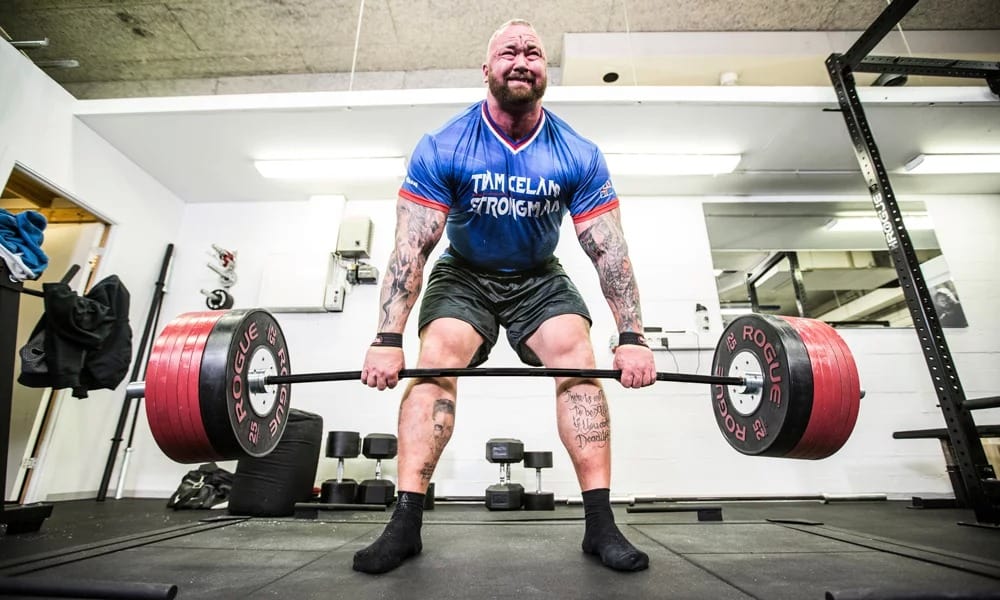 Powerlifting Barbell vs Olympic Lifting Barbell
First of all, why would you consider a special barbell for powerlifting?
Because the special features of these bars let you lift more – and that is a boon whether you are training, or competing – or both.
We'll describe how these power bars are special by contrasting them with olympic barbells meant for Olympic weightlifting.
Let's start with the basics.
The International Powerlifting Federation (IPF) has technical rules regarding what type of barbell can be used in official competition[1].
Most of the bar we will highlight here will meet these rules.
A power bar is typically close to 2.2 meters (86.6″) in length – because that's the IPF bar length limit.

A long bar means plenty of loadable sleeve length – so you can fit lots of Olympic sized plates (those with the 2″ diameter hole in them) onto the bar.
Having plenty of loadable sleeve length is important on a power bar – because you typically use much more weight in the squat and deadlift as compared to Olympic lifts like the clean and jerk.
But, on the flip side iron plates are typically used in powerlifting – and they take up much less room on the bar – so you can fit more weight.
The bar shaft itself has knurling strategically located where you would grip with your hands – but also it has center knurl. This ensures the bar stays planted on your upper back during a squat.
Shown here is the center knurl on a Rogue Ohio Power Bar.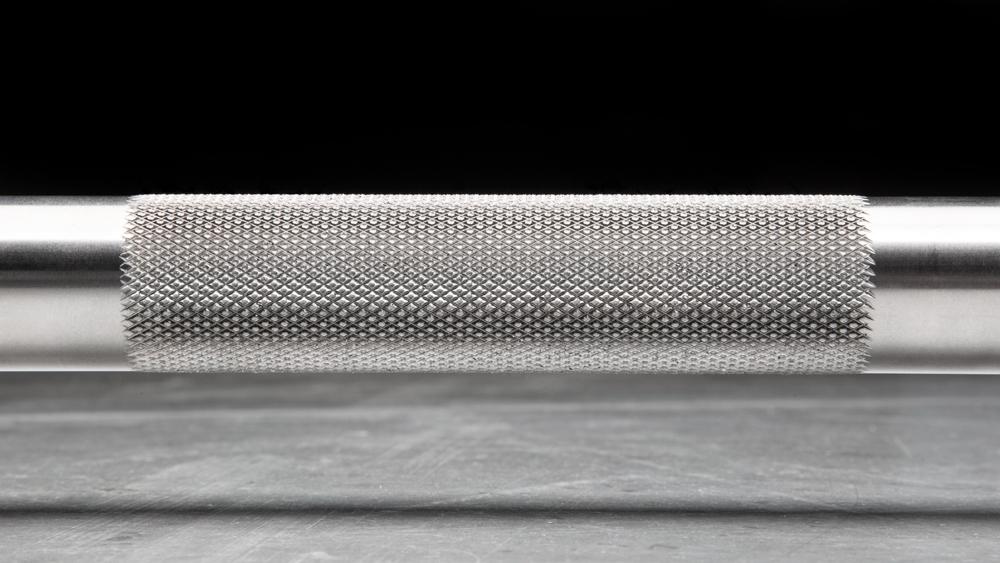 Olympic weightlifting bars often don't have that center knurl – because it is rough on the lifter's upper chest and sternum because they put the bar in the "rack" position a lot.
Power bars tend to have a thicker shaft – the IPF says the barbell shaft diameter must be between 28mm and 29mm.
With a thicker barbell shaft there's less flex and little to no barbell whip.
Most of these bars will be 29mm diameter – to keep the bar stiff – but still within IPF limits.
"Whip" is important for the dynamic Olympic lifts – the snatch and clean and jerk – but you don't want whip for the squat and deadlift (or the bench).
On the flip side, the thicker diameter means the bar can be more of a challenge to grip – it's easier to grip a thinner bar as compared to a thick bar.
Power bars often offset this by having a very aggressive knurl – the knurl is usually much coarser than that of a regular Olympic weightlifting bar.
This an be rough on your hands, but honestly you need all the grip you can get for the deadlift – that usually involves very heavy weights.
And it's no fair using straps to deadlift.
(Except for the guy in the deadlifting picture above – he's allowed to do whatever he wants.)
Here's one more thing we don't need in an powerlifting barbell – expensive needle bearings.
The high quality needle bearings in an Olympic bearing bar give it fantastic spin – which is just want you want for the snatch and clean and jerk.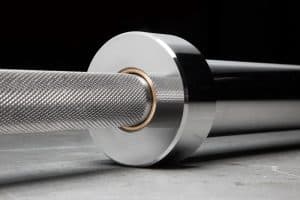 For the power lifts it doesn't matter much at all. The sleeves still need to revolve – but not nearly like they do for the "quick lifts".
Given that, there is no need to have expensive needle bearings that will also require maintenance.
A powerlifting bar can use simpler (but still robust) bushings instead.
Shown in the picture to the right are the high quality bronze bushings as used on the Rogue Ohio Power Bar.
Now that we know what makes a good powerlifting barbell, let's look at some options.
Ohio Power Bar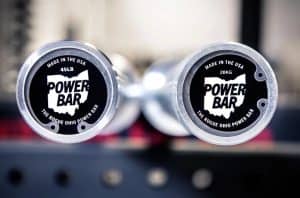 Rogue Fitness makes many excellent products, but one of their best products is their "Ohio" line of barbells.
The Ohio Power Bar is a made in the USA powerlifting barbell that receives rave reviews from everyone that uses it.
Why?
A lot of reasons.
For one, Rogue quality is legendary. And this bar is no exception. It has a lifetime warranty against bending.

It has all the features we want for a power bar:
Quality bronze bushings,
29mm diameter barbell shaft for stiffness,
Aggressive knurling for great grip,
Center knurl for squat stability,
16.25″ of loadable sleeve length
It is available in bare steel, stainless steel, and with black zinc coating.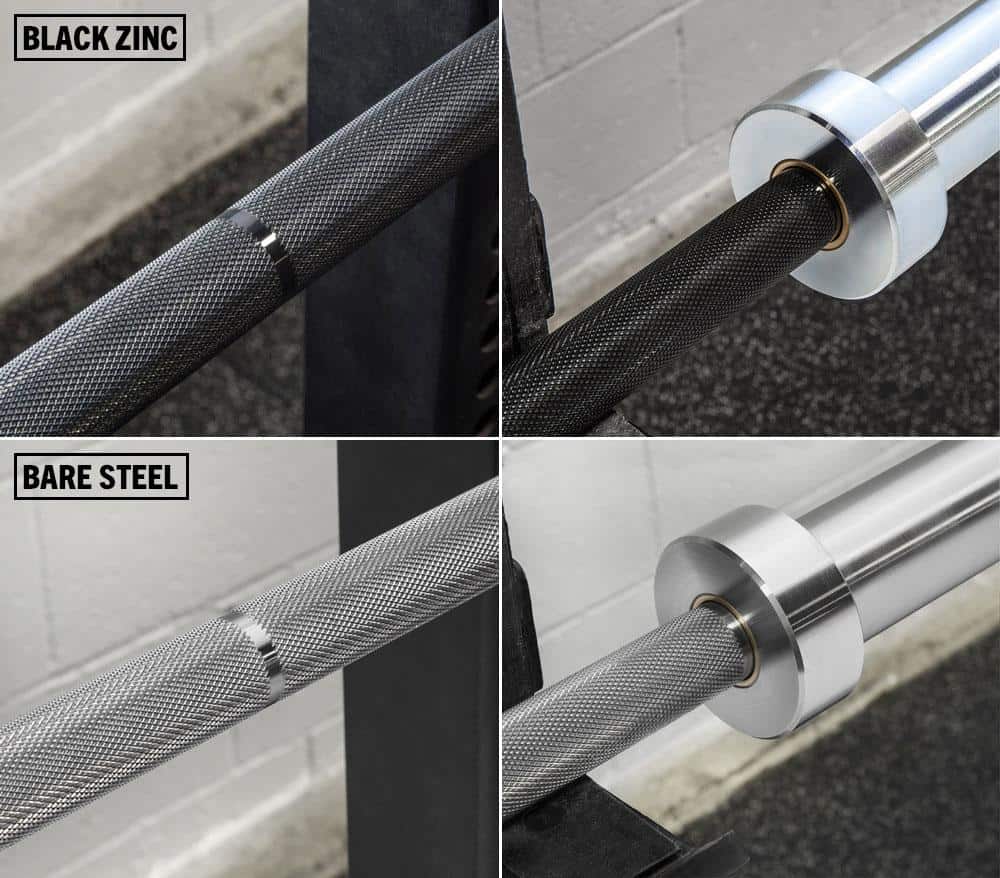 The Ohio Power Bar is available in a 45 lb version and a 20 kg version – which should be IPF legal.
All that and it is one tough bar.
Rogue Work Hardening
Find out more about
Rogue's F-Scale Rating
– and how their barbells are engineered to last a long, long time.
The Ohio Power Bar is made with a 205,000 PSI steel shaft, and it receives an outstanding F8-R rating on Rogues F-rating scale.
How does Rogue make a tough, durable barbell?
With their proprietary, patent pending process they call Rogue Work Hardening (RWH™).
Rogue barbell shafts treated with RWH™ have improved durability and last longer than untreated bars when subjected to the stresses of being dropped.

By the way, this bar is made in the USA – in Ohio.
And that's why it's called the Ohio Power Bar.
Rogue offers a few more options too.
For a slight drop in toughness you can opt for stainless steel.

The stainless steel bar will resist corrosion and look great in any garage gym.
It will also provide an excellent "bare metal" feel.
How much toughness do you give up on this bar? It's only 200K PSI tensile strength steel and F2 rated on the F-Scale.
That's still tough enough for you – probably.
It is more expensive than the regular bare steel version.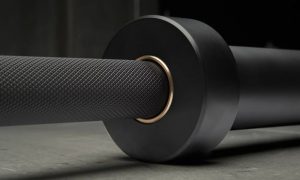 If you are using the power bar in a garage gym – with no A/C or humidity control – corrosion (aka "Rust") may be a problem.
There's also a version of the Ohio Bar that now has both Stainless Steel Shaft and Sleeves.
It's a bit more expensive than the other versions.
Stainless steel is highly resistant to rust. But here's another option with more style.
The Ohio Power Bar is also available is a Cerakote finish.
Cerakote, which can be applied in a variety of colors, is a tough, corrosion resistant thin-layer ceramic composite coating.

It's a great way to make the bar look more aesthetic and to protect it from rust.
It was originally developed for use in firearms, and has proven itself in the real world.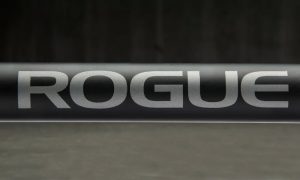 The center of the bar has the Rogue Logo. It looks good, but the Ohio Power Bar works even better.
The Rogue Ohio Power Bar with Cerakote is going to be your best option if you want to pick your color combinations – very few manufacturers offer a color selection!
You can't go wrong with any of the Rogue Ohio Power Bar options.
It is a world class product – and it's not even that expensive.
Rogue Fitness Boneyard Bars
By the way, did you know that Rogue sells brand new, seconds quality barbells off of the standard production line as Boneyard Bars?
These bars may have minor cosmetic issues such as finish blemishes or inconsistencies with the knurl, such as double tracking.
However, the bars are brand new, and fully functional.
This might be a way for you to pick up a good bar, at a discount, if you aren't concerned with looks.
Don't bother with a cheap big-box sporting goods store bar when you can get a real barbell for a great price.
Keep an eye on that page – Ohio Power Bars don't last long when they show up in the Boneyard – the people on reddit make sure of that.
Rogue isn't the only maker of quality barbells though. Let's look at more options.
Rogue Squat Bar 32mm – 25kg
Need a serious bar for seriously heavy squats?
Then check out the Rogue Squat Bar.
What's special about this bar?
First of all, it has a massive 32mm shaft diameter. That's 10% more than all the other bars in this article.
That means this bar will have no whip, and no flex – which is what you want for heavy squats.

Further, the bar has an aggressive knurl pattern – nearly all over.
This helps to ensure the bar will stay in place on your back.
It's made from stainless steel, is over 94″ long and has a 16.79″ loadable sleeve length.
And that means piling up the plates won't be a problem.
Because of the greater shaft diameter this is a heavier than average bar. It weights 25kg (55 lbs) – as compared to the other bars here which are 20kg (44lbs).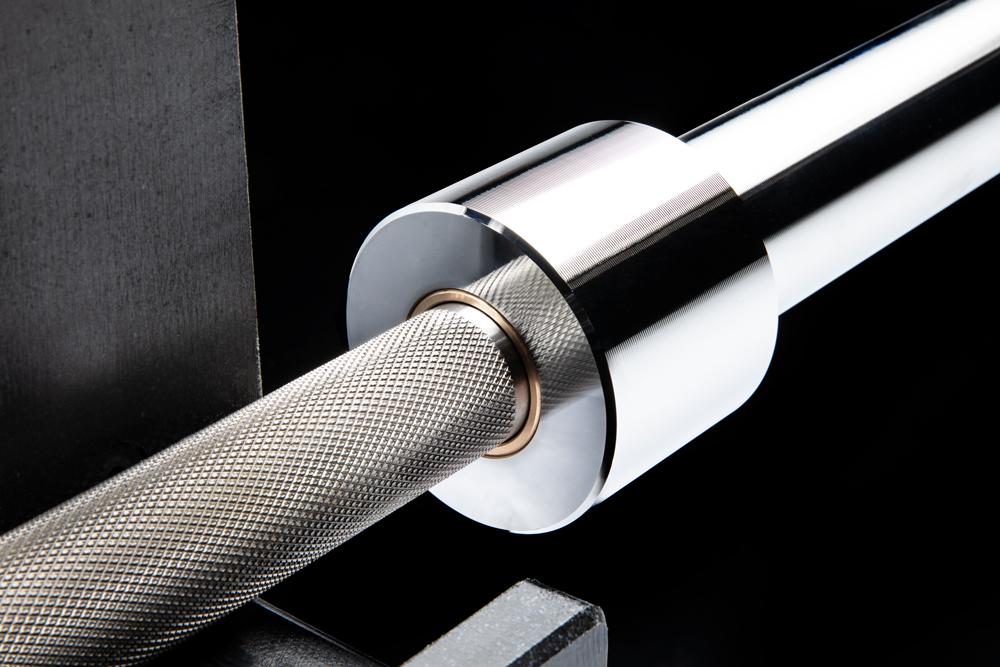 Would this bar be good for deadlifts? No – that bigger shaft diameter is going to make it more of a challenge to grip. This won't make a difference when the bar is on your back.
Rogue Ohio Deadlift Bar
OK, so we just looked at a specialized squat bar – with a very thick shaft diameter – to eliminate flex.
But for maximum deadlifts you might want a thinner shaft diameter.
The Rogue Ohio Deadlift Bar has a 27mm shaft diameter.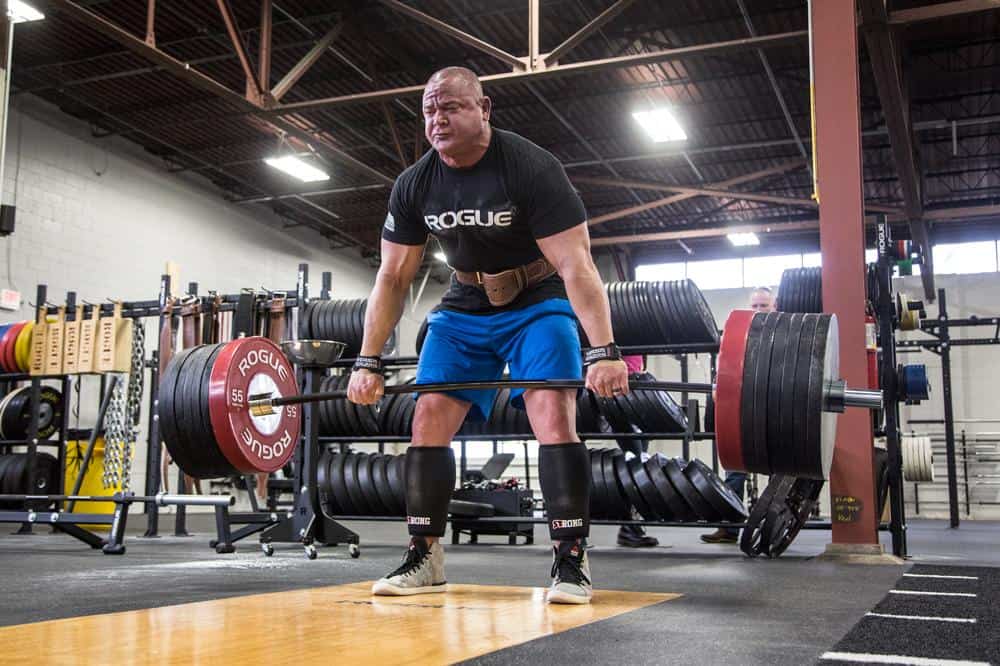 There are two main benefits: it is easier to grip and the bar has more flex.
The increased flex means that you can get higher in the start position before the full weight of all the plates comes off the floor.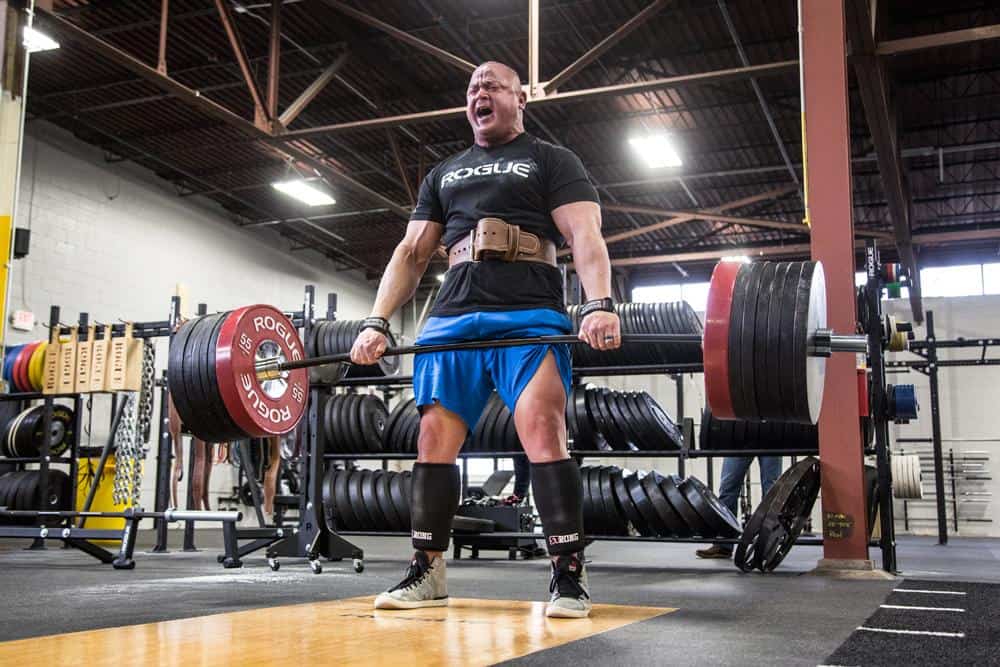 The Ohio Deadlift Bar uses cost effective bushings – because you don't need a ton of spin in the deadlift.
It also features aggressive knurling – for maximum grip.
A dedicated deadlift bar is going to be a great idea for anyone doing high volume deadlift training.
You are going to get more heavy reps in before your grip gives out – and that way you don't have to lift with straps.
There's also a version that uses Rogue's new E-Coat process.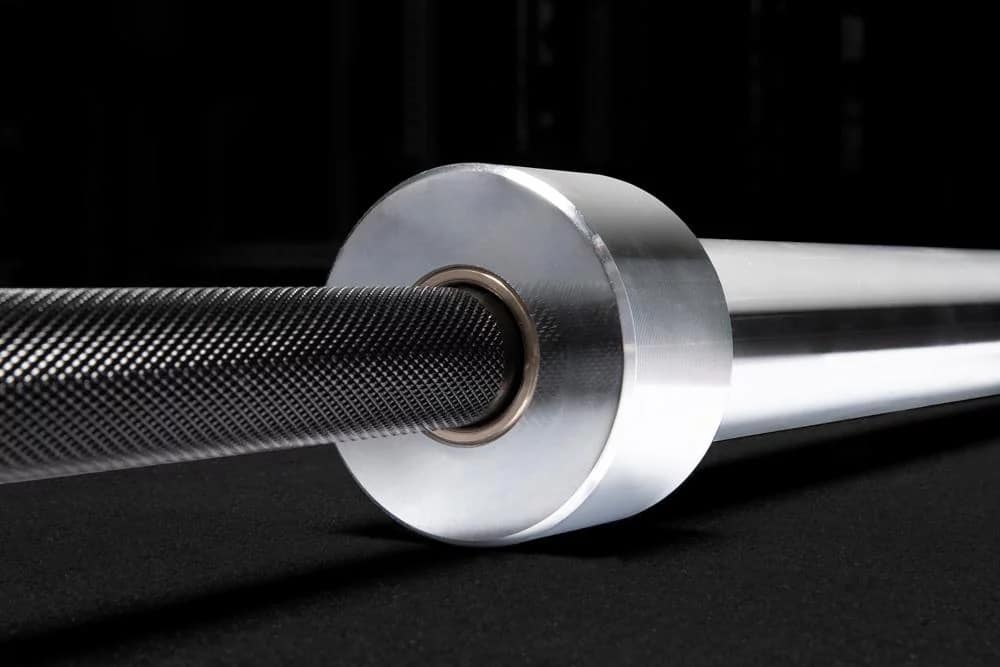 American Barbell Power Bar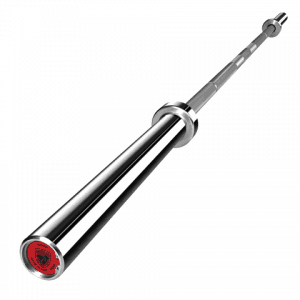 Like Rogue, American Barbell makes some very high quality powerlifting barbells – right here in the USA.
They have a number of power bar options.
The American Barbell Power Bar is an affordable, but high quality bar.
It matches our criteria for a power bar:
29 mm shaft diameter,
Center knurl,
Aggressive knurl for a firm grip,
Bushing bar,
Weight 20kg.
This bar is made from 190K PSI steel and has a hard chrome finish on both the shaft and the sleeves.
It also comes with a limited lifetime warranty.
If you want to step things up a notch, see the next option.
American Barbell Elite Power Bar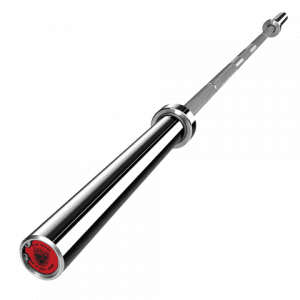 The American Barbell Elite Power Bar ups the quality and durability with a stainless steel shaft.
Stainless Steel offers superior corrosion resistance and can be cleaned and repaired with no damage to the surface.
Bare stainless steel knurl has a great feel to it.
Like the regular power bar – this checks off all the right features: 20 kg weight, bushing bar, center knurl, hard chrome sleeves, and made with 190K PSI stainless steel.
It also comes with the limited lifetime warranty.
We have one last option from American Barbell for you – and it's the king of the hill.
American Barbell Mammoth Power Bar with Cerakote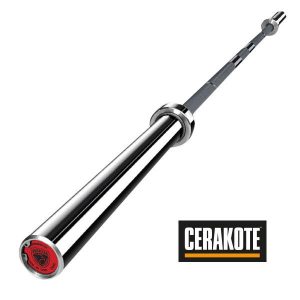 The American Barbell Mammoth Power Bar (with Cerakote) is made with 210K stainless steel.
To make the finish even tougher, it's got a Cerakote as well.
Cerakote AND Stainless Steel – That is the toughest combination you can have in a barbell.
This is a 20 kilo, 29mm diameter bushing bar made to go the distance.
Here's a closeup of the bushings.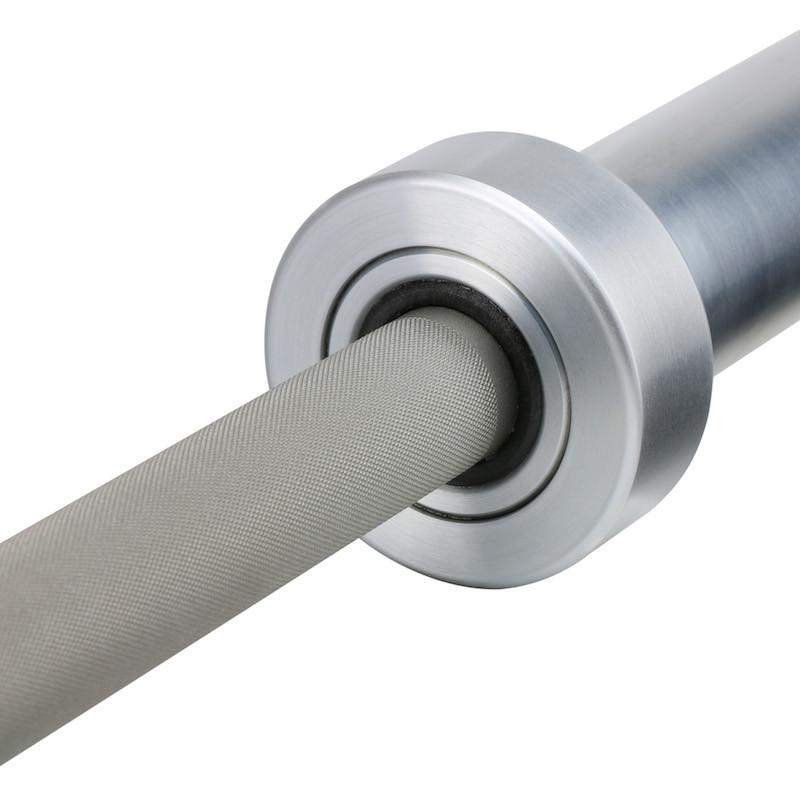 The sleeves are hard chrome finished – as the sleeves take a lot of metal on metal contact from the constant loading and unloading of weight plates.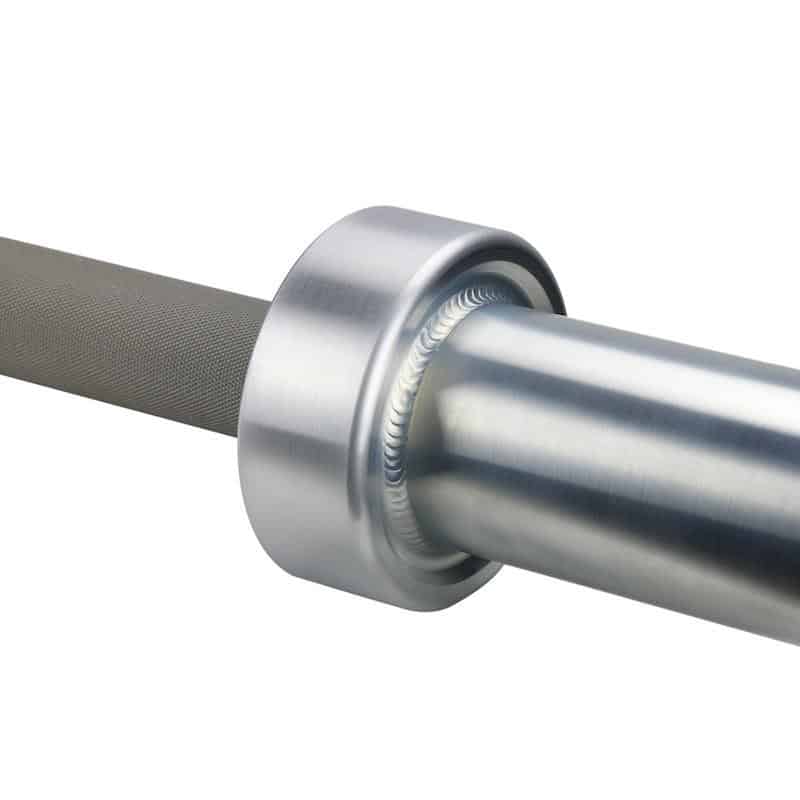 This is an expensive bar, but it is the nicest bar that American Barbell offers.
Please note there are no additional color options on the Mammoth Bar – the Cerakote is "Savage Stainless Cerakote Finish" – that's the only option.
By the way – made in the USA – with a Limited Lifetime Warranty too.
Rep Deep Knurl Power Bar EX
Rep fitness recently release the REP Deep Knurl Power Bar EX.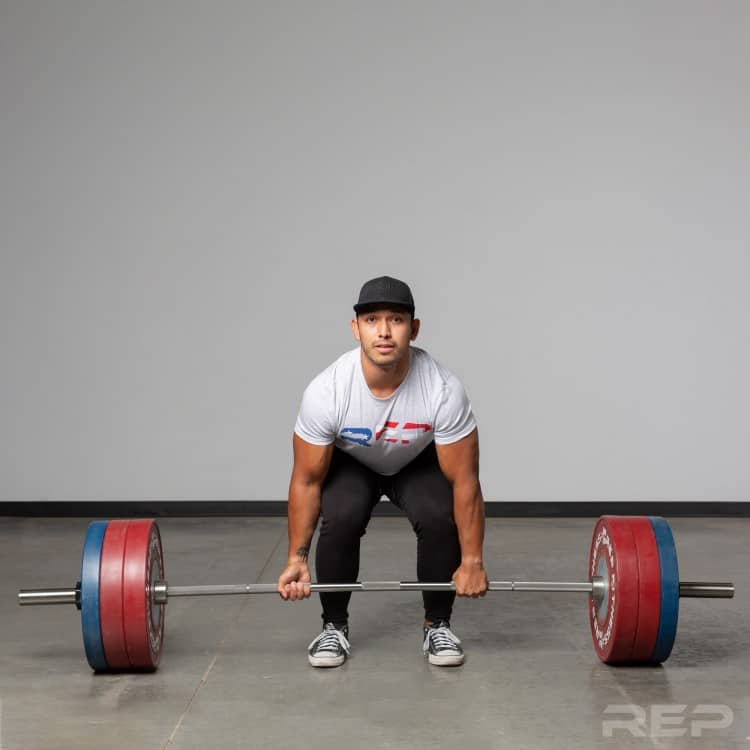 First of all, this is an all stainless steel bar (both the shaft and sleeves are stainless steel) with a 29 mm shaft diameter.
But where this bar stands out is the knurl.
It has been purpose designed to have the most aggressive knurl possible for the ultimate in grip.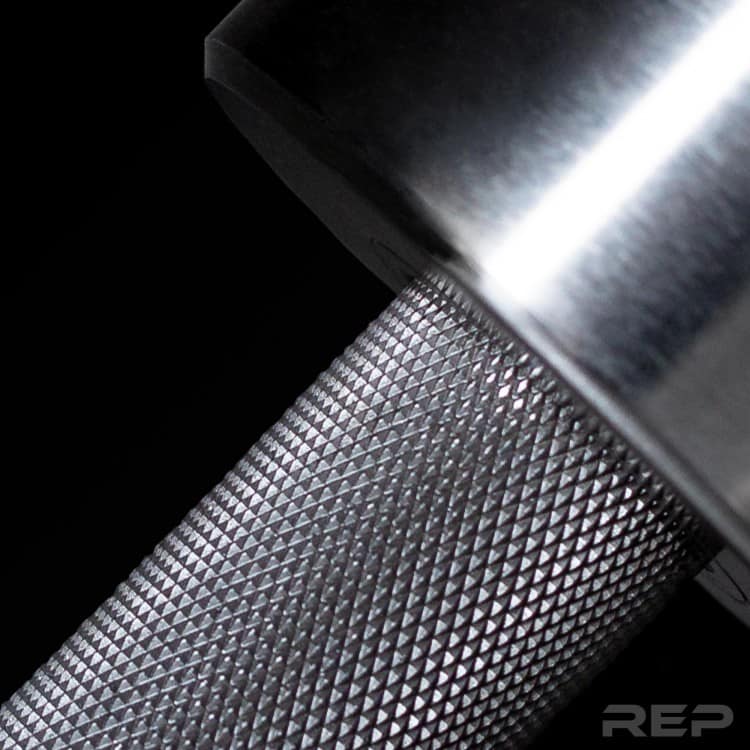 This would make a great bar for heavy deadlifts, and more.
The knurl is up to 75% deeper than standard knurl on barbells.
It weighs 20 kilos, and has center knurl to keep the bar on your shoulders during heavy squats – of course.
Rep Stainless Steel Power Bar v2 – Budget Power Bar
Love the look and durability of bare stainless steel but not liking the price tag?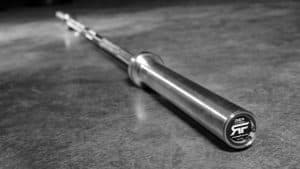 Rep Fitness offers the Stainless Steel Power Bar v2.
It's a bargain priced bar.
But it has what we want in a power bar:
20 kg weight,
205K PSI tensile strength steel, with 29 mm shaft diameter,
Bushing bar,
Stainless steel shaft and smooth stainless sleeves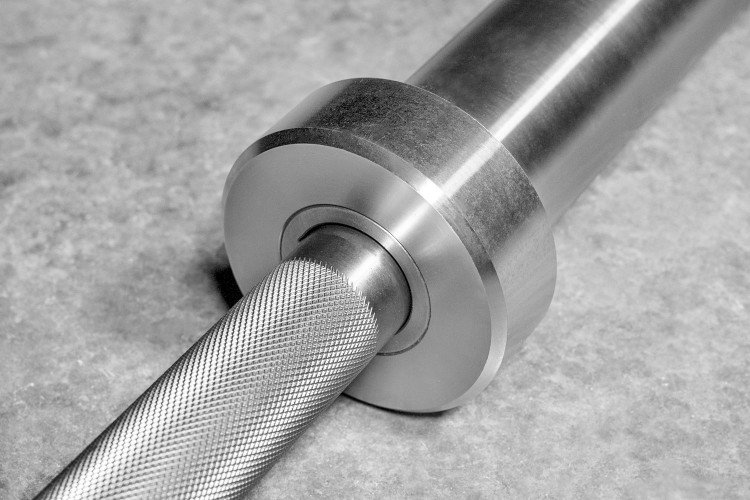 Are you thinking a low budget power bar is going to have a poor warranty?
Wrong – this bar has a 5 year limited warranty.
Where is it made? Not in the USA. But that's part of how they keep the price lower.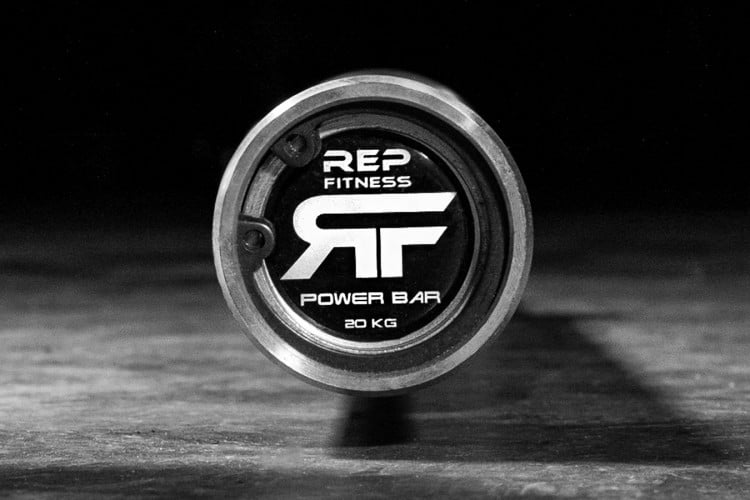 Specialty Bars
Here's an example of what we call a specialty bar.
The Kabuki Strength Duffalo Bar is designed by world renowned strength coach and powerlifter Chris Duffin.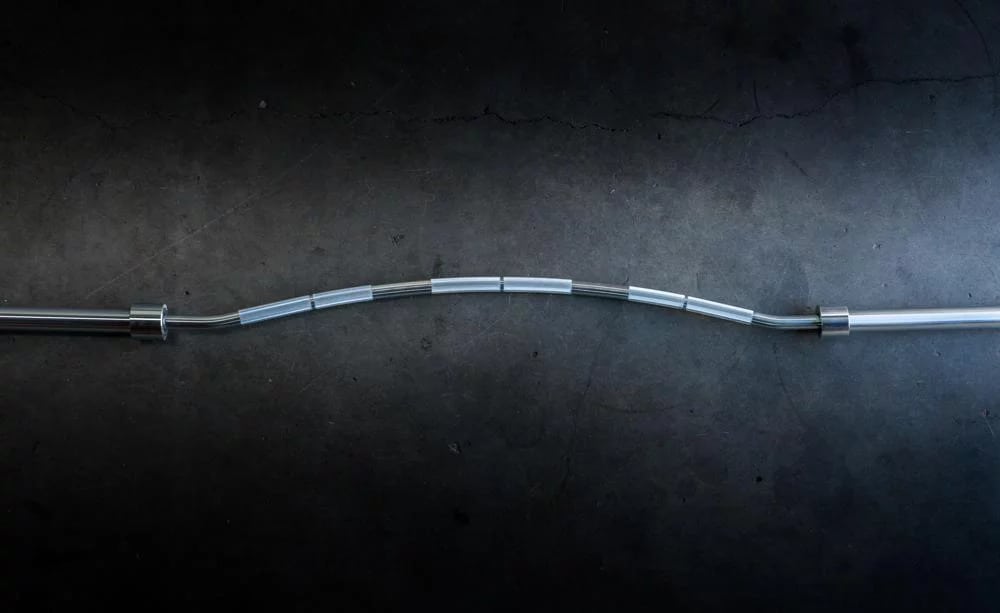 It's great for squats – low bar, high bar, or front squats.
Low bar squats in particular can be a shoulder killer – if you've got previous injuries or maybe just too much wear and tear getting in the right position can be a challenge.
The Duffalo bar should solve that.
It's also great for pressing.
It helps enforce a beneficial wrist angle that reduces strain on the shoulders while promoting better lat and scapular engagement.
It is available in 3 finishes: Clear Zinc, Black Oxide, or Bright Nickel.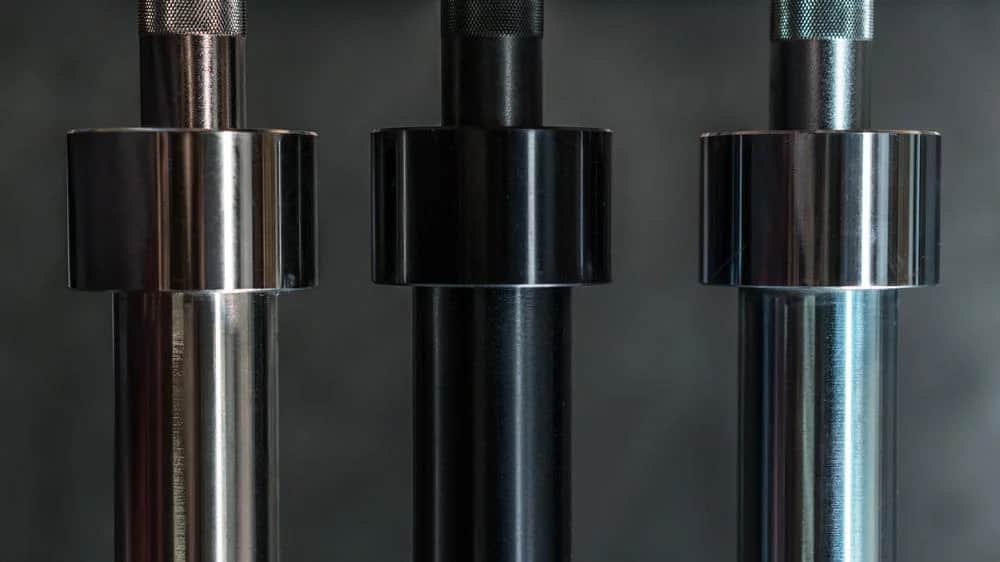 Best Powerlifting Barbell – In Summary
There are certain things we want in a power bar:
Tough steel (200K – 210K PSI tensile strength steel),
Bushings – not bearings (for cost efficiency),
Center knurl for stability in the squat,
Aggressive knurl – so we can grip the bar adequately in a heavy deadlift,
20 Kg weight (for IPF compliance) or 45 Lb
29 mm shaft diameter to minimize or eliminate whip or flex.
There are several manufacturers that produce excellent products, and we hope we've been able to give you some good insights.
Are you interested in doing Olympic lifting alongside some powerlifting? Look for a good dual purpose bar – we run down the details in our Olympic Barbell guide.
Photo Credits
We are an affiliate of Rogue Fitness, American Barbell, and Rep Fitness. If you purchase equipment after clicking links in this article we receive a small commission at no additional cost to you. This helps us bring you great info about these products.
All Rogue Fitness product imagery is property of Rogue Fitness, and provided by Rogue Fitness.
We are also an American Barbell affiliate – the photos of American Barbell products are property of American Barbell.
We are also a Rep Fitness affiliate – the photos of Rep Fitness products are property of Rep Fitness.
References
1. International Powerlifting Federation (IPF) Technical Rules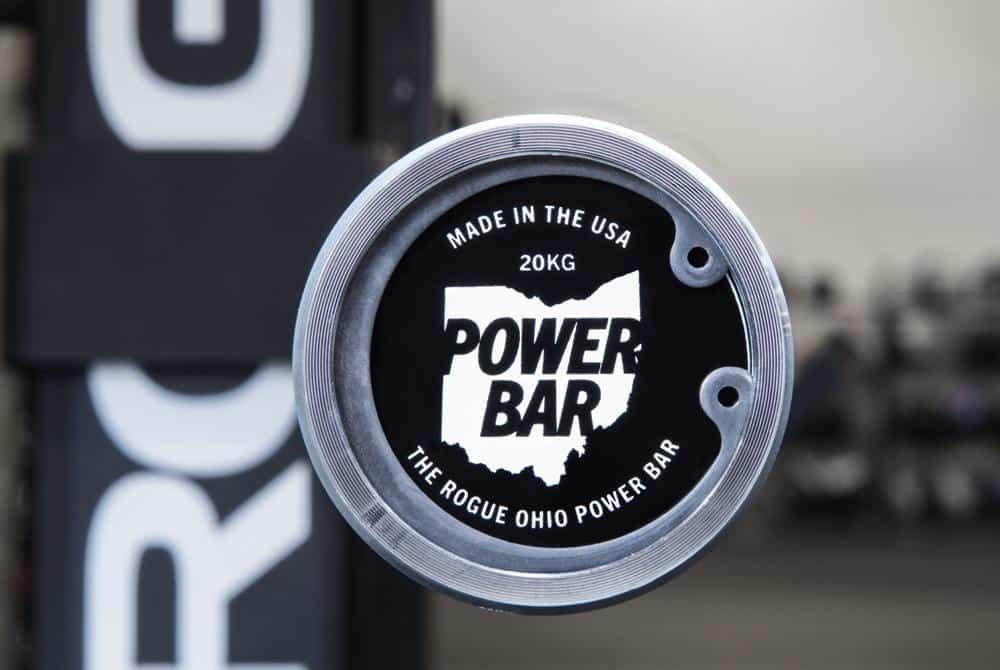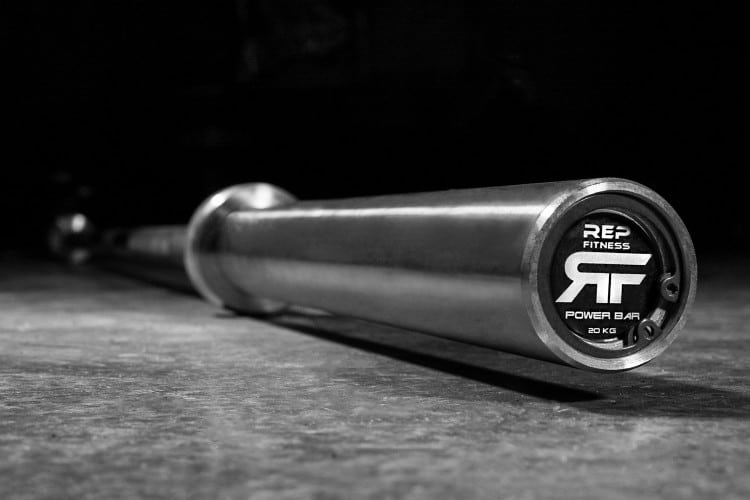 Tim is the founder of FitAtMidlife.com – an avid gym rat for 30+ years, he's a reviewer of many, many shoes – and founder of the Speed Bag Gathering – the world's only gathering of speed bag punching enthusiasts.  See more gym reviews at Tim's YouTube channel.