Rogue has the red-hot
Echo Bike
. Grab one while they last!
Let's review the monolifts available from Rogue.
Squatting really heavy? You need a monolift. Why a monolift? This device holds the heavily loaded barbell in an elevated position. When you lift the bar up, the holders retract.
This means you don't have to walk the weight out of the rack – or mess up your squat stance. This makes the lift safer, and you save energy for more productive training.
The traditional downsides of a monolift are as follows: they are big, they are single-purpose (really only for squatting) and they cost a lot of money.
It's not super-practical to have a monolift in your home gym or garage gym – so why not turn your power rack into a monolift?
That's the idea behind most of these monolift attachments from Rogue.
Here's some of the equipment we are going to look at:
Let's take a closer look.
Monolifts – Overview
Using a monolift is very efficient as its height can be adjusted in seconds, so if you are a coach, you can train more people in less time. The monolift lets you set athletes together by their strength instead of having them squat in a power rack by height. The monolift boosts safety when used correctly, plus it saves floor space so three separate coaches can train three separate trainees of varying strengths and heights at the same point on the same piece of equipment.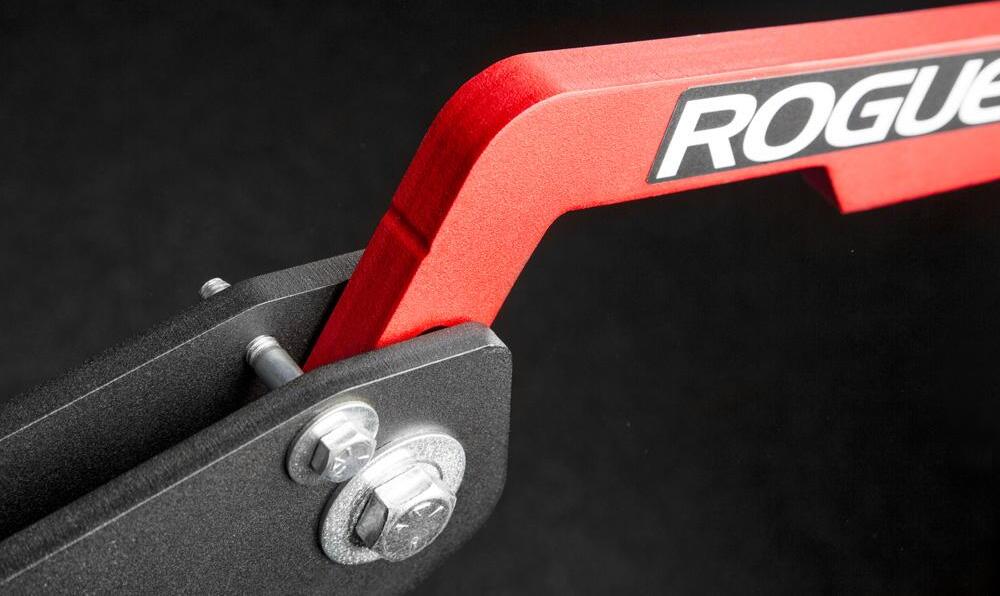 A Monolift also eliminates the walk-out phase of the squat. When you unrack a weighted barbell in a monolift, the hooks that carry the bar are rotated so you can squat where you are standing – no need to move away from the rack. When done, the hooks turn back into their initial position under the bar so you can effortlessly re-rack it without taking any steps.
Save your energy for squatting – and reduce the safety risk too.
This also means you can perfect your squat stance before having to shift around with a lot of weight on your back.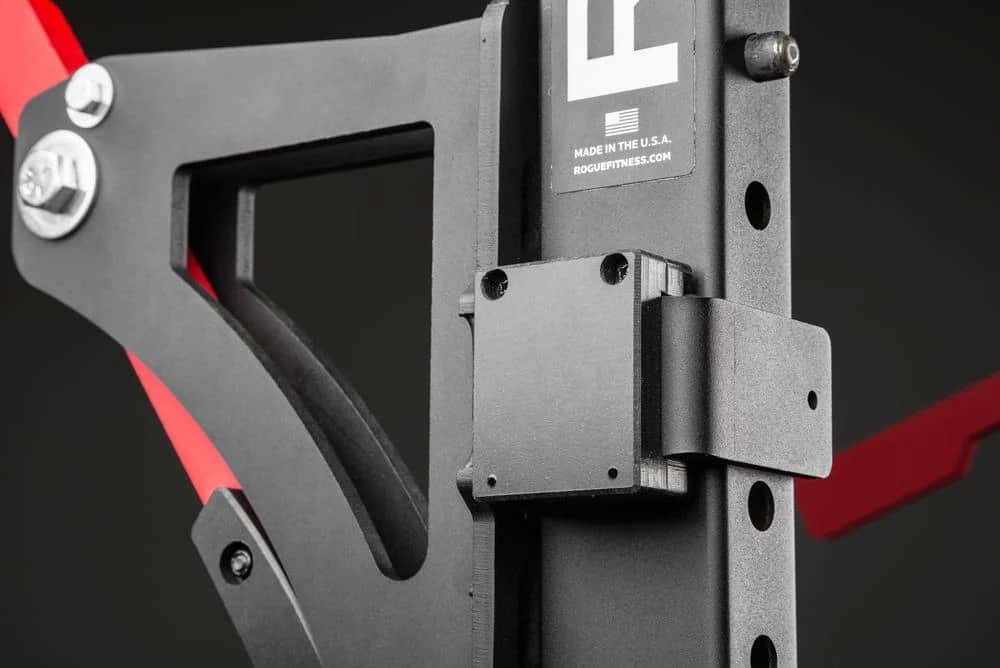 Do you need a monolift? That depends – how much are you squatting?
Rogue Adjustable Monolift – Monster Lite
Monolifts can be really expensive. That's why Rogue came up with a great cost-efficient option to costly, full-scale monolift units with Rogue Adjustable Monolift – Monster Lite.
This attachment is designed specifically for Rogue RML (Monster Lite) series of power racks.
The Monolift has a redesigned J-Cup-style pin system that provides more manageable height adjustments and faster transfers from one athlete to the next. Rogue also decreased the brackets' overall size and added new UHMW plastic liners to keep the bar's knurl and finish.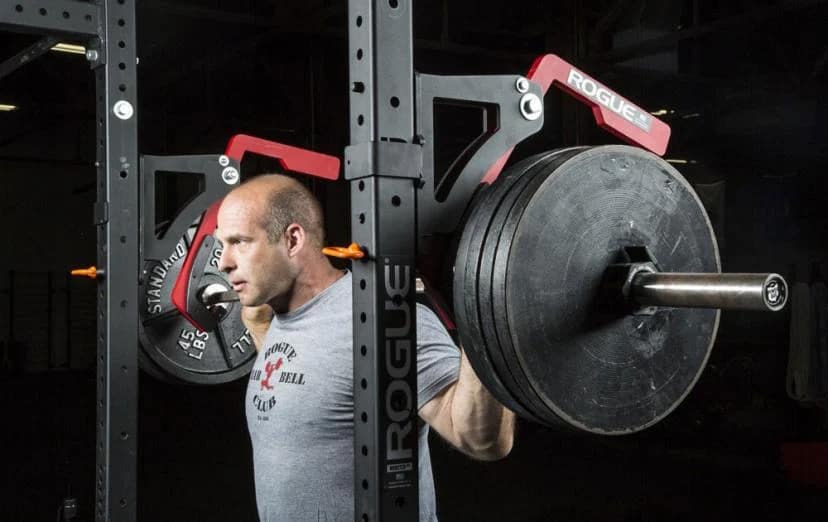 Each Adjustable Monolift set includes a pair of rack-mounted brackets with 0.75″ thick steel jaw hooks. These hooks are constructed with unique counterweight handles at the top, so when you raise a barbell off the Monolift, the hooks will swing some inches back toward the rack and stay there. A pair of 0.625″ hitch pins are also added to secure the unit into place and hinder any unwanted swinging out.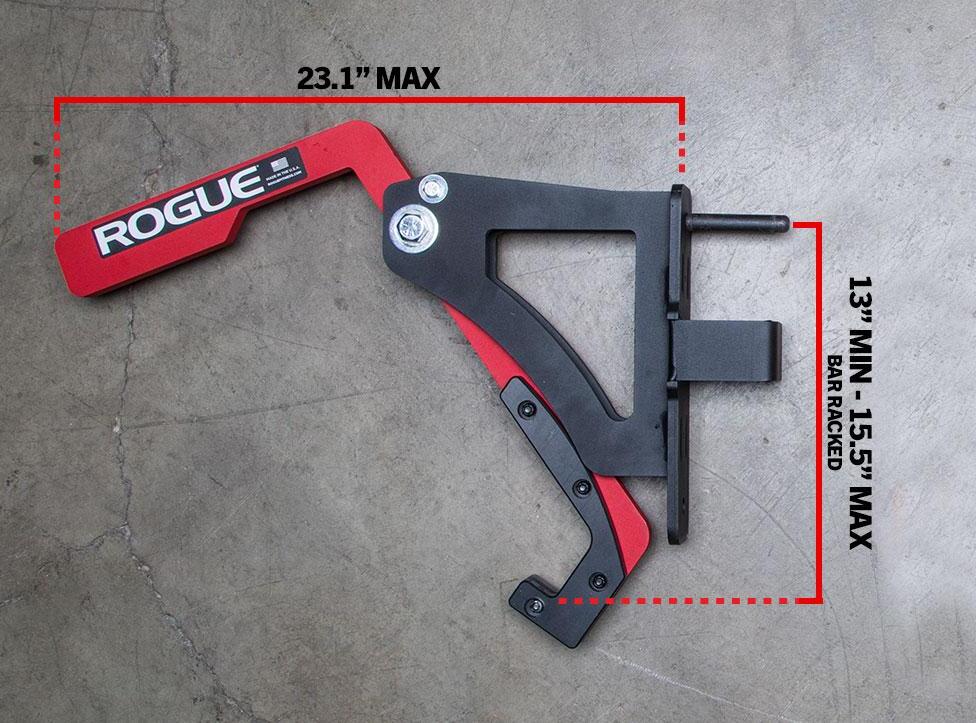 Rogue Monster Lite/Infinity Monolift Attachment
The Rogue Monster Lite/Infinity Monolift Attachment is powerful enough to handle a large amount of weight. It is created to be harmless for solo use, but it's always advised to have spotters available for heavier lifts.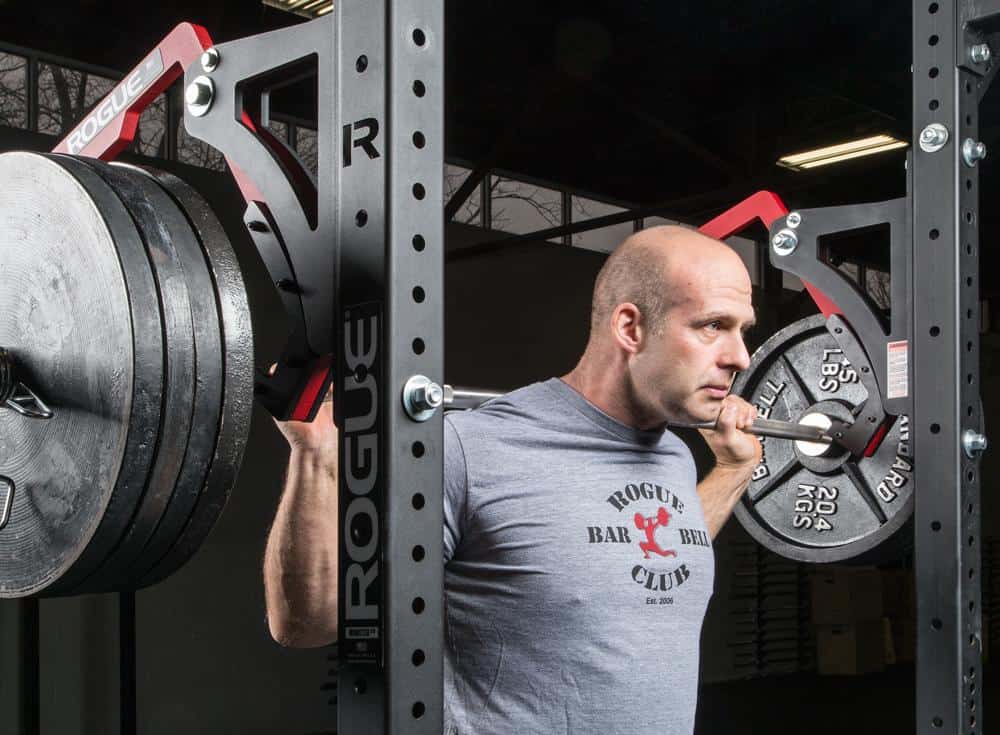 Rogue highly suggests mounting the Monolift to a rack or rig that's firmly attached to the floor and/or wall. It is suitable with 2×3″ Infinity and 3×3″ Rogue Monster Lite rigs or racks with 0.625″ mounting holes and 1″ on the center.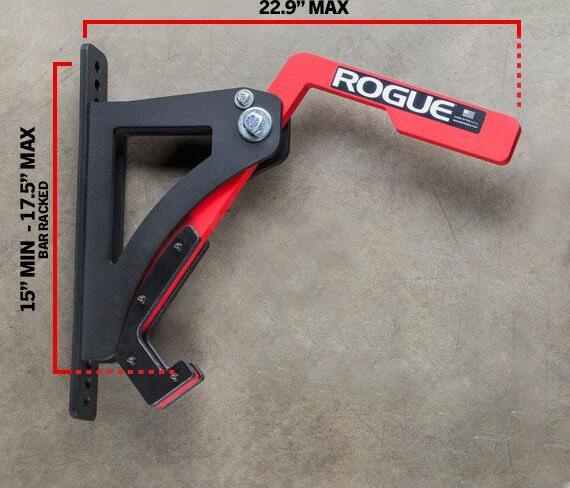 Rogue Monster Monolift Attachment
Functionality wise, Rogue's Monster Monolift Attachment do precisely what they are intended to do, and they do it properly. The arms are well-balanced, the UHMW envelopes the whole hook, and the hook opening has a shape that getting the bar securely back into position seems easy.
The Rogue Monster Monolift attachment is furnished with two safety pins fastened through the back of the unit to the front, which is then tightened with a pin attachment. The safety pins are excellent with large red handles, and they assist in ensuring the unit won't shift from right to left. It gives an overall better user experience than standard J-cups and grants an extra layer of security.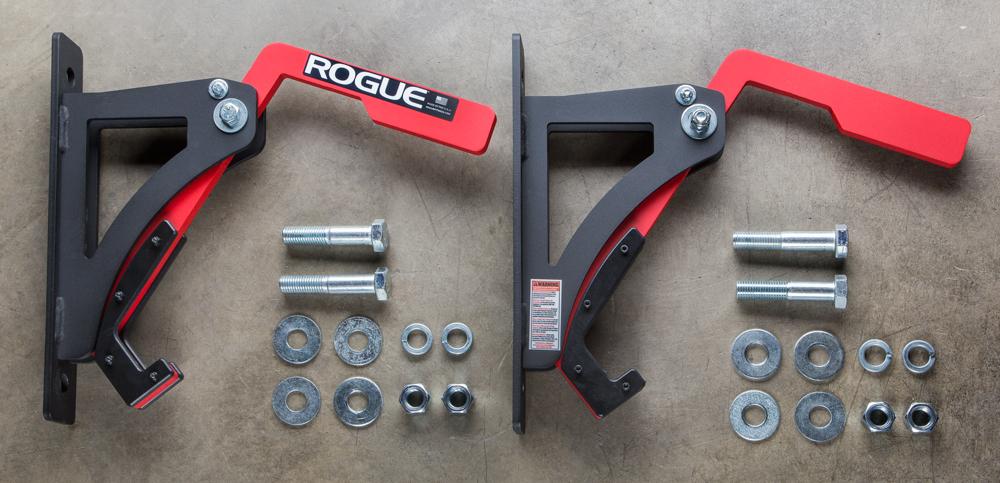 Rogue Adjustable Monolift – Monster
Rogue Adjustable Monolift Monster fits with almost all standard barbells and some specialty bars like the Camber Bar and Safety Squat Bar. It has a 1″ mounting pin, J-Cup-style set-up, and 1″ hitch pins for locking the unit in place.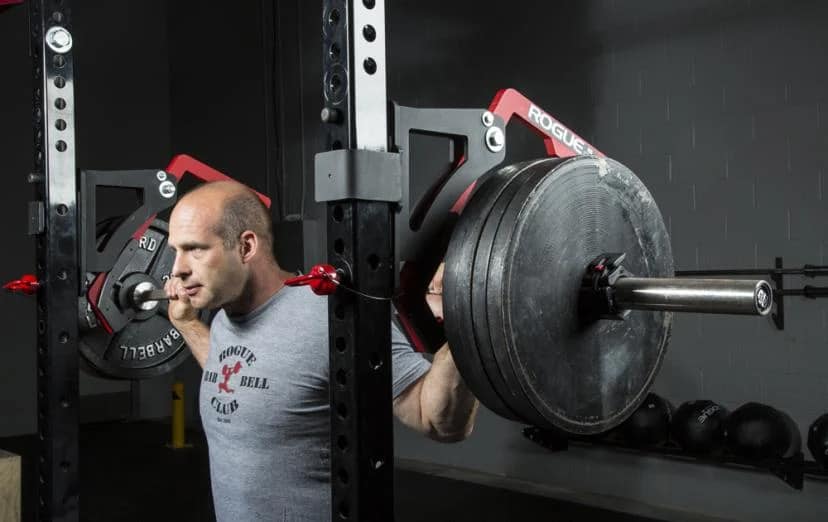 Just like the other Rogue Monolifts, Adjustable Monolift – Monster is a great addition to your current rack to expand the potential exercises you can do. If you're one of those people who gets shoulder soreness from the bench press lift-off, you might want to give some attention to Rogue Adjustable Monolift – Monster.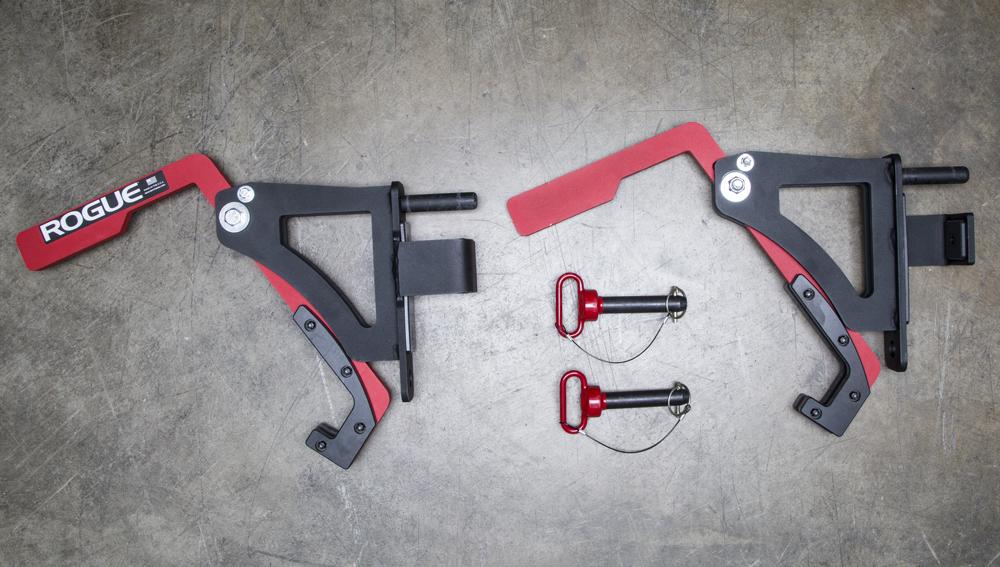 Westside Mammoth Monolift
Traditionally, a monolift has been a stand-alone device.
The Mammoth Monolift can handle the constant abuse of 1000 LB to 1200 LB squats performed by world-class powerlifters.
It uses a heavy-gauge steel frame with an ultra-wide, textured base (to prevent tipping with heavy bands), a built-in quick-release knob, and a lock-in-place jack handle. The bolt-together design provides effortless disassembly to move the unit from one area to another.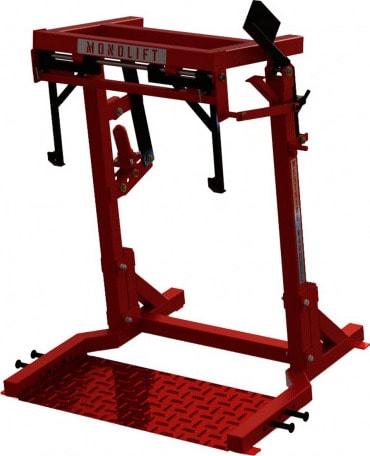 It has a heavy-duty band peg option with a black powder-coat finish and lock-in-place jack handle. The Mammoth Monolift also has a quick-release knob and ultra-wide, textured squat base.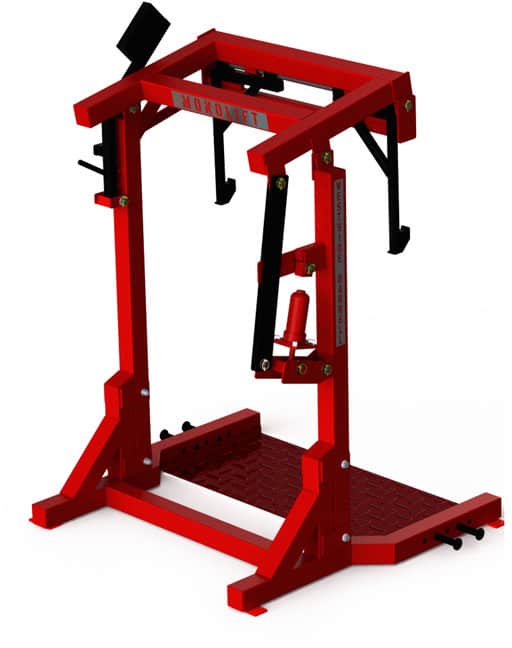 Please note that the order lead times on this are quite extensive – they are made to order.
Monolifts – In Summary
That's our review of Monolifts from Rogue.
Monolifts are incredible rack accessories, and Rogue made theirs decent-looking that can fit nearly to any rack. The exclusion of the walk-out and safety spotters make the Monolift just about the most secure method to overload on the squat. While the Rogue Monolift Attachment can be safe for solo use, it is still always advised to have spotters available for heavier lifts.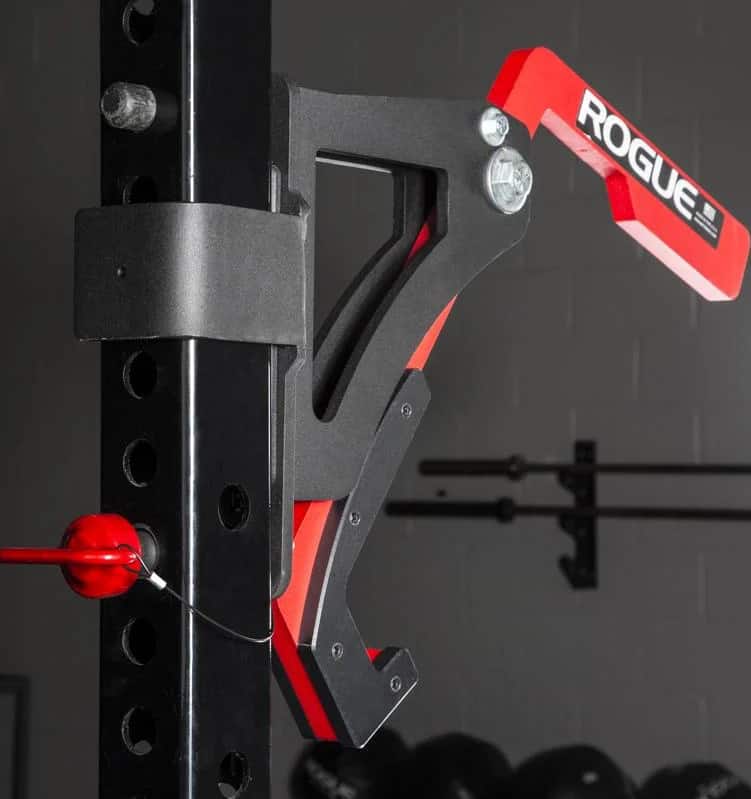 Photo Credits
Product photos on this page are property of Rogue.
This website is not affiliated or associated with CrossFit, Inc. CrossFit is a registered trademark of CrossFit, Inc.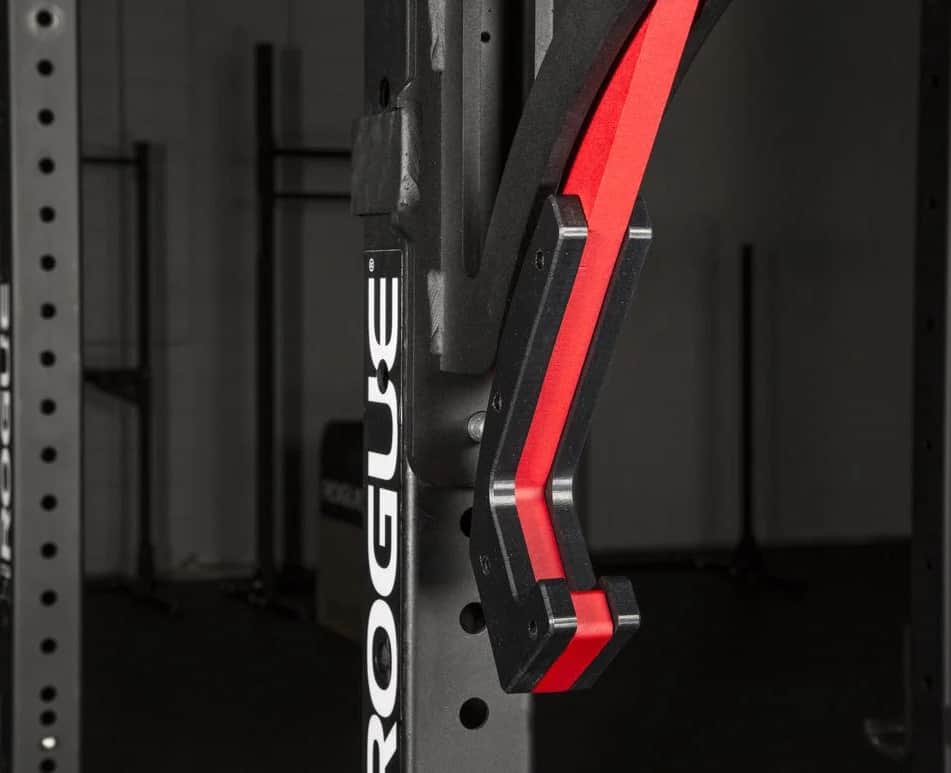 Affiliate Disclaimer
We are an affiliate of Rogue and others that sell this training gear. If you buy clothing or other training gear after clicking the links in this article, we receive a small commission at no extra cost to you. This helps us to bring you in-depth information and content on these great training products.