Rogue has the red-hot
Echo Bike
. Grab one while they last!
Assault Fitness, makers of the original "assault bike", have recently launched a new version of this fabulous fitness tool – the AssaultBike Pro.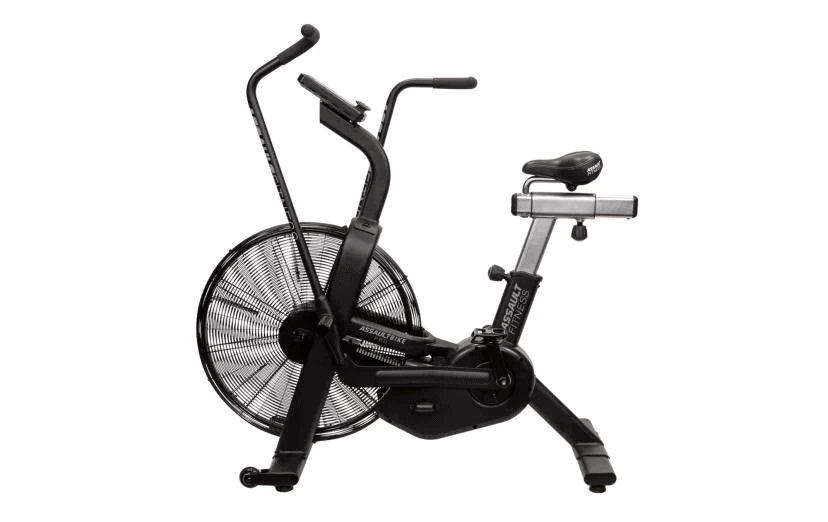 To understand what's new and improved with this bike – let's review all the air bikes from AssaultBike.
Here's some of the styles we are going to look at:
Let's compare all these models.
Air Bikes from AssaultBike – Overview
First, a quick word on air bikes.
Combining the arm-pumping action of a cross-country ski machine with the leg-firming power of cycling across deliberate resistance, Assault bikes are in a calorie-burning league of their own.
But, these can also be an effective tool for rehabilitation as it requires secure, controlled movement with zero impact.
Assault bikes are among the most common exercise bikes on the market and are sized to fit anyone easily. Just as it can be used for light rehab, the bike also has unlimited resistance potential.
The faster you pedal (and push) the faster the fan goes – and the resistance just goes up, and up, and up.
The arrangement behind it means that you're catching one of the best workouts that you probably can – it's a full body workout. You're using both your upper and lower body at the same time at the same intensity which is perfect for a range of goals. It administers total body workout targeting your chest, back, arms, abs, and obliques as you aggressively push and pull the handles to produce more power and speed.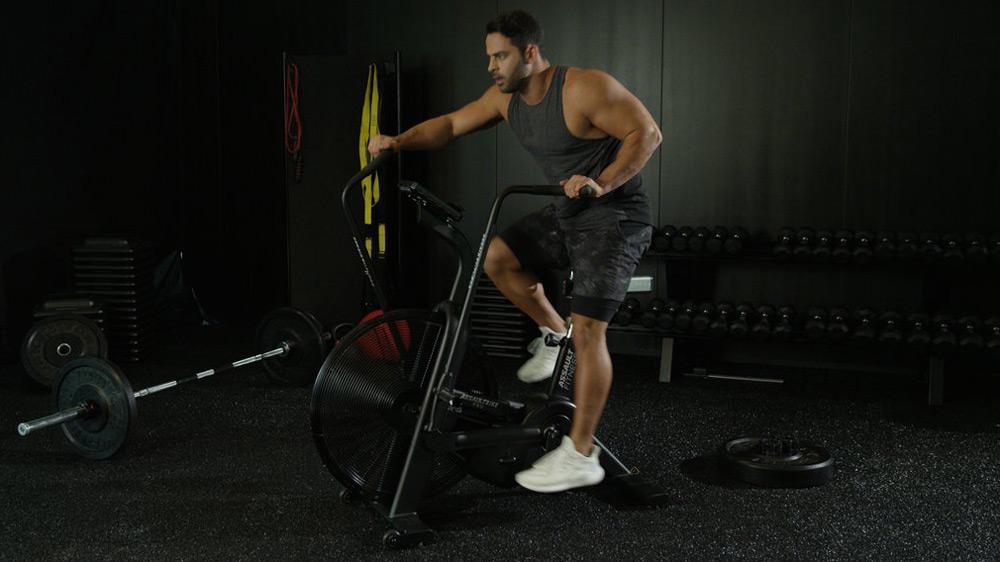 They are fully adjustable, so you can position the seat properly. All models feature an electronic monitor that will record the intensity of your activity, allowing you to track your calorie burn. The monitor is extremely-well liked and displays a variety of metrics in an easy-to-read and use way. The monitor can track speed, distance, time, and calories burned.
Got a leg injury? AssaultBikes have footpegs, so you can rest your feet if you want to and just focus on your upper body.
This is NOT a particularly enjoyable way to use an air bike though – you've been warned.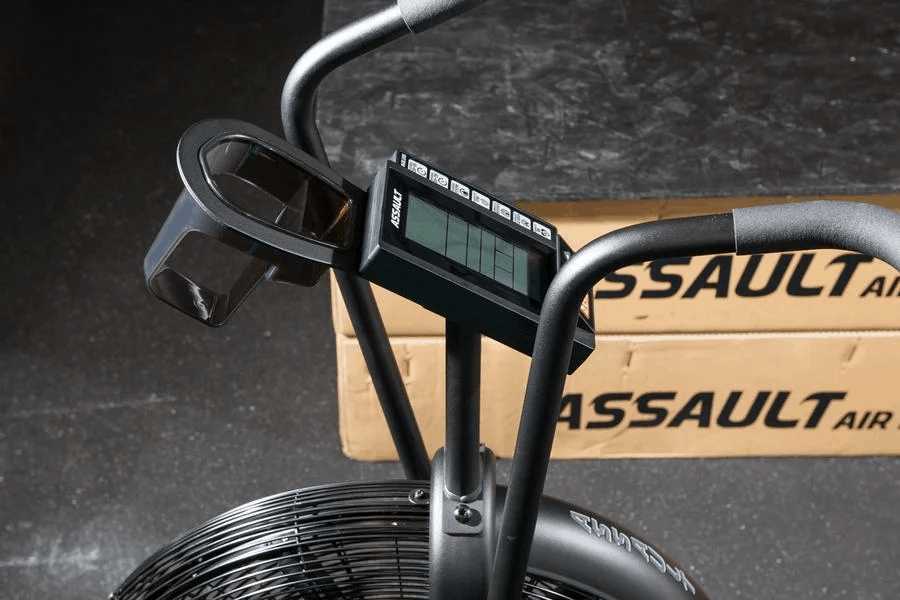 AssaultBike Pro
The innovative design of the original Assault AirBike combined with some of the state-of-the-art, amplified aspects of the Elite model results in the new AssaultBike Pro.
What's the big difference between this and the original? Check out that beefier frame.
The classic Assault Bike weighs in at 96 lbs, this one is just over 118 lbs.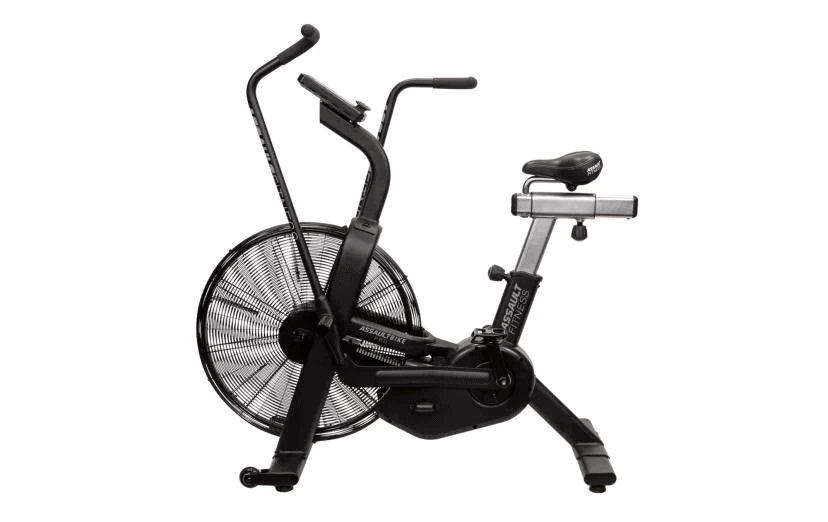 The Air Bike is a tough workout – and when you are really rocking and rolling – having that stiffer, more robust frame is going to mean less motion of the bike.
While it's tougher, notice it still has wheels on the front for easy mobility. That means you can roll this out of the way once the workout is done.
(Note that those tiny wheels work best on hard, firm surfaces like concrete or asphalt – you won't be rolling this around the yard.)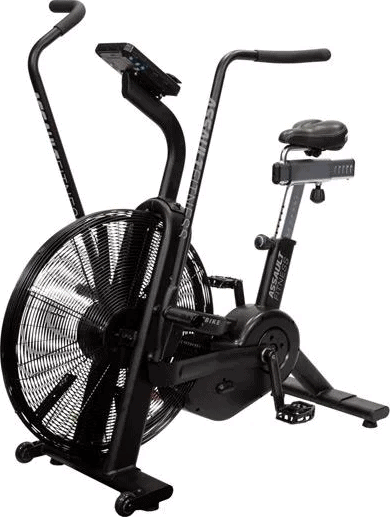 Here's another big plus – the electronic monitor supports both ANT+ connectivity (like that used with the Polar H10 chest strap heart rate monitor) and Bluetooth.
That's right, this bike should be compatible with the fitness apps you know and love – and already have installed on your smartphone.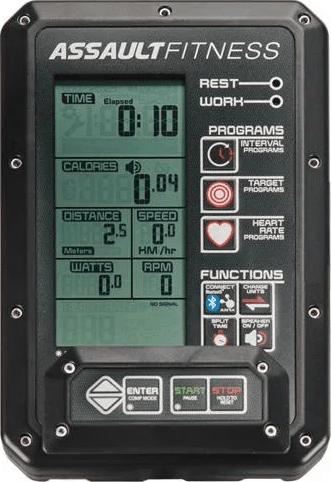 This is a nice bonus, consider that some air bikes don't have a Bluetooth option. Rogue Echo Bike – we're looking in your direction…
The bike has a convenient padded seat, cleverly placed footpegs, and supportive handlebar grips that initiates a user-friendly ride. Its heavy-duty steel frame gives all the support and balance you need. It has a hi-contrast LCD screen with upgraded readability plus Bluetooth and ANT connectivity. It can be customized with its different height settings and front-to-back settings.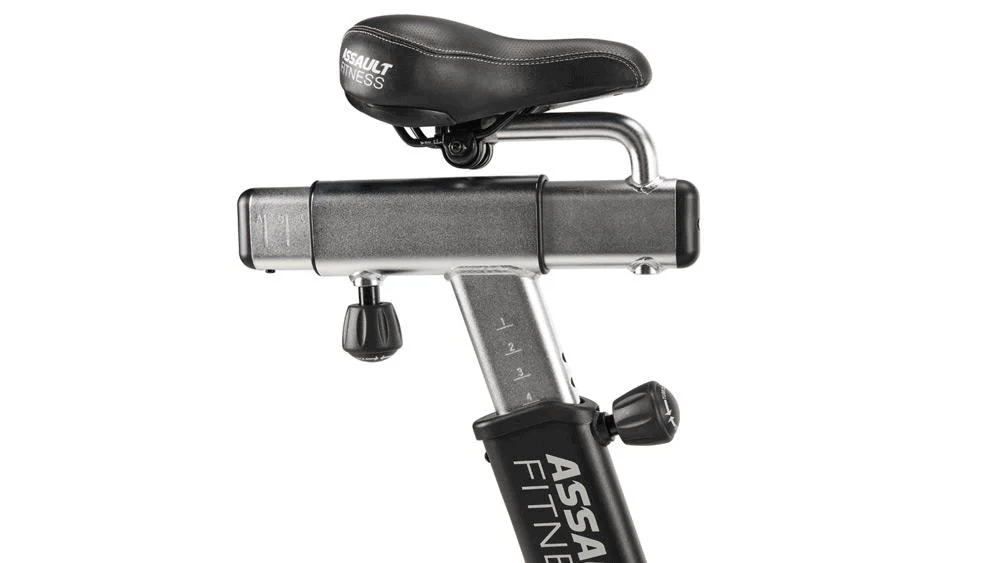 The AssaultBike Pro uses a chain to drive the fan.
As compared to a belt-driven air bike, this means more noise typically and more maintenance, too.
Time will tell how robust this air bike is – we'll post updates here as we know more.
Rogue Echo Bike Versus AssaultBike Pro
How does the AssaultBike Pro stack up against Rogue's own Echo Bike?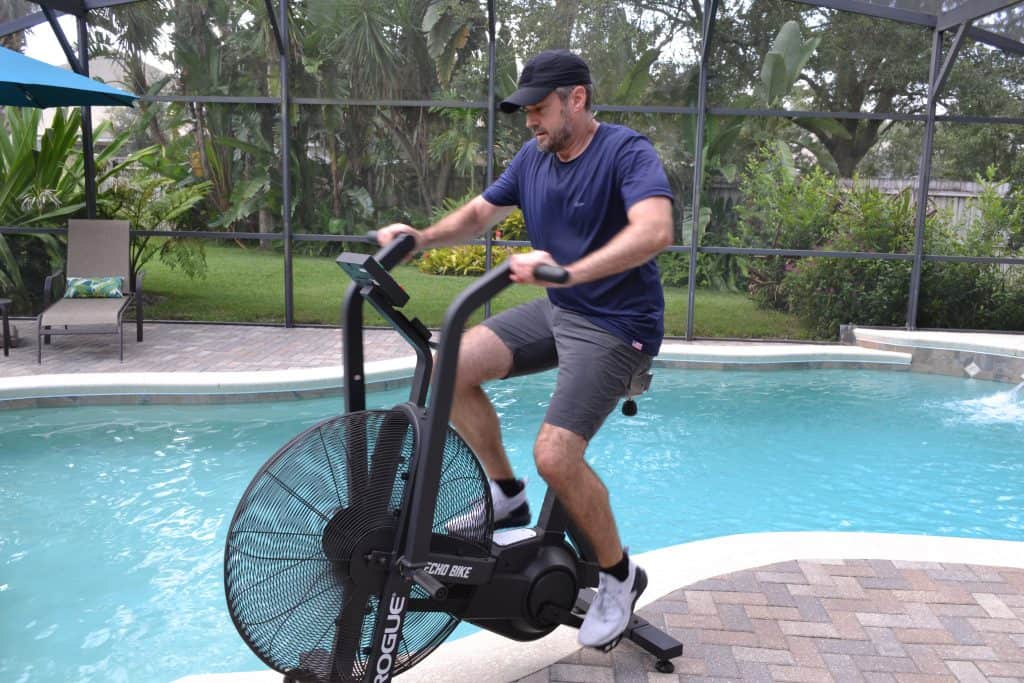 The Echo bike uses a belt-driven fan – so it's reasonably quiet – and maintenance-free.
There's not much that can break on an Echo bike – and while there have been some reports of initial quality issues, most of these machines have been very robust.
Personally, I have used mine regularly for over 2 years – with no maintenance required, and no issues either.
The Echo bike is really nice – there's no wobble, no side to side motion – thanks to the big beefy frame and handles.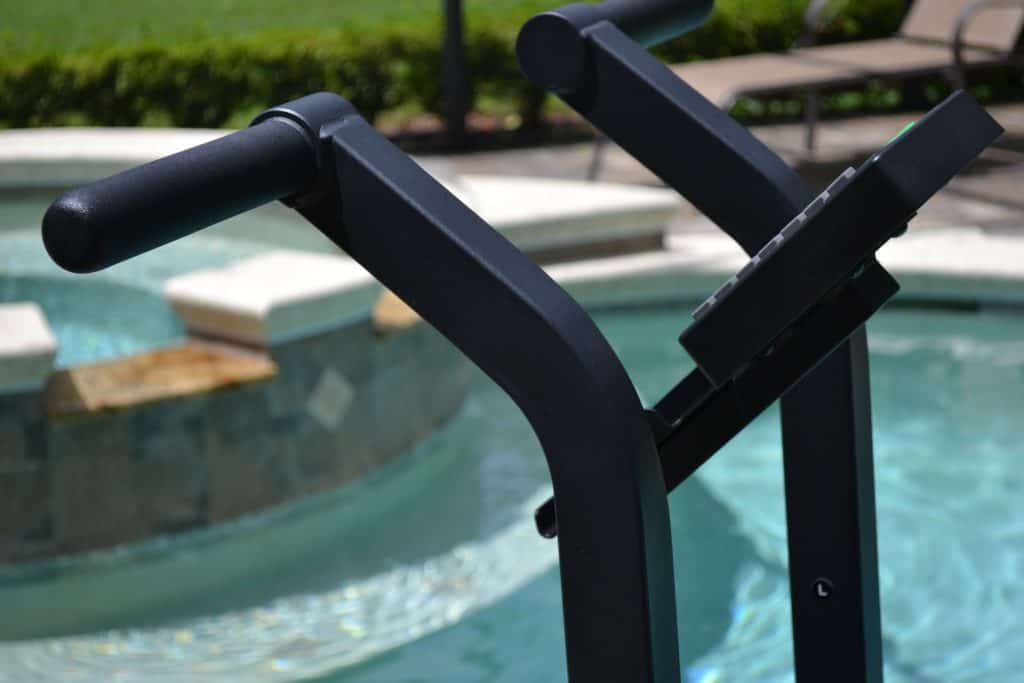 It weighs about 127 lbs, for comparison.
But, many complain that the Echo bike is harder to pedal than the corresponding bikes from Assault Fitness.
That's probably because the fan blades on the Echo are massive – and there's more of them.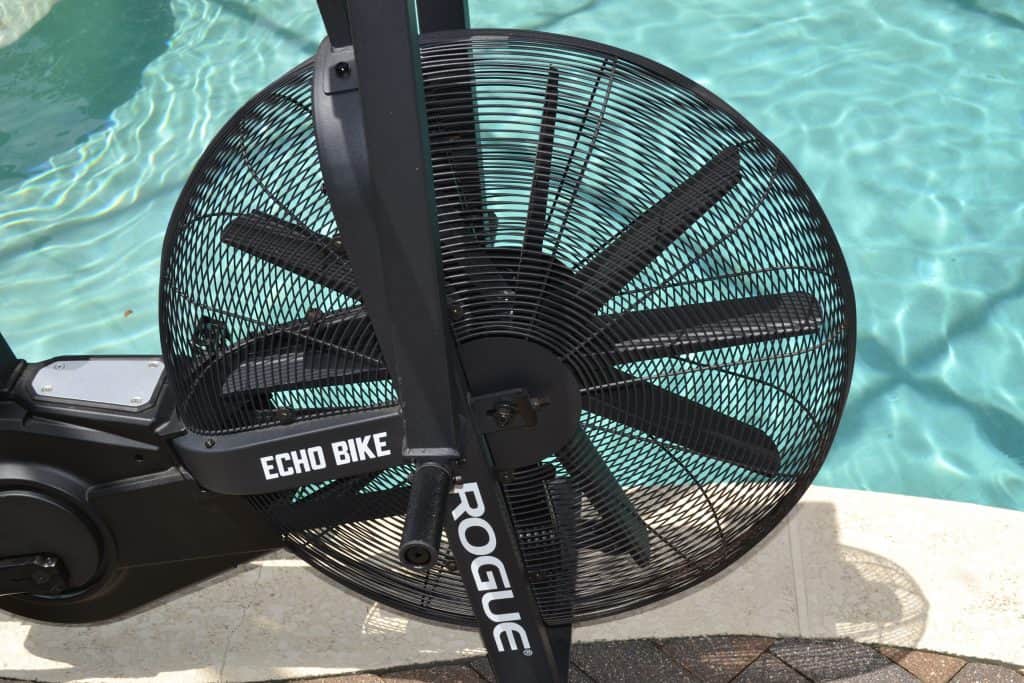 Lastly, at the time of writing, the Rogue Echo bike doesn't have an option for Bluetooth connectivity. It's ANT+ only.
That means it will not work with your smartphone or fitness tracker.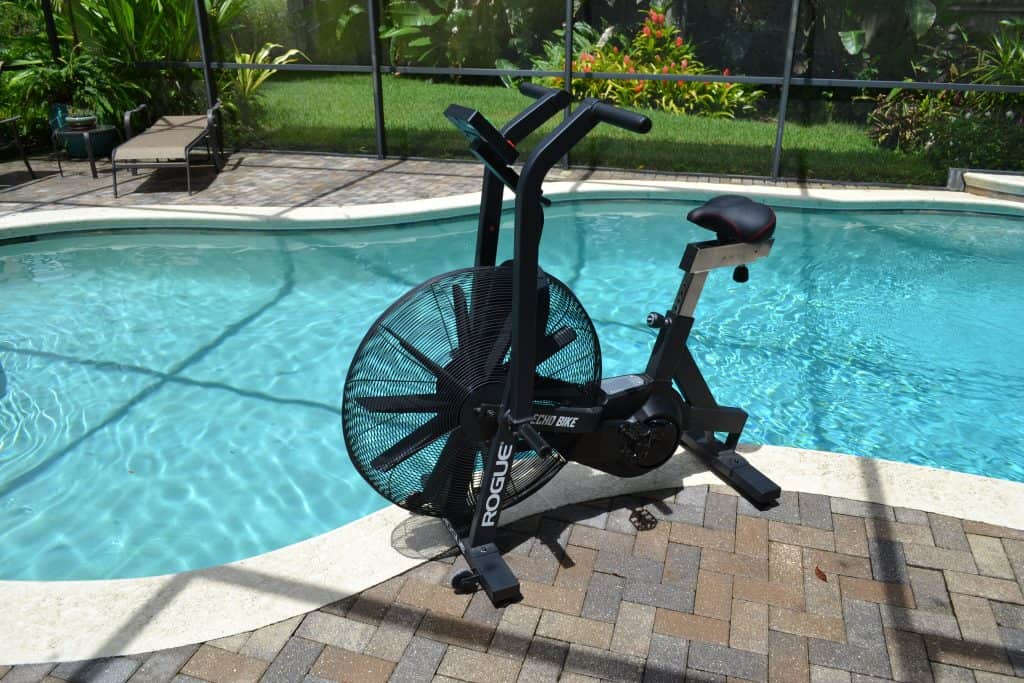 I love my Echo bike, and many others do too. It's a highly recommended item.
Assault AirBike
This is the classic Assault Bike – you've probably seen one at the CrossFit Box, or in the CrossFit Games.
Assault Airbike is an uncommon machine that is suitable for any strength level as its fan air resistance system conforms to its user's effort. This durable fan bike is an approved physical trainer in the US military but is also suitable for home and gym use.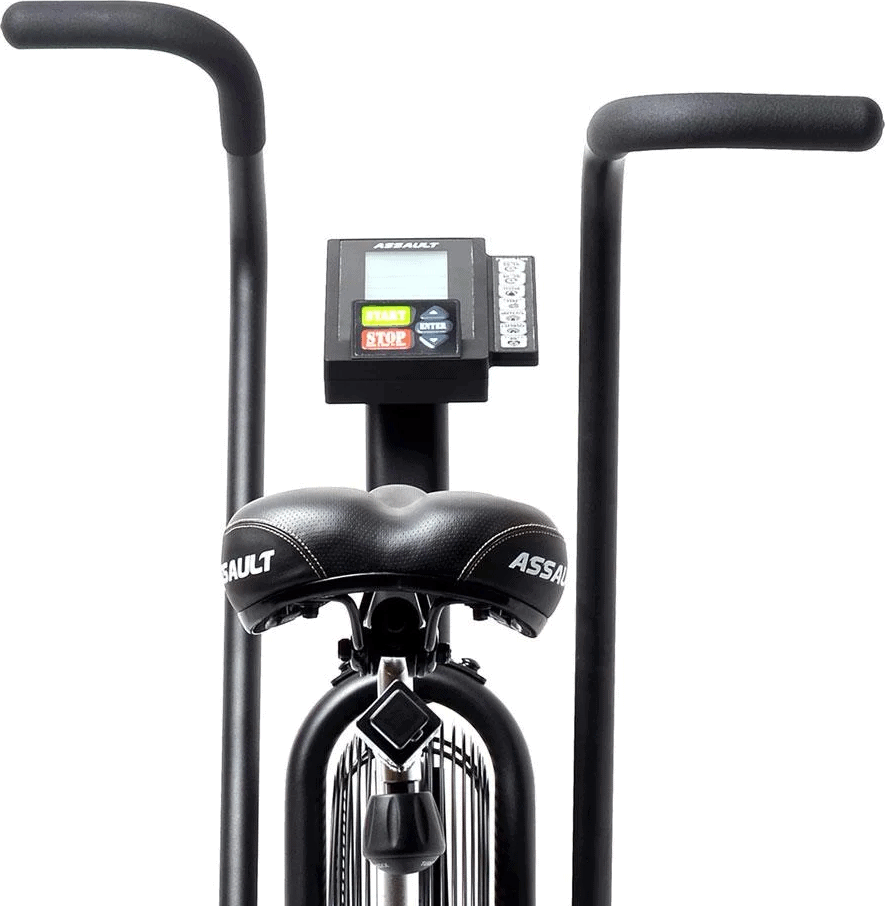 The AirBike has a hybrid seat with multi-adjustment options and carries an industrial powder coating for durability. It also has 20 sealed cartridge bearings which are being utilized in every rotation. It uses a twenty-five-inch diameter steel fan that delivers maximum resistance and a six-way adjustable seat. You can adjust it fore and aft, up and down, and tilt.
Assault Airbike Elite
AirBike Elite is the amplified version of the classic AirBike that has a heavier steel frame, sturdy steel cranks, and aluminum seat post.
The Elite model takes everything to the max, it's 139 lbs, it has ANT+ and Bluetooth, and it's just a super-solid workout machine.
But, it is expensive too.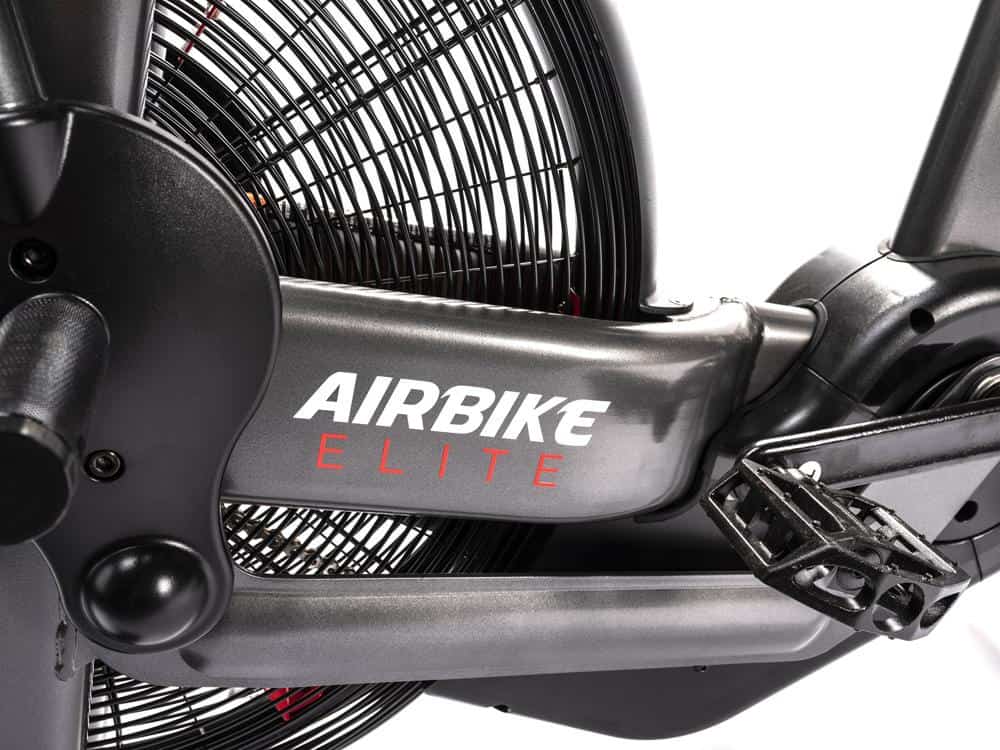 It also has upgraded corrosion resistance, a bigger, more comfortable seat, and a broader and clearer LCD display with Comp Mode and Bluetooth connectivity.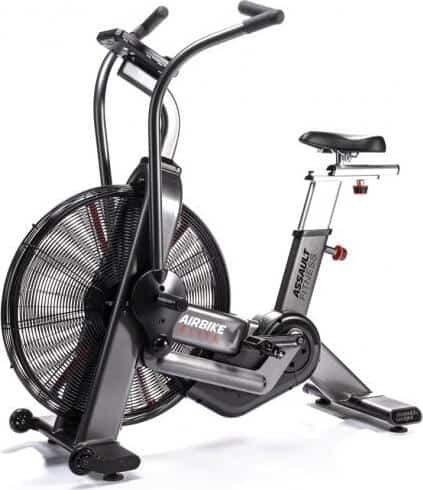 The Assault AirBike Elite is perfect for interval training as it scales automatically to your phasing. Users can also isolate the upper or lower body during a workout, or switch from forward to backward pedaling for additional variation.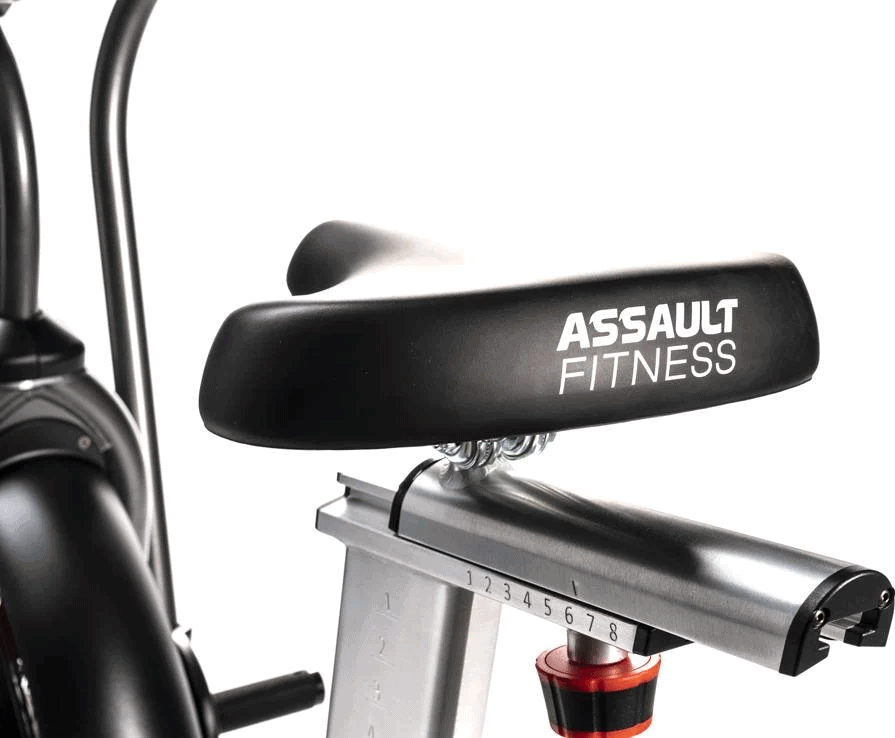 The AirBike Elite is expensive – but it is the nicest option.
Air Bikes from AssaultBike Review – In Summary
The AssaultBike is not only durable but also enjoyable to use (in a torturous kind of way).
You know it's a great training tool – they are proven in the CrossFit Gamesjust about every year.
With the new AssaultBike Pro there is an additional option from which to choose.
But, no matter which one you go with – you're sure to get a heart-pumping, calorie-burning workout.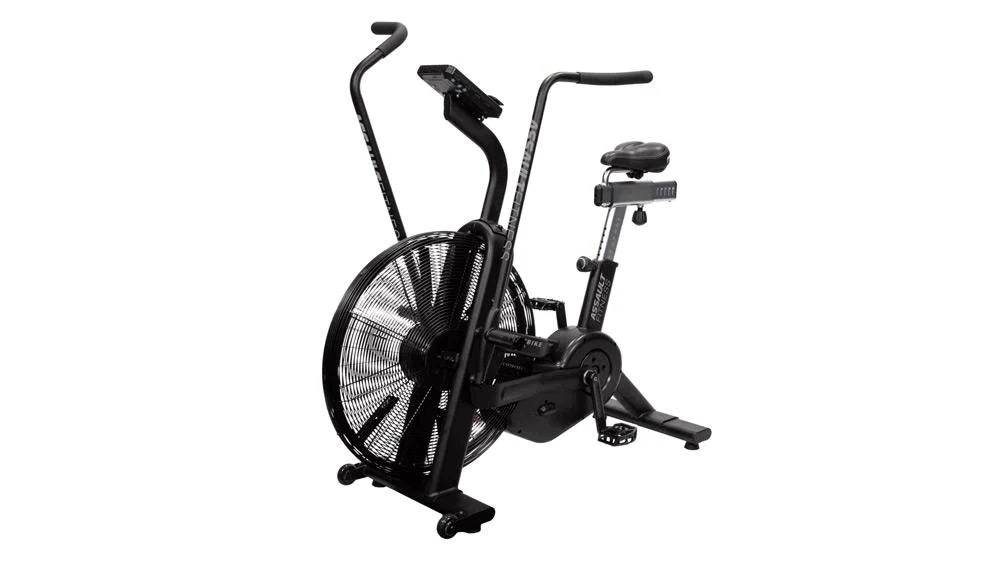 Looking for more cardio or endurance options? Maybe the Concept2 Rower is a better choice for you.
Photo Credits
Some product photos on this page are property of Rogue.
This website is not affiliated or associated with CrossFit, Inc. CrossFit is a registered trademark of CrossFit, Inc.
Affiliate Disclaimer
We are an affiliate of Rogue and others that sell this training gear. If you buy clothing or other training gear after clicking the links in this article, we receive a small commission at no extra cost to you. This helps us to bring you in-depth information and content on these great training products.