Rogue has the red-hot
Echo Bike
. Grab one while they last!
Let's review the Deadlift Bar Jacks available from Rogue.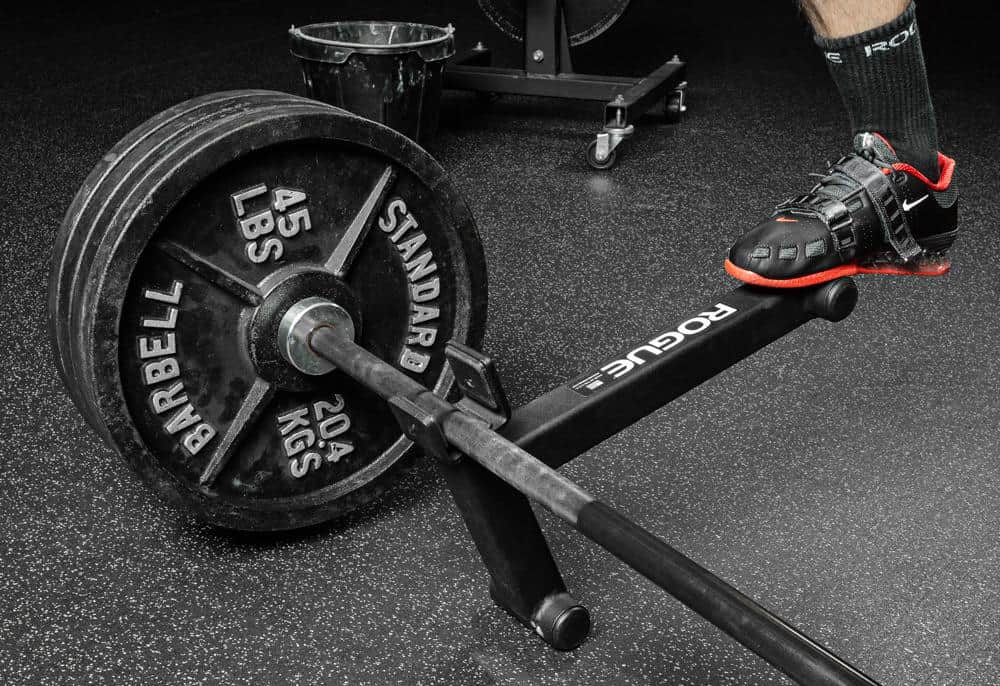 What's a deadlift bar jack? It's a handy device that lets you quickly and easily prop up a barbell (even if heavily loaded) to add or remove plates.
Rogue, the leading manufacturer in strength and conditioning equipment, has now come up with new Deadlift bar jack options to improve your training.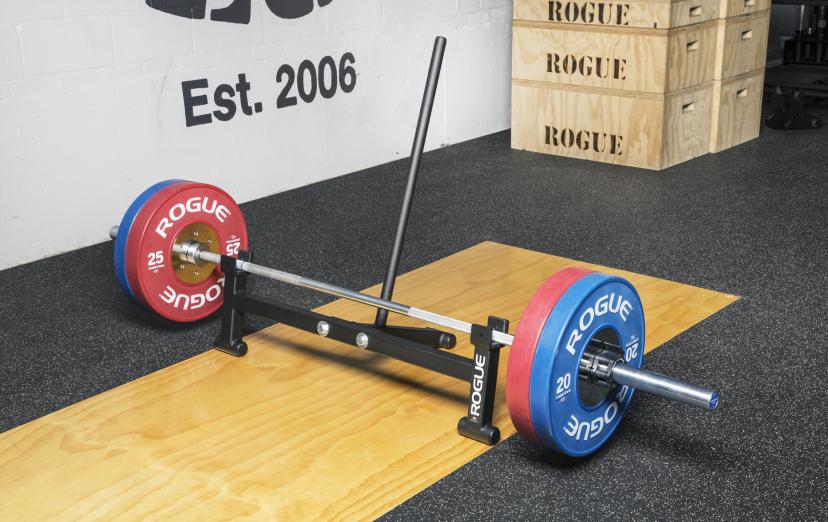 Here's some of the bar jacks we are going to look at:
Rogue Deadlift Bar Jack – Video Review on our YouTube Channel
Why read when you can watch? Check out this video from our YouTube channel:
We got hands-on with the Rogue Deadlift Bar Jack because it's a great option to help you get more from your training.
I wish I'd bought one of these 10 years ago!
You may also want to look at Rogue's Olympic plate and powerlifting barbells– all of them are excellent.
Deadlift Bar Jack – Overview
Adding deadlifts to your workout routine will definitely revolutionalize your workout training. Deadlifts work your entire body, boost killer strength, help avoid injury, save you precious time, and are very easy to incorporate in your workout.
As you get stronger, it is more challenging to load and unload all the weight plates necessary.
This is one of the biggest dilemmas with the deadlift – especially in cases where there are numerous people training on the same barbell at the same time.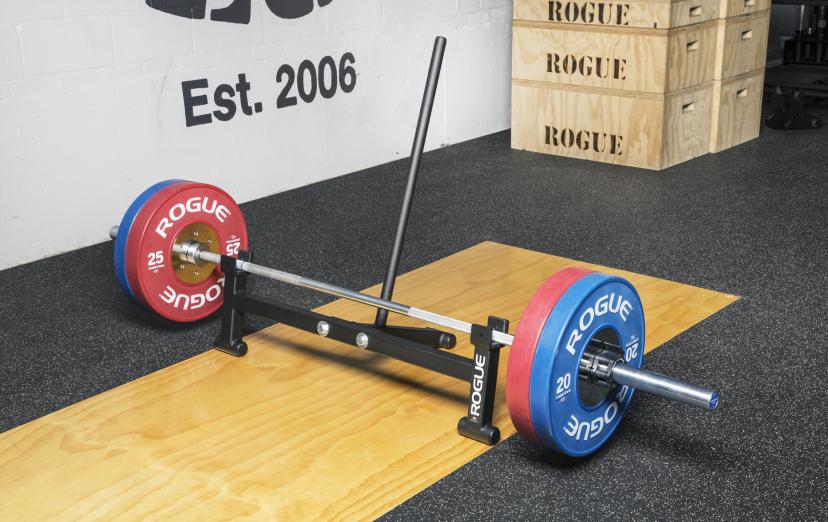 Using a deadlift bar jack is a simple solution to that problem.
There are two main benefits: speed and efficiency.
You can prop up the barbell with less effort – and that makes it easier to load or unload plates.
Being able to change weight on the bar quickly is a must in a group training setting.
A Deadlift bar jack is usually not the first item you'd think to acquire for your garage gym. But, having one can take your training to the next level and gives a noticeable difference.
Move through your warm-ups and heavy lifts in record time – with less strain on your lower back, and with more gas in the tank for the heavy sets.
In this article, we will be showing you different kinds of deadlift bar jacks from Rogue and what they can do to help bring efficiency to your deadlifts.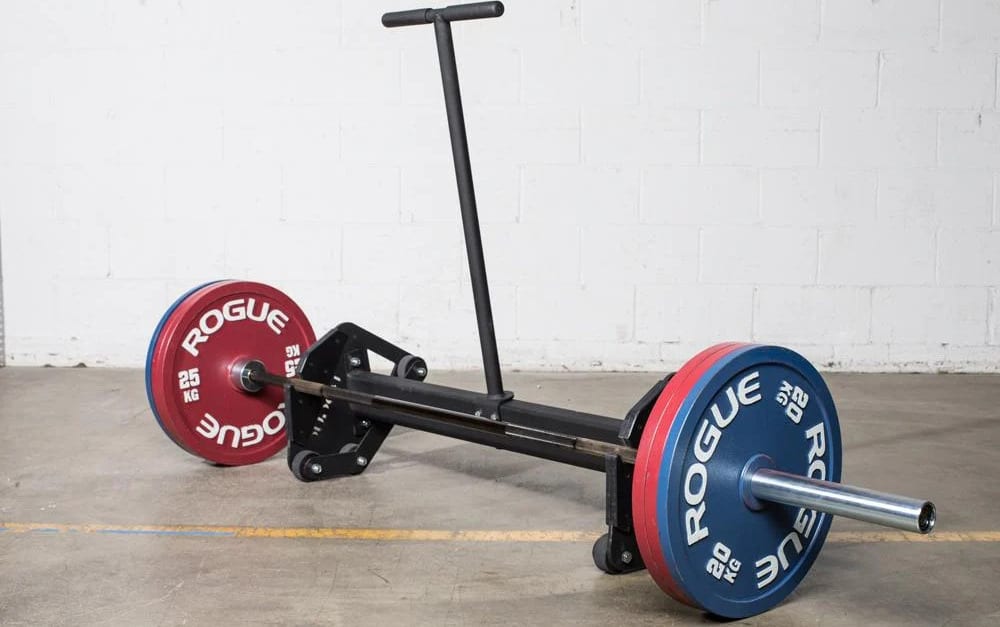 A-Jack
The A-Jack was developed by CrossFit Gym Owner Mark Nolan and is made from durable injection-molded plastic.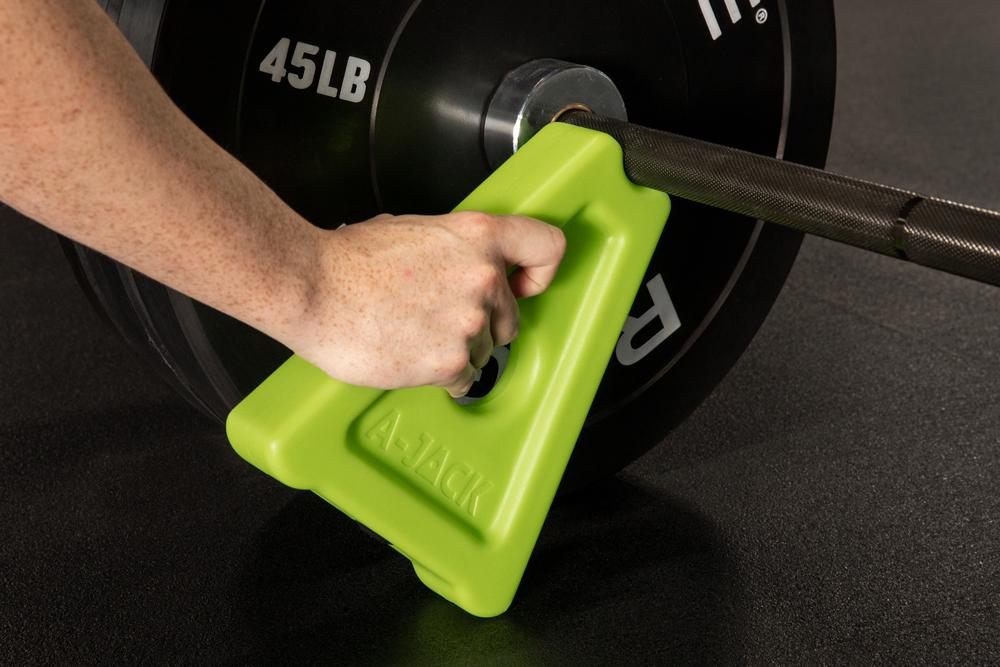 Plastic?
Yes, plastic.
It's light, it's small (and therefore portable) and it can be used with a barbell loaded to 800 lbs or so.
Can you deadlift 800 lbs? Didn't think so…
The user can easily locate the angled top portion of the A-Jack under the bar (at the interior edge of the sleeve) and can smoothly roll the bar into a balanced elevated position for effortless plate loading or unloading. It's as easy as just rolling the bar back off the jack when finished. The A-Jack can effectively load both ends of a bar for deadlifts up to 800+ LBS in total.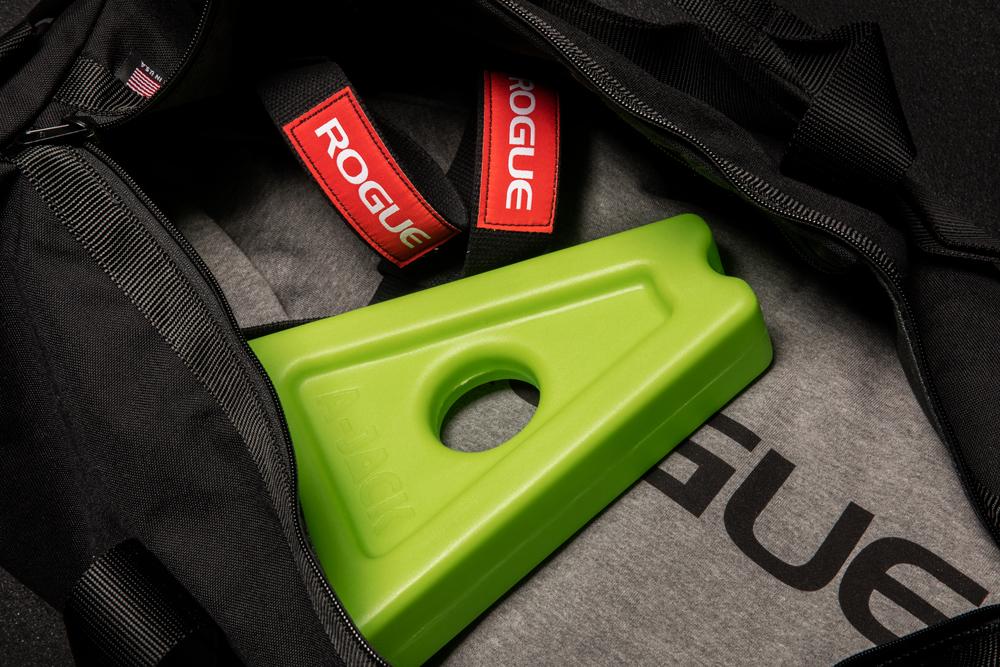 What are the downsides? Well, it's a one-sided affair – you'll have to prop up each side of the bar separately.
Mini Deadlift Bar Jack
This mini version of the standard 42″ of Rogue Deadlift Bar Jack allows users a more space-efficient and convenient choice for elevating a loaded bar off the floor.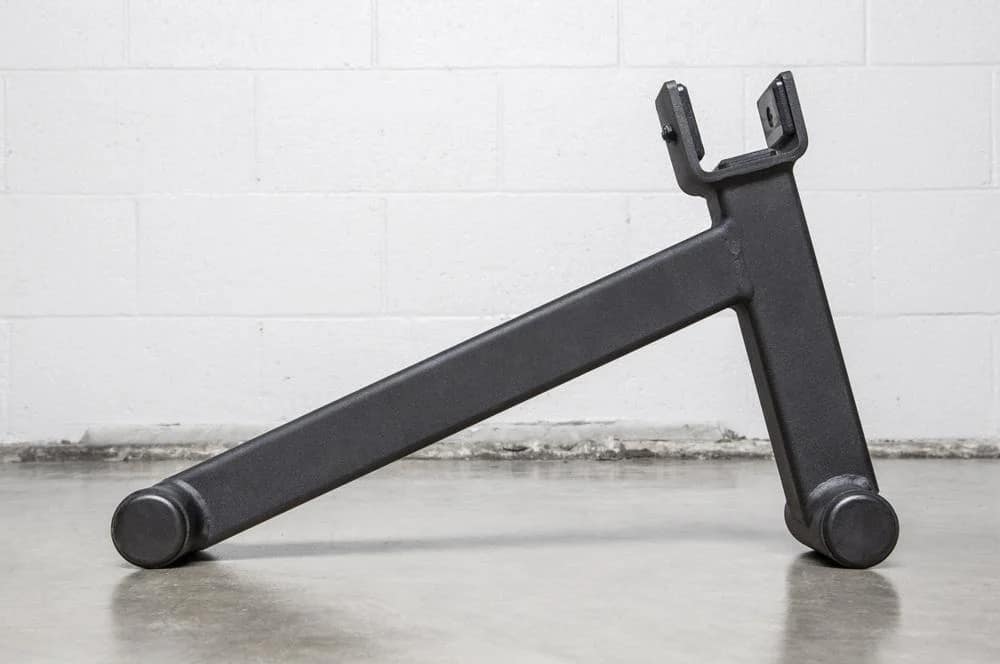 The Mini Deadlift Bar Jack fixes the problem of changing plates during deads or other lifts that start from the ground, particularly if various users are sharing the same bar.
The drill is simple: Just prop the jack under one end of the bar, pull it back to uplift, then glide on more weight just like you would if the bar was racked.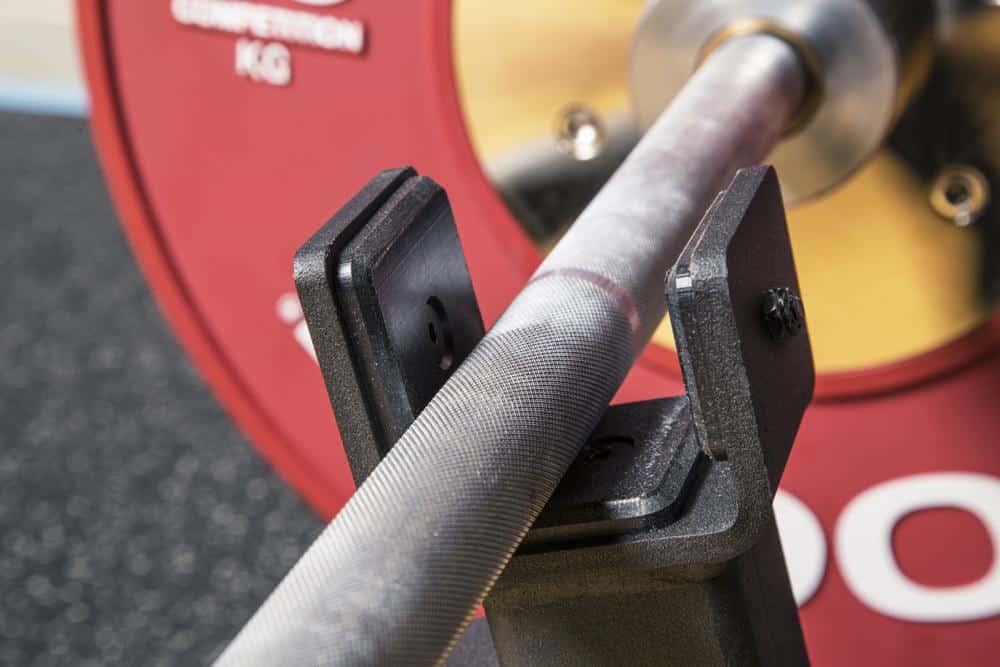 Won't the steel mess up the knurl on your precious barbell? Nope – this bar jack has a steel cup lined with protective UHMW plastic.
Deadlift Bar Jack
Here's my favorite version.
Prop up both sides at once, and this device doesn't break the bank either.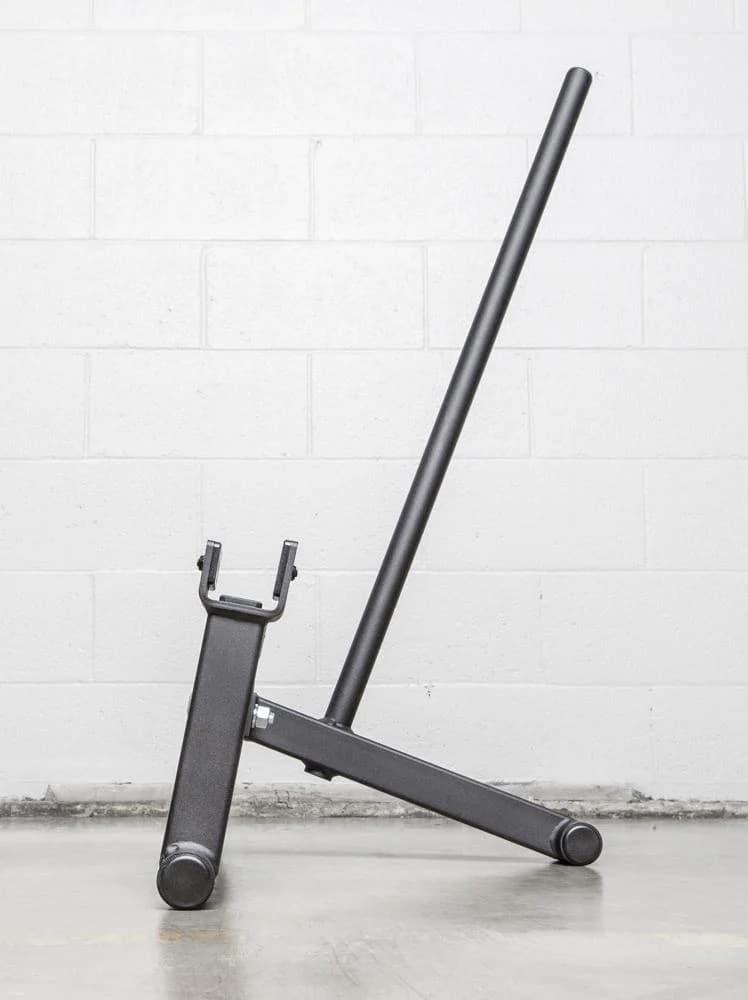 The full-size Deadlift Bar Jack can lift any standard barbell from floor level, granting effortless loading/unloading of weight.
Just prop the jack under the bar, pull the handle back to elevate, and slide on more weight just like you would if the bar was racked.
Like the Mini it has a 1/4" thick formed steel cup with protective UHMW plastic with a handle length of 42″.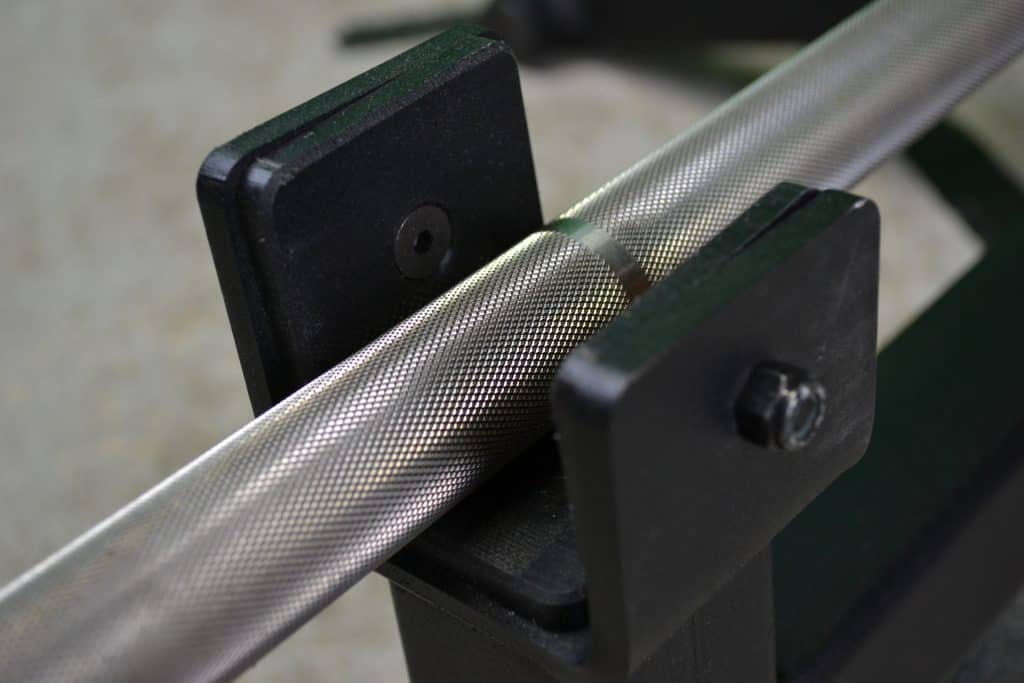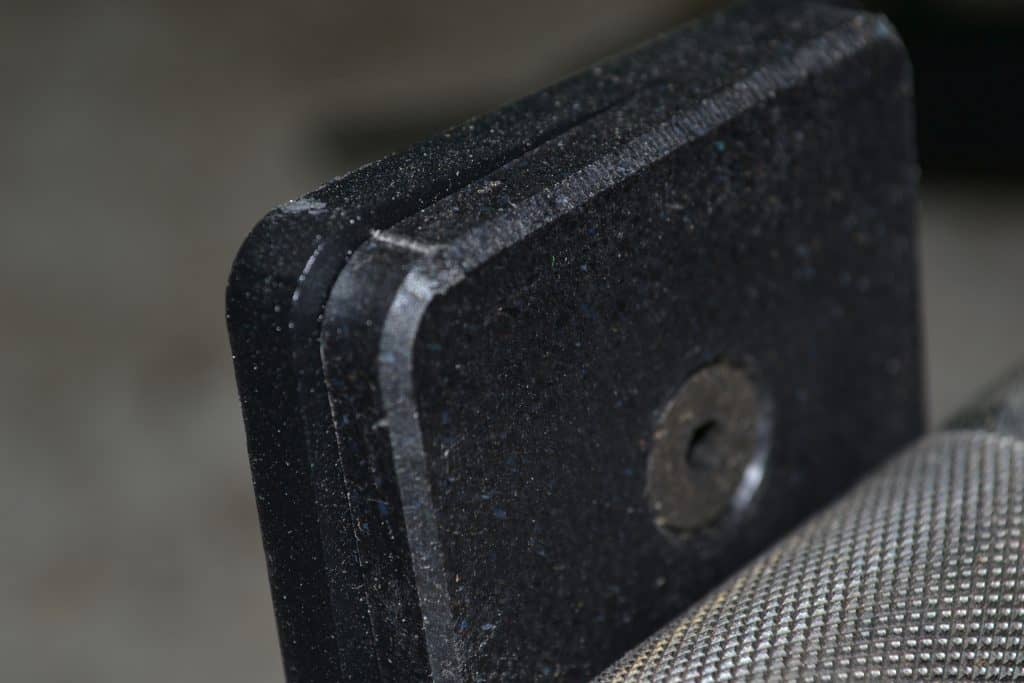 By the way, all of these bar jacks are made in the USA. Check out the beefy construction: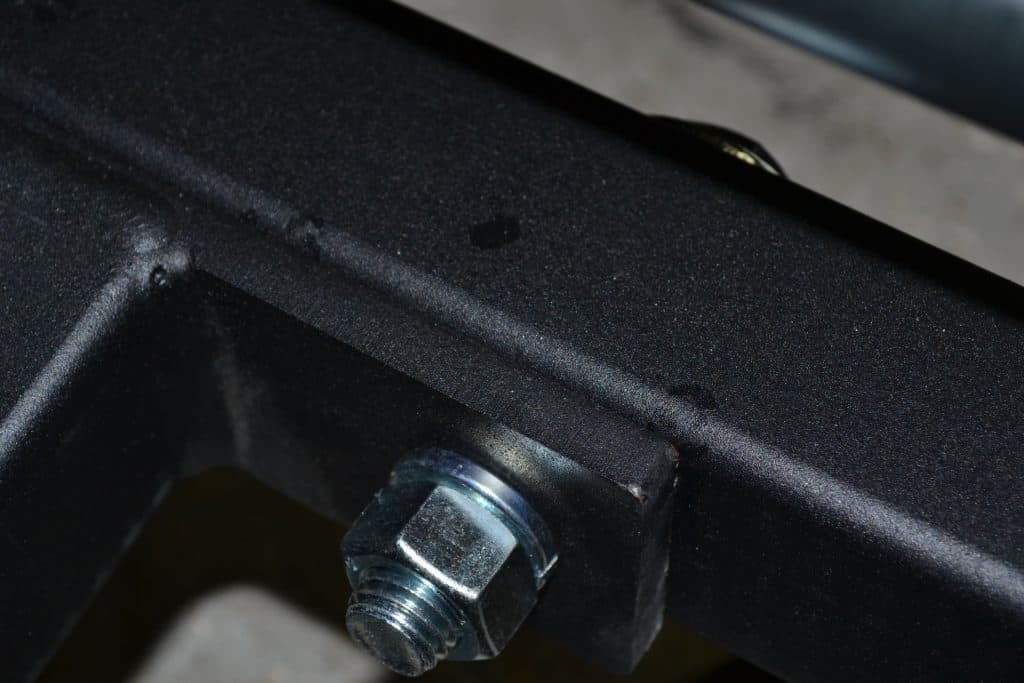 HD Bar Jack
The Rogue HD Bar Jack is an entirely convenient variation of its Deadlift Bar Jack. It is durable and includes six embossed wheels to instantly roll the bar from a loading area to a lifting area regardless of the weight added.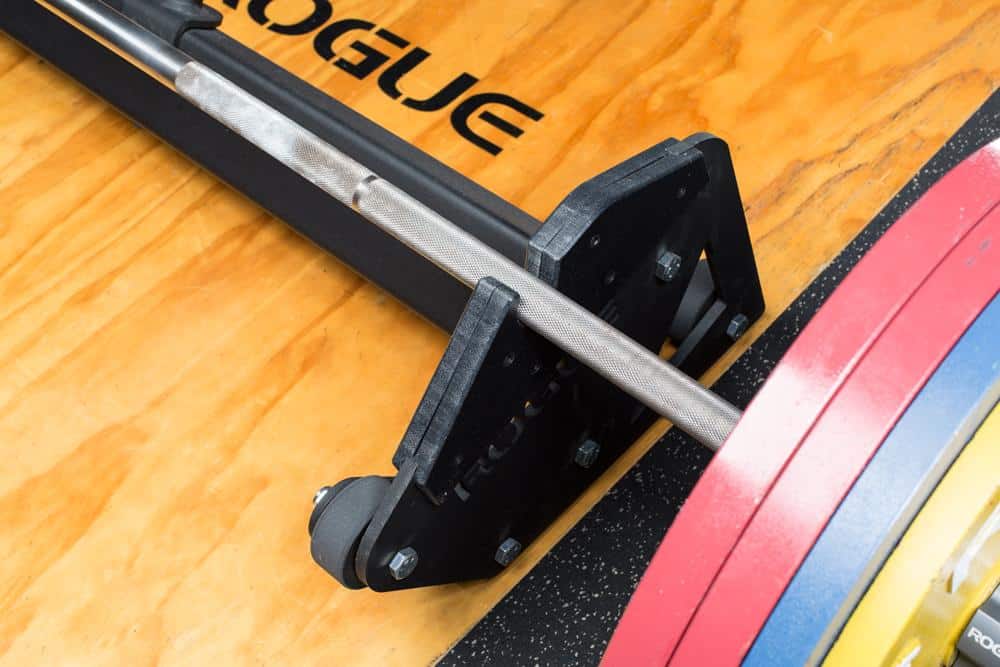 To assure a refined steady roll even when moving the unit around angles, the Rogue HD Bar Jack consists of a bearing and two bushings, while each of its wheels measures 72mm in diameter.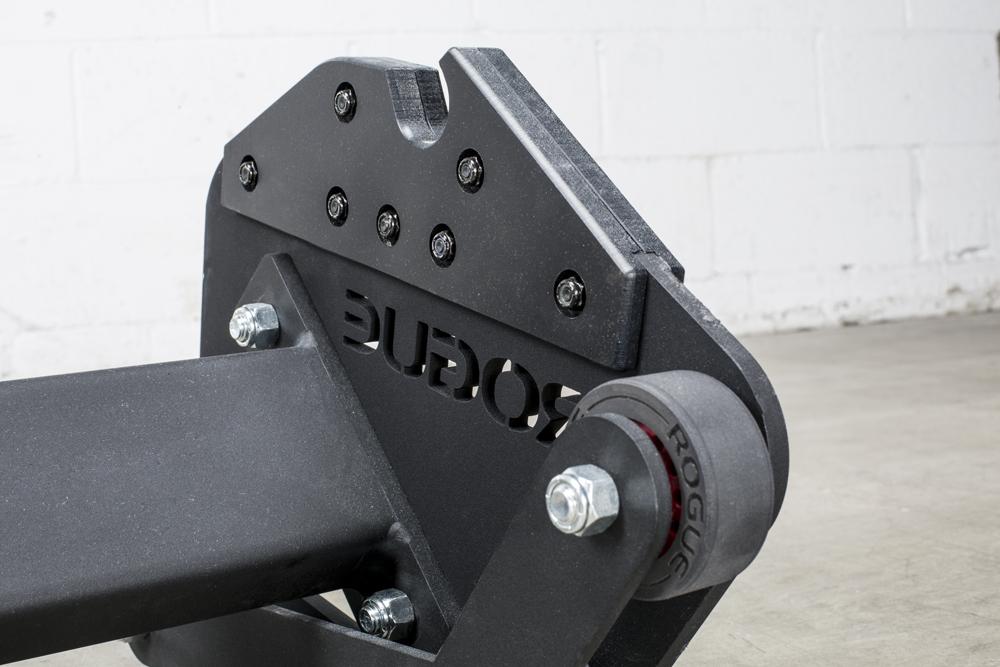 Like the others, it's made in the USA and has a protective UHMW plastic lining for the barbell.
Because you have to be able to "steer" this one it also has a T-Handle with a rubberized grip.
As icing on the cake this one has laser-cut Rogue branding in the endplates.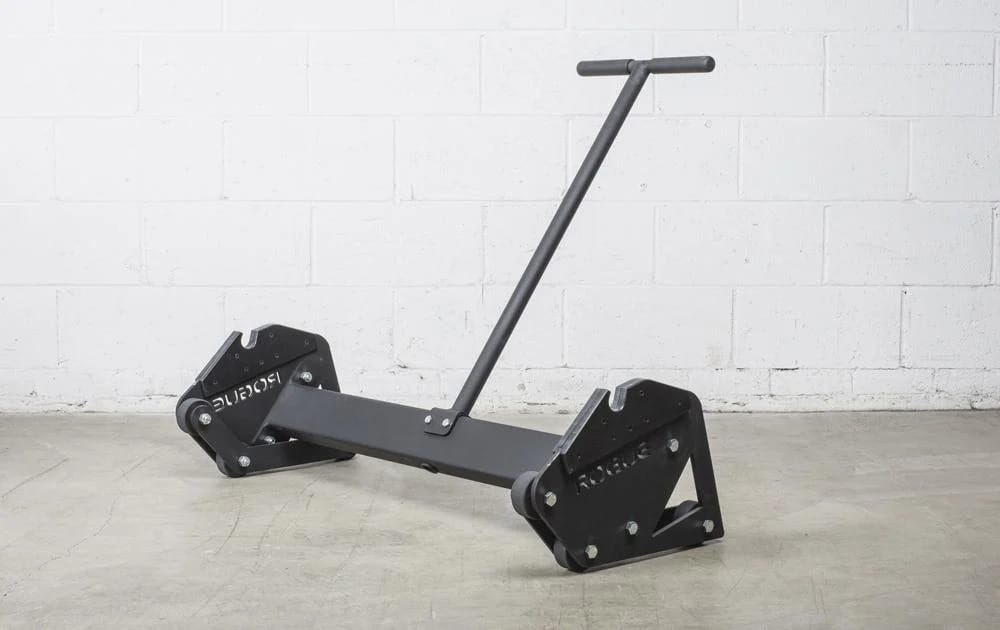 That one is pretty nice, but overkill for most home or garage gyms.
Still, if moving a loaded barbell is a need – this one certainly is your pick.
Deadlift Bar Jack Review – In Summary
Rogue's Deadlifts Bar Jacks are reliable and strong and make loading and unloading a bar so much easier.
That means you don't waste energy loading or unloading the bar – and you get more from your training.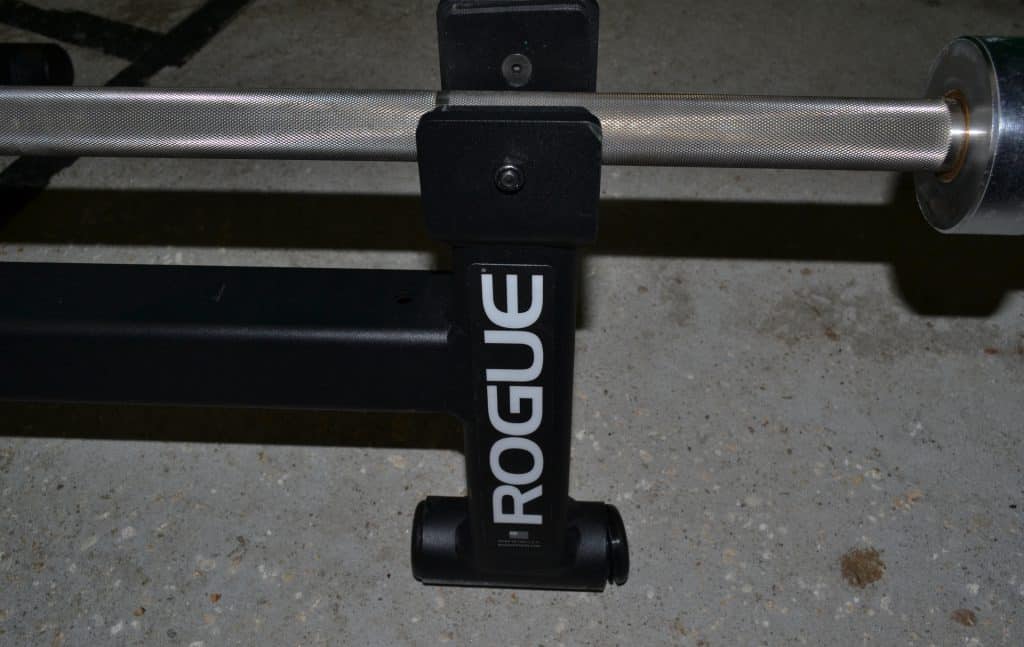 Photo Credits
Some product photos on this page are property of Rogue.
This website is not affiliated or associated with CrossFit, Inc. CrossFit is a registered trademark of CrossFit, Inc.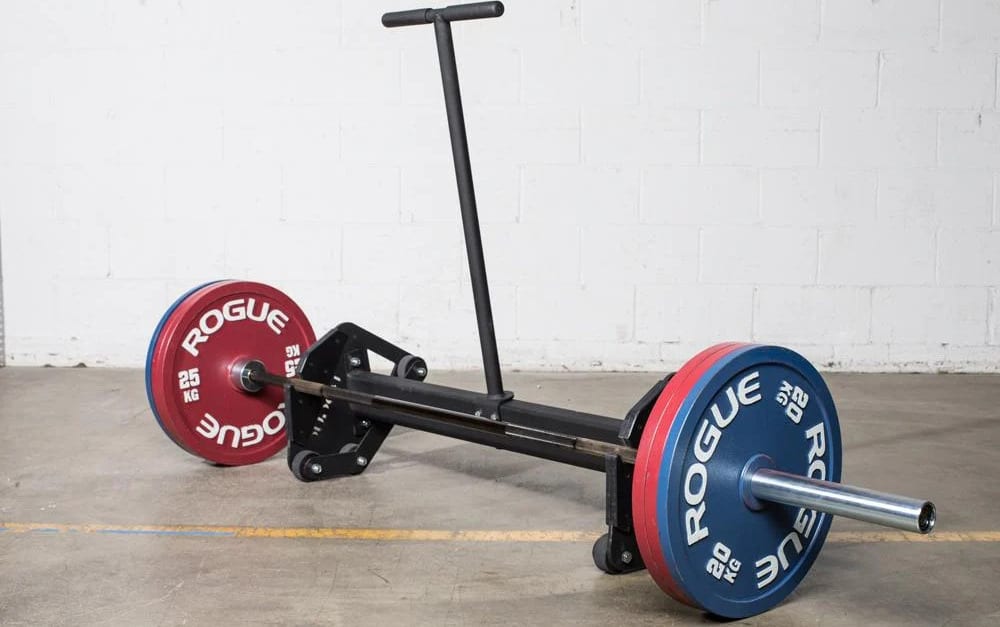 Affiliate Disclaimer
We are an affiliate of Rogue and others that sell this training gear. If you buy clothing or other training gear after clicking the links in this article, we receive a small commission at no extra cost to you. This helps us to bring you in-depth information and content on these great training products.