Here's a new adjustable weight bench from Rep – the Rep AB-4100. This would be a great option for your home gym or garage gym – and there's a selection of colors!
Using adjustable weight benches can provide some considerable benefits to your training. Adjustable weight benches are used by powerlifters, weightlifters, and even those new to lifting. These pieces of equipment have adjustable angles, high weight capacity, versatile platform, sturdy elevated base, and support high-intensity bodyweight exercises and heavier shoulder pressing.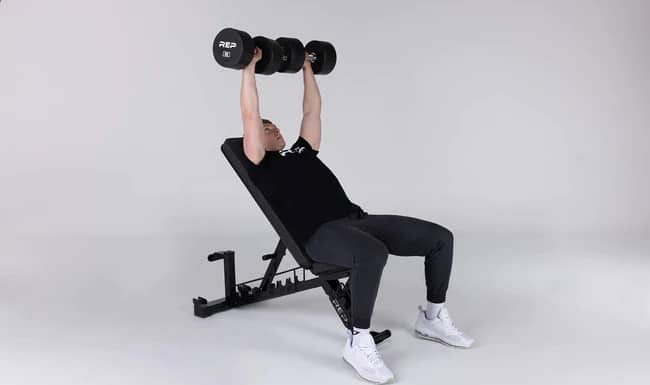 Here are some of the options you can get now from Rep:
Rep AB-4100 Adjustable Weight Bench – Overview
An adjustable weight bench is one of the most significant pieces of advanced resistance equipment. It is one of the most used equipment in the gym aside from dumbbells and barbells. With an adjustable weight bench, you can do innumerable exercises like chest press, dumbbell row, chest flys, lateral raise, tricep skull crushers, Bulgarian split squat, bicep curl, shoulder press, and many, many more! It is a safe way to lift weights with an unrestricted range of motion and highlights various parts of the same muscle group.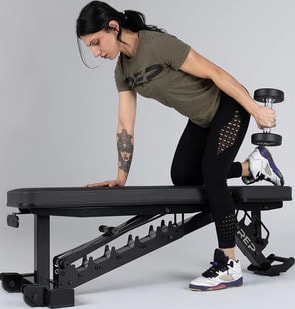 It also helps build more muscle at home, boost the rate of chest development, and burn more fat from circuit training. Rep Fitness offers adjustable weight benches that are superior, dependable, and long-lasting and won't break the bank. These adjustable benches will eliminate other benches as they can be adjusted to flat, incline, and decline, giving you three bench positions in one footprint.
Rep AB-4100 Adjustable Weight Bench
The AB-4100 fuses form and function with an augmented range of incline and seat positions, revised handle design, and black zinc hardware. It has a built-in upright storage post with rubber coating to preserve your floors and add extra stability. The Rep AB-4100 Adjustable Weight Bench is only 85 lbs making it lightweight and easy to move around your home gym, especially when limited on space.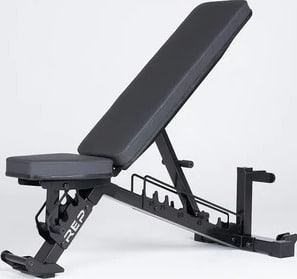 It is a versatile bench perfect for a broad range of athletes featuring seven back positions (0 to 85 degrees) and three-seat positions (0, 10, and 20 degrees). The secured ladder design stops you from lifting the ladder when adjusting your AB-4100. Rep Fitness reduced the gap between the seat and back pad (1.57") and joined it with a squared-off 12" grippy back pad, so athletes of any size can lift comfortably and worry-free.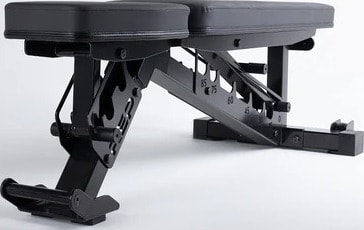 AB-3000 Adjustable Bench
The REP AB-3000 is the category-leading FID (flat/incline/decline) bench on the market, delivering convenience, versatility, and comfort. This bench is perfect for any workout routine and ideal for home and light commercial use. This bench boasts a non-slip pad with 2.5″ grippy, textured vinyl padding. It has seven back pad adjustments (from 85 degrees to -20 degrees) and five-seat pad adjustments creating 21 different possible ways to configure your AB-3000.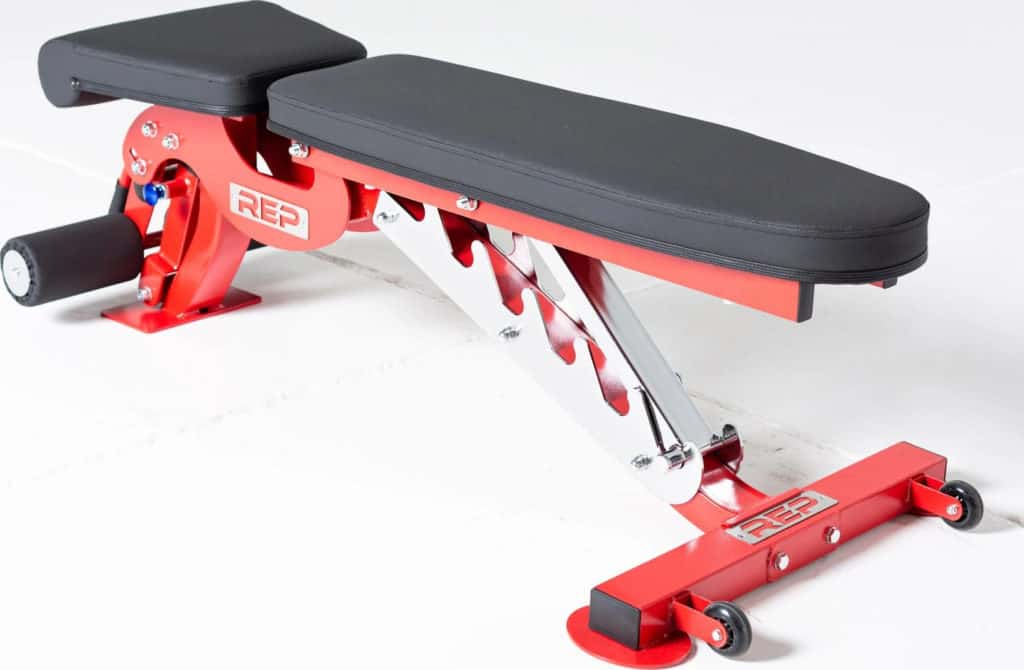 The AB-3000 delivers an outstanding amount of ease for heavy weight lifting. The chrome steel ladder is developed to evade paint cracking and flaking seen on powder-coated adjustment systems. The bench has a sophisticated look and feel because of the stainless steel logo plate, anodized aluminum pop-pin, and heavy-duty bolts. The bench is precision assembled with state-of-the-art robotics — laser-cut, robotic welding, and robotic powder coating.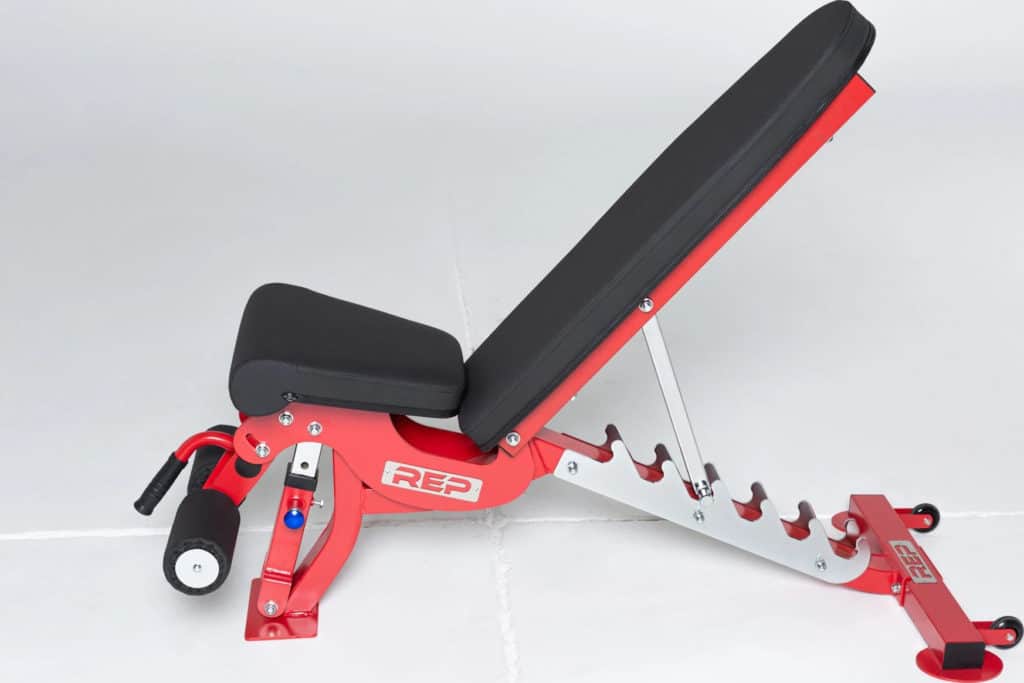 AB-5000 Zero Gap Adjustable Bench
The AB-5000 Zero Gap Adjustable Bench offers rock-solid stability and high-end build quality. It provides a level of comfort and innovation for the home and takes your bench press workouts to the next level. Thanks to the patented zero-gap feature that creates zero pad gap in all positions, eliminating the uncomfortable gap found on virtually all competing products.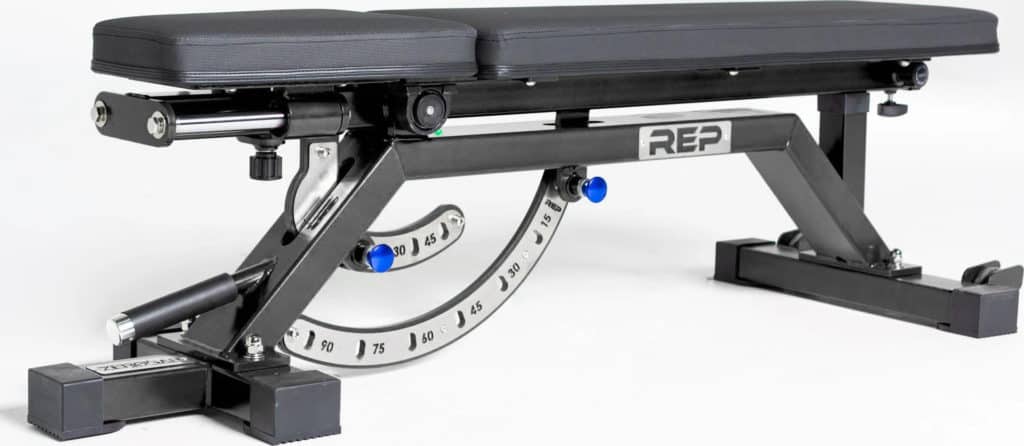 It features an 11 gauge steel frame, commercial-grade paint, and thick non-slip vinyl padding. The optional decline leg-roller attachment takes this bench from a flat/incline adjustable bench to a full FID bench. The decline angles allow you to perform way beyond most other FID benches, enabling more aggressive angles for decline situps that typically demand an entirely different piece of equipment.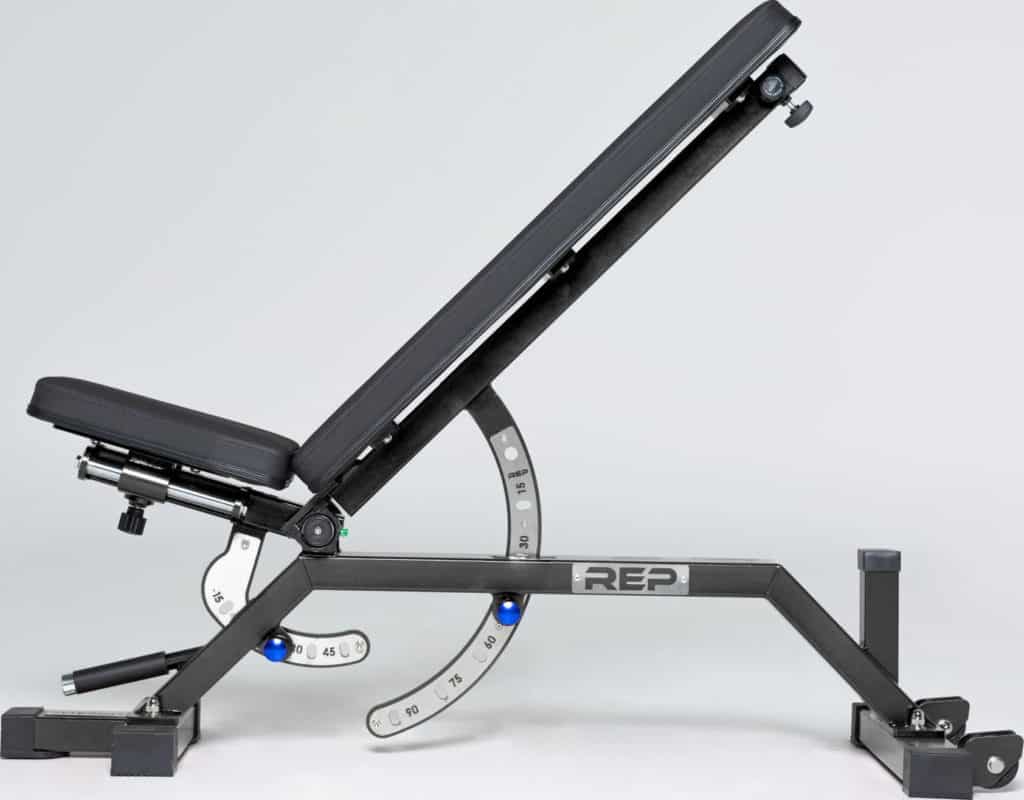 Rep AB-4100 Adjustable Weight Bench – In Summary
That's our close-up look at Rep AB-4100 Adjustable Weight Bench.
If you are planning to make a home gym, including an adjustable weight bench is a great move. It is one of the most significant pieces of advanced resistance equipment, and you can do countless exercises with it. An adjustable bench will save you more space as they can be adjusted to flat, incline, and decline, giving you three bench positions in one footprint.
Looking for more options? Check out these other great products:
Get an overview of all the options – Rep Fitness Weight Benches .
Or, take a look at another budget bench – the Rep AB-3000 FID Bench – FID means "Full Incline and Decline".
Get more home gym equipment from Rep Fitness.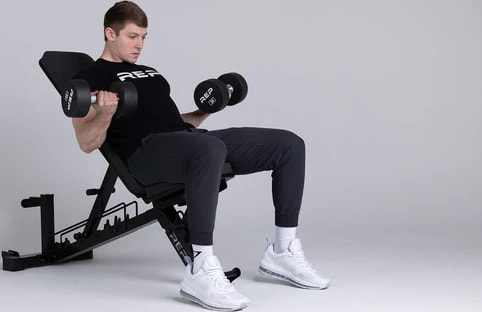 Photo Credits
Product photos on this page are property of Rep Fitness.
This website is not affiliated or associated with CrossFit, Inc. CrossFit is a registered trademark of CrossFit, Inc.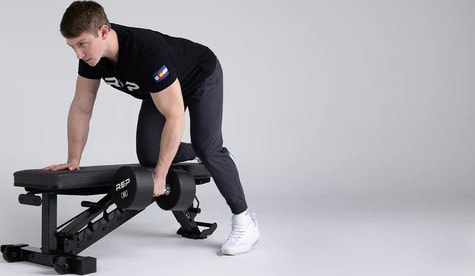 Affiliate Disclaimer
We are an affiliate of Rep Fitness and others that sell this training gear. If you buy clothing or other training gear after clicking the links in this article, we receive a small commission at no extra cost to you. This helps us to bring you in-depth information and content on these great training products.
Tim is the founder of FitAtMidlife.com – an avid gym rat for 30+ years, he's a reviewer of many, many shoes – and founder of the Speed Bag Gathering – the world's only gathering of speed bag punching enthusiasts.  See more gym reviews at Tim's YouTube channel.