Rogue now has the Rogue CC-1 Cable Crossover – this is an exceptional cable machine for your home, garage, or commercial gym.
A cable crossover machine is a kind of equipment that connects a handle to a cable pulley system, which then attaches to a weight stack. It is a great tool to enhance your chest and provides you with several practical exercises. A cable machine has a flat resistance, so you will get the same consistent pressure at all points in the training.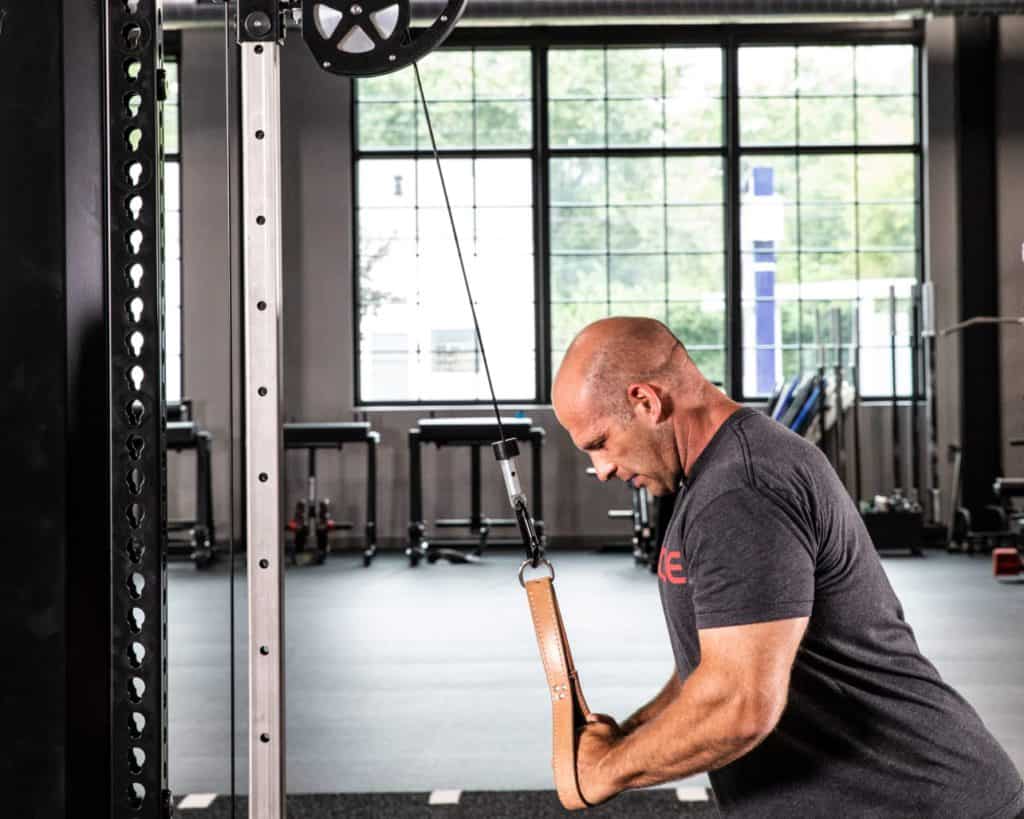 Get it now from Rogue Fitness: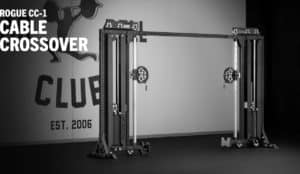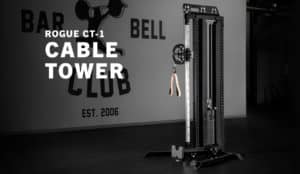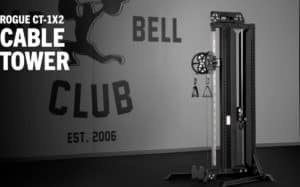 Rogue CC-1 Cable Crossover – Overview
Cable exercises are renowned for building and reinforcing your pectoralis major—the muscle that makes up most of your chest. The cable crossover machine enables a wide variety of chest movements because of its power to use different angles and shift attachments. To maximize the use of a cable, you can add a bench and do all of the modifications of free-weight chest presses, flys, and more.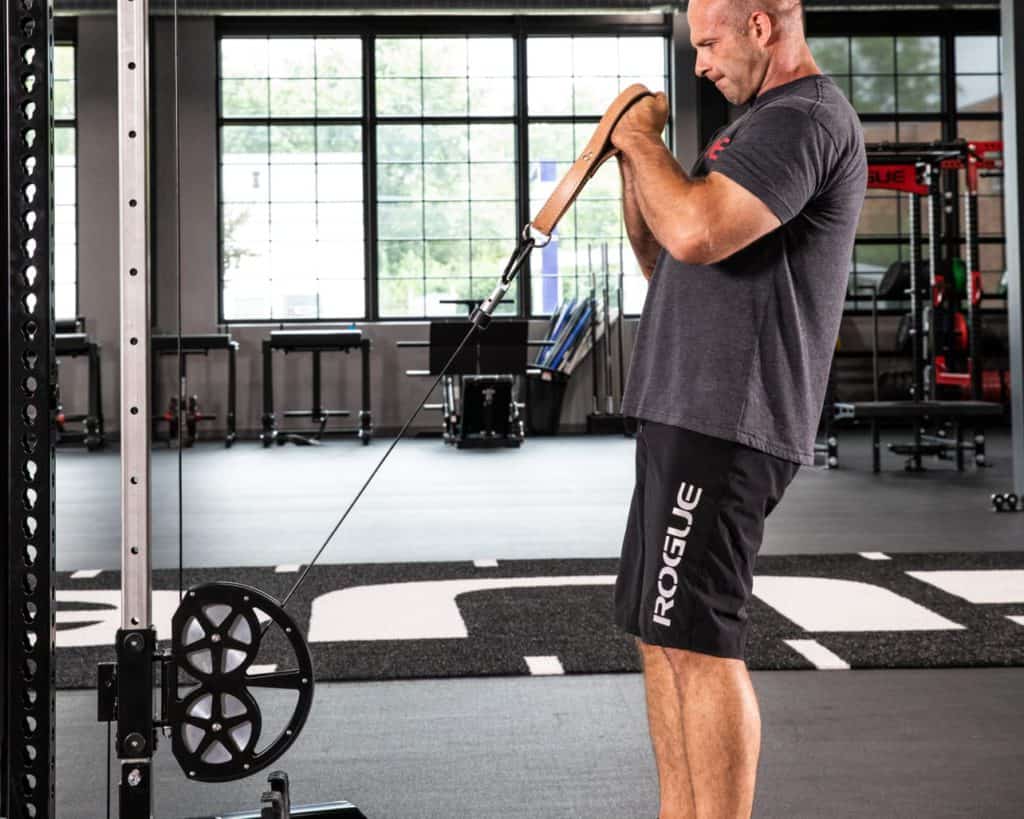 Cable machines are safer than barbells as they are more comfortable on your shoulders, elbows, and wrists. A cable crossover offers versatilty, and you can easily change angles and body positioning to target all parts of your chest and shoulders. When you do cable chest exercises, your arms work independently, which helps straighten out muscle imbalances and variability.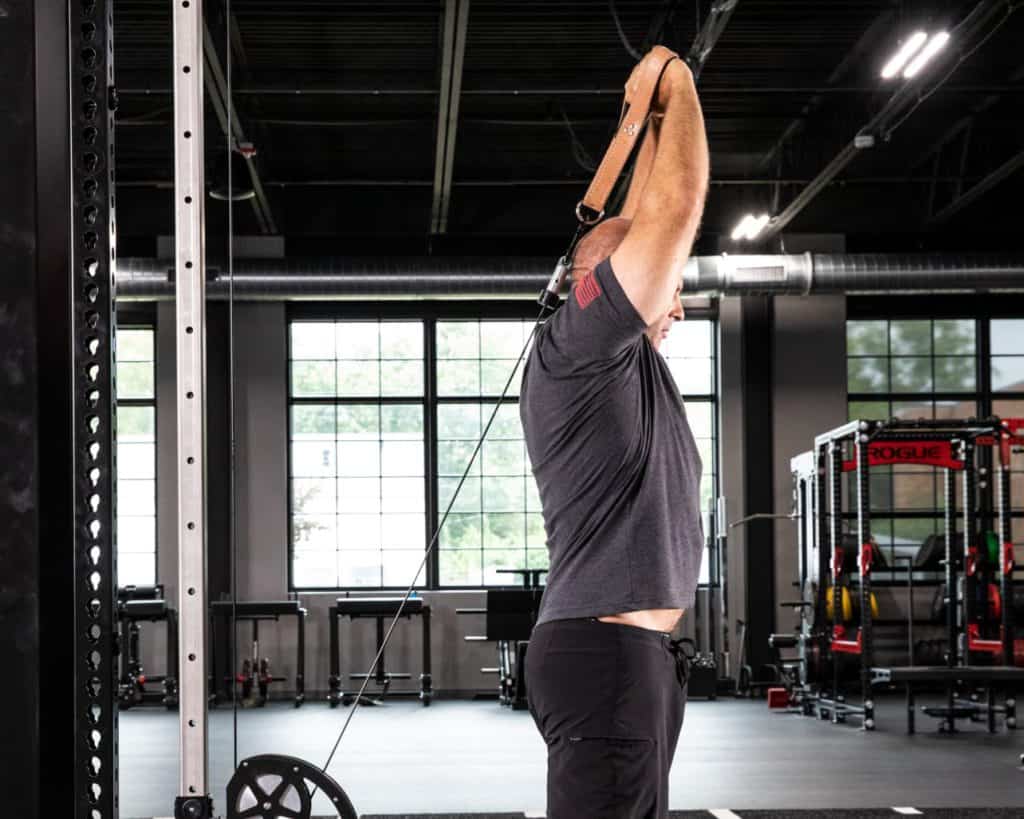 Rogue CC-1 Cable Crossover
The CC-1 Cable Crossover is manufactured at Rogue's Reflex facility in Davenport, Iowa. It highlights a 3×3" 11-gauge steel structure with 6" machined aluminum pulleys, USA MIL-Spec cables, adjustable diamond tread footplates, and custom black carabiners. It integrates two of Rogue's 9-foot CT-1 Cable Towers into one interconnected unit, enabling a range of added exercises such as overhead cable curls, cable flys, and standard cable crossovers.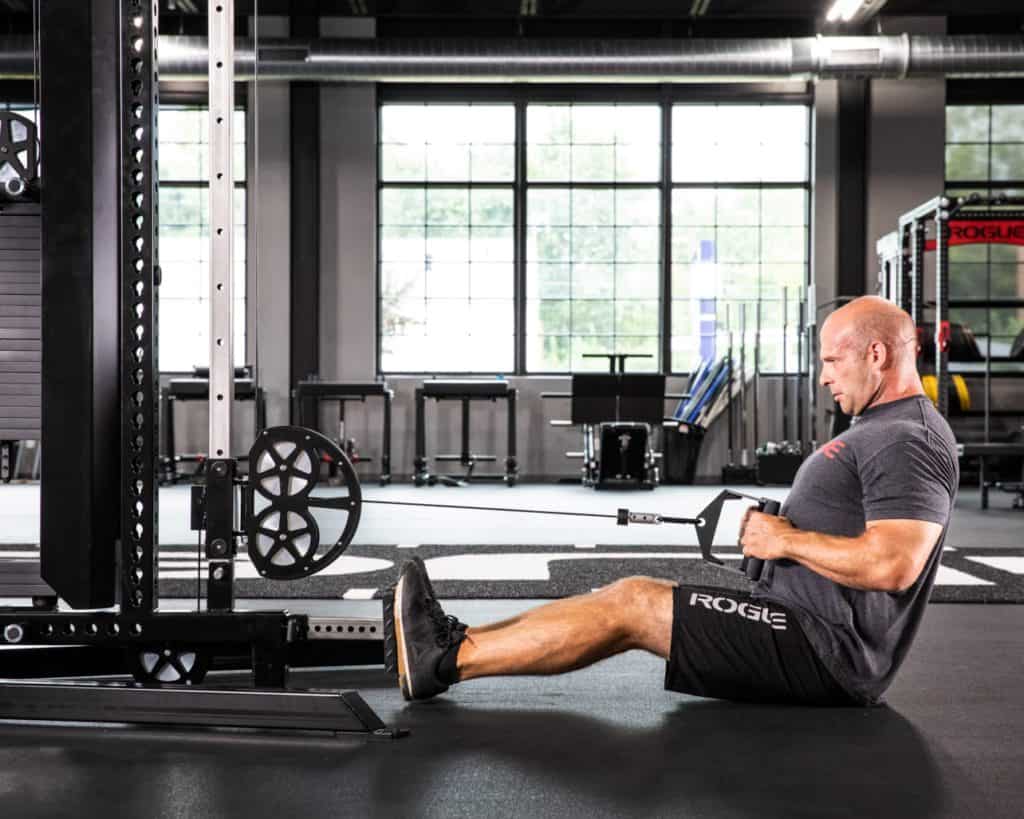 This setup further allows numerous athletes to complete various cable movements within the same space safely. It has 16 different height adjustment settings on a 180-degree swivel to give you a wide range of exercises. You can change the weight loads through the 250 LB weight stacks on each tower, broken into 10 LB increments with a 2:1 ratio. Protective weight stack shrouds are equipped to help evade pinch points, and two leather tricep straps are included standard.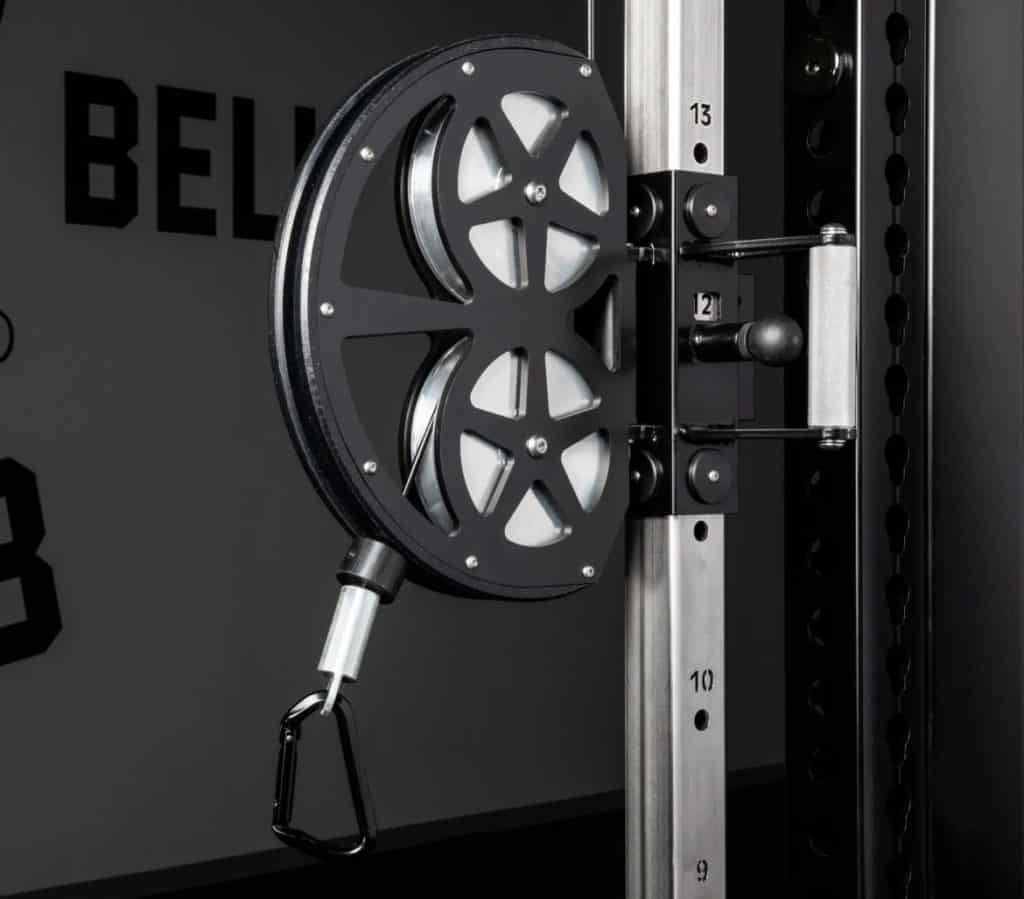 Rogue CT-1 Cable Tower
The precision-built Rogue Cable Tower delivers an effortlessly adjustable stand-alone column for various cable machine movements, including rows, tricep pushdowns, curls, cable crossovers, and more. The single handle pulley assembly highlights a 180-degree swivel and can be smoothly set up high or low depending on the workout, using the knurled stainless steel adjustment handle. It is welded, painted, and completed at the Reflex Factory in Milan, Illinois, using 3×3" 11-gauge steel and parts cut at Rogue HQ in Columbus, Ohio, and stands 9 feet tall and forms a 52.5" x 60" footprint.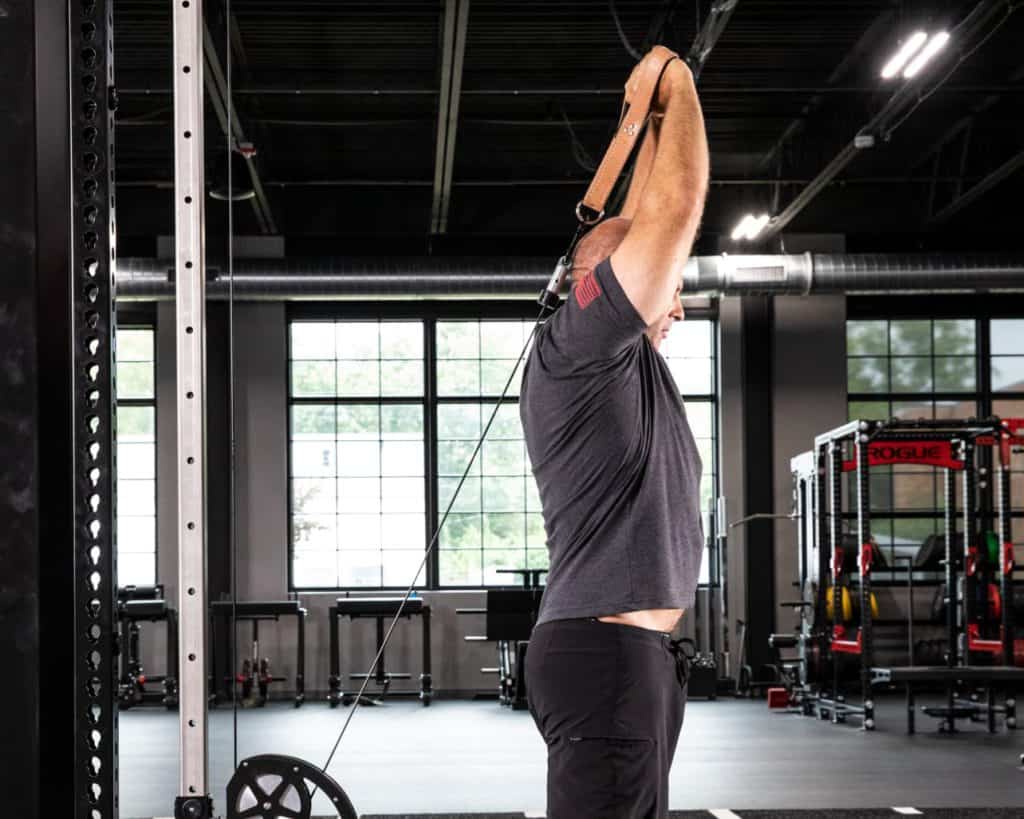 It has 16 different height adjustment settings on the 2×2 rail, and with acetal pads inside the handle assembly, you can efficiently move the swivel up and down without harming the stainless slide tube. The column's 6" aluminum pulleys and 250 LB weight stack are machined in-house, and the ¼" cable itself is constructed to the same military specifications as aircraft cable, jacketed in nylon for excellent flexibility and durability. The standard finish is a typical MG Black powder coat.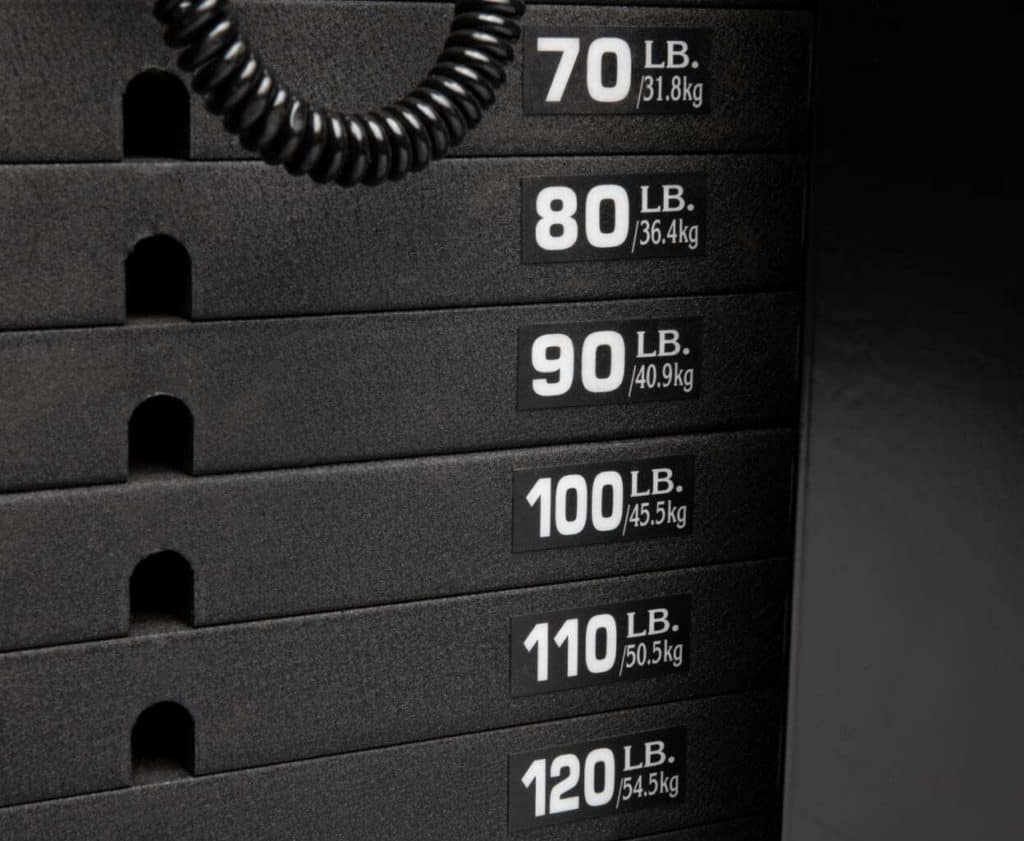 Rogue CT-1X2 Cable Tower
The CT-1X2 Cable Tower is built in the USA from 3×3" 11-gauge steel and is prepared for the use of athletes in a large-scale pro, university, or high school training facility, as well as for personal use in home gyms. It stands 107.5" tall with a 300LB weight stack that gives you the option of training at a 2:1 ratio (with a single carabiner on each side, 150LB max) or a 1:1 ratio (with both carabiners connected for a 300 LB max). The CT-1X2 highlights dual swivel pulleys with a pair of Rogue Single Handle Cable Attachments.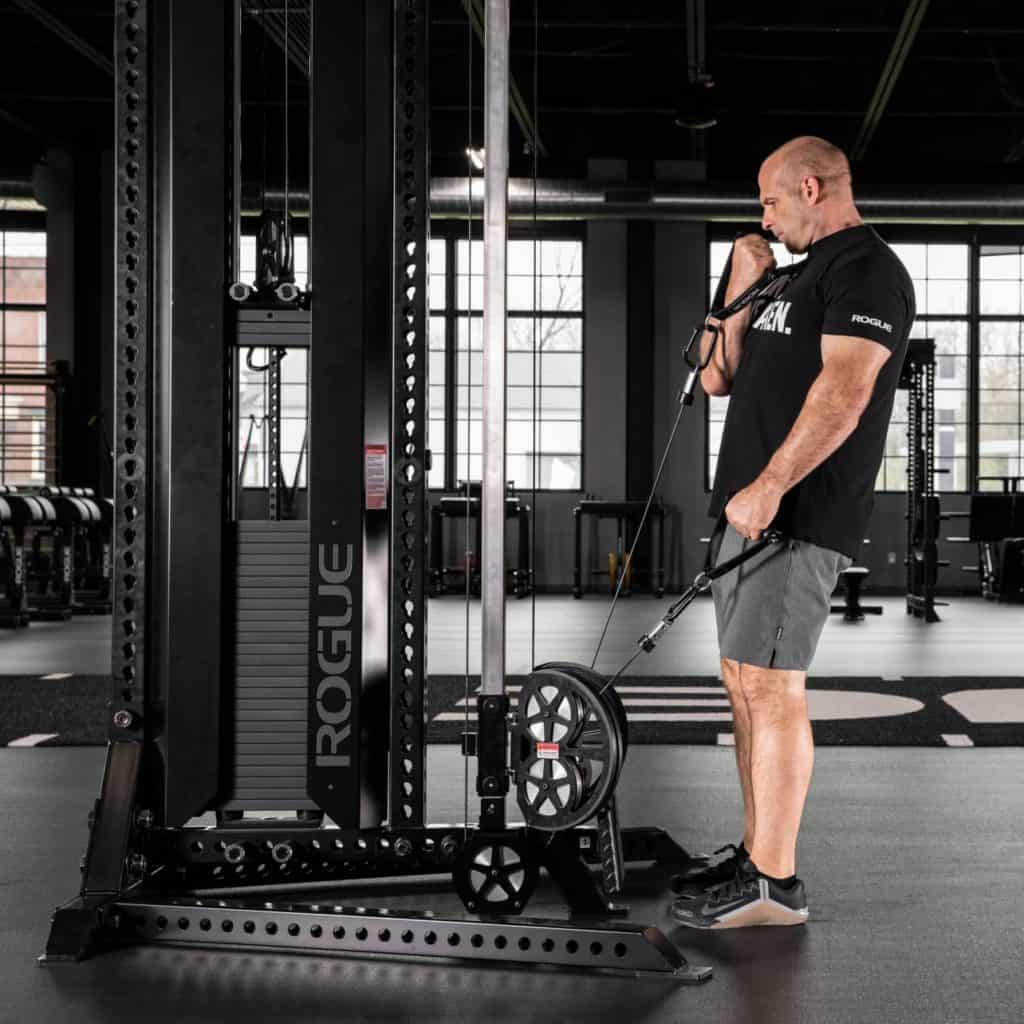 The pulleys and cables' design enables a full range of motion during most movements. It allows you to effectively train high pulls, cable flys, cable presses, and other two-handed exercises that would have to be done in an isolateral way in a single-handle set-up. The column's 6" aluminum pulleys and 300 LB weight stack are completed in-house. The 1/4" cable is made to the same military specs as an aircraft cable, jacketed in nylon for remarkable flexibility and durability.
Rogue CC-1 Cable Crossover – In Summary
That's our close-up look at Rogue CC-1 Cable Crossover.
Cable Crossovers provide versatile, effective, and efficient training for the chest by isolating the pecs for size and strength. Rogue Cable Crossovers are powerfully made in the USA from 3×3" 11-gauge steel. A Leather Tricep Strap and plastic-covered Band Attachment Pegs are included as standard with the Cable Tower.
Looking for more options? Check out these other great products:
Don't have enough space for a cable crossover? Check out the unique F-9 Fold-Away Functional Trainer from Torque Fitness.
Force USA also has some excellent cable machines and Functional Trainers.
More products from Rogue.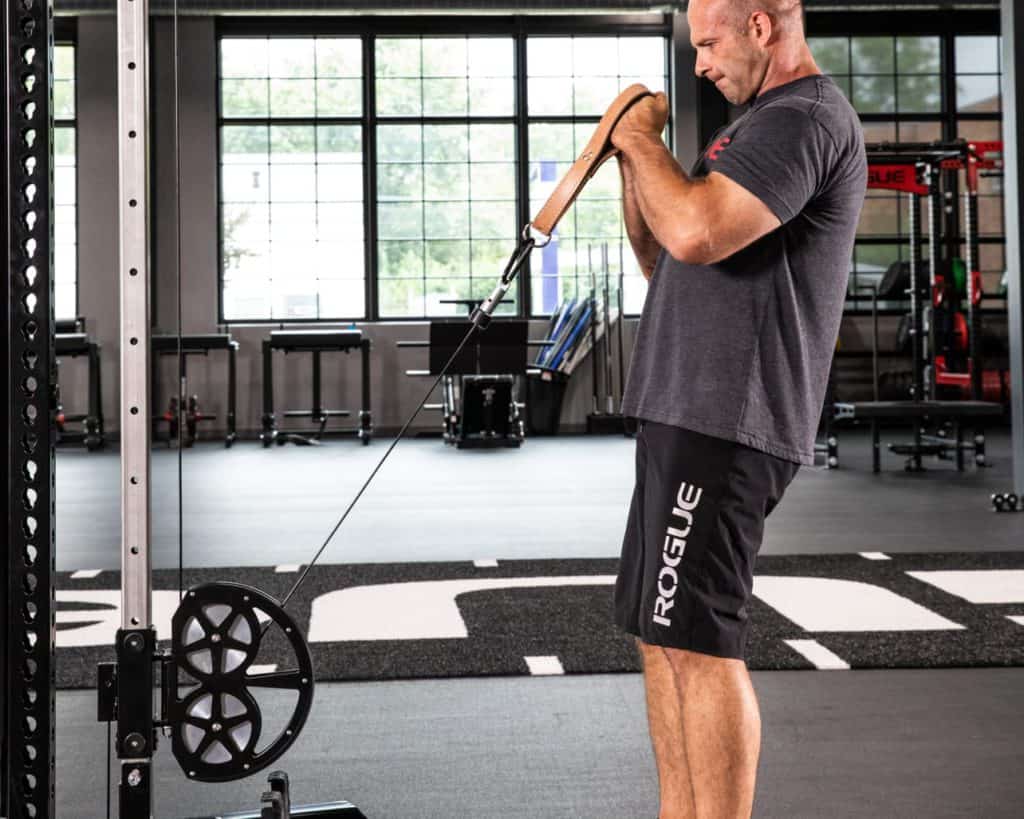 Photo Credits
Product photos on this page are property of Rogue.
This website is not affiliated or associated with CrossFit, Inc. CrossFit is a registered trademark of CrossFit, Inc.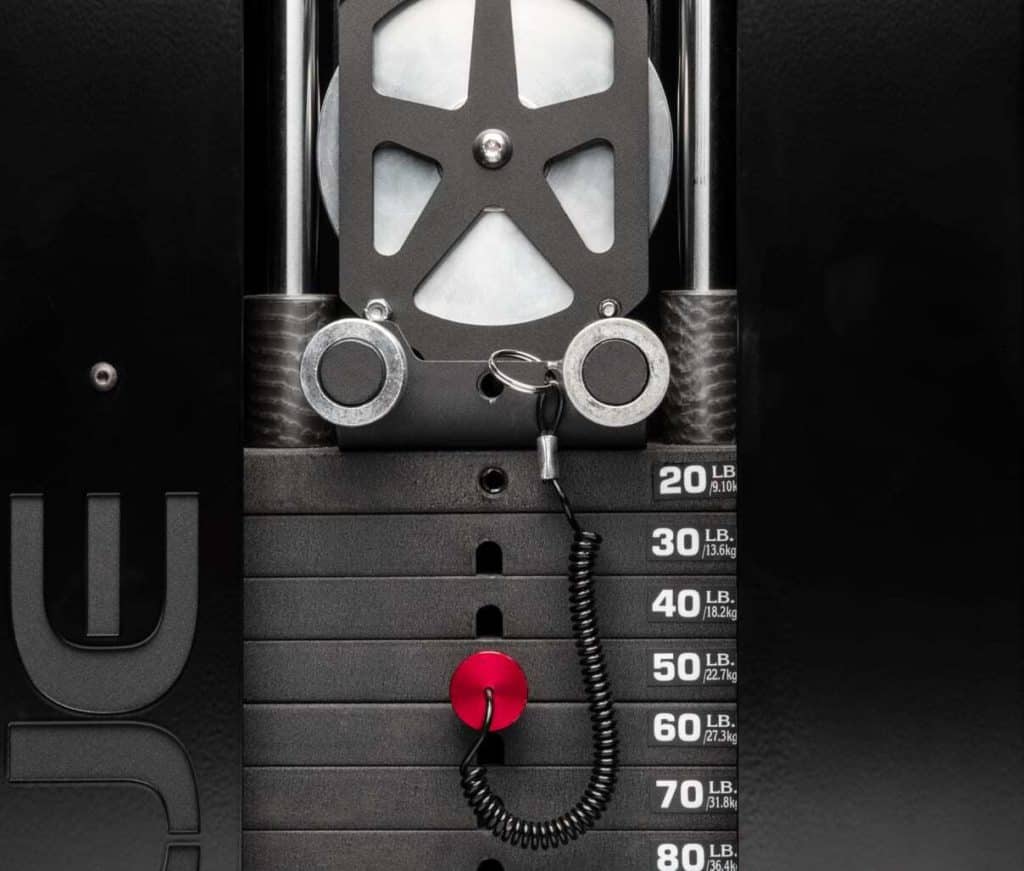 Affiliate Disclaimer
We are an affiliate of Rogue and others that sell this training gear. If you buy clothing or other training gear after clicking the links in this article, we receive a small commission at no extra cost to you. This helps us to bring you in-depth information and content on these great training products.
Tim is the founder of FitAtMidlife.com – an avid gym rat for 30+ years, he's a reviewer of many, many shoes – and founder of the Speed Bag Gathering – the world's only gathering of speed bag punching enthusiasts.  See more gym reviews at Tim's YouTube channel.