Need to buy an affordable rucksack?
If you need a rucksack for ruck training, we believe the GORUCK GR1 is the best blend of durability, style, and functionality for fitness or Every Day Carry (EDC).
But, the GORUCK bags are pretty expensive – even with their recent price cuts.
Is the GORUCK GR1 too expensive? That's for you to decide.
And while we still think the GORUCK GR1 or the GORUCK Rucker 2.0 are the best option for rucking and general use, we also understand that at these prices the bags may be out of the reach of many.
Therefore, we will compare and contrast some GORUCK GR1 alternatives from 5.11 Tactical, Mystery Ranch, and London Bridge Trading (LBT).
Here's some of the gear we're going to look at in this article:
Why do we love the GORUCK products? There's a couple of reasons.
Their gear is super-durable and tough, with the SCARS lifetime warranty.
Their bags are stylish. They strike the perfect balance between "tactical" and every day carry "practical". They fit into any setting – on the ruck march, in a combat zone, or in the board room.
The features are well thought out and practical.
So, let's look at how these competitors stack up against GORUCK's products.
5.11 Tactical RUSH12 Tactical Backpack
5.11 Tactical is perhaps the most well known tactical gear manufacturer.
They offer a 24 Liter (24L) capacity pack called the RUSH12 backpack (Buy on Amazon).
And this is our top pick if you need a tough, durable backpack for rucking.
At 24L in capacity – this is in the ballpark of the GR1 26L.
The "Rush12" is meant to be a day pack.
This bag has lots of MOLLE – There are no fewer than 5 rows on the back, and more on the sides. Combined with a pretty limited range of military style colors such as black, multi-cam, olive drab, and sandstone – it's pretty heavy on the "tactical" look.
This bag is constructed of water resistant 1050D Nylon. This is a lighter weight, less abrasive material compared to the super tough 1000D Cordura used in the GORUCK bags. It is probably not as durable.
We do like that it has many internal mesh pockets (16 compartments total). It can also accommodate a hydration pack.
One feature I like a lot – a zippered, fleece-lined pocket is located at the top of the bag for storage of sunglasses or phones.
And you can see that the built-in "admin panel" has plenty of pockets and slots for pens, small tools, and other things you might need easy access to.
The RUSH12 is a very price competitive option.
It is not made in the USA.
If you want a rucksack for under $100, this is your choice.
5.11 #N/A
Tactical Backpack featuring 16 individual compartments, a roomy main storage area, and a hydration pocket. Equipped with an adjustable height sternum strap, two external compression straps and contoured yoke shoulder strap system.
Made from durable 1050D nylon (Multicam: 1000D nylon), this military backpack is water-resistant and features self-repairing YKK zippers and 5.11's signature centerline design.
Molle compatible with the wrap-around molle/5.11 slick stick web platform, internal multi-slot admin compartment and a zippered fleece-lined eyewear pocket.
Our Military backpack has hook and loop nametape, flag patches and glove-friendly pull tabs; perfect for patrol, outdoor hiking, trekking and camping, survival expedition, or day pack.
The Rush12 backpack can be used as a multipurpose pack, bug out bag, range bag, hunting backpack, survival backpack, hiking Rucksack, or everyday outdoor backpack. This assault pack is ready for any rescue or adventure for all of your gear and equipment.
The Rush12 is a great backpack for rucking – because it includes nice padded shoulder straps and a sternum strap.
The only thing missing is a waist belt (hip belt).
The Rush12 has buckles that are specifically meant to be a belt attachment point.
Grab a Universal Waist Belt (Buy on Amazon) and you've got a cheap, effective solution.
Want a bag that is "lay flat" style like the GORUCK series?
Then check out the 5.11 Rapid Origin Tactical Backpack (25L) (Buy on Amazon).
First of all, it's "tactical" – so it's got velcro patch spots, MOLLE on the sides and back, and it's hydration bladder compatible.
Here's the interior – you can see it's big wide open storage.
There is a laptop sleeve / ruck plate pocket, but otherwise you decide how to pack it.
That means it has less integrated storage than the other options, but that gives you the freedom to pack big clunky items – like an extra pair of shoes, etc.
And it's 25L in capacity – so it's day pack sized – which is perfect for a rucking event.
It's got very nice padded shoulder straps and chest strap included.
And you can use that universal waist belt we highlighted earlier too.
This is a very affordable bag – but here's the only drawback. It is made from 600D Polyester.
It's not going to be as rugged as the 1050D Nylon that most of the RUSH bags are made from.
But, it would make a great EDC (Every Day Carry) bag, or for light ruck duty.
Let's look at bigger backpacks.
If you need more capacity (and have a larger budget) you can also check out the larger (37L capacity – but otherwise very similar) RUSH24 backpack (Buy on Amazon).
The Rush24 is named as such because it's an overnight pack (24 hours).
The feature set is similar. Lot's of MOLLE, drainage grommets (in case the bag gets submerged), velcro for patches and name tapes, fleece lined gadget pocket, grab handle, etc.
And if you want a really big backpack (55L) the RUSH72 backpack (Buy on Amazon) will fit the bill.
With 3342 cubic inches of storage you'll probably load it up pretty heavy. This model has an integrated waist/hip belt to help stave off fatigue of your upper body.
The Rush72 is a 3 day pack – hence the name.
Really missing a laptop compartment? Then look at the 5.11 COVRT18 Tactical Covert Backpack (Buy on Amazon).
The other upside of this model is that it doesn't have the "tactical" look (there's no MOLLE webbing, for example), if that is a requirement for you.
Mystery Ranch Urban Assault Backpack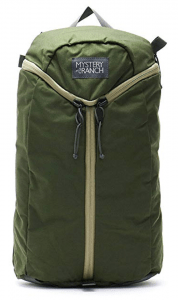 The Mystery Ranch Urban Assault Pack is another favorite of many ruckers.
This bag is not MOLLE compatible – there is no PALS webbing.
It is offered in a range of non-military colors such as red and blue. This helps make this a very attractive option for EDC (Every Day Carry), if you want (or need) a covert or non-military look.
With internal zippered pockets and storage for a 15″ laptop this would be a good multi-purpose bag. It is 21 Liter capacity, like the GR1 21L.
It is made from 500D Cordura fabric.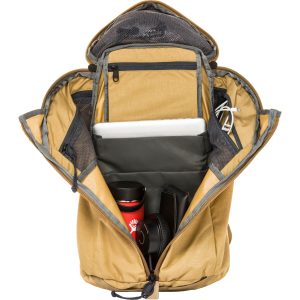 Some people note that the narrow and tall form factor of this bag make it less useful for packing.
But, you can see here how the internal storage works.
Also, the lack of MOLLE/PALS style webbing means this pack isn't quite as customizable as a GORUCK bag.
Overall, Mystery Ranch makes good stuff, and this bag is pretty good.
Mystery Ranch 2 Day Assault Pack
Based on the popularity of their 3 day assault pack, Mystery Ranch now offers a 2 day version.
This bag is 27 liters in capacity.
You can find the 2 Day Assault Pack here.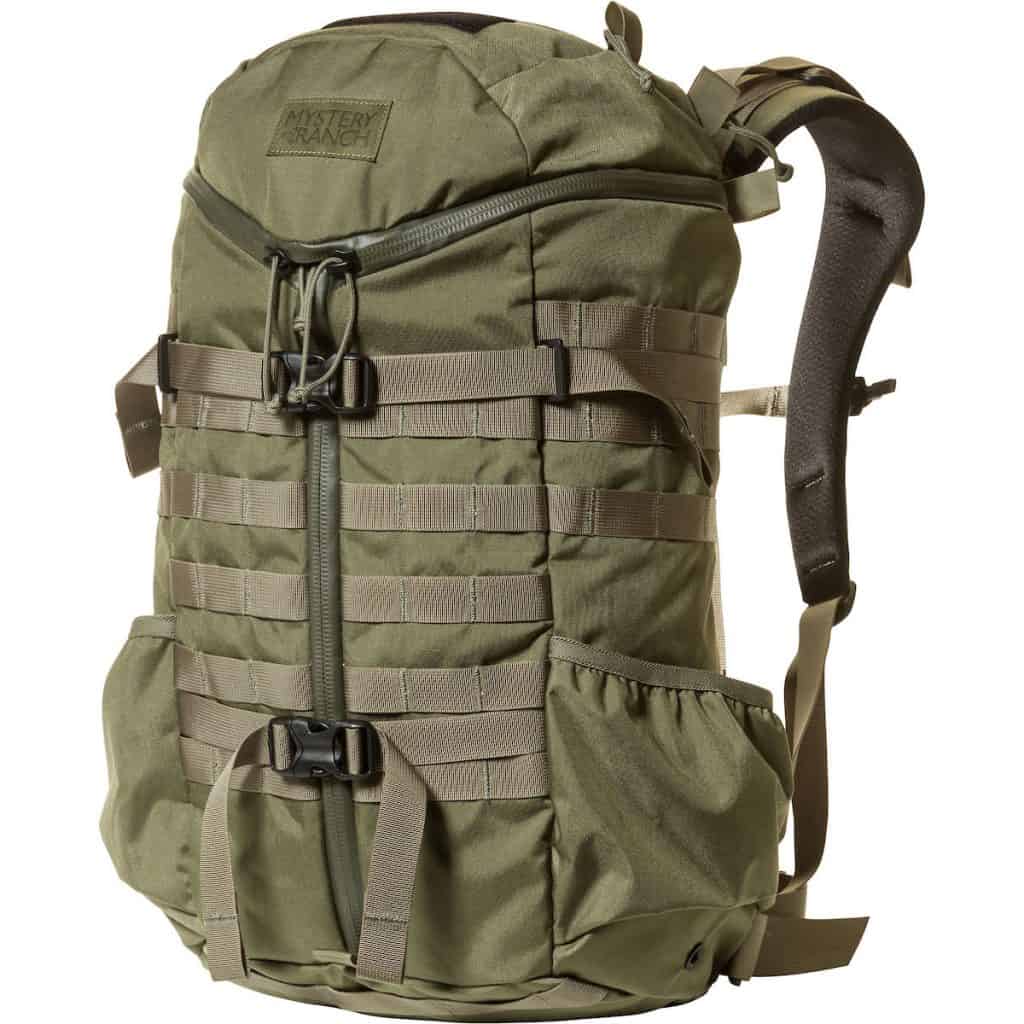 It's got many of the features you'd want – MOLLE, frame sheet, their 3-zip design, and an integrated padded laptop pocket.
By the way, that 3 Zip design makes the Mystery Ranch bags a great compromise between "lay flat" bags like the GORUCK and bags with more internal organization.
The biggest problem with backpacks that have endless sleeves and compartments is that it's really hard to pack big, bulk objects (like shoes) properly.
The 3 Zip design ensures that can be handled, and still has a lot of internal storage to go along with it.
For example, inside there are zippered pockets, a laptop (or hydration bladder) sleeve, a separate tablet sleeve, and more.
And you can still utilize most of the 27 L of capacity efficiently for an extra pair of shoes thanks to the 3 Zip zipper design.
As such, this bag is definitely targeted to the EDC (Every Day Carry) crowd.
It includes a chest strap and a waist belt (but it's not padded.)
The chest strap and waist belt should be considered required for any serious rucking bag.
The main comment from buyers is that it has an awful lot of MOLLE for a civilian EDC bag.
The color choices also run to the "tactical" side – coyote, forest green, foliage, and black.
It is made from 500D Cordura – which should be a nice balance between toughness and weight.
Mystery Ranch 3 Day Assault CL
Want more versatility in an American made Mystery Ranch pack?
The Mystery Ranch 3 Day Assault Pack CL may fit the bill.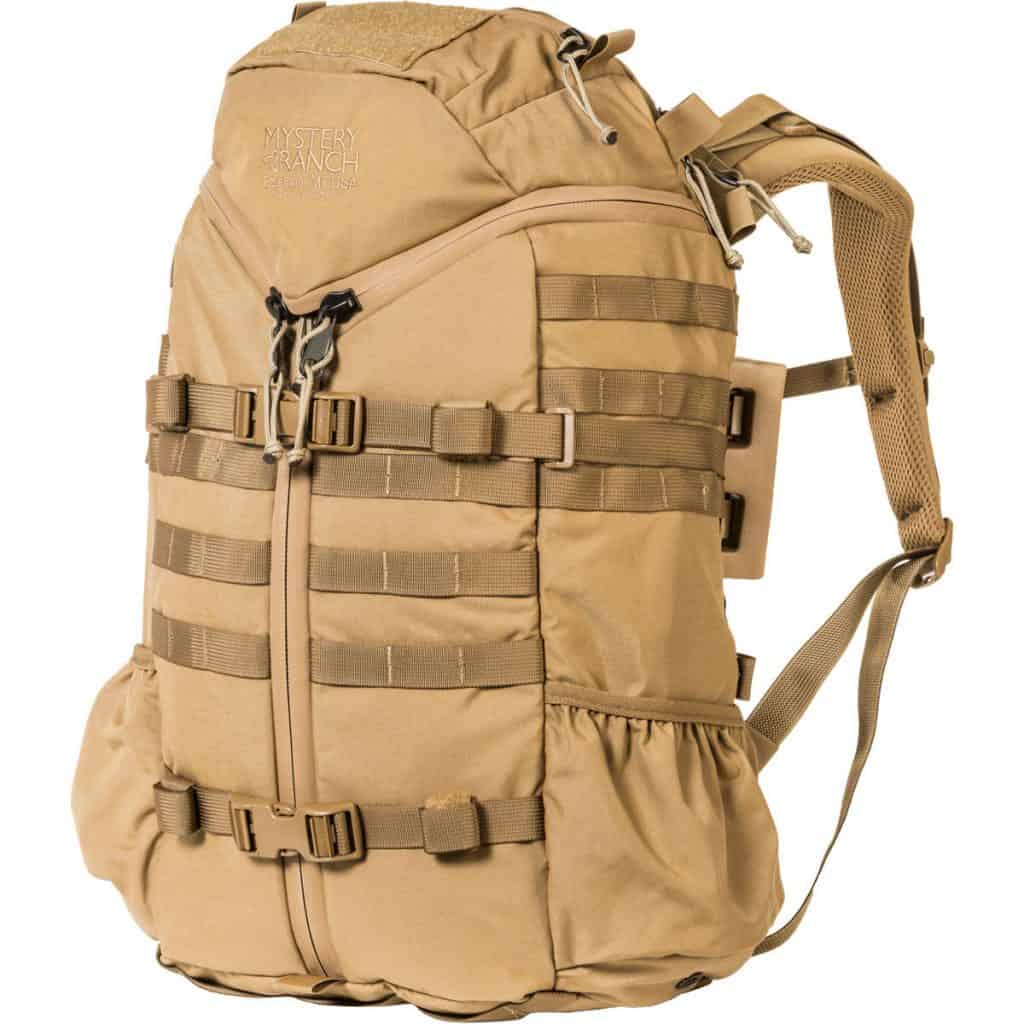 It's a 30 Liter bag – more capacity than a GORUCK GR1 26L.
The Mystery Ranch signature 3-Zip design provides easy access to the contents. And this bag includes MOLLE webbing on the sides for versatility.
This bag includes a waist belt, and a sternum strap. The waist belt tucks away in compartments when not in use. This is important because when rucking, you may opt to not use the waist belt, to build better back strength.
This bag is also practical for EDC (Every Day Carry), with a laptop sleeve that can accommodate a 17″ laptop, or a hydration pack when on the ruck march.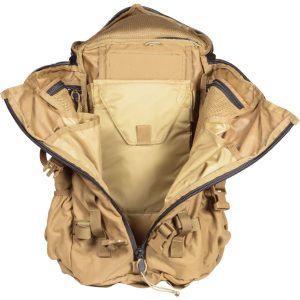 Here's an interior view, in Coyote color. This gives you a good idea of just how quick access is given through the tri-zip design.
You can also see the laptop sleeve, and the interior zippered pockets for additional storage.
It's made from 500D Cordura, which is pretty tough, but less abrasive on your clothing as compared to 1000D Cordura.
It's available in black, green, or coyote colors. And it's made in the USA and includes a warranty for defects and craftsmanship.
This is a feature filled bag – but it does approach the GORUCK GR1 in price.
Want more MOLLE?
Take a look at the Mystery Ranch 3 Day Assault BVS.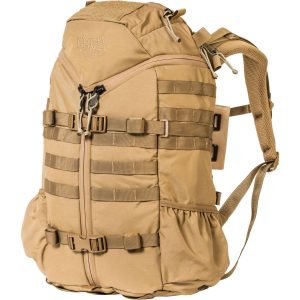 BVS stands for Bolstered Ventilation and Stability. This feature helps ensure a secure fit over body armor.
MOLLE on the sides, back, and 3 rows of MOLLE internally as well.
It's similar size (30L) and construction compared to the 3 Day Assault Pack.
It has a hook and loop (velcro) patch panel on the top.
It does have special features for carrying radios as well (zipper port for radio and antennae access), if you have that requirement.
It's also got an internal frame sheet, like a GORUCK bag.
And lastly, if 30L isn't big enough for you the Komodo Dragon has 26% more storage capacity at 38 Liters.
Otherwise the Komodo Dragon has the same great features and styling. And lots of MOLLE.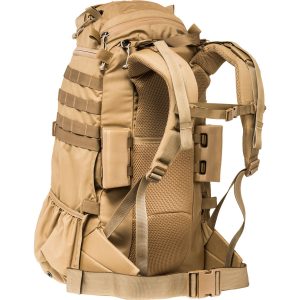 London Bridge Trading (LBT) Standard 3 Day Assault Pack
Let's look at London Bridge Trading's 3 Day Assault Pack (Buy on Amazon).
London Bridge Training (or LBT) is a manufacturer of tactical gear and accessories.
It's widely rumored this is the bag that inspired the creation of the GORUCK GR1. And, if you take a close look – you'll see a lot of similarities:
You'll see the Standard 3 Day Assault Pack has the slant zipper pocket for quick and easy access for small items.
It also has the velcro patch area high and in the center – for name tapes, morale patches, or unit insignia.
And lastly, you'll see a grab handle on the top and multiple rows of MOLLE nylon webbing – perfect for customization and versatility.
Also like the GORUCK GR1, the LBT 3 Day is made in the USA and has a lifetime warranty.
And lastly, it's a mid-sized pack – not huge, but not too small either. It's rated at 27 liters (27L) capacity. Compare that to the GR1 in either 21L or 26L, or Rucker 2.0 at 20L.
Para cord "silent" zipper pulls are used. Silent zipper pulls forgo the metal tab of a regular zipper pull – and therefore keep noise to a minimum.
There are some nice extras with this bag – it's got an integrated hip belt which can be tucked away when not in use, grommet drain holes (in case the bag becomes immersed), and an internal pocket for a hydration pack or an internal frame (not included).
It's also typically quite a bit cheaper than the GORUCK bags.
GORUCK Rucksack Alternatives – In Summary
While we still consider the GORUCK line of rucksacks, such as the GR1 and Rucker 2.0, to be the ultimate rucking backpacks, there are alternatives.
More affordable options from 5.11 Tactical, London Bridge Trading (LBT), and Mystery Ranch do exist.
There are tradeoffs in versatility and durability in some cases.
In the end, making the right rucksack decision depends on how you plan to use the bag, and what your overall budget is.