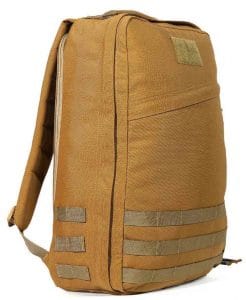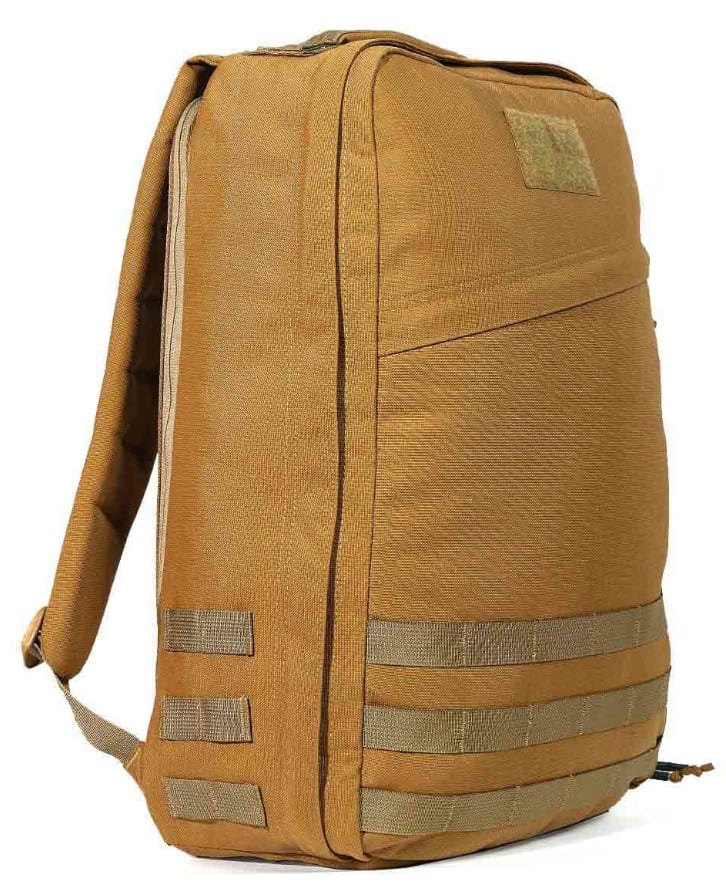 Let's talk about the best backpacks (rucksacks) for rucking. We'll highlight the best products that look good, are functional, and tough as nails.
We'll also highlight some great rucking accessories that help you get the most out of your gear.
When choosing the best backpack for rucking – you need to consider a few things:
Function
Form
Durability
Price
By the way, that super-sweet looking rucksack pictured above is the GORUCK GR1 in Coyote Brown – a top notch ruck and a great looking piece of gear. Remember, the first rule of GORUCK is: Always look cool.
Read on to find out why we think the GR1 is the best choice for rucking – and for every day use.
What is Rucking?
Rucking
is walking (or marching) with a loaded backpack (rucksack in Army-speak). Carrying a heavy load for a long distance is great endurance exercise – and it's low impact but burns a lot more calories than walking. The roots of rucking lie in the military – where soldiers prepare to carry their essential gear for long distances.
Essential features for the best rucking backpacks
Also, there's some key features in common with the best rucking backpacks. You should look for these items:
Zippers – Nothing makes a backpack worthless quicker than a blown out zipper. Look for high quality zippers (such as YKK) whenever possible. Bonus points if the zipper pulls (the tab you grab to pull the zipper) is a "silent pull". This means they won't jangle, clink, or rattle and make noise as you are moving about.
Ruck plate (weight plate) compartment – A specialized ruck plate compartment will help ensure the ruck load stays stable, comfortable, and in the correct position – high on your back.
Toughness – If you are taking part in a GORUCK challenge, there's a very high probability you'll be using your ruck as a PT implement – squats, presses, holds, drags, carries, swings, and more. A cheap backpack is not going to survive this sort of treatment.
Laptop compartment – For a versatile EDC (Every Day Carry) ruck – look for a laptop compartment. Even better if it's fully padded, including on the bottom where damage from an accidental drop is likely to occur.
Velcro patch area – If you are going to get into rucking – you're gonna want to put some patches on – whether showing some style, making a personal statement, or showing off a major achievement – patches have an important role in rucking.
Rain proof or some degree of water resistance – If your backpack can't keep your gear dry in a sudden downpour what good is it? Doubly important if you are carrying a laptop or other expensive electronics. Sure you can double wrap everything in plastic – but that gets old quick – and the one time you don't do that, it'll be sure to rain.
Wide shoulder straps or padded shoulder straps – Skinny little shoulder straps are going to dig in too much – it's simply physics – you want the load distributed over the largest surface area for maximum comfort. Go with a model that was wide shoulder straps and padded shoulder straps.
Sternum Strap or Chest Strap – a chest strap is recommended where possible. It can be had as an add on for many packs. It helps you vary the load on your musculature, as well as secure the pack to your body better.
Hip Belt or Waist Strap – A hip belt can be used to put some of the load on the large muscles of the hips – this will help stave off upper body fatigue and will let you ruck longer. This is recommended for very heavy loads (50 pounds+), or for long ruck marches. A hip belt (also called a waist strap) is not a necessity.
Size – Backpacks and rucksacks are rated according to capacity (volume) in liters. For example, you'll hear reference to 21L, 26L, 30L, etc. The bigger the "L" the more it will fit. But there are other considerations as well. Is it a "lay flat" rucksack? These are easier to pack efficiently. Are there special pockets or compartments for laptops, electronics, weight plates, etc? All of these can make the difference between an easier to use rucksack. We'll highlight some common accessories that can help you get the most out of your ruck below.
Let's look at some options and rate them according to each category.
GORUCK GR1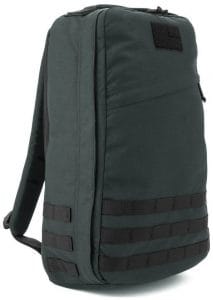 We're going to start with our recommended choice for nearly everyone.
GORUCK designs and builds gear specifically for rucking – and their GORUCK GR1 is a top notch piece of equipment.
Built to last, and made in the USA – it's a practical piece of equipment that is made for real world use.
Let's review the features.
Function – This is a real backpack, made for real world use. Not only that but it's designed well and gets rave reviews from those who buy it. Features include: Separate (and super-tough) laptop compartment, opens flat for easy packing, rainproof, and has a hydration port.

One of the most important features of the GORUCK gear – it's got MOLLE. MOLLE is rows of webbing – heavy-duty nylon stitched onto the vest/pack to allow for attachments. This allows endless versatility for securing items and adding attachments. There are 3 rows of external MOLLE, easily seen in these pictures, but there are also 3 rows of internal MOLLE – at the "top" of the bag.

It's also compatible with GORUCK ruck plates, which are compact weights perfect for ruck load. Lastly, this backpack was designed specifically for rucking. The right model will keep the weight high on your back.

Form – It's available in two sizes – 21L and 26L. The 21L is the recommended model for nearly anyone, but if you are 6 foot plus in height – you can get more space with the 26L. By the way, the L is for "liters" – meaning capacity.

It's also available in all black with no logos – which is required by the US military for personnel to use non-government issued backpacks that don't match the camoflauge uniform in use. There's many other colors and styles available as well. It's got an easy-access, zippered slant pocket – which is the perfect place to stash car keys or other small items that you might need frequently.

Durability – GORUCK claims to overbuild their gear and it's got a lifetime warranty (aka the SCARS warranty) to back that up.

It's a heavy duty rucking backpack, it's that simple. Made from 1000D Cordura, which has a good strength/weight ratio and it's resistant to abrasion, cuts, and wear. Please note – 1000D Cordura is tough – and it's a bit abrasive compared to other materials such as 1050D Ballistic Nylon.

Price – Check the GORUCK website for current prices.
Need a backpack for business or personal travel (especially with a computer) – and you want to reap the fitness benefits of rucking? This is the piece of gear for you.
Rucking has a lot of acronyms and terms – AAR, EDC, HTL, GRC, GR1, and more. If you want to decipher these check out our
Rucking glossary
.
Is this too expensive? Not in our opinion – it's dual purpose gear that will last a lifetime and it has features you can't find in cheaper backpacks. About the time you're on your 3rd cheap backpack you may wish you'd bought the GR1.
Here's the best video overview of the GR1, right from the source, GORUCK:
Lastly, if we're going to lug this thing everywhere – let's make it look good. The GR1 comes in a variety of styles – from business commuter to combat ready – and has a cool velcro patch area – slap a sweet looking GORUCK patch on there if you're at a loss for any other ideas, or check out our article on where to buy morale patches.
Please note that some of these patterns and color combinations are limited runs – which means once they are gone, they might be gone forever.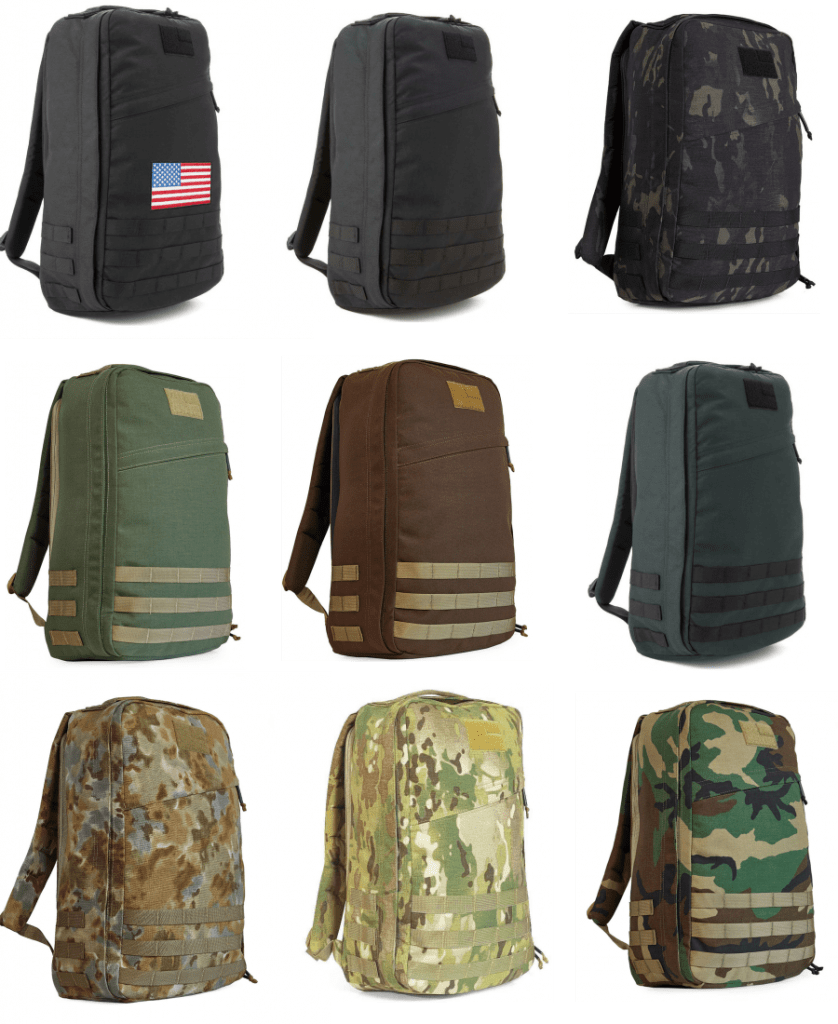 The only upgrade we recommend right out of the gate is the Sternum Strap. It attaches to the MOLLE using clasps. We don't recommend the Hip Belt for the average rucker – but you can always add it later.


The GR1 is a nice trade-off between capacity and bulk – if you need more space, check out the GR2 (available in 34L or 40L) or GR3 (45L).
Why not a hiking backpack?
Generally speaking, hiking backpacks (such as those from Mystery Ranch and others) aren't the best option for rucking. Why? because they rely extensively on a hip belt to put the majority of the load on your hips. Much of the benefit of rucking is had from including the upper body in the action – and that means keeping the load high on the back, and off the hips. For very long ruck marches, a hip belt (and a sternum strap) can be a useful addition to vary loads over different musculature over time, but for short rucks you're going to miss out on upper body training benefits if you rely on one too much.
Hiking backpacks are also pretty large and specialized – and not practical for other normal travel or commute uses.
What's a frame sheet and do I need one?
A frame sheet will help make your ruck stronger. It allows for a higher-up weight placement when rucking – keeping the weight up high helps prevent your shoulders from being pulled backwards. Overall this will reduce fatigue and help you go farther.
It's a standard feature of every GORUCK GR1 backpack – another reason why these backpacks are the best for rucking.
Does GORUCK have discounts?
GORUCK frequently issues discount or coupon codes, and has special sales, such as Christmas in July (XIJ) or Black Friday.
But, they also have their Earned Service Discount which is a ongoing discount of 25% off your total order of gear and events for :
Military (Active Duty, Active Reserve, National Guard)
Veterans
Police – including Air Marshals, Fish and Wildlife officers, and much more
Firefighters and EMTs
Government employees
Students – College, University, etc.
The Rucker 2.0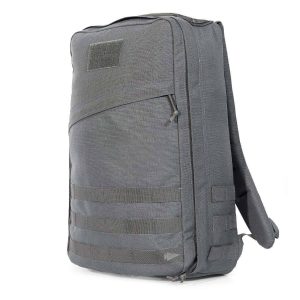 The Rucker 2.0 is GORUCK's simpler rucksack made specifically for rucking.
There's no laptop compartment, and it's a bit cheaper than the GR1.
It's also got thicker padding on the straps and works best with the Expert ruck plates. They'll stay nice and high on your back – as they should. It's also got a D ring in the interior.
Otherwise, it's very similar. 20L capacity (minus 1L from the GR1, because there's no laptop compartment). But it still has the MOLLE webbing, frame sheet, rain proof, made from 1000D Codura, 2×3 velcro patch area, hydration port, silent pull YKK zippers, easy access slant pocket, etc.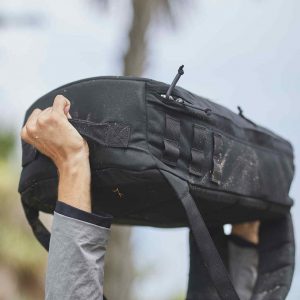 The Rucker now includes a bottom handle, in addition to the top handle. Why? Makes it easier to use it for PT during a ruck event.
The main decision point is really – do you need to carry a laptop or not? Or want to save some coin?
There are also less color options on the Rucker.
But, they currently offer these: Coyote Brown, Black, Ranger Green, Steel, Wolf Grey.

Echo – Rucksack for smaller frames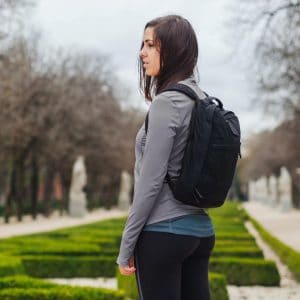 Like the GR1 and the features but not liking the size?
If you are 5'10" or less in height or if you want a minimalist bag for Every Day Carry you may prefer GORUCK's Echo.
It's 16L capacity and about 1.5″ shorter than the GR1 21L.
But otherwise, it's got a lot of great features: Laptop compartment, MOLLE webbing, velcro patch area, silent pull zippers, rainproof, hydration port, extra padded straps, and lay flat design.
And made from super-tough 1000D Cordura, of course.
Bullet Ruck – When Small and Streamlined Is What You Need
The Echo too big? Or maybe you just want something simple and streamlined? The 10L or 15L Bullet Ruck is your top choice.
It's small but still accommodates a 20 lb Standard Ruck Plate. It's a great "Dayruck". It's the smallest ruck offered by GORUCK that will fit a ruck plate.
The new 15L Bullet is the perfect step up from the 10L size.
Here they are side by side.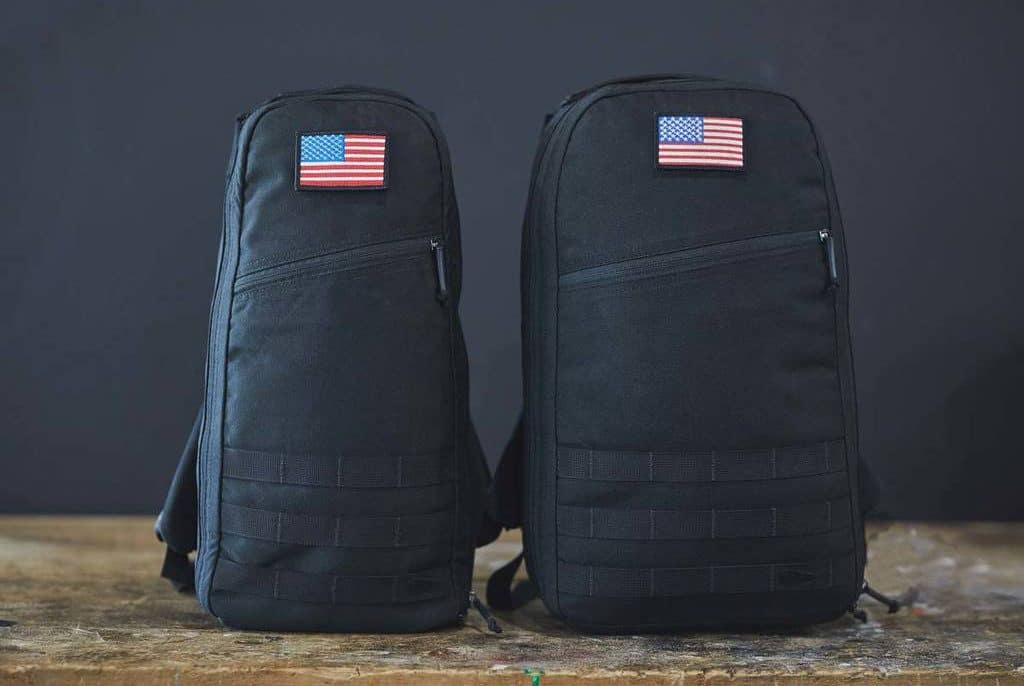 Kid Size Ruck – The GORUCK KR1
GORUCK even has a kid size backpack – the GORUCK KR1. It's 13L in size, comes in fun colors, like Coral + Ranger Green ,and Sea Green and Navy (as pictured here).
It's "slick" with no MOLLE, but it does have a Velcro internal patch board, in addition to the external 2″ x 3″ velcro patch area.
This item is more for every day school use than rucking, but still pretty cool. It has 2 interior pockets, one small pocket for pens, pencils and crayons and another for notebooks.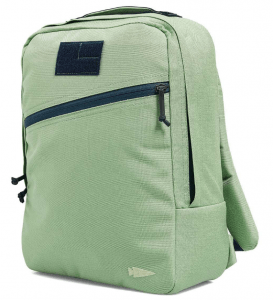 Need to pack more? Essential Ruck Accessories
Need to pack more in the space you have in your rucksack? Here's some useful ideas. Consider these "best practice" accessories that will help you sub-divide the space in your ruck, or to use the space more efficiently. These choices have been picked from the "best of the best" reviews from experienced ruck marchers.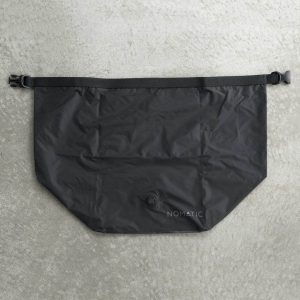 The NOMATIC Vacuum Bag (Buy on Amazon) is a great solution for packing more in the space you've got. Its durable air tight fabric and air valve allow you to suction down clothes or other soft goods to conserve space. The Vacuum Bag also makes a great place to put wet or dirty gear while traveling to keep your other valuables clean and separate. You can increase packing efficiency up to 300% for soft goods – and best of all no pump is needed.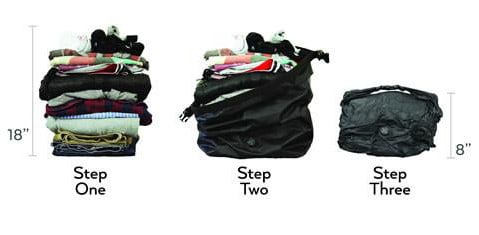 Need to keep your gear better organized?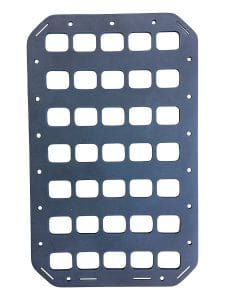 Additionally, you can use a Greyman Tactical rigid MOLLE panel (Buy on Amazon). This size will fit nicely in the GORUCK GR1 – and let's you secure various items as you see fit. This is a great supplement to the 3 rows of internal MOLLE in the GR1, and will extend the full height of the bag.
This MOLLE Panel will work great with an item such as the VooDoo Tactical Men's Enlarged EMT Pouch (Buy on Amazon).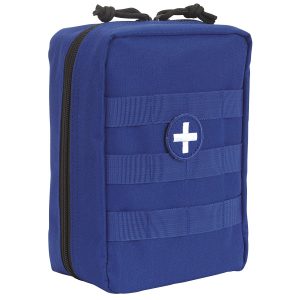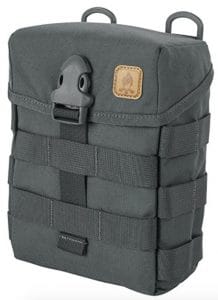 Here's another one we like. It's a design based on a classic piece of British Special Forces gear – but revised to be even better. The HELIKON-TEX Bushcraft Line, E & E Pouch (Buy on Amazon) is a large pouch that holds survival and bushcraft equipment, water bottles, food rations and and more. There is a sleeve on the back that will hold a folding saw, knife, or axe. It's also MOLLE compatible, and would work well on the external MOLLE of the GR1.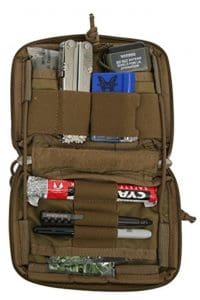 An admin pouch like the Tactical Tailor Fight Light Enhanced Admin Pouch (Buy on Amazon) is another necessity for many ruckers. What's an admin pouch for? It's designed to carry small tools, pens, batteries, chem lights, or anything else that will fit. These are very convenient for people that use their ruck for EDC (Every Day Carry).
And whether you are attaching things on an internal MOLLE Panel or on the MOLLE webbing on the outside – you can use these Maxpedition's Grimloc D-rings/Carabiners (Buy on Amazon). These are super-versatile and put ordinary carabiners to shame. It's a locking D-Ring that can be used on any 1″ wide piece of webbing and replaces the metal carabiner. It's strong enough to hold equipment – but has a break-away design to prevent snagging hazards.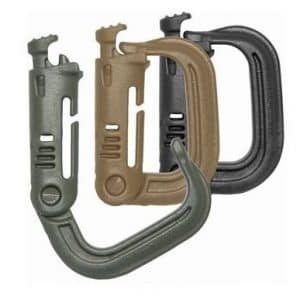 Here's another great MOLLE clip – Tactical Tailor's Malice Clip (Buy on Amazon) – use these when you need to make sure something stays attached. These fold in half, and require a screwdriver or other tool to disconnect. They are available in "short" and "long" sizes (link above is for "short").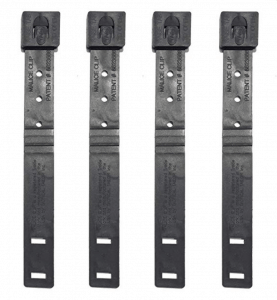 According to the manufacturer, these are injection molded, heavy duty, reusable connecting clips that are designed to attach modular pouches to MOLLE/PALS style equipment. They are not affected by heat or cold, and will never corrode or lose their subdued finish. Once properly closed, the clips will not open until it is disengaged by the user using a flat tipped object such as a knife or screwdriver or similar tool.
For a quick MOLLE connect and disconnect – use the BLACKHAWK! Speed Clips (Buy on Amazon). Pretty simple how these work – take a look at the photo. No more tedious weaving of bulky straps!
Another item that can help with keeping your ruck's contents better organized is the Eagle Creek Pack It Cube Set (Buy on Amazon). What is this? It's a set of small zippered containers that let you keep gear better organized within the backpack – it's almost like having "shelves" in your backpack. These are available in a selection of colors, are easy to wash, and are sized as follows: Small is 4″ x 8″ x 2″, Medium is 7″ x 10″ x 2 1/2″ and the Large is 10″x14″ x 3″. These don't make more space, but they make the space more usable, and easier to access. These work great in your regular travel luggage too. And they've got a lifetime warranty.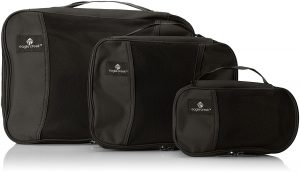 Hydration Bladders for Rucking – Drink on the Go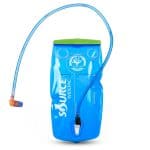 On any significant ruck march you are going to need to stay hydrated. You certainly can bring a water bottle but a hydration bladder like the Widepac Hydration System Reservoir (Buy on Amazon) is going to be a better option. Why? Because with the GR1's built-in hydration port you can drink on the go. Don't underestimate the energy it takes to drop your pack , get a drink, and continue on. You'll be much better off with this bladder. Especially if you need to keep pace with a group.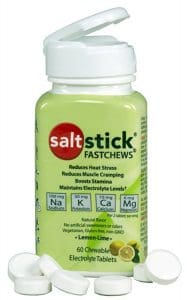 During intense physical activity, such as rucking, it's important to maintain hydration. But don't forget about electrolyte replacement as well. Electrolyte salts are used to reduce heat stress, boost stamina, reduce muscle cramping, and maintain electrolyte levels. Sports drinks are an option to replenish electrolytes and help replenish glucose as well. For a low calorie option, try these SaltStick FASTCHEWS 60-count Bottle of Chewable Electrolyte Replacement Tablets (Buy on Amazon). Each SaltStick Chewable contains: 100 mg sodium, 30 mg potassium, 10 mg calcium, and 6 mg magnesium. With two flavor choices, and sweetened with all-natural Stevia, it's recommended to take two of these every 30 minutes. Why? The ingredients are formulated in a ratio to closely resemble the electrolyte profile lost in sweat.
In Summary
We hope we've given you some ideas on some ruck equipment options. You may also want to check out our ruck plates guide or our ruck footwear guide.
Fit At Midlife Bottom Line

Rucking is a simple exercise that doesn't require a lot of requipment.

But if you get serious about rucking, there are some greqt equipment options that make rucking more enjoyable.

The best gear is high-quality – and dual use – meaning it's not just fitness gear, it's a practical tool for every day use.

The GORUCK GR1 is the best option for most people.
Why GORUCK Products?
We're a
GORUCK
affiliate – so if you order equipment after clicking the links in this article we receive monetary compensation. But that's not why we recommend GORUCK. It's because their equipment is innovative, built to last, and made in America. They are the driving force behind rucking not just as exercise, but as a way to make people better. And that's why we love them.
Photo Credits
Some product photos on this page are provided by, and property of GORUCK.
Other product photos are property of the manufacturer, and provided by the manufacturer.