Now that you've picked out your ideal GORUCK rucking backpack you should look at some rucking gear that helps you get the best packing and storage efficiency out of that GR1 or Rucker backpack.
We're going to review the best rucksack accessories for the GR1 – or any GORUCK bag.
These choices have been vetted by rucking enthusiasts – so consider them the "best of the best".
Whether you are using a GR1, or other rucking backpack – all of these items are great aftermarket rucking gear.
MOLLE Accessories We're going to mention "MOLLE" a lot in this article. MOLLE, or Modular Lightweight Load-carrying Equipment, is the military's solution for versatile equipment loading and accessories. The most important feature of MOLLE is the rows of heavy-duty nylon (also called PALS) stitched into equipment that let you customize and configure as your needs dictate. Rucksacks like the GORUCK GR1 contain both internal and external MOLLE attachment points. By the way, MOLLE is typically pronounced just like the name "Molly".
Packing Efficiency for Rucking
Need to pack more in the space you have in your rucksack? Here's some useful ideas. Consider these "best practice" accessories that will help you sub-divide the space in your ruck, or to use the space more efficiently. These choices have been picked from the "best of the best" reviews from experienced ruck marchers.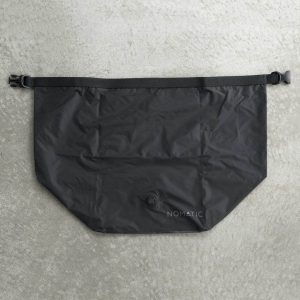 The NOMATIC Vacuum Bag (Buy on Amazon) is a great solution for packing more in the space you've got. Its durable air tight fabric and air valve allow you to suction down clothes or other soft goods to conserve space. The Vacuum Bag also makes a great place to put wet or dirty gear while traveling to keep your other valuables clean and separate. You can increase packing efficiency up to 300% for soft goods – and best of all no pump is needed.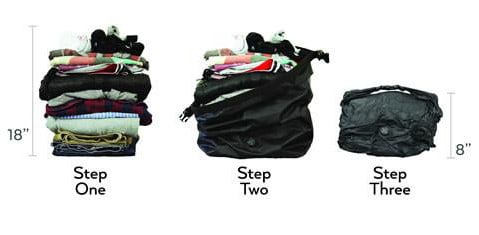 Want to pack stuff efficiently and also keep it waterproof?
Check out the Sea to Summit eVAC Dry Sack (Buy on Amazon).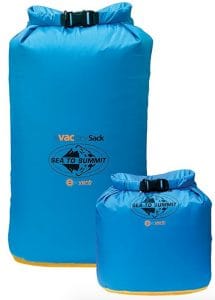 This item is available in sizes from 3 liter all the way to a massive 65 liter.
How does it work?
The eVac Dry Sack utilizes 70D lightweight nylon fabric for strength and eVent waterproof fabric on the base to allow eVac-uation of air for compression.
So, your gear will take a minimum of space and be protected from water exposure.
They also have versions that don't do the eVac-uation of air. We recently tested the 4L version – check it out:
Another item that can help with keeping your ruck's contents better organized is the Eagle Creek Pack It Cube Set (Buy on Amazon). What is this? It's a set of small zippered containers that let you keep gear better organized within the backpack – it's almost like having "shelves" in your backpack. These are available in a selection of colors, are easy to wash, and are sized as follows: Small is 4″ x 8″ x 2″, Medium is 7″ x 10″ x 2 1/2″ and the Large is 10″x14″ x 3″. These don't make more space, but they make the space more usable, and easier to access. These work great in your regular travel luggage too. And they've got a lifetime warranty.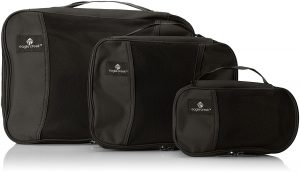 Amazon also has packing cubes under AmazonBasics brand: AmazonBasics Packing Cubes (Buy on Amazon).
They'll get the job done and are super affordable.
Lastly, Eagle Creek also has Specter Compression packing cubes (Buy on Amazon).
These combine the best of packing cubes, with compression – for the ultimate in space saving efficiency.
These are also ultra-lightweight.
Got Ruck Plates?
We have a whole article on Ruck Plates (Ruck Weights) and alternatives.
But, we'd like to highlight two versatile options here.
Ruck plates are great – they are big, heavy iron plates that let you really load up a rucksack.
But what about if you travel a lot and want to ruck at your destination.
Loading with sand, pebbles, or gravel is a great option – but messy.
That's why Rogue Fitness offers the Rogue Brick Bag it is a miniature loadable sandbag.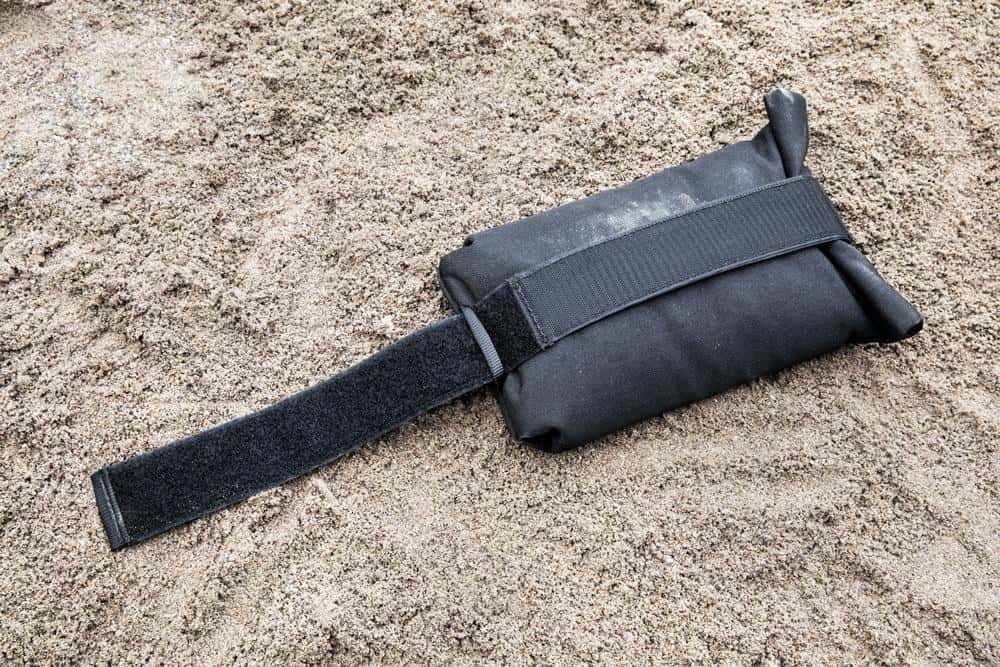 It's only .5 Lb unloaded, but holds up to 10lbs of material. Made in the USA from 1000D Cordura (just like your GORUCK.)
Don't need a travel option – these are still handy.
These would also be a great way to incrementally load just a little more weight into your rucksack.
Want to add 2lbs, 3lbs, or 5lbs? This is your perfect option.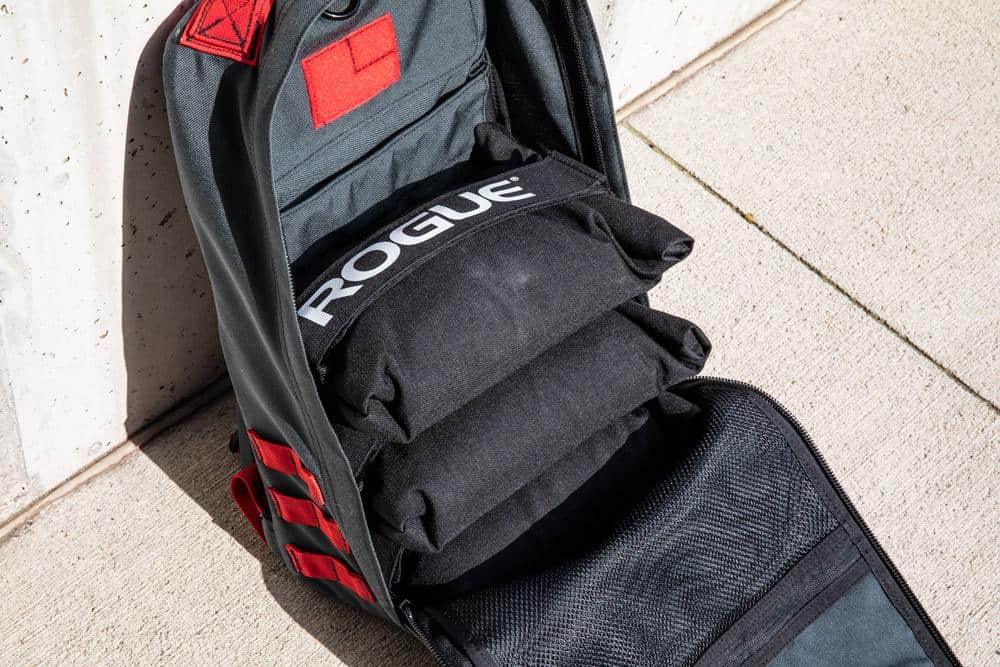 Sand is great – but it's a mess. You know what is also heavy? Water.
Every destination has water – it's easy to fill up and dump it when you are done – and there's really no mess.
The Water Weight from ModGear (Buy on Amazon) can hold up to 20 lbs of water – and will still fit in a GORUCK GR1 or Rucker – 21L or 24L.
You might be thinking – can't I just load up my hydration bladder for water weight? These are much, much bigger and hold way more water.
It is made from strong, flexible PVC.
When empty it packs flat. When you arrive – simply fill it up from the sink, and empty it back out when done.
How to protect your phone while rucking
People often ask – should I bring my phone with me to a GORUCK challenge event?
The answer is that you probably should have it locked away in a waterproof pelican case – but don't plan on using it.
Most cadre don't allow phones – you are there to ruck – not to take pictures or update instagram.
The No products found. is the kind of thing you need.
Just be sure it fits your model of phone.
You probably want to wrap it in a DRY BAG as well, as these Pelican cases are not meant for long term water immersion.
Need to keep your gear better organized?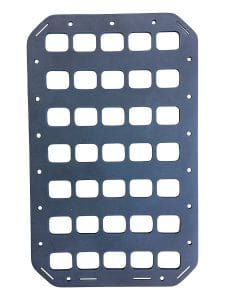 Additionally, you can use a Grey Man Tactical rigid MOLLE panel (Buy on Amazon). This The 10.75in x 19in size will fit nicely in the GORUCK GR1 – and let's you secure various items as you see fit. This is a great supplement to the 3 rows of internal MOLLE in the GR1, and will extend the full height of the bag.
For use in a GR1 26L make sure you get the 10.75in x 19in size.
The Grey Man MOLLE panel is also a great solution for just about anywhere else you want MOLLE.
Another option for an add-in MOLLE panel is the 5.11 Tactical Backpack Small Insert Attachment (Buy on Amazon).
It's available in two sizes: The small version (511-56280) measures 15.25″ x 10″, the large version (511-56281) measures in at 19″x12.25″.
One side has vertical MOLLE , and the other has horizontal MOLLE.
The small version works great in smaller bags like the Bullet 10L from GORUCK.
This is a semi-rigid panel, as it has a fairly stiff plastic insert inside.
Those MOLLE panels will work great with an item such as the VooDoo Tactical Men's Enlarged EMT Pouch (Buy on Amazon).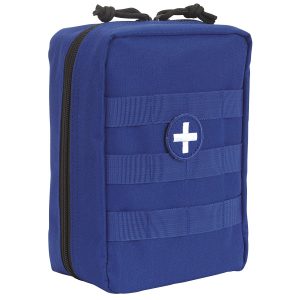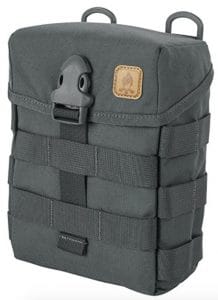 Here's another one we like. It's a design based on a classic piece of British Special Forces gear – but revised to be even better. The HELIKON-TEX Bushcraft Line, E & E Pouch (Buy on Amazon) is a large pouch that holds survival and bushcraft equipment, water bottles, food rations and and more. There is a sleeve on the back that will hold a folding saw, knife, or axe. It's also MOLLE compatible, and would work well on the external MOLLE webbing of the GR1.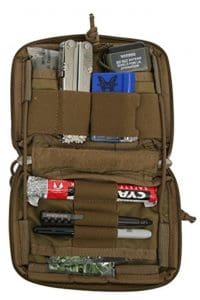 An admin pouch like the Tactical Tailor Fight Light Enhanced Admin Pouch (Buy on Amazon) is another necessity for many ruckers. What's an admin pouch for? It's designed to carry small tools, pens, batteries, chem lights, or anything else that will fit. These are very convenient for people that use their ruck for EDC (Every Day Carry).
Here's another awesome admin pouch – the Vanquest FTIM-5x7 (Gen-2) Maximizer (Buy on Amazon).
Shown here in Wolf Gray, this is a quality product.
There's plenty of straps for tools, flashlights, pens, and more.
Not shown is the MOLLE webbing on the back – so this will work anywhere you have MOLLE.
Before we move on, let's look at a massive (relatively speaking) MOLLE pouch.
The AMYIPO Increment Pouch (Buy on Amazon) is a big MOLLE compatible "pouch" that adds a lot of volume.
Meant for vertical use, it is well suited for adding extra space to the sides of a MOLLE compatible backpack.
It's sold as a single item, or as a two pack.
How big is it? 14″ x 6″ x 4″. Check the dimensions in this picture.
This is a great option if you want to add a lot of storage to your pack.
And, it's got a velcro patch area.
And speaking of pouches, what about the GORUCK Padded Field Pockets?
These are great – they come in a variety of sizes, they are padded, they have MOLLE – so they work beautifully with the internal (or external) MOLLE webbing.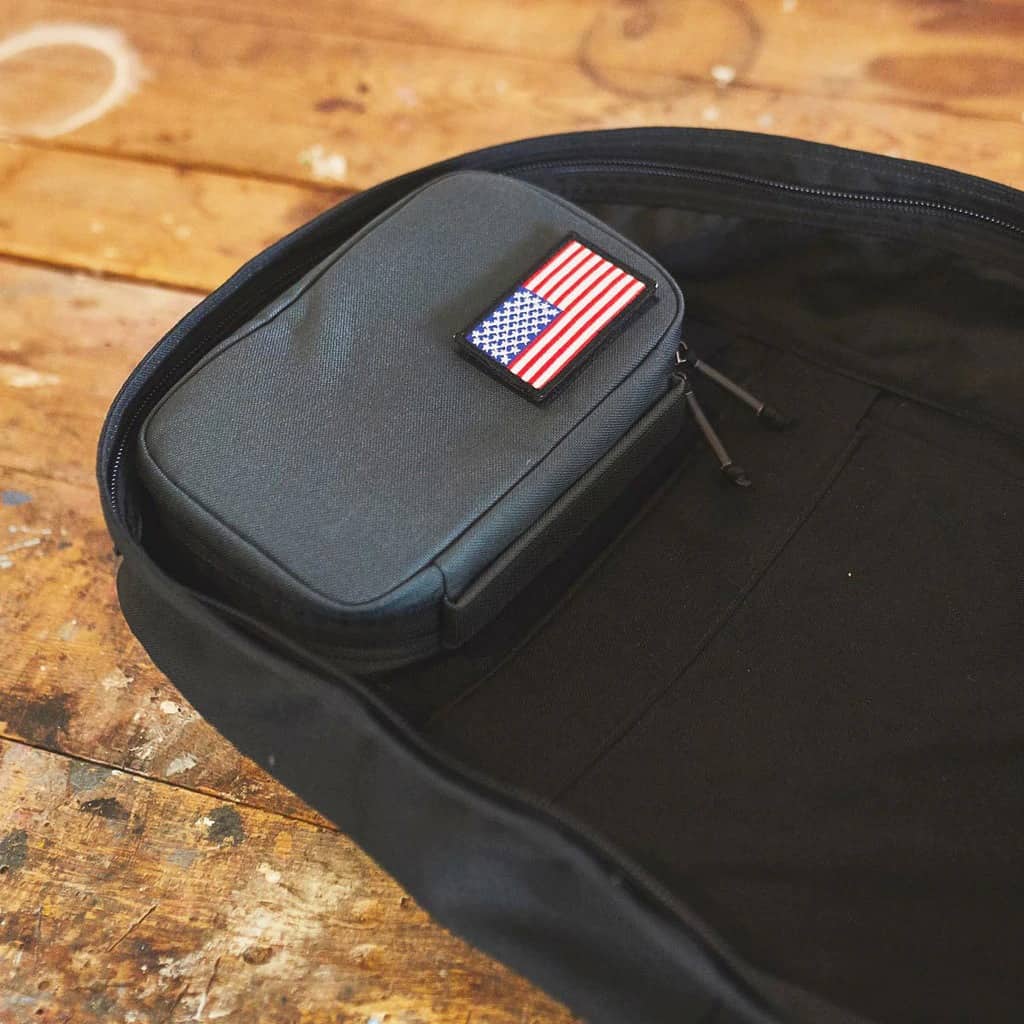 They've got a patch hook and loop area, zippers with paracord pulls, and internal zippered pocket and mesh pockets.
They are the perfect solution for adding some padded, organized storage into your GR1 (or GR2).
OK, what's the catch?
They are pretty expensive – starting at $75 and up.
Another amazing field pocket from GORUCK is the GORUCK Echo Field Pocket.
You can use it as a Dopp kit, or you can use it to organize your electronics, camera gear, or with your rucksack for additional space and organization. It is made from 1000D Cordura measuring 9" W x 4" H x 2.5" D, making it the smallest field pocket from GORUCK.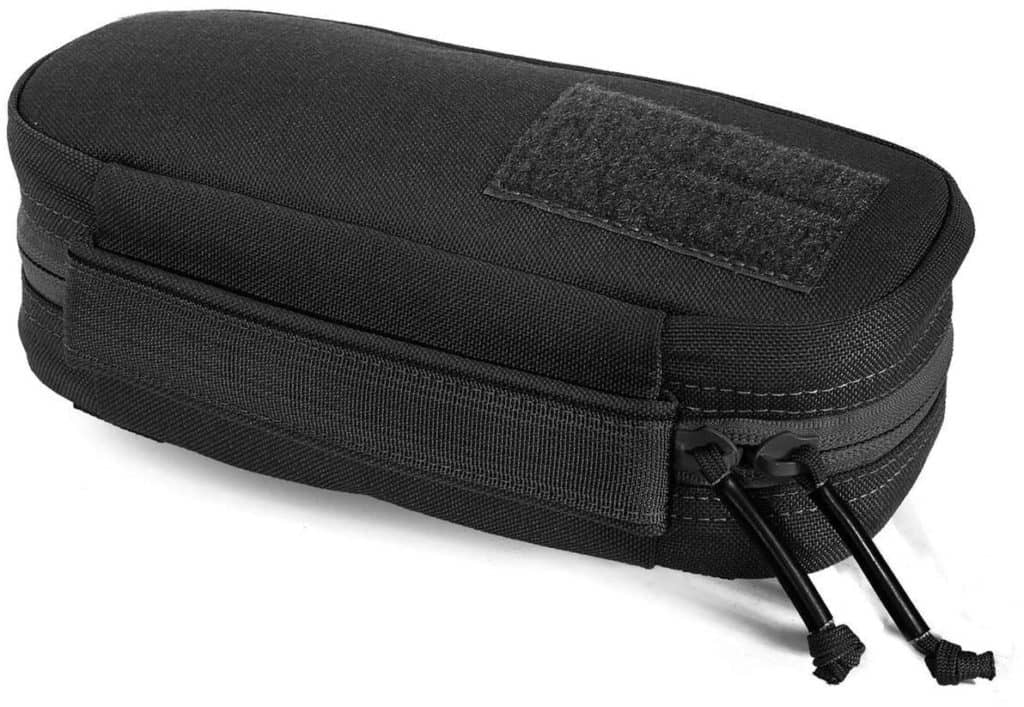 The padding keeps contents inside protected and the additional three internal pockets keep you organized. It costs $65 and comes with a Scars Lifetime Guarantee.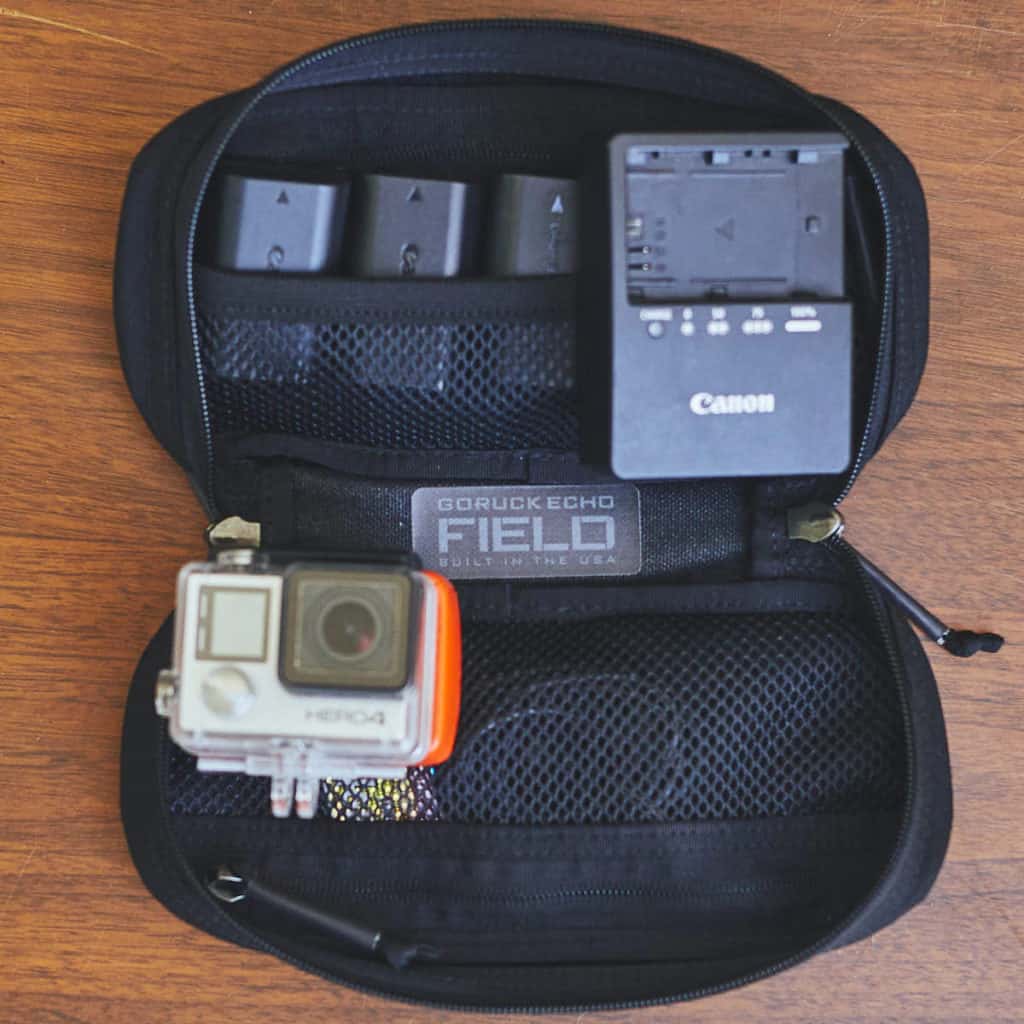 If you want something similar, but not so expensive, here are some options.
Please take note – these are nowhere near as nice, and don't have the features – but they are a fraction of the cost.
The 5.11 Tactical 6x6 Padded Pouch (Buy on Amazon) is a cheap alternative.
It's 6″ x 6″ x 3″ , so not quite the size of the GR1 Padded Field Pocket.
But, it is padded, and has MOLLE – so you can attach inside your GR1.
It's also 1/3rd of the cost.
You can also size up to the 5.11 Tactical 10x6.
This pouch is not padded. But it is bigger – and it has MOLLE.
There is also a 6x10 Vertical Pouch (Buy on Amazon) as well.
And whether you are attaching things on an internal MOLLE Panel or on the MOLLE webbing on the outside – you can use these Maxpedition's Grimloc D-rings/Carabiners (Buy on Amazon). These are super-versatile and put ordinary carabiners to shame. It's a locking D-Ring that can be used on any 1″ wide piece of webbing and replaces the metal carabiner. It's strong enough to hold equipment – but has a break-away design to prevent snagging hazards.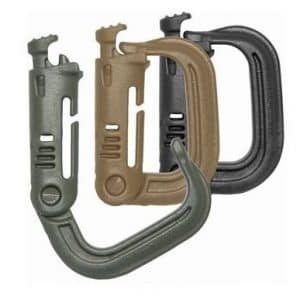 What can you do with a carabiner? Use it to secure water bottles, hats, gloves or jackets to your pack.
The Nite Ize Size-1 S-Biner (Buy on Amazon) is a solid carabiner choice.
This is a high quality "S-biner" made from stainless steel.
This is NOT a load-bearing carabiner.
If you need a load bearing carabiner, the Black Diamond Nitron Straight Gate Carabiner (Buy on Amazon) is our choice.
This can be used to chain rucks together – this is a frequent request from the cadre at GORUCK events.
But, carabiners have a multitude of other uses as well.
Here's another No products found. – made in the USA.
Carabiners are great for general packing purposes, but for MOLLE web gear a purpose built MOLLE clip is going to be your best bet.
Here's a great MOLLE clip – Tactical Tailor's Malice Clip (Buy on Amazon) – use these when you need to make sure something stays attached. These fold in half, and require a screwdriver or other tool to disconnect. They are available in "short" and "long" sizes (link above is for "short").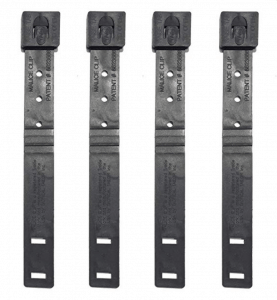 According to the manufacturer, these are injection molded, heavy duty, reusable connecting clips that are designed to attach modular pouches to MOLLE/PALS style equipment. They are not affected by heat or cold, and will never corrode or lose their subdued finish. Once properly closed, the clips will not open until it is disengaged by the user using a flat tipped object such as a knife or screwdriver or similar tool.
Also consider the Fight Light Malice Clips (Buy on Amazon).
These offer the same great advantages of regular Malice clips – providing a tough, robust connection, but in a more streamlined form factor.
These tend to be easier to weave through MOLLE webbing, as compared to the normal malice clips.
But they are just as tough.
Malice clips are great for a connection that won't come undone – but what if you want a quick connect and disconnect?
For a quick MOLLE connect and disconnect – use the BLACKHAWK! Speed Clips (Buy on Amazon). Pretty simple how these work – take a look at the photo. No more tedious weaving of bulky straps!
That's just scratching the surface – find more MOLLE clips and connector options here.
Rucking Accessories for Safety
Having reflective bands that you can mount on your ruck is a requirement for any event in the night time.
It's just plain common sense.
These Jogalite Reflective Bands (Buy on Amazon) will get the job done.
you can mount these easily on the external MOLLE of any GORUCK backpack.
Another option is an LED safety strobe (Buy on Amazon), such as these.
Wires and Computer Accessories
GORUCK has a great option for packing smartphone and computer accessories in the GORUCK Wire Dopp as shown here.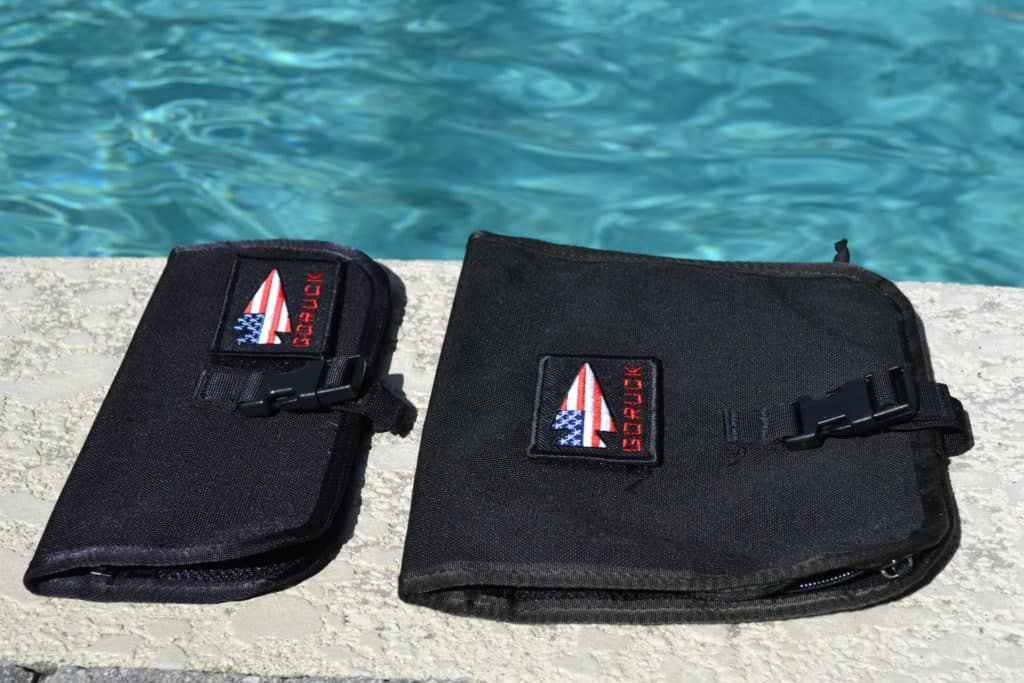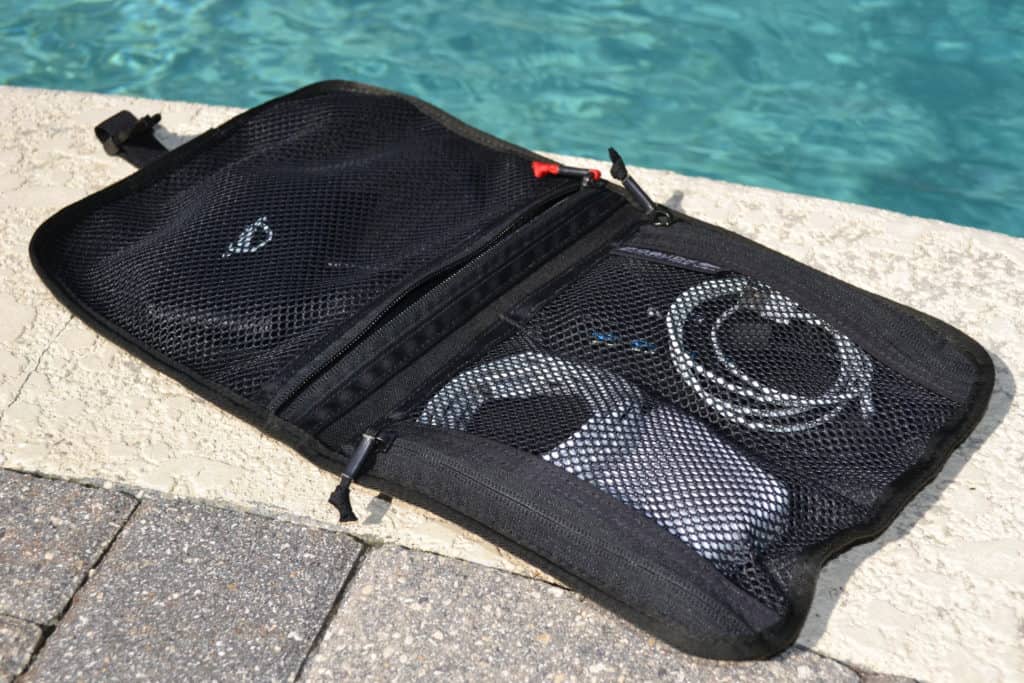 But, it's big, and expensive.
If you want something smaller (and cheaper), check out the Roll Up Toolkit from Rogue Fitness.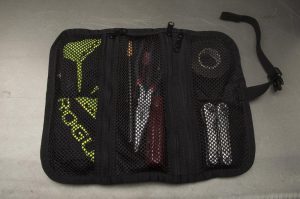 It's available in a dual zipper and triple zipper model – and you can see the mesh compartments allow you to see what is stowed away.
You could use it for tools, gym gear, or computer and phone accessories.
Most people also consider the Rogue Roll-Up Tool Kit a good alternative to the GORUCK mini wire dopp – which is no longer available.
Here's the dual zipper model, which is a nice compact size.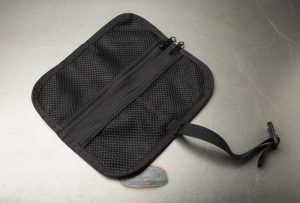 And, if you are looking for something for even more cables, phone chargers, power supplies, flash drives, etc. take a look at the Double Layer Tech Organizer (Buy on Amazon).
For a true techie this is a great option – because there's plenty of storage, and it's easy to see what is where.
OK, let's move on.
You Can Never Display Enough Patches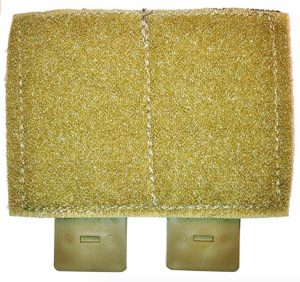 The GORUCK bags have a single 2×3″ velcro patch area, but some competitor bags such as the 5.11 Tactical RUSH12, RUSH24, and similar have two patch areas.
Certainly we can't let GORUCK lose the patch arms race.
The solution is the 3×4″ Tactical hook/loop Modular Badge Morale Panel Brown (Buy on Amazon).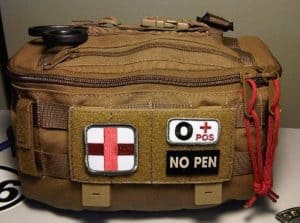 This great little device let's you attach another hook and loop (aka Velcro) patch area anywhere you've got MOLLE webbing.
Also available in black, and other colors.
And it's got a MALICE clip built in – so it'll stay secure.
And, made in the USA.
Slightly simpler is this solution: the MOLLE PANEL ACCESSORIES Del Molle Strips for Attaching Tactical ID Patches – 4-count in Black (Buy on Amazon).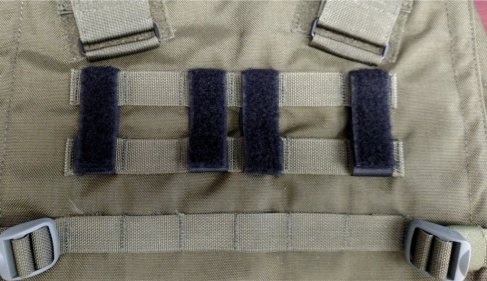 Hydration Bladders for Rucking – Drink on the Go
On any significant ruck march you are going to need to stay hydrated.
You certainly can bring a water bottle but a hydration bladder like the Source Tactical Gear 3L Widepac Low Profile Hydration Reservoir (Buy on Amazon) is going to be a better option.
Why? Because with the GR1's built-in hydration port you can drink on the go.
Don't underestimate the energy it takes to drop your pack , get a drink, and continue on. You'll be much better off with this bladder. Especially if you need to keep pace with a group.
It's also worthwhile to invest in a good bite valve, like the Source Tactical Helix High-Flow Bite Valve (Buy on Amazon).
This ensures no leaks – no wasted water, no wet clothes, but still makes it easy to drink from your hydration pack.
This works great with the Widepac hydration bladder highlighted above.
Here's another innovative hydration bladder that can help you stay cool at the same time.
The Qore Performance IcePlate (Buy on Amazon) was originally designed to help soldiers with body armor keep cool.
It's a hydration bladder that is sized to wear under a plate carrier, but can also fit in any of the GORUCK backpacks (except the Bullet).
As the name suggests you freeze the water inside the IcePlate – and then drink as it melts. This keeps you cool, and still gives you 1.5L (50 ounces) of water in a compact form factor.
Want to rig it up external to your ruck?
Use the IcePlate MOLLE Sleeve (Buy on Amazon) to make that happen.
It's sized perfect for the IcePlate and has plenty of MOLLE – and hook and loop for your patches.
But, if you don't need a hydration bladder, there are products that can help you rig up a good old fashioned water bottle on your rucksack.
The advantages of a water bottle are – you can carry it external to the main storage area of the rucksack, and there are some nice vacuum insulated designs that keep your beverage hot or cold, as you desire.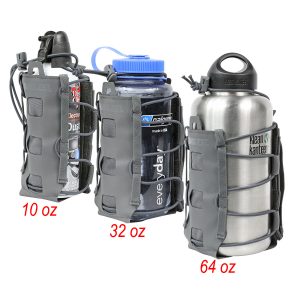 The Vanquest HYDRA Bottle Holder (Buy on Amazon) is the perfect accessory. What is it? It's a MOLLE compatible water bottle holder that can accommodate any size water bottle up to 64 ounces.
Attach this anywhere you have MOLLE, and thanks to it's tough 1000D Cordura and grippy Hypalon rubber construction it is both functional and durable.
Another great option is the H2O Carrier (Buy on Amazon) from 5.11 Tactical.
Available in black, olive drab, or "dark earth" colors.
Made from nylon, it has a high impact polymer locking clip.
It is a 7 1/2″ H x 4 1/8″ diameter.
This will attach nicely to the side MOLLE on most any GORUCK bag. Simply weave such that the H2O Carrier bottom is flush with the bottom of the backpack.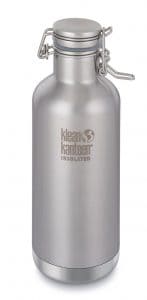 Please note that the water bottles shown are sold separately. I'd recommend a Klean Kanteen Double Wall Vacuum Insulated Stainless Steel Growler (Buy on Amazon) in the Vanquest holder. 32 ounce or 64 ounce are versatile sizes.
The Klean Kanteen is a vacuum insulated design that can keep beverages cold for 30 hours, or iced for 80 hours. And, it's made from food grade 18/8 stainless steel. And it works just as well for keeping things warm, too.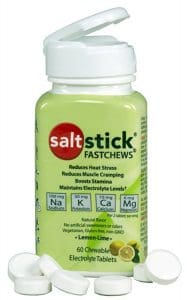 During intense physical activity, such as rucking, it's important to maintain hydration. But don't forget about electrolyte replacement as well. Electrolyte salts are used to reduce heat stress, boost stamina, reduce muscle cramping, and maintain electrolyte levels. Sports drinks are an option to replenish electrolytes and help replenish glucose as well. For a low calorie option, try these SaltStick FASTCHEWS 60-count Bottle of Chewable Electrolyte Replacement Tablets (Buy on Amazon). Each SaltStick Chewable contains: 100 mg sodium, 30 mg potassium, 10 mg calcium, and 6 mg magnesium. With two flavor choices, and sweetened with all-natural Stevia, it's recommended to take two of these every 30 minutes. Why? The ingredients are formulated in a ratio to closely resemble the electrolyte profile lost in sweat.
Dump Pouch
Dump pouches make great accessories for rucking also.
What's a dump pouch? It's an open topped pouch that you can quickly access to store all kinds of items.
The Maxpedition Mini Rollypoly Folding Dump Pouch (Buy on Amazon) is one of the best around.
It attaches to MOLLE webbing using 3″ Maxpedition TacTies, or short Malice Clips.
It rolls up when not in use for a minimum of space (hence the name "Rollypoly"), but is still sized for a 1L or 32 oz water bottle or nalgene.
These work great on the side MOLLE of a GORUCK ruck sack.
Want a bigger dump pouch?
There's also the regular size Maxpedition Rollypolly Folding Dump Pouch (Buy on Amazon).
All the great features of the Mini Rollpoly, but in a larger size.
Waterproofing

Let's talk about water proofing. GORUCK bags are water resistant. They are advertised as being "rain proof", but if you get stuck in a down pour (or repeated down pours) things may get wet.
One solution for this is a Waterproof Backpack Rain Cover (Buy on Amazon).
Available in sizes from 15L to 90L, it's lightweight and 100% waterproof.
As you can see, it fits completely over the pack tightly, thanks to elastic.
Unbreakable Boot Laces
Got MACV-1 jungle rucking boots?
They are great – but the stock laces are weak.
They might break if you tie them too tight repeatedly – and that can happen at the worst possible time.
Upgrade to Iron Laces (Buy on Amazon) and that problem goes away, forever.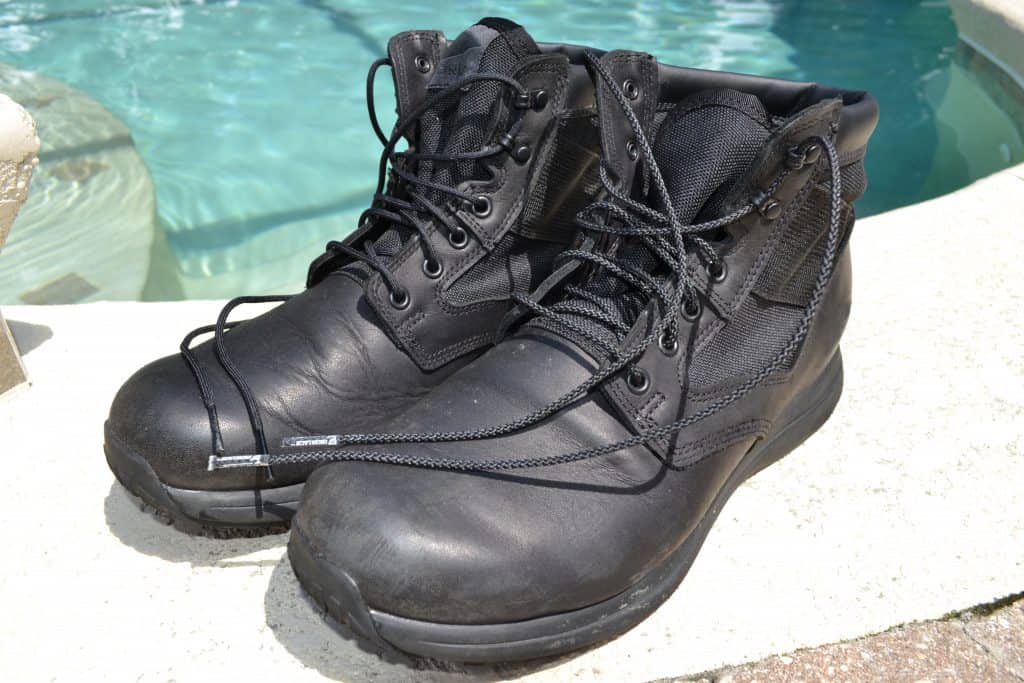 These are unbreakable, fireproof, and available in various lengths and colors.
The black 54″ option works great with my 6″ high MACV-1 Ruck Boots.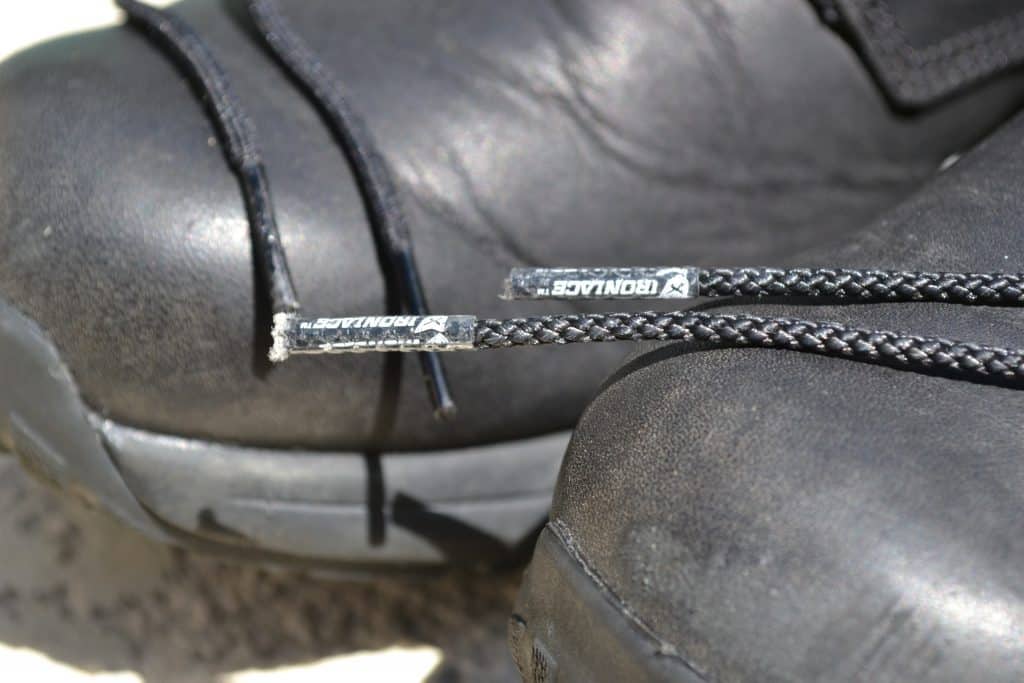 Paracord
While we're on the topic of ruck accessories we should mention that paracord is a fantastically useful item – in all sort of situations.
What is paracord?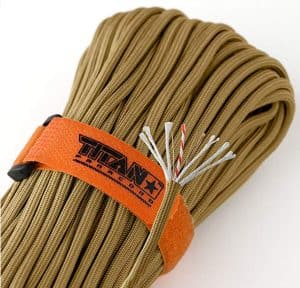 Paracord is parachute cord. It's a lightweight nylon rope originally used in the suspension lines of parachute – so it's tough. But it's also versatile. It is for many other tasks and is used as a general purpose utility cord by both the military and civilians.
Titan SurvivorCord Paracord (Buy on Amazon) is an innovative new twist on paracord.
Their exclusive patent pending design adds 3 survival strands to their trusted military 550 paracord. It's got a tensile strength of 550 lbs.
Fishing Line – Includes a single transparent, 25 lb test, high strength mono-filament fishing line.
Waxed Jute – Waterproof twisted fiber strands are designed to quickly start fires in an emergency.
Copper Wire – Our proprietary copper-alloy is multi-functional and perfect for Snares when doubled up.
And, it's available in many colors and Made in the USA.
Here's one last item that is a MUST HAVE – no matter which GORUCK ruck sack you are using.

This handy little device lets you adjust how the shoulder straps rest on your upper body – so not only can you keep the pack secure – but you can vary the load – this is great for staving off fatigque when going the distance.
In Summary
We hope we've given you some ideas on some ruck equipment options. You may also want to check out our ruck plates guide or our ruck footwear guide.
Fit At Midlife Bottom Line

Rucking is a simple exercise that doesn't require a lot of equipment.

But if you get serious about rucking, there are some great equipment options that make rucking more enjoyable.

The MOLLE attachments available for backpacks such as the GORUCK GR1 make for a highly customizable and efficient packing solutions.
Why GORUCK Products?
We're a
GORUCK
and Amazon affiliate – so if you order equipment after clicking the links in this article we receive monetary compensation.
Photo Credits
Some product photos on this page are provided by, and property of GORUCK.
Other product photos are property of the manufacturer, and provided by the manufacturer.
Tim is the founder of FitAtMidlife.com – an avid gym rat for 30+ years, he's a reviewer of many, many shoes – and founder of the Speed Bag Gathering – the world's only gathering of speed bag punching enthusiasts.  See more gym reviews at Tim's YouTube channel.