Let's talk about Ruck Plates (also called ruck weights or GORUCK weights).
What are they?
They are the specially designed weight plates for rucking.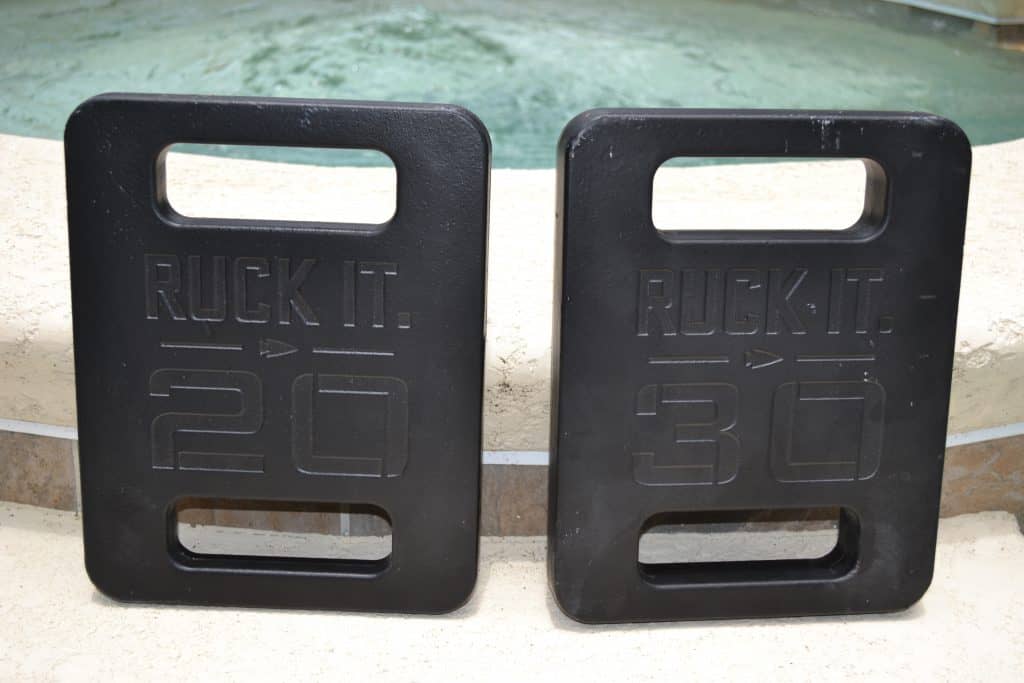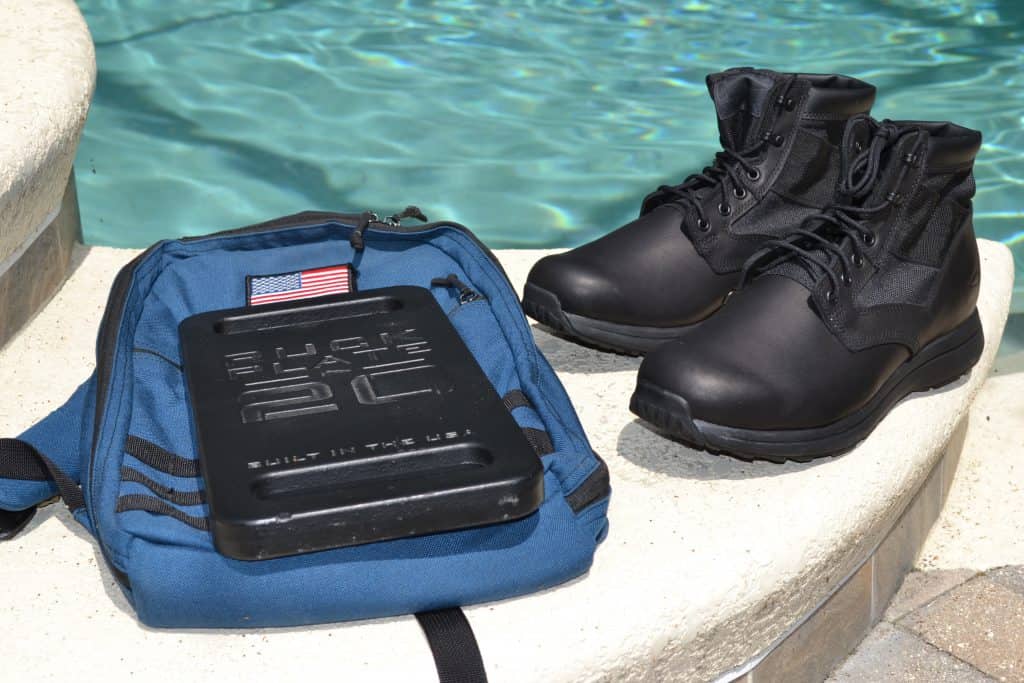 We'll highlight some great products that are both functional and helpful, but we'll also talk about some other alternatives that are versatile in their own right.
First of all, why do you even need ruck plates? Can't you just use anything that's heavy – like a dumbbell, a regular olympic plate, or a rock?
Yes, you can. But there's a lot of good reasons to have ruck plates if you are going to get serious about ruck training.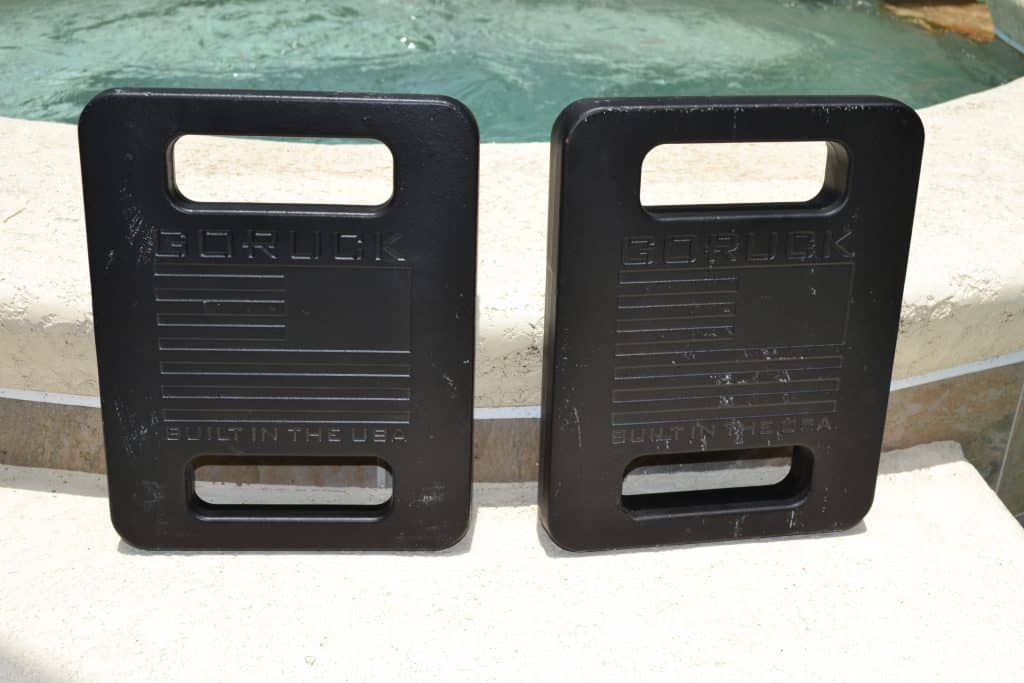 First of all – odd sized objects take up too much room. There won't be room for anything else in the pack, or the object will put other things (or your backpack) at the risk of damage. Odd sized objects can't hold a candle to the size to weight ratio of proper ruck plates.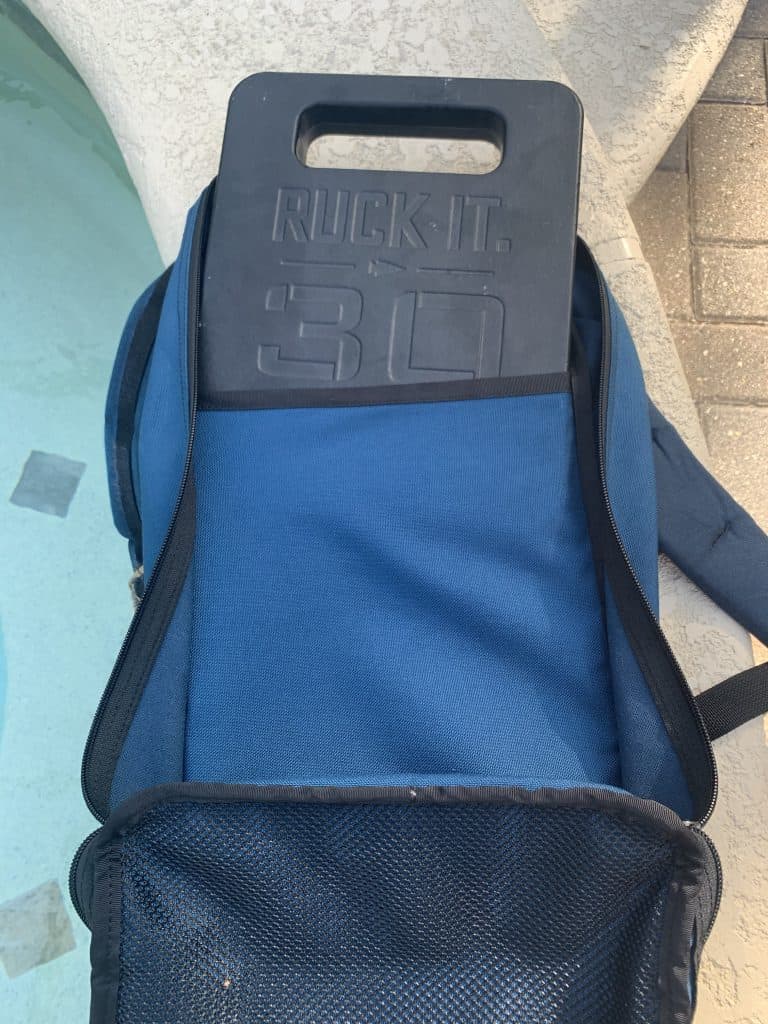 What is Rucking?
Rucking
is walking (or marching) with a loaded rucksack – military slang for a backpack. Carrying a heavy load for a long distance is a great endurance exercise – the extra weight "increases the energy cost of locomotion." But it's low impact compared to jogging and running and burns a lot more calories than walking. Secondly, it's got a deep tradition rooted in military training – so it's both effective and practical. But we also love it because it's simple, effective, and doesn't require a lot of expensive gear or training.
Secondly, odd objects can be a pain – literally. You don't want anything repeatedly jabbing you in the back (or making noise) on a 10 mile ruck. And forget about carrying things other than in your ruck. Your grip will tire out long before your legs do if you attempt to carry these objects. So, ruck plates in the appropriate shape are easy on the body, stable, and a minimum source of noise.
Further to that point, for effective rucking the weight has to be high on your back – this produces the most useful training stress to build a strong upper body. We don't want the weight low around the lower back, or anywhere else. You'll have a challenging time getting odd shaped objects in the right position for the optimal training effect (it also helps to have a good, purpose designed rucking backpack.)
Another benefit of ruck plates vs odd objects – ruck plates keep the weight close to your body. A weight carried farther from your body is more torque (it's simply physics – think of a lever arm). Odd objects for weight might be significantly further from your body – which means more work for you. Ruck plates let you "make weight" for the ruck march – but with less fatigue.
Rucking has a lot of acronyms and terms – AAR, HTL, GRC, GR1, and more. If you want to decipher these check out our
Rucking dictionary
.
So, ruck plates make rucking more efficient. And if it's not going to be efficient why waste the time?
And lastly, the best progression in fitness is always made through gradual, slow increments. Ruck plates give you easy to control increments – so you can make measurable progress. And, consider this. If you need a 20 lb weight for a GORUCK Light you are going to be hard pressed to find a single barbell plate in that size.You are going to end up with a 22 pound (10 kg) or 25 pound plate. That extra 5 pounds is going to add up over the miles…
And further, neither of those fit well in most backpacks.
Ruck plates solve all those problems. And they are versatile too. They've normally got hand grips – so you can use them as a sort of weighted fitness implement even outside the confines of your rucksack.
And they are not that expensive, really. Compare them to the price you'd pay for a high-quality kettlebell.
So, now that your convinced about the benefits of using ruck plates, let's look at some options.
How much weight should I ruck with? For beginners, you don't want to ruck with more than 10% of your bodyweight. As you progress, you can load up more weight. A 20 lb ruck plate would be good for the average sized adult, you can always move up to a 30 lb plate later. As you can see, the biggest ruck plate is 45 lbs – that's probably the most you should ruck with as an advanced trainee.
GORUCK Ruck Plates
There used to be two different form factors for ruck plates – standard and expert.
But, GORUCK now only sells one style of ruck plate – it's the one formerly known as the "Expert" plate.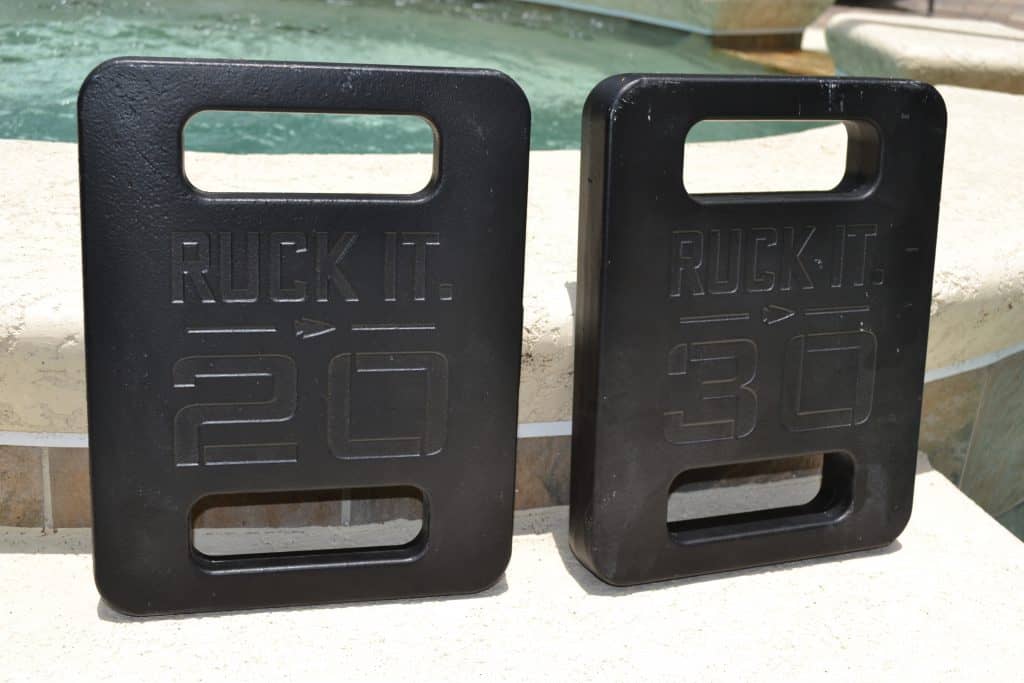 Why did they get rid of the old "standard" plate? We don't know for sure, but these plates are more compact and a little more convenient – so it's OK by us.
(They are thicker though – because the most popular sizes are the 20lb and 30lb option).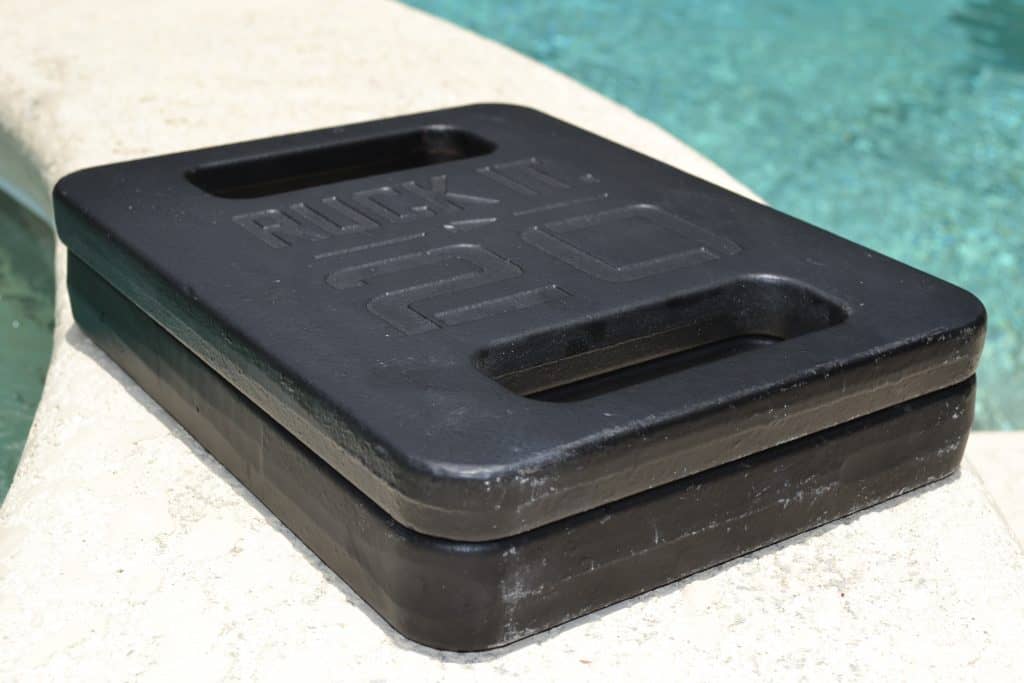 The weight increments currently available are:
Originally available only in black, you can now get red or blue colors as well.
GORUCK 30 lb Ruck Plate vs 30 lb Ruck Plate
Here's a visual comparison.
That's a 20lb Ruck Plate on the left, and an 30 lb plate on the right.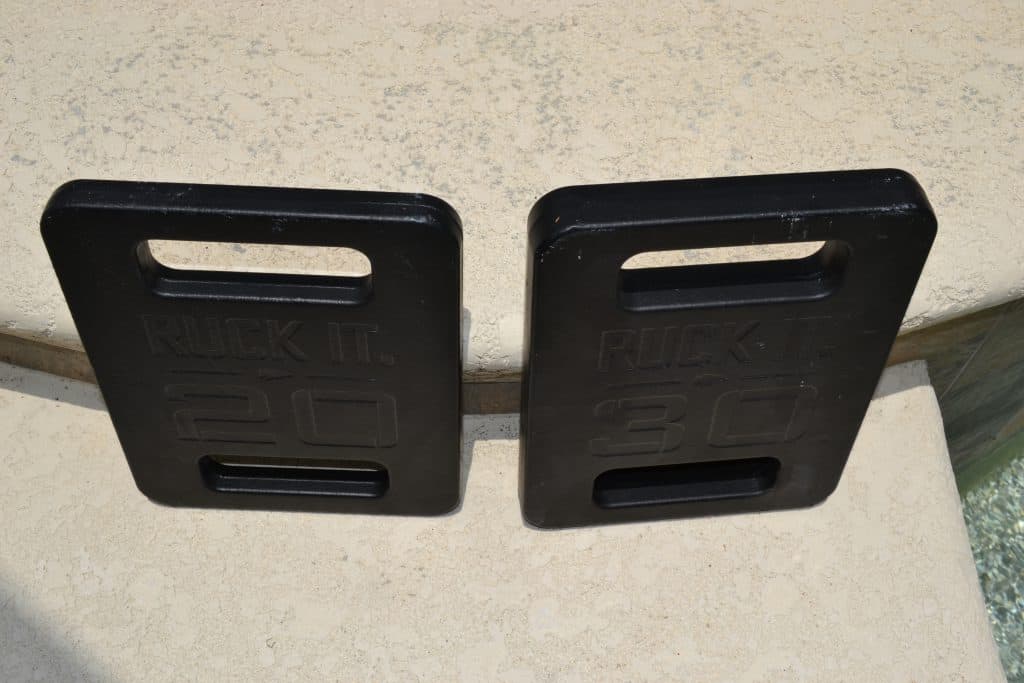 You can see they are the same height and width.
You can see there is much more difference in width in the 30 lb ruck plate size.
Some other key points: Made in America, and built with tight tolerances for quality.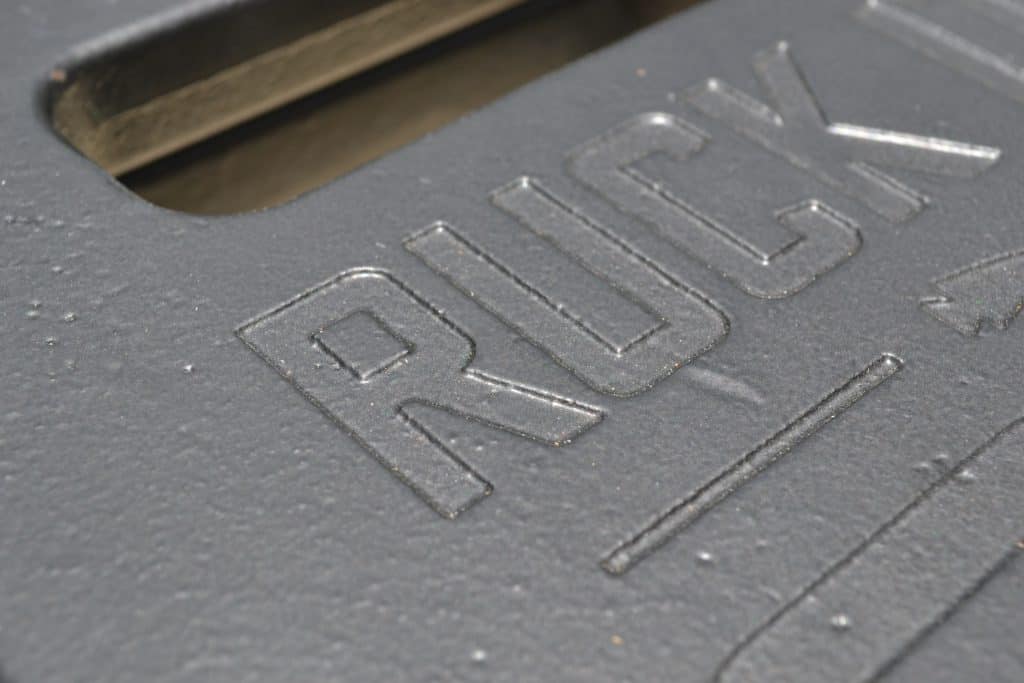 What are they made out of? Ductile iron with a powder coated matte black ( and rust resistant) finish. They are ergonomic, with rounded edges and handle openings. The wide "grab and go" handles mean you can use them to get in a workout with your ruck if needed, as well.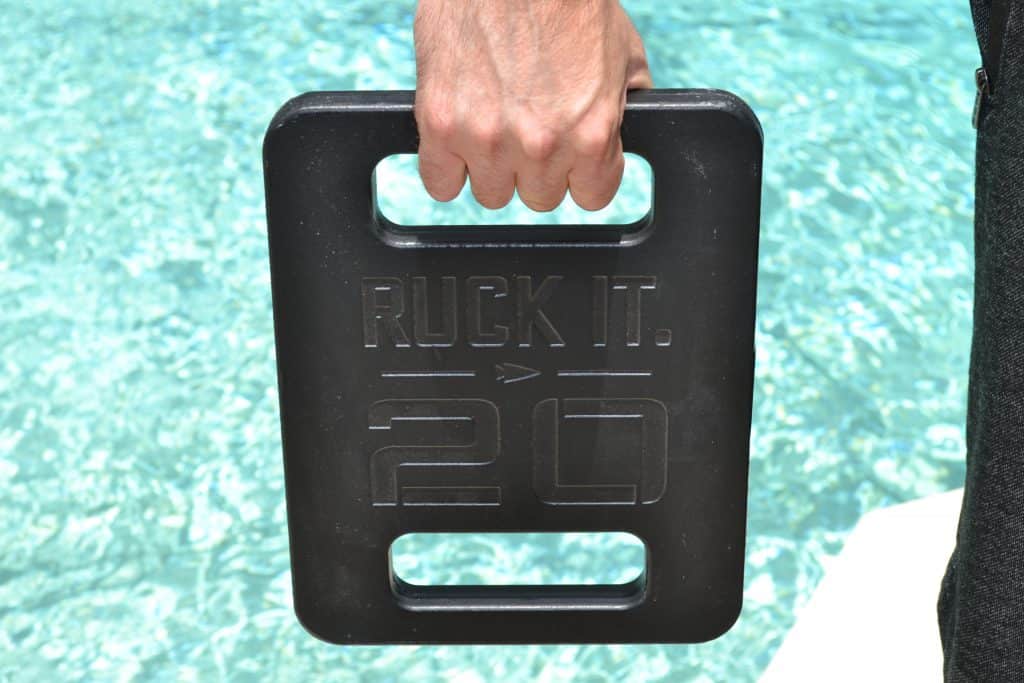 Should you use two 10s to make a 20? Not if you don't have to. It's better to keep it to a single plate at a time – that's less noise and more stability in your ruck.
Want the whole set of plates? GORUCK occasionally offers a ruck plate bundle – but it's not currently an offering on the website.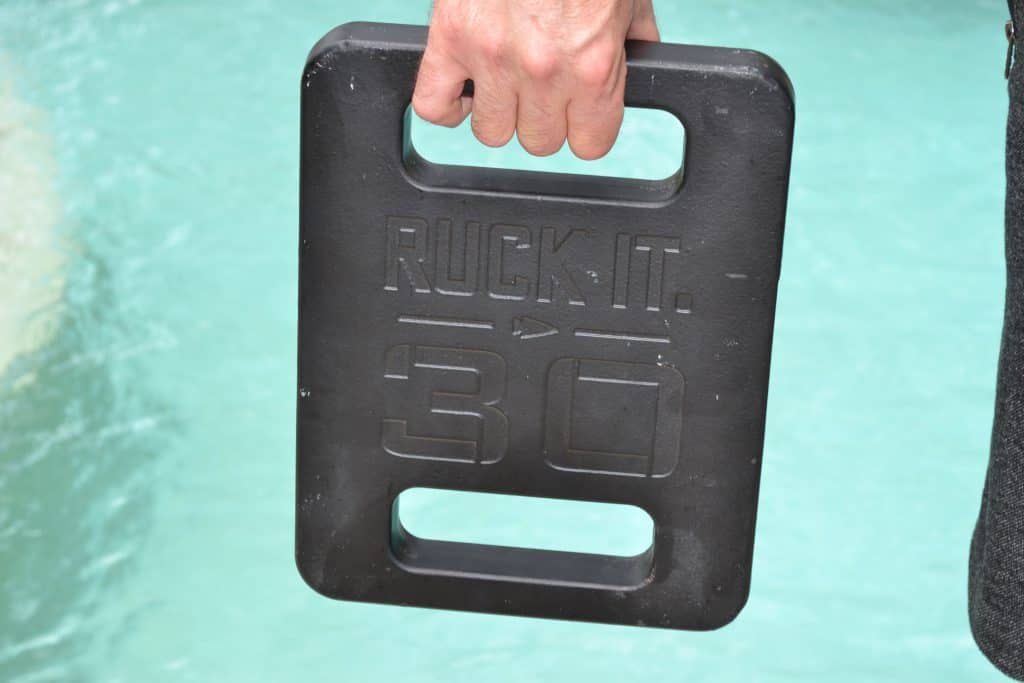 Do Ruck Plates Have To Be Checked for Air Travel? The TSA doesn't have a specific rule about ruck plates, but : "Sports equipment that can be used as a bludgeon (such as bats and clubs) is prohibited in the cabin of the plane and must be transported in your checked baggage." Therefore, we recommend that ruck plates be in checked baggage for air travel. They should not be transported in your carry-on luggage.
How To Secure Your Ruck Plate – Ruck Plate Accessories
Here's some accessories you can use with your ruck plates.
The GORUCK Ruck Plate Cradle is meant to be used with the ruck plates plates – 20lb or 30lb.
It's main purpose is to help stop the plates from shifting too much in the GR1 rucksack laptop compartment.
As an additional benefit, the high density foam add-on helps protect your neck during bear crawls and your lower back while upright rucking.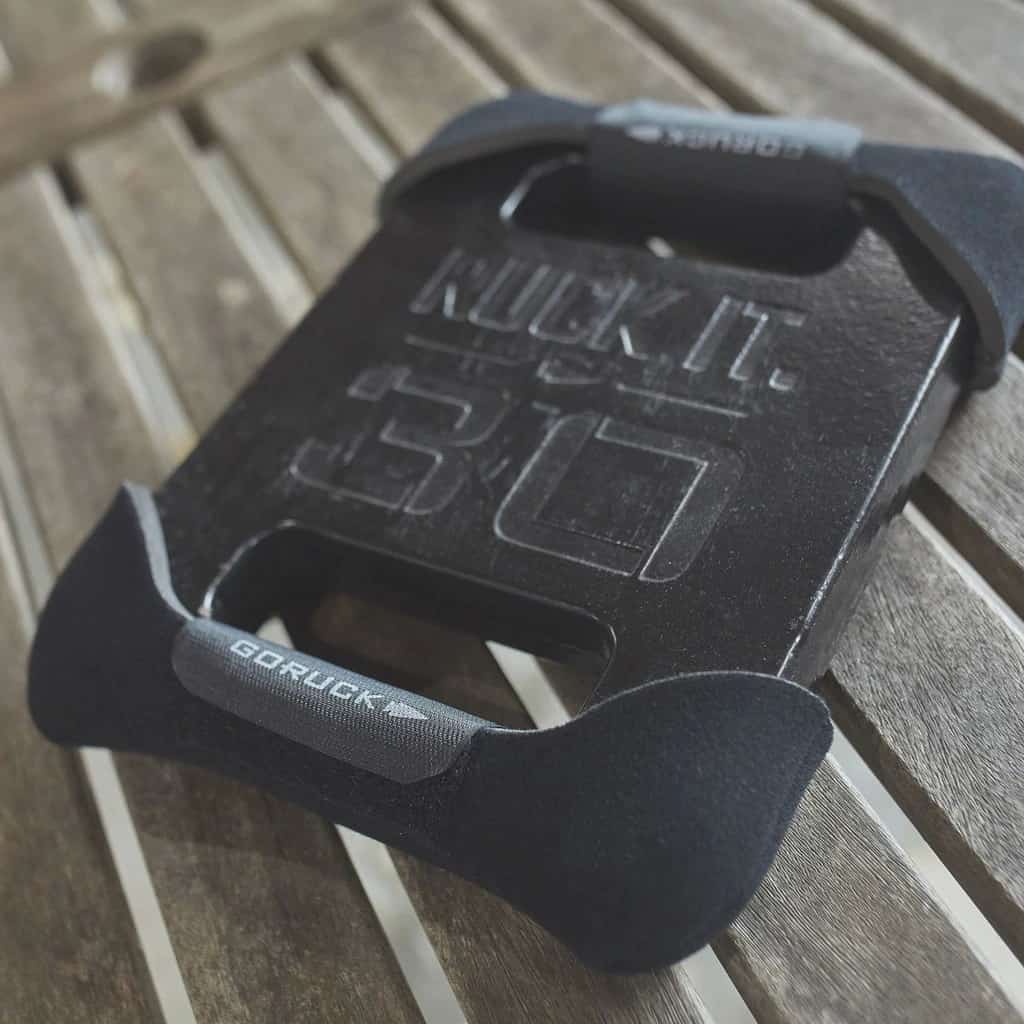 In a similar fashion, the Shaddox Tactical Padded Plate Pocket can help keep your ruck plate secure.
Here's a Padded Plate Pocket in Ranger Green with a 20lb plate inside, and a Padded Plate Pocket in Coyote with a 30lb plate inside.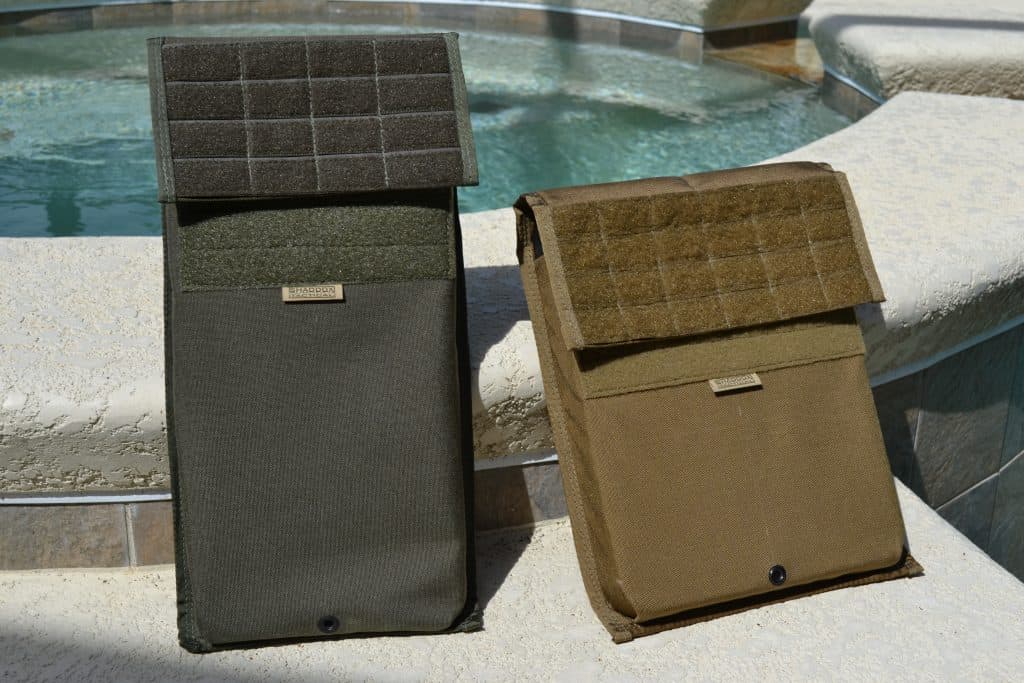 What is this? It's a double layer plate pocket made from 1000D Cordura. There is closed foam cell on the back and in the flap to help keep things padded.
But the real benefit here is the MOLLE webbing – you can use this to further secure the plate pocket and to keep the plate up nice and high for rucks that have internal MOLLE.
Here's the MOLLE webbing on the back.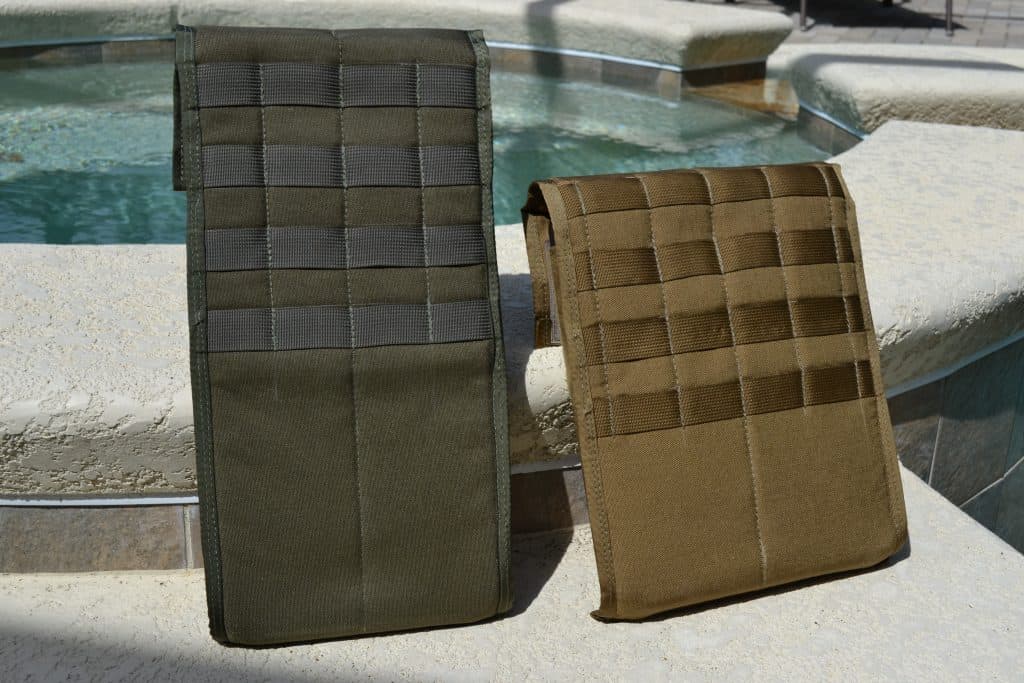 The Velcro flap ensures that the plate remains in the pocket.
Here's a view with the velcro flaps open. You can see it's a snug fit for the plates – because this pocket is purpose designed to keep the plates stable and secure.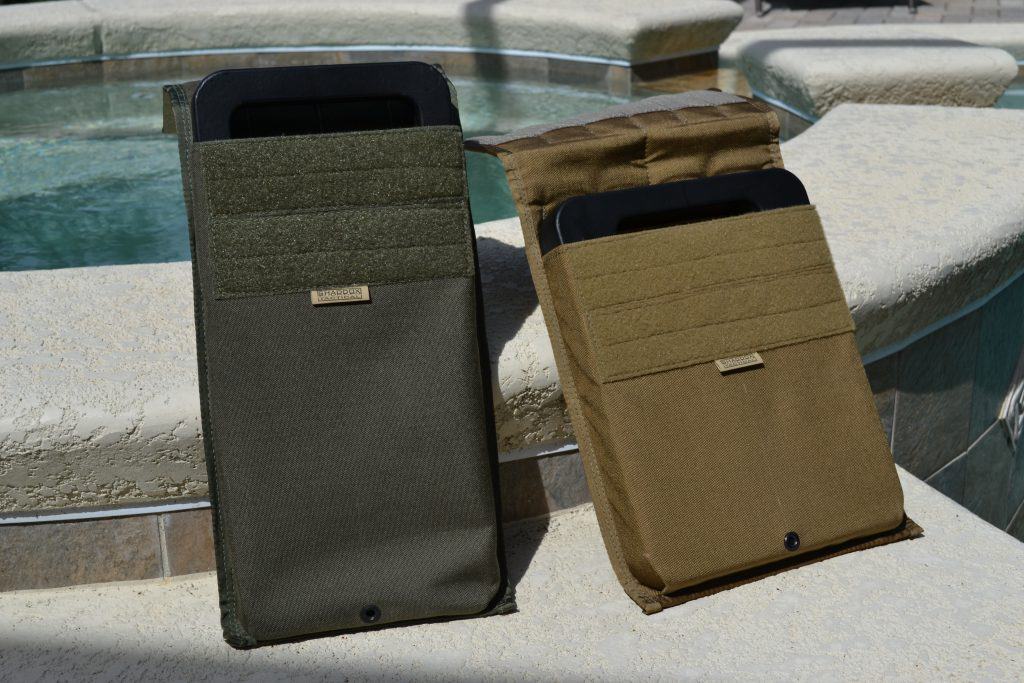 This is a great idea to keep the plate from moving around during bear crawls and other dynamic PT.
Some other features that are nice – there is a drainage grommet – to ensure debris doesn't find a permanent home inside, and the velcro patch area.
There's also a padded plate pocket specifically for the 20lb standard ruck plates and even the monster sized 45 lb plate.
This helps secure the 20lb plates in the GR1 and GR2 backpack and ensure the plate stays upright.
The Shaddox Tactical Padded Plate Pockets are made in the USA.
How do you attach the Shaddox Tactical Plate Pocket to your ruck's MOLLE webbing?
Tough MOLLE clips like the Fight Light Malice (Long) clip (Buy on Amazon) are your best bet.
These MOLLE clips are easy to weave through the MOLLE webbing, and once connected they won't come undone with out a screwdriver, knife point, or key.
Use four of the Long clips to attach the Shaddox Tactical Plate Pocket.
The Fight Light MALICE clip is our recommended MOLLE clip when you don't want the connection to fail.
Travel Friendly Ruck Weight that use Water
Traveling for business or pleasure?
It's tough to take ruck plates on a flight.
They are heavy, and they take up some room.
And is TSA going to make you check it or are you going to have to forfeit your ruck plate at the metal detector?
Some people recommend using a sand bag filled with sand or gravel when traveling.
But that is super inconvenient for most people – especially if you are on a business trip – where are you going to get sand from?
The Water Weight from ModGear (Buy on Amazon) can hold up to 20 lbs of water – and will still fit in a GORUCK GR1 or Rucker – 21L or 24L.
This is different from a hydration bladder because it holds a LOT of water.
It is made from strong, flexible PVC.
When empty it packs flat. When you arrive – simply fill it up from the sink, and empty it back out when done.
This is the best travel friendly ruck weight option, in my opinion – because everywhere has water.
Travel Ruck Weights that use Sand or Gravel
If you are interested in the sand or gravel option – how about these?
The Rogue Brick Bag is a miniature loadable sandbag.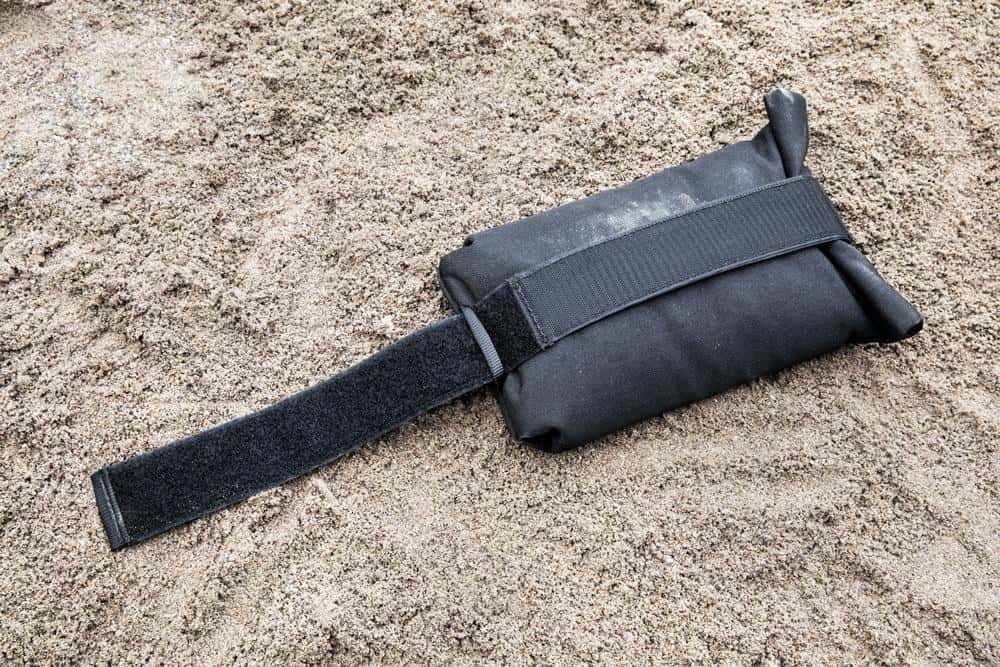 Made in the USA from 1000D Cordura and includes a nylon web hand strap.
Load these up with sand or gravel or other material.
Each will be about 10 lbs when fully loaded (depending on material).
This would also be a great way to incrementally load just a little more weight into your rucksack.
They'd work great with any of the GORUCK bags – or any other backpack too.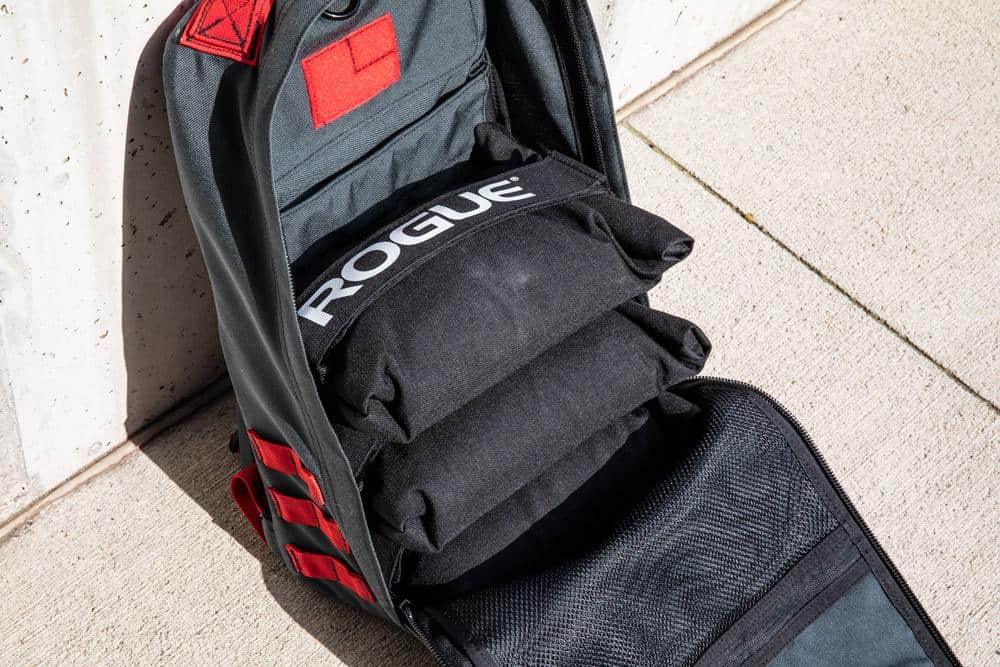 And with that integrated hand strap you can use these hand held too.
GORUCK Ruck Plates – In Summary
In summary, at first ruck plates seem overly specialized – but if you are serious about the most efficient ruck training, they make a ton of sense.
Fit At Midlife Bottom Line:

Ruck Plates make ruck training more efficient and effective.

Compared to other specialty fitness resistance gear they are reasonably priced.

The innovator in this field is GORUCK, and their ruck plates work in conjunction with their rugged rucksacks.
Now that you've decided on ruck weights – be sure to check out our guide to rucking backpacks as well. The GORUCK weight plates work best with a GORUCK backpack – which is also designed to get that load high on your back. You may also want to check out our ruck footwear guide.
A plate carrier or weight vest is another way to add weight to your workout.
Ruck plates not enough weight for you? Check out our review of the 60lb GORUCK sandbag.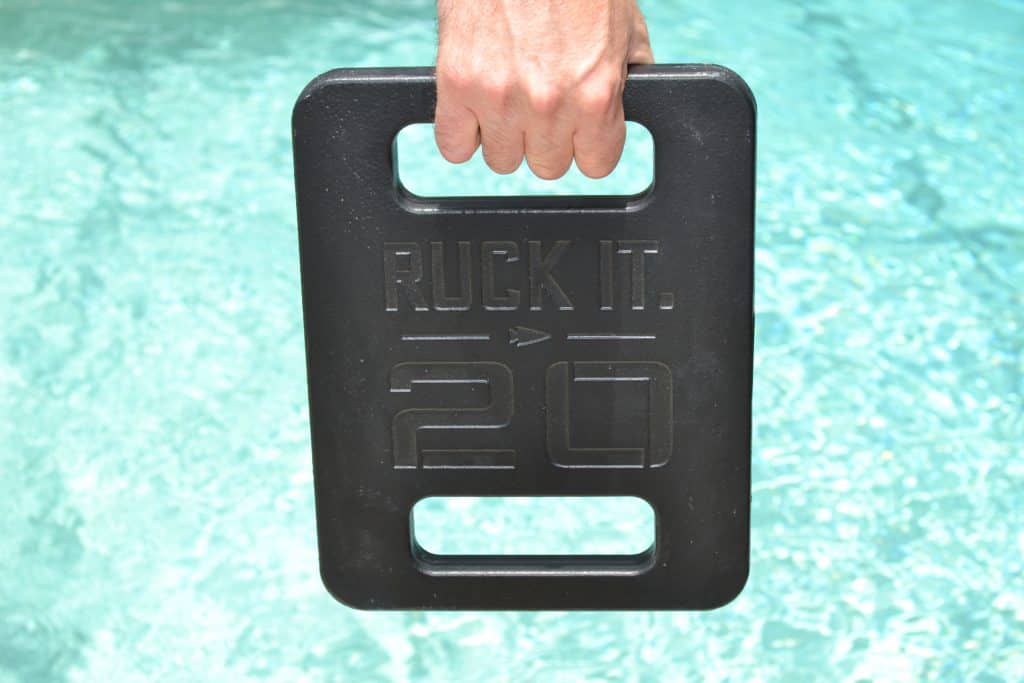 Why GORUCK Products?
We're a
GORUCK
affiliate – so if you order equipment after clicking the links in this article we receive monetary compensation. But that's not why we recommend GORUCK. It's because their equipment is innovative, built to last, and made in America. They are the driving force behind rucking not just as exercise, but as a way to make people better. And that's why we love them.
Photo Credits
Some product photos are provided by the manufacturer, and are property of the manufacturer.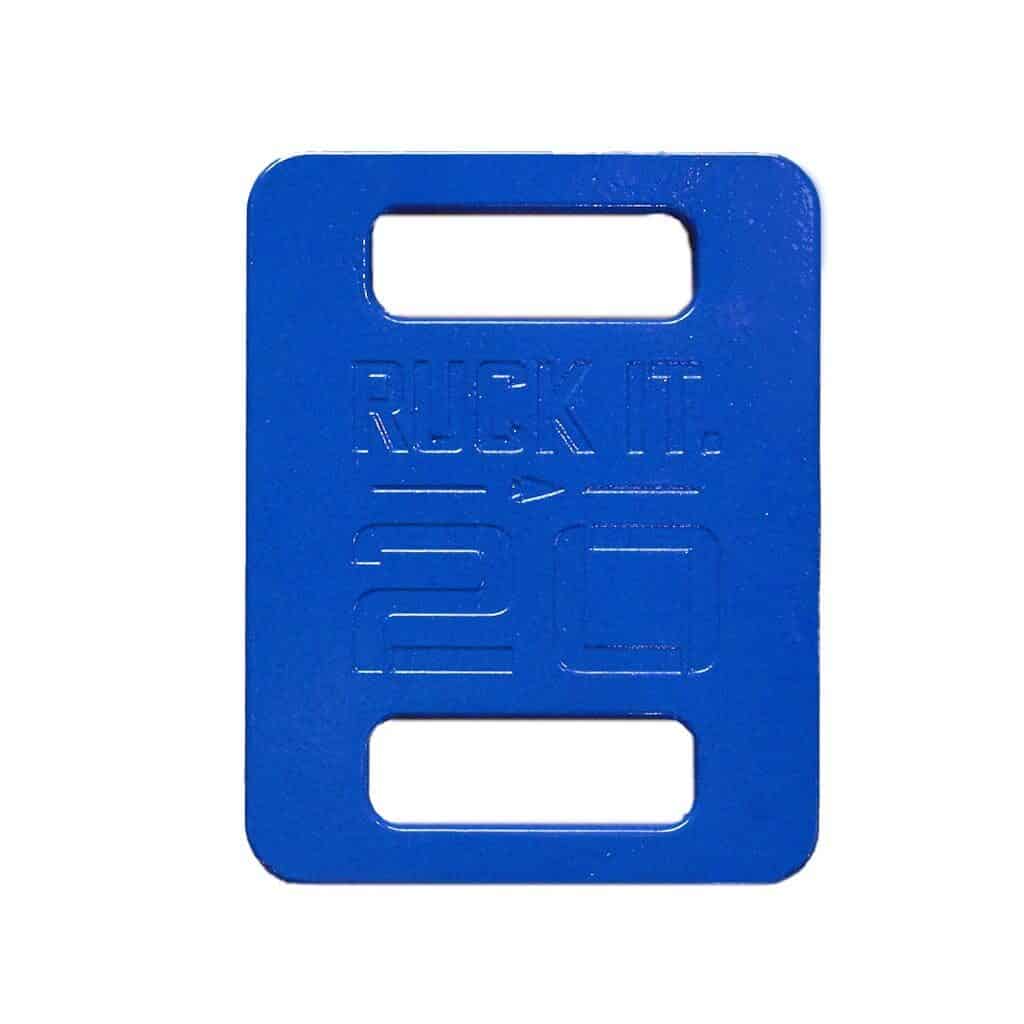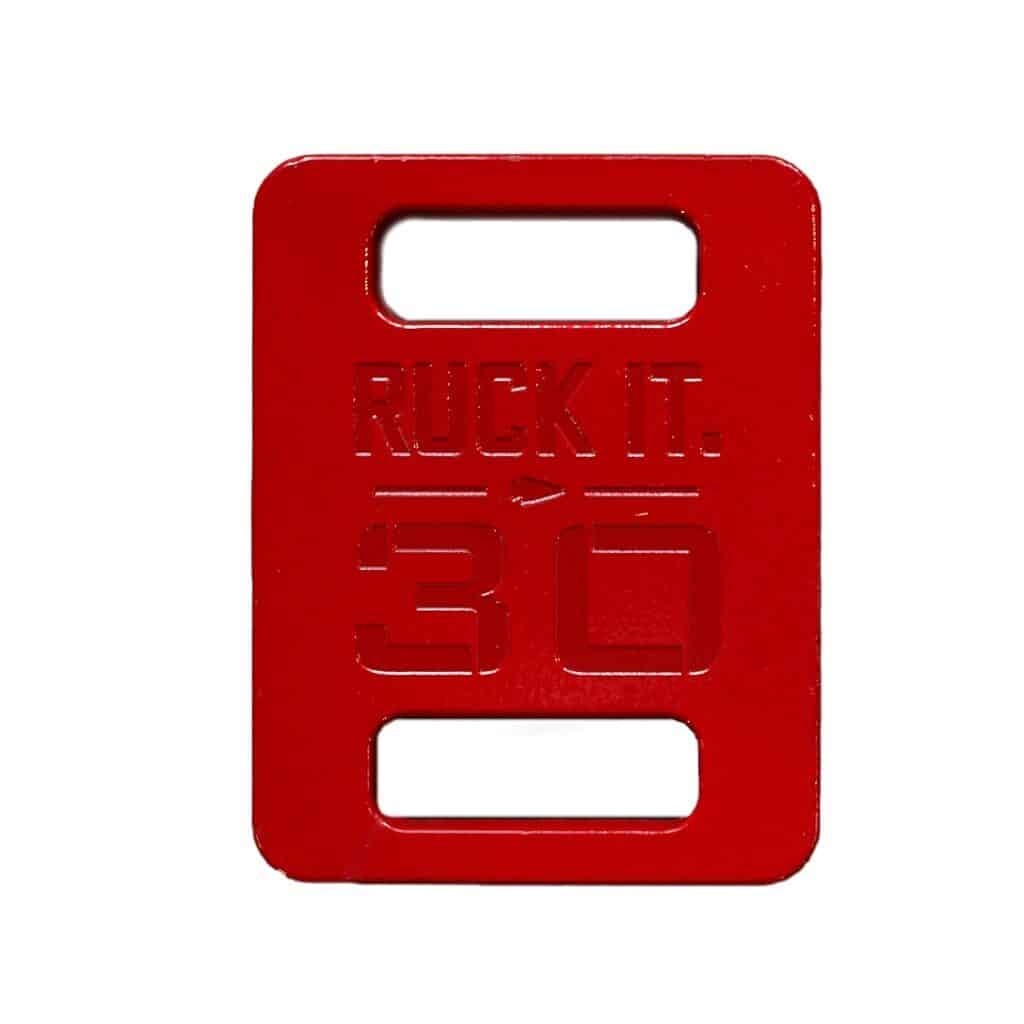 Tim is the founder of FitAtMidlife.com – an avid gym rat for 30+ years, he's a reviewer of many, many shoes – and founder of the Speed Bag Gathering – the world's only gathering of speed bag punching enthusiasts.  See more gym reviews at Tim's YouTube channel.