GORUCK's
Black Friday sale
is live! Check out their deals on rucksacks, apparel, boots, and more!
GORUCK, the rucking company, recently entered the cross training shoe game.
And their MACV-1 rucking boot blazed a trail of innovation – they created a light-weight but tough boot that has minimal break-in time.
But now they've released a cross training shoe – the GORUCK I/O Cross Trainer.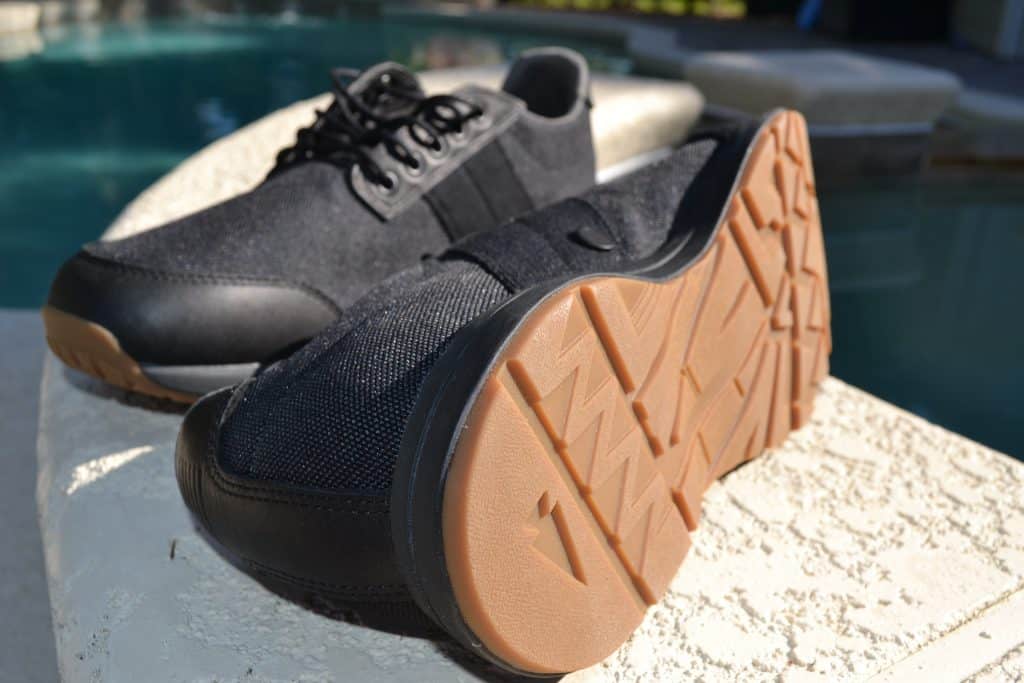 Our review pair is on order, and we'll have our first thoughts soon.
But, in the meantime, we'd like to tell you all about this super versatile shoe.
Here's what we'll be looking at in this review: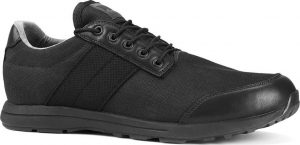 I/O Cross Trainers from GORUCK (Black)
I/O stands for Indoor/Outdoor - and of course you can use these shoes for rucking, but they are also versatile training shoes for the gym. Shown here in Black.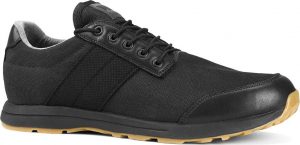 Let's take a close look at the I/O Cross Trainers from GORUCK.
Hands On First Look
Don't like to read? Watch our hands on first look video from YouTube instead:
GORUCK I/O Cross Trainers – Sizing
WARNING: These shoes run BIG, real BIG.
I ordered my normal size (11) and they are simply far too long, and wide.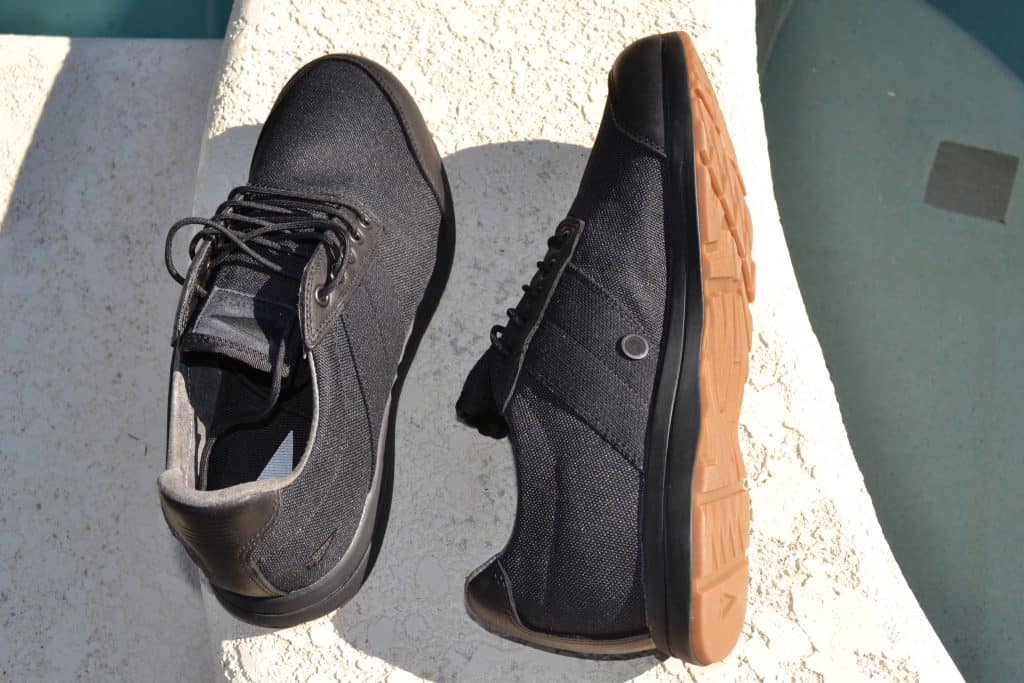 I've returned them, and requested size 10s instead (based on how huge the 11s were.)
To be fair, GORUCK says the shoes run large right on their web page about the shoe – but I failed to notice that before I ordered.
I highly recommend you follow their sizing advice. DO NOT order your normal shoe size…
With that out of the way, let's focus on these cross trainers and what makes them special.
Are these Rucking Shoes or Cross Trainers?
Let's get this out of the way first – are these rucking shoes or cross trainers?
The answer is YES.
They are both.
They have features to ensure versatility – but unlike your average cross trainers these should be more than capable of racking up the miles on a ruck march (in relative comfort).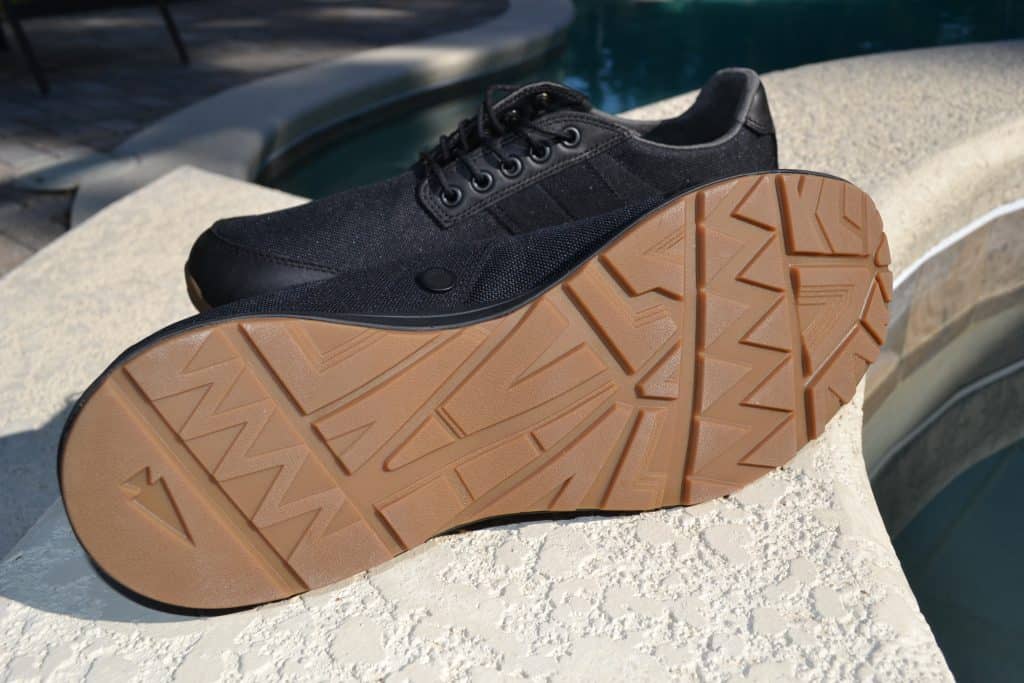 Most cross training shoes on the market have minimal cushion – and aren't good for a 10 mile ruck march with a 30 lb ruck plate, for example.
With that out of the way, let's look at the features.
I/O Cross Trainers – Fit & Feel
Sizing snafu aside, these are shaping up to be very comfortable shoes.
These cross trainers have a few unusual (in a good way) features.
For one, the heel counter is wrapped in premium suede.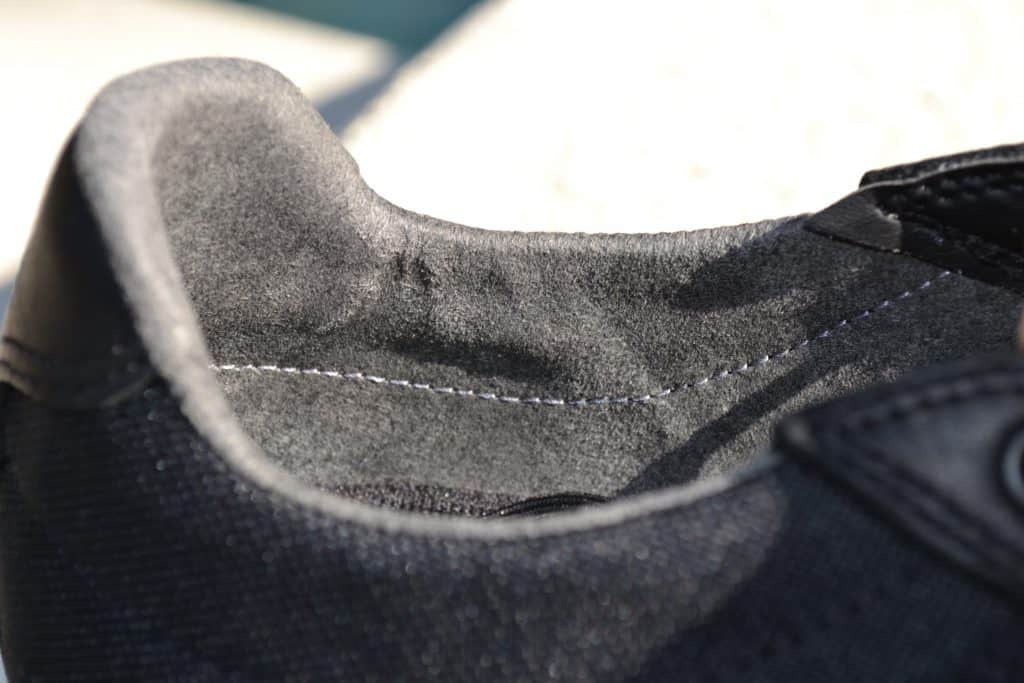 This results in outstanding comfort – and little to no break-in time.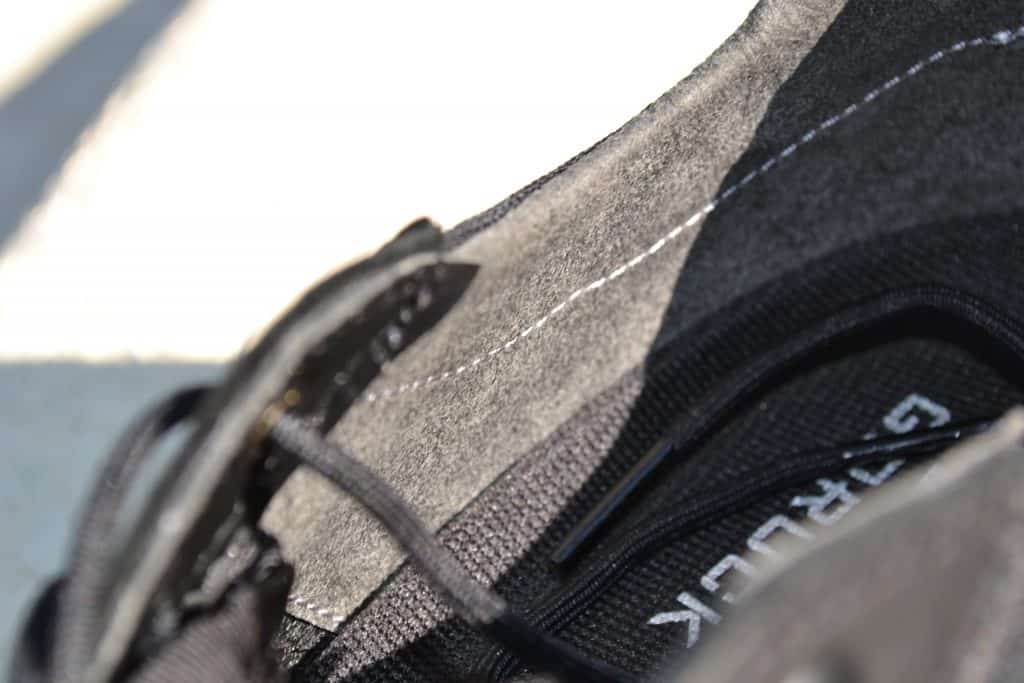 This is a trick that GORUCK carried over from their also excellent MACV-1 lightweight rucking boot.
You have to feel it to believe it, but trust me, it works.
Secondly, GORUCK has opted to use a very wide toe box on these shoes.
That's good because many cross trainers are simply too narrow for the average foot (Nike – we're looking in your direction…)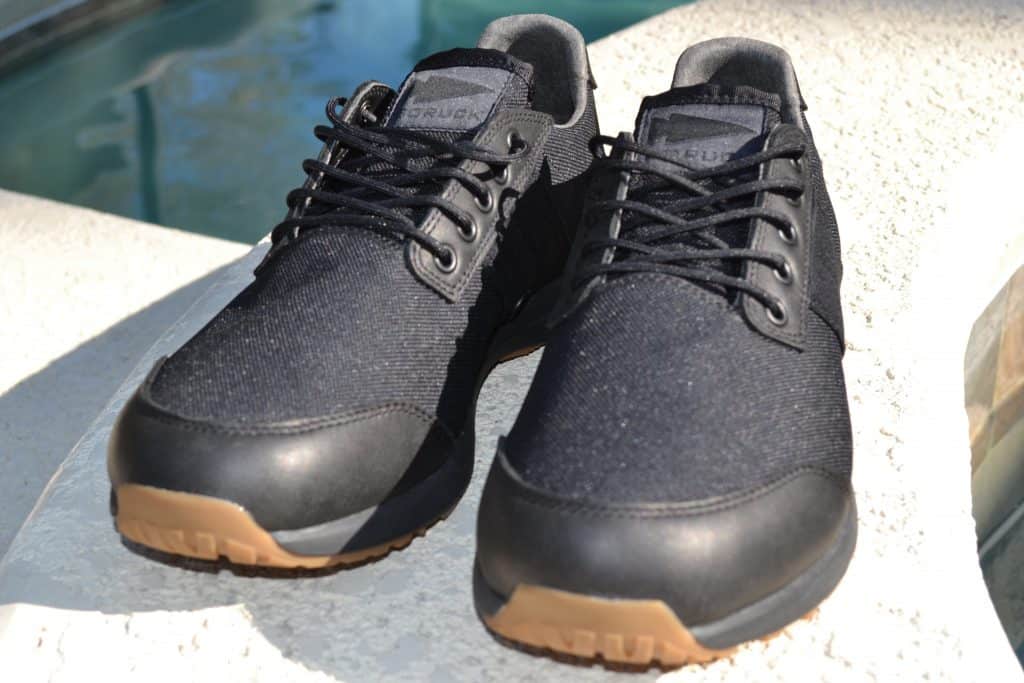 This won't be a problem in the I/O trainers. Take a look at your feet. They are widest in the toe area, are they not?
And being able to splay your toes out in that generous toe box gives you better stability – and this is much better for a high mileage shoe.
Remember, GORUCK is the rucking company – and that means miles and miles on the road, trail, or elsewhere.
For additional stability, the I/O Trainer has midfoot webbing.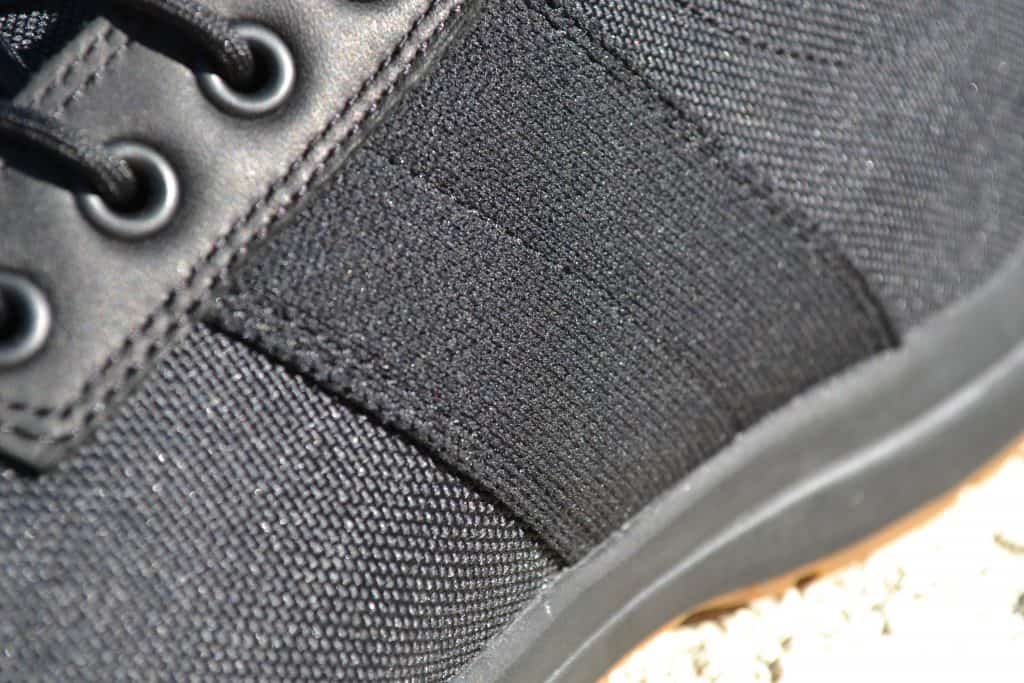 Let's take a look at the laces.
The I/O Cross Trainers use 3 mm diameter speed laces.
These are much smaller than normal boot laces (which are 5mm – or nearly twice as big) and we like these smaller laces much better.
For one, it's less bulk slopping around.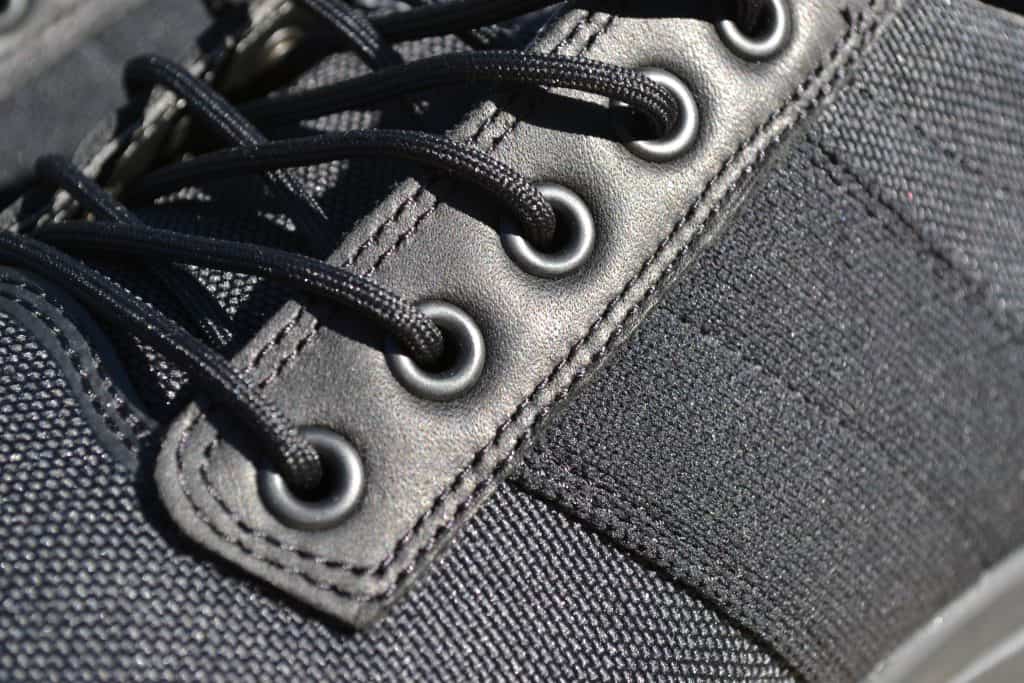 But GORUCK also says that 3mm speed laces are quicker to tie, and won't attract as much debris and mud.
They will rinse off and dry faster too – there's simply so much less material to absorb water.
Are these smaller diameter laces tough enough? On the MACV-1 boots, this seems to be the weak point – the laces can be prone to breaking.
We don't know for sure yet, but we expect the laces on this shoe will experience the same.
Here's another important stat on these shoes – the so-called "heel to toe drop".
The GORUCK I/O Cross Trainers have a 10mm heel-to-toe-drop (also sometimes called the "offset" or just plain "drop".)
This means your heels are 10mm higher than your toes.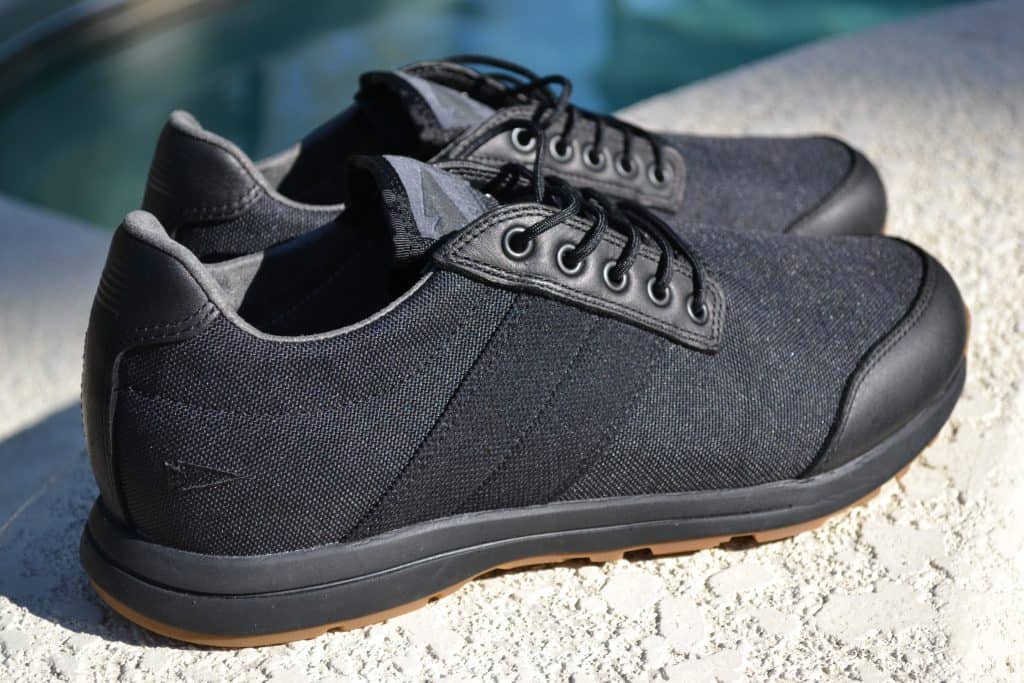 Having this slight heel raise means less stress on your Achilles – which means better endurance for distance.
At the same time, it's not a ridiculous amount of heel raise like you might find on a weightlifting shoe.
Inside the shoe there is a compression molded EVA midsole.
The midsole is the cushioning part of the shoe between the outsole (the part that touches the ground) and the insole.
So you can't really see it, but trust us – it's there and doing it's job.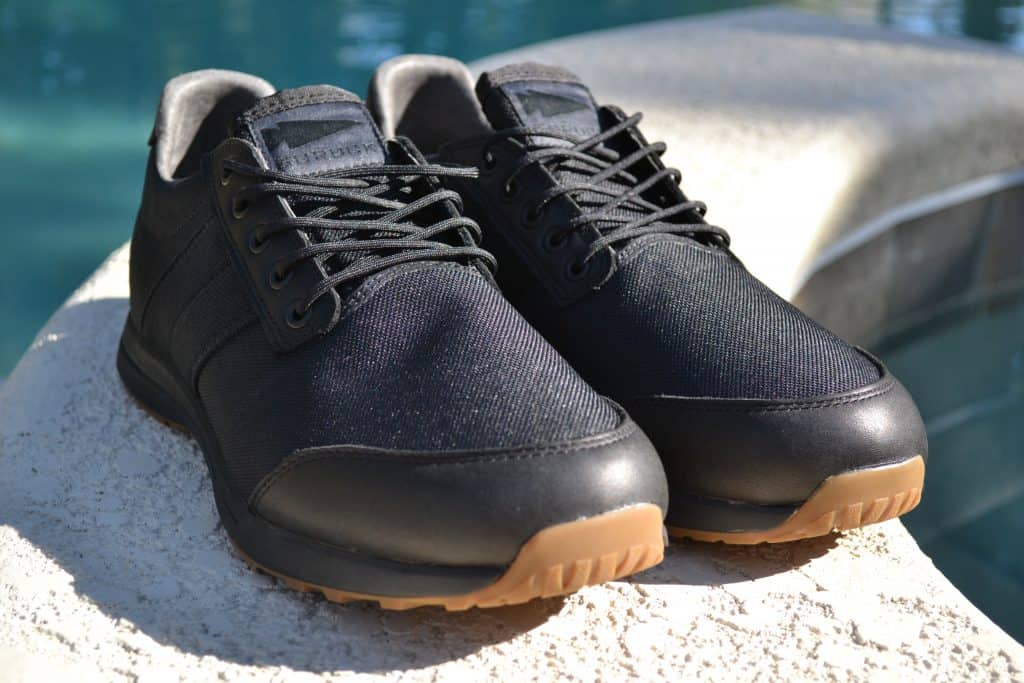 What you an see is the custom compression insert that GORUCK also provides.
This insert uses a dense foam compression system to support your entire foot – from the heel to the toe.
It's also got excellent arch support.
How's the cushion in these? It's definitely not over-cushioned – and that's a good thing.
I've put some time in on the ruck march with highly cushioned trail running shoes (like the Pegasus Trail 2 – which uses a lot of Nike's React foam).
Shoes with that amount of cushioning are not good for rucking with weight – it's simply too squishy and not stable enough in the heel.
Let's look at the outsole – or more simply the sole.
This is where the "rubber meets the road" – literally.
GORUCK learned from their first foray into an all-terrain shoe (the MACV-1 boot) and made an updated, aggressive outsole for this shoe.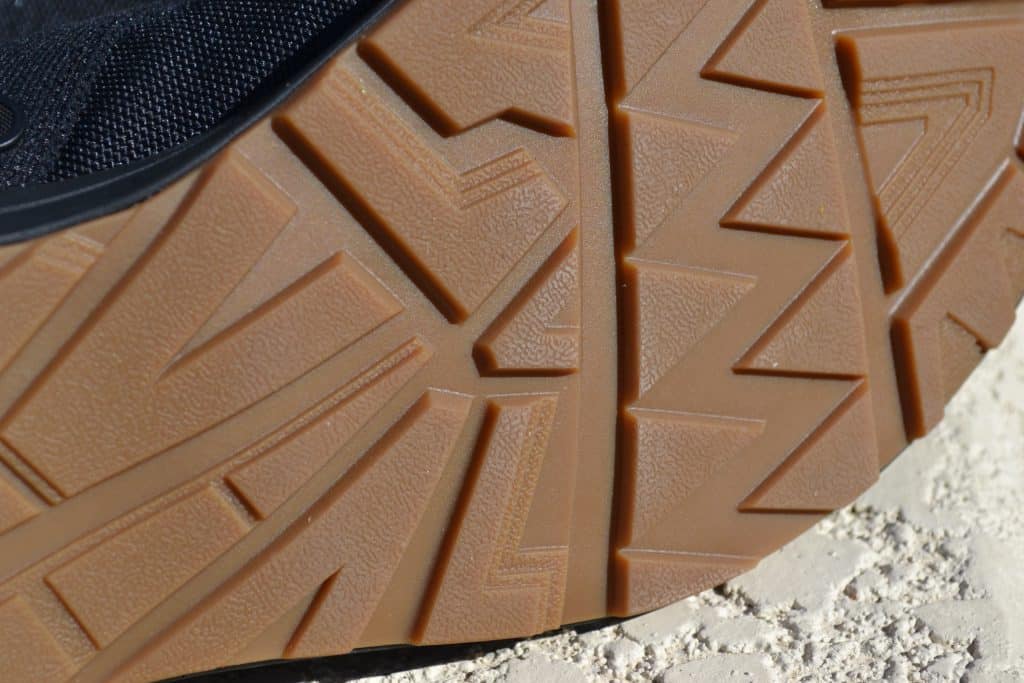 Check out the lugs on that tread.
It's made from a dual compound rubber – it's sticky and grippy up front for traction, and firmer and more supportive in the heel for stability.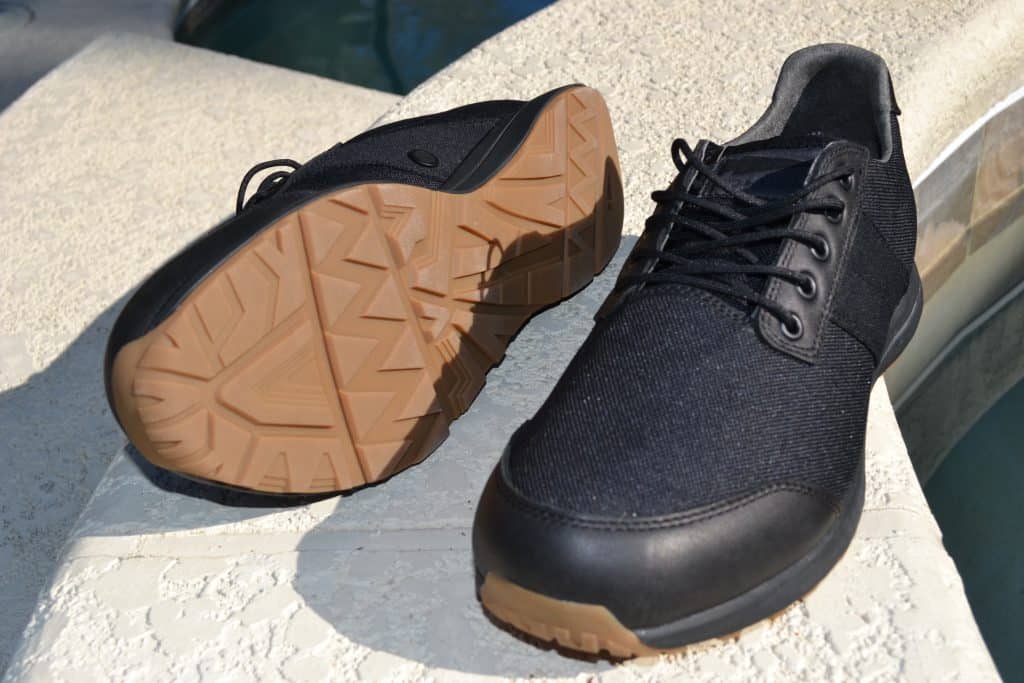 That's just what you need in a cross training shoe.
There's one more special trick that the I/O trainer has up it's sleeve.
I/O Cross Trainers – Water Draining Ports
This is a rucking shoe. And it's meant for heavy duty use, like at a GORUCK Challenge event.
And that means water immersion.
Not a light dewy mist of water – but rather fall on water immersion.
And therefore this shoe isn't waterproof – in fact it is the opposite – it's made to drain water as quickly as possible.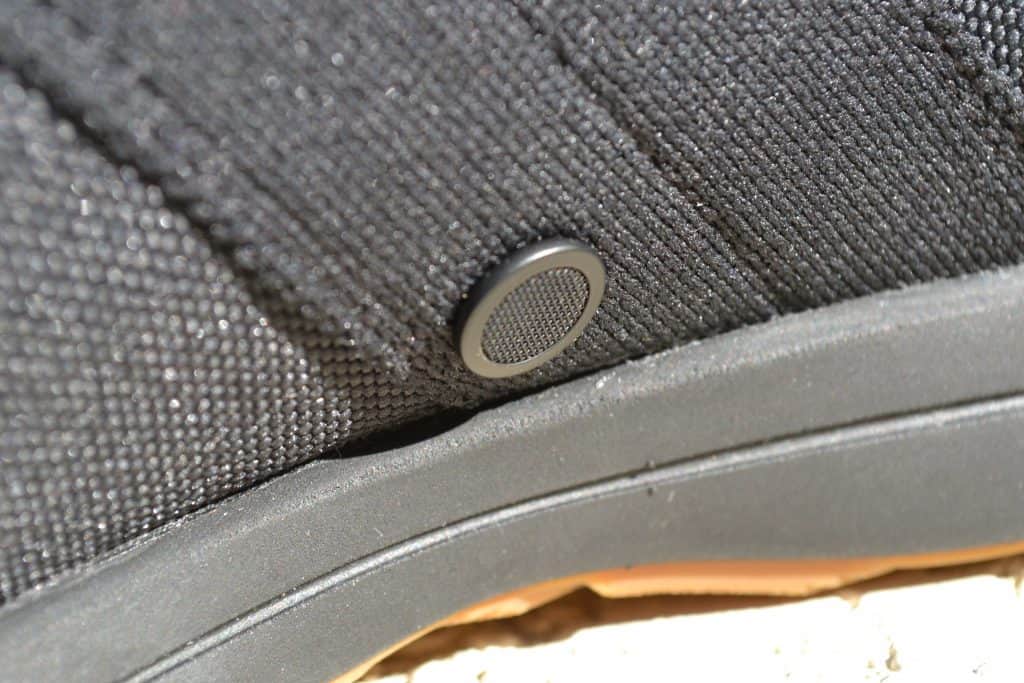 There is one mesh covered drain hole on each shoe.
The mesh keeps sand and debris out – but let's water flow freely with every step you take.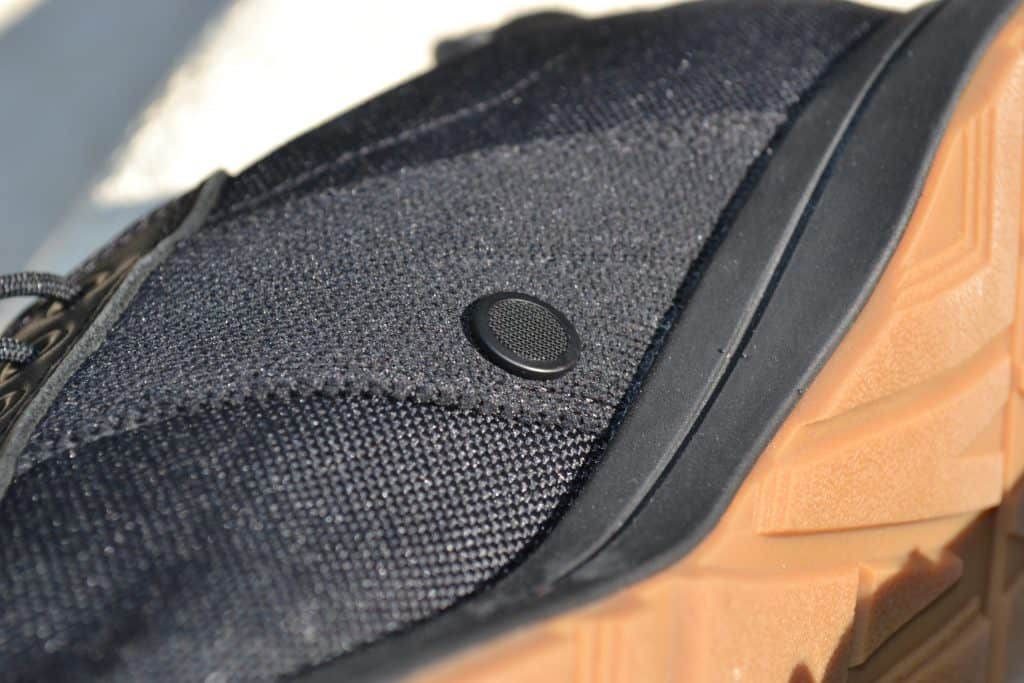 I/O Cross Trainers – Materials
What are these shoes made of?
GORUCK's favorite materials – 1000D Cordura (which is what they make their super-tough backpacks from) and their new innovation: Challenge Leather.
1000D Cordura is not historically known to be a breathable material – nor is it very flexible.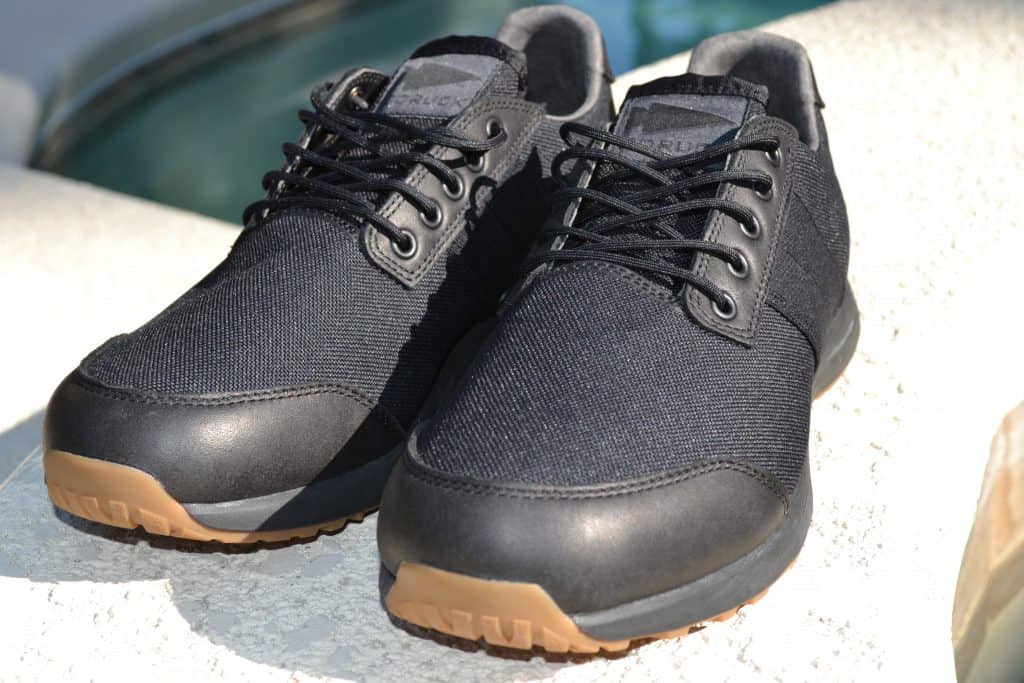 (That's because it is so dense and tough.)
But the 1000D Cordura on this shoe uses polyester instead of the regular nylon material.
GORUCK claims this results in better flex and fit – and we'll have to see where it ends up as far as breathability.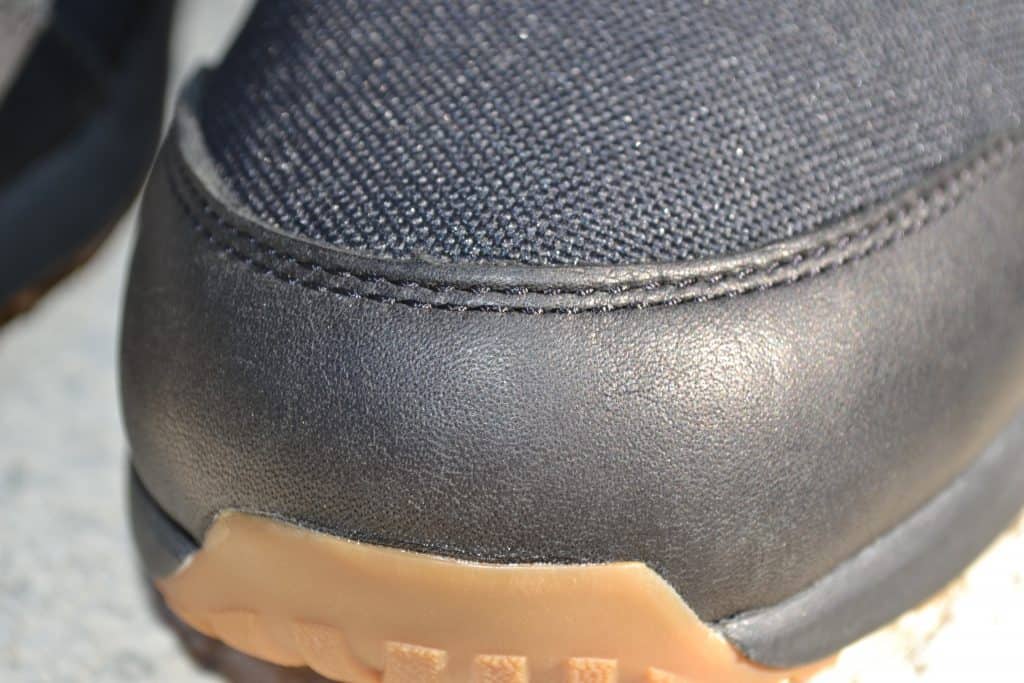 The toe cap, eyestay, and heel tab are all made from GORUCK's new Challenge Leather.
Spoiler alert: it's leather but GORUCK says it's tougher than the previous leather used in shoes and it should improve with time and use.
And by the way, for a limited time you can get an American flag on the heel.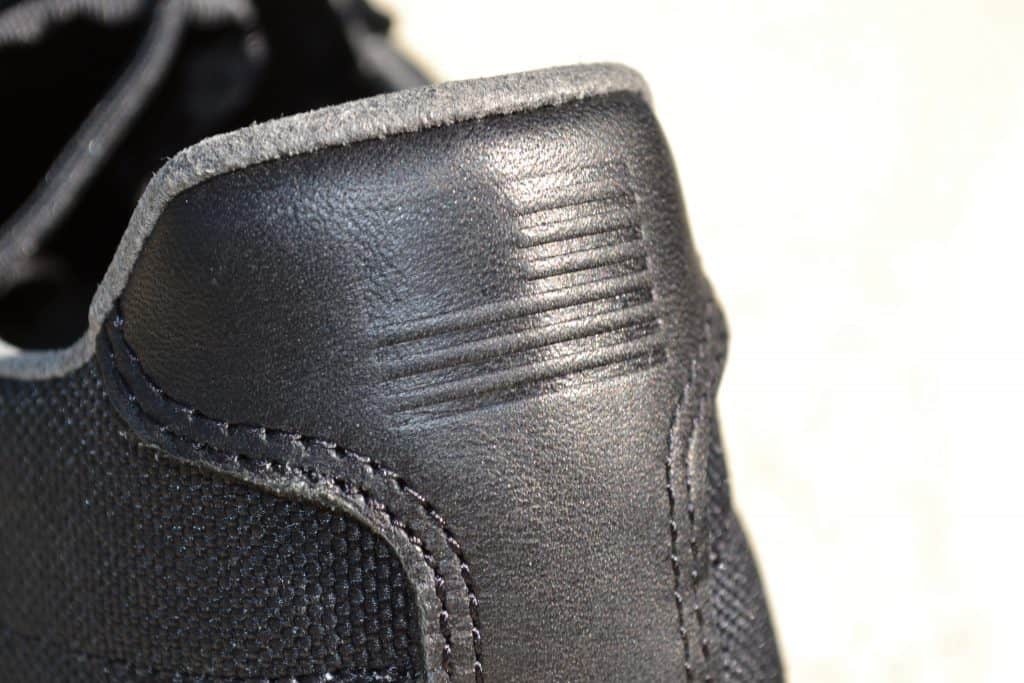 Cool.
There's a thickly padded tongue to protect against lace bite also.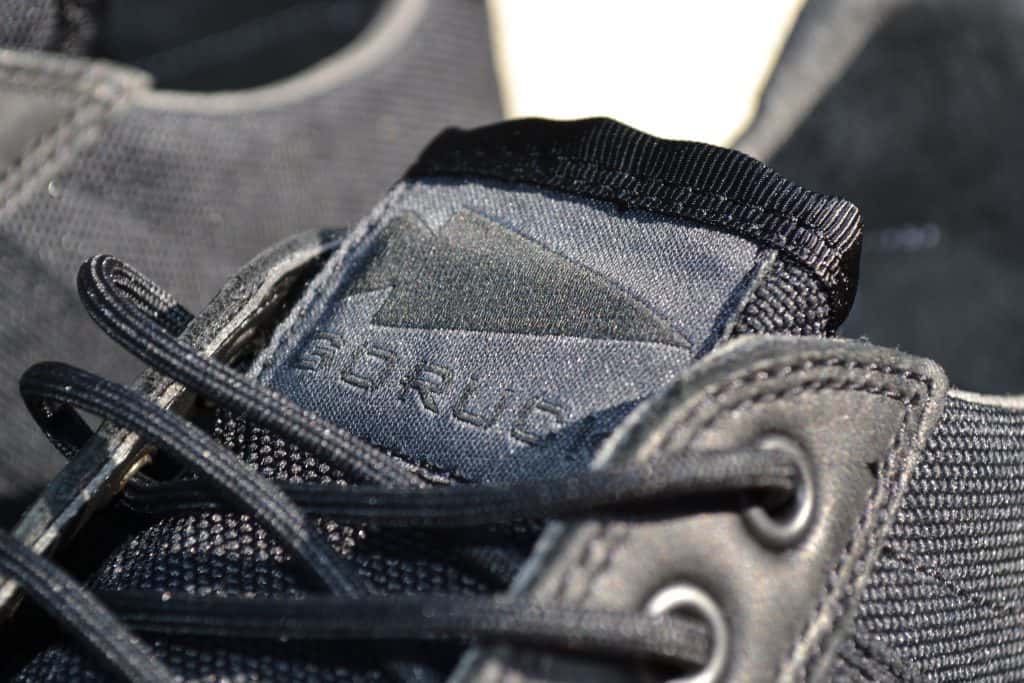 I/O Cross Trainers from GORUCK – In Summary
That's the new cross trainer from GORUCK.
We look forward to our longer term test results.
Check back and we'll have more details soon.
You may also be interested in the GORUCK MACV-1 Jungle Rucking boot – we've reviewed that shoe extensively.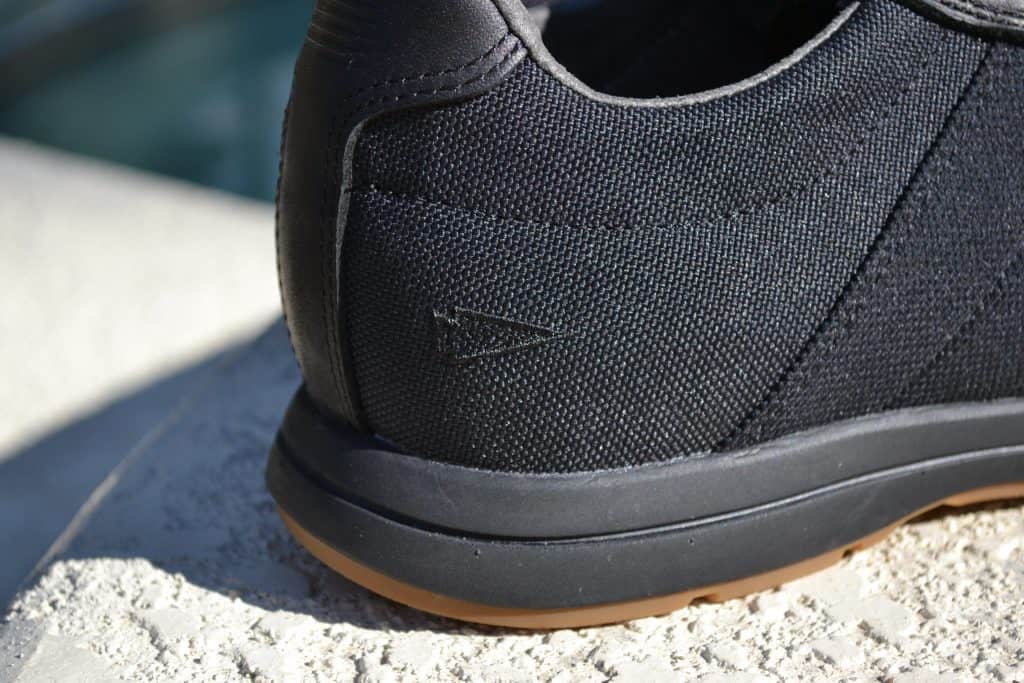 Why GORUCK Products?
We're a
GORUCK
affiliate – so if you order equipment after clicking the links in this article we receive monetary compensation. But that's not why we recommend GORUCK. It's because their equipment is innovative, built to last, and made with high quality features.. They are the driving force behind rucking not just as exercise, but as a way to make people better. And that's why we love them.
Photo Credits
Some product photos on this page are provided by, and property of GORUCK.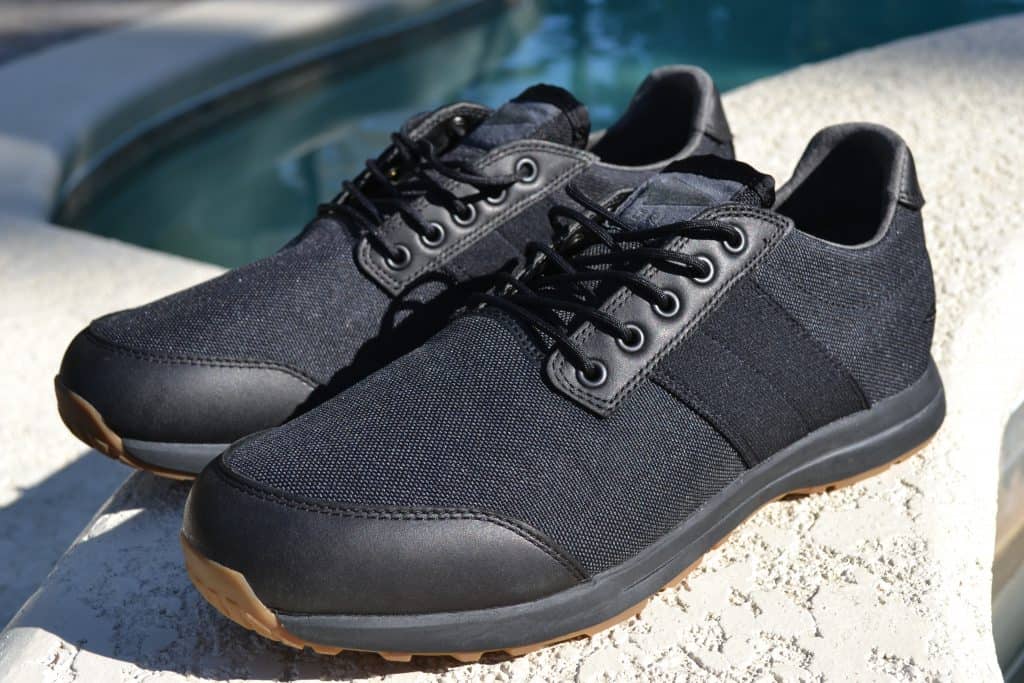 Tim is the founder of FitAtMidlife.com – an avid gym rat for 30+ years, he's a reviewer of many, many shoes – and founder of the Speed Bag Gathering – the world's only gathering of speed bag punching enthusiasts.  See more gym reviews at Tim's YouTube channel.