Let's look at Under Armour's new cross training shoe – the TriBase Reign cross training shoe.
This is a stable but versatile training shoe that will work great for the CrossFit WOD.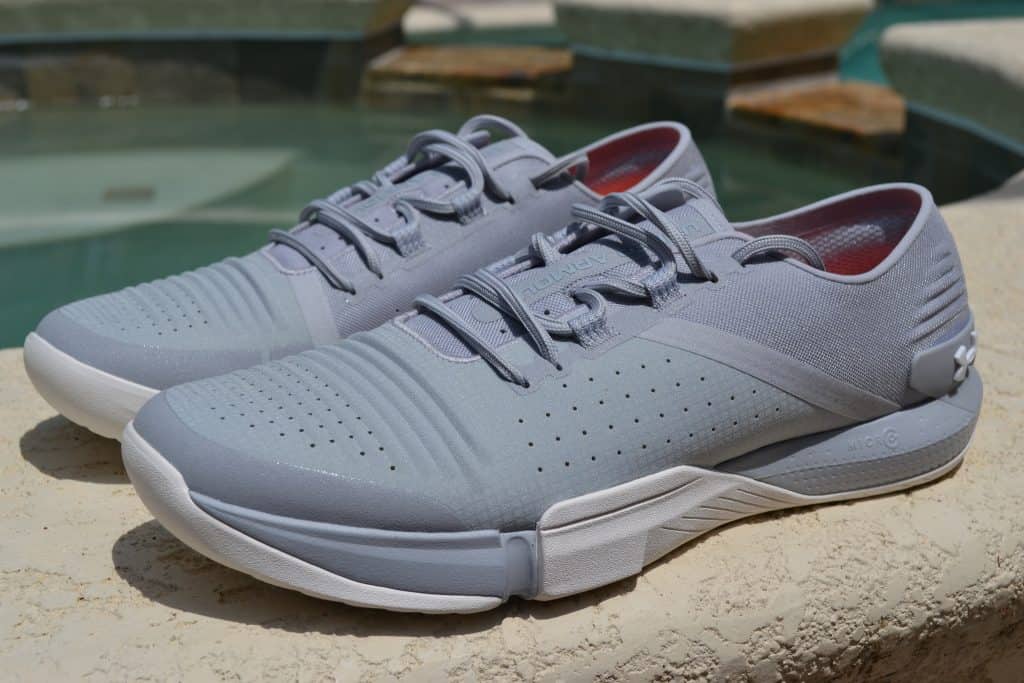 Under Armour is entering a crowded space – how does the TriBase Reign fare against the Nike Metcon 4 shoe line or the Reebok Nano line?
We'll discuss that as well.
Here's the shoes we are going to review.
Let's talk about the features of this shoe…
UA TriBase Reign – What Makes it a great Training Shoe
First, let's take a tour of what makes the TriBase Reign special.
How is this different than your average running shoe?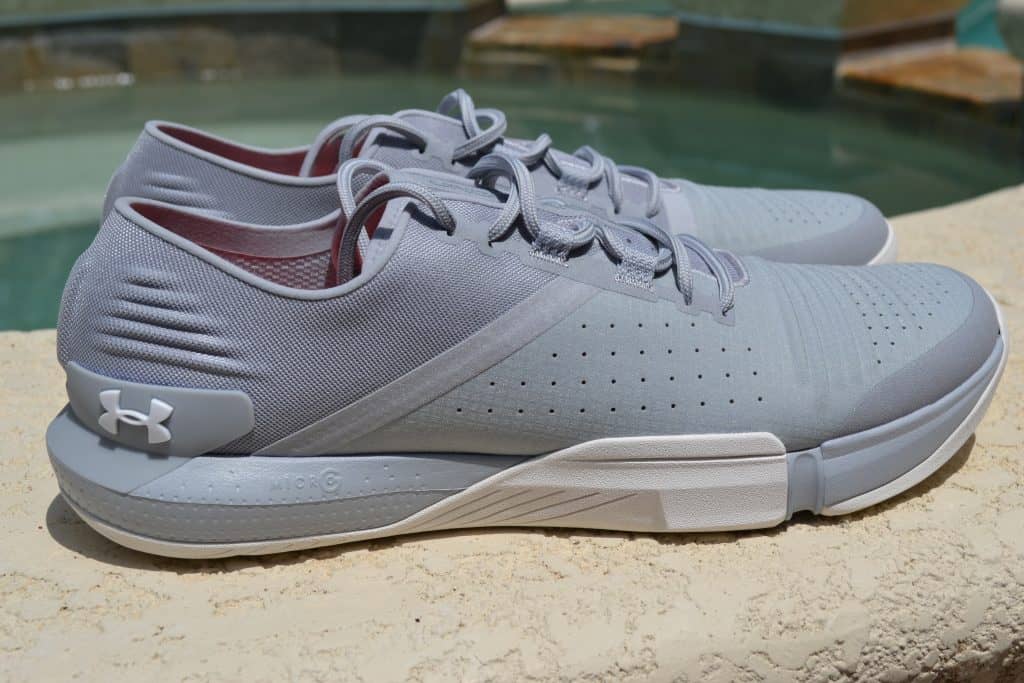 Shoes for CrossFit training must be much more versatile than running shoes.
We need stability for lifting weights, flexibility for box jumps and jumping rope, and enough cushion to run – when we have to run.
One of these things that makes this a possibility is having a low drop shoe.
That means there isn't a gigantic heel raise on these – unlike you have on many running shoes (or in weightlifting shoes).
We need a high traction sole.
But, Under Armour takes things farther with the TriBase Reign.
It's right in the name – their TriBase technology : "…maximizes ground contact where your foot needs it the most, allows for superior upwards flexibility to promote natural motion, & downwards flexibility to grip the ground during lifts."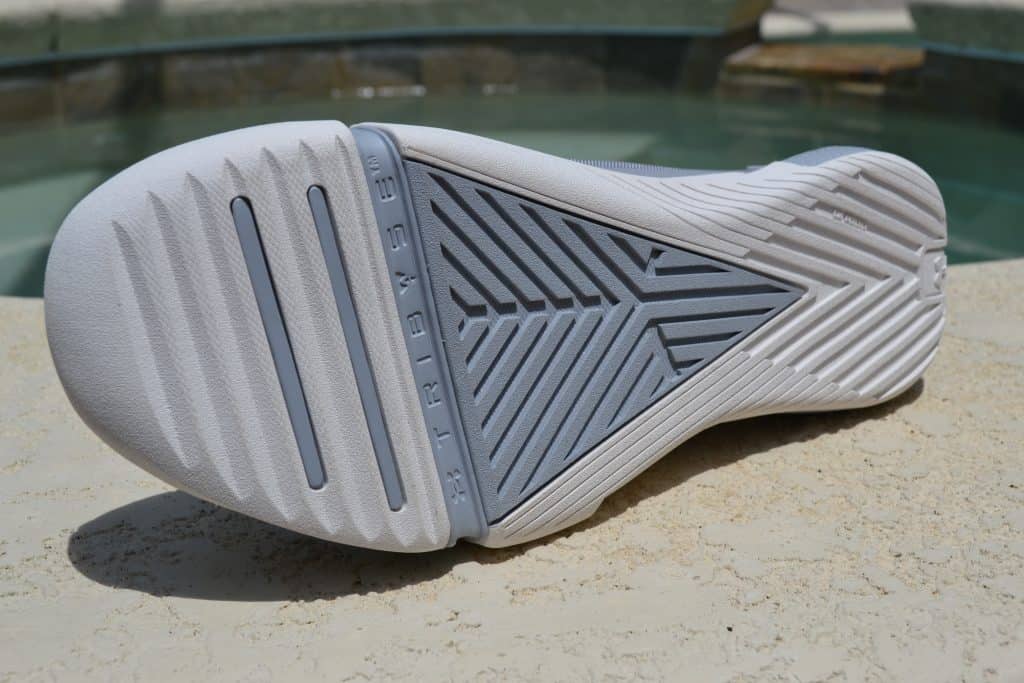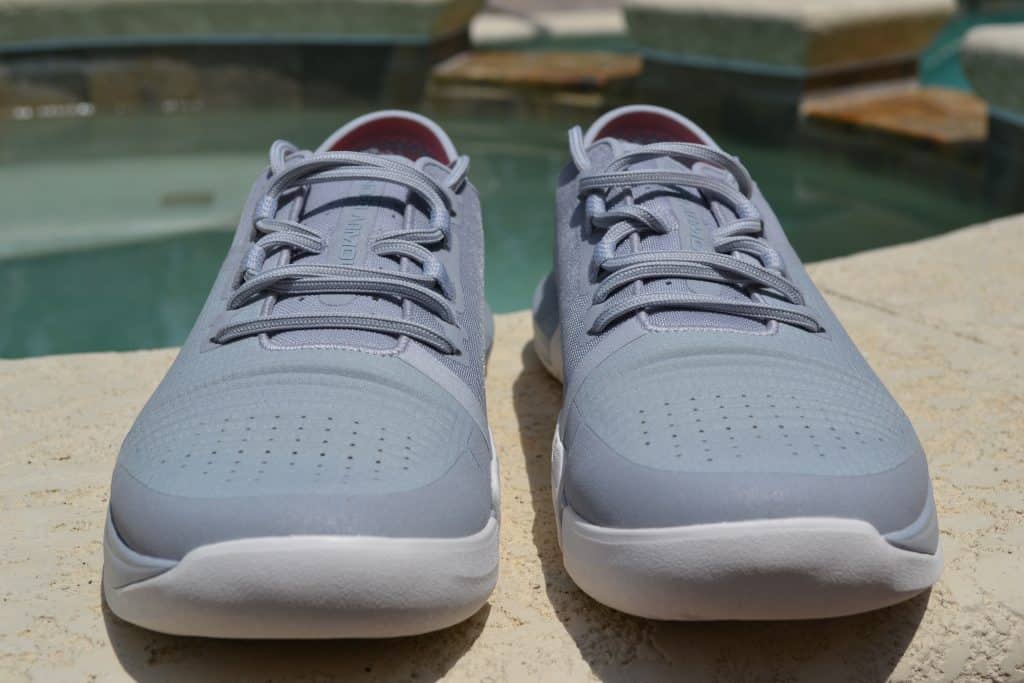 Inside the shoe we can see something interesting.
You can see that there are straps inside the shoe that integrate with the laces.
This is much like Nike's FlyWire system, but using different materials.
The result is that when you tighten the laces, the whole structure of the shoe tightens around your foot – providing for a great locked-in feel.
By the way, that midsole is not removable.
UA TriBase Reign vs Nike Metcon 4 XD
Nike has a huge presence in the market for cross training shoes.
And while they can't call them CrossFit shoes – that's what they are.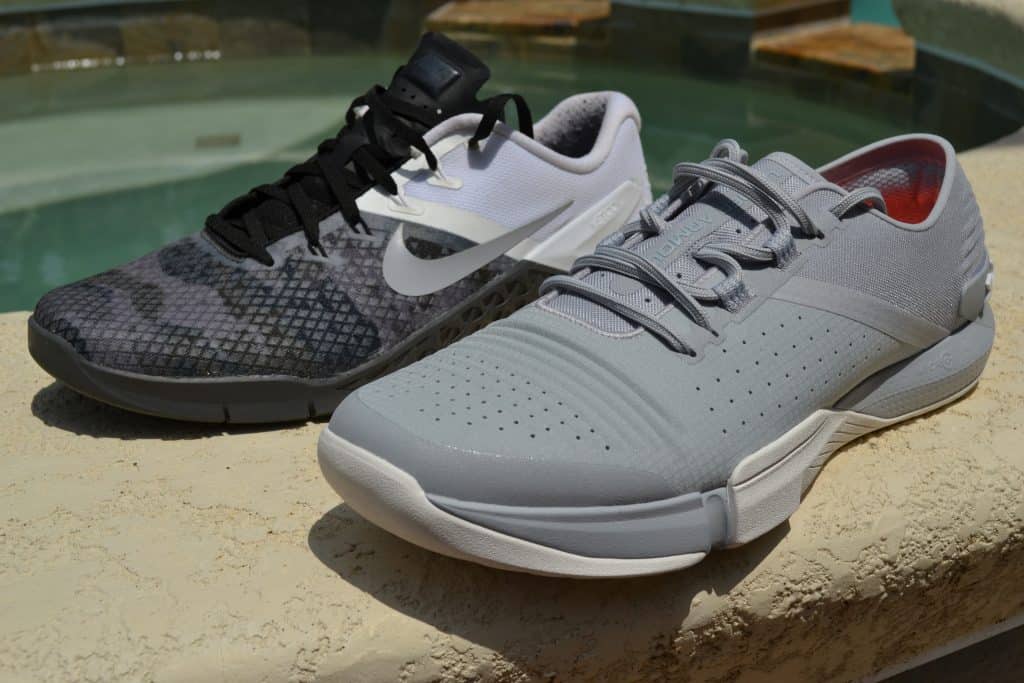 The Nike Metcon 4 XD is an excellent shoe – and it excels as a stable platform for lifting heavy weights.
And it is VERY popular in the CrossFit crowd.
Is the UA TriBase Reign a Nike Metcon killer?
Let's find out how the UA TriBase Reign fares.
On paper, these shoes are an even match.
First, both have a very solid heel and midsole.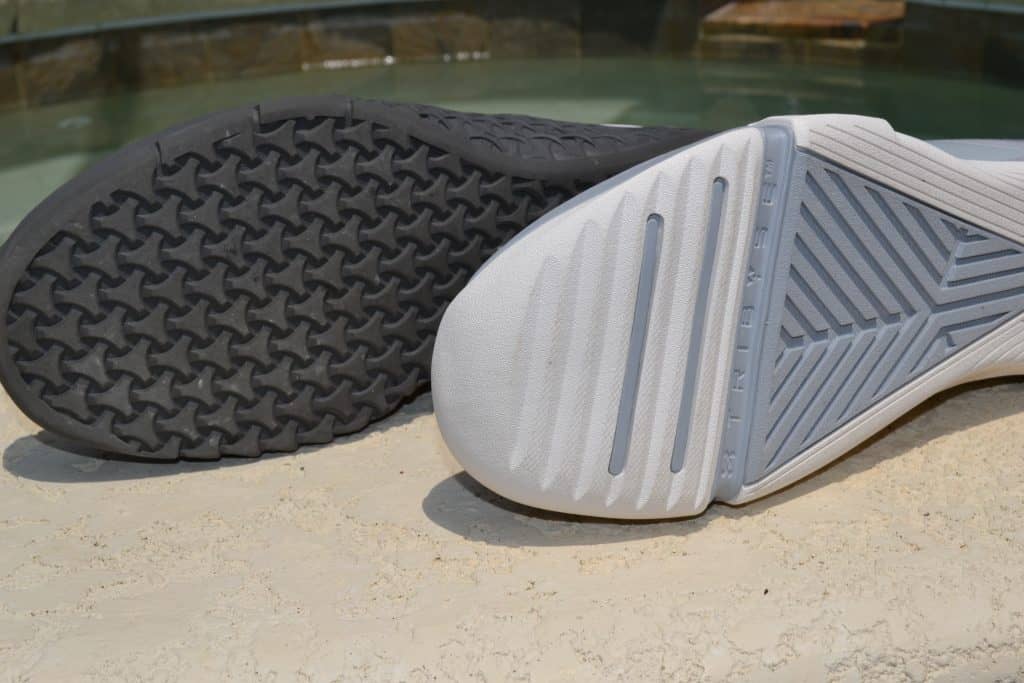 When lifting heavy weights (squat, deadlift, snatch, or clean and jerk) the last thing you want is a shoe with a ton of cushioning.
After all, that's why purpose-built weightlifting shoes often have a SOLID heel.
Further, both are "low drop" or "low profile" shoes.
What does that mean? It means there isn't much of a difference between the heel height and the toe height.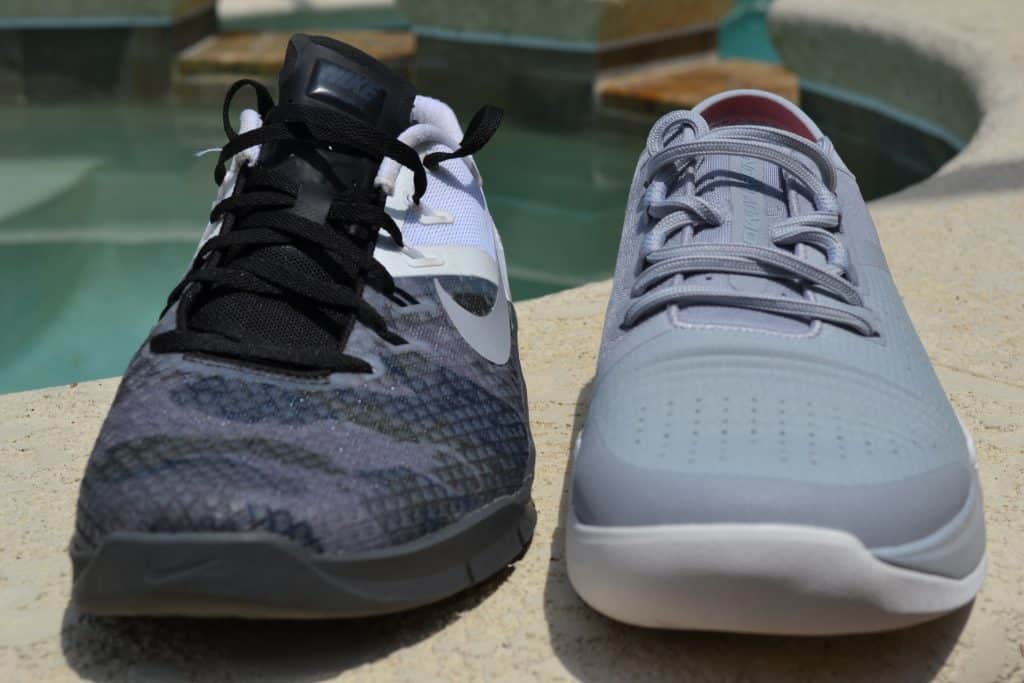 And that's where these shoes are very different as compared to weightlifting shoes.
A low-profile shoe is more versatile – we can lift, jump, run, or climb.
The heel to toe drop in the UA TriBase Reign is a miniscule 2 mm.
For the Nike Metcon 4 XD it is 4mm.
That's a difference you won't be able to feel.
How about weight? For the WOD we want a lightweight shoe.
After all – we'll be jumping, running, climbing, and more.
The TriBase Reign Men's size 11 weighs in at 11.8 ounces (for a single shoe.).
The same size Nike Metcon 4 XD weighs 11.7 ounces.
So – it is neck and neck race in that regard.
The Nike Metcon 4 XD has a drop-in midsole – whereas the UA TriBase Reign does not.
Does it make a practical difference? Not really – as long as the midsole provides the support and cushioning level you desire.
It does mean that the UA TriBase Reign won't develop the dreaded "Metcon Squeak" that plagues some Nike shoes.
The midsole being free floating means it can move and can make the shoes squeak – the normal solution is to drop a bit of chalk underneath.
Check back here shortly and we'll have a side by side shoot out complete.
Here's the UA TriBase Reign side by side with the Nike Metcon Sport – which is another excellent cross training shoe from Nike.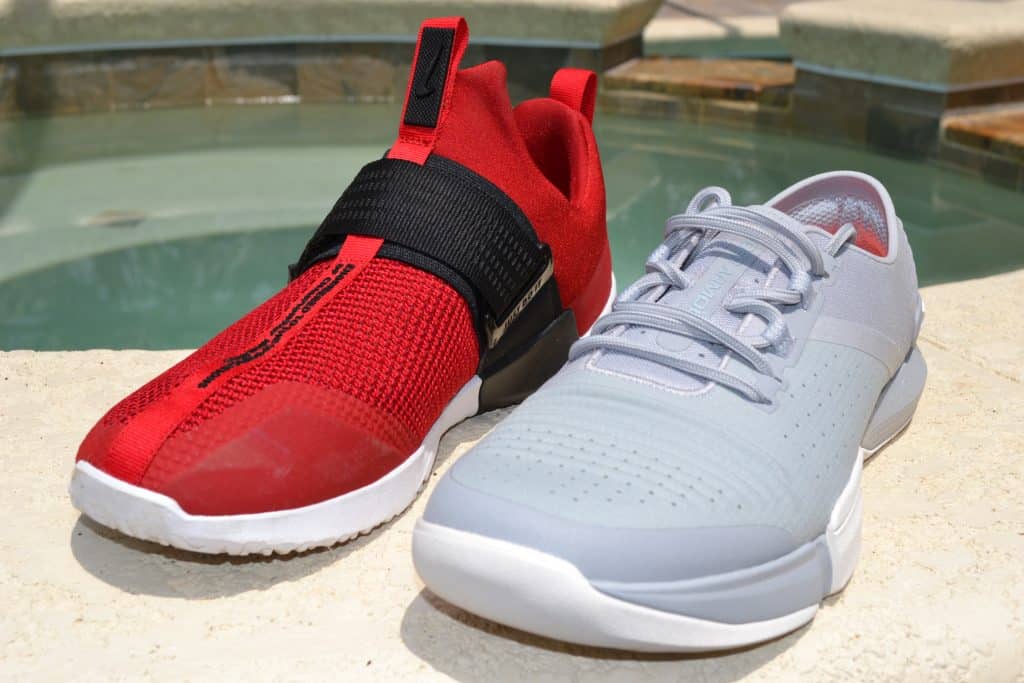 UA TriBase Reign vs Reebok Nano 8
The other popular cross training shoe in the market is the Reebok Nano 8.
Reebok has a contract with CrossFit – so they are branded with the CrossFit trademark.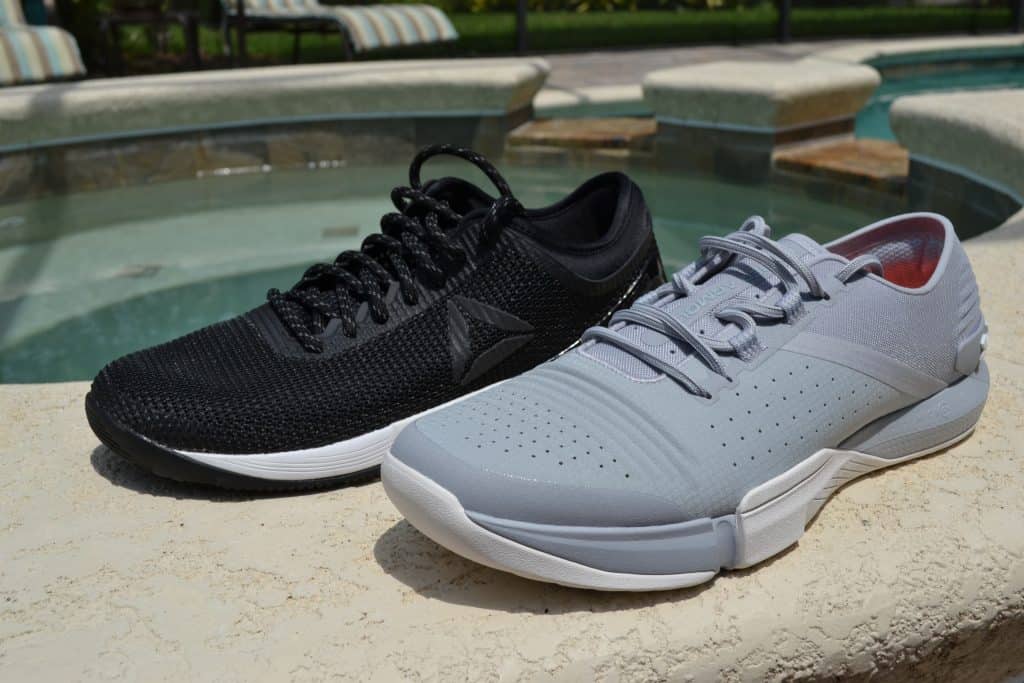 Let's see how these two shoes compare.
First of all, the Nano line is a proven shoe line.
People love it because it's comfortable, it looks good, and it works well in the gym.
Let's compare the UA TriBase Reign to the Reebok Nano 8.
Here's the soles (also called the outsole).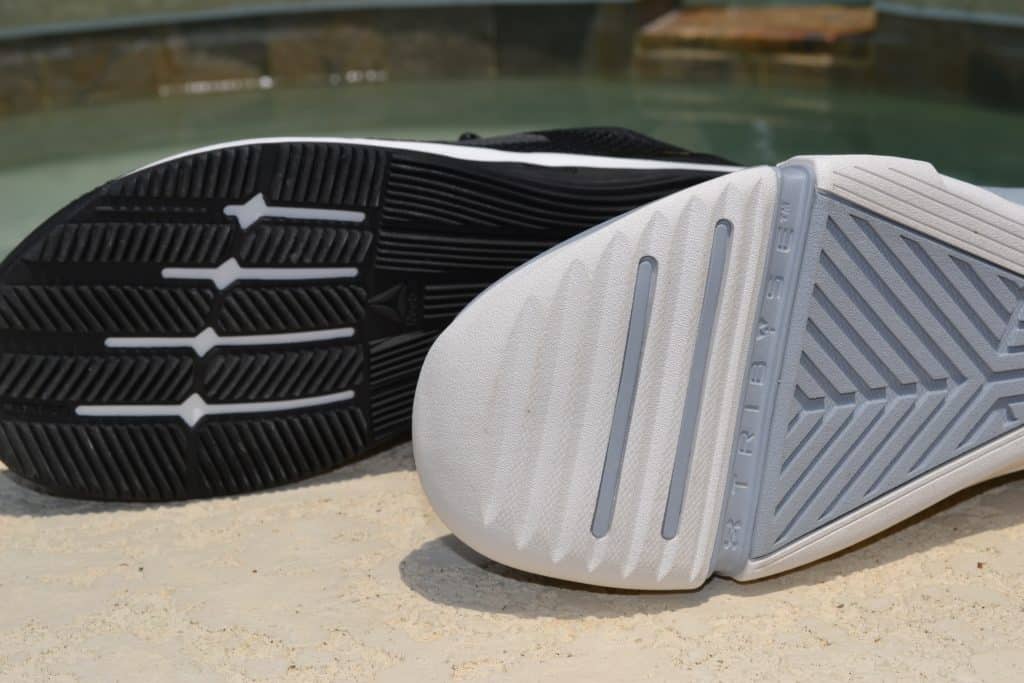 Both are high traction – and super grippy.
You can also see an abundance of pre-formed flex grooves.
That helps when it's time to do a box jump, sprint, push a sled, and more.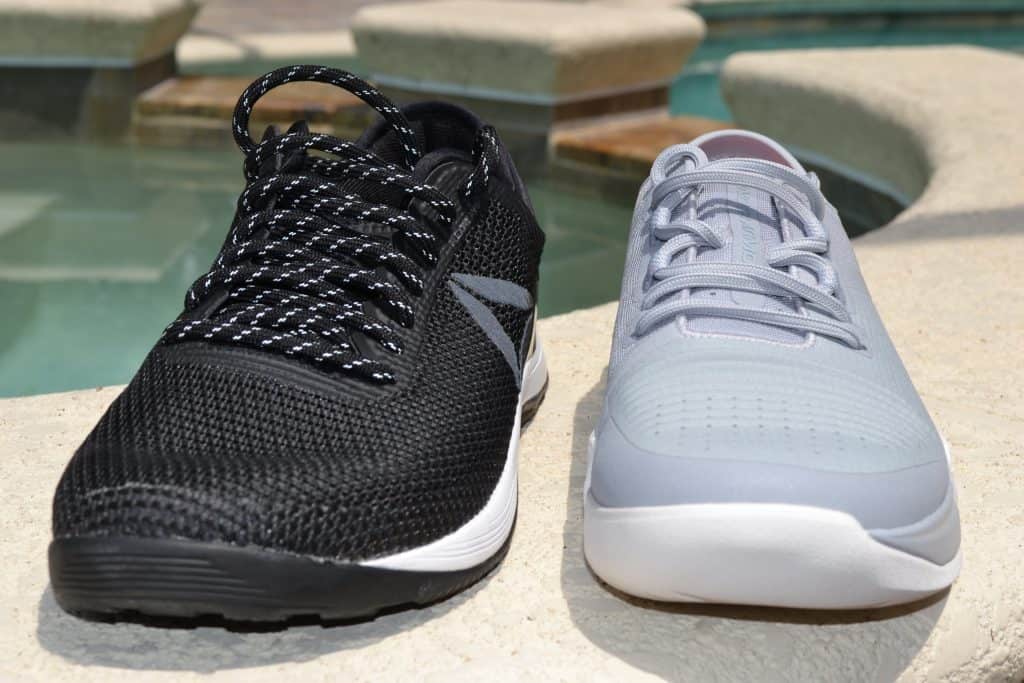 Here we see that both are low-cut shoes, and they are similar in size.
Both are minimal heel to toe drop – for the reasons we explained above.
The Reebok Nano 8 is a 4mm drop, and the UA TriBase is 2mm.
The Reebok Nano 8 (Men's size 11) weighs 12.8 ounces, the UA TriBase Reign is 11.8 ounces.
So, there is a slight weight advantage to the Reebok.
The Nano 8 is a great shoe for all day comfort.
How does the TriBase Reign compare?
Check back in a few weeks and we'll let you know.
TriBase Reign vs New Balance Minimus Prevail
The Minimus Prevail is a new CrossFit shoe from New Balance.
It is very lightweight – a men's size 11 comes in at only 11.1 ounces.
It's lighter than the TriBase Reign but has a nice feel to it – just like the Minimus Prevail does.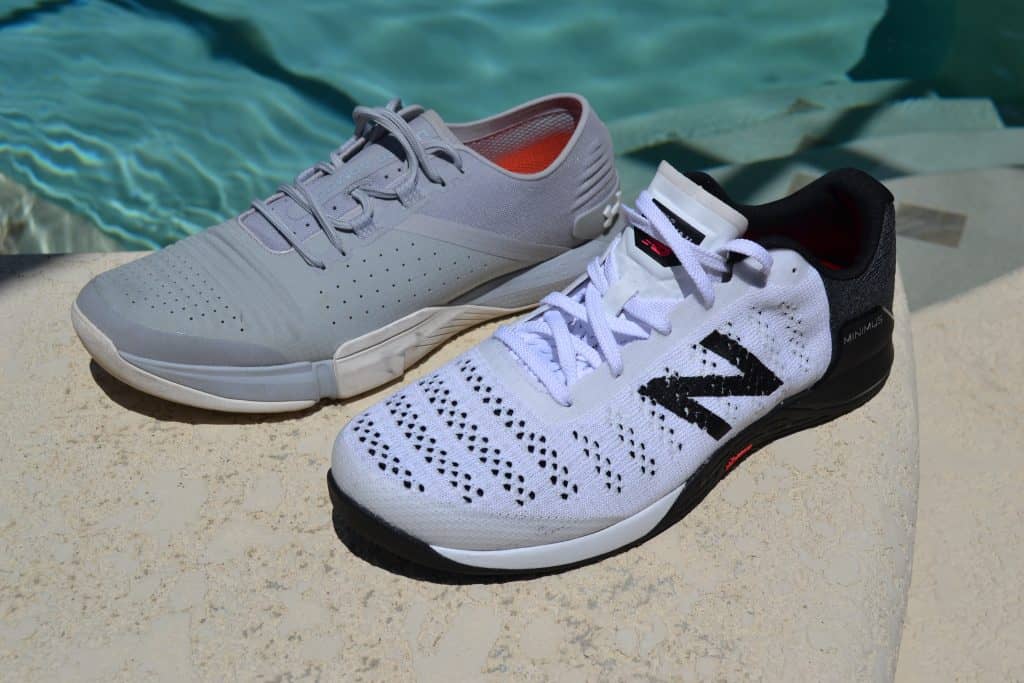 TriBase Reign – A lightweight CrossFit Shoe
The Tribase Reign weights in at 11.7 ounces for a single Men's size 11 shoe.
This alone doesn't tell you much – but that is nearly 2 ounces lighter than the Nike Metcon 5 or Reebok Nano 9 (which both weight in at 13.6 ounces for the same size.)
The lightest CrossFit shoe we've found in 2019? So far it is the New Balance Minimus Prevail.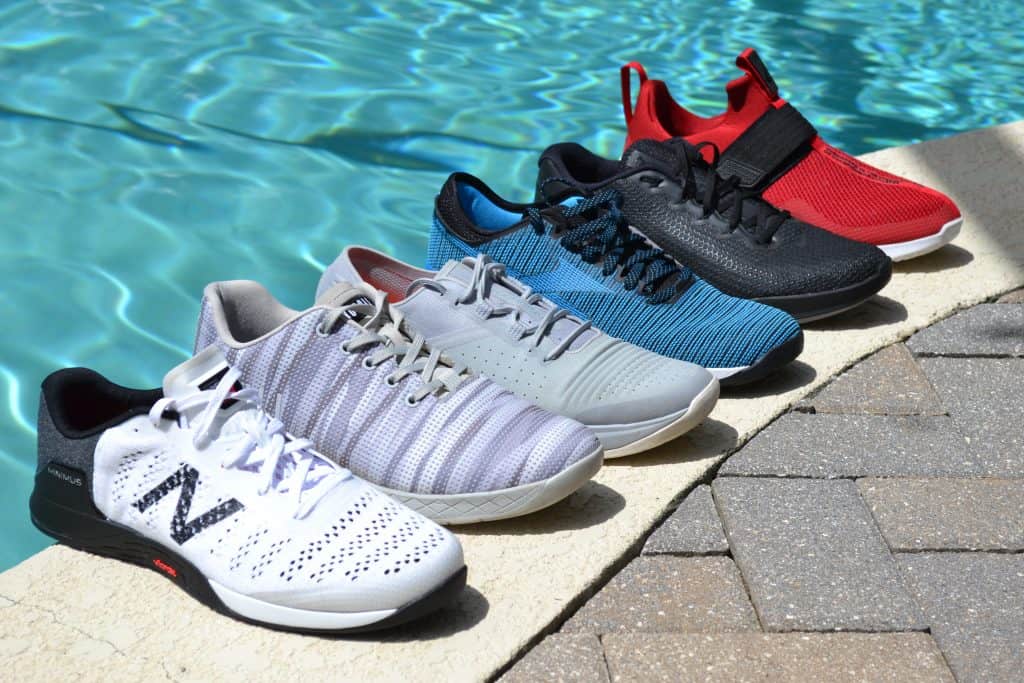 UA TriBase Reign – In Summary
The UA TriBase Reign is an excellent CrossFit training shoe.
Under Armour has done their homework when designing this shoe.
It is cost competitive with the other shoes in the space – the Nike Metcon 4 line and the Reebok Nano 8.
Perhaps more importantly, it's a competent shoe that works great in the gym.
NOTE: We are an Under Armour affiliate – so if you purchase shoes after clicking any links in this article we receive a small commission – at no additional cost to you.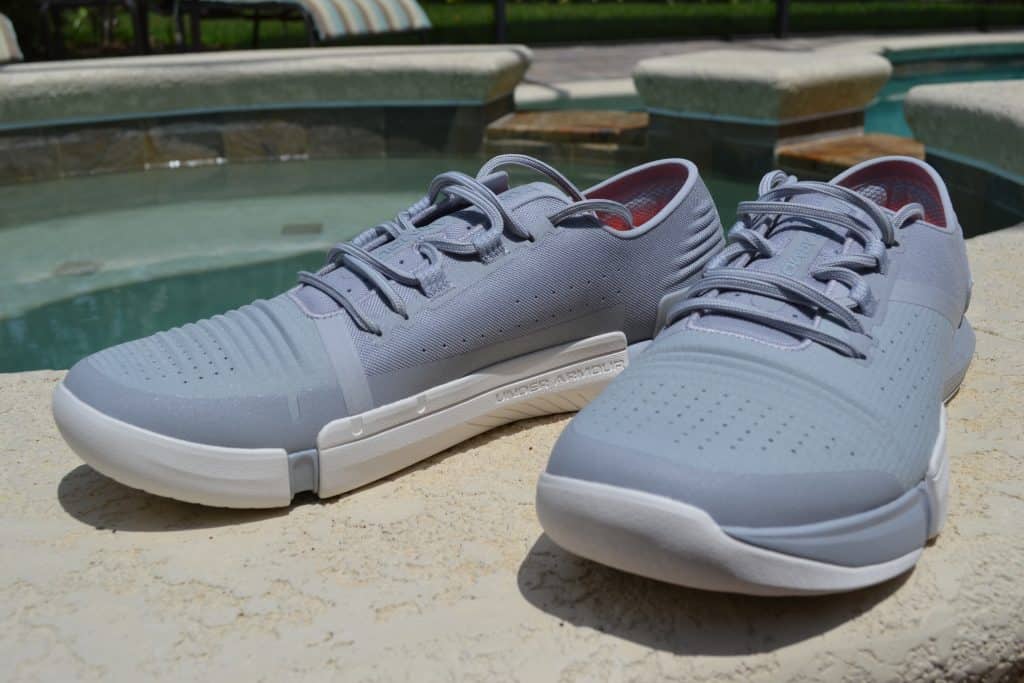 Tim is the founder of FitAtMidlife.com – an avid gym rat for 30+ years, he's a reviewer of many, many shoes – and founder of the Speed Bag Gathering – the world's only gathering of speed bag punching enthusiasts.  See more gym reviews at Tim's YouTube channel.