Nike has unveiled the latest Nike Metcon cross training shoe.
New for 2019, the Nike Metcon Sport ($99.99 at Rogue Fitness) takes the Metcon shoe line in a radical new direction.
The Nike Metcon Sport gives you the stability to lift heavy weights but offers more agility than any previous Nike Metcon shoe.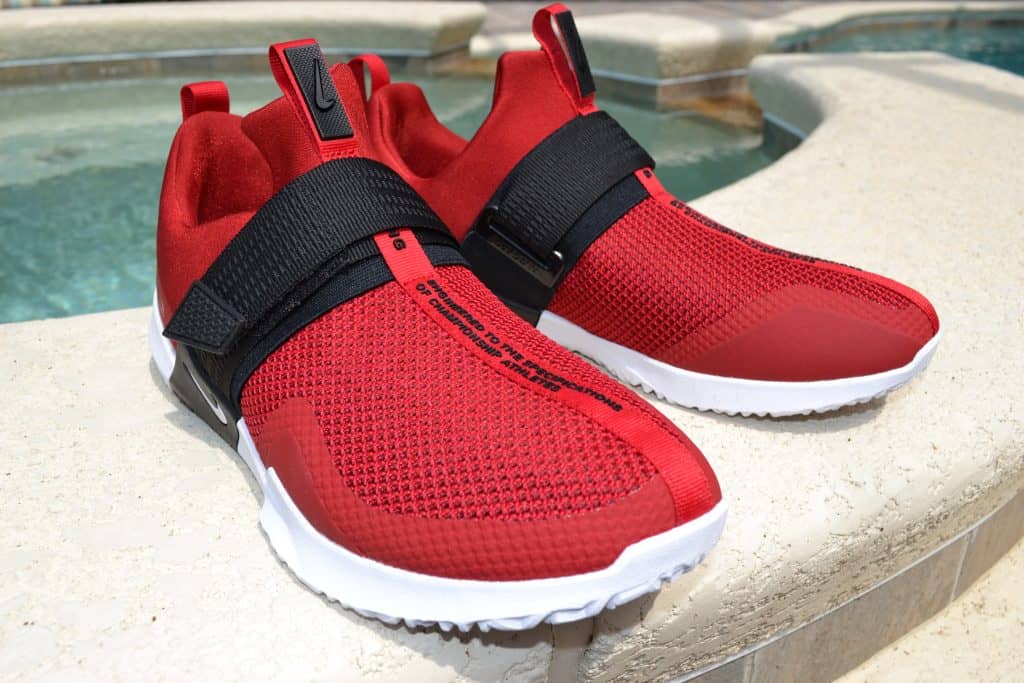 Read on to find out more about this exciting new CrossFit training shoe from Nike.
Best of all there are several great looking color options available now from Rogue Fitness and Roadrunner Sports.
Nike Metcon Sport – A radical new take on the Metcon shoe concept
The Nike Metcon Sport represents the biggest design shake-up since the Nike Metcon shoe line first debuted.
Let's take a look at what is new and improved in this shoe.
Let's start with the obvious – there are no laces.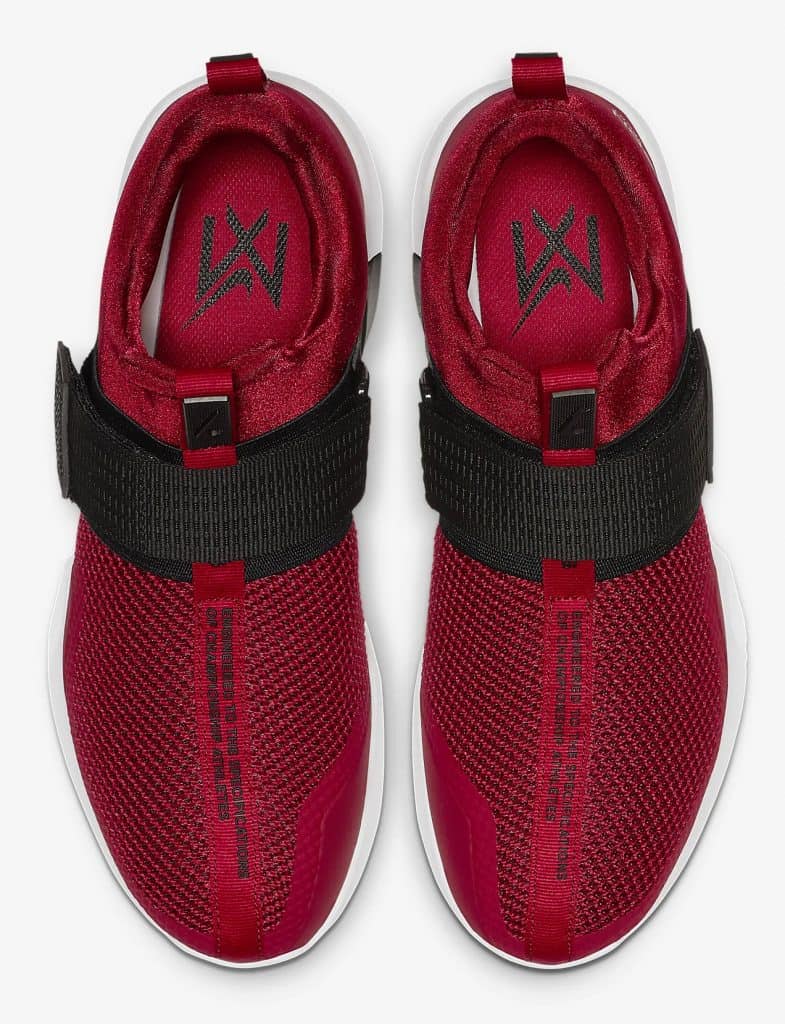 The new Nike Metcon Sport instead relies on a stretchy sleeve that lets you slip the shoe on and off easily.
But, this shoe can be used for weightlifting – so there is a midfoot strap to give a locked in fit and feel.
You can also see that the "vamp" (the front and center part of the shoe's upper that covers the top of the foot) is made of a breathable mesh.
Nike likes to say it has a textured look and feel, too.
From the side profile, you can see a few more important features.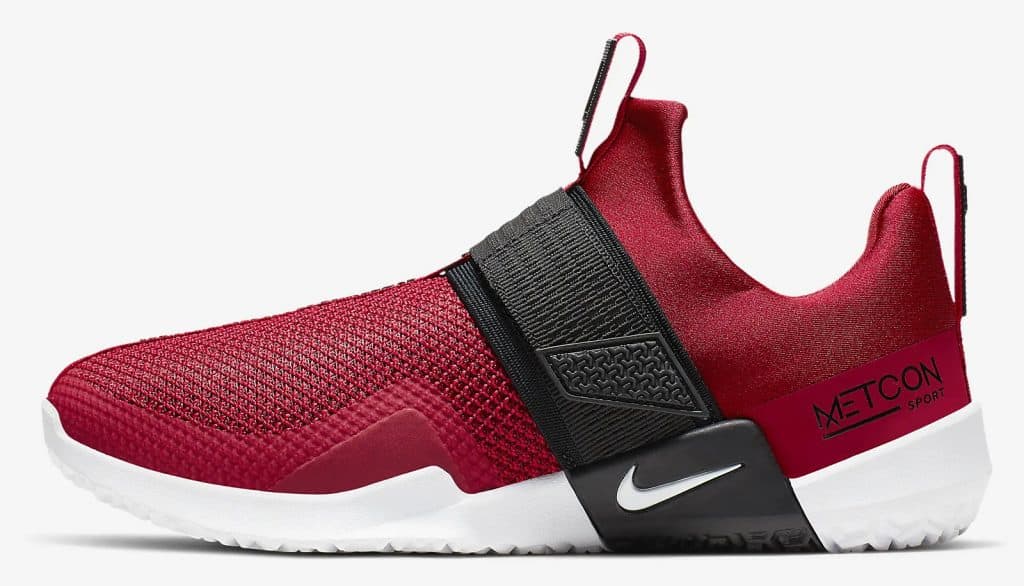 You can clearly see the pull tabs on the front and heel – which helps with slipping this shoe on and off easily.
You can also see closely that midfoot strap – the secret to the locked in fit and feel.
You can also see that this shoe has synthetic skins around the toe and the heel for extra durability.
You can see those skins along the bottom of the front of the shoe, and on the heel where it says "Metcon Sport".
What you can't see here is the midsole (it's inside the shoe). It is a drop-in midsole and it features raised sides to enhance lateral stability.
Here's the outsole (or more simply the sole.)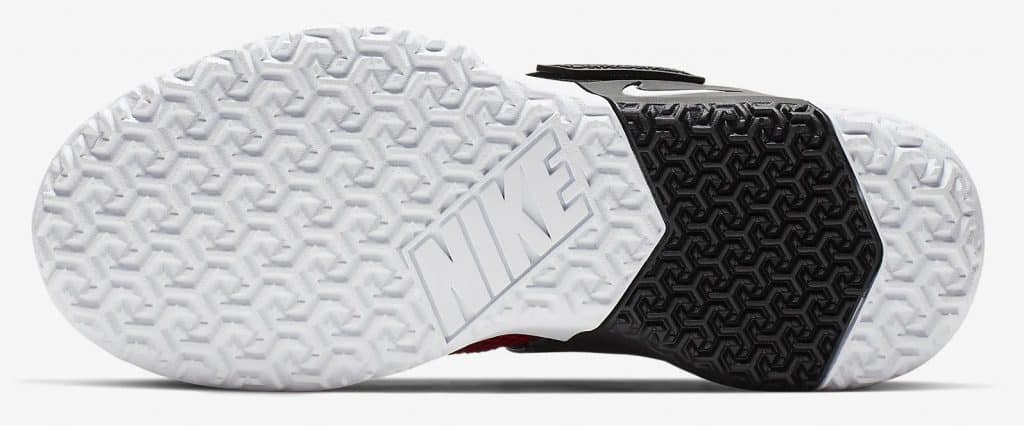 You'll see that the outsole is flat for stability during heavy weightlifting.
But, it also has an aggressive traction pattern enhances grip for speed and agility moves.
Here's the heel, and you can see the heel pull tab.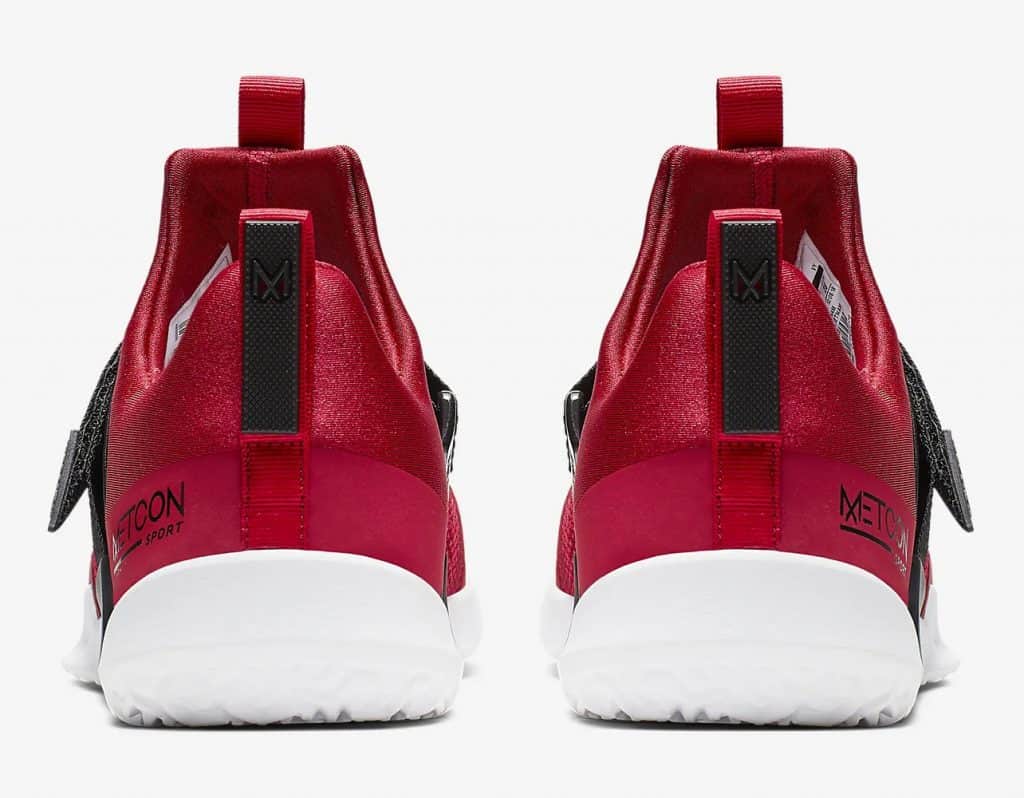 That's a good look around. Let's look at some other colors and styles available.
Nike Metcon Sport – Styles and Colorways
Here's another reason people think Nike shoes are the best.
They function well – and they look good too.
Nike is offering several colorways (color combinations) for the debut of the Nike Metcon Sport.
As with most Nike shoe offerings, look for more combinations to be released over time.
But, if you see a pair you like – grab them while you can. They rarely bring back a color combo after the initial manufacturing run.
The color combination shown above is Gym Red/Team Red/Black/White
This one is my personal favorite.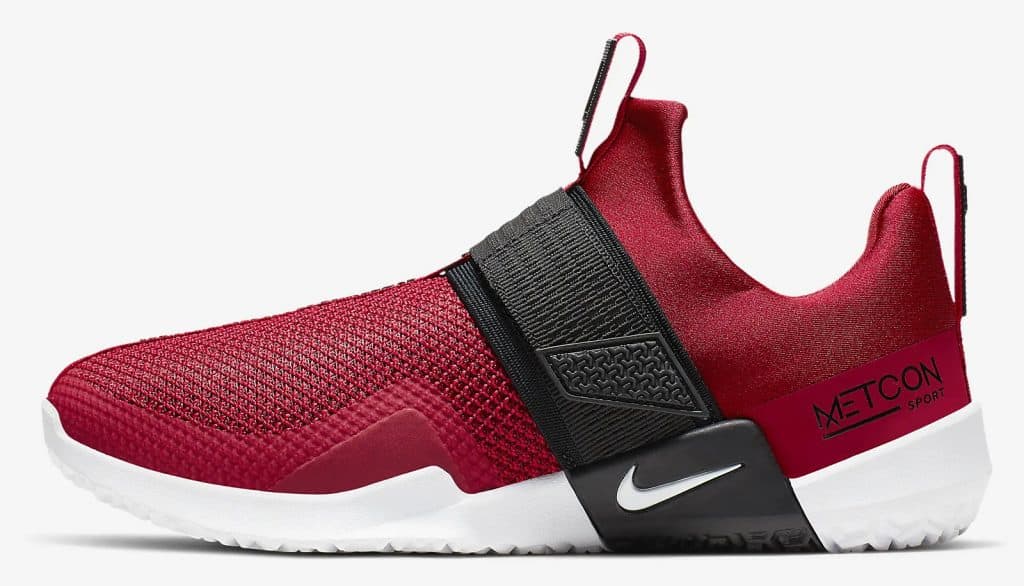 Black/Anthracite/White is a subdued, but cool style.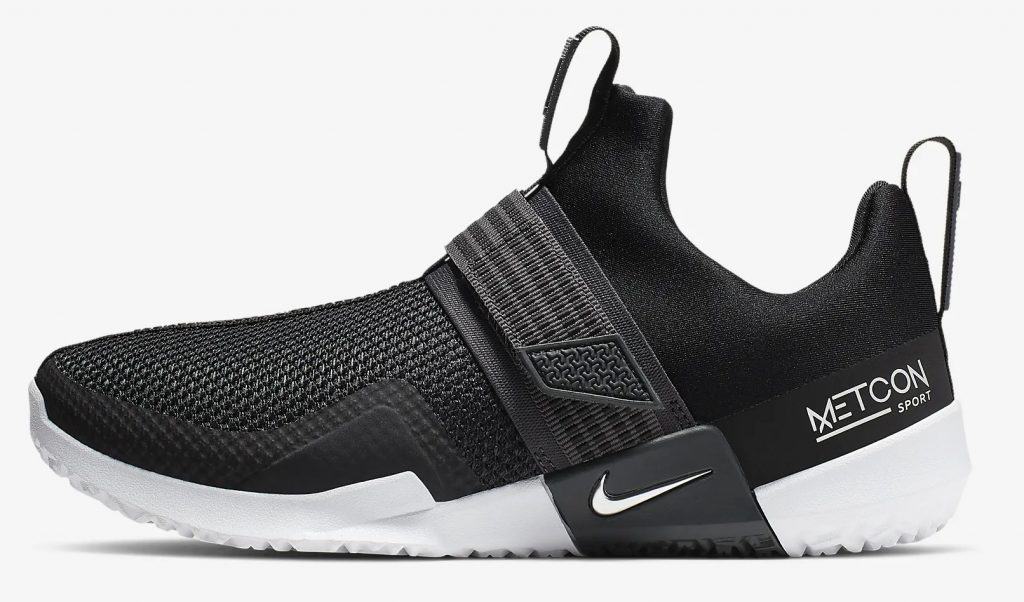 Shoes that are predominantly grey match nearly any workout outfit nicely – it's a very flexible color combination.
Here's the Dark Grey/Cool Grey/Wolf Grey/White color combo.
Here's another style , mostly grey, but also blue.
This is Atmosphere Grey/Game Royal/Thunder Grey/Orange Peel.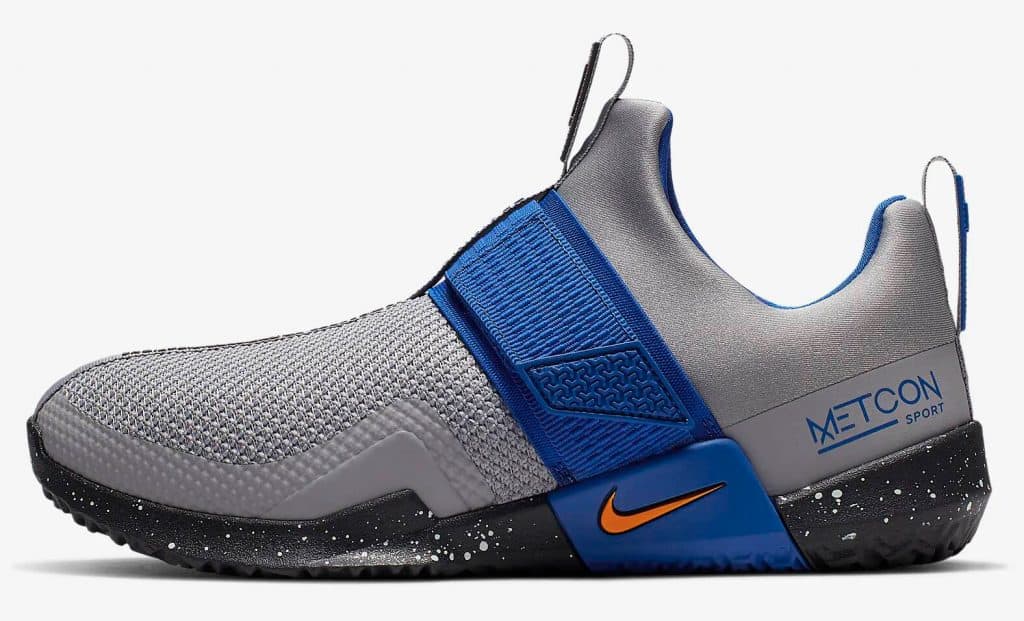 And lastly, for the ultimate in covert style, here's all black.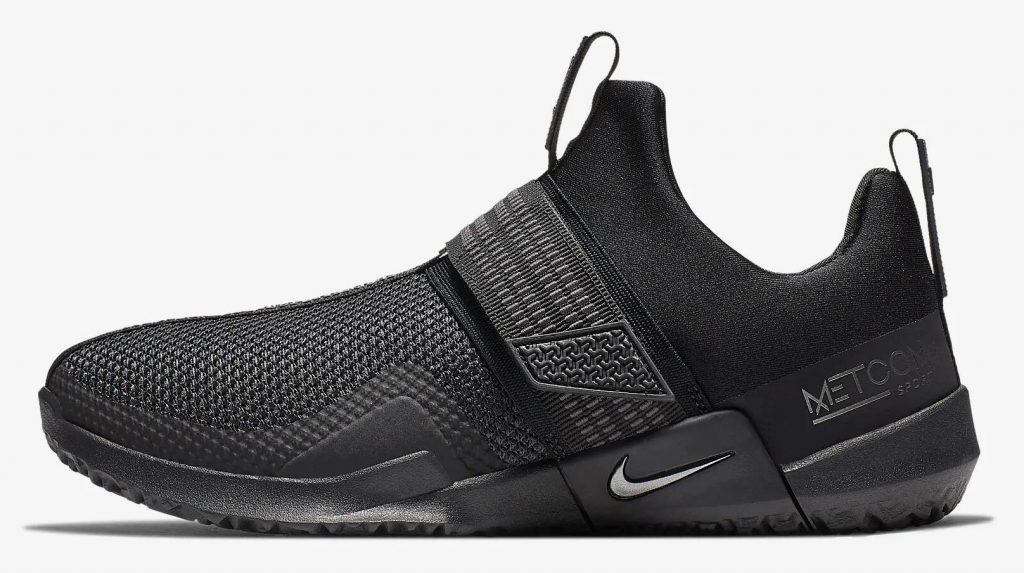 As we mentioned, most of these color combos are a limited time manufacturing run.
And that means once your size is gone, you are out of luck.
Nike Metcon Sport vs Nike Metcon 4 XD Training Shoe
Ok, how does the Nike Metcon Sport stack up against the other new metcon shoe (the Nike Metcon 4 XD)?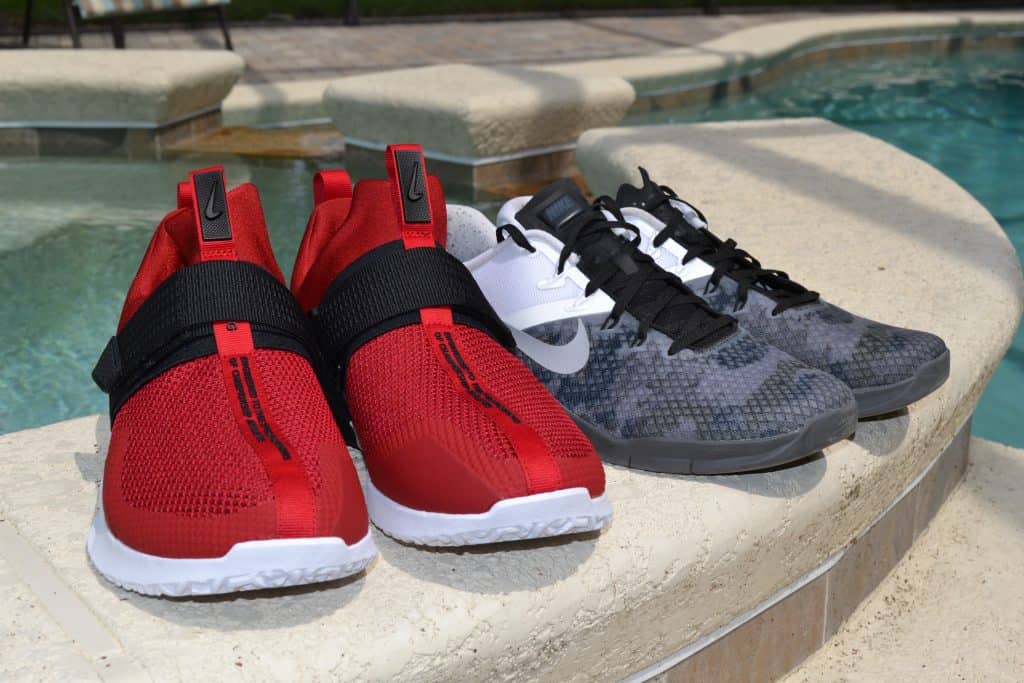 Well, first off – the Nike Metcon Sport is cheaper.
Why? We can't be sure – but there is less to it.
No laces, no flywire – just the midfoot hook and loop (velcro strap).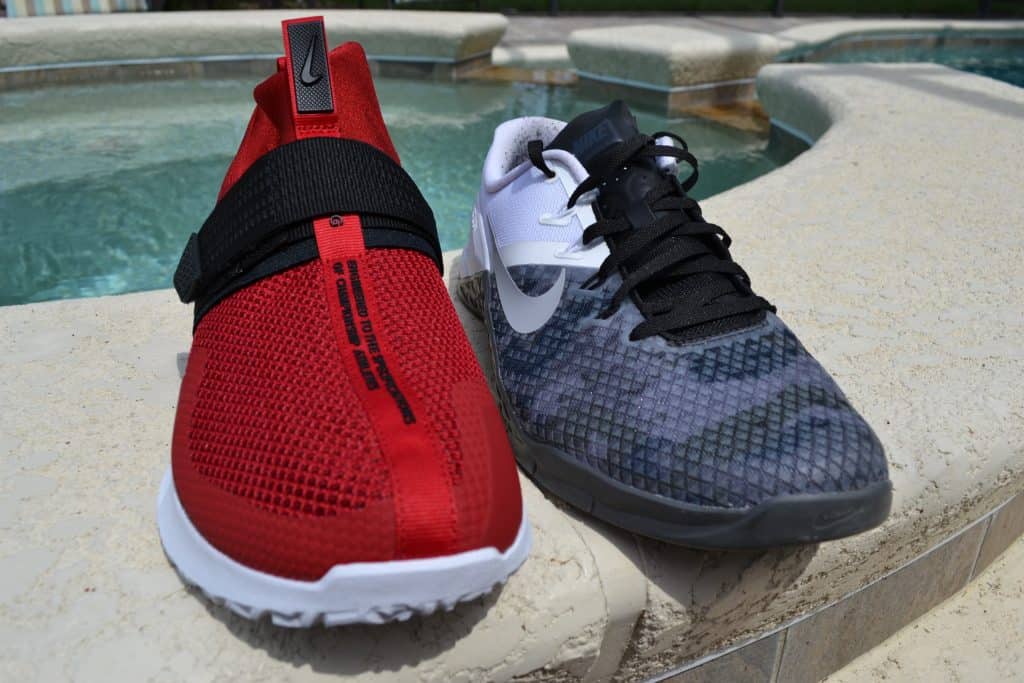 The midsole in the Nike Metcon Sport secures your foot better – it has raised sides for enhanced lateral stability.
You can see in this photo the white part is the midsole supporting your foot from the side.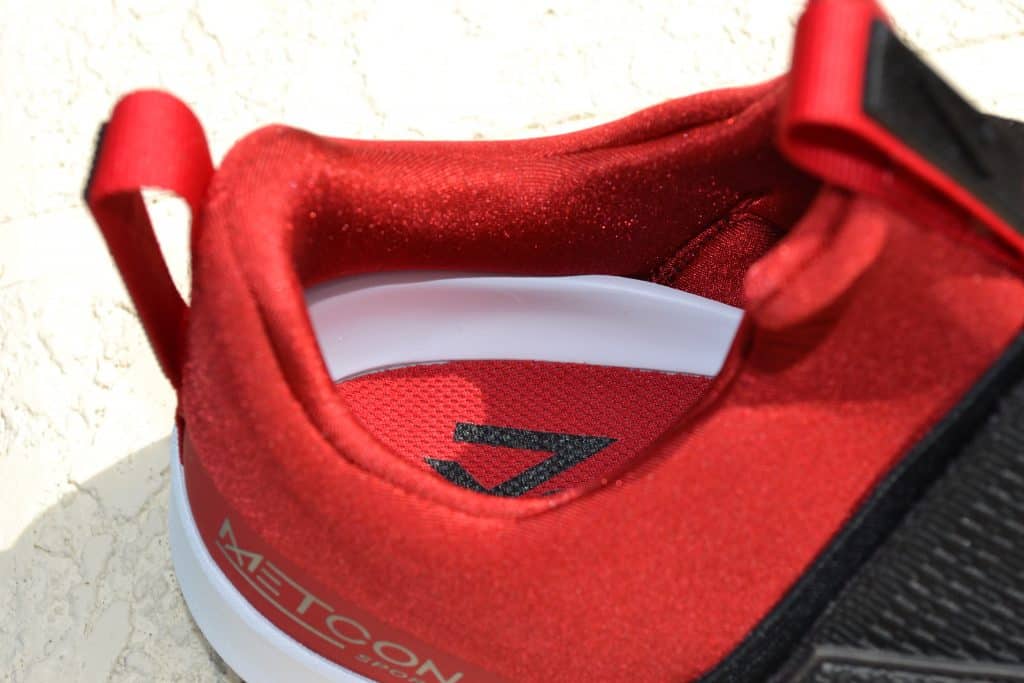 Here's another view, of that drop-in midsole when removed from the shoe.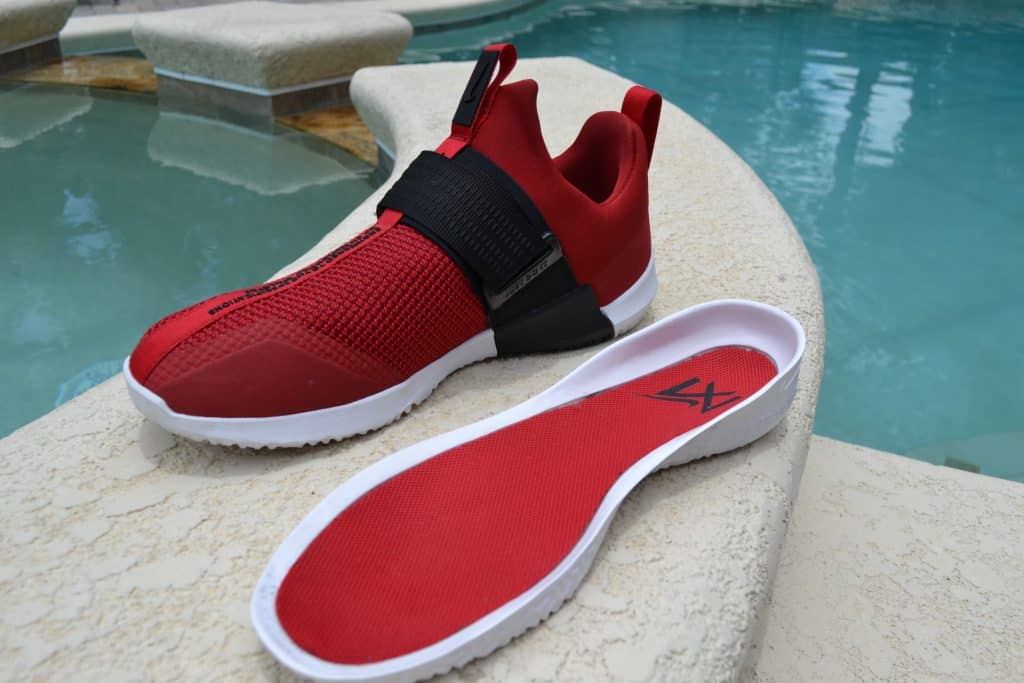 Ok, by itself it's hard to tell how much raise that is. Here's the drop-in midsole of the Nike Metcon 4 XD side by side.
The outsole tread pattern is significantly more aggressive on the Nike Metcon Sport – remember these shoes focus on agility.
It's hard to see here – but it is a difference you can feel for sure. The Nike Metcon Sport is going to have way more bite on turf, grass, etc.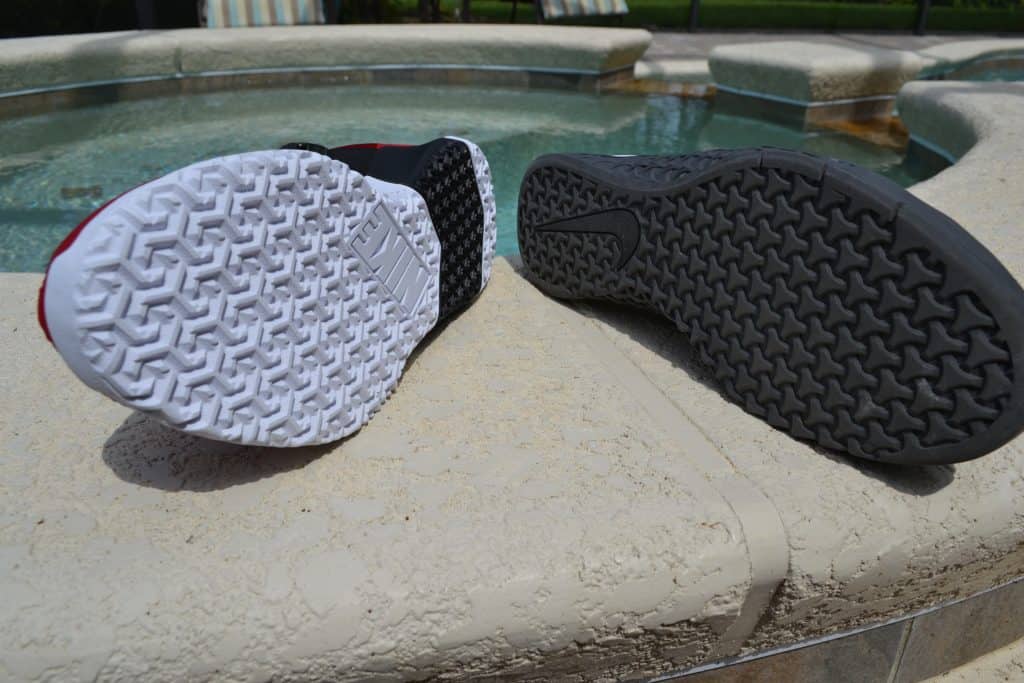 The Nike Metcon Sport won't be as good as a rope climbing shoe. It doesn't have the wrap around outsole at the midfoot like the Nike Metcon 4 XD does.
But, that's OK. Rope climbing is quite rare.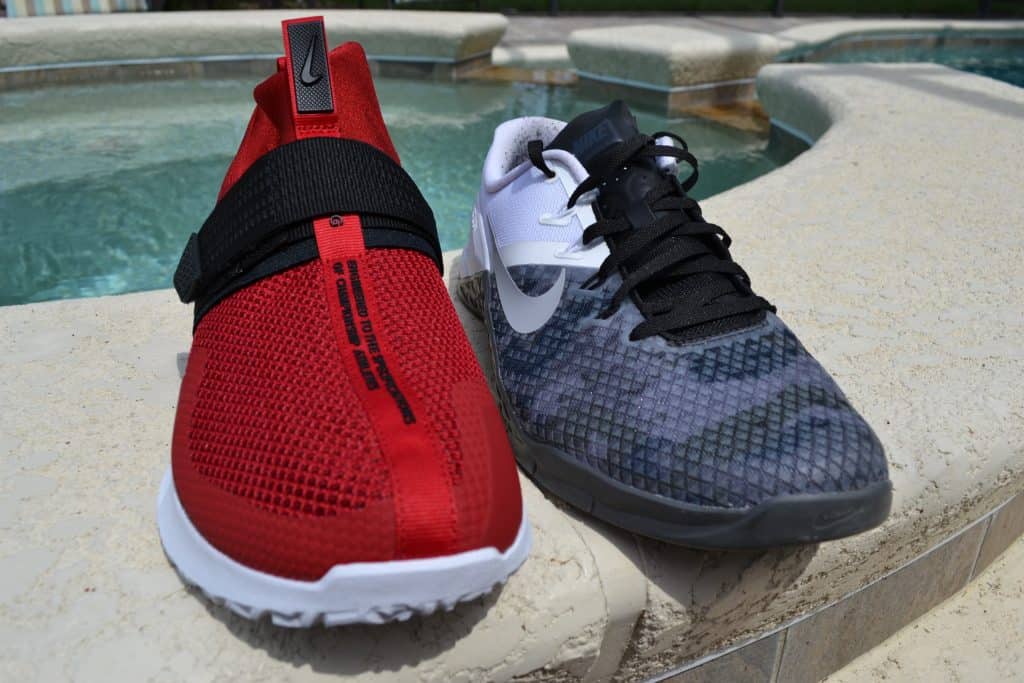 The mesh upper on both shoes feels similar in weight – both should breathe well.
Here's a close up of the toe box on the Nike Metcon Sport, so you can see the mesh.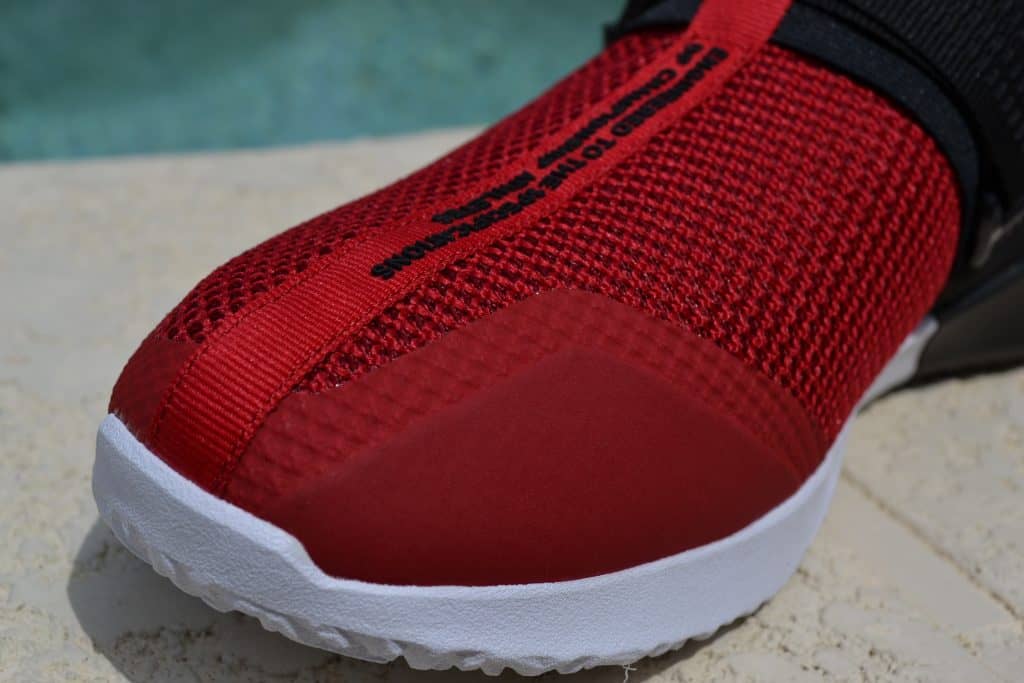 Lastly, the Nike Metcon Sport is a taller shoe, and will be higher up your ankle.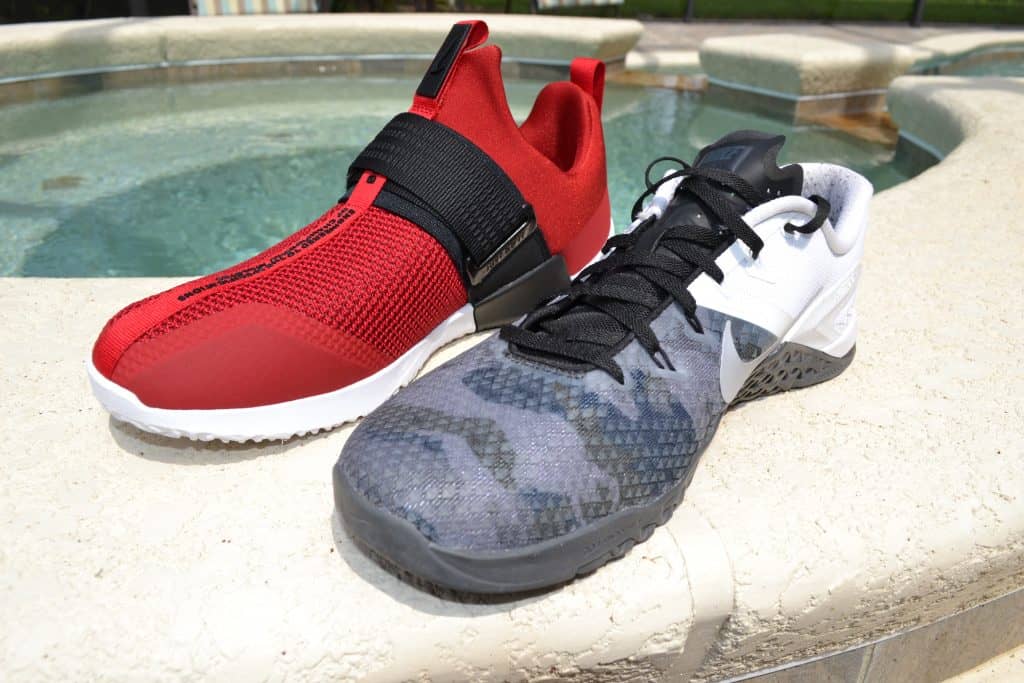 Perhaps as a consequence, this also means the Nike Metcon Sport shoe is heavier than the Nike Metcon 4 XD.
My Men's size 11 Nike Metcon 4 XD weights 12.1 ounces, while the same size Nike Metcon Sport clocks in at 13.9 ounces.
The means the Sport is almost 15% heavier than the Nike Metcon 4 XD.
Nike Metcon Sport – How Do They Feel?
I've compared them side by side for a few weeks now – against several other shoes.
Overall, I like the Nike Metcon Sport a lot.
I was concerned being a "slip fit" style of shoe they wouldn't be fit comfortably – but honestly that's not an issue.
It's true they do not fit quite as snugly as the Nike Metcon 4 XD (or Nike Metcon 4), but it's not a deal breaker.
Remember – you need the heel and throat pull tabs to put these on – and you have the velcro midfoot strap to tighten things down.
I actually quite like not having to lace them up, to be honest.
I will say they do feel to have more midsole cushion than the Nike Metcon 4 XD.
My heels sink a bit more into them when deadlifting and squatting.
It's more cushion – but not a problem.
The extra cushion actually make them more comfortable to wear for longer durations.
I would say the Nike Metcon 4 XD is still the ultimate weightlifting CrossFit shoe – for lifting heavy weights.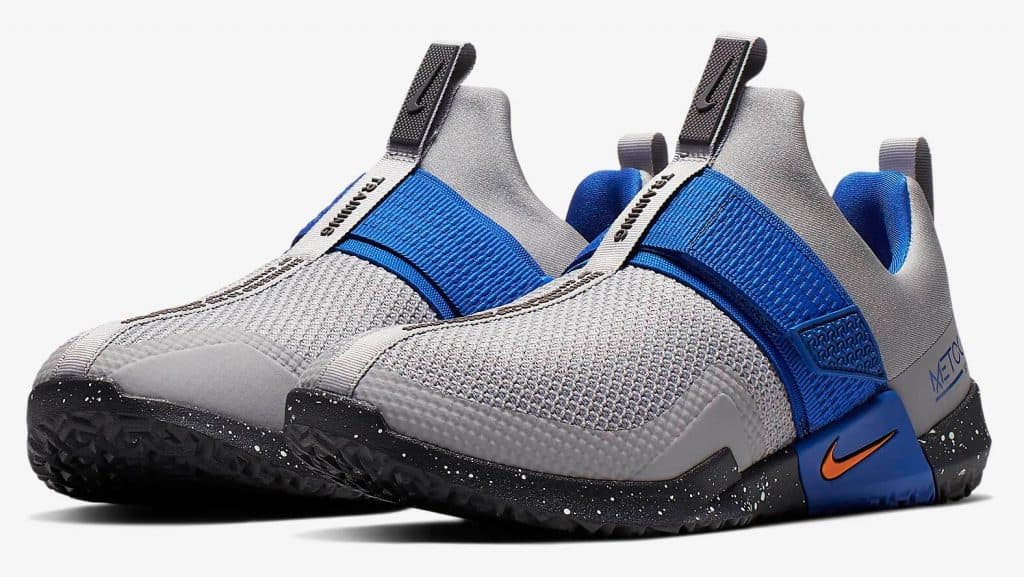 Nike Metcon Sport – Overview
So, that's what makes the Nike Metcon Sport the biggest overhaul to the Nike Metcon shoe since the beginning.
This is a versatile cross training shoe – great for CrossFit and similar functional training.
Lifting weights, sprinting, jumping, and more – the metcon shoes will do it all.
Here's a nice pictorial overview of this great new shoe.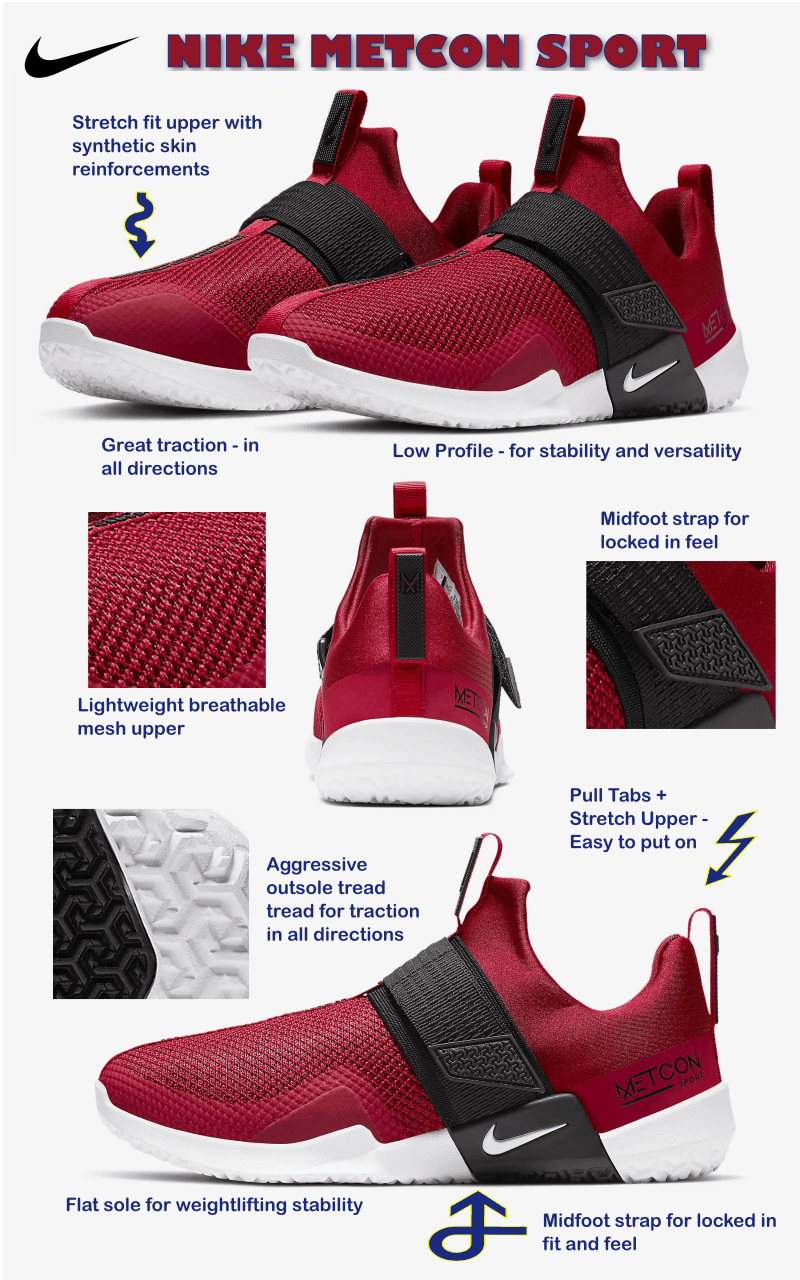 Nike Metcon Sport – In Summary
With the release of the Nike Metcon Sport, Nike has given us the freshest new re-design of the shoe ever.
The Nike Metcon Sport stays true to it's Metcon roots – it is a versatile shoe meant for heavy weightlifting and more.
At the same time, it looks great too – and is easy to slip on and off.
You may also want to check out our review of the Nike Metcon Flyknit 3 and the Nike Metcon 4 XD.
Why Rogue Fitness Products?
We're a
Rogue Fitness
affiliate – so if you order equipment after clicking the links in this article we receive monetary compensation. But that's not why we recommend Rogue. It's because their equipment is tough, durable, well-made, and offers the "best of the best". Their innovative designs and diversity of options make your training better – allowing you to reach your personal goals faster. And that's why we love them.
Nike Metcon Sport – Photo Credits
Nike Metcon Sport product photos are courtesy of Nike.
Some product imagery on this page is property of Road Runner Sports.
Some product imagery on this page is property of Rogue Fitness and provided by Rogue Fitness.
This website is not affiliated or associated with CrossFit, Inc. CrossFit is a registered trademark of CrossFit, Inc.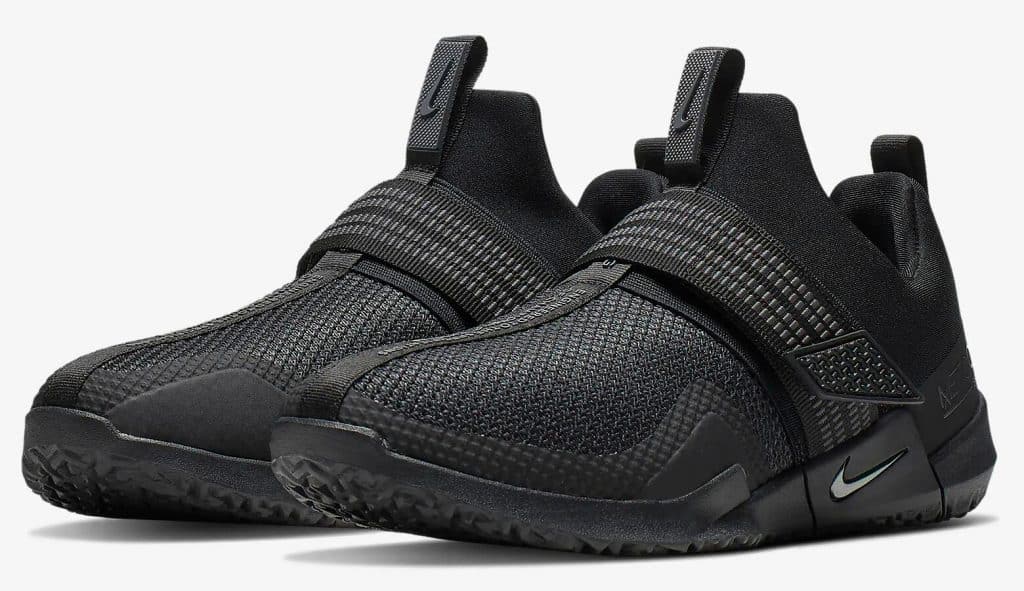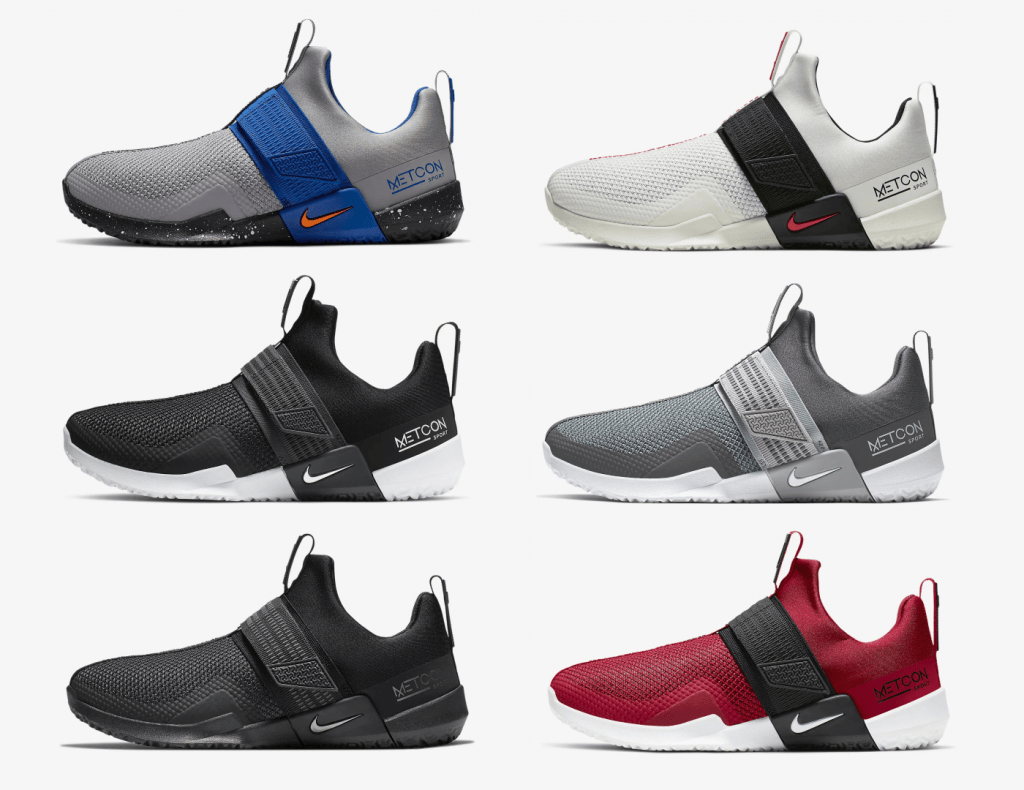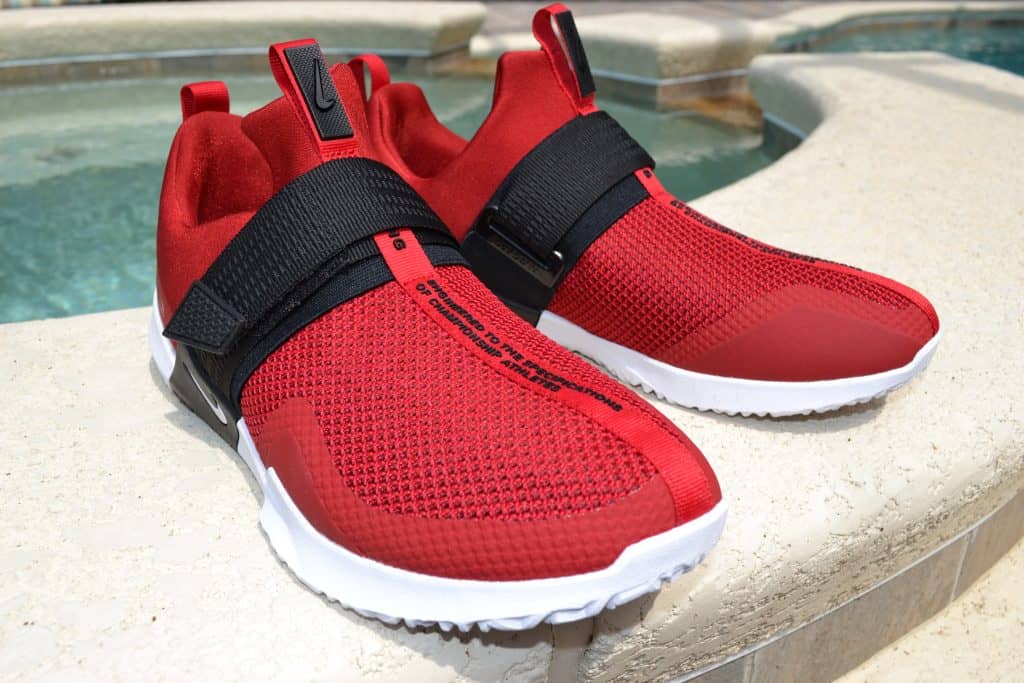 Tim is the founder of FitAtMidlife.com – an avid gym rat for 30+ years, he's a reviewer of many, many shoes – and founder of the Speed Bag Gathering – the world's only gathering of speed bag punching enthusiasts.  See more gym reviews at Tim's YouTube channel.