Let's look at Under Armour's newest cross training shoe – the Under Armour Tribase Reign 2 cross training shoe.
This is the 2nd version of Under Armour's versatile training shoe that will work great for the CrossFit WOD.
The original TriBase Reign is a great shoe – so we're looking forward to seeing how UA has improved upon it with this new version.
The Under Armour TriBase Reign 2 is now available and our hands-on review is underway.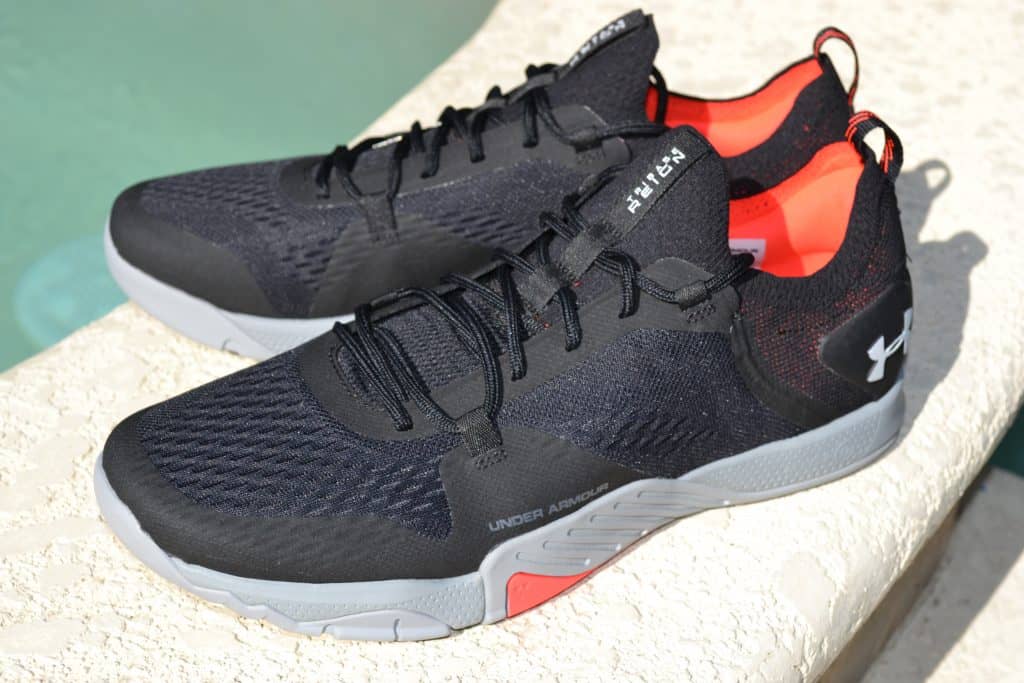 Under Armour is entering a crowded space – how does the TriBase Reign fare against the Nike Metcon 5 shoe line or the Reebok Nano line?
Read on for our thoughts on how this new shoe stacks up against the Nike Metcon 5 and Reebok Nano 9.
Here's the shoes we are going to review.
Let's take a look at the performance features of this great CrossFit style training shoe…
UA TriBase Reign 2 – What Makes it a Great Training Shoe?
First, let's take a tour of what makes the TriBase Reign 2 special.
How is this different than your average running shoe?
It will has a very firm and stable heel – for lifting heavy weights.
Shoes for CrossFit training must be much more versatile than running shoes.
We need stability for lifting weights, flexibility for box jumps and jumping rope, and just enough cushion to run – when we have to run.
One of these things that makes this a possibility is having a low drop shoe.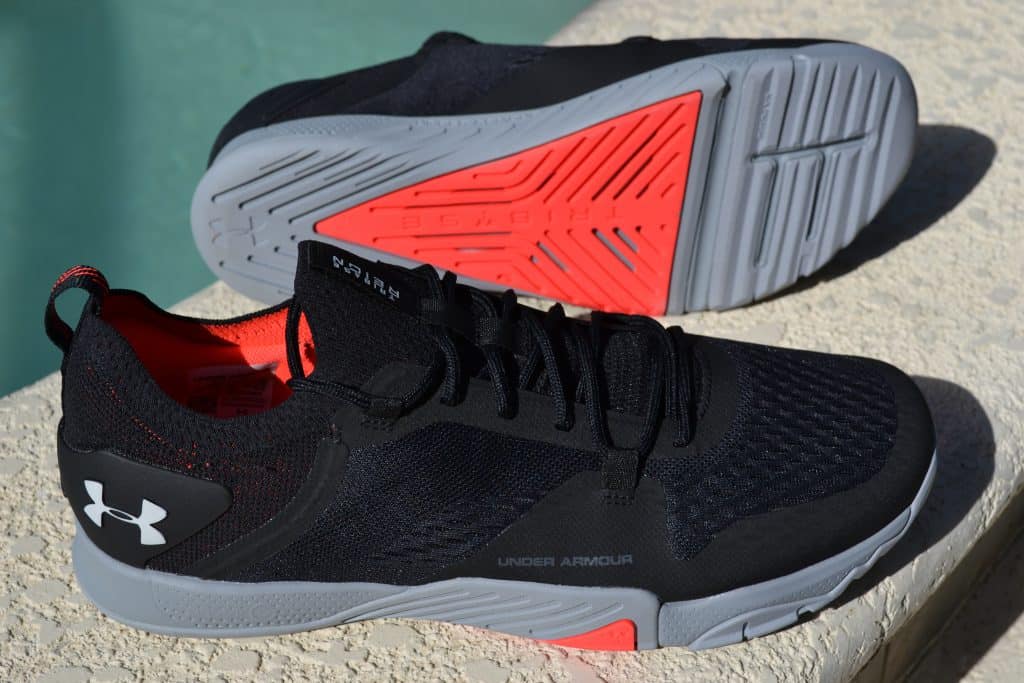 That means there isn't a gigantic heel raise on these – unlike you have on many running shoes (or in weightlifting shoes).
The TriBase Reign 2 has a 2 mm heel to toe drop (or "offset") – which is the same as the original version of the shoe.
(For comparisons' sake – the Nike Metcon 5 and Reebok Nano 9 have a drop of 4mm.)
We also need a high traction sole.
But, Under Armour takes things farther with the TriBase Reign.
It's right in the name – their TriBase technology : "…maximizes ground contact where your foot needs it the most, allows for superior upwards flexibility to promote natural motion, & downwards flexibility to grip the ground during lifts."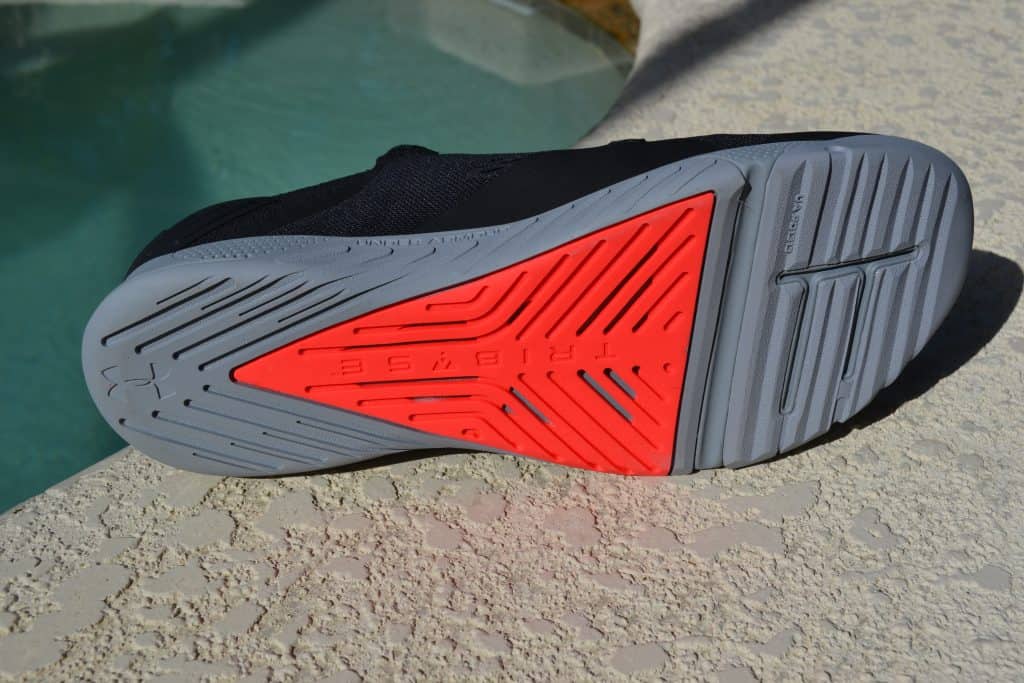 Here's another feature is back in this new version.
In the original TriBase Reign there are cloth straps inside the shoe that integrate with the laces.
This is much like Nike's FlyWire system, but using different materials.
The result is that when you tighten the laces, the whole structure of the shoe tightens around your foot – providing for a great locked-in feel.
By looking at the side profile of the shoe, we can see those same straps.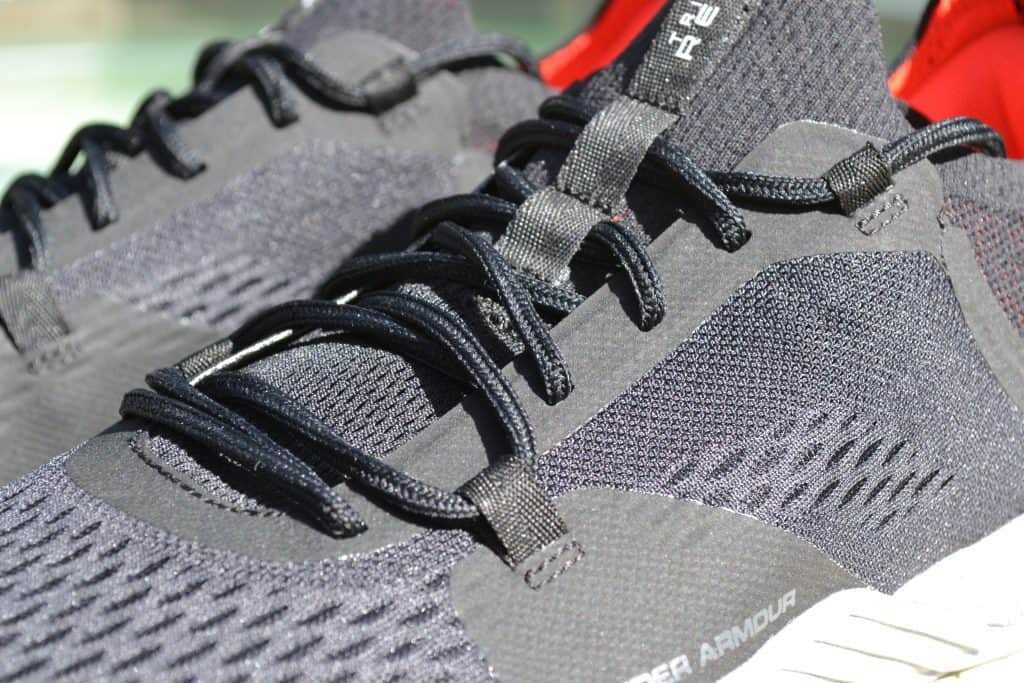 UA TriBase Reign 2 versus the original UA TriBase Reign
How does the new version stack up against the original version of the shoe?
There are a lot of similarities – but they've kept all the great features of the original shoe too.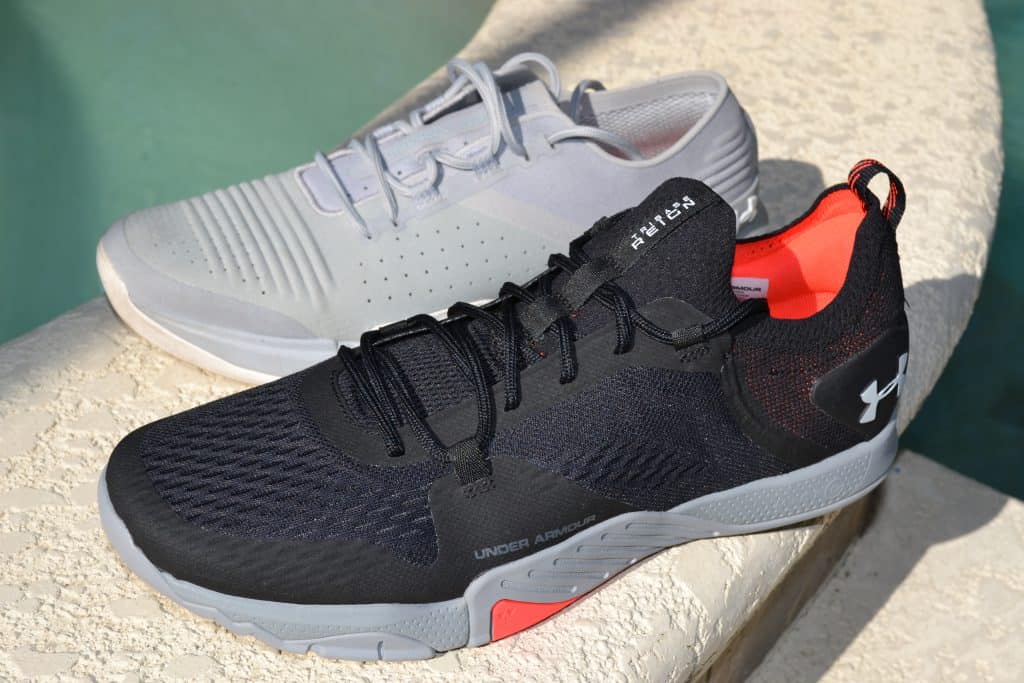 The most obvious difference is the upper – that's the part that covers your foot.
It is now a mesh upper with reinforced areas where high wear is encountered.
It's a lighter, more comfortable feel as compared to the original – which used a very thick upper with minute perforations for breathability.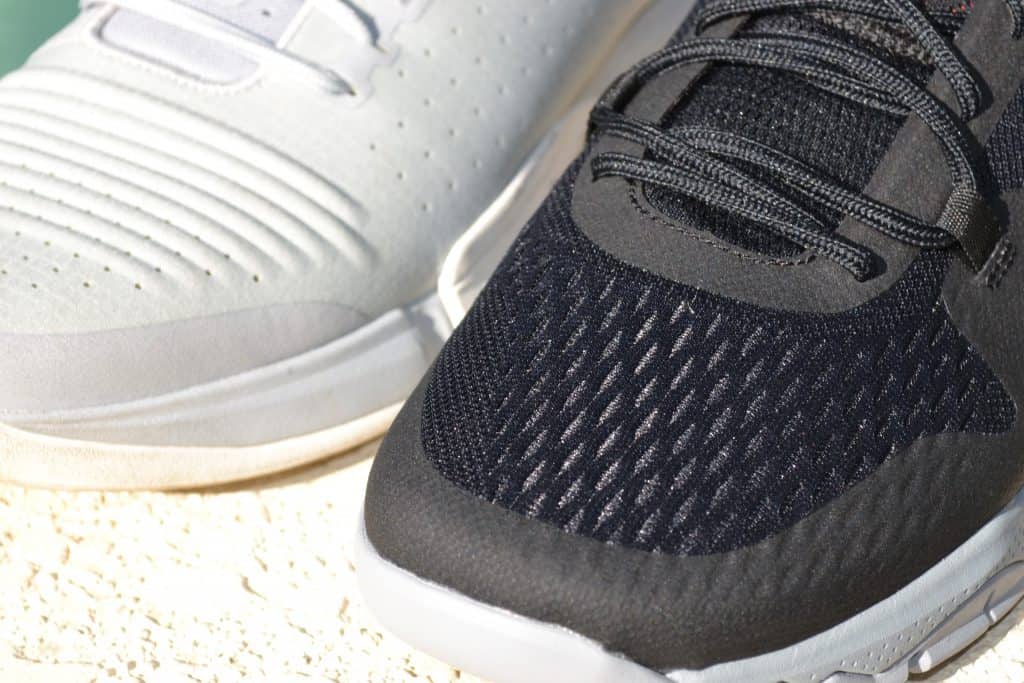 And of course the triangular base is back.
It's largely unchanged from the original – and that's a good thing.
Both versions of the shoe seem to use the same rubber compound for the outsole.
It's grippy and durable.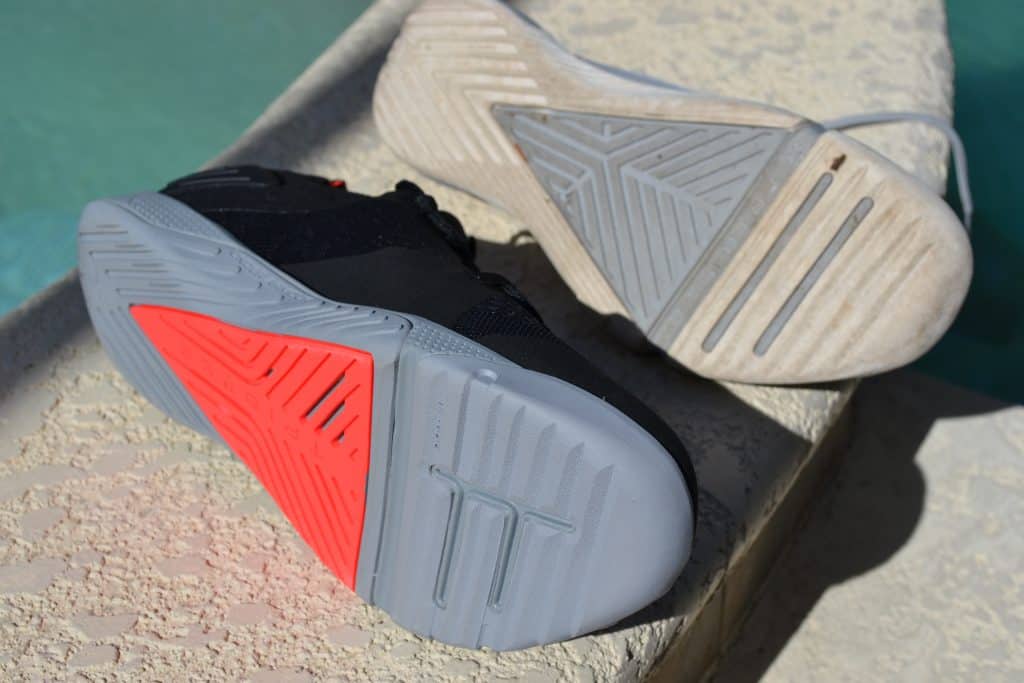 The heel counter is much larger in the new version of the shoe.
It's made from TPU – which is a thick plastic that provides structure and support for your heel.
This is a crucial feature in a weightlifting shoe – and we're glad to see it is bigger.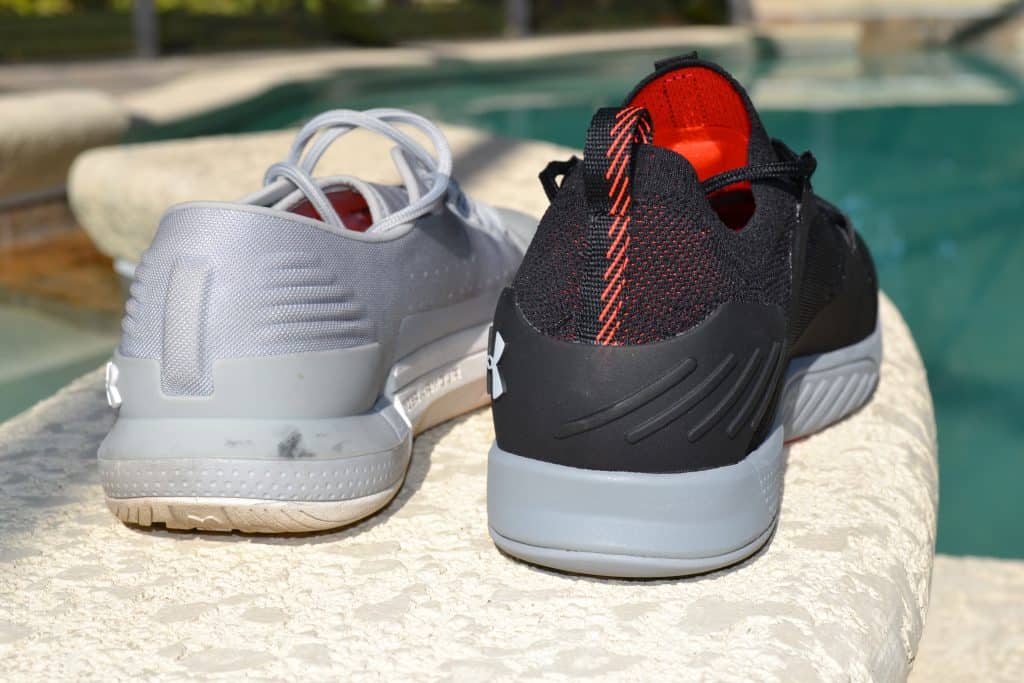 The new version of the TriBase Reign feels a tiny bit narrower than the original shoe. I wear a size 11 Men's in both.
It's possible my older shoe has stretched out a bit over time.
At the moment, I'm recommending you order these in your normal shoe size.
If you like the original UA TriBase Reign, you'll like the new version too.
The original quickly became one of my favorite shoes, and I expect this version will too.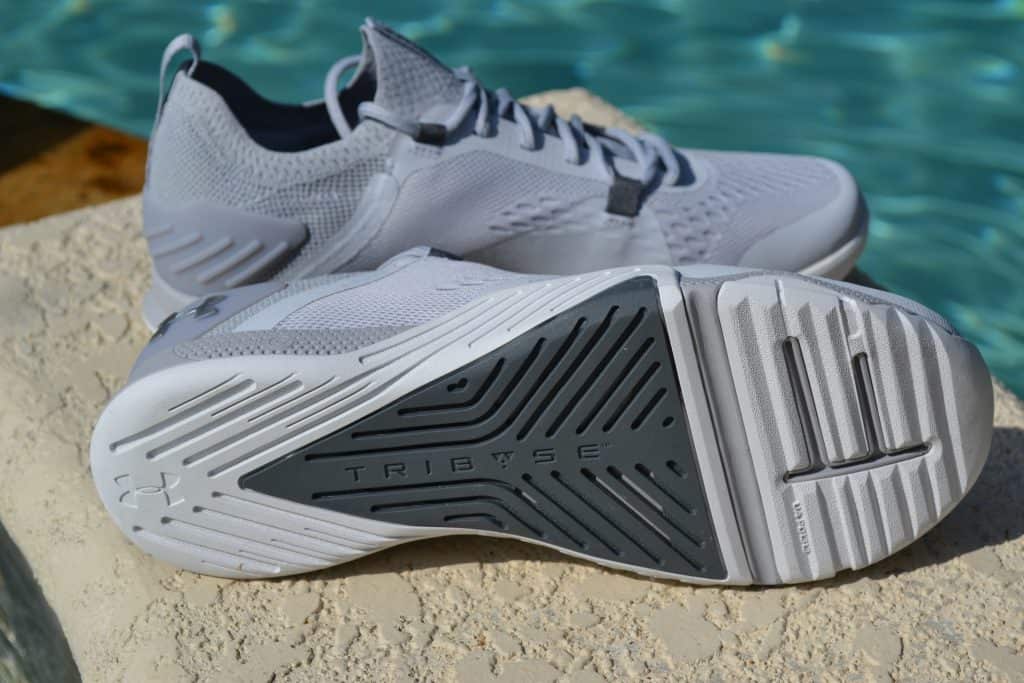 UA TriBase Reign 2 vs Nike Metcon 5
Nike has a huge presence in the market for cross training shoes.
And while they can't call them CrossFit shoes – that's what they are.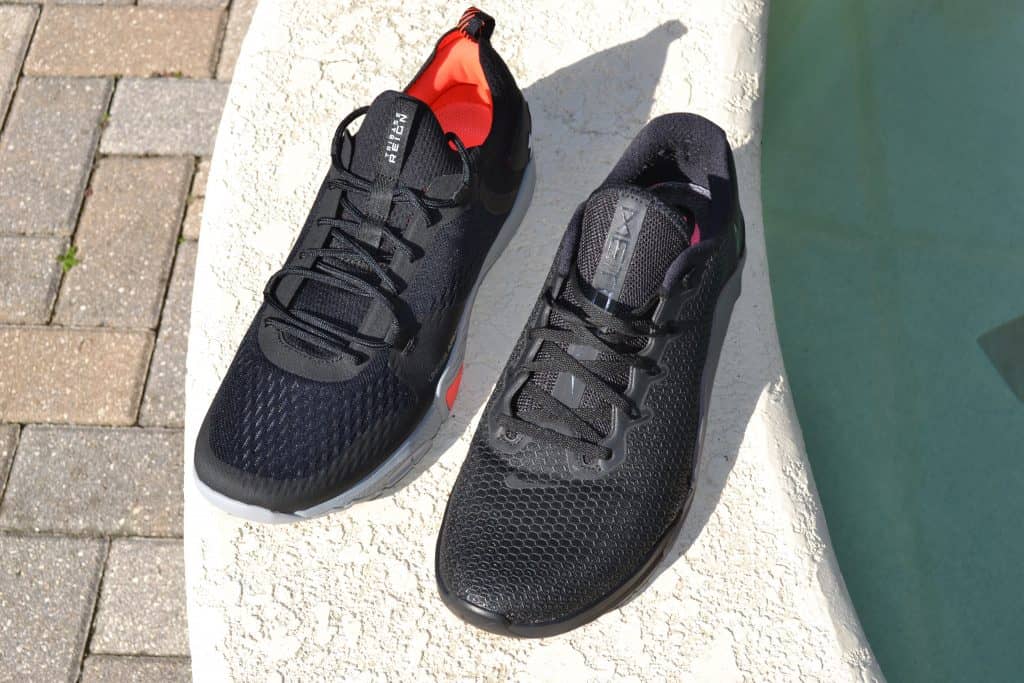 The Nike Metcon 5 is an excellent shoe – and it excels as a stable platform for lifting heavy weights.
And it is VERY popular in the CrossFit crowd.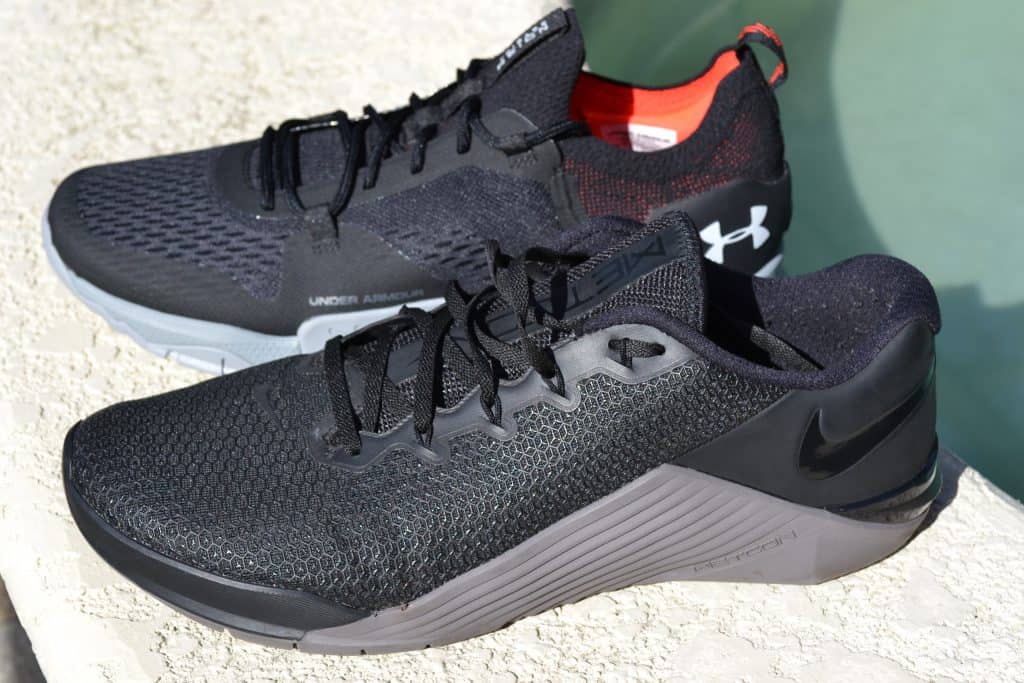 Is the UA TriBase Reign a Nike Metcon killer?
In the battle of Nike versus Under Armour, I'm glad to say the TriBase Reign does well.
So far, they have proven to be great shoes for lifting weights, and other WOD activities as well.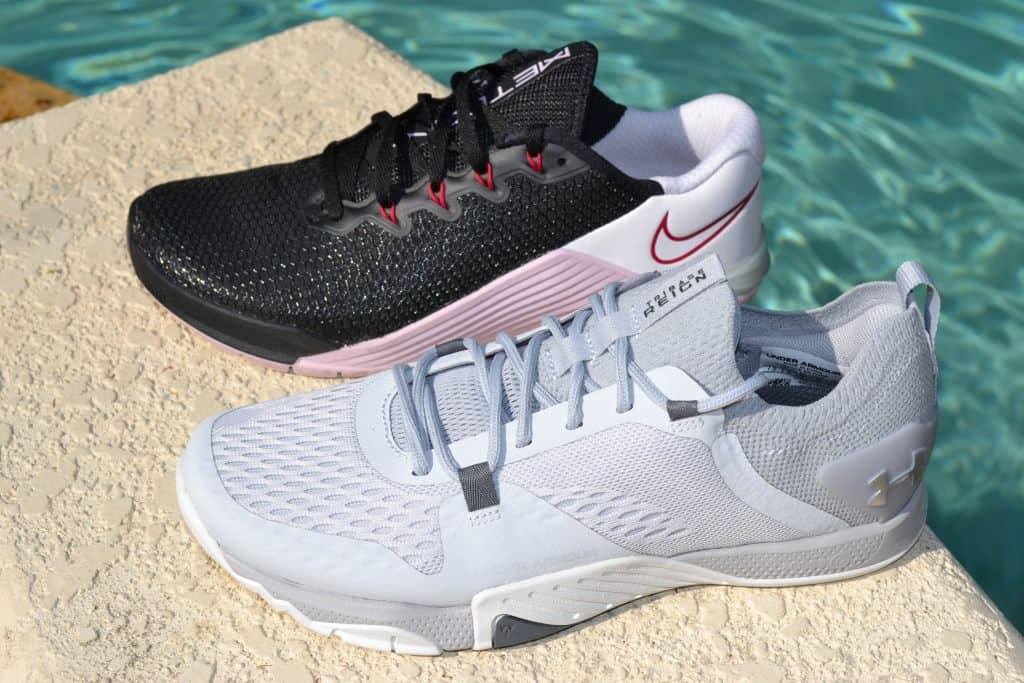 The TriBase Reign 2 does not have the same dynamic cushioned feeling that the Nike Metcon 5 does.
That's because the Nike Metcon 5 uses a "dual density" midsole that is literally two different pieces of foam – the forefoot is soft and cushioned, and the heel is significantly firmer.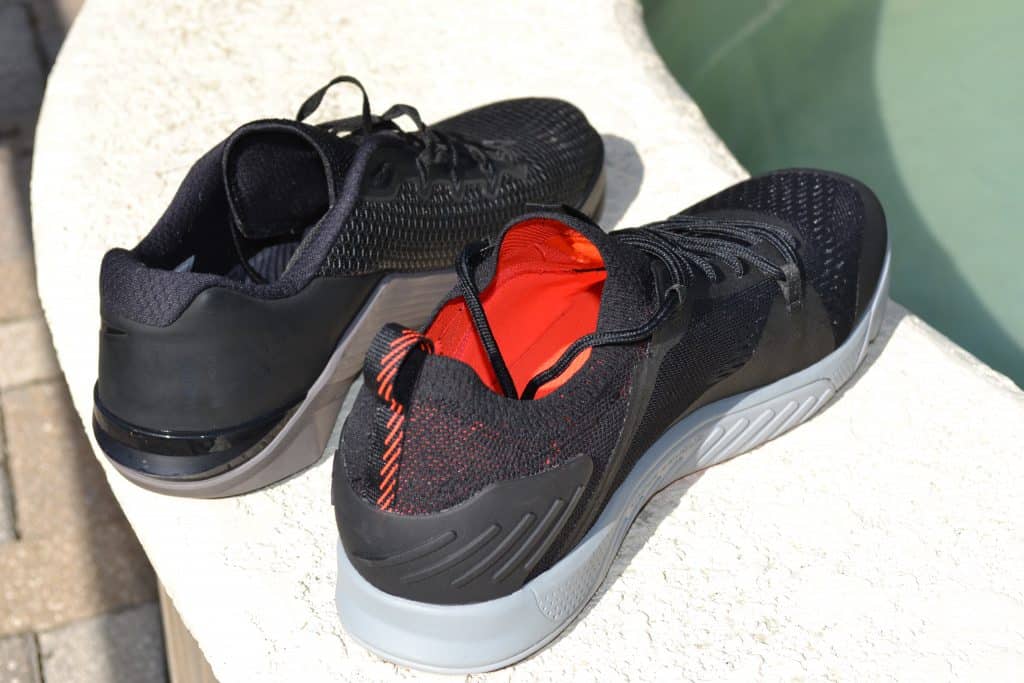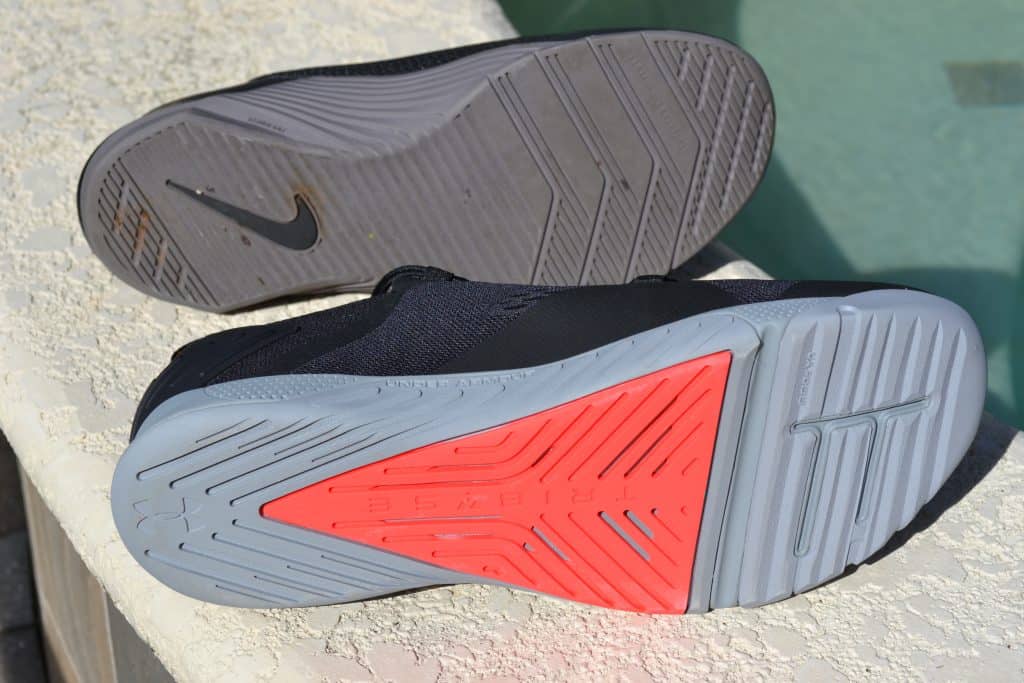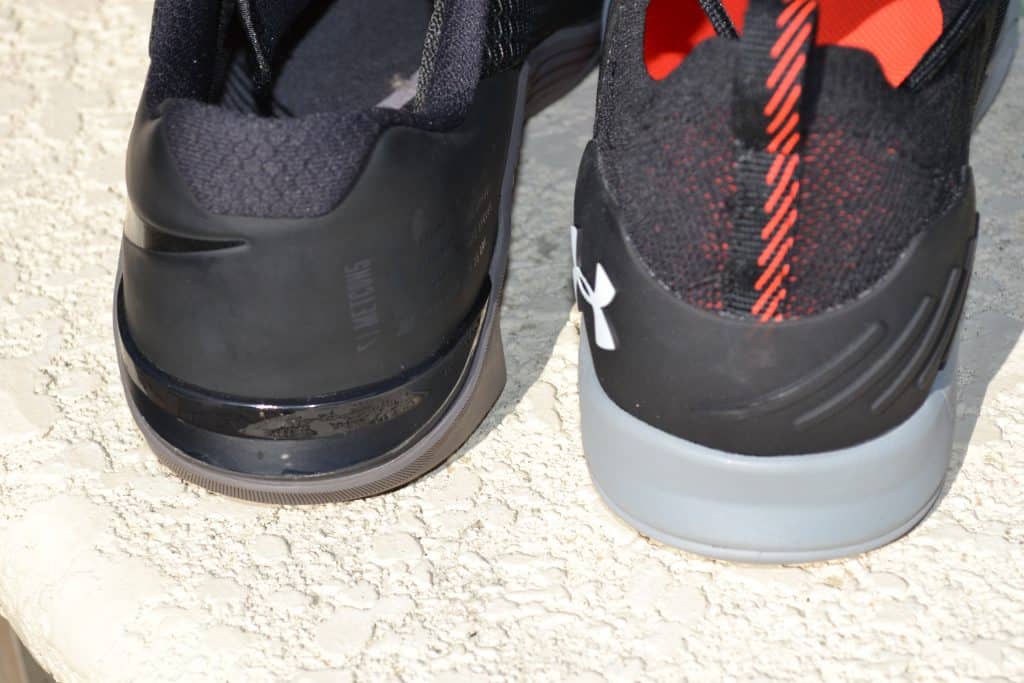 The UA TriBase Reign 2 is lighter than the Nike Metcon 5.
A Men's Size 11 weighs about 12.3 ounces – compared to 13.6 ounces for a Men's Size 11.5 Nike Metcon 5.
Neither are as light weight as a running shoe, but that's typical with training shoes.
The new version of the TriBase Reign does appear to be about .5 ounces heavier than the original.
UA TriBase Reign 2 vs Nike React Metcon
Nike also released a version of the Metcon shoes that uses their React foam cushioning system.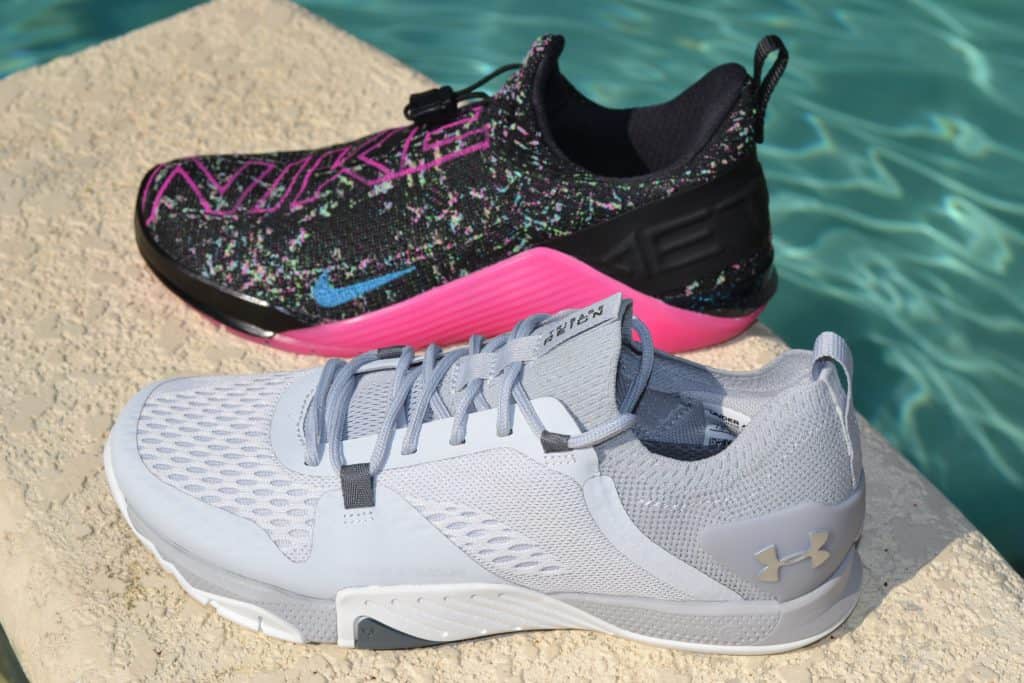 React foam is an advanced foam cushion that gives you energy rebound with every step.
If you've ever used any of Nike's React running shoes – you know they have a very light-weight and bouncy feel.
Unfortunately, none of that carries over to the Metcon series. Cross trainers have to be tougher than a tank – so they aren't lightweight and there isn't much react foam actually in use.
I also don't care for the lack of traditional laces.
Personally, I prefer the UA TriBase Reign 2 over the Nike React Metcon shoes.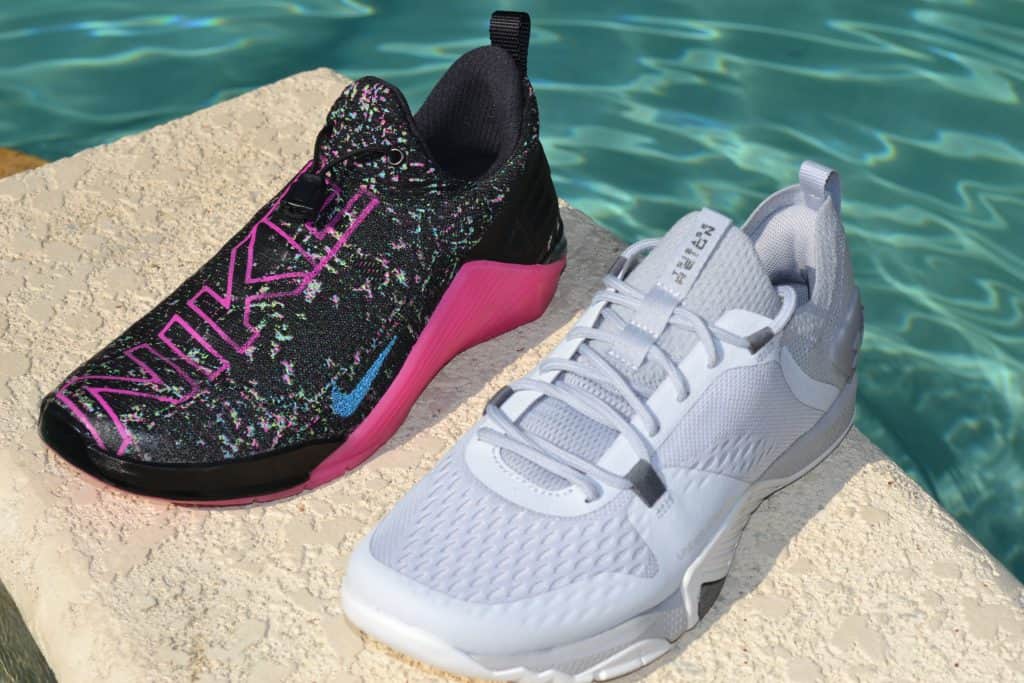 The React Metcon uses a "Forged Flyknit" upper.
It is thick and heavy (and tough) – not at all like the Flyknit on the running shoes.
The soft flexible mesh upper on the UA TriBase Reign 2 is superior for comfort and breathability, in my opinion.
Lastly, the UA TriBase Reign 2 is significantly cheaper than the Nike React Metcon, about $30-$40 cheaper at the time of this writing.
UA TriBase Reign 2 vs Reebok Nano 9
The other popular cross training shoe in the market for 2020 is the Reebok Nano 9.
Reebok has a contract with CrossFit – so they are branded with the CrossFit trademark.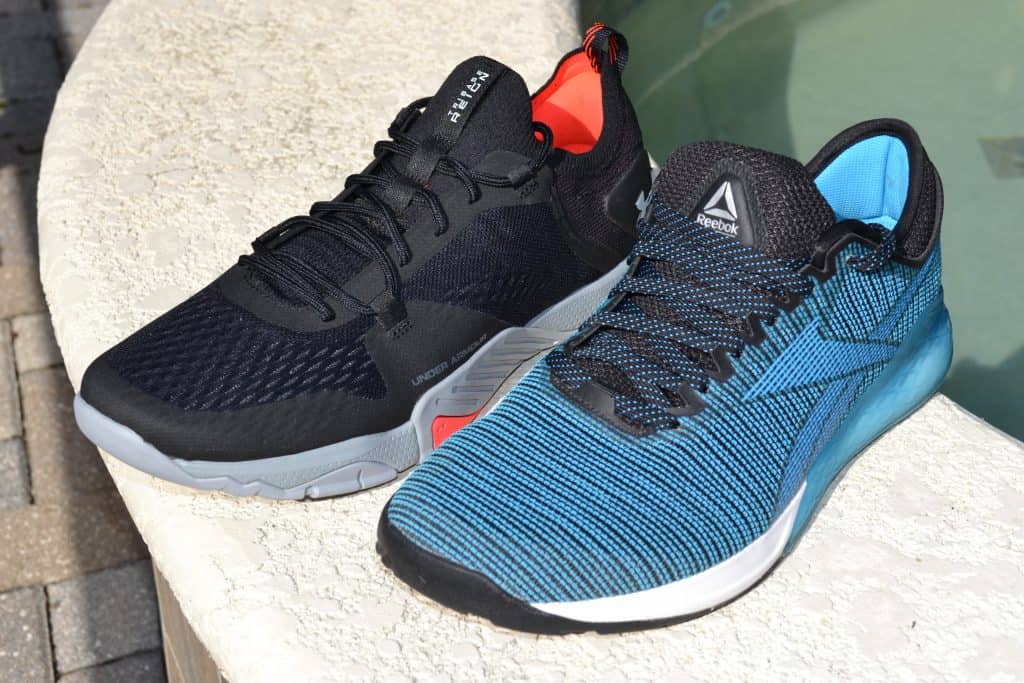 We'll see how these two shoes compare soon.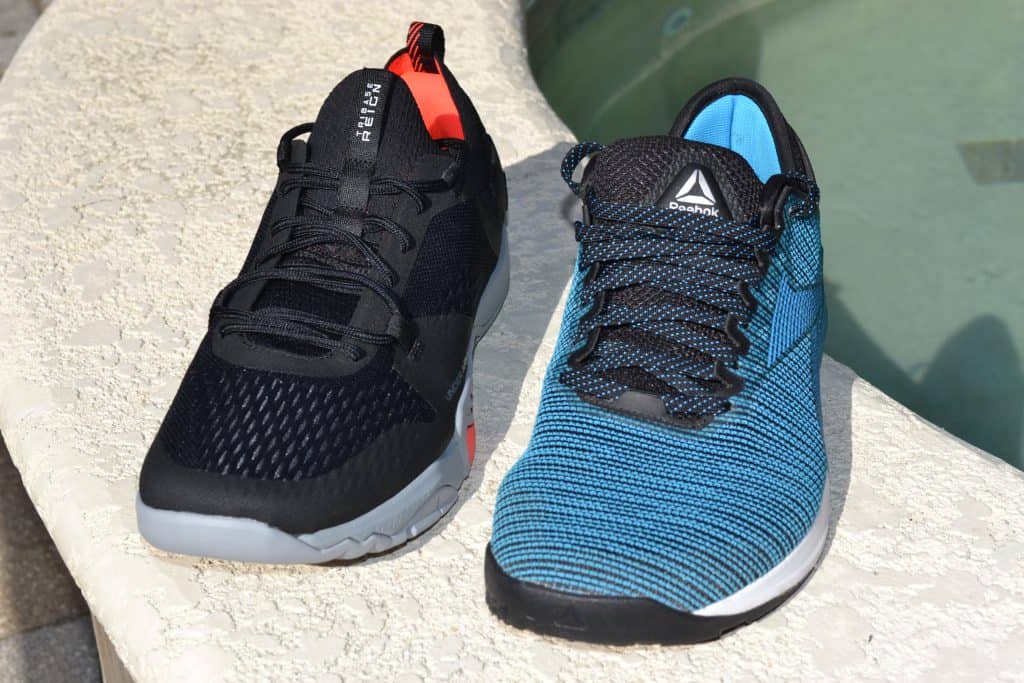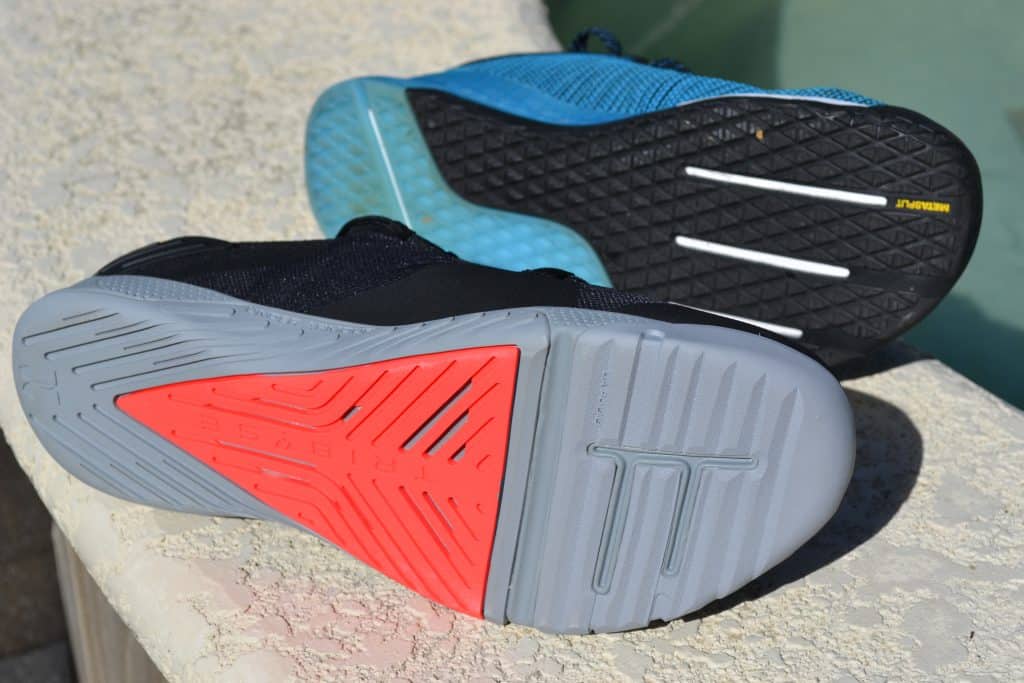 The Reebok Nano 9 weighs around 13.5 ounces (Men's size 11) whereas the UA TriBase Reign 2 weights 12.3 ounces.
TriBase Reign 2 vs New Balance Minimus Prevail
The Minimus Prevail is a new CrossFit shoe from New Balance.
It is very lightweight – a men's size 11 comes in at only 11.1 ounces.
It's lighter than the TriBase Reign (12.3 ounces) but has a nice feel to it – just like the Minimus Prevail does.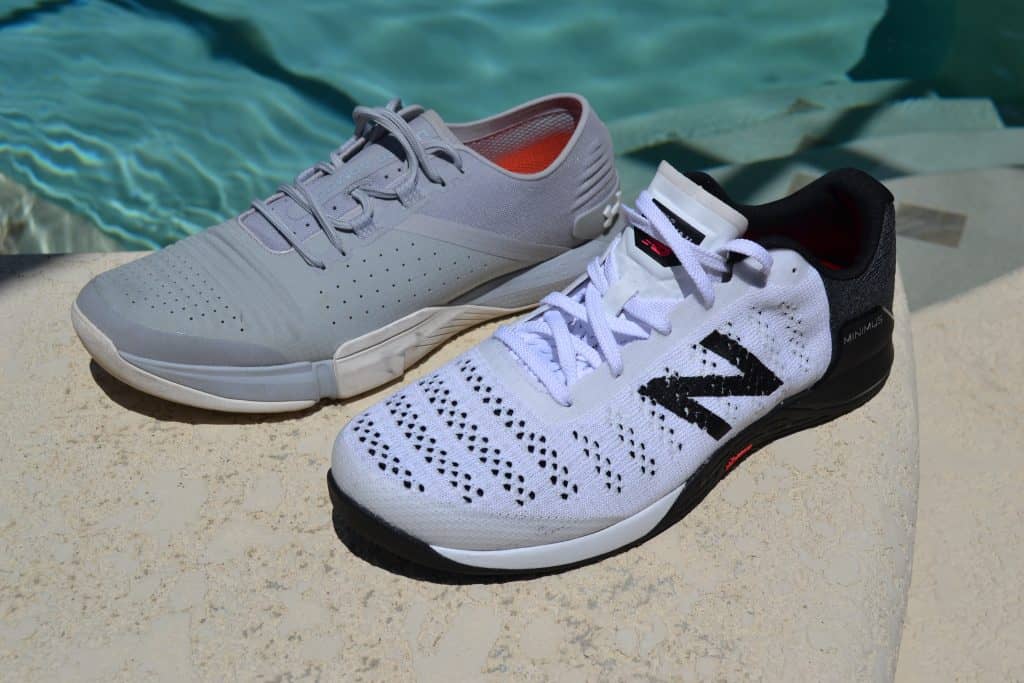 Therefore if you are looking for the lightest trainer possible, your best bet is probably still the New Balance Minimus Prevail.
Having said that, I believe the UA TriBase Reign 2 will have a more durable upper – but only time will tell.
TriBase Reign 2 – A lightweight CrossFit Shoe?
The original Tribase Reign weights in at 11.7 ounces for a single Men's size 11 shoe.
This alone doesn't tell you much – but that is nearly 2 ounces lighter than the Nike Metcon 5 or Reebok Nano 9 (which both weight in at 13.6 ounces for the same size.)
The UA TriBase Reign 2 is 12.3 ounces (Men's Size 11).
That's possibly due to the larger TPU heel counter.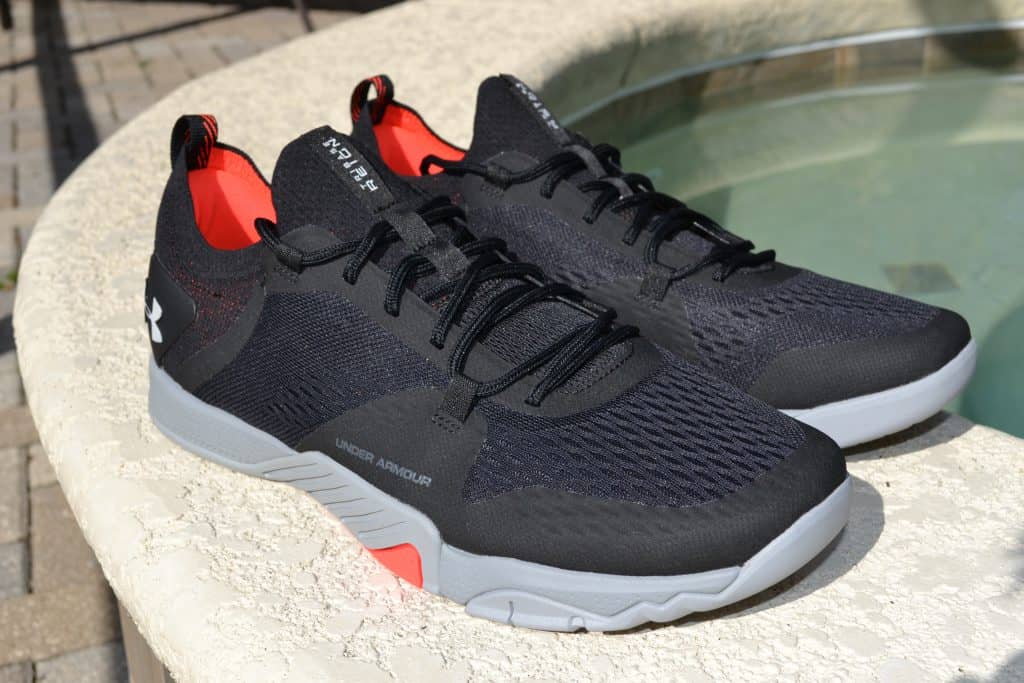 The lightest CrossFit shoe we've found in 2020? So far it is the New Balance Minimus Prevail.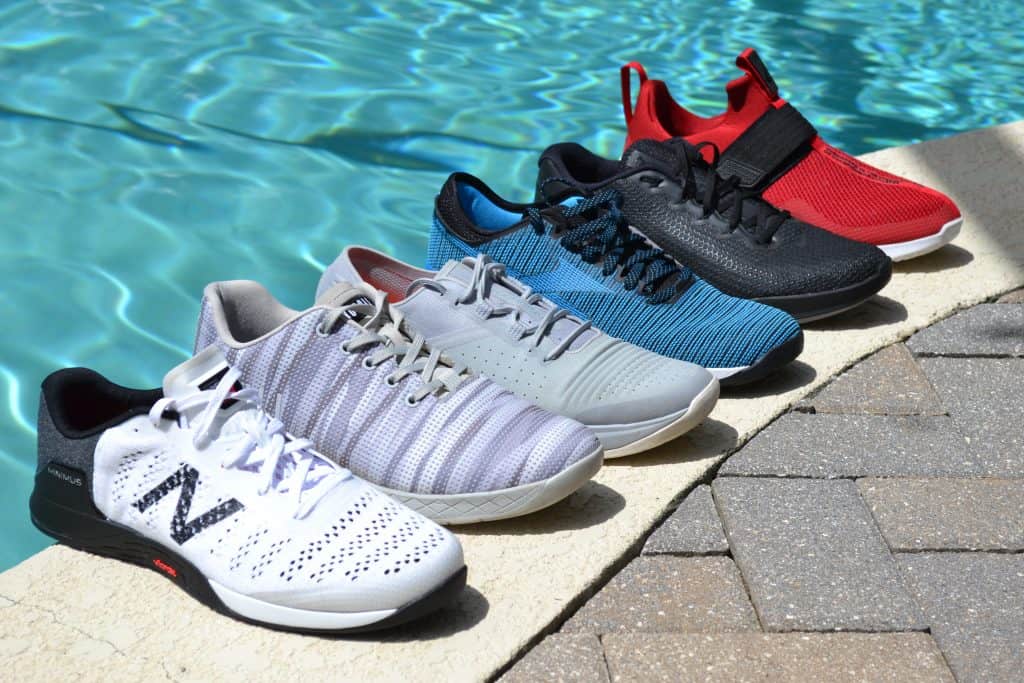 UA TriBase Reign 2- In Summary
The UA TriBase Reign 2 will be available for order in mid-January 2020.
We will have full hands-on review results soon.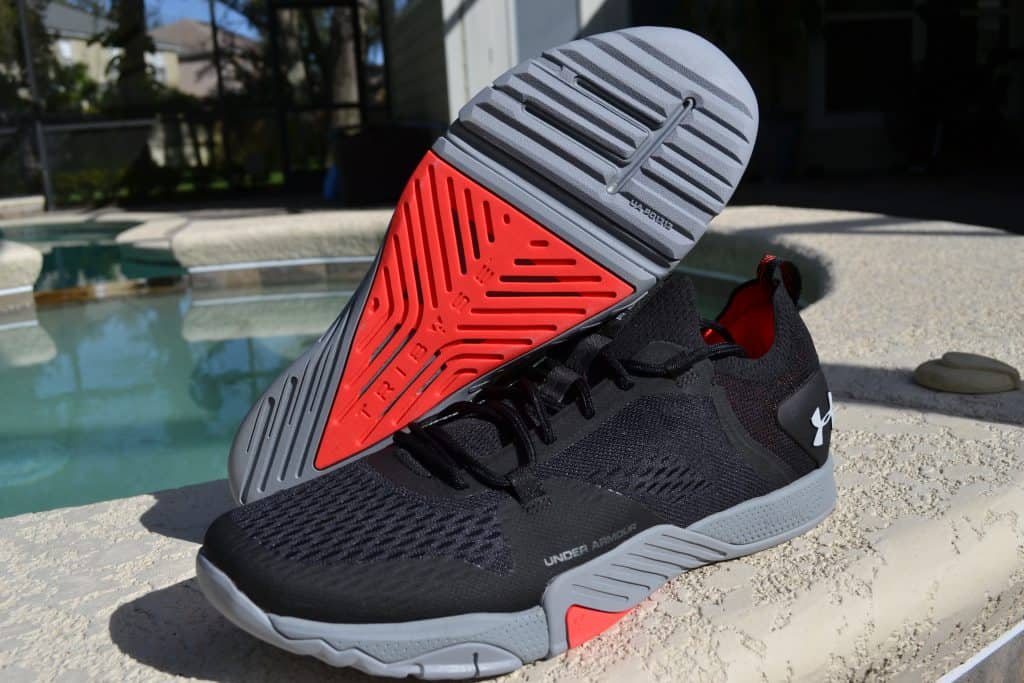 NOTE: We are an Under Armour affiliate – so if you purchase shoes after clicking any links in this article we receive a small commission – at no additional cost to you.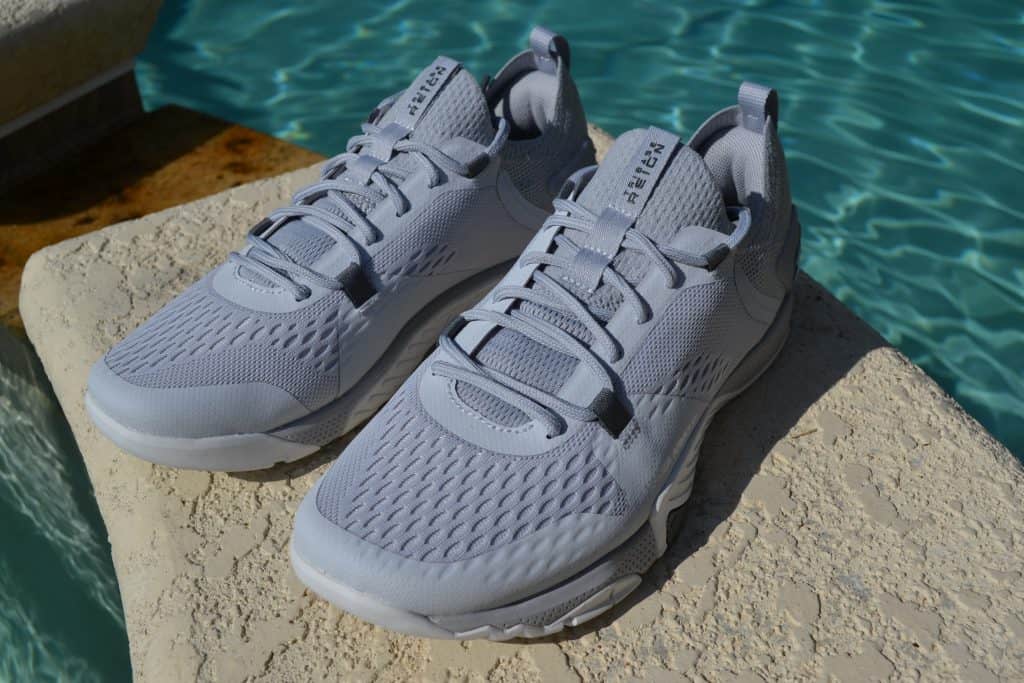 Tim is the founder of FitAtMidlife.com – an avid gym rat for 30+ years, he's a reviewer of many, many shoes – and founder of the Speed Bag Gathering – the world's only gathering of speed bag punching enthusiasts.  See more gym reviews at Tim's YouTube channel.