Need a good holiday or birthday gift idea for an avid CrossFitter in your life? Here's some great gift ideas for 2019.
In this guide we're going to focus on items that are inexpensive, small (easy to ship), useful, and will be appreciated by those that are crazy about CrossFit.
What makes these the best CrossFit gift ideas?
They'll all be useful, functional items. Something that they will find real value in. And lastly, these are all unisex – they all make great gift ideas for men or women.
And all these great gift ideas will put a smile on the face of your beloved CrossFit diehard or junkie.
And by the way, these all make great gift ideas for coaches, athletes, weightlifters, and just about anyone into fitness and strength training.
AbMat Pro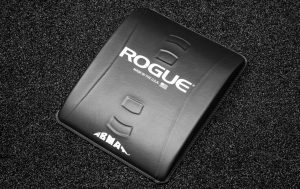 Rogue's AbMat Pro is a "core" training accessory. We don't call it an ab workout now – it's your "core". Sounds cooler. Anyhow, this item is contoured so that it flexes the spine to lengthen the abdominal muscles for more effective sit-ups. The AbMat Pro is made in the USA and designed to provide the full range of motion necessary to train all the abdominal muscle groups.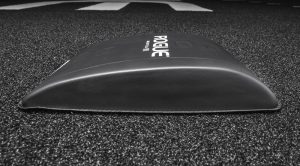 The AbMat Pro is the latest version and provides all the comfort, portability, and abdominal training benefits of the original. Made from anti-microbial vinyl, this 15" x 12" gym mat is uniquely contoured to the lower back, securing the spine and maintaining body balance to enable a more complete, effective sit-up. But it also works for side, reverse, and erector crunches.
Rogue Gymnastic Wood Rings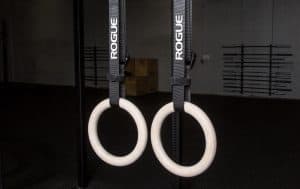 Gymnastic training is a huge part of CrossFit – ring dips, front and back levers, muscle-ups, kipping, and plain old pull-ups are all play an essential part. Gymnastic rings are far more challenging than a fixed pull-up bar and represent the pinnacle of body-weight strength training. These can also be used for TRX style suspension training. Wood rings have a natural feel that many prefer (as compared to plastic), and work with or without messy chalk – which is used to improve grip. These are high-quality, made in America, and are branded with the coolest name in CrossFit – Rogue. Just make sure your giftee has somewhere they can hang these.
You may also want to check out the Rogue Ring Hanger. This is the perfect item to hang rings in a garage with exposed beams.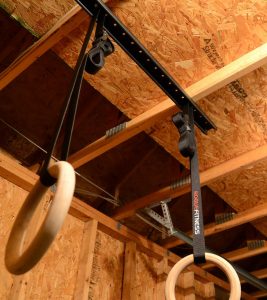 Speed Rope (aka a Jump Rope)
What's a calorie-burning intense workout? Jumping rope. But as with many things in CrossFit – this isn't old school skipping – we need a speed rope. The Froning SR-1F Speed Rope can be turned over super-fast – and that's a necessity for the double-unders and triple-unders that are so popular in CrossFit (That's where you spin the rope 2 or 3 times for each hop). The other great thing about this gift idea?
It works anywhere you have enough overhead space to turn the rope over, so it'll be great for just about anyone. The other great features of this product? It's adjustable – so it's going to work for just about anyone short or tall (there's also an extended version for someone who is really tall), and it's branded with the name of Rich Froning – legendary CrossFit athlete and pronounced the "world's fittest man" multiple times over.
The Ultimate Jump Rope – Rogue SR-343 Mach Speed Rope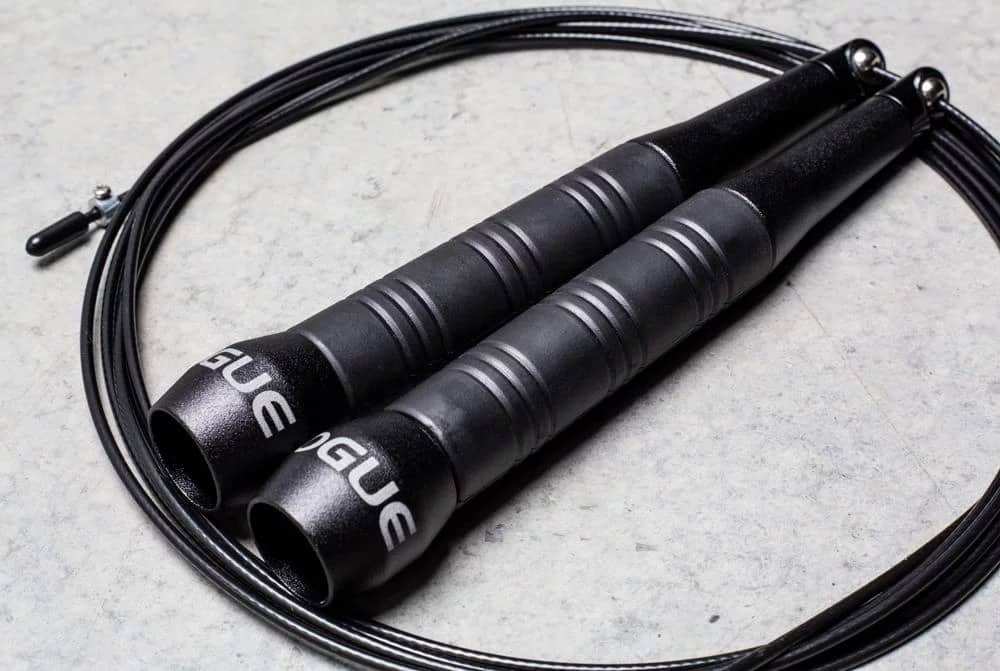 The Rogue SR-343 Mach Speed Rope might be the ultimate jump rope.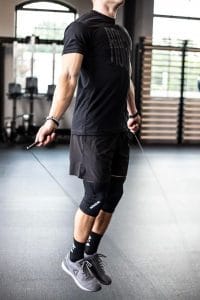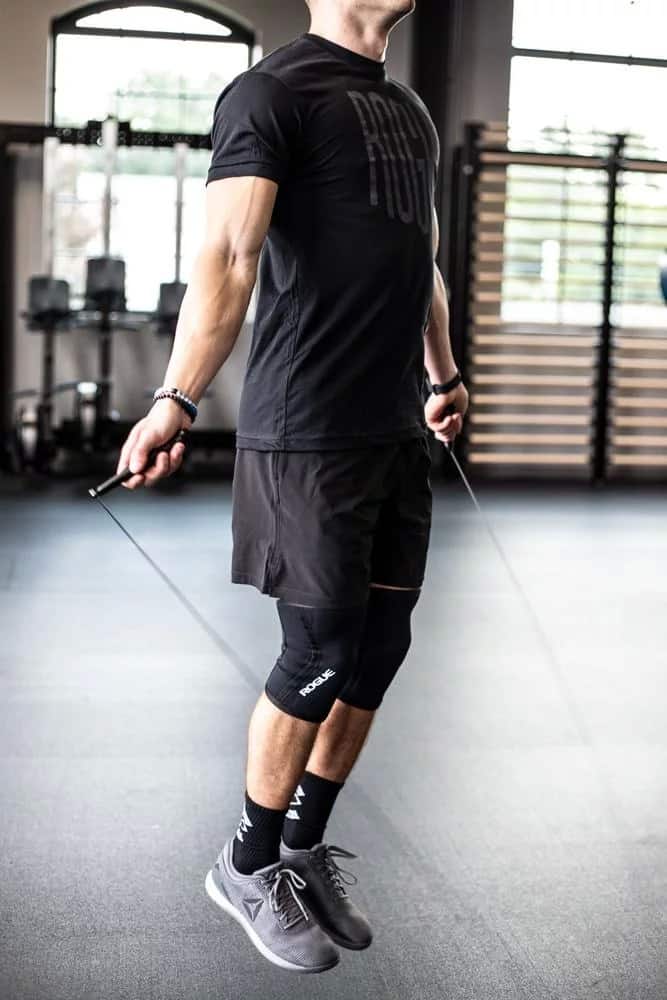 Rogue claims this is their most mechanically advanced design for a speed rope – and that it spins up to 10x better than some of their other models.
The SR-343 features fully-machined CNC aluminum handles, lightweight urethane grips, and custom designed bearings for maximum velocity and consistent performance.
The secret to the super-fast spin is the combination of a custom-designed bearing swivel system, a weight-reducing forged aluminum head, and a premium nylon-coated 5/64″ cable.
The cable can be cut down to size as well.
The SR-343 is also available in colors thanks to Cerakote – an amazing thin-film ceramic coating that is tough, durable, and colorful.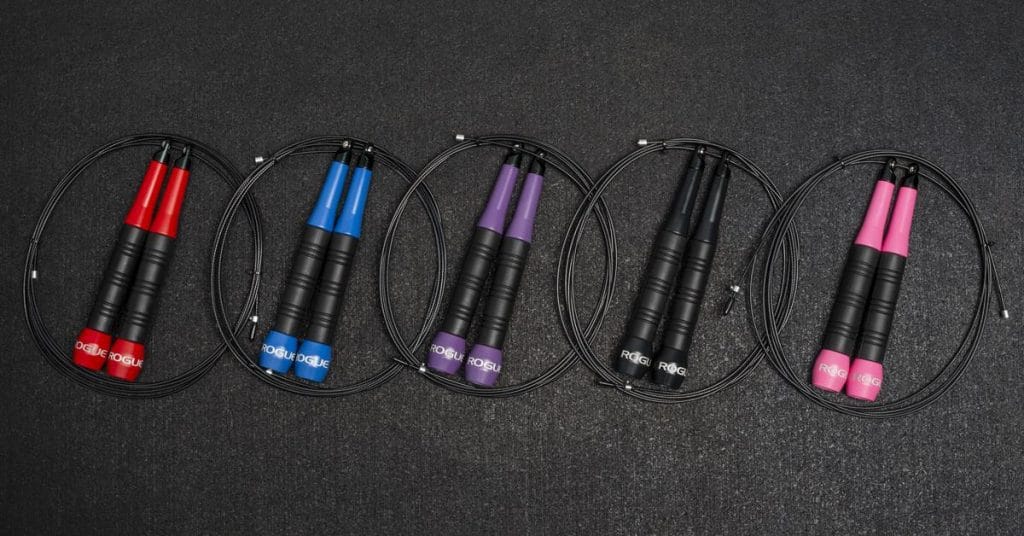 Rogue Compression Socks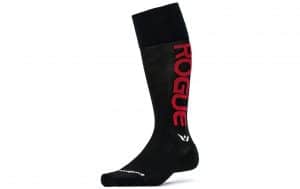 When is a sock not just a sock? When it's a Rogue Compression Sock. Knee-high socks are very popular in CrossFit – it helps prevent scraped shins from deadlifts, rope burn from rope climbing, and helps prevent injury from a missed box jump. What's even better – these are compression socks – so not only do they look good and feel good – but they are performance enhancer. Personally, we think these make a great gift idea. Who doesn't need another pair of socks? The difference here – your CrossFit enthusiast is going to love receiving these socks.
Rogue Monster Bands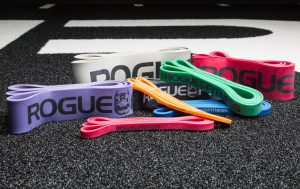 In modern training bands are hot. Why? Because they are a super-versatile way to add resistance or assistance – in a variety of ways. Your CrossFit trainee can use these for any of the following:
Speed and Agility training
Increased Resistance Weight Training (without adding plates)
Pull-up Assistance
Jumping, Plyometrics, Aerobics
Flexibility Exercises, Stretching, General Conditioning
Prehabilitation and Rehabilitation
We'd recommend the
Pull-up Package
or
Pull-up Package 2
, but you can mix and match as well.
Voodoo Floss Bands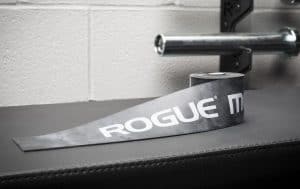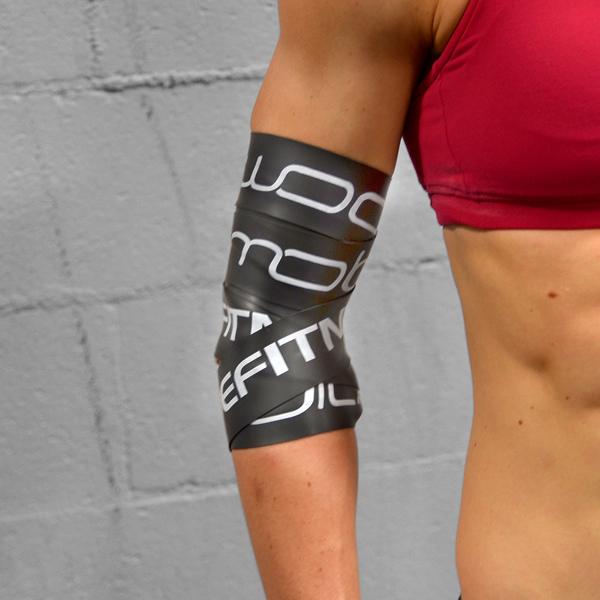 The Rogue Voodoo Floss Band is a rehab item – it's used for "Voodoo Flossing" – which is a rehab technique popularized by Kelly "K-Star" Starrett – an accomplished CrossFit trainer, physical therapist, and published author. It might be easier to show a picture of how these are used – but in a nutshell – you tightly wrap the area you are looking to fix and flex and contract through a range of motion. The extreme compression helps unglue matted down tissue and compress swelling out of joints. Sounds weird, doesn't it? That's why they're called voodoo floss bands. Get the 7′ pair for gifting purposes. The 24′ is intended for box (gym) owners.
5.11 TacTec Plate Carrier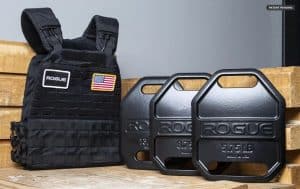 Is your CrossFitter a CrossFit Games junkie? Then they've seen these in action – it's a plate carrier. What is it? Well, for military and law enforcement it is the foundation of their modular body armor. But for CrossFit, it's used to add weight to exercises – in a way that mimics real world situations. Every CrossFitter knows the Murph hero workout – that's a 1-mile run, 100 pull ups, 200 push ups, 300 squats, and another 1-mile run – all done with body armor or a weight vest. And to do this right – you need a weight vest or plate carrier.
I like this gift idea in particular. The 5.11 TacTec Vest is very nice, but expensive. It's probably nicer than what they'd buy for themselves. And sometimes, that's what makes a great gift.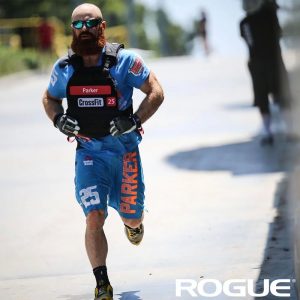 Please note the Rogue USA Cast Weight Vest Plates for this vest are sold separately.
Rogue OSO Barbell Collars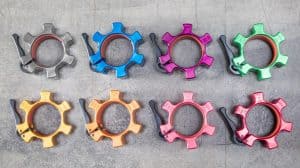 Does that special somebody have a garage or home gym with their own barbell? People with garage gyms take great pride in their workout area – it's something they've built piece by piece and customized just for them. And they want it to look good. They'd love these super-cool OSO Barbell collars – it's the part that ensures the weight plates don't slide off the end of the bar – or move around too much.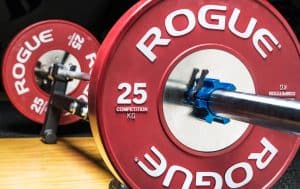 These look sharp – while there are much cheaper options, nothing looks like these – they've got a cool industrial gear design and are made of aluminum. We love this as a gift idea – spring collars are dirt cheap and they work but they can't hold a candle to these in the looks department. It's the kind of thing people might not buy for themselves – but they'd love it as a gift. Available in several colors:
Rogue Oly Ohio Lifting Belt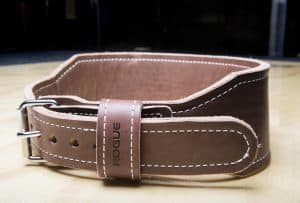 Does your lifter wear a belt when they lift? If so, they'd love this item, the Rogue Oly Ohio Lifting Belt. How is this better than the cheap gear you can get in the big box stores? Just look at that leather – this belt will last a lifetime, and look good doing it. Secondly, it's designed specifically for the "Oly" (short for Olympic) weightlifting that is a core part of CrossFit.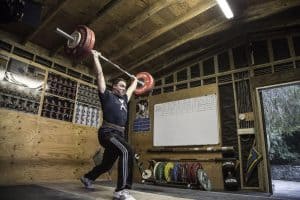 When you "clean" the weight, it's got to stay close to the body – and regular lifting belts can get in the way. The fact that it's not as wide in the front as the back is also a plus – it's a lot more comfortable in the start position or when deadlifting. The only downside to this is you've got to size it right – and not by pants size/waist size – weightlifting belts are worn much higher. The Rogue product page has details. Again, this is probably nicer than anything they'd buy for themselves. But that's what makes it the perfect gift.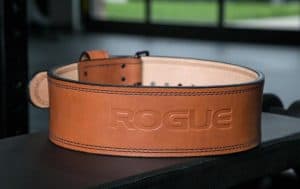 That belt not nice enough for you? (or your giftee?)
Take a look at the Rogue Fitness Premium Ohio Lifting Belt.
This belts up the game with high-grade English bridle leather, black Tuff Kote finished edges, and a slip-resistant interior texture.
Made with Rogue's vegetable tanning process, the result is the best high-performance leather weightlifting belt they've ever offered.
It doesn't just look good – the roughed interior has extra "stick" and the double stitching ensures this belt will last a long, long time.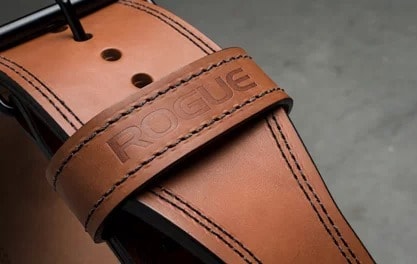 Rogue Black Leather 13mm Power Lifting Lever Belt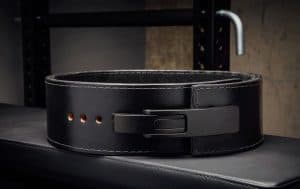 Here's one more belt option – the Rogue Black 13mm Power Lifting Lever Belt.
How is this different than the above two choices?
As a start, it's got a dark, sinister look. And it's a power lifting belt – so it's super thick – and the same width all around. 13mm is a very supportive belt. We would not recommend this belt for Olympic lifting – but it's great if your giftee or athlete is into the power lifts.
We also love that it's a lever belt – the patented lock-in lever design (made from nickel-plated steel) is used instead of a traditional buckle.
It's got a nice black suede liner on the inside as well.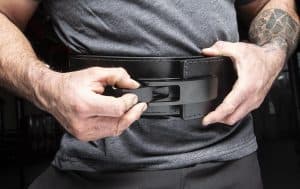 Fat Gripz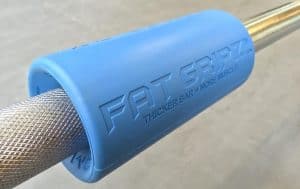 OK, what the heck is this thing? Fat Gripz are a devilish device can be wrapped onto any standard Olympic barbell, or dumbbell to turn it into a thick bar. That makes for an extreme grip workout – and believe me, it's a humbling experience. It really works the forearms and grip, because you can't close your fingers as far around the bar. We love this because it takes one piece of equipment and makes it that much more versatile – for a minimum price. Just make sure your CrossFit enthusiast has a barbell or dumbbells they can use this on.
Rogue Apparel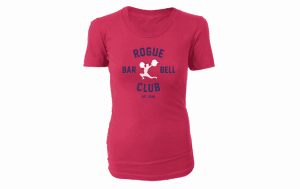 Yuck! Who wants clothes for Christmas? Not so fast – it's hard to go wrong with these stylish designs. And even better Rogue apparel is made for comfort, function, as well as style. They'll love working out in this gear. Available in both Men's and Women's styles – the Rogue Barbell Club shirts are shown – but they've got everything else under the sun as well. The Rogue Barbell Club design is shown, but they've got dozens of others.
Nike Metcon 4 XD – CrossFit Training Shoe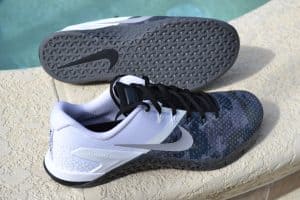 Did you know your beloved athlete can benefit from specially designed CrossFit training shoes? The extreme variety and toughness of CrossFit workouts means that a training shoe can help a lot.
Why is this? The demands of heavy weight lifting, box jumps, sprints, rope climbs, and all the other crazy stuff these CrossFitters do requires a versatile shoe. And all those things can annihilate regular shoes – they just aren't durable enough. Nike's premier cross training shoe for 2019 is the Nike Metcon 4 XD – and it's a hot item. Available in both men's and women's sizes and colorways – these are fantastic training shoes.
Also still available is the Nike Metcon 4. You can find them in a wider range of color options, compared to the just released XD.
They look great for men or women. Shown here are the women's in Champagne color. Best looking training shoe for 2019 – no doubt about that.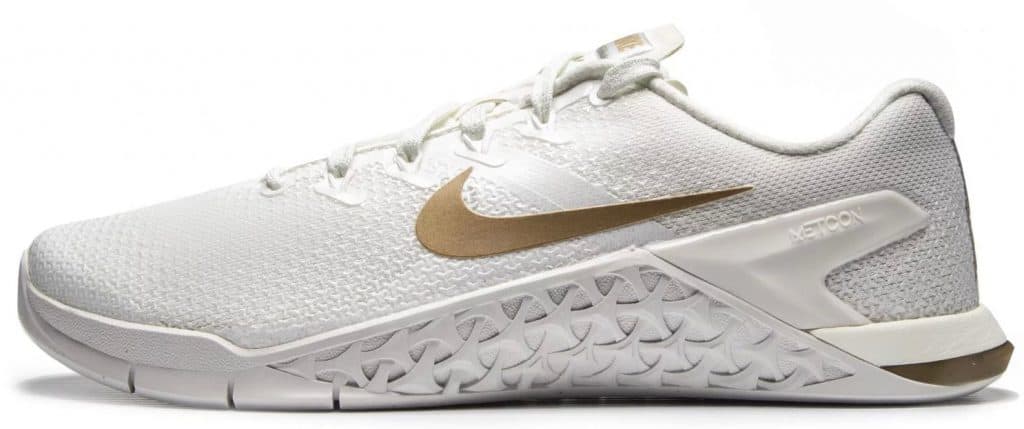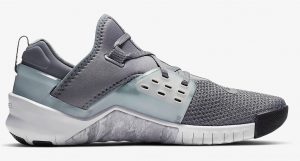 Just bear in mind they are not running shoes.
If your athlete specializes in the distance running parts of CrossFit, you'll want to look at the Nike Free x Metcon 2.
How are these better for running? They have more cushioning – and the "Free" line of shoes are meant to be running shoes.
But otherwise, grab a pair for your fitness lover.
Nike Metcon Sport – Newest CrossFit Shoe for 2019
Here's another great gift idea – the brand new Nike Metcon Sport is a functional and good looking shoe.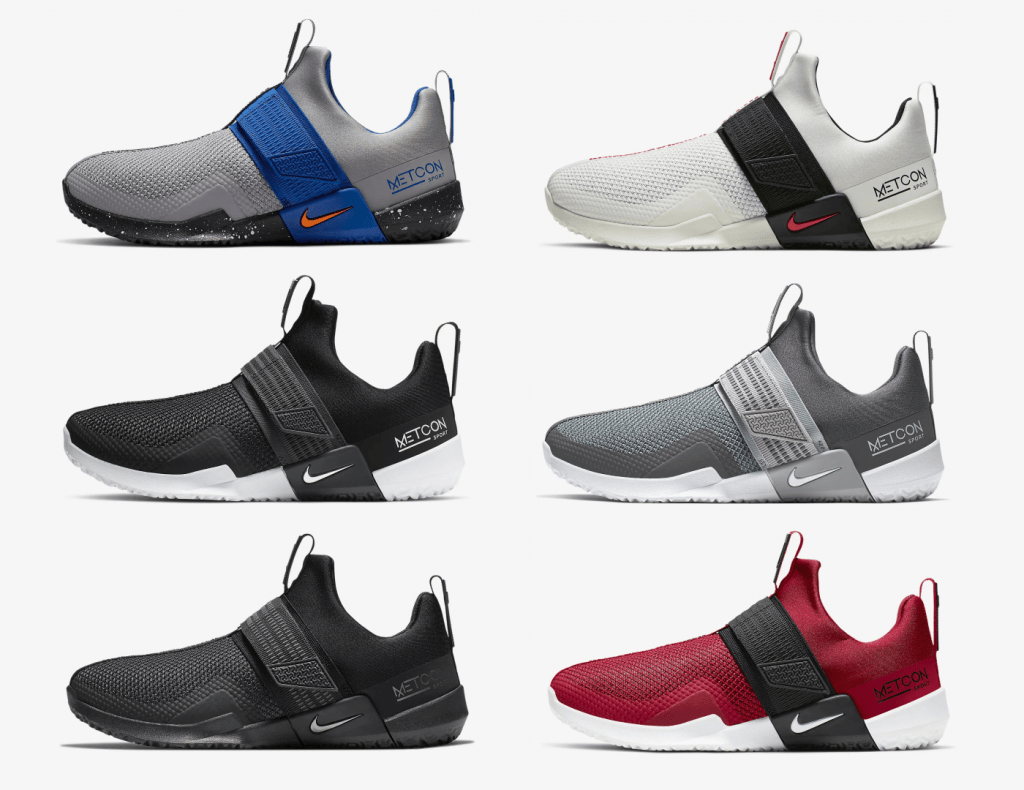 Like the Nike Metcon 4 XD – it's an all-arounder – meant for lifting weights, running, jumping, and everything else you have to do in the CrossFit WOD.
What's new and radical in these is the stretch fit design – there are no laces.
There is a midfoot strap that helps with a locked in fit and feel.
These are great shoes – for any CrossFit trainee.
If all else fails – Rogue Fitness Gift Card!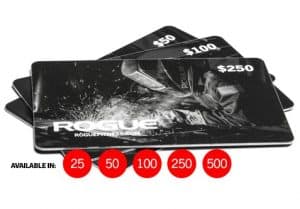 If all else fails, get them a Rogue Fitness gift card. This way they can pick exactly what they want (or need). This eliminates all the hassle and worry of knowing about their sizing, color preferences, etc. Best of all – this gift card never expires – and there are no hidden fees. It's an all-around winner.
It's never too late to send a Rogue Fitness E-Gift Card!
And, by the way, if you've missed holiday shipping deadlines, or otherwise waited too long to order a gift, we've got a life saver for you.
Order a Rogue E-Gift Card and either send it via email or download and print it.
This is a great option that you can order any time of the day or night!
Best CrossFit Gifts – In Summary
We hope we've given you some great gift ideas. Any avid CrossFit trainee should be thrilled to receive one of these gifts.
These are the best gift ideas for CrossFit trainees.
Image and Photo Credits
The Rogue Fitness logo and product imagery on this page is property of Rogue Fitness and provided by Rogue Fitness.
This website is not affiliated or associated with CrossFit, Inc. CrossFit is a registered trademark of CrossFit, Inc.