Force USA: Use code
FAM5
to get 5% off any purchase over $1,500.
We're going to take a close look at an innovative new product from Force USA: the MyRack Folding Power Rack.
Need a folding power rack?
It's a great idea. A folding power rack will let you lift heavy with stability – and more importantly, safety.
With a folding power rack you'll get space back in the garage – to use it for the things you normally use a garage for.
Haven't heard of Force USA? You will soon – they are an up and coming force in the gym equipment industry – providing innovate equipment at bargain prices.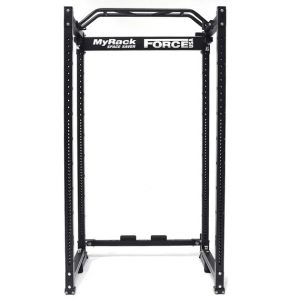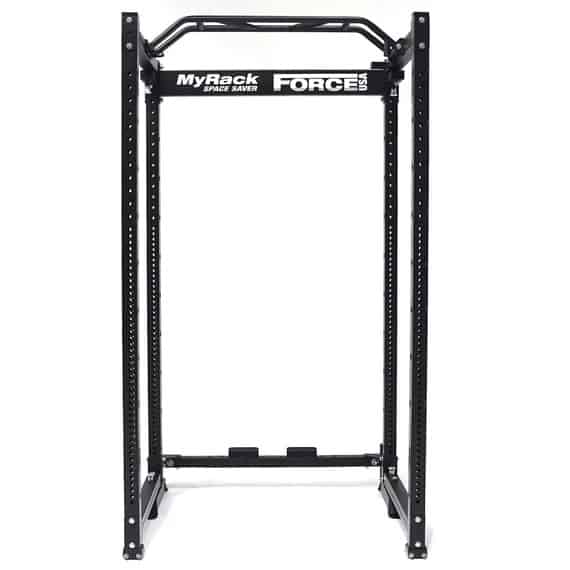 MyRack Folding Power Rack
Force USA has released the industry's first 4 post folding power rack - this stable unit lets you train heavy, safely, and still have room in the garage. It's also infinitely customizable with their MyRack accessories and attachments.
Let's take a closer look.
How a Folding Power Rack Works
First of all, you might be wondering – how does this fold up?
Here's the sequence. First, you drop the crossover pull-up bar.
NOTE: It is recommended that you bolt this unit to the floor. But you can do that for the support "feet" on the base unit – which means the folding sides can still be moved easily and quickly.
You'd also have to remove any optional accessories or attachments first.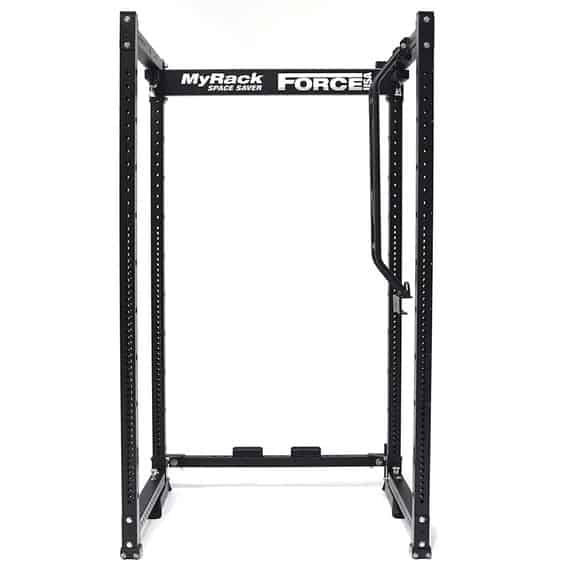 Then, fold in one side of the unit.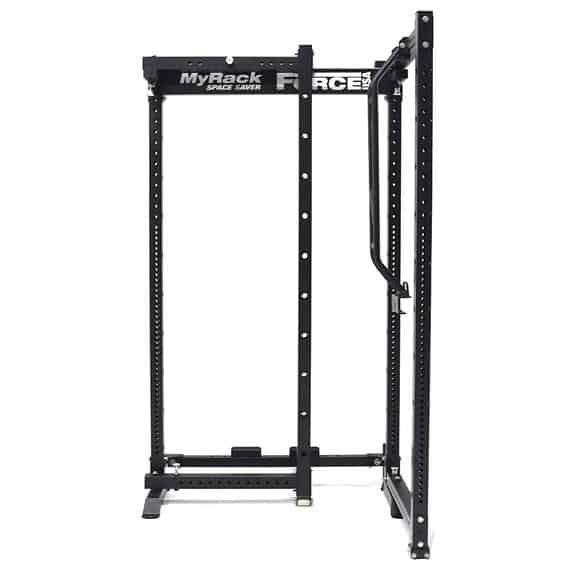 The final step – fold in the other side of the unit.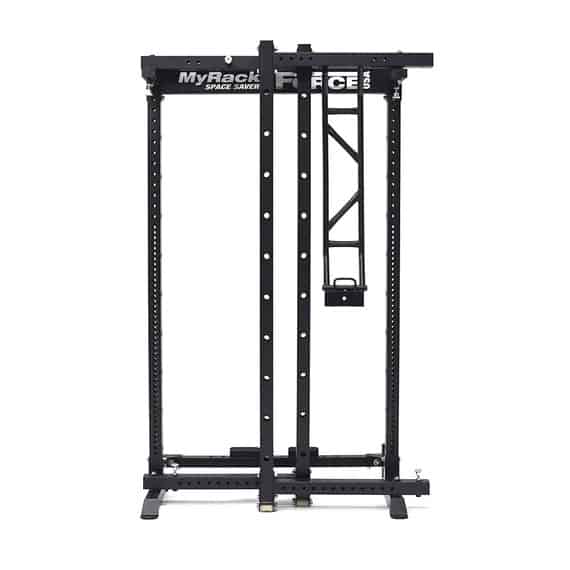 That's pretty easy.
The footprint when folded is: 20″ Depth x 52″ Width x 84″ Height
That's a height that will fit in most garages too.
When fully setup, it is 41″ Depth x 49″ Width x 86″ Height.
It also carries a lifetime structural warranty.
Advantages of the MyRack Folding Power Rack
How is this different from all the other folding power racks on the market?
You don't attach it to the wall.
As compared to wall mounted folding racks, you get these advantages:
No need to mount stringers on the wall
More interior working space,
holds twice the weight – this rack can support up to 2,000 lbs.
But, that's just a start – it's also super customizable and lets you use many of the MyRack attachments and accessories.
This folding power rack is far more versatile than the others on the market.
First, let's take another look at it fully setup.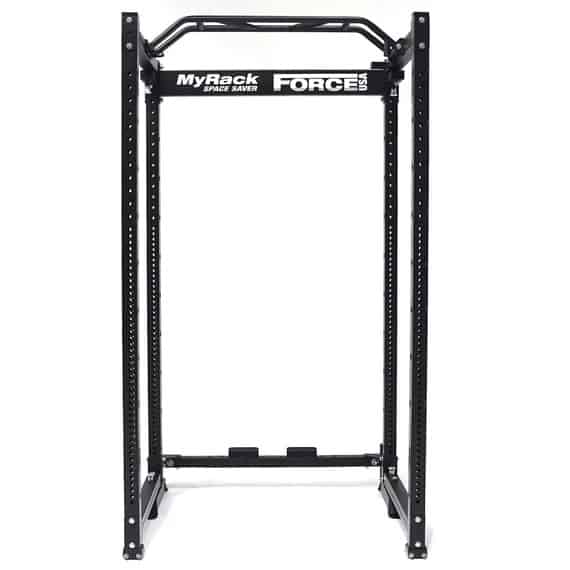 The base unit is forged with precision welded, laser cut 12 gauge steel.
You'll also notice that this rack has Westside style hole spacing – with 1″ increments in the "bench zone" for the perfect adjustment while benching.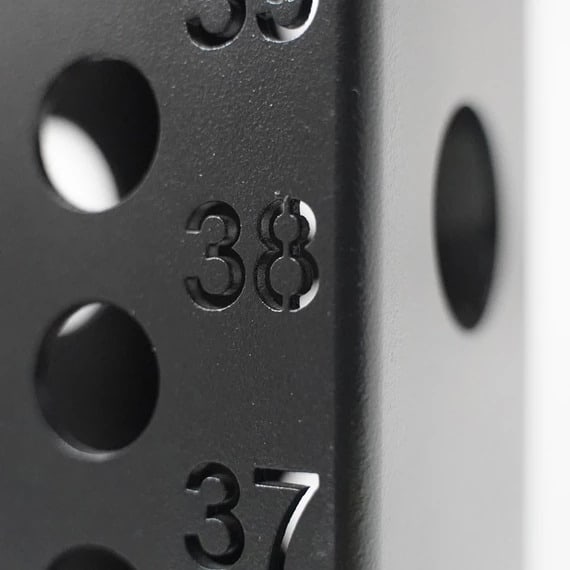 And how about that multi-grip pull-up bar?
Pullups – whether done with bodyweight or with extra weight – are an underutilized strength builder.
The multiple grip angles ensure you can switch things up – and keep the strain off your elbows and shoulders.
MyRack Attachments and Accessories
Here's where the MyRack Folding Power Rack really shines – customizations.
Here it is with some optional accessories.
We've got band pegs, safety straps, safety pins, weight plate holder arms, J hooks, dip handles, spotter arms, land mine, and more.
There's even a monolift.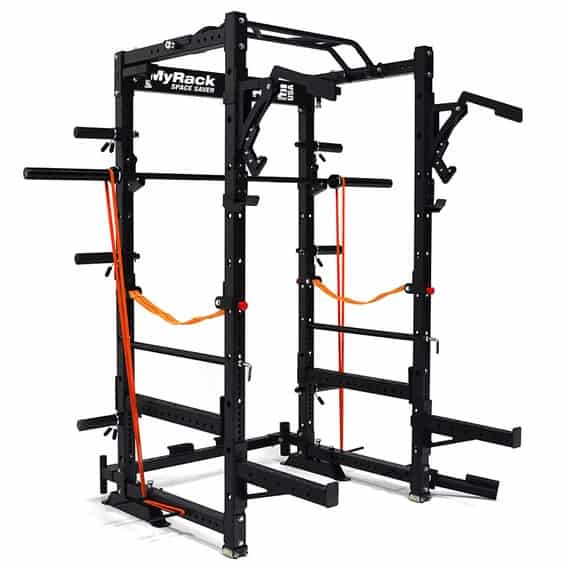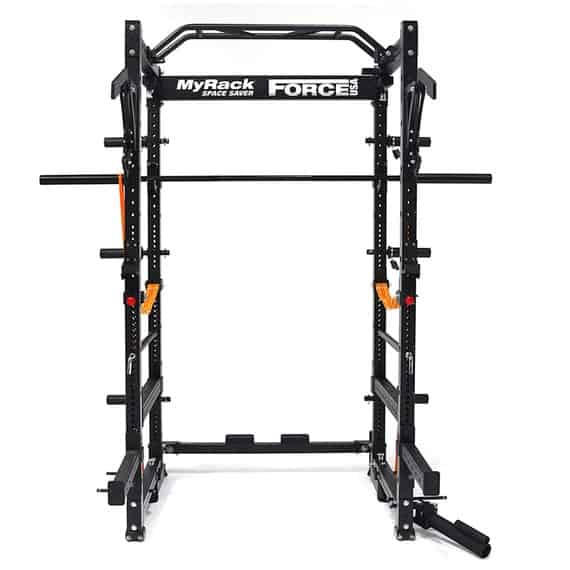 Here's a video that shows the MyRack Folding Power Rack in action:
MyRack Attachments from Force USA
Let's take a tour of the options that are compatible with the MyRack Folding Power Rack.
First of all, these are Force's standard MyRack accessories – so they will also work with the modular MyRack power rack.
First of all, you need some J-hooks or J-Cups. These are the "holders" for the barbell. We recommend the deluxe J-Hooks – as they have the highest weight rating (over 2,000 lbs.)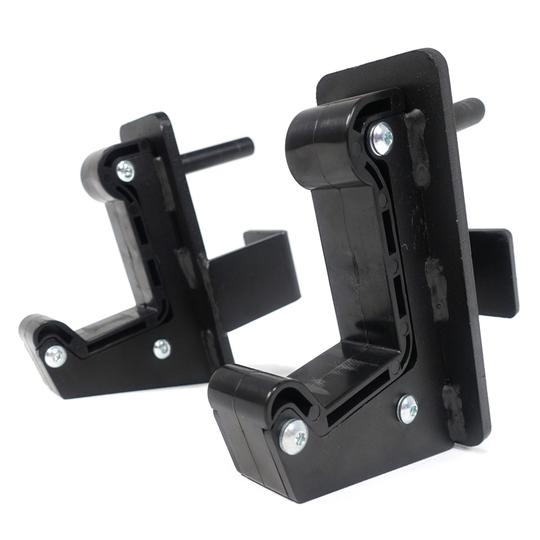 But even if you get the standard J-Hooks – they are both Nylong coated to prevent damage to the knurl on your barbell.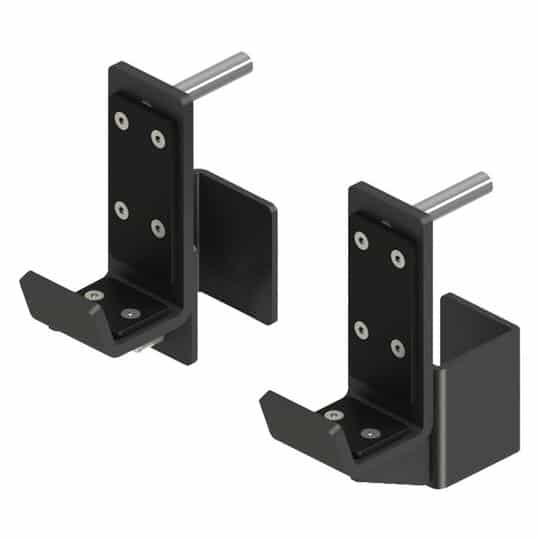 If you are serious into powerlifting style squats – you can get the monolift attachment. What's the benefit of this? You can get under a REALLY HEAVY barbell without having to "walk it out" of the rack – which is an energy drain and can be dangerous.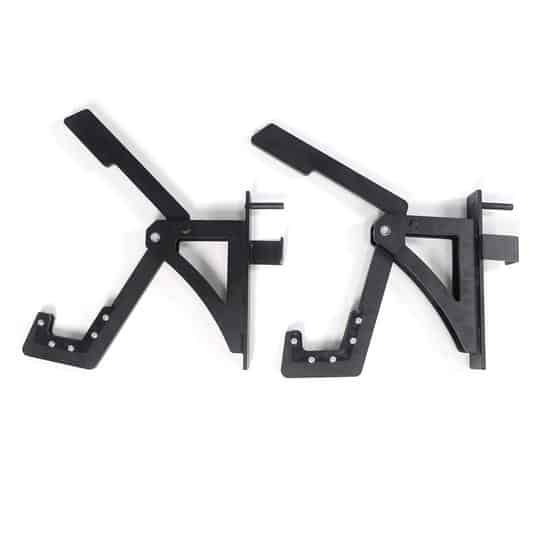 After you have a way to get the barbell into the proper starting position, we recommend you focus on safety.
With the MyRack Folding Power Rack you have your choice of safeties.
We always recommend spotter arms.
Why? Because you can easily use them for bench presses – which are actually one of the most dangerous exercises to perform alone.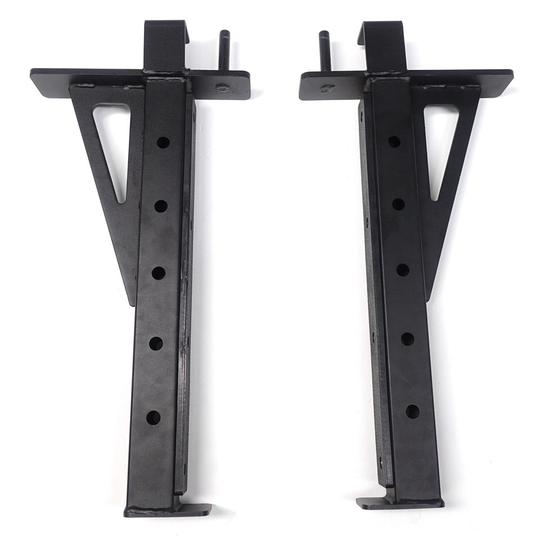 But you can also mount box tube safeties inside the rack – which will work too.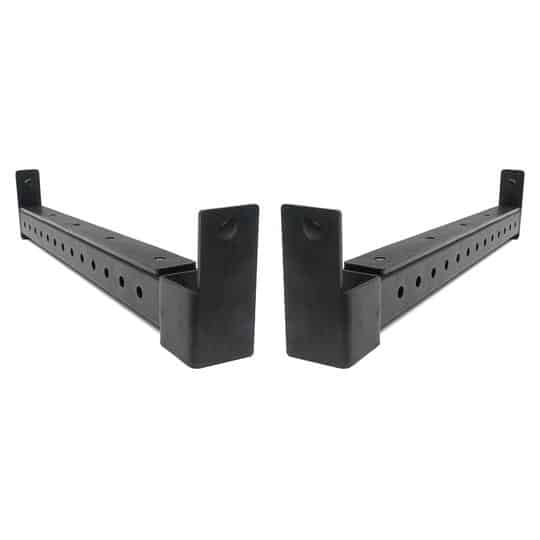 Here's one more bar friendly safety option – straps.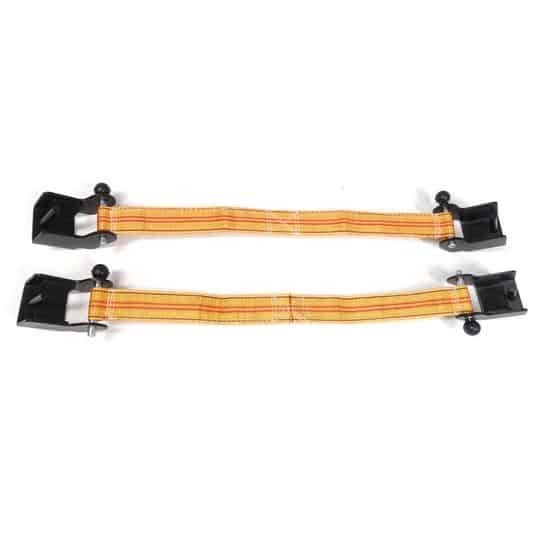 One of the big benefits of a 4 post power rack – it gives you somewhere to store all those weight plates you'll be lifting.
And this is one thing you CANNOT do with those 2 post wall mounted folding racks.
So skip the messy stack of weights on the floor, and use these weight plate holders.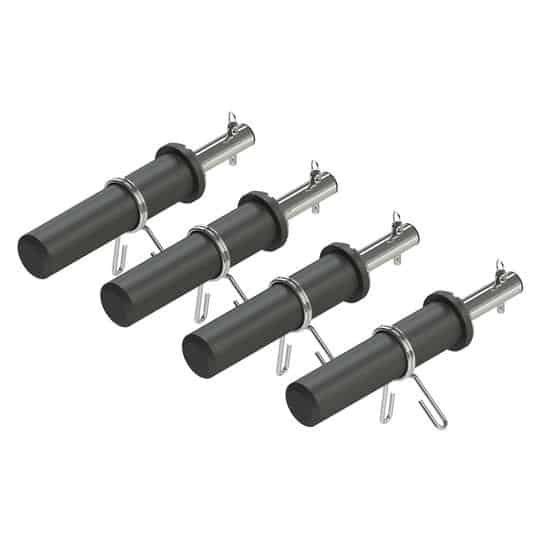 Now, let's get to the fun stuff.
A landmine attachment gives you a lot of exercise variations.
What good is a landmine?
It's a tube or pivot sleeve in which you place one end of an Olympic barbell.
You can then move the weight freely in just about any direction.
This gives you more range of motion and natural movement patterns (functional fitness).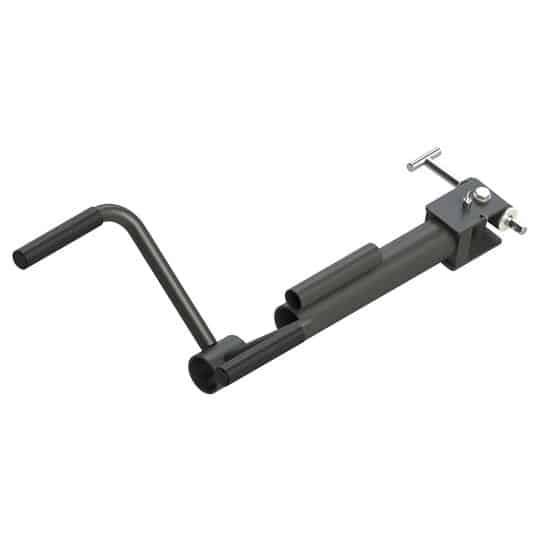 There's dip handles too.
Some people call dips the "squat of the upper body."
Perform them with heavy weight and you'll find out why.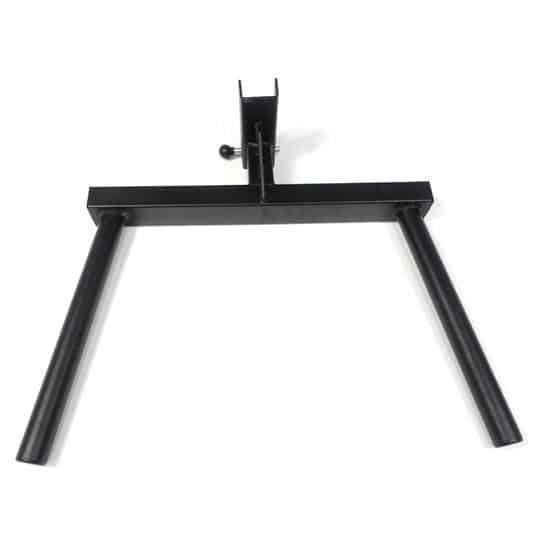 If you ain't dippin', you're trippin'.
Lastly, band training can add a whole new dimension to your workout.
And step one to using bands? You gotta have somewhere to mount them – which bring us to band pegs.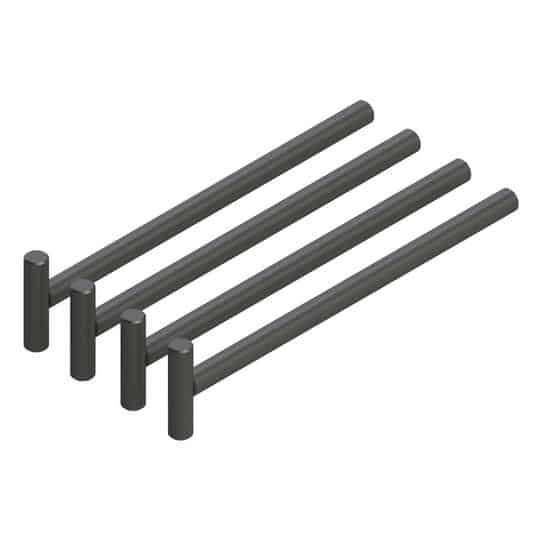 Why band training?
The bands add accommodating resistance. It makes the TOP of the movement much harder than normal.
That means more work for your muscles – which means bigger strengh gains.
If you need more info on that – look up "Louie Simmons" and "Westside".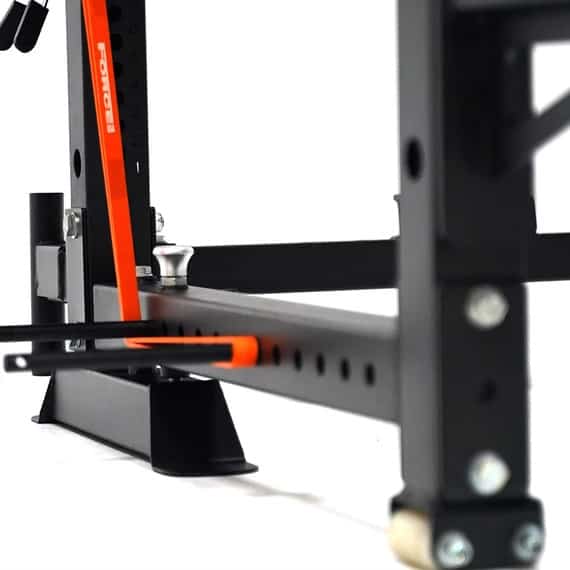 MyRack Folding Power Rack – In Summary
The MyRack Folding Power Rack from Force USA is the most versatile folding power rack.
It is a 4 post design – unlike the competition's folding racks – which mount to the wall.
A 4 post folding rack is more versatile – and supports more options and accessories.
It also supports much more weight – up to 2,000 lbs – which is probably enough for you.
But it should be bolted to the floor – which will add some time in setup and teardown.
Overall, we recommend the MyRack Folding Power Rack that need the maximum of versatility in the minimum of garage gym floor space.
Now that you've decided on a rack – pick out a good weight bench from Force USA because that is just as important for safe and serious training.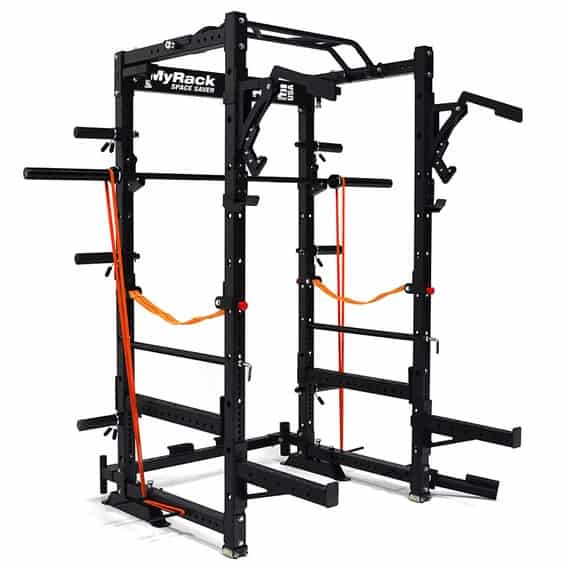 Affiliate Disclaimer
We are an affiliate of Force USA. If you order equipment after clicking the links in this article, we receive a small commission at no extra cost to you. This helps us to bring you great information about health and fitness.
Photo Credits
Some of the photos in this article are provided by Force USA, and are property of Force USA.
Tim is the founder of FitAtMidlife.com – an avid gym rat for 30+ years, he's a reviewer of many, many shoes – and founder of the Speed Bag Gathering – the world's only gathering of speed bag punching enthusiasts.  See more gym reviews at Tim's YouTube channel.