Rogue has the red-hot
Echo Bike
. Grab one while they last!
NEW FOR 2022! Check out Rogue Fitness Matte Black November (Black Friday) and Cyber Monday Sale for 2022.
Will Rogue Fitness have a Black Friday Sale for 2021? YES – and it's happening all month long.
Click through to see some of the great deals going on RIGHT NOW: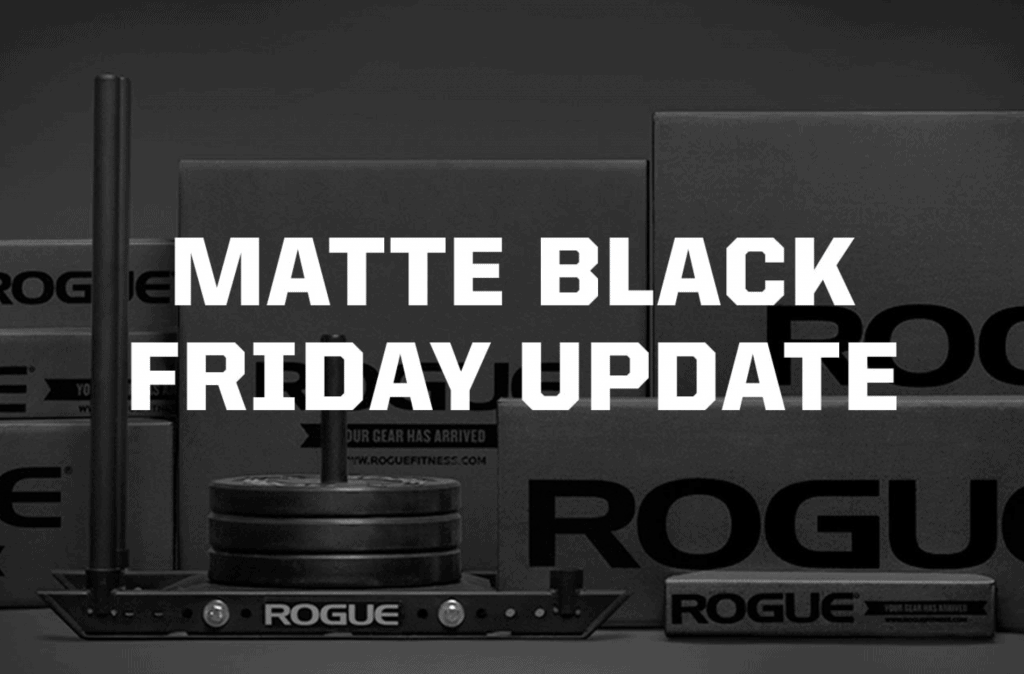 Rogue has said that deals will be limited as compared to years past. Why?
After the pandemic situation, there are shortages of raw materials, shipping times have been impacted, and perhaps most importantly prices of everything (steel, etc.) has risen much higher as compared to 2019.
As such, in order to not cause disappointment, they will not hold a full black friday sale for 2021.
What can you do? Continue to keep an eye out for in-stock items – and pull the trigger quick. Fitness equipment is still selling like hotcakes – sale or no sale.
Here's the update, in their own words:
Rogue Black Friday Sale 2020
Rogue did not hold the traditional Matte Black Friday sale in the year 2020, due to the pandemic.
There were some hot deals, and things of that nature – but due to very constrained shipping and materials there was no large scale sale.
Rogue Black Friday Sale 2019
Rogue's annual Black Friday sale was bigger than ever for 2019.
They had lots of items on sale – and all the specials you expect: MBF Exclusives, 5 for $5 shipping, Hundo Pricing, and discounts on many of their best products.
The sale ran from November 1st through Dec 2nd (Cyber Monday).
Did you miss it?
That's too bad – it's really their only big sale of the year.
They do run hot deals year round – check those out and see what is on sale.
Rogue Fitness Black Friday 2019 is now Matte Black November!

For 2019, Rogue Fitness held it's annual Black Friday Sale (Matte Black Friday) throughout the entire month of November – and the sale has begun.
The sales started at 9am EST on Friday, Nov 1st.
The sale was originally advertised to end on Sunday Dec 1st, but was extended to cover Monday Dec 2nd (Cyber Monday). The same deals and specials were available for Cyber Monday – although much of the inventory had already been sold.
Rogue started the sale with over 270+ items as "hot deals".
What was on sale? A LOT – this was Rogue's biggest sale of the year. There's no comparison to any of the other mini-sales they have throughout the year.
Here's just a sample:
Hundo Pricing (buy more, save more) on various Rogue Bumper, Competition, and Steel plates
Squat Stands and Power Racks
Barbells & Collars
Special edition equipment like the Rogue Echo Bike Gray/Red
10 Packs of Concept2 equipment – rowers, bikeerg, and skierg
And much, much more.
All deals were WHILE SUPPLIES LAST – that means if you saw something you wanted – your best bet was to get it immediately.
Not sure if you should pull the trigger? The "matte black friday" pricing is always the best pricing of the year from Rogue – It doesn't get any better.
Did Rogue have a Cyber Monday 2019 sale?
Yes, they did. As in the past they extended the Black Friday Sale to cover Cyber Monday (but they don't announce that until Cyber Monday).
Rogue has said that Matte Black November will include:
Hot Deals
Hundo Pricing (The more weight you buy – the cheaper it is per pound or kilo)
Every customer will get two 5 Ships for $5 orders – This is a great way to save a LOT on shipping!
MBF Exclusives – Rogue usually sells a few items as limited edition
You can read more about the details of Matte Black November on their website.
Rogue's Matte Black November is the best time to save a ton of money on shipping.
Rogue will have the "5 ships for $5" deal for many items this year.
That's where you order any 5 qualifying items – and they ALL ship for only $5.
That's big.
Here's one example. This is over 1,000 lbs of gear – shipping for only $5.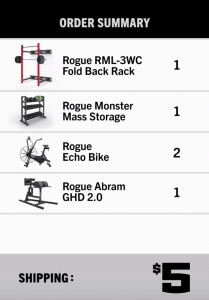 What is even better – Rogue is letting each customer use the "5 ships for $5" TWO TIMES this year.
That means you can get two separate orders of 5 or more items – all shipping for $5 each!
The best way to take advantage of this? Order all those big and heavy items that would cost a fortune to ship otherwise.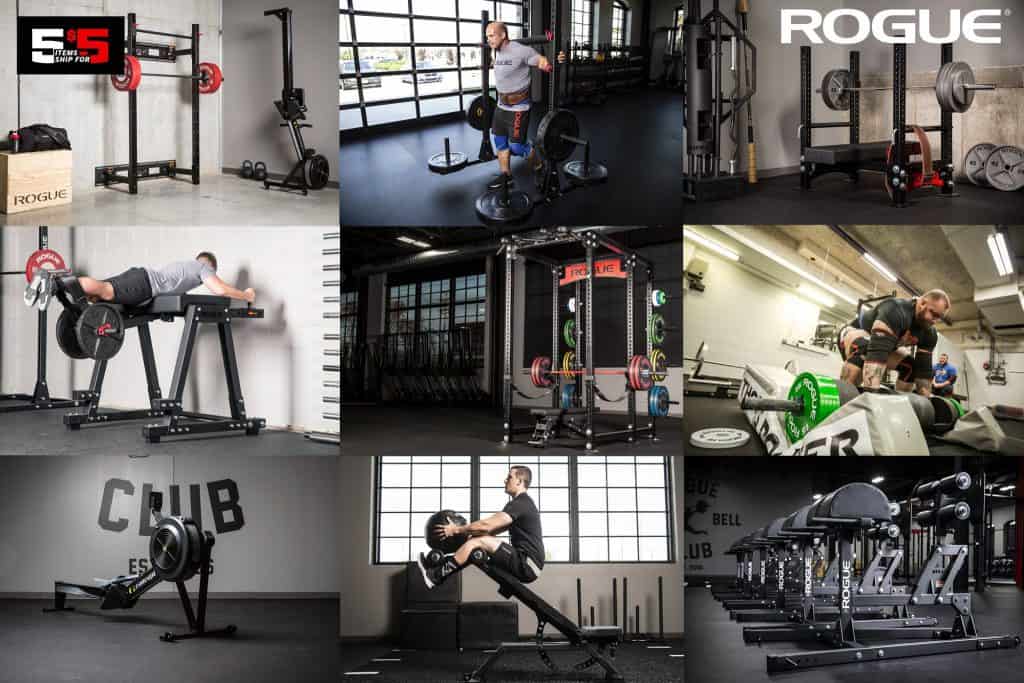 Why make Black Friday a whole month?
Here's what Rogue says:
"Every year around Thanksgiving the retail world kicks off a massive Black Friday event. Rogue, per the norm, has created a unique event we call Matte Black Friday. This year we will have Matte Black November. We decided this year to kick things off early and see if we can smooth it out. In an effort to spread the load on our manufacturing and distribution teams we have decided to change things up this year. So, here is what we came up with: Matte Black November. Long story short, we hope this makes it so our team can enjoy Thanksgiving and the Holidays and you can get the gear you want in the same manner."
See the next section for an overview of what Rogue had on offer for Black Friday 2018.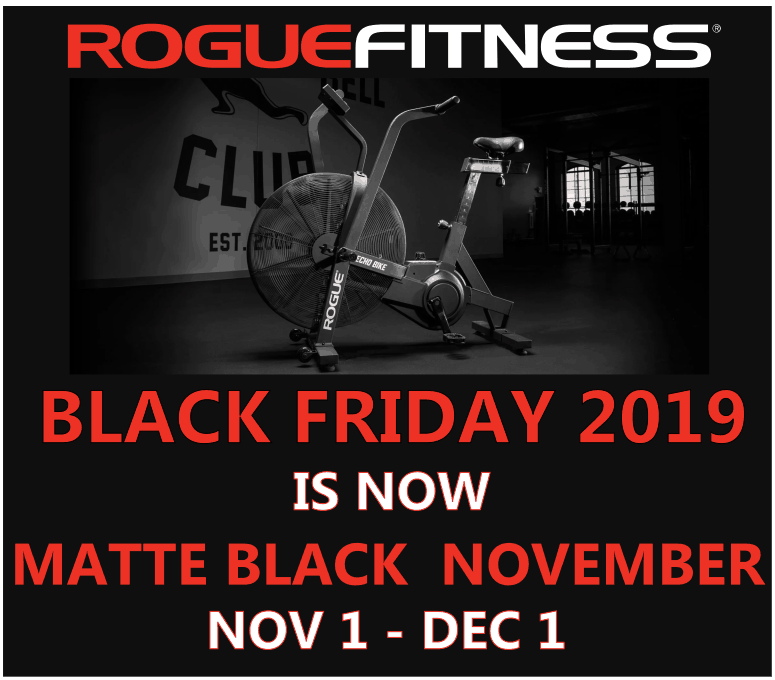 Rogue Fitness Black Friday 2018
Want great Black Friday fitness and gym equipment deals?
Matte Black Friday (MBF) is what Rogue Fitness calls their annual Black Friday and Cyber Monday sale.
Rogue's Black Friday 2018 happened the entire week of Black Friday 2018 – November 19th – 25th, and sale items were extended through Cyber Monday the 26th.
The sale is now over, but you can find Rogue's Hot Deals year round.
There were many items on sale for 2018 and all the usual promotions made an appearance – Hundo Pricing, 5 Ships for $5, Matte Black Friday Exclusives, and lots of big discounts.
Hopefully you got to partake in the sales and savings.
Rogue Fitness Black Friday Sale 2017
Last year the sale ran from Monday, November 20, 2017 through Sunday, November 26th, 2017, and Cyber Monday was on Monday, November 27th, 2017. Similar deals were offered through cyber monday, but the event was initially advertised as ending on Sunday evening.
Hundo Pricing is always a part of the sale.
What's that? To put it simply – the more weight you purchase the cheaper the price per pound becomes. More weight means a bigger discount.
Some other deals and discounts that have been featured in years past:
5 items ship for $5 – Order 5 qualifying items – pay only $5 shipping.
Hot Deals – Great deals on limited supply items – once they're gone, they're gone.
MBF Exclusives – New items or custom items we made specifically for Matte Black Friday (MBF). As an example, in 2017 there were special cerakote and bushing color combinations of the Ohio bar (red and black).
Hundo Pricing – As explained above, the more weight you buy, the bigger the discount. If you're looking to buy plates, dumbbells, or kettlebells, there's no better time than Black Friday
Discounts on many items.
As a Rogue Fitness affiliate, we look forward to highlighting the best equipment value for your dollar – and providing the information you need to make decisions about purchasing equipment. Please note that as an affiliate, if you click through our links, we will receive compensation for purchases. This compensation does not affect in any way the price you pay.
Stay tuned for details on Rogue Fitness' annual 2018 Matte Black Friday and Cyber Monday deals and specials.
While we wait to find out what discounts and deals Matte Black Friday 2018 will be, check out Rogue's Hot Deals. These are time limited specials and deals on a timer – when they're done , they're done.
Need the ideal Olympic Barbell?
Read our
Olympic Barbell guide
to find out which barbell is right for you.
Does Rogue Fitness have a New Years Sale?
Rogue Fitness does not normally have a specific New Years sale event.
Does Rogue Fitness have a Boxing Day Sale?
Sorry Canada, Rogue Fitness does not hold a special Boxing Day sale.
Does Rogue Fitness have a Labor Day Sale?
For 2018 and 2019, Rogue Fitness did not have any special sale for the Labor Day holiday.
Honestly, the next big sale is going to be the week of Black Friday and Cyber Monday.
Does Rogue Fitness have a 4th of July Sale?
For 2019, Rogue has some Red White and Blue themed products, but there aren't discounts and deals as compared to normal pricing.
You can use the link above to check out their Fourth of July themed items.
Honestly, the next big sale is going to be the week of Black Friday and Cyber Monday.
Does Rogue Fitness Have a Memorial Day Sale?
In recent years Rogue Fitness has not had a Memorial Day sale. In the US, Memorial Day is for remembering those that have given their lives in the defense of freedom in the military.
While some retailers may have these sales, for a veteran friendly and military friendly business such as Rogue Fitness it is not considered a special occasion to sell products.
Rogue may have some of their normal "hot deals" available, but these are not related to the holiday.
Does Rogue Fitness have a CrossFit Games Equipment Sale?
Rogue is the official equipment supplier for the annual CrossFit Games. For the CrossFit Games 2018 Rogue was selling used games gear at their booth onsite.
They are starting to list used equipment from the 2018 CrossFit Games in the "Deals" section of the website: Concept2 Rowers, Concept2 BikeErgs, Barbells, Competition Bumper Plates, Concept2 SkiErgs, and more.
Used CrossFit Games gear is a great way to pick up high quality equipment at a bargain price.
By the way, they also have a great price (and free shipping) on brand new Rogue Echo Bikes.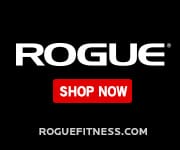 Rogue's biggest sale for 2017 is over. Matte Black Friday and Cyber Monday ran from Nov. 20-27, 2017. Hopefully you got to partake of some of the great deals they offered – Hot Deals, MBF Exclusives, Hundo Pricing, 5 Ship for $5, and much more.
You can be sure we'll share details about Matte Black Friday 2018 as soon as we can.
In the meanwhile, if you missed it, you can check out Rogue's Hot Deals, which run year round:
Does Rogue Fitness Offer a Military Discount or Law Enforcement Discount?
The short answer is: No – Rogue Fitness does not offer an ongoing military or law enforcement discount.
Rogue Fitness prides themselves on providing high quality, high value products at competitive prices to all potential buyers.
Rogue Fitness does support our military members by shipping to APO/FPO addresses (via their APO Store) and also by donating hundreds of thousands of dollars to veteran's groups and other organizations.
When Does Rogue Fitness Have Sales?
Rogue Fitness has sales and special deals throughout the year. For example: Veterans Day (special discounts and deals for verified US service members and veterans).
In addition, they have several ongoing specials, such as Hundo Pricing, Hot Deals (time limited special offers), 3 Ships Free, and more.
But their biggest sale of the year is the combined Black Friday and Cyber Monday event known as Matte Black Friday. Details for this year's Matte Black Friday 2018 have not yet been released. Stay tuned for details.
Does Rogue Fitness have a Veterans Day Sale?
Rogue's Veterans Day Sale is normally only for verified military veterans.
You can find out more on the exclusive deals at Rogue's military page.
Does Rogue Fitness Have a Father's Day Sale?
For 2018, Rogue Fitness provided a Father's Day Gift Guide.
They were many items listed as gift ideas for Father's Day, but only few were on sale at prices below those normally advertised:
Rogue Echo Bike
Reebok Speed TRs
Nike Metcon DSX Flyknit 2
5.11 TacTec Plate Carrier
… and more
When Is The Rogue Garage Sale?
When is the Rogue Garage Sale 2020? We don't know when Rogue will hold the Garage Sale for 2020. But, if we had to guess – we'd say July 2020. It will be the 11th annual Rogue Garage Sale.
Here's another big event that people are always on the lookout for – the annual Rogue Garage Sale. This sale happens on a variable basis – for 2018 and 2017 it occurred mid-July, but for 2016 it happened in April.
The 10th annual Rogue Garage Sale for 2018 happened as described below.
When: Saturday, July 14, 2018 from 9:00-11:00 AM Where: 545 E. 5th Avenue, Columbus, OH What: Rogue equipment including Barbells, Plates, Rogue Echo Bikes, C2 Rowers, Assault bikes, Medicine Balls, Kettlebells, Boxes, Benches, Dumbbells, Racks & more!
What is the Rogue Garage Sale? It's a very limited time onsite event (they do not ship these items, nor are they listed online) where they clear out all sorts of stuff from the warehouse. In years past they've offered: Rogue equipment including barbells, plates, medicine balls, kettlebells, boxes, benches, dumbbells, racks & more. Rogue furniture including desks, office chairs, conference tables, bookshelves, picnic tables, shop tables, workstations, & more. They even sold refrigerators and microwaves!
Where is the Rogue Garage Sale? For 2018 it occurs at the 545 E. 5th Avenue, Columbus, OH address.
What forms of payment are accepted at the Rogue Garage Sale? In 2017, cash and credit cards were accepted.
How long is the Rogue Garage Sale? It's a 2 hour event, normally running 9am- 11am.
Lastly, understand this is a limited time event. It ran from 9am – 11am in 2017, and because it's a clearing of unwanted equipment – it's first come, first serve, and very limited quantities.
Live too far from Columbus to make it to the garage sale? You can always check out closeout items at Rogue. This includes items they are no longer going to carry, and you can also find used games gear. And best of all, unlike the garage sale, these items are available to ship.
About Rogue Fitness
Here at Fit At Midlife, we would like to highlight an exceptional fitness equipment manufacturer: Rogue Fitness. What is Rogue Fitness? Rogue Fitness is an American manufacturer and distributor of strength and conditioning equipment, including weightlifting bars, plates, racks and every conceivable piece of fitness related equipment you might need. They are known for their American made, high quality products that will last a lifetime. The equipment they manufacture is used extensively by professional gyms, CrossFit boxes, individuals with garage gyms, military bases and units, collegiate teams, and professional sports teams.
Great Birthday Gift Ideas Need a great gift idea for a birthday or any other gift giving occasion? Your CrossFit trainee would appreciate any of these gifts for any occasion – birthdays included. Want to impress them with a thoughtful, useful gift? Check out our CrossFit Gift Guide
Founded in Toledo, Ohio, by founder
Bill Henniger
in 2007 they have grown immensely over the years. Initially they resold mostly other manufacturer's equipment, but eventually focused on designing, building, and selling their own exclusive designs as well. This all started from Bill Henniger's desire to outfit his own CrossFit affiliated gym, and he had trouble finding good equipment. Bill's solution? Design and build it better himself. Today they do this out of their massive manufacturing center located in Columbus Ohio.
American Made
Rogue Fitness features many products, but their most innovative and high quality items are designed and made in America.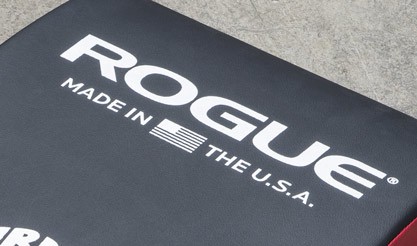 Innovative Products
Many of Rogue's designs are unique and innovative. But most of all they are amazingly high quality – robust and usable.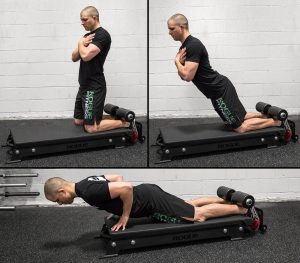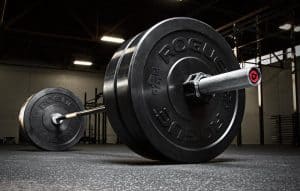 Rogue – Not Just Equipment, An Ethos
Rogue Fitness is not just an equipment provider, but it's a mindset and an ethos. We are proud to be part of the extended Rogue Fitness family. As an example, Rogue is currently offering exclusive deals for verified US Military veterans on Friday, November 10, 2017 and Saturday, November 11, 2017.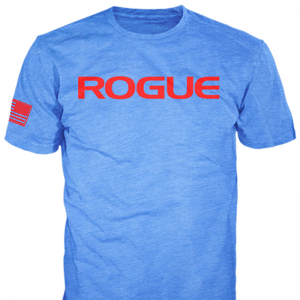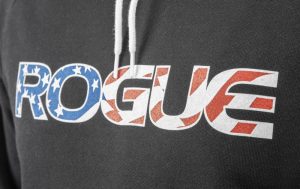 Image and Photo Credits
The Rogue Fitness logo and product imagery on this page is property of Rogue Fitness and provided by Rogue Fitness.
This website is not affiliated or associated with CrossFit, Inc. CrossFit is a registered trademark of CrossFit, Inc.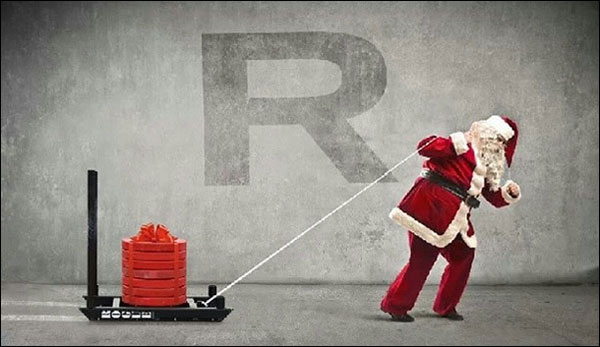 Tim is the founder of FitAtMidlife.com – an avid gym rat for 30+ years, he's a reviewer of many, many shoes – and founder of the Speed Bag Gathering – the world's only gathering of speed bag punching enthusiasts.  See more gym reviews at Tim's YouTube channel.