Did you know that Rogue Olympic barbells are available with Cerakote – a thin-film ceramic coating that offers amazing durability, protection, and a choice of colors and patterns?


Cerakote is also popular in the gun industry – because of the range of custom colors that can be used, but also because of the amazing durability of this thin-film coating.
Here's the barbells we are going to review in this article.
Before you buy
Need help understanding the lingo for Olympic barbells? Check out our
barbell guide.
Make sure you get the right barbell for the training you intend to do.
Why Cerakote for a barbell??
Cerakote has a number of advantages over traditional coatings. Cerakote is resistant to wear, abrasion, corrosion, and chemicals. It was originally developed in the 1980s for use on firearms – where a very thin coating is desirable due to the tight tolerance on the moving parts of a firearm. Here's some more Cerakote facts:
Thin-film – How thin? Typically, just 0.001-inch thick. Perfectly fine for surfaces with knurling, which is obviously an important attribute for a barbell.
Adheres to a wide range of materials – steel, aluminum, stainless steel but also plastics or polymers, and wood.
Grip – Cerakote offers excellent grip – which is important in a barbell.
Cerakote is usually applied with a spray gun, and then oven cured.
Cerakote is significantly more resistant to corrosion than chrome or zinc – and only bested by very expensive stainless steel.
Available in a variety of colors
Cerakote Barbell Colors
What custom cerakote colors are available? Here they are as shown on a Rogue Ohio Bar – An excellent dual-purpose bar that has great whip for Oly lifting, but enough stiffness for serious powerlifting as well. This option shows a colored shaft, with black Cerakote sleeves.


The second option is a colored shaft with hard chrome sleeves. Chrome has excellent durability to wear and abrasion, and the sleeves see a lot of wear and tear – as you can imagine.
Chrome sleeves will be more durable than Cerakote sleeves.
But, they don't look as nice.


Rogue Fitness occasionally adds new color options for the Cerakote barbells, so click through to the website to see the latest color options.
Also – they offer different color options on some of the bars. The Bella Bar, for example offers purple, which is not available on the Ohio bar. They also offer gloss clear Cerakote on the Bella Bar – for those that want the corrosion protection without a custom color.

High Gloss Clear Cerakote is now offered on the Rogue Ohio Bar as well. The Ohio Bar is an awesome dual-purpose barbell – great for Oly lifting or power lifting. It's the perfect 20 Kg CrossFit training bar.

Rogue Fitness Cerakote Quality
Rogue's build quality is legendary.
Their barbells are hands down the best bang for the buck.
And the Cerakote bars are no exception. Ask around – check the reviews (or reddit).
The biggest reason to buy Rogue? Quality. And a company that stands behind their products.
Black Friday – the best time of the year to buy fitness equipment
Need fitness equipment?
Black Friday
is the day to buy. Sign up for our newsletter to get notified of all the best deals.
Special limited time color combinations
And on occasion, Rogue offers special, limited-quantity color combinations. Rogue offered a cool looking black on black with red bushings model of the Ohio and Bella bars. This was a MBF Exclusive for Rogue's Matte Black Friday 2017 – their biggest sale of the year. Unfortunately, it's no longer available.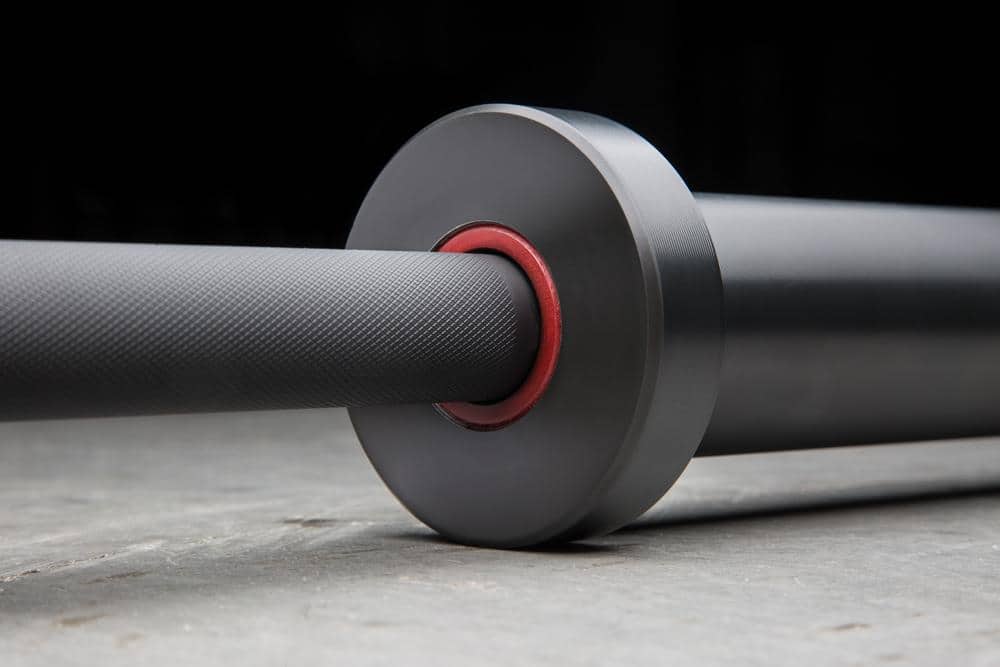 But what's even better – you can now use Rogue's ZEUS | Custom Build-a-Bar to make one just like it – or with a variety of other options such as custom colors, text, and even images!
What sort of barbell do you need?
Rogue offers Cerakote on the following barbell models:
Which bar is right for you? It depends on the style of training you intend to do. Check out our guide to Rogue Olympic Barbells for an understanding of the key attributes of each type of bar.
Here's the special Pink Edition for the Ohio Bar and Bella Bar, with proceeds from the sales being donated to the Stefanie Spielman Fund for Breast Cancer Research.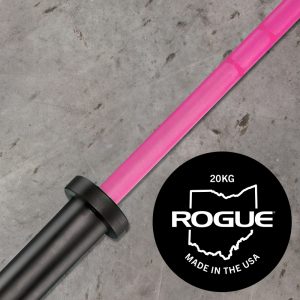 Most of the bars also have Rogue branding in the center. To say it looks good is an understatement.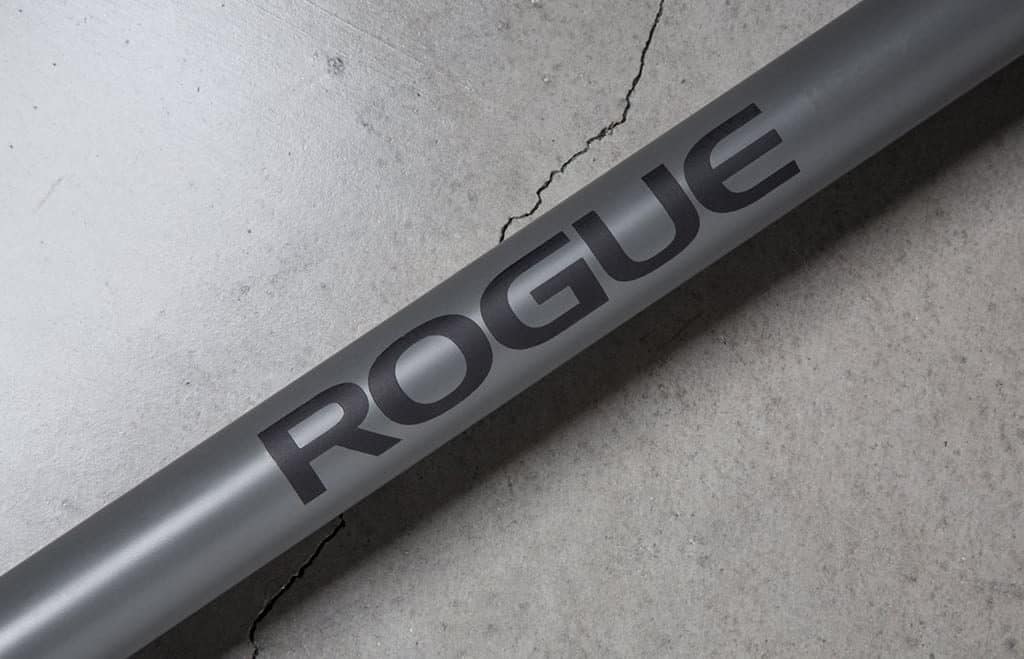 Once you've decided which barbell is the right choice for you, head on over to the Rogue Fitness site, and find out a bit more. A quality barbell is an investment – it will last for years and pay dividends in your training. But take a moment to make the right decisions.
We hope that we've helped in that process.
Rogue Operator Bar – Camouflage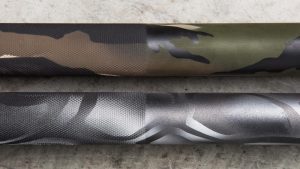 And how's this for cool? The Rogue Operator Bar 3.0 in two different camouflage patterns. Good whip, Olympic (20KG) bushing bar – and it looks great. Available in two custom patterns – Tek Grey Camo or Tiger Stripe Woodland Camo. Made in the USA.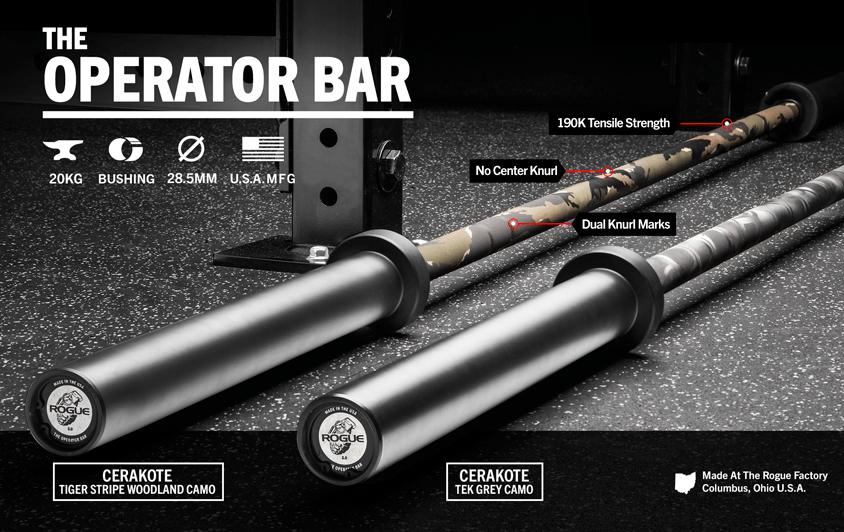 Rogue Cerakote Barbells – Athlete Series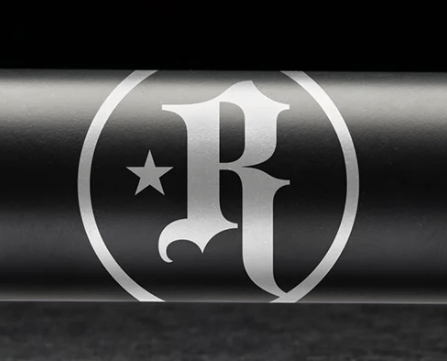 Rogue also has the Athlete Series – cerakote bars with custom logos and dedicated to CrossFit champions and Rogue athletes – such as Rich Froning, Mat Fraser, Katrin Davidsdottir, Tia-Clair Toomey, and more. These bars feature logos, flags, and phrases.
The newest bar in this series is dedicated to the world-class Strongman Hafþór Júlíus "Thor" Björnsson. This new THOR EDITION Ohio Power Bar is available in 20KG and 45LB versions, each with a Cerakote shaft. The bar features the Icelandic flag to the right of the center knurl and the nickname THOR in white to the left.

Rogue Freedom Bar

Here's another new item – that shows off the ability to put a beautiful pattern on any barbell – the Rogue Freedom Bar. It's an Ohio Cerakote Bar – featuring a red, white and blue shaft finish in an exclusive stars-and-stripes American flag pattern.
And where is it made? Like all Rogue Ohio bars, in the USA, of course.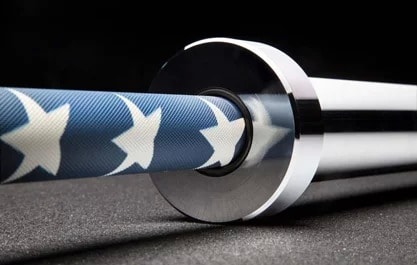 A Women's Freedom Bar is now offered as well. Based on the Cerakote Women's Bella Bar, it features a red, white and blue shaft finish in an exclusive stars-and-stripes American flag pattern.
The barbell diameter is 25mm – this smaller diameter is easier to grip securely for those with smaller hands. The Men's Freedom Bar has a 28.5mm diameter, for comparison.
The women's bar also weighs a bit less than a men's Olympic barbell (15 kg/33 lbs vs 20kg/44 lbs)
Matt Chan Bar in Cerakote

The Matt Chan Bar is now available in a Cerakote version as well.
What's the Rogue Chan Bar? It's a dual-use powerlifting and weightlifting bar made to the specifications of Matt Chan – legendary CrossFit athlete.
The original version has a tough black zinc finish, and looks really slick.
But the Cerakote version will resist corrosion better than zinc.
It's also possible to do a bit more visually with the appeal of the bar – the Matt Chan logo and Rogue logos for example.
The Chan Bar has a center knurl – because that's how Matt Chan wants it. It gives extra grip on your back for squats, or up front in the rack position. In the Chan Bar, the center knurl is not Cerakoted. That helps provide a natural bare steel feel to the knurl in that area. Won't that open the door to corrosion? No – because the Matt Chan Bar's shaft is made from stainless steel.
In Summary – Rogue Cerakote Olympic Barbells
To some, a barbell is a barbell. But for others, they want an option that not just works, but looks good doing it. And the Rogue Cerakote line of barbells bring that to the table.
You may want to review our guide to garage gym power racks, guide to ideal weightlifting barbells, or our guide to Olympic weight plates as well.
Why Rogue Fitness Products?
We're a
Rogue Fitness
affiliate – so if you order equipment after clicking the links in this article we receive monetary compensation. But that's not why we recommend Rogue. It's because their equipment is tough, durable, well-made, and made in America. Their equipment looks good, and works even better. Their innovative designs and diversity of options make your training better – allowing you to reach your personal goals faster. And that's why we love them.
Photo & Image Credits
All Rogue Fitness product imagery is property of Rogue Fitness, and provided by Rogue Fitness.
---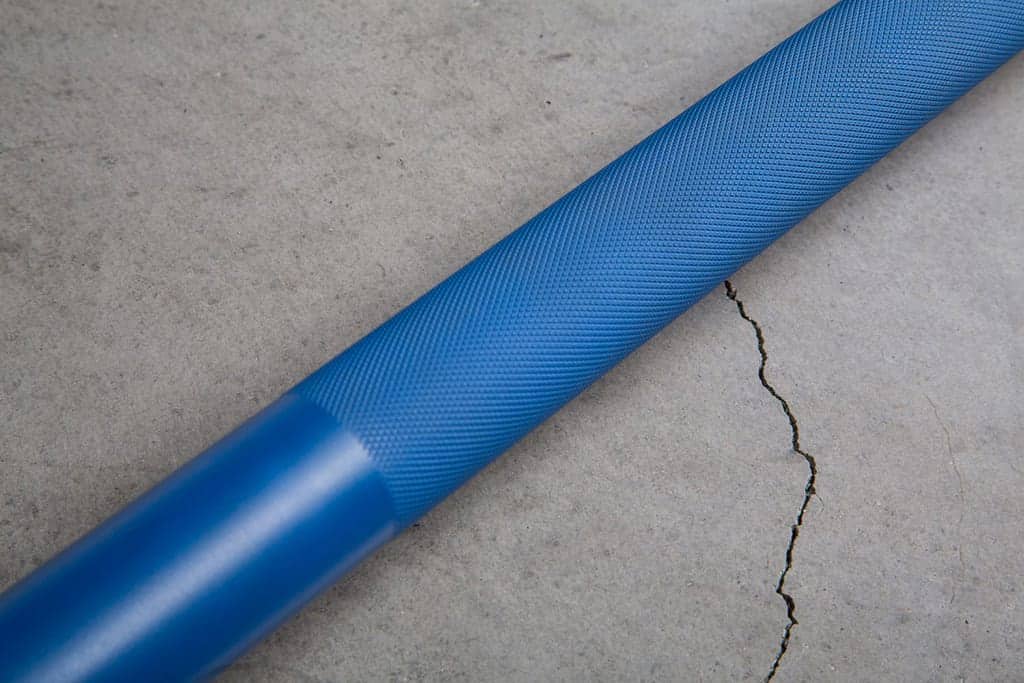 Tim is the founder of FitAtMidlife.com – an avid gym rat for 30+ years, he's a reviewer of many, many shoes – and founder of the Speed Bag Gathering – the world's only gathering of speed bag punching enthusiasts.  See more gym reviews at Tim's YouTube channel.