Here's the new Rogue Band Handle for Monster Band from Rogue.
The Rogue Band Handle is created to work with any Rogue Monster Band or identical elastic resistance bands, helping you maximize the benefits of your everyday band work. Because of the handle, you can do resistance exercises or gym-like workouts anywhere.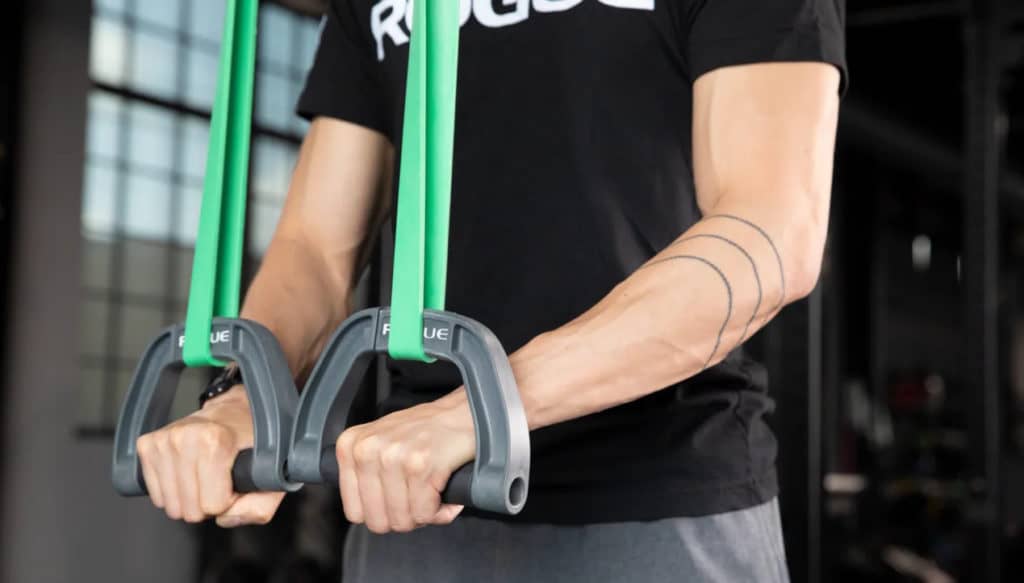 Here's some of the styles we are going to look at: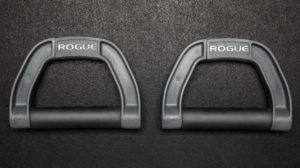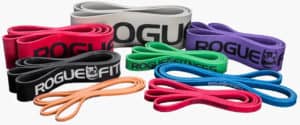 Rogue Band Handle for Monster Band – Overview
Resistance bands with handles are low impact on the joints and are made to boost or add resistance to exercises and movements. They are used for warm-ups, full body workouts, rotational exercises, pressing and pulling movements, burning fat, muscular endurance, resistance, and strength training.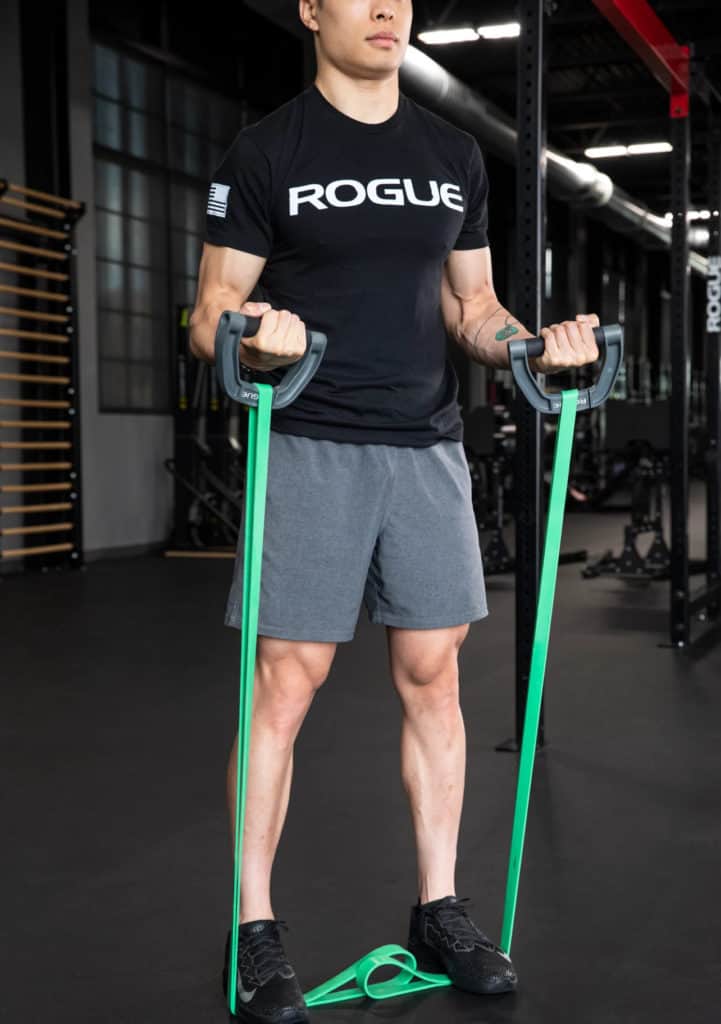 Instead of using both sides of a resistance band as traditional grips and cutting its tension potential in half, the Rogue Band Handle makes it easier to use the whole band, managed with more accuracy and less wasted energy.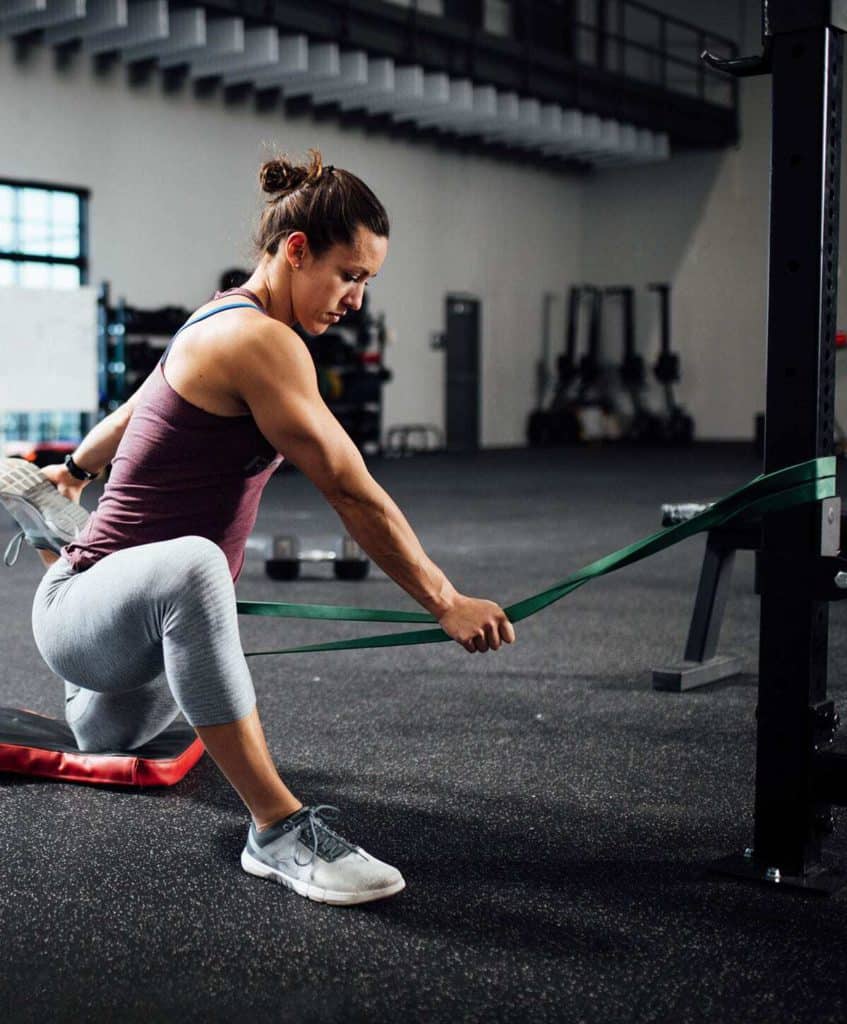 Rogue Band Handles
The Band Handle from Rogue was co-developed with local Ohio fitness pro Tom Varga, who has more than 20 years of practice in the industry. It is constructed from glass-reinforced nylon resin and formed over a steel handle shaft. The virgin rubber hand grip avoids slippage and the patent-pending interlocking attribute improves the handle's stiffness and strength.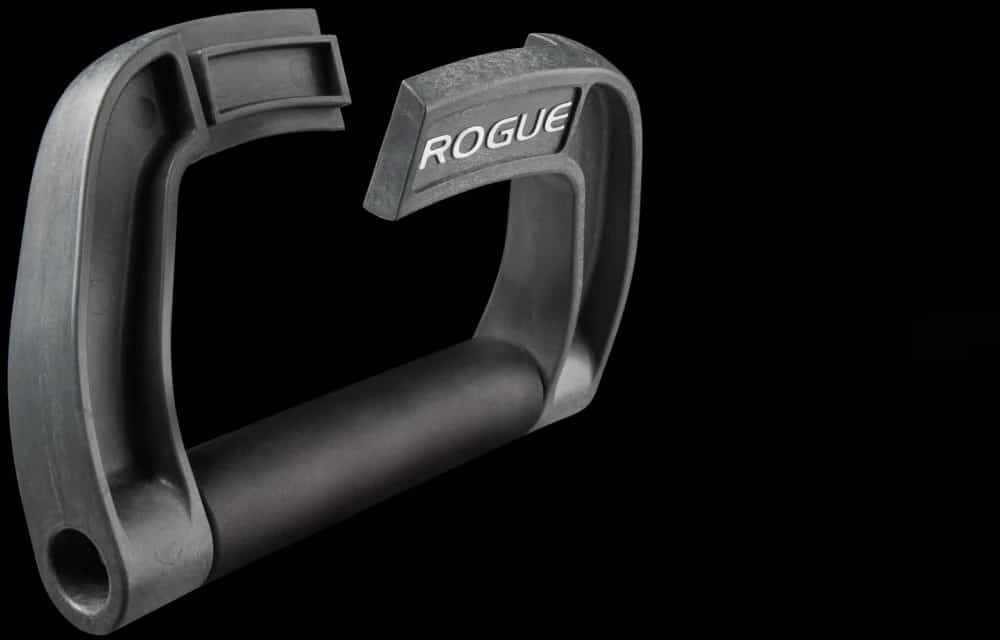 The handle uses a torsion spring with snap closure, enabling the two halves of the handle to close harmlessly and automatically over a loaded band. By keeping the band safe and centered, this specialized handle hampers side torque and enhances your ergonomic comfort during both pulling and pushing activities.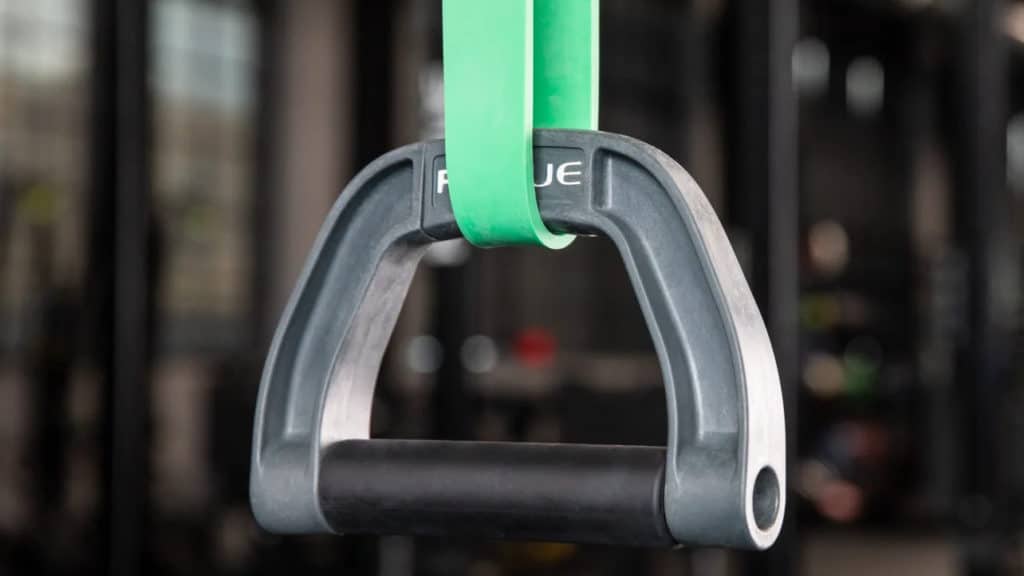 Rogue Monster Bands
Rogue Monster Bands are the all-around, go-anywhere addition for customized resistance training—from mobility work and pull-up assistance to banded squats and bench presses. They are available to order individually, in pairs, or as part of a complete set.

The bands come in color-coded forms of the natural latex rubber stretch bands, each measuring 41″ in length but differing in width, thickness, and general resistance. This makes each band more specialized for particular kinds of training.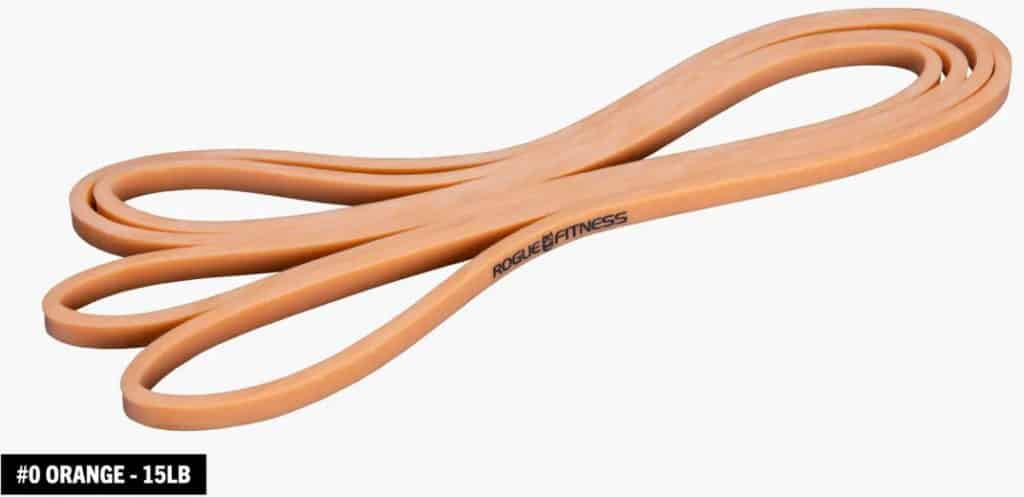 Rogue Band Handle for Monster Band – In Summary
That's our close-up look at the Rogue Band Handle for Monster Band.
The Band Handle is devised to work with elastic bands, not carabiners, cables, or other static connections. This helps you maximize the benefits of your day-to-day band work and allow you to have resistance training on the go. Before using the Band Handle, make sure it is fully closed around the band.
Looking for more options? Check out these other great products:
Get a great Narrow Multi Grip Camber Bar from Rogue.
Turn your rack into a functional trainer or cable machine with the Weight Stack Slingers for Rogue Power Racks.
More products from Rogue Fitness.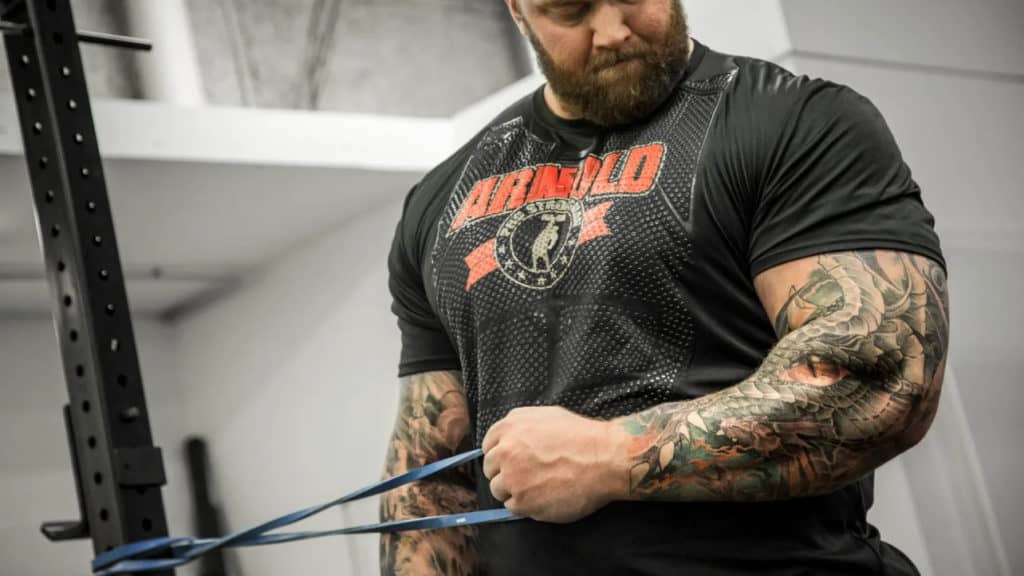 Photo Credits
Product photos on this page are property of Rogue Fitness.
This website is not affiliated or associated with CrossFit, Inc. CrossFit is a registered trademark of CrossFit, Inc.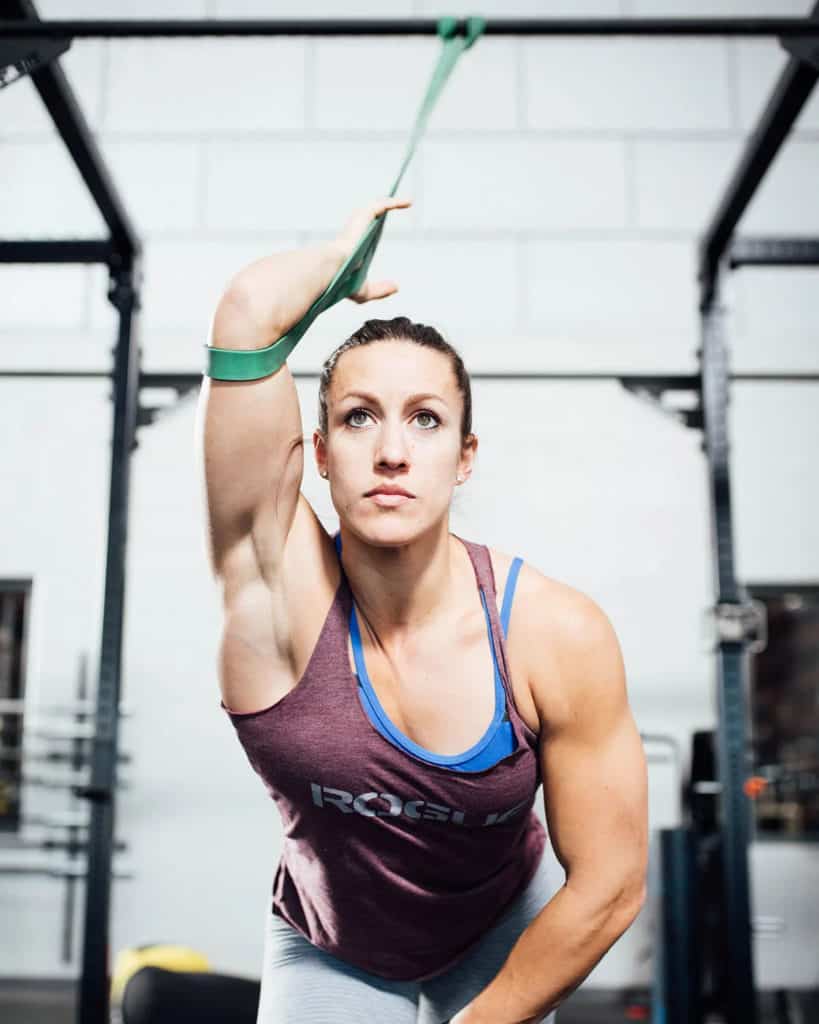 Affiliate Disclaimer
We are an affiliate of Rogue Fitness and others that sell this training gear. If you buy clothing or other training gear after clicking the links in this article, we receive a small commission at no extra cost to you. This helps us to bring you in-depth information and content on these great training products.
Tim is the founder of FitAtMidlife.com – an avid gym rat for 30+ years, he's a reviewer of many, many shoes – and founder of the Speed Bag Gathering – the world's only gathering of speed bag punching enthusiasts.  See more gym reviews at Tim's YouTube channel.