Here's a classic piece of gym equipment – the Medicine Ball
If you are familiar with barbells but not with medicine balls, this article will help inform you about this amazing workout gear. Medicine balls are rounded balls and are heavy-weighted that come in various sizes and weights with various ranges of fitness purposes. They are perceived to be one of the most varied pieces of exercise equipment, beneficial for toning about every part of the body, and are also widely used in multiple kinds of physical therapy.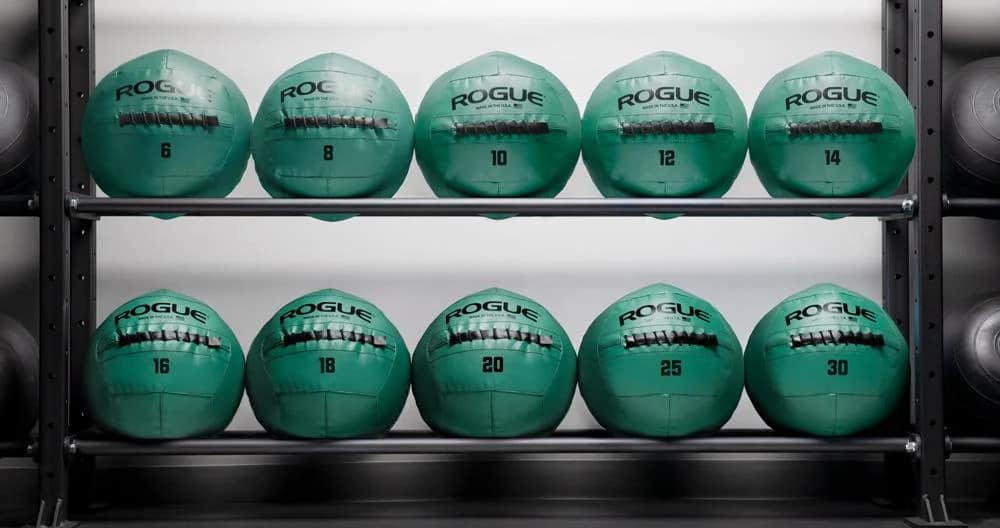 Here are some of the equipment that you can buy now from Fringe Sports, Rogue, Rep, and others:
Medicine Balls – Overview
Medicine balls started their record more than 2,000 years ago where Persian wrestlers used them to become stronger. In Ancient Greece, Hippocrates recognized medicine balls as an indispensable tool for helping injured people recover. He even urged people to use them as a generic, all-purpose way of staying healthy. Training with medicine balls is suitable for all ages, fitness levels, and sizes.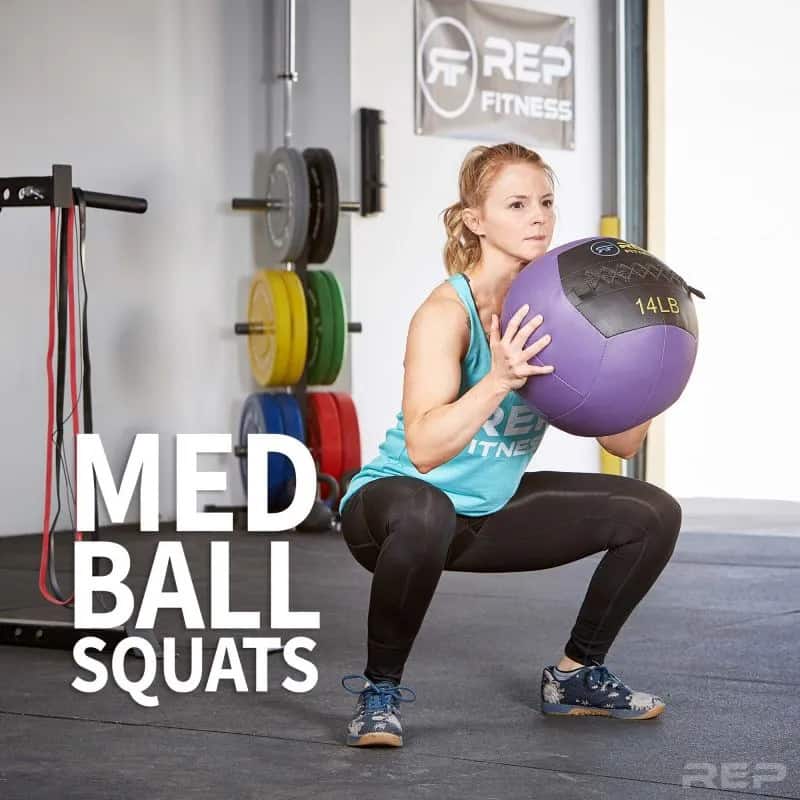 Medicine balls are a motivating and fun fitness accessory and provide energy to your training while also improving your physical condition. It develops a strong core; improves coordination, flexibility, and upper and lower body strength. But starting with a weight suited to your level of physical activity should be considered to avoid injury and fully benefit from them. Take a look at some of these medicine balls from the leading fitness brands.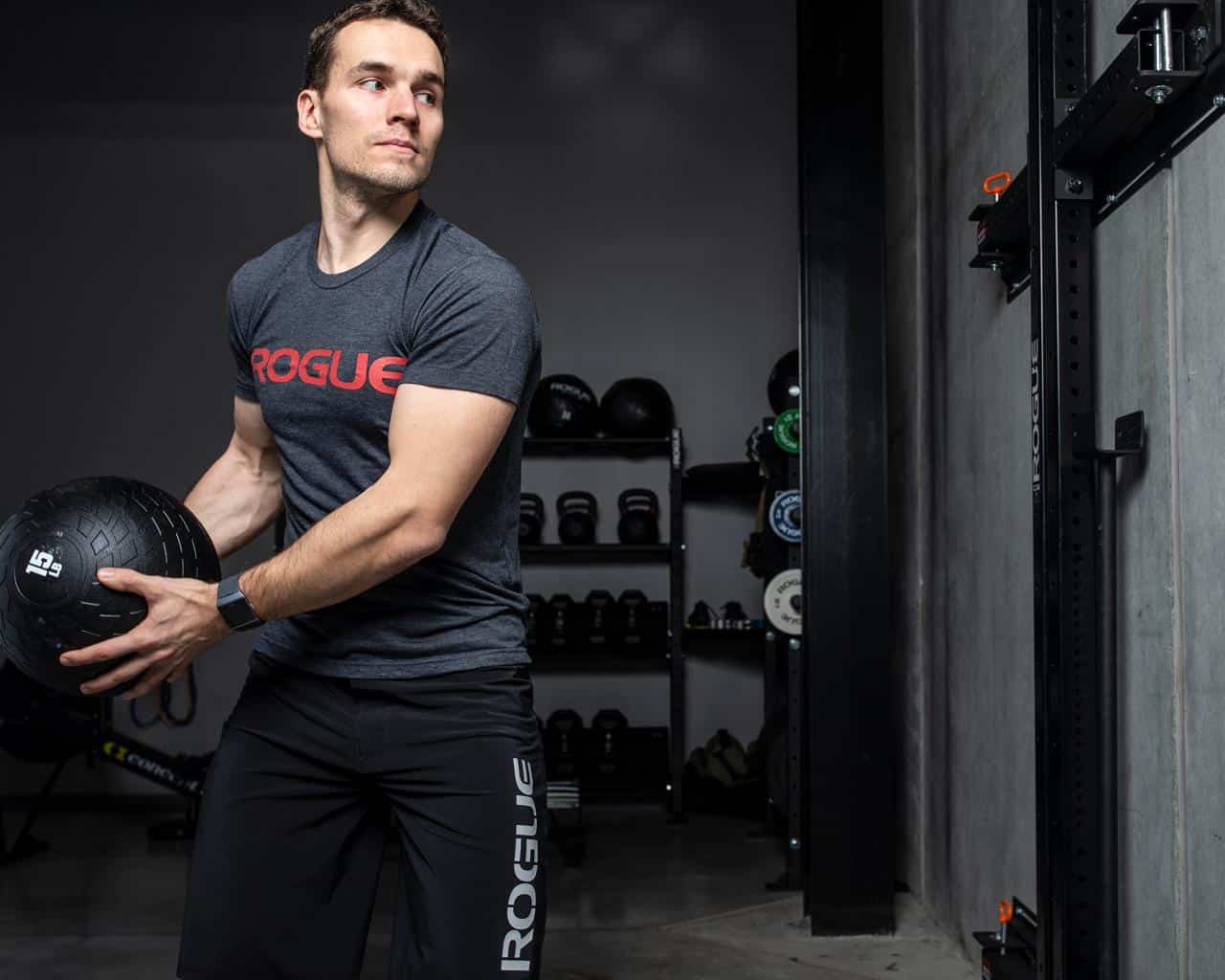 Rogue Color Medicine Balls
Rogue Medballs have been battle-tested at some of the largest levels of competition, including the CrossFit Games. They are also used in the day-to-day grind at thousands of professional, academic, commercial, and home gyms anywhere. They are hand-made in the USA and emphasize a precision nylon thread seam construction with a moisture-resistant and scuff-resistant coated-vinyl shell. These medicine balls are double-stitched with added stitch on the top of a heavier range of 14LB to 30LB variants.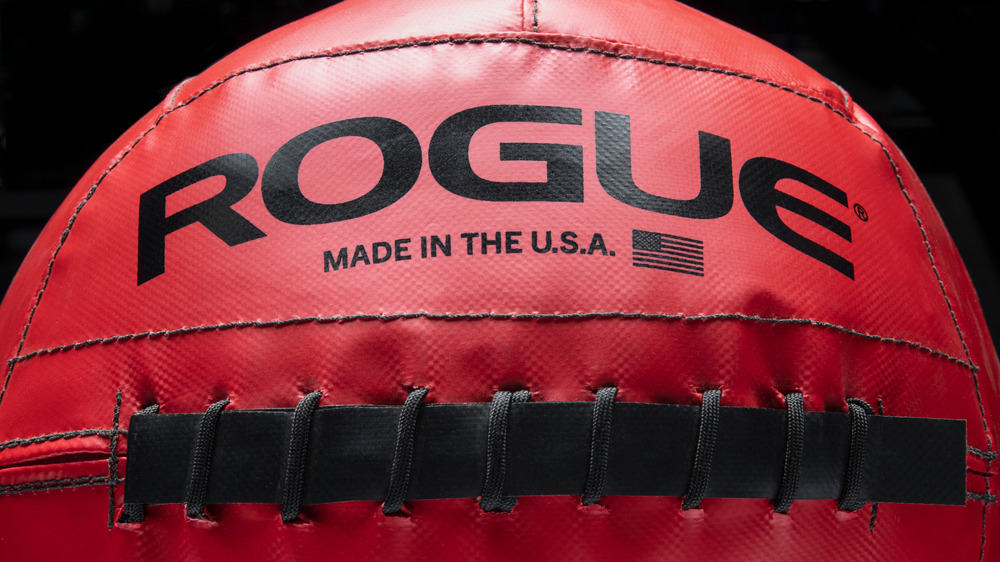 The internal padding is large enough to help the ball keep its form across continued use but also flexible enough for athletes to stop or catch the ball at high velocity cautiously. Instead of assigning specific colors to specific weight increments, Rogue allows you to custom-select the shell color of any medicine ball they order. You can order a complete set in a single color or mix and match colors as you please. This also gives coaches an option of choosing one color for all 10LB medballs, another for all the 14LB, and another for the 20LB, enabling easier instruction and identification of medball weights from a distance.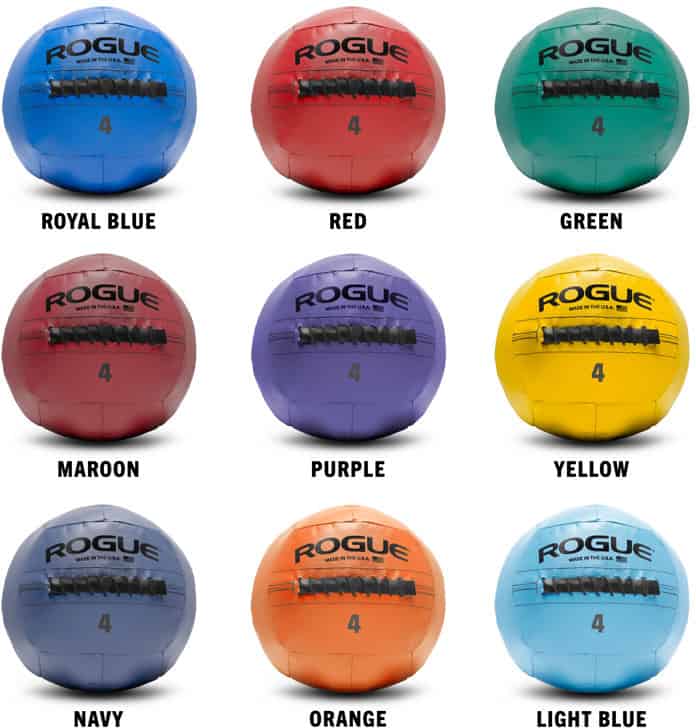 Rogue Medicine Balls
Rogue Medicine Balls give you the power to pick from 11 different weight increments varying from 4LB up to 30LB, all stressing the same 14″ diameter and scuff-resistant vinyl shell for a steady feel as you advance. They are assembled, sewed, and examined at Rogue's manufacturing facility in Columbus, Ohio. These medicine balls are made for high-speed, high-intensity training with a two-year warranty.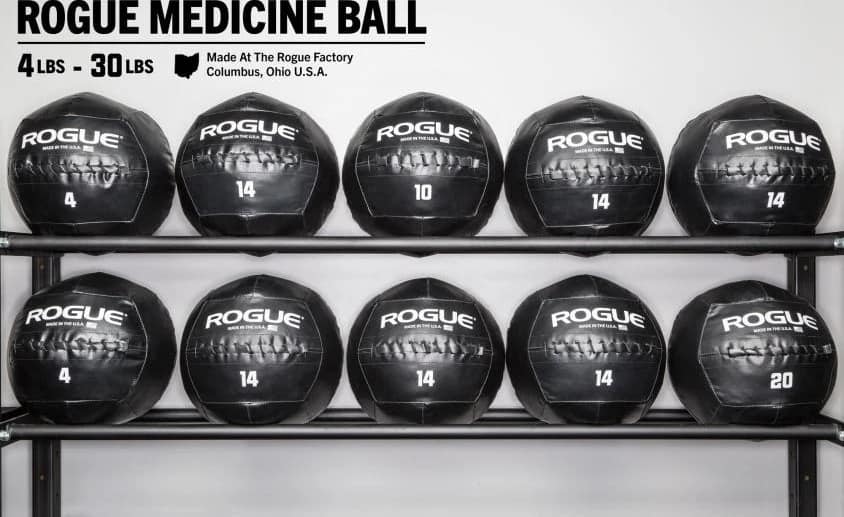 Medicine ball training improves your endurance, explosiveness, and core strength, and you can use medicine balls for squats, sit-ups, presses, wall ball throws, and traditional trunk twists, and more. The interior filling is lenient enough for athletes to stop or catch the ball at high velocity carefully but big enough to help the ball hold its shape over repeated use. Rogue goes the extra mile with augmented, double-stitched nylon threading made to handle daily indoor/outdoor misuse for a wide variety of purposes.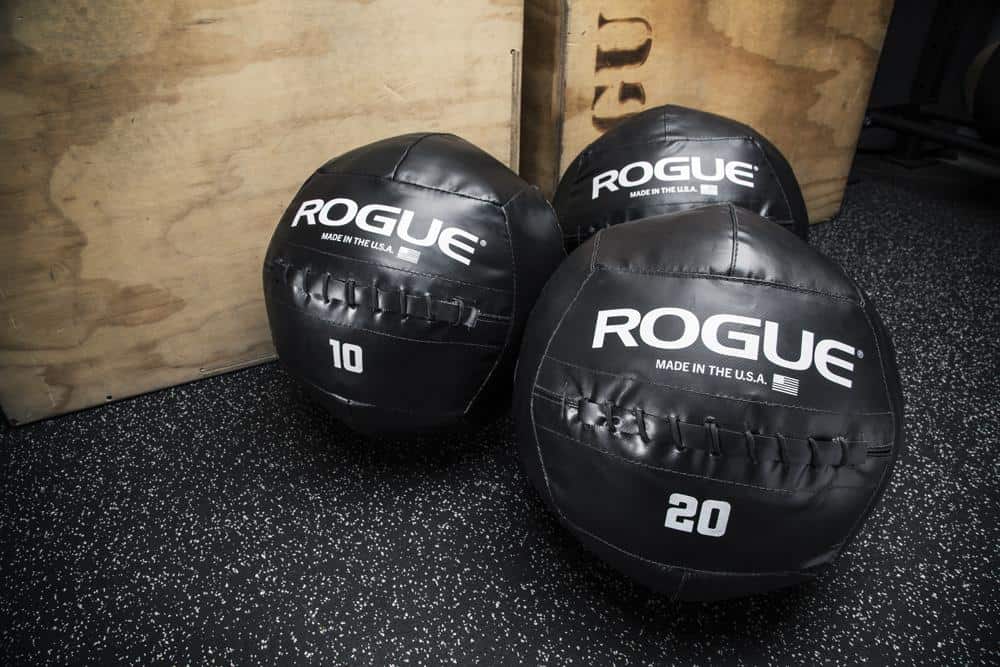 Rogue Rubber Medicine Balls
The rubberized exterior shell and tread pattern of Rogue Rubber Medicine Balls guarantees a constant grip and helps reduce slips and mishaps. They have an equal weight distribution and come in nine different weight increments for gradual improvements and maximizations of a workout. The outer shells incorporate the Rogue logo fashioned into the texture of the surface as well as the weight indication in white printed twice.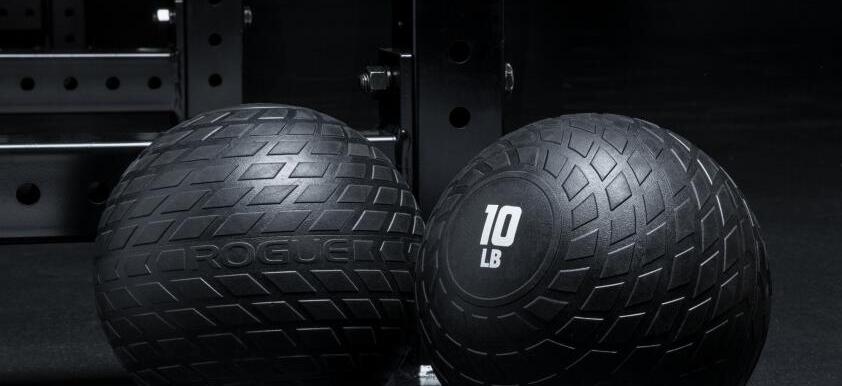 These medicine balls are created to bounce back on slams and wall throws, opening up a wider variety of training options. In this design, the solid, springy exterior shell created a range of new training movements, including ball slams with the convenient bounceback, lateral throws against a wall, and back-and-forth bounces.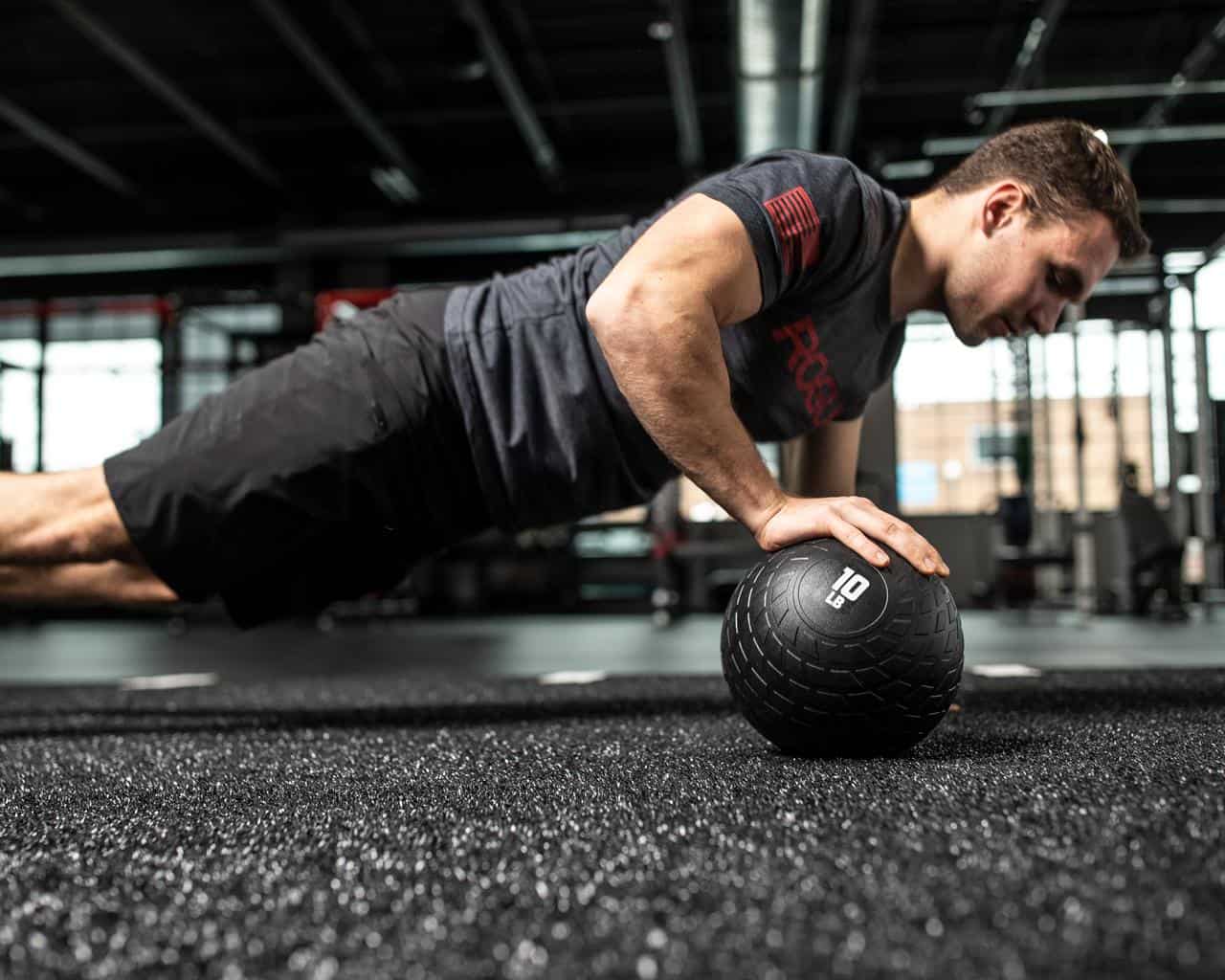 Rep V2 Medicine Balls
Rep V2 Medicine Balls have soft and grippy synthetic leather measuring 14″ diameter for all weights. They are color-coded by weight for easy identification and have stitched logo and weight that won't wear off. These medicine balls are perfectly balanced for wobble-free workouts, and you can use them for wall-ball shots, throws, med ball cleans, partner workouts, and more.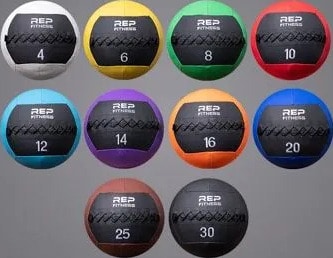 They are perfect for improving explosive movements, training core strength, and developing coordination. These medicine balls are generally hand-made using stitching and a mixture of external shells, like leather or synthetic materials. They are intended for training dynamic movements, such as throwing, but not slamming.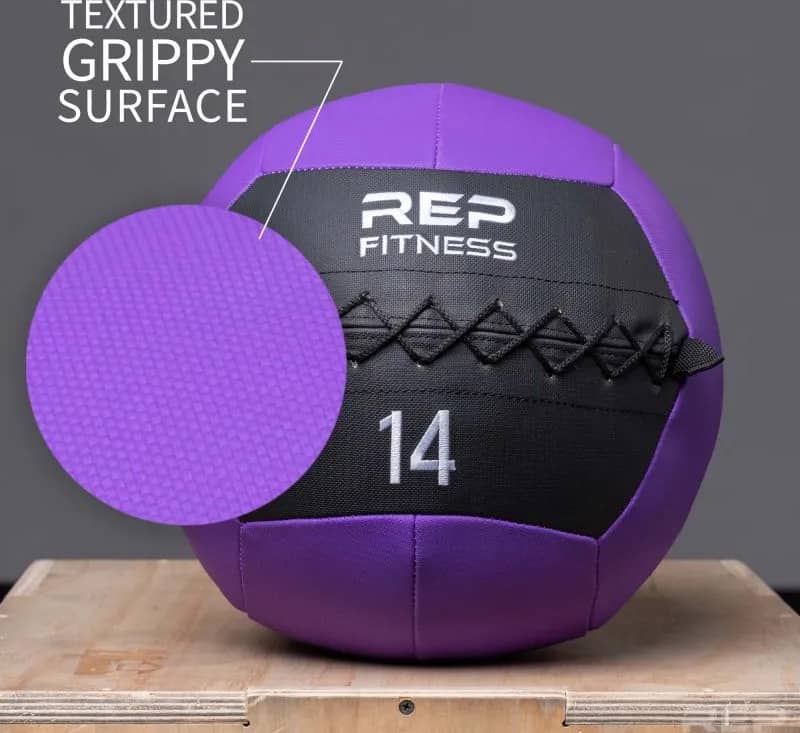 American Barbell Medicine Ball
The American Barbell Medicine Balls are sand-filled balls that are particularly weighted to give even balance and performance. They are color-coded according to their weight. Each ball is textured to optimize its grip ability and enhance its sensory feel. These medicine balls look amazing in their dual-color sequences and feature a stock black dimpling design coupled with a textured color to specify the ball's weight.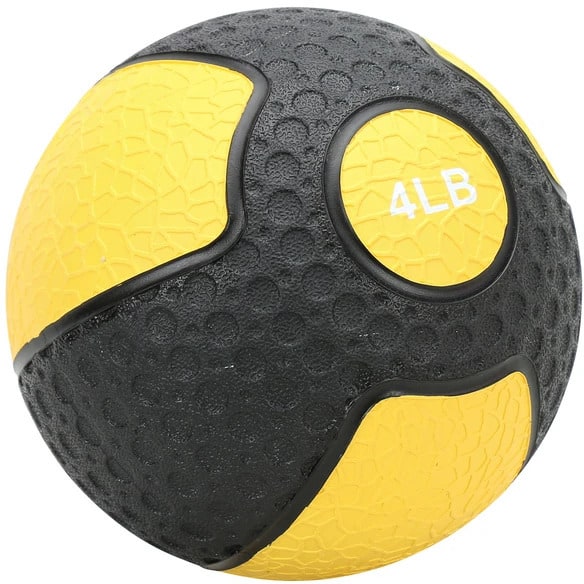 Medicine balls are used for group fitness classes, sports performance training, and rehabilitative purposes and are often used in conjunction with plyometric-based training programs. The American Barbell range of medicine balls has withstood thousands of hours of harsh testing against all manner of surfaces to assure that they can manage even the most challenging workout punishment.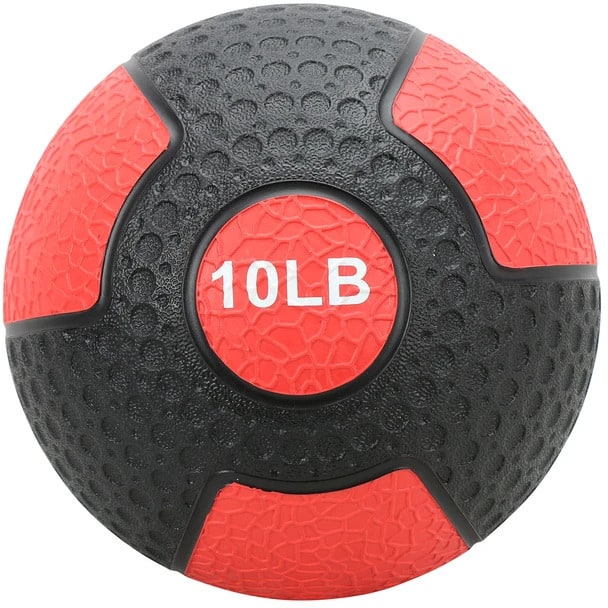 Torque Fitness Medicine Balls
The Torque Fitness Medicine Balls have durable rubber construction with a high grip surface texture. They are functional total body training tools for strength, stability, power, endurance, and joint integrity. These medicine balls are volatile for light bouncing, or air can be added for more bounce.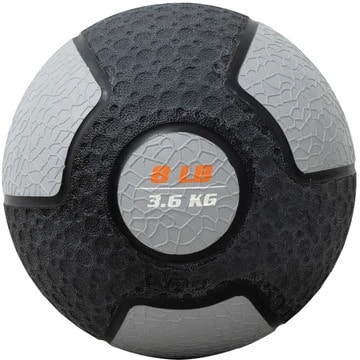 The five-ball set conforms perfectly on the 6' accessory trays for Torque X-Racks and X-Storage Stations. They are available in five sizes from 4 to 12 lb. in 2 lb. increments and identified by LB and KG marking.

Fringe Sport Medicine Balls V4
The Fringe Sport Medicine Balls V4 went through several adaptations that they have evolved into a wrecking ball. They have an improved technique in stuffing that holds the round shape for years while maintaining the same sharp digital camo print and double stitch lacing.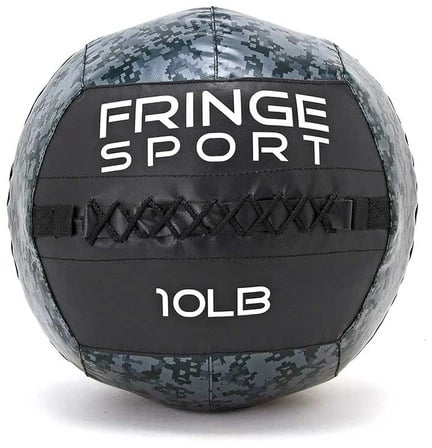 They have an inelastic PVC outer shell that prohibits stretching and an inner bladder that thoroughly dispenses weight to avoid egging or misshaping. The polyester batting renders balanced weight and firmness, while the double stitch lacing keeps innards protected and tighter than a straight jacket.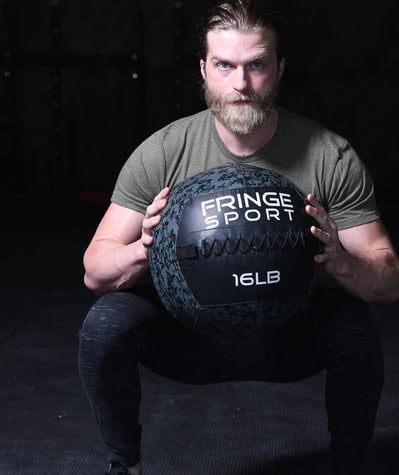 Vulcan Medicine Balls
The same quality materials and craftsmanship used in making high-quality boxing gloves and punching bags are also used in making these medicine balls. They are soft enough to be thrown at high velocity and firm enough to maintain their shape, and do not rupture easily.
You can use them for wall ball squats/throws, squats, throws, core movements, partner passing drills, hoover ball, and floor exercises. It measures 14″ and comes with a two-year warranty.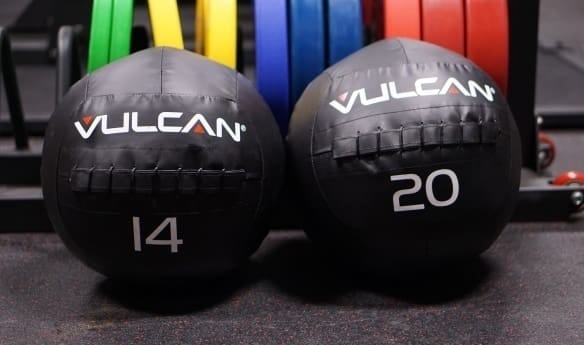 Medicine Balls Review – In Summary
That's our overview of Medicine Balls.
Medicine balls are an essential piece of exercise equipment. They are also used to rehabilitate the muscle or muscle groups, particularly when you are recovering from knee surgery. They also help build muscle mass and build core strength, especially the muscles in your abdomen and back, which helps with balance, posture, and overall wellness through proper alignment.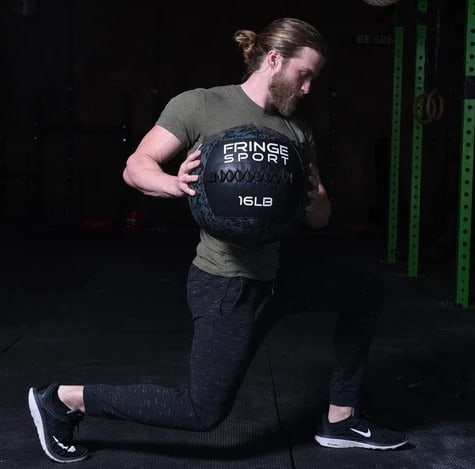 Photo Credits
Product photos on this page are property of the manufacturer.
This website is not affiliated or associated with CrossFit, Inc. CrossFit is a registered trademark of CrossFit, Inc.
Affiliate Disclaimer
We are an affiliate of Rogue Fitness and others that sell this training gear. If you buy clothing or other training gear after clicking the links in this article, we receive a small commission at no extra cost to you. This helps us to bring you in-depth information and content on these great training products.
Tim is the founder of FitAtMidlife.com – an avid gym rat for 30+ years, he's a reviewer of many, many shoes – and founder of the Speed Bag Gathering – the world's only gathering of speed bag punching enthusiasts.  See more gym reviews at Tim's YouTube channel.