Rogue has the red-hot
Echo Bike
. Grab one while they last!
NEW FOR 2022! Check out Rogue Fitness Hundo Pricing for 2022.
Rogue won't be holding it's usual Black Friday 2021 sale… but they will have some deals and offers, like Hundo Pricing – starting now!
Let's take a look at Rogue Hundo Pricing for Black Friday.
Rogue Fitness is a well-known name when it comes to quality equipment and accessories. Founded in 2006, Rogue is now the chief manufacturer of strength and conditioning equipment, including barbells, power racks, sleds, plates, kettlebells, and accessories. The company is zealous to address the needs of all athletes at any level. Their equipment and other products are a bit pricey, which is understandable because of their quality. But there are actually ways on how you can get them at a lower price.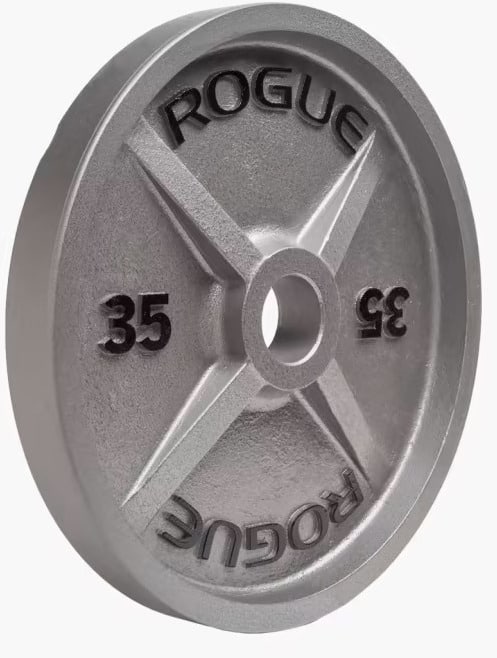 Here are some of the styles we are going to look at:
Rogue Hundo Pricing for Black Friday – Overview
Aside from producing world-class equipment, Rogue is also known for their exceptional customer service and lifetime warranty for most of their products — this says a lot about the quality of the products they are offering in the market. Having products and equipment that last a lifetime means the materials, elements, and workmanship are high-quality and are also expensive. But to offer their customers and athletes a cheaper version with the same quality, Rogue offers different discounts throughout the year, one of which is through Hundo Pricing.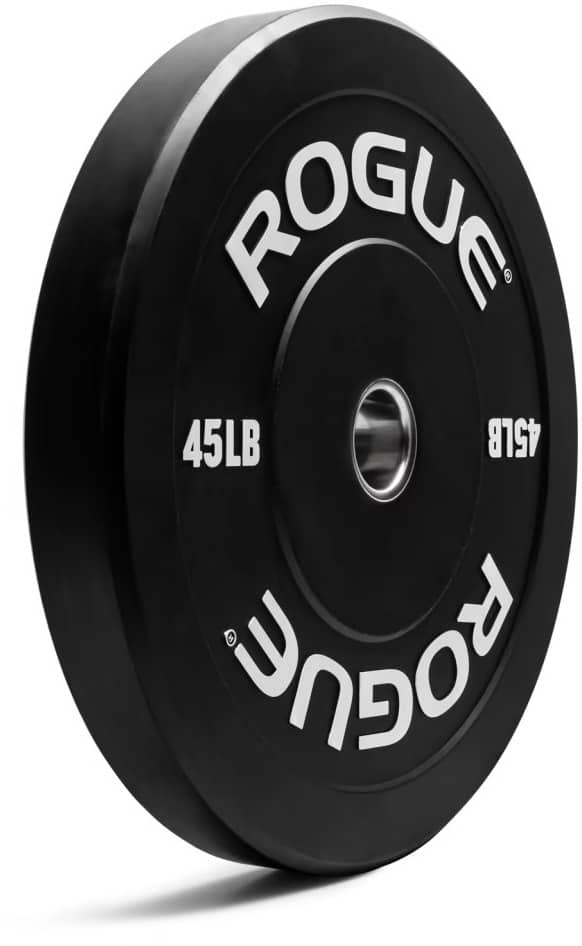 The Rogue Hundo Pricing is the concept of bulk discounts. This is not always an option, but Hundo Pricing is offered at different events but most frequently during the Black Friday event like this year. When you purchase more weight, you'll get a higher discount. If you are getting more kettlebells and plates, it means you can save more money that you can allocate to other investments. Here are some plates and kettlebells that you can include in your commercial gym or garage gym.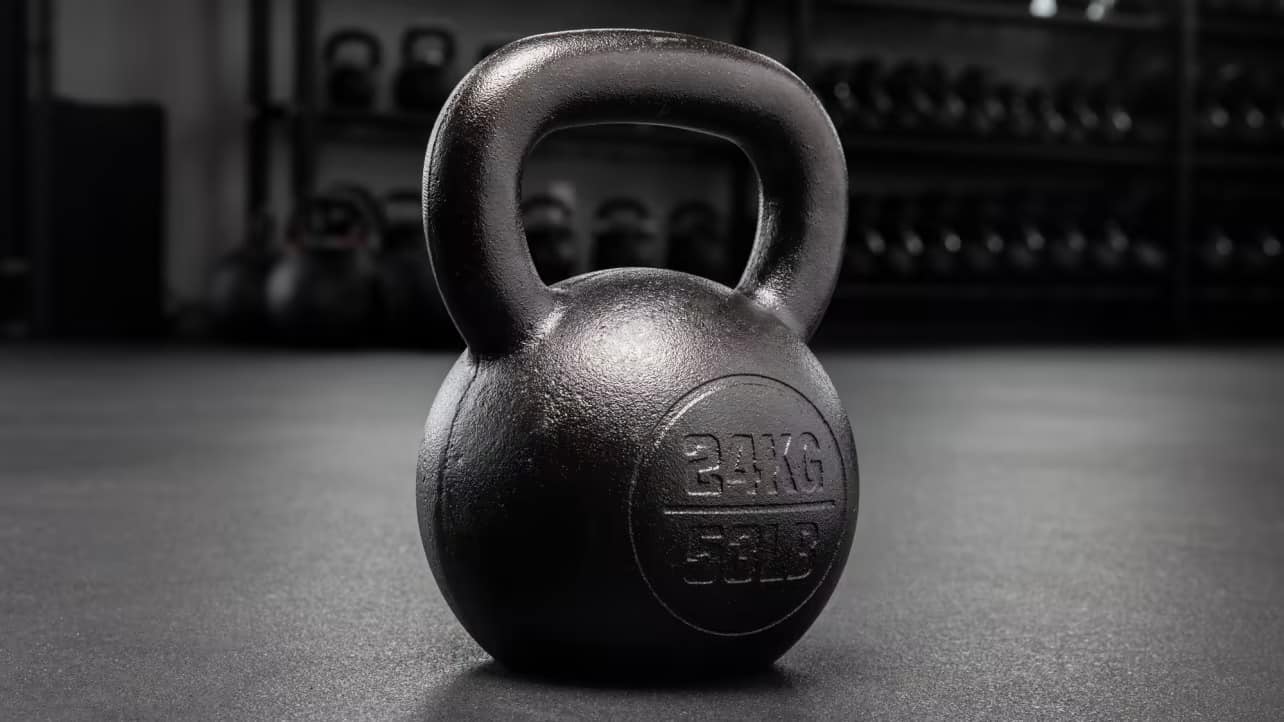 Rogue MIL Spec Echo Bumpers
The Rogue MIL-Spec Echo Bumpers highlight a quality rubber construction, stainless steel hubs, a matte black finish, and raised black lettering for the Rogue logo and LB weight indications. They are multi-purpose plates approved for usage in the U.S. Army's new Combat Fitness Test. They highlight a matte black finish and raised black lettering for the Rogue logo and LB weight indications.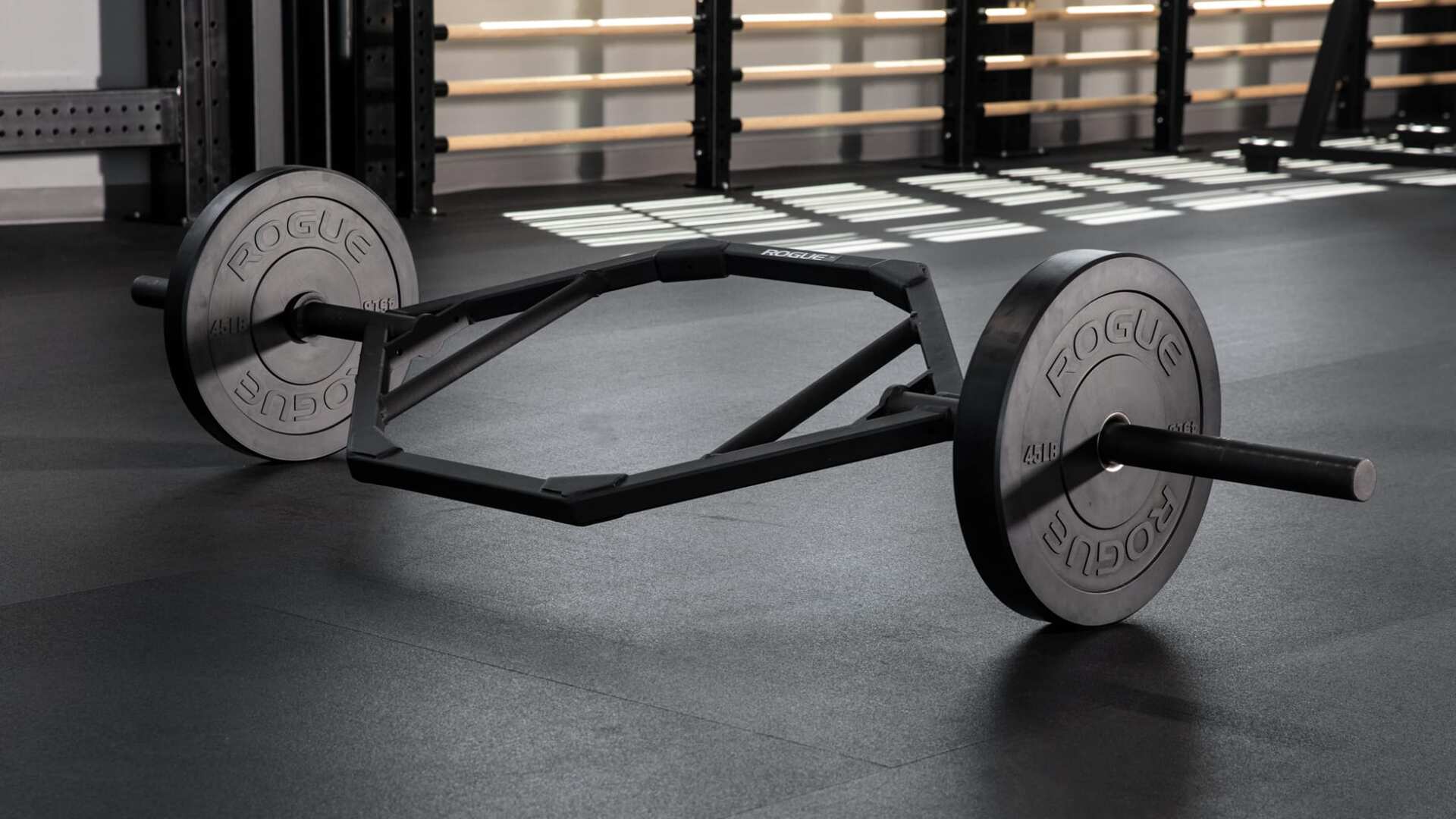 All plate sizes measure an IWF standard 450mm in diameter and have a +/- tolerance of 1% of the claimed weight. The Shore A durometer rates at 90 for the 10LB and 15LB plates and 88 for the others, guaranteeing a steady, minimal bounce on the drop, seldom seen in a cost-effective bumper plate. These plates are constructed with durability and a dead bounce and have stainless steel inserts enclosed by quality rubber.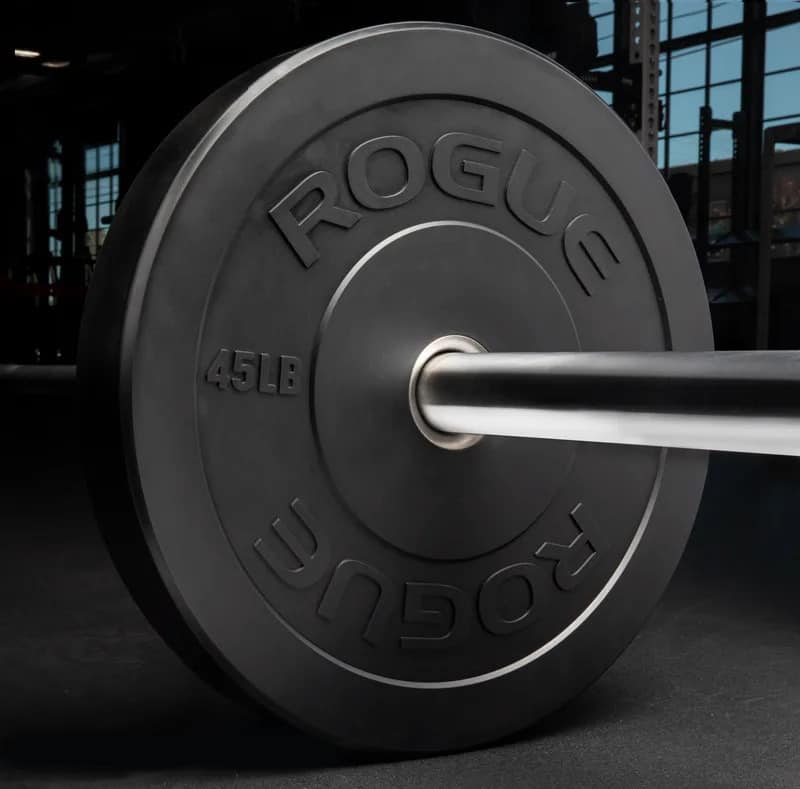 Rogue Deep Dish Plates
The Rogue Deep Dish Plates utilized the latest in modern casting, machining, and finishing techniques and developed this series with Cadillac Casting, Inc. These plates are directly conformed from the vintage-style machined plates Rogue used for the Elephant Bar Deadlift event at the Arnold Strongman Classic. Cadillac casts the Deep Dish Plates from ductile iron, which has higher tensile strength and yield strength than standard gray iron, along with excellent corrosion resistance.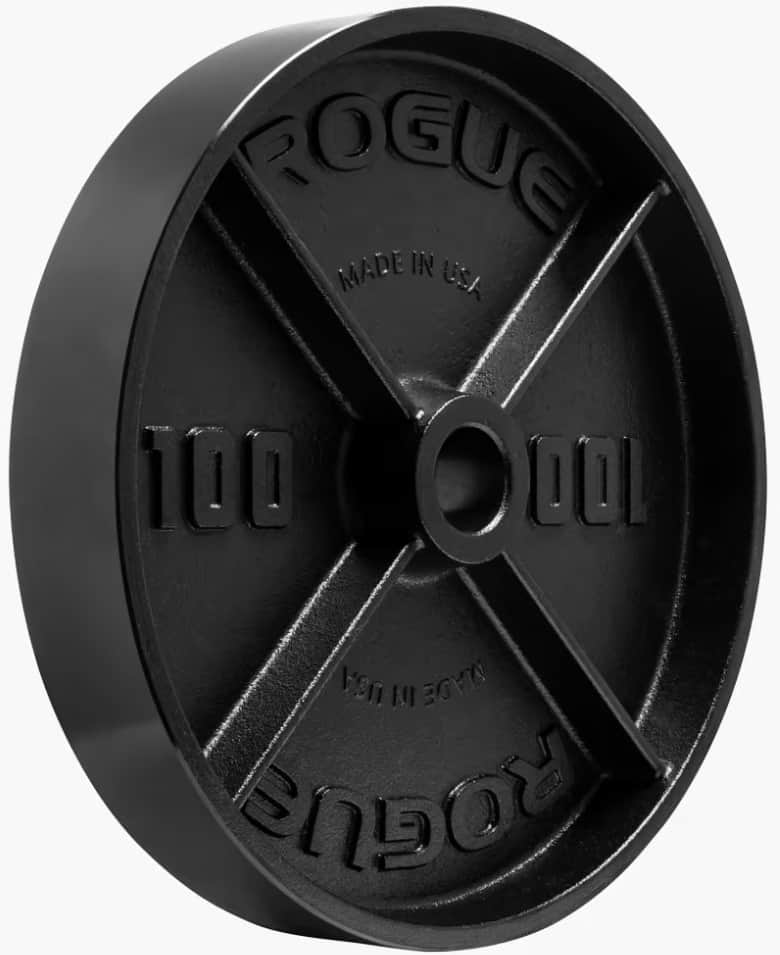 To guarantee a uniform diameter and secure fit on the bar, the entire back, center hub, and outer rim of each plate are precision machined, and the electrically applied E-coat finish goes on thinner than a regular powder coat, allowing a lustrous finish without losing the underlying texture of the casting. The plates are available in four weight increments — 25LB, 35LB, 45LB, 100LB (along with 5LB and 10LB change plates) and are sold in pairs.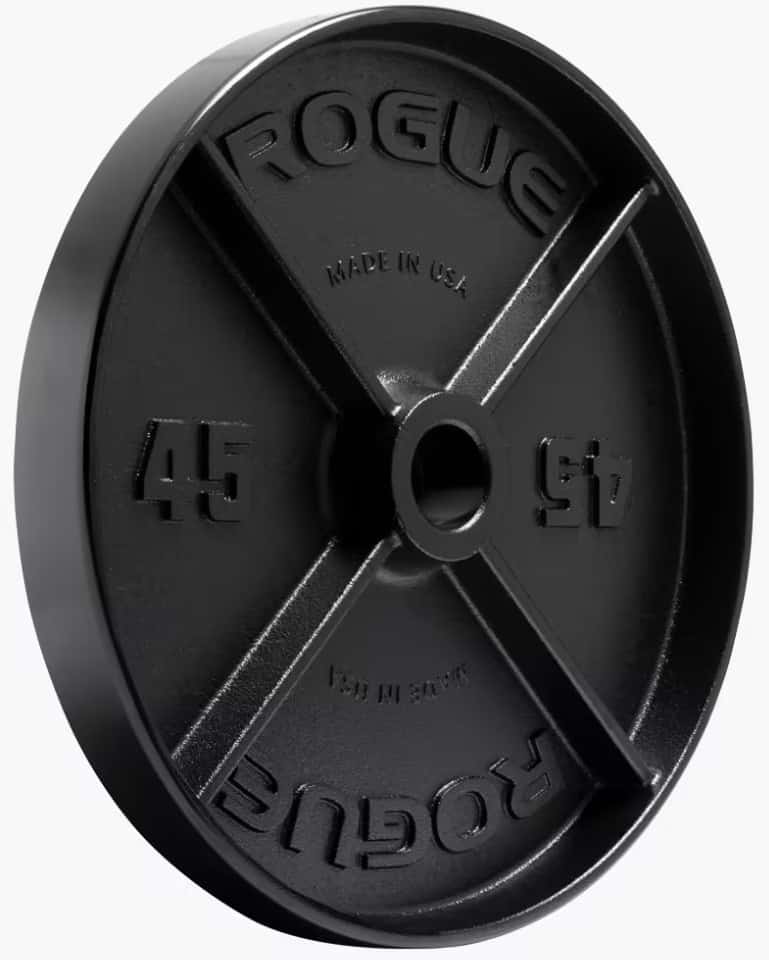 Rogue USA Olympic Plates
The Rogue USA Olympic Plates are the most exceptional series Rogue has ever developed. From the 55LB increment down to the 0.25LB change plate, each plate highlights a slim profile, long-lasting E-Coat finish, and an exclusive-surface machining method that guarantees it fits tightly on the bar, is consistent in diameter, and sits flush against other plates when loaded. All 55LB, 45LB, 35LB, 25LB, and 10LB plates are cast by the Cadillac team using ductile iron, which has superior tensile strength and yield strength, along with excellent corrosion resistance.
The narrow design enables more loading potential on the bar. The remarkably high casting quality results in crisp detailing and a clear disconnection between the embossed Rogue branding, weight marks, and "Made in the USA" lettering. Plates 5LB and below are cast in Portsmouth, Ohio, from Class 30 Grey Iron. They highlight the exact 4-surface precision machining as the larger plates and the same firm weight tolerance of +2% / -0%.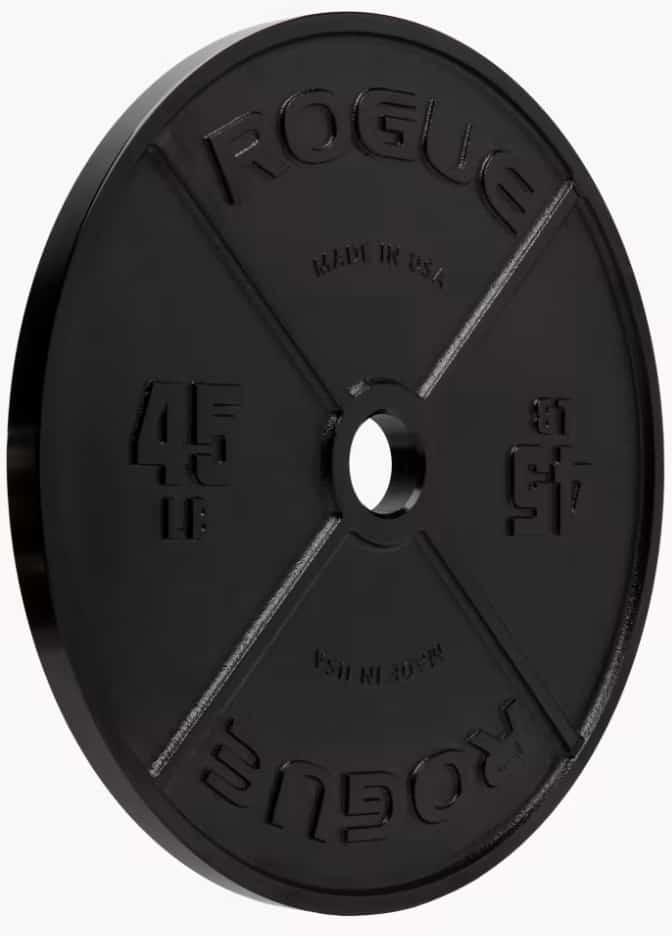 Rogue Color Lb Training 2.0 Plates
Rogue Color LB Training 2.0 Plates are an IWF standard 450MM diameter with updated new artwork and a gloss-matte-gloss finish. The narrow width of the plates supports more weight to be loaded on the bar, and the 50.40MM collar opening and steel disc insert keep the plates securely in place even during intense, high-rep training.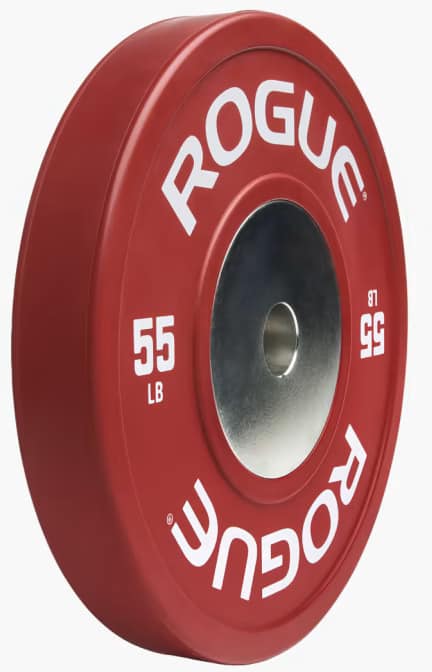 These plates are trusted in the official Reebok CrossFit Games competition with a tested Shore A durometer of 86 that reduces the bounce on the drop and won't break with heavy use. These plates are very easy to identify with their high-quality color-coding — Red = 55LB, Blue = 45LB, Yellow = 35LB, and Green = 25LB.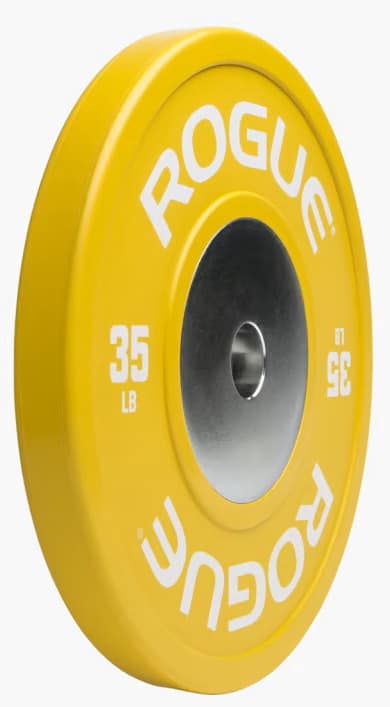 Rogue Echo Bumper Plates
If you are looking for plates that will be dependable workhorses at a reasonable price, the Echos will not fail. They are budget-friendly and have an IWF standard 450MM diameter, minimal surface flaws, and a weight within 1% of their target. The Echos offer a dead bounce and durability when combined with stainless steel inserts and quality virgin rubber.
They are available in pairs and are recommended and approved for use with the United States Army's Combat Fitness Test (ACFT). The exhausting new ACFT is neutral across all genders and age groups and involves a strength deadlift, standing power throw, hand-release push-ups, sprint/drag/carry, leg tuck, and a 2-mile run.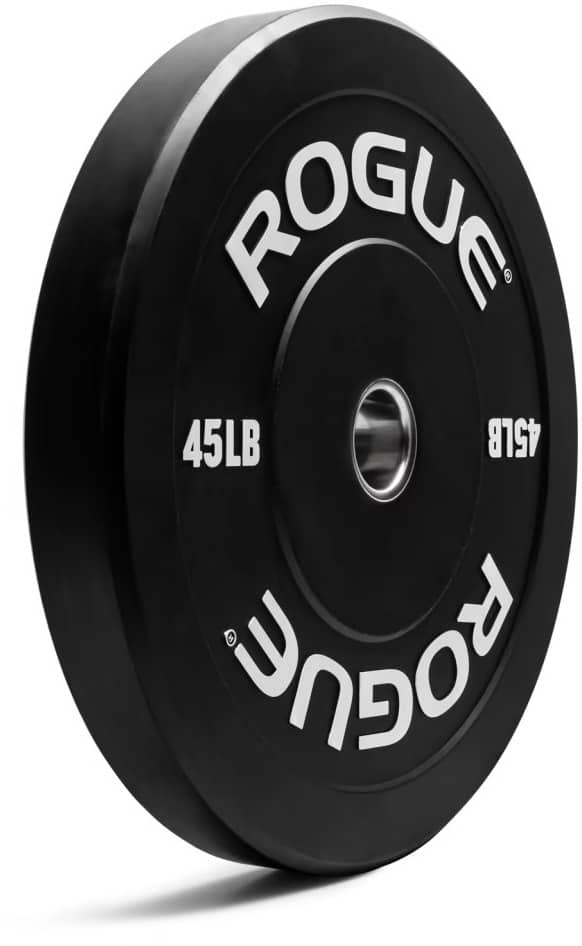 Rogue Machined Olympic Plates
With a unique gray hammer tone finish with raised black text, Rogue's Machined Olympic Plates extend greater precision than many similar steel plates in the business.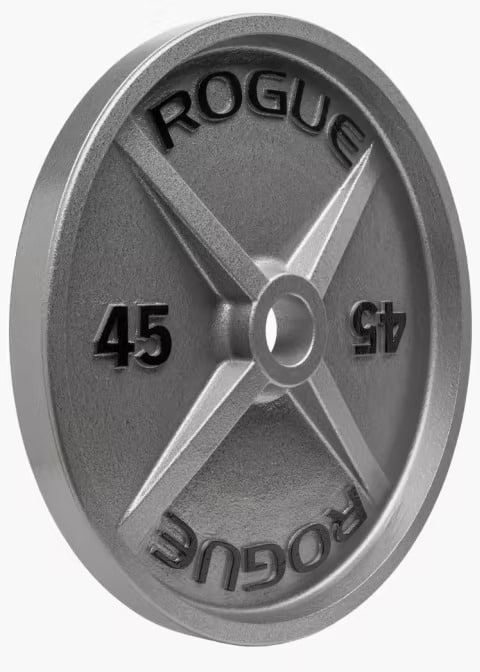 They are sold in pairs or as a complete 245LB set with custom orders available to furnish your affiliate or home gym as needed. These time-tested cast iron plates range from 2.5LB to 45LB and are the gold standard for many serious lifters.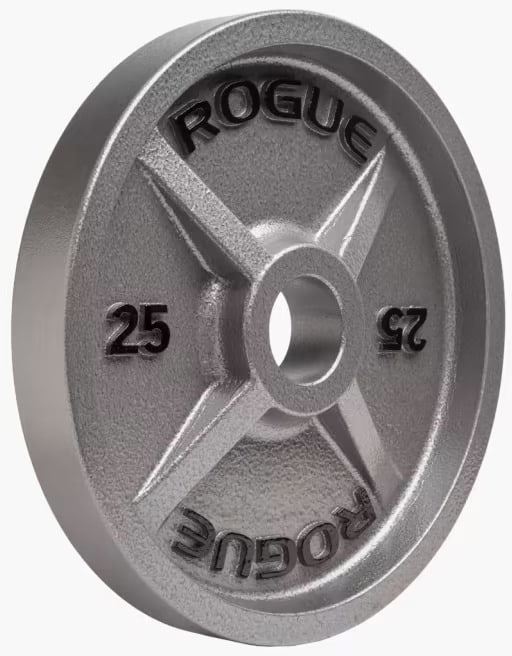 Rogue KG Competition Plates
Rogue's KG Competition Plates are approved for competitive use by the International Weightlifting Federation. They are tested on a Shore A Durometer scale and produce a steady dead blow with the minimal bounce expected of high-end Olympic weightlifting bumpers. The latest designs include a gloss-matte-gloss color finish with raised lettering, including Rogue branding and the IWF logo in white.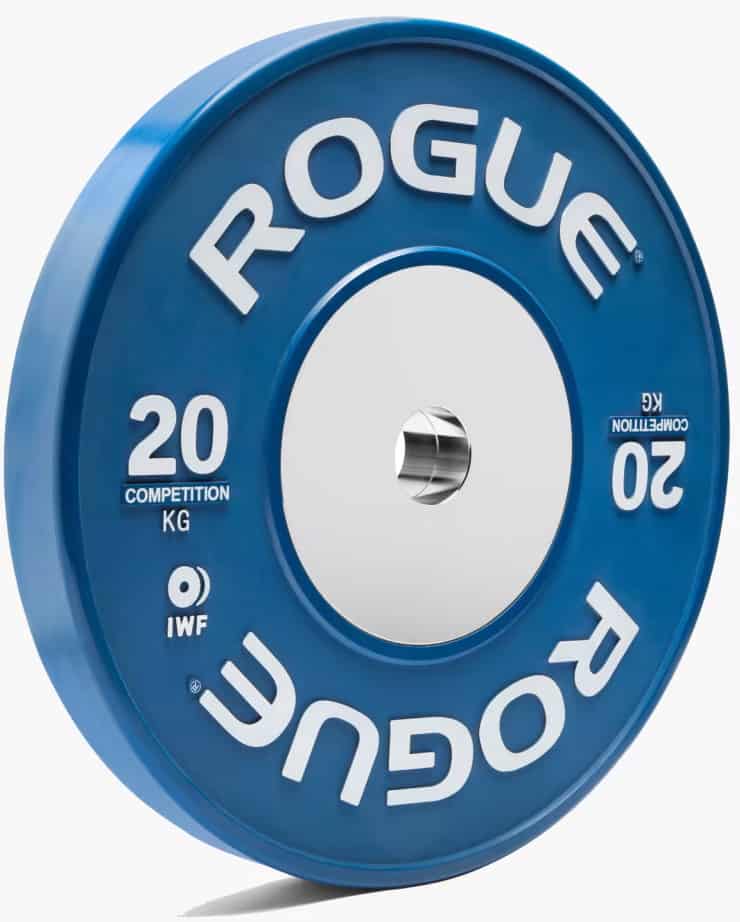 The Rogue KG Competition Plates are all a standard 450MM in diameter, with chrome-plated steel disc inserts and a 50.4MM collar opening for a firm, steady hold. The weight tolerance for each bumper is +/- 15 grams. A raised rubber surface is now added to avoid direct metal-on-metal contact between the center discs, and a convenient lip on the corner of the plate makes it more natural to pick up from the rack or off the ground.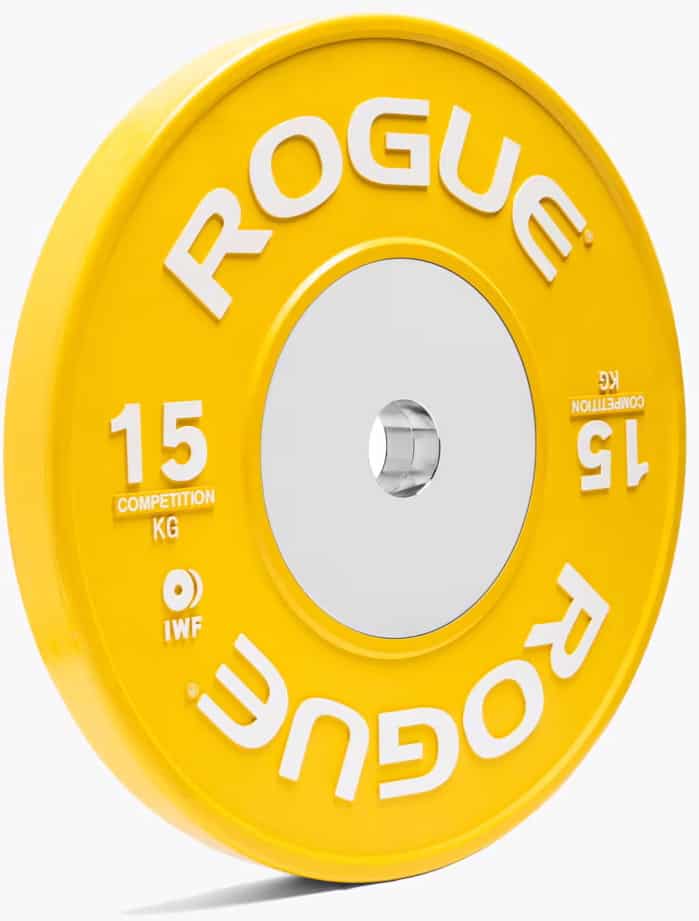 Rogue Color KG Training 2.0 Plates (IWF)
The Rogue Color KG Training 2.0 Plates (IWF) are now officially certified by the International Weightlifting Federation — a testament to their quality construction. Each of these color-coded bumpers is an IWF standard 450MM in diameter, with a slim plate width that provides more loaded weight on the bar. The A 50.40MM collar opening and steel disc insert keep the plates securely in place even during intense, high-rep training.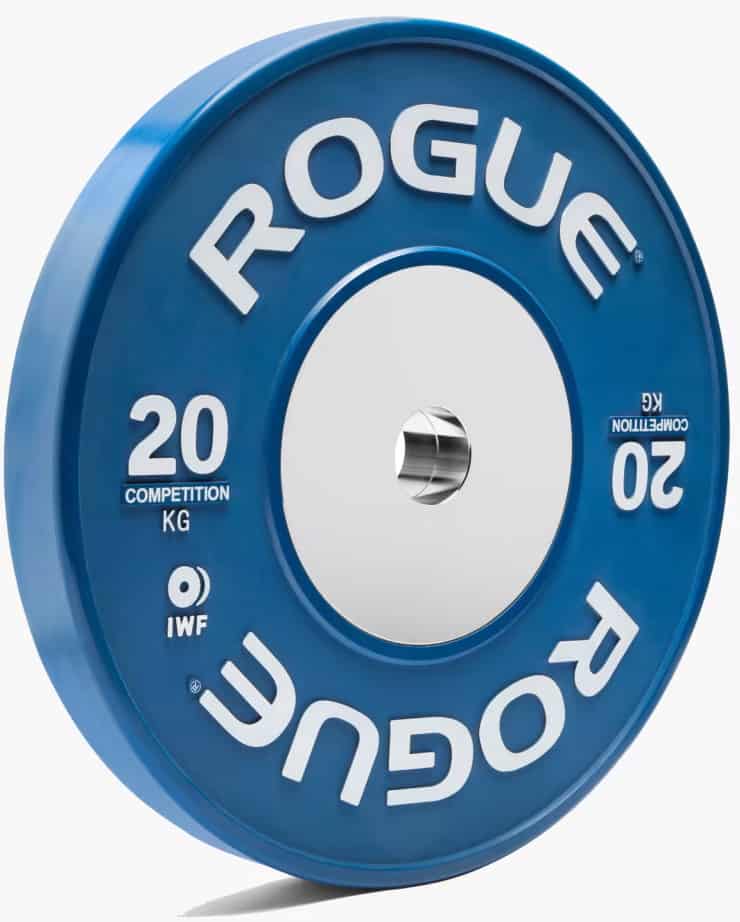 A Shore A durometer of 86 ensures a constant dead bounce to meet the needs of the serious Olympic lifter. To make identification more accessible, the plates are color-coded to help you make more efficient workouts. This version is also revamped with a gloss-matte-gloss finish + Rogue branding and the official IWF logo in white on both sides.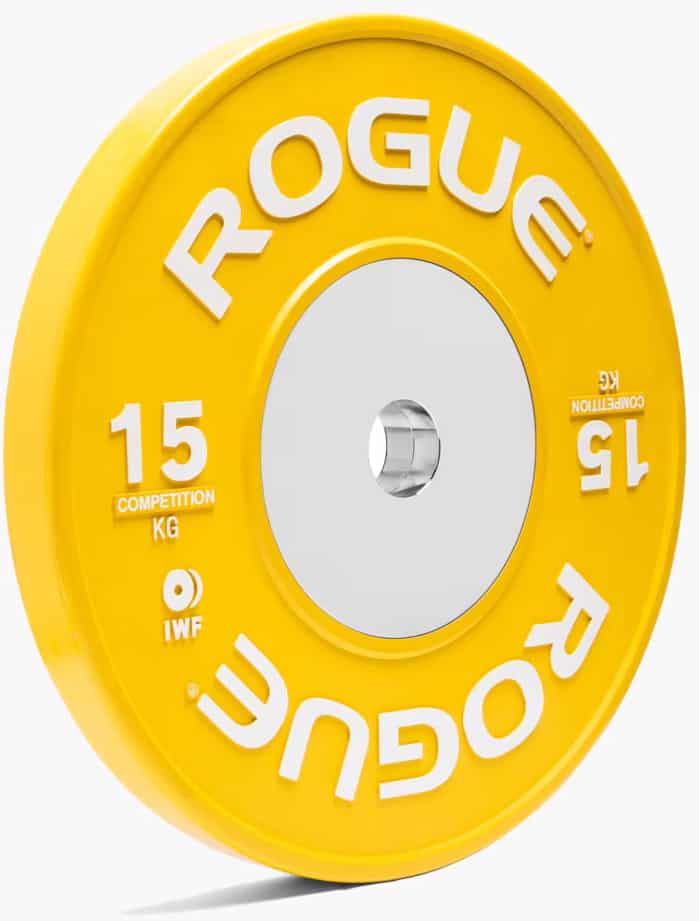 Rogue HG 2.0 KG Bumper Plates
The Rogue HG 2.0 KG Bumper Plates are quality, budget-priced plates with constant dead bounce, sturdiness, and a uniquely smooth finish. You can load more weight on the bar because of their thinner width compared to other plates on the market. Each bumper is an IWF standard 450MM in diameter and has an average score of 88 on the Shore A Durometer scale, providing them a dead blow on par with a lot of the pricier competition plates in the industry.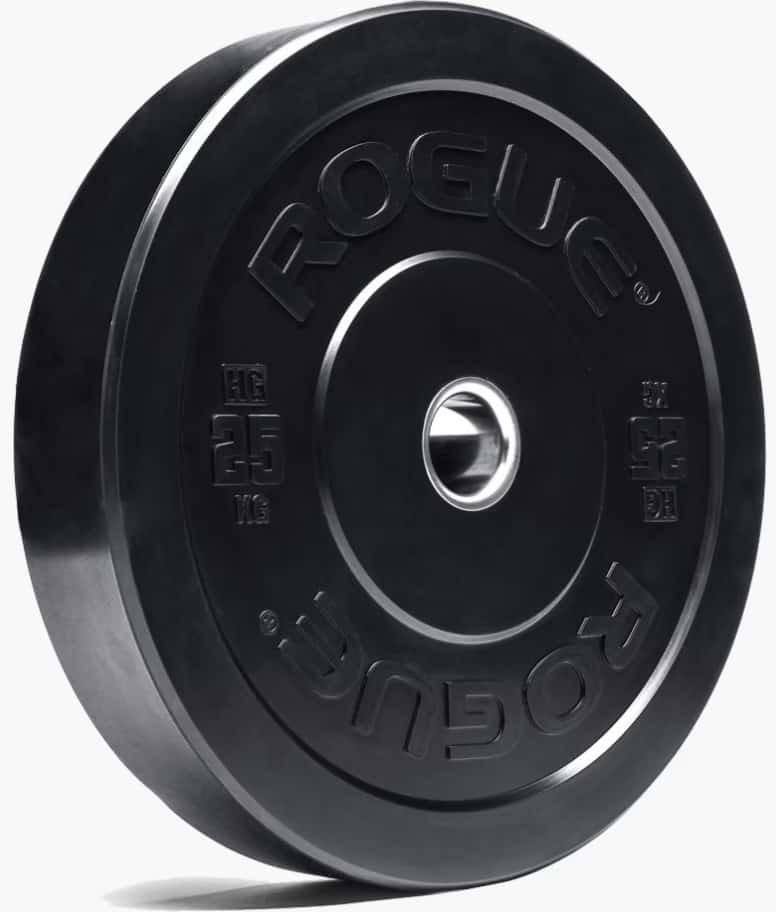 Rogue HG 2.0 KG Bumper Plates have been battle-tested in the CrossFit Games and Regional competitions and offer a high-performance and smart, cost-effective option for any training facility. The updated artwork on the HG 2.0 Bumpers maintains the originals' no-nonsense, old-school look, with the Rogue logo and kilogram measurements in black on black.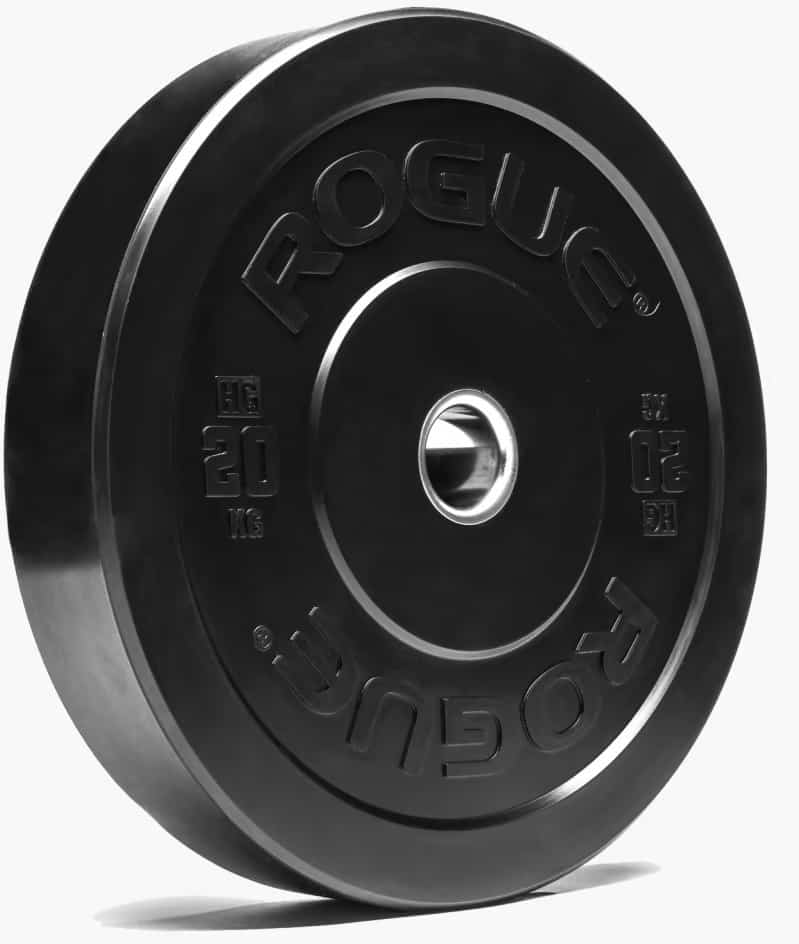 Rogue Kettlebell E Coat
The Kettlebell E Coat represents Rogue's new, exclusive line-up of American-made KBs. They are cast in northern Michigan by Cadillac Casting, Inc., and the series is available in 12 weight additions, from 9 LB to 88 LB, highlighting a black E-Coat finish. Cadillac's single-piece ductile cast iron application forms a kettlebell that is more durable and stronger than regular gray cast iron.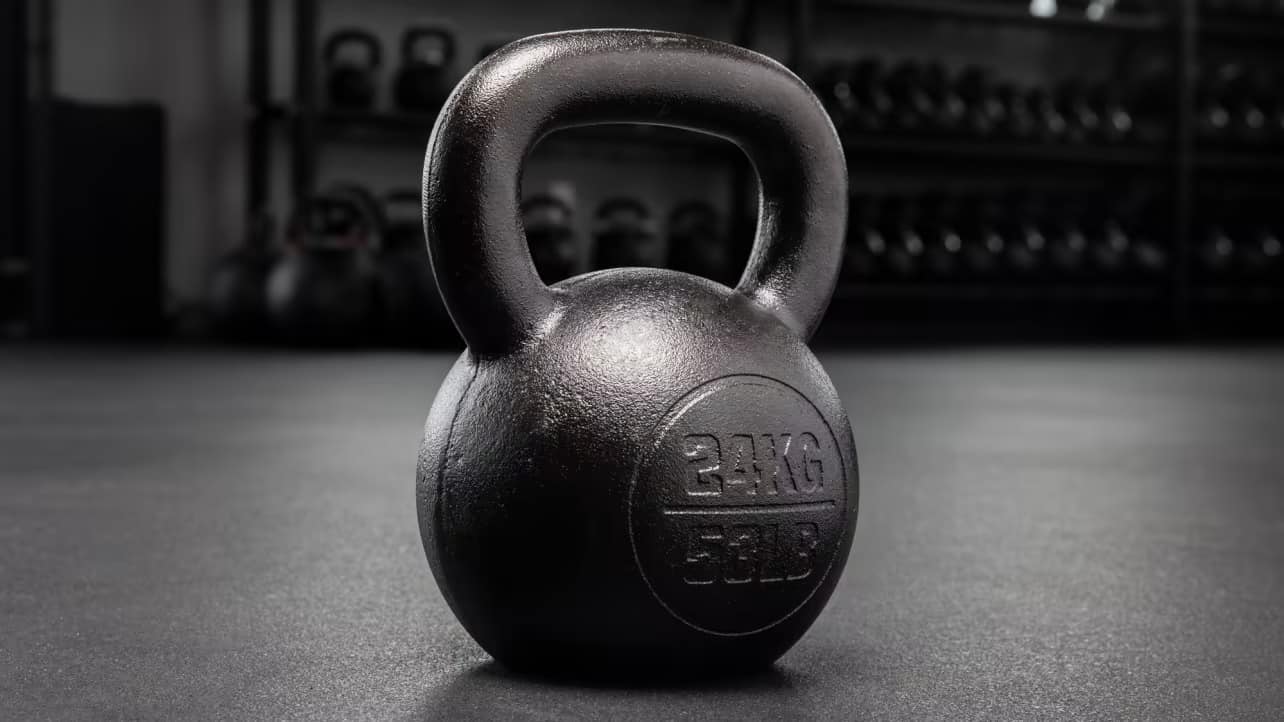 These kettlebells are more durable than regular gray iron with higher tensile strength and yield strength + greater corrosion resistance. The E-coat finish is applied in a thin, durable layer so you can still feel the texture of the casting while being easy to clean. A flat, machined base provides steady storage with no wobble, and the handle diameter varies from 1.2" to 1.5", depending on the weight.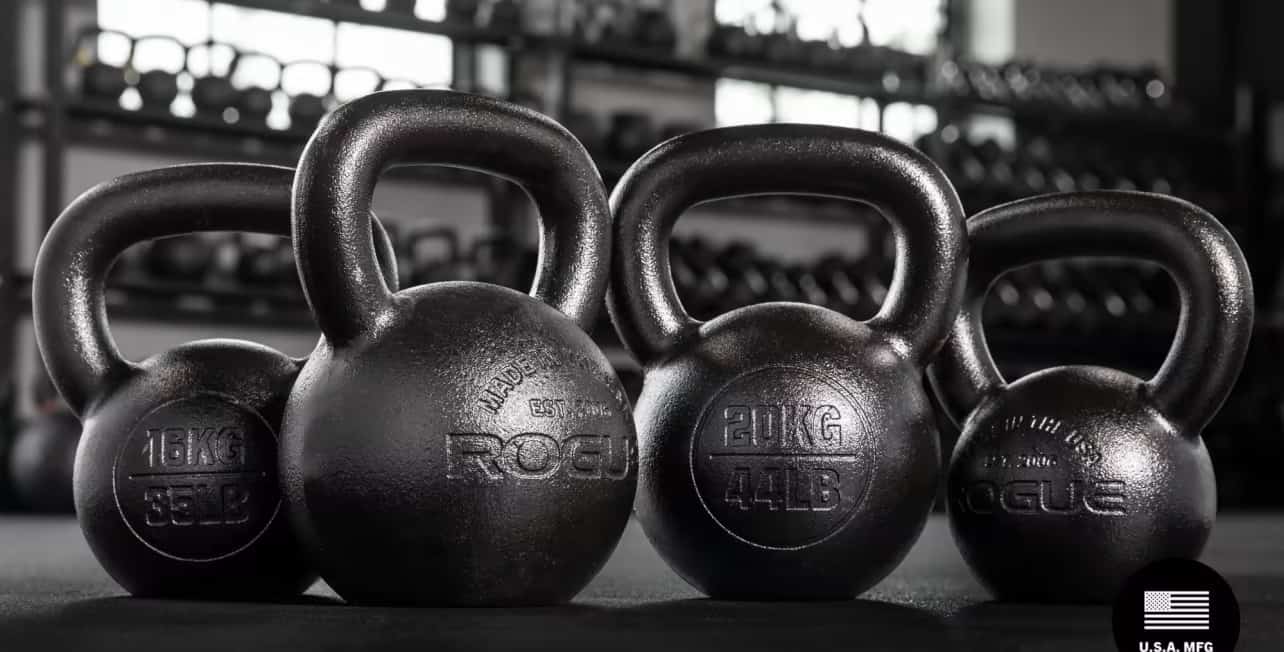 Rogue Kettlebell Powder Coat
Rogue Kettlebell Powder Coat highlights a Class A Powder Coat finish for excellent grip, along with debossed weight indications (in both LB and KG) and Rogue branding. These kettlebells are cast, machined, and completed in the USA and are part of Rogue's growing line-up of quality American-made KBs. The kettlebells are constructed from two kinds of industrial-grade cast iron: Class 30 Grey Iron (13LB to 44LB) and Ductile Iron (53LB and above).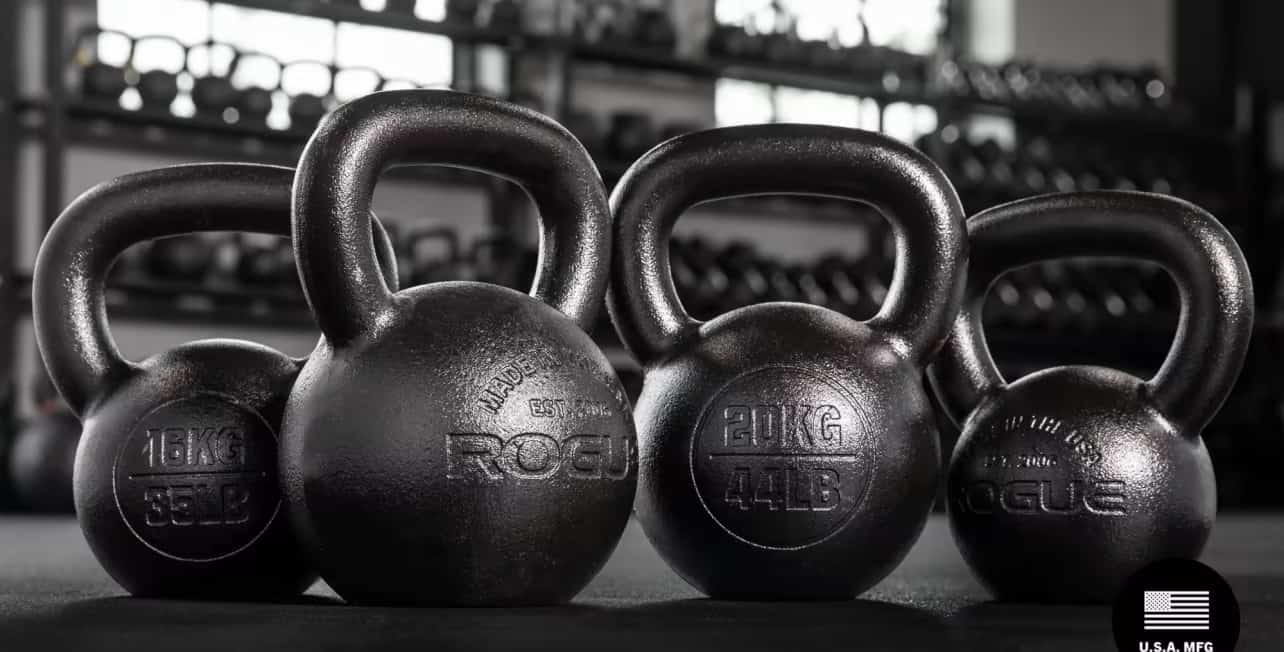 Both are highly sturdy and corrosion-resistant with vibration and sound deadening qualities. After casting, each kettlebell is CNC-machined to accurately cut and smooth over the flat bottom and guarantee a weight tolerance of +3% / -0% (based on the KG measurement). Not only do these kettlebells look good, but they also deliver an intensified grip, steady feel, and scratch/chip resistance more than most traditional kettlebells on the market.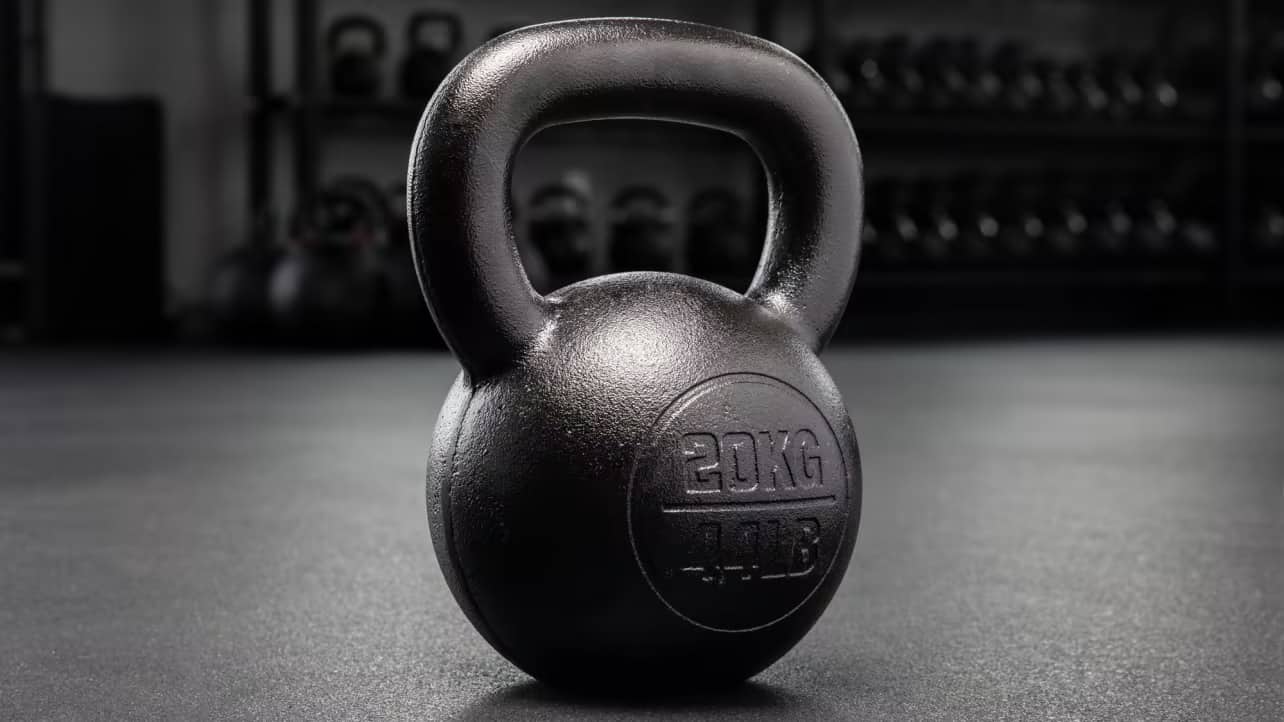 Rogue Hundo Pricing for Black Friday – In Summary
That's our close-up look at Rogue Hundo Pricing for Black Friday.
Rogue is the official equipment supplier of the CrossFit Games, the Arnold Strongman Classic, USA Weightlifting, and the World's Strongest Man competition. Plates and kettlebells from Rogue are approved for use in the U.S. Army's new Combat Fitness Test, which means they are durable and exceptional. Get them during the Hundo Pricing on Black Friday and save more when you buy more not only on the equipment but also on shipping.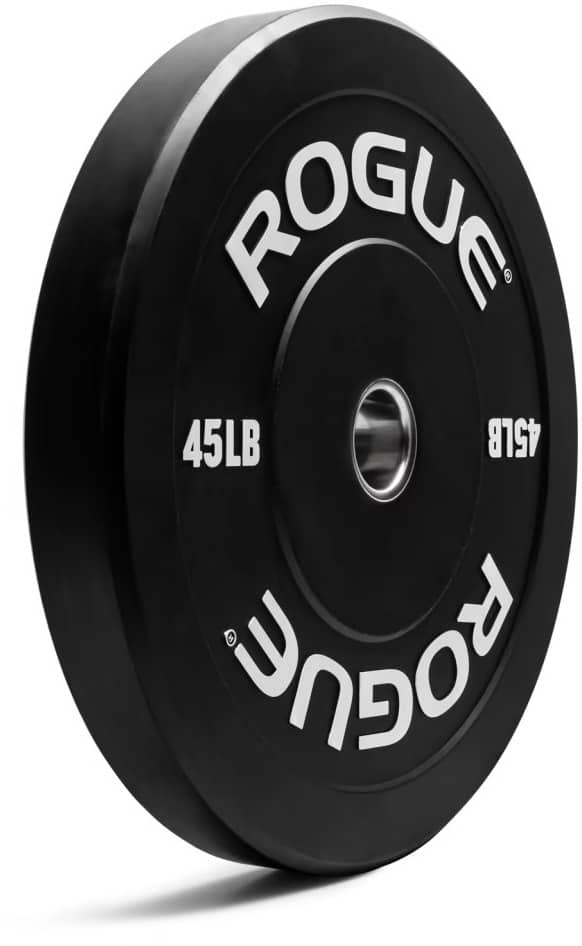 Photo Credits
Product photos on this page are property of Rogue.
This website is not affiliated or associated with CrossFit, Inc. CrossFit is a registered trademark of CrossFit, Inc.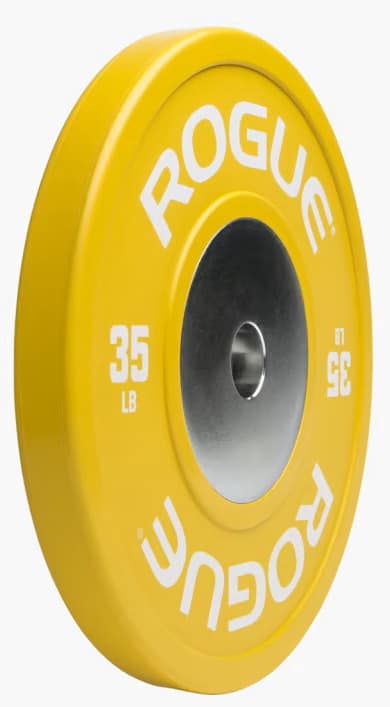 Affiliate Disclaimer
We are an affiliate of Rogue and others that sell this training gear. If you buy clothing or other training gear after clicking the links in this article, we receive a small commission at no extra cost to you. This helps us to bring you in-depth information and content on these great training products.