Want a versatile sandbag for training? Check out the Rogue 3-in-1 Sandbag.
A sandbag is not one of the equipment people think of when they want to do strength training. You will even probably opt to choose a barbell or dumbbells, which are the popular ones. But using a sandbag and incorporating it into your workout provides a unique experience because of its shifting weight.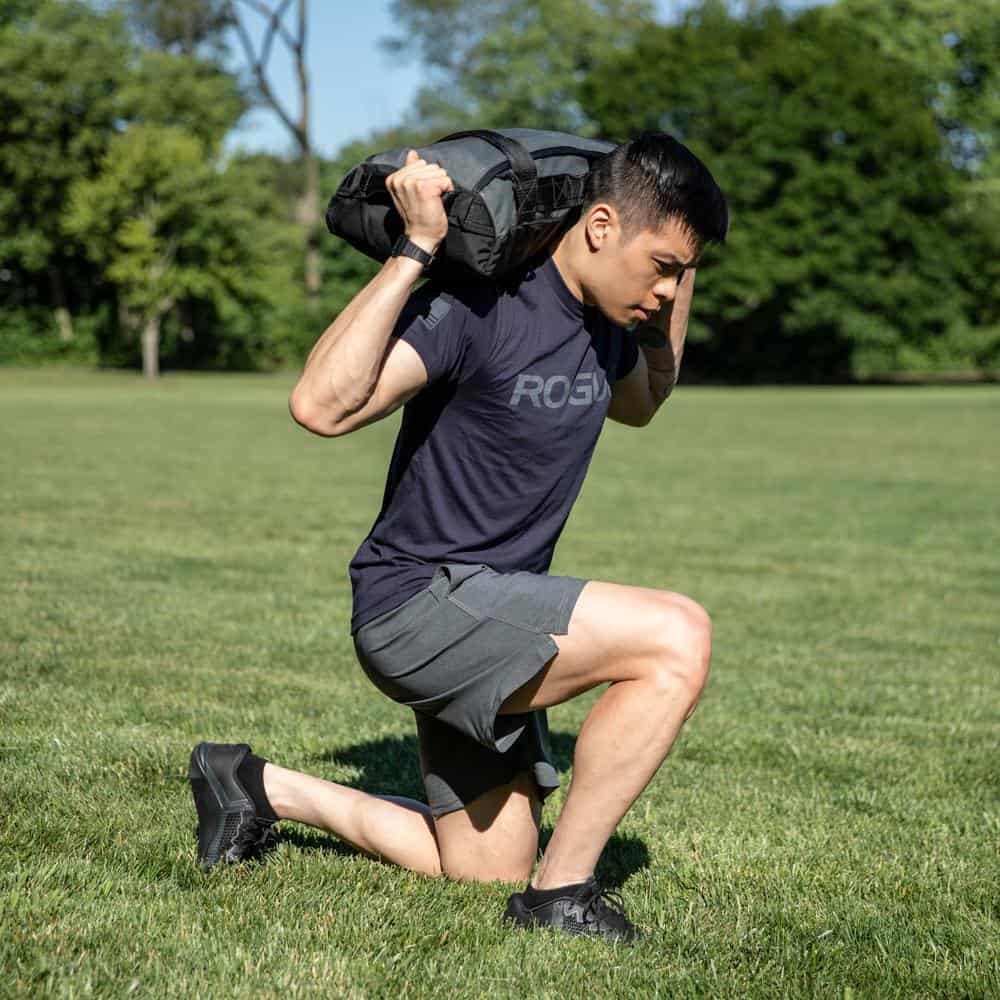 Here are some of the styles we are going to look at: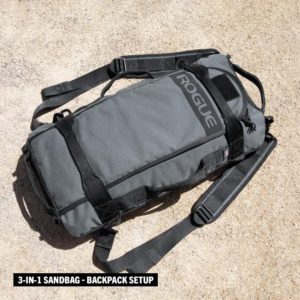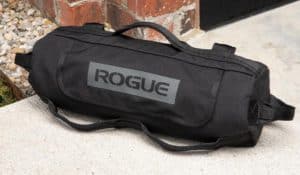 Rogue 3-in-1 Sandbag – Overview
A sandbag is usually packed with sand, either through filler bags or directly. It is one of the most useful training tools you can use, as they are space-friendly, portable, and remarkably versatile. You can use it inside your home gym, a fitness facility, park, or around your village. Training with it provides plenty of benefits, such as an increase in muscle strength, improvement in sports performance, and a greater level of stability.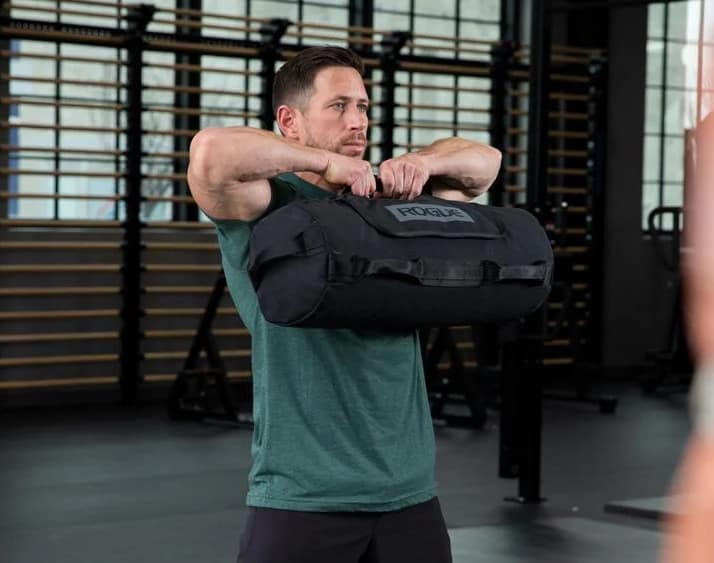 It is also used to promote a functional movement pattern as it mimics everyday tasks and activities. Sandbag training demands an intense amount of gripping, crushing, and pressing that gives you grip strength. It is also an enjoyable tool that provides the sought training effect for the abs, obliques, and lower back.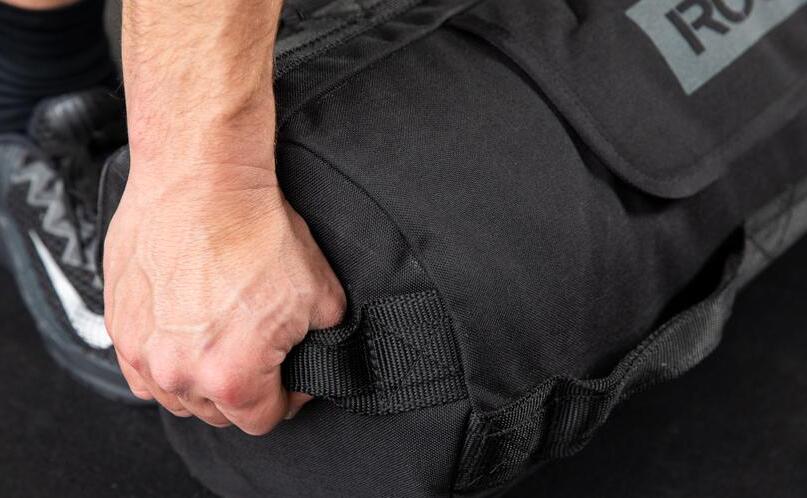 Rogue 3-in-1 Sandbag
Rogue added a pair of adjustable backpack straps with 3" wide Cordura + spacer mesh padding over the shoulders of this 2-in-1 Sandbag. These straps clip on swiftly and efficiently using the black swivel hooks on each end, allowing rucking and bonus potential as a standard rucksack or backpack outside the gym. A pair of multipurpose 12" extension straps allow the 3-in-1 Sandbag to perform similarly to the long-handle design of our Rogue Feed Sacks. The swivel hook design guarantees the utility straps won't become distorted during exercise.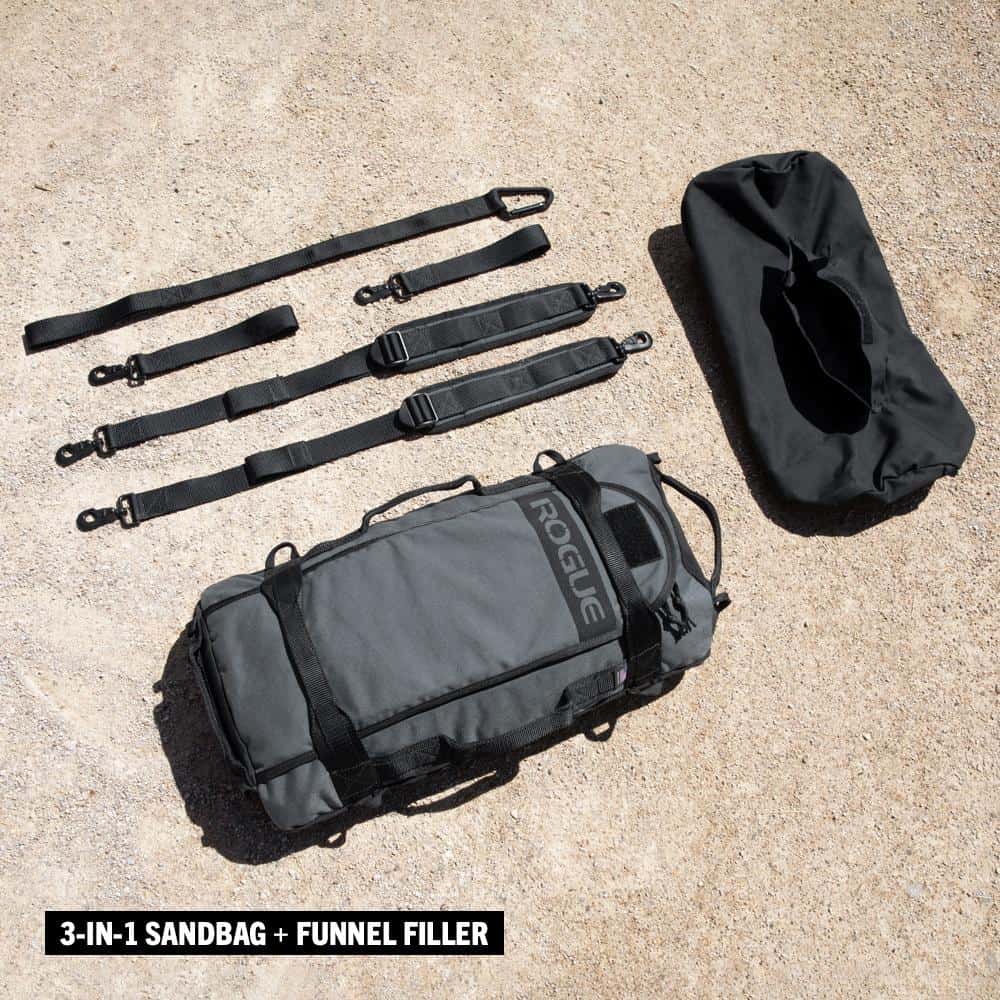 You can immediately move the bag into a sprint-carry position on the back/neck in this form. It's also helpful for thrusts, squats, clean and press, and more. You can arrange the 3-in-1 Sandbag as a drag bag by using the two 12" utility straps on one end of the bag and then attaching them to the 32" long dragging strap through the carabiner. Rogue strengthened the bottom of the bag with ballistic nylon to increase the sturdiness when dragging. Though it can be used for dragging, it is highly recommended not to pull the sandbag over rough surfaces such as concrete, asphalt, etc.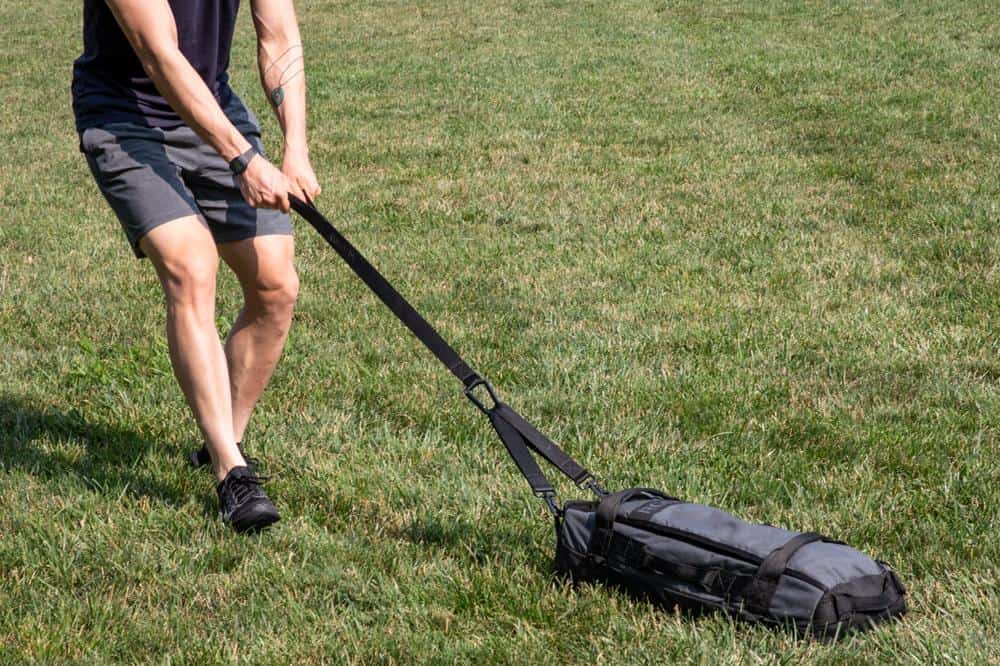 Rogue Sandbag 2.0
Compared to the original, standard Rogue Sandbag, Version 2.0 has a funnel filler bag smoothly integrated into the design for immediate custom loading of filler material. The filling capacity depends on the filler medium and the chosen size of the Sandbag. With dry play sand, this usually varies from 40 LB (Small) to 80LB (Medium) and 150 LB (Large). The new design is not designed for use with traditional modular filler bags. The Rogue Sandbag 2.0 is made in the USA and highlights a 1000D MIL spec Cordura structure (water-resistant and machine washable) with double-stitched, strengthened seams. Each bag has seven exterior carrier handles built from two layers of webbing with augmented stitching that is tough enough to manage pulling, swinging, and twisting.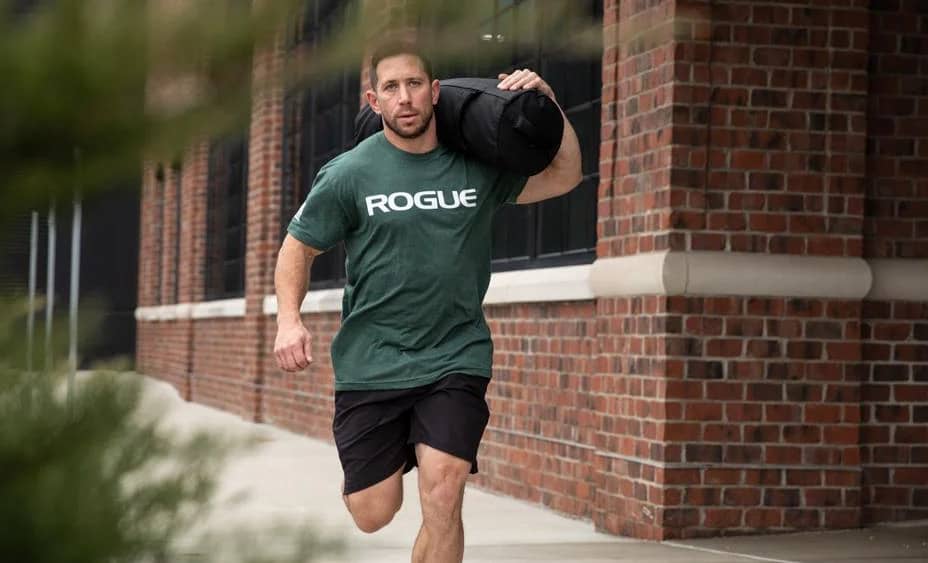 The zipper is heavy-duty with a nylon backing that guarantees tight closure and secure access no matter how the bag is loaded or how frequently it's dropped. The sandbag is a rare kind of weightlifting tool because its weight invariably moves back and forth from the center of mass, demanding you to adapt and support the bag's ever-changing shape as it's raised and lowered. The Rogue Sandbag 2.0 benefits this key fundamental by enabling the internal sand/weight to flow more smoothly as you train, whether, during sprints, load carries, squats, lunges, or presses. Rogue Sandbags are tailored in the USA and have a three-year warranty against any exterior cuts or tears caused by frequent use. If you experience this type of damage, Rogue will fix or replace the shell free of charge. Rogue offers a full range of standard training and Strongman sandbags with various shapes and colors for diversity in challenge and grip.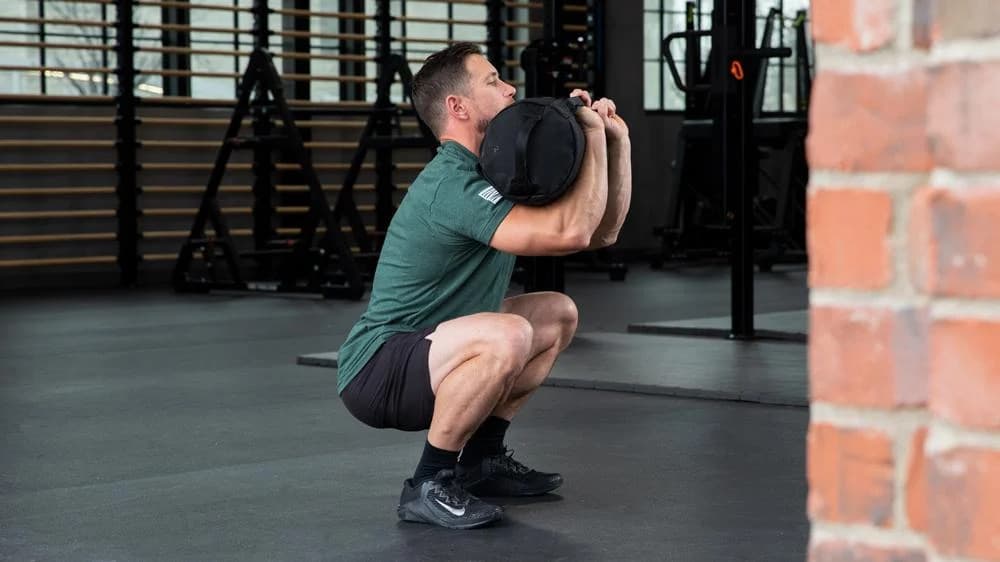 Rogue 3-in-1 Sandbag – In Summary
That's our look at the super-versatile 3-in-1 Sandbag from Rogue Fitness.
Rogue Sandbags are made in the USA and constructed from 1000D Cordura with handles built from high-strength Nylon webbing. Laser-cut Cordura Rogue branding is printed in Gray on the front of the sandbags. The 3-in-1 Sandbag comes in three formats depending on your filler preferences: Option 1 – Bag & Straps Only No filler bag is included with this option, but it is still recommended to use one to prevent sand from dripping or getting trapped in the sandbag's zipper. Option 2 – Bag & Straps + Medium Funnel Filler The funnel filler option allows you to get the bag to a maximum weight capacity of 80 LBS with sand (32 LBS w/ crumb rubber). Option 3 – Bag & Straps + (4) 10LB Rogue Brick Bags The 10 LB "Brick Bags" are loadable 10.5" long mini sandbags built from 1000D Cordura with a reliable Velcro closure. This option is best if you want to swap out weights more often and with less effort.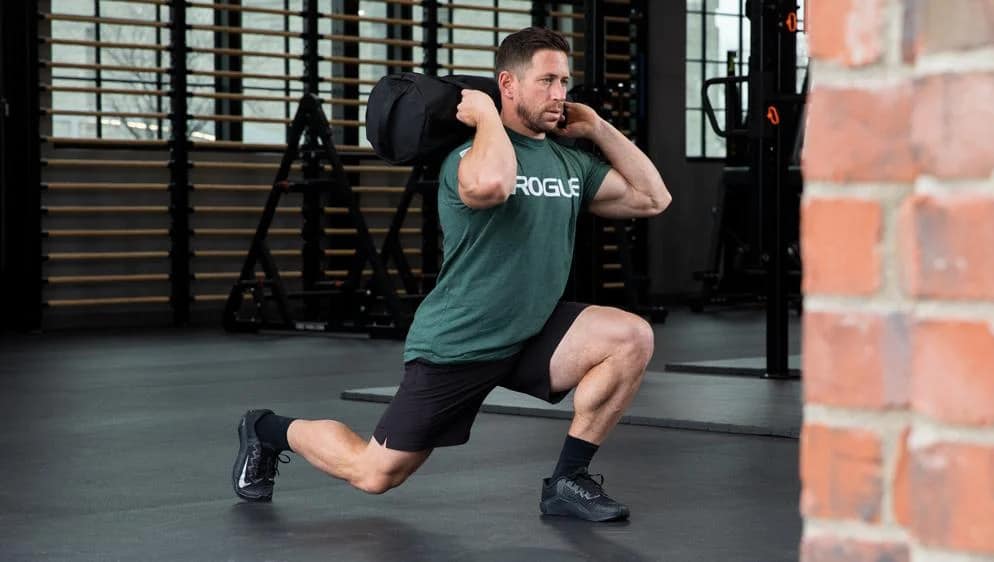 Photo Credits
Product photos on this page are property of Rogue.
This website is not affiliated or associated with CrossFit, Inc. CrossFit is a registered trademark of CrossFit, Inc.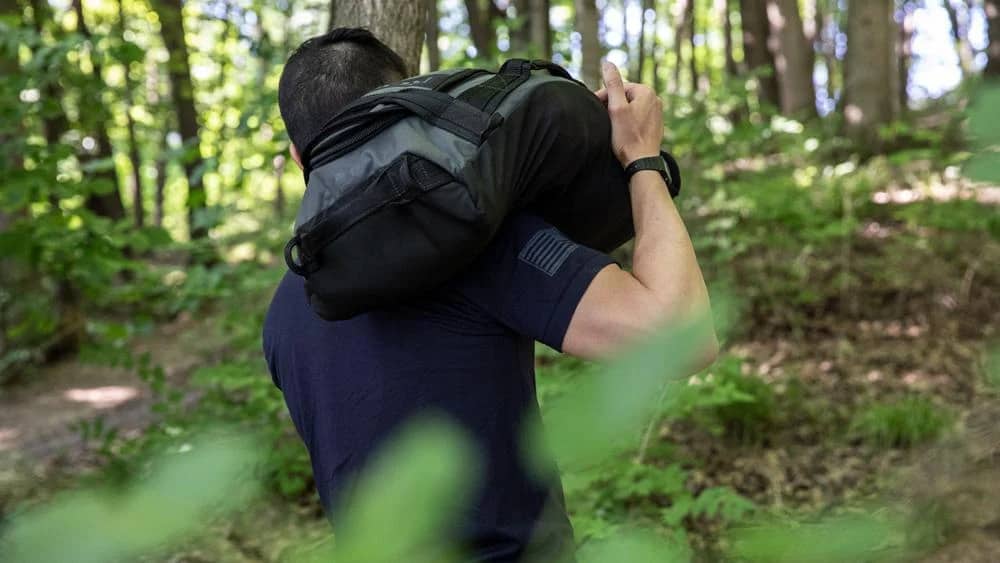 Affiliate Disclaimer
We are an affiliate of Rogue and others that sell this training gear. If you buy clothing or other training gear after clicking the links in this article, we receive a small commission at no extra cost to you. This helps us to bring you in-depth information and content on these great training products.
Tim is the founder of FitAtMidlife.com – an avid gym rat for 30+ years, he's a reviewer of many, many shoes – and founder of the Speed Bag Gathering – the world's only gathering of speed bag punching enthusiasts.  See more gym reviews at Tim's YouTube channel.