Let's take a look at the new Indy T-Bar Row from Rogue.
The Rogue Indy T-Bar Row is a new cost-effective system, delivering the same stability and functionality as the Rogue T-Bar Row Machine at half the overall footprint (36" x 24.3" vs. 76" x 39.75"). Proudly made in the USA, the Indy T-Bar Row weighs 83LB with a 24.3″ x 36″ footprint and provides more advantages.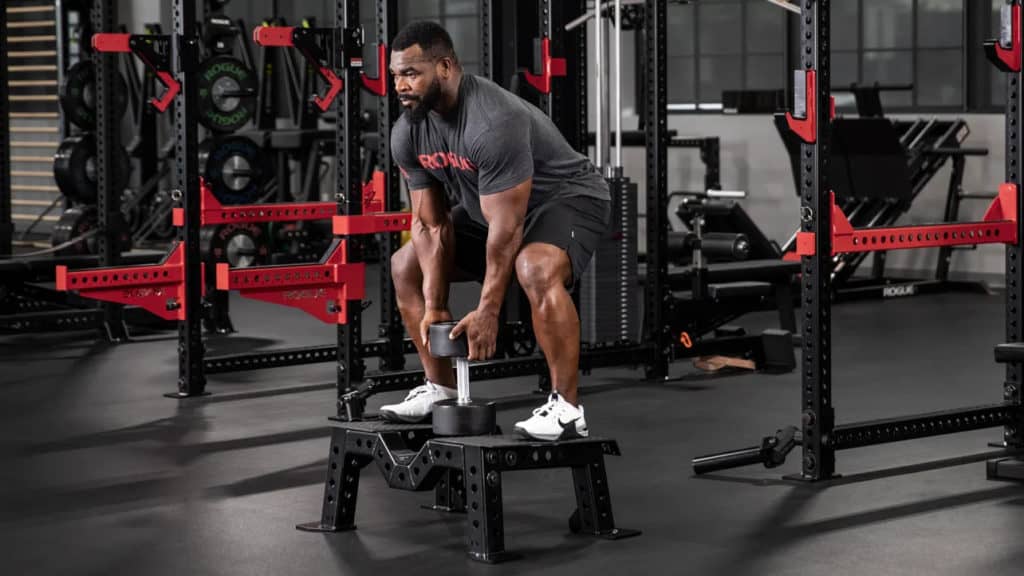 This innovative gym equipment will let you go DEEP on the row. Get it now from Rogue Fitness:
Rogue Indy T-Bar Row – Overview
The T-Bar Row movement is often associated with the lat muscles in the back, but its advantages go much further as it works the whole posterior chain and the biceps. The only restriction tends to be the equipment needed, as T-Bar Row machines are heavy and take up plenty of space. Rogue made the Indy T-Bar Row to solve this problem. This elevated, inclined platform offers a design still made to the needs of skilled athletes but takes up roughly half the floor space of stand-alone units. All you need with the elevated platform is a traditional barbell and a rack-mounted Monster or Monster Lite Landmine.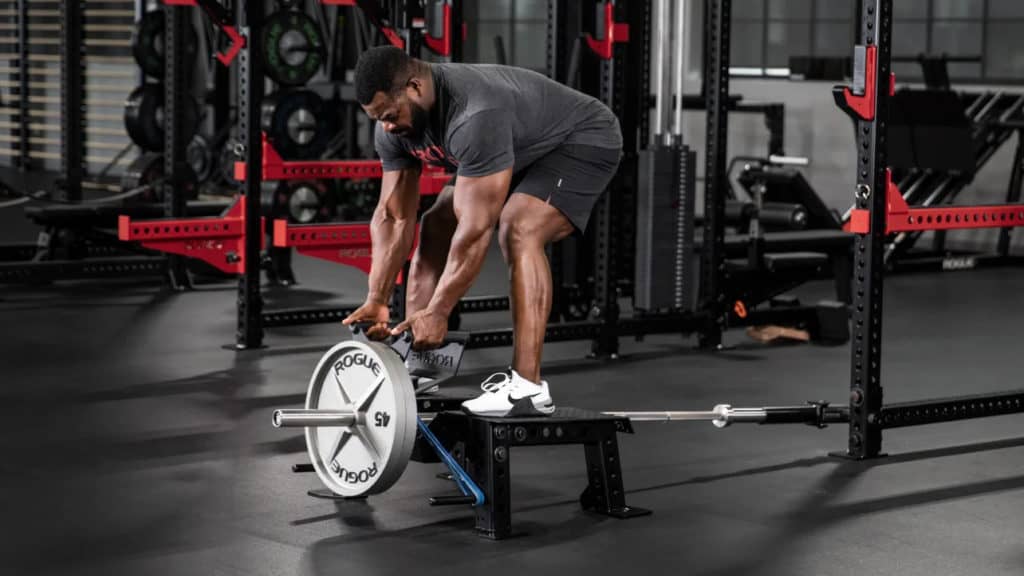 The Rogue Indy T-Bar Row is constructed in the USA and includes a 3×3" 11-gauge steel frame (same as our power racks) with formed and welded gussets on both the footplates and internal structural plates. The frame is raked at a 7.5-degree angle side-to-side and a 4-degree angle front-to-back, rising from 11.4" in height to 12.75". This provides a broad base and lowers the frame's center of gravity, significantly increasing stability.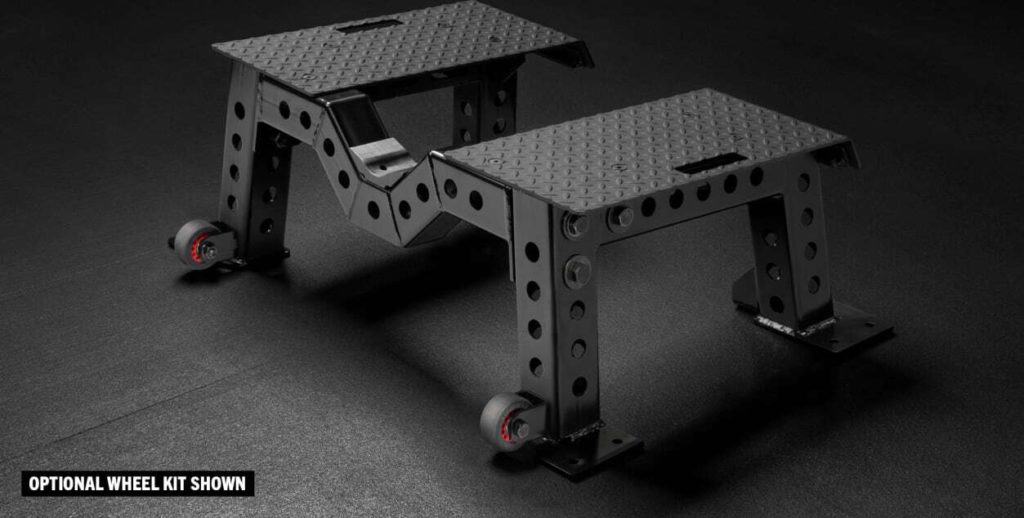 The 7-gauge diamond-tread footplates measure 10.25" x 19.5" and have a texture black powder coat finish for added grip. The machine's structure and the direction of the footplates help put you in a proper position from the outset. The elevated stance also allows you to complete rows at a deficit, increasing the movement's range of motion, while the 4-degree incline develops better leverage over the weight.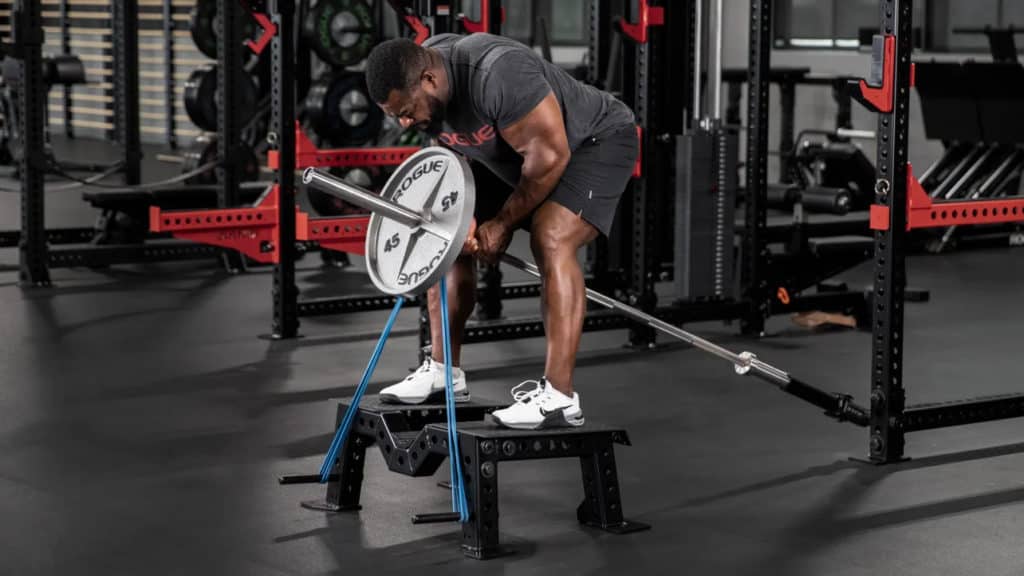 Rogue Indy T-Bar Row – In Summary
That's our close-up look at Rogue Indy T-Bar Row.
The Indy T-Bar Row is over-built and not only as sturdy as most stand-alone T-Bar Row units but also provides more features to preserve your equipment and open up extended functionality. The platform contains 1" laser-cut holes for band work and further holes in the base for optional floor mounting. You can use the barbell or Landmine Handles while training, and a set of optional bolt-on wheels are available for gym owners looking for more comfortable portability.
Looking for more options? Check out these other great products:
Get functional with the new Freestanding Functional Trainer Column 2000 from Xebex.
Ever workout with a sword? Me neither – but we can right this wrong thanks to the Outrageous Gym Equipment from Fringe Sport.
More garage gym gear to build the home gym of your dreams.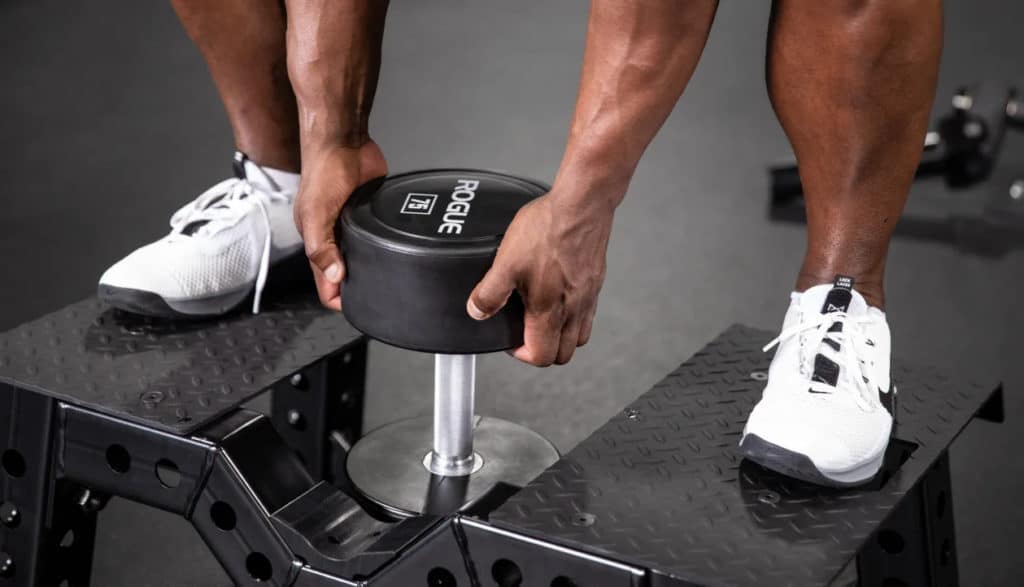 Photo Credits
Product photos on this page are property of Rogue Fitness.
This website is not affiliated or associated with CrossFit, Inc. CrossFit is a registered trademark of CrossFit, Inc.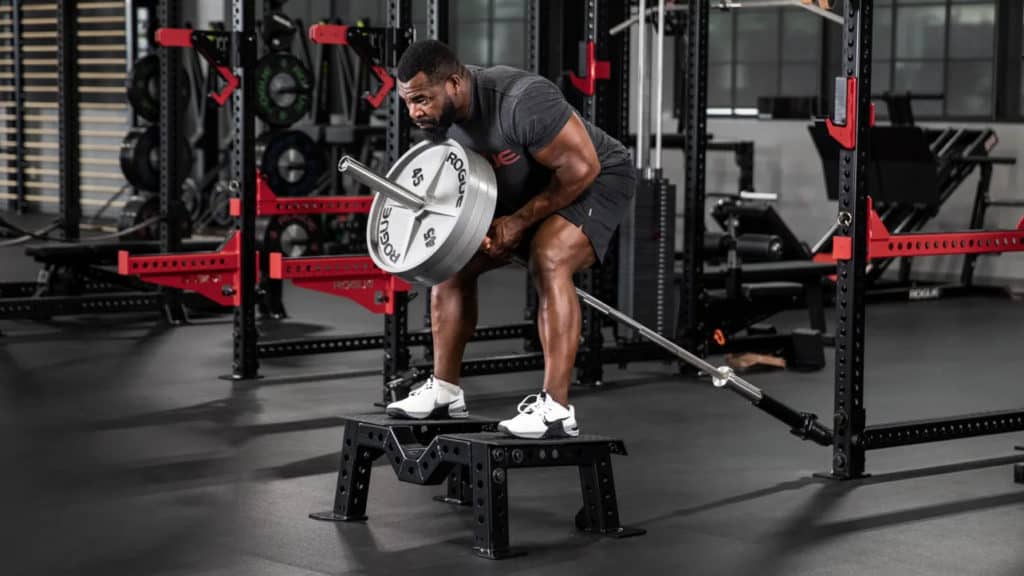 Affiliate Disclaimer
We are an affiliate of Rogue Fitness and others that sell this training gear. If you buy clothing or other training gear after clicking the links in this article, we receive a small commission at no extra cost to you. This helps us to bring you in-depth information and content on these great training products.
Tim is the founder of FitAtMidlife.com – an avid gym rat for 30+ years, he's a reviewer of many, many shoes – and founder of the Speed Bag Gathering – the world's only gathering of speed bag punching enthusiasts.  See more gym reviews at Tim's YouTube channel.