Check out what's new at
Get RX'd
- Lots of great deals on functional fitness gym equipment for your home or garage.
Get some variety in your workout with the Freestanding Functional Trainer Column 2000 from Get RX'd.
If you are thinking of adding just one piece of equipment to your garage or gym, a functional trainer is an excellent option. It is a machine that integrates numerous cables and attachments so you can execute any directional movements such as pulls, curls, flys, and more. When it comes to training, you have full control over all your body parts, and there are no limits to the movements that you can do.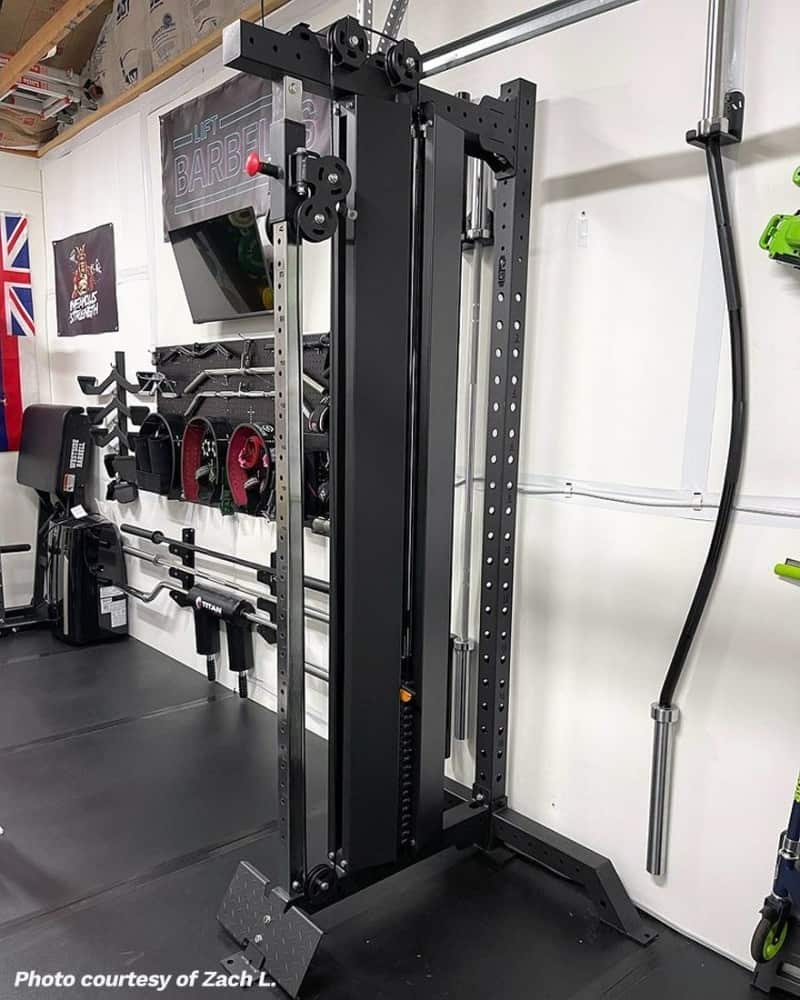 Only from GetRX'd:
Freestanding Functional Trainer Column 2000 – Overview
The Freestanding Functional Trainer Column 2000 delivers space-saving and time-saving solutions to any home gym or facility. It includes 2x commercial-grade FT handles that can be utilized as one and are covered in polyurethane for ultimate durability and comfort. Just adjust the 2x FT handles to any 35 numbered height positions to target nearly any muscle group and execute any exercise. Each pulley handle has a 1:2 weight ratio. Pull with both handles for a 1:1 ratio, or pull with a single handle for a 1:2 ratio. Pulling with only one handle equals half the weight selected/loaded. Add builder accessories like plate sleeves, and the builder upright at the back can work as plate storage.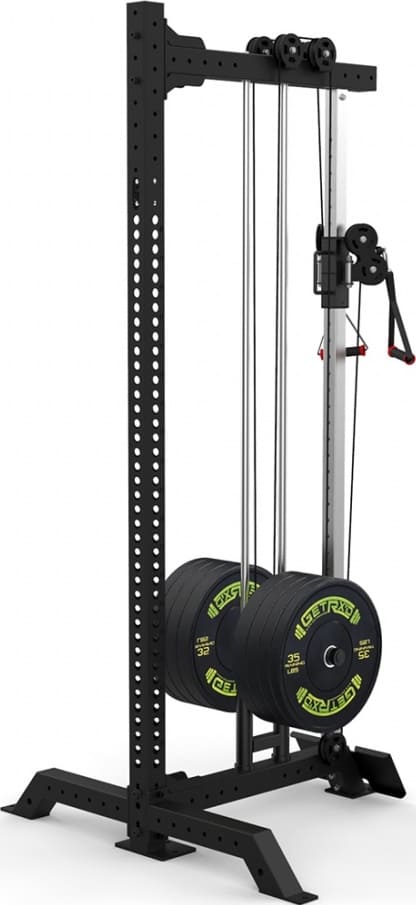 The base unit consists of the following pieces and you can choose these options to complete the base unit. • 1x 93″ Builder Rig Upright in black powder coat • 2x Builder Rig Front Foot Extensions • Selection of 1x Functional Trainer Single Column Weight Stack 2000 or 1x Functional Trainer Plate-Loaded 2000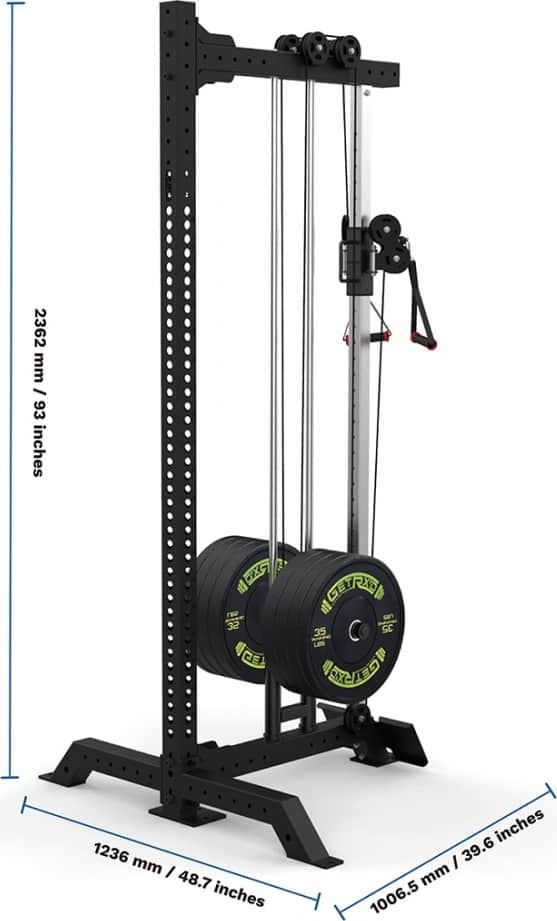 Functional Trainer Plate-Loaded 2000 has about 18″ of total loadable sleeve space (9″ per sleeve) and can comfortably load an immense amount of weight plates to maximize your gains, while the Functional Trainer Single Column Weight Stack 2000 comes with a 200LB weight stack.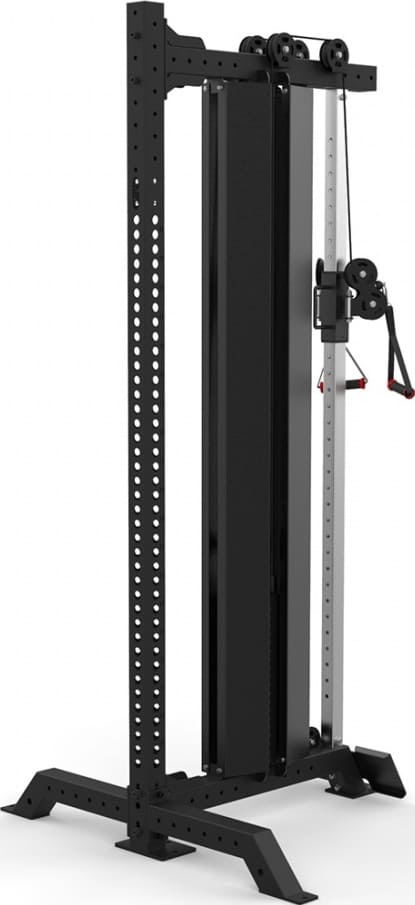 Freestanding Functional Trainer Column 2000 – In Summary
That's our close-up look at Freestanding Functional Trainer Column 2000.
One of the best advantages of owning a functional trainer is the number of exercises and movements you can perform with them. And because you can do several movements with it, it also allows you to target several muscle groups and improve your training. It is easy and convenient to use and offers cost, time, and space-saving solutions.
Looking for more options? Check out these other great products:
For the ultimate in a space-saving functional trainer – you must look at the F-9 Fold-Away Functional Trainer from Torque Fitness.
For a very complete workout setup (but with a bigger footprint) take a look at the Functional Trainers from Force USA.
Find out more about the value of a functional trainer for your workout.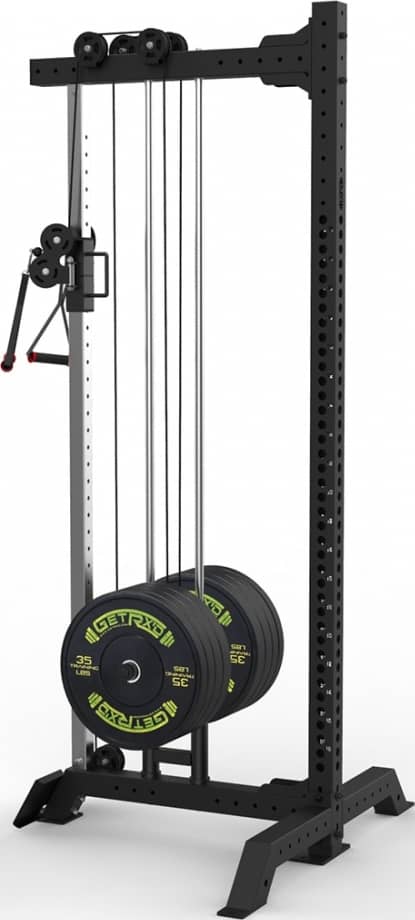 Photo Credits
Product photos on this page are property of GetRX'd.
This website is not affiliated or associated with CrossFit, Inc. CrossFit is a registered trademark of CrossFit, Inc.
Affiliate Disclaimer
We are an affiliate of GetRX'd and others that sell this training gear. If you buy clothing or other training gear after clicking the links in this article, we receive a small commission at no extra cost to you. This helps us to bring you in-depth information and content on these great training products.
Tim is the founder of FitAtMidlife.com – an avid gym rat for 30+ years, he's a reviewer of many, many shoes – and founder of the Speed Bag Gathering – the world's only gathering of speed bag punching enthusiasts.  See more gym reviews at Tim's YouTube channel.