Force USA: Use code
FAM5
to get 5% off any purchase over $1,500.
Let's examine all the Functional Trainers from Force USA.
Functional trainers are the most efficient and versatile piece of fitness tools on the market. Aside from enabling you to work the most muscle groups in the widest variety of styles, they are also reliable to use for all age groups able of resistance training. It uses two cables and attachments, allowing you to perform directional movements of your preference.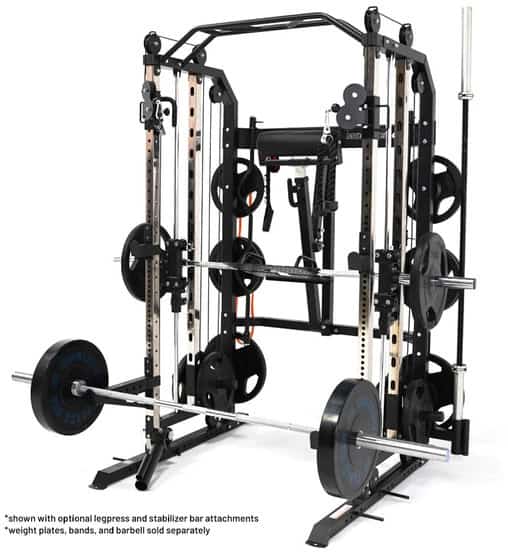 Here's some of the styles we are going to look at:
Functional Trainers from Force USA – Overview
There are no boundaries to what you can do with functional trainers. They allow you to do exercises for your legs, arms, chest, back, and shoulders. You can use it to do shoulder press, bicep curls, upright rows, straight-arm pushdowns, cable squats, chest press, and leg raises. These machines perform great functional training for everyone, particularly as support movements for athletes.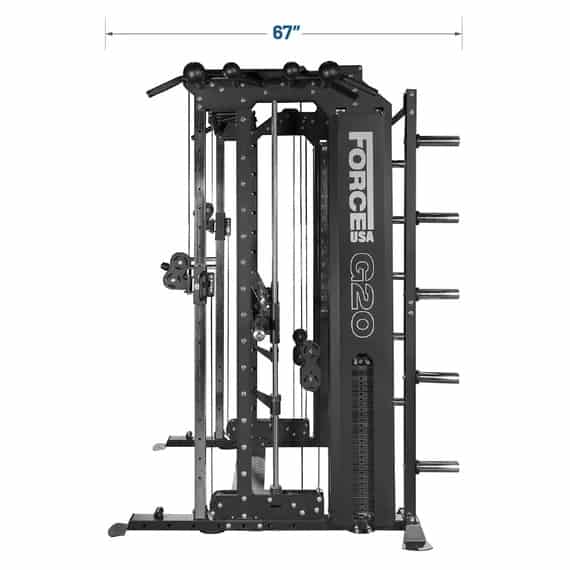 Force USA produces the safest and most leading quality strength training equipment to core training facilities, garage gyms, home gyms, and personal training studios alike. They have various selections of functional trainers where you can do unlimited exercises and lead you towards longer-term fitness goals. They are cost-effective, safe, helpful for rehabilitation, increases flexibility, coordination, balance, and posture, and can help with your joint pain.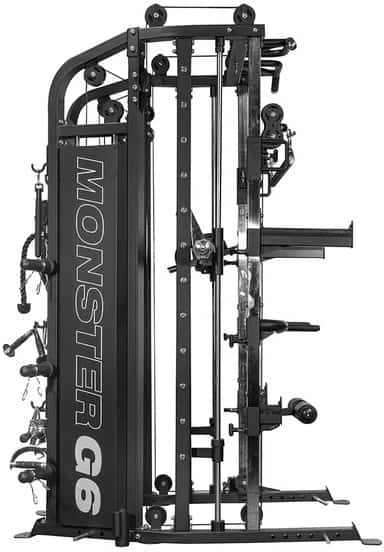 Force USA G3 All-In-One Trainer
The Force USA G3 All-In-One Trainer links a power rack, smith machine, and a cable pulley system into an all-in-one compact strength-training machine. You can do all the same practical exercises you performed in a commercial gym setting while retaining the flexibility to switch it up as your fitness goals develop while training at home. You can do more than 75 exercises with G3 All-In-One Trainer.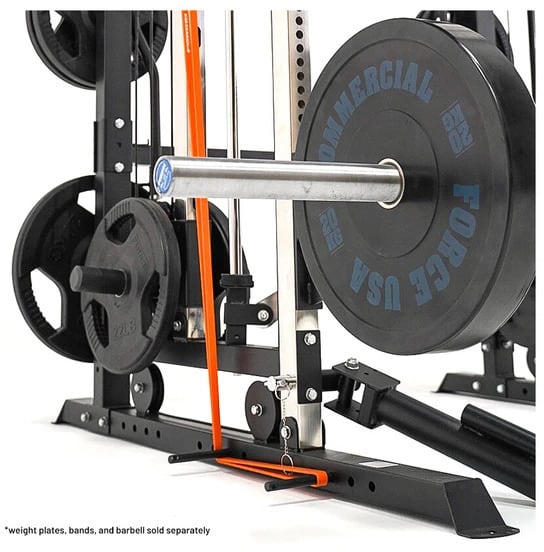 Having a Force USA G3 is ideal if you have a limited workout space, if you want to work out privately and safely, or if you want a complete all-in-one solution. You no longer have to jump from one machine to the next to do your bench presses, squats, free weight exercises, or core training that are spread across your workout room. It consists of an attached landmine station suitable for all types of rotational torso training and gives a wide range of upper body training when using an optional barbell.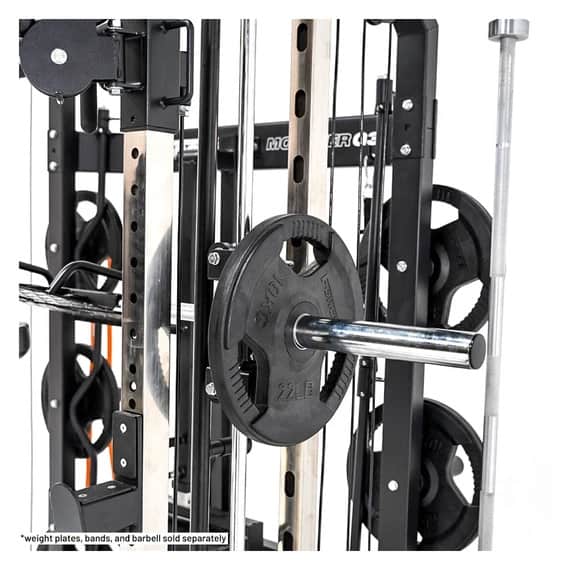 Force USA G6 All-In-One Trainer
With Force USA G6 All-In-One Trainer, you can experience a diversity of workout selections normally seen in a whole commercial gym in the footprint of a single power rack that can fit in a single room of your home. It also combines built-in storage for an Olympic and Standard barbell, weight plates, and cable attachments so you can have your training neat, orderly, and secure.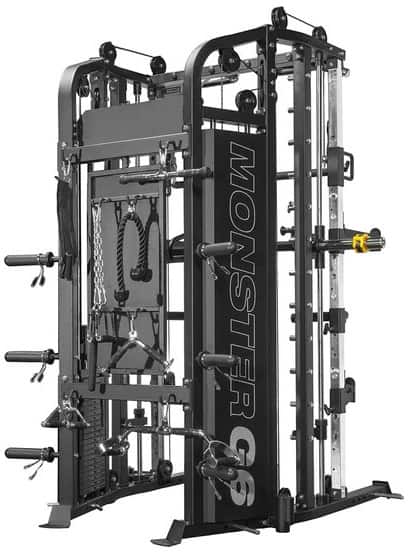 You can do over 150 exercises with G6 All-In-One Trainer. The pin-loaded stack weights are attached to the functional trainer and cable crossover stations from the structure's rear. Pin loading allows a fast, simple, and secure solution to choose different weights to pull or push in seconds. The Force USA G6 Leg Press attachment switches the Smith Machine into a vertical leg press that helps you target your quadriceps while also putting weight on the inner thigh muscles or glutes, depending on your foot posture.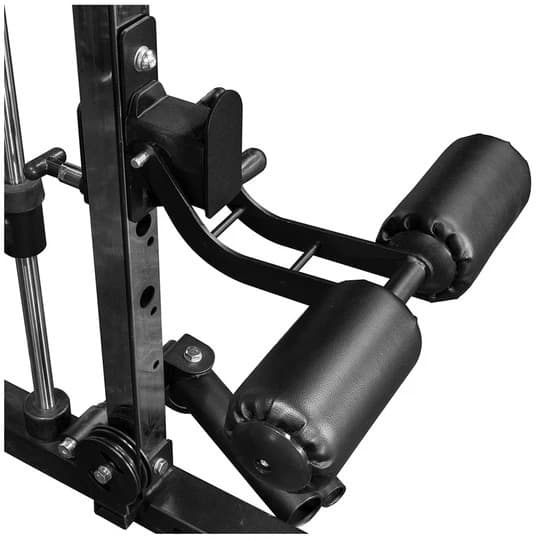 Force USA G12 All-In-One Trainer
With Force USA G12 All-In-One Trainer, you can execute full-body training or break up your training days to concentrate on upper body or lower body training. The functional trainer and cable crossover have a pulley ratio of 1:1, which means that the weight you load is the actual weight you will be lifting. This enables you a heavier weight limit, which in turn helps establish a bigger max. As opposed to the G6 that highlights a 2:1 ratio, you can use fewer plates with G12 to get the equivalent weight, making set up, transitions, and tear down much faster and easier.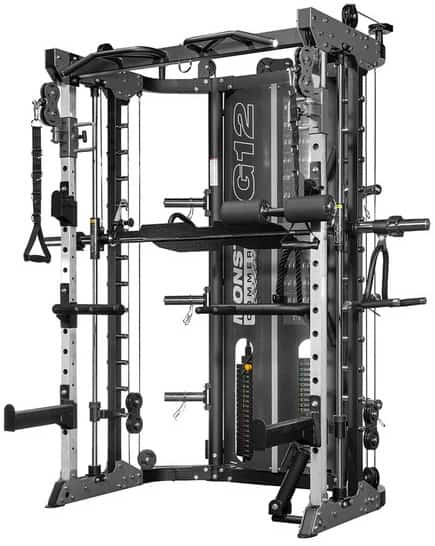 The Force USA G12 is shorter than the G6, so it provides you an edge if you have a lower ceiling height. The G12 is also wider, which means you have more interior workout space inside the rack. It is over a foot shorter in-depth, which means it doesn't hang out as far into your workout space.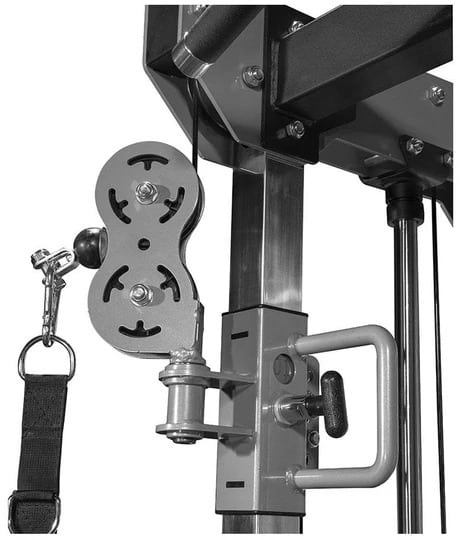 Force USA G20 All-In-One Trainer
The Force USA G20 All-In-One Trainer allows over 400 exercises and has eleven distinct strength training systems in one compact machine. G20 is the peak of Force USA's innovative All-In-One Training Systems with innovations and capabilities not available in other G-Series products.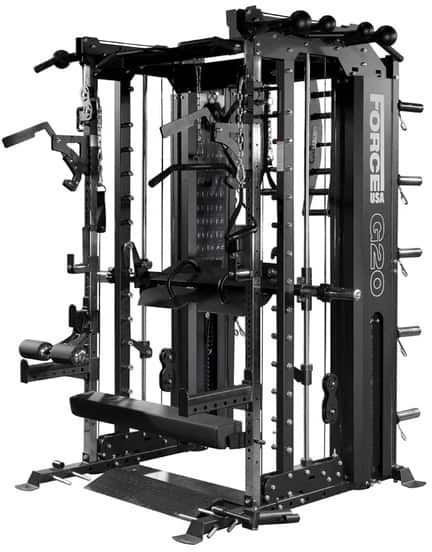 The Force USA G20 comprises the most attachments, stack weights, workout stations, and exercise possibilities Force USA has ever been released in one strength training system. It has 29 attachments, 578 lb of stack weights, commercial-grade 3mm steel tubing construction making it the most versatile, rugged, and complete strength training systems Force USA has ever offered.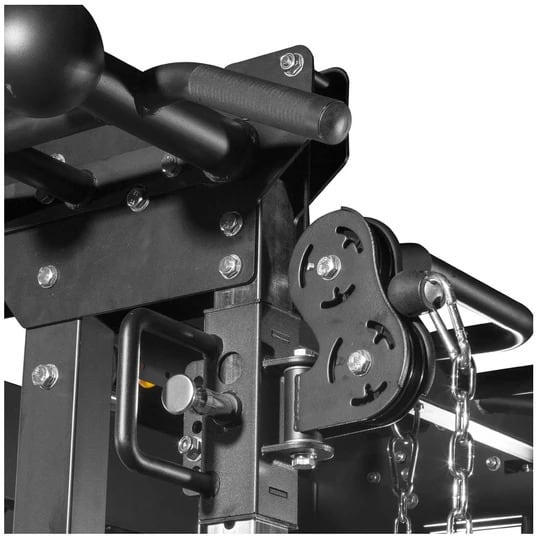 Force USA F50 Multi-Functional Trainer
Force USA F50 Multi-Functional Trainer is the latest innovation in Olympic plate loaded multi-functional trainers. It associated a functional trainer, smith machine, power rack, core trainer, chin-up, dip, and low row station into the space of a single functional trainer footprint. It has an 8-In-1 Strength Training System and 2:1 Cable Pulley Ratio with 11 attachments included.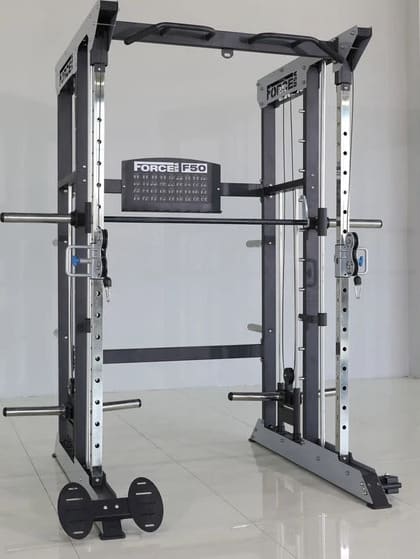 The high-grade commercial sealed bearing pulleys on the functional trainer provide quiet and smooth operation. You can execute workouts like rows, lat pulldowns, squats, shrugs, fly's, presses, and curls. The built-in exercise chart covers 36 illustrations to help you maximize your functional trainer workout routine. It clearly demonstrates accurate movement patterns that will help you harmlessly target all the key muscle groups.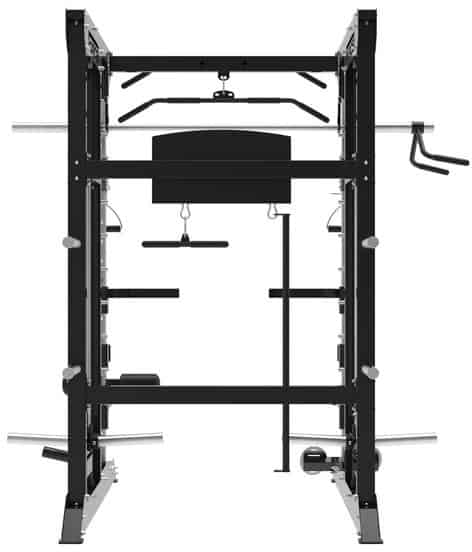 Force USA F100 Multi-Functional Trainer
The latest innovation in pin-loaded multi-functional trainers, Force USA F100 Multi-Functional Trainer, is the ultimate multi-functional trainer that you'll ever need! You can draw on a greater array of motion and a broader kind of motion patterns inside the rack's structure–free from obstruction.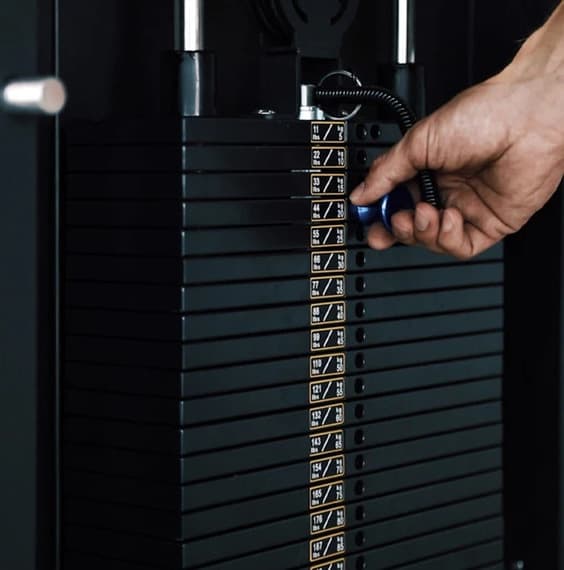 It includes a wide variety of 11 attachments for ultimate training versatility and workout opportunities. It has front safeties, j-hooks, tricep rope, lat pulldown bar, adjustable nylon "D" handles, landmine, dip handles, bicep/tricep pushdown bar, 8-link chain set, foam knee support, and low row footplate.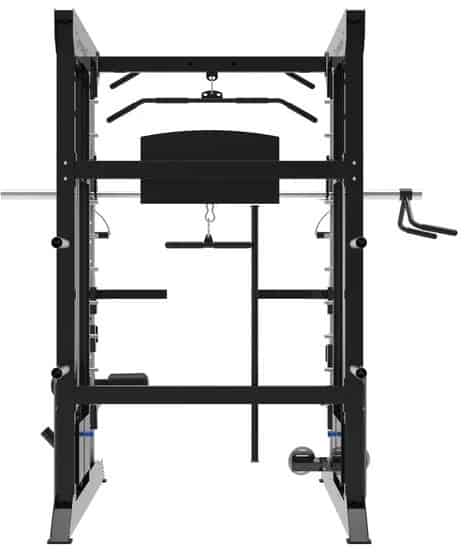 Functional Trainers from Force USA – In Summary
That's our overview of Functional Trainers from Force USA .
If you are considering getting exactly one workout tool, functional trainers are the best choice as it enables you to complete exercises for all parts of the body. You have complete authority over all your body parts when it comes to training. Force USA provides many options of functional trainers, and you can perform plenty of exercises using them. Force USA is a trusted company that uses quality materials. The entire assembly of Force USA functional trainers has supreme durability, smooth and easy adjustments, a firm pull-up bar, and dozens of attachments, making them the only thing you need for your at-home workout space.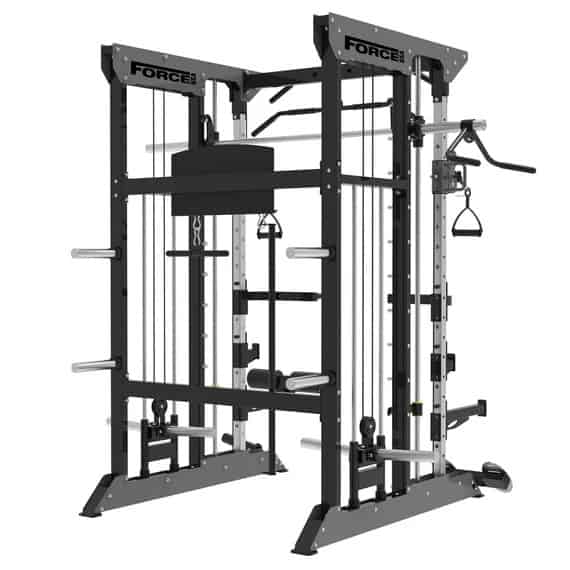 Photo Credits
Product photos on this page are property of Force USA.
This website is not affiliated or associated with CrossFit, Inc. CrossFit is a registered trademark of CrossFit, Inc.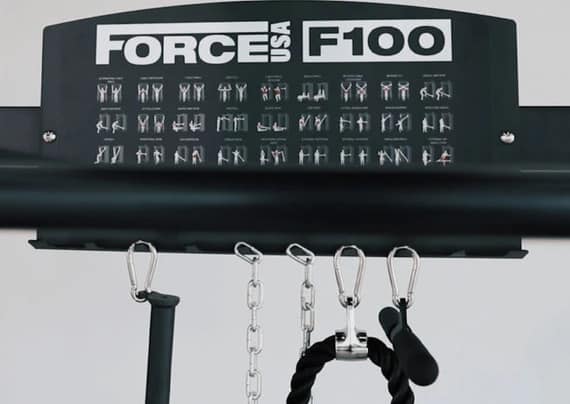 Affiliate Disclaimer
We are an affiliate of Force USA and others that sell this training gear. If you buy clothing or other training gear after clicking the links in this article, we receive a small commission at no extra cost to you. This helps us to bring you in-depth information and content on these great training products.